August, 18, 2011
8/18/11
10:00
AM ET
Virginia Tech running backs coach Shane Beamer can still vividly remember walking off the field at Lane Stadium in 1992 when he was a sophomore in high school and his father, Frank, had just concluded a dismal 2-8-1 season as head coach of the Hokies.
Virginia Tech had lost at home 41-38 to rival Virginia in its season finale, and the younger Beamer was following his father's footsteps into the tunnel as they left the field.
"I was about 10 feet behind him following him, and I can remember a guy hanging over the railing and screamed down at him, 'bye-bye, Beamer!'" Shane Beamer said. "People thought that might be his last game."
[+] Enlarge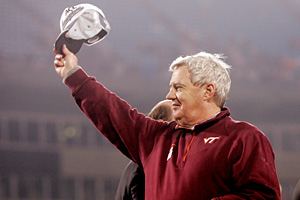 Jeff Blake/US PresswireVirginia Tech has compiled a 195-98-2 record under Frank Beamer in 24 seasons.
Instead, it was Virginia Tech's last losing season under Frank Beamer.
"I was sitting in an academic visit the other day with a recruit, and the professor said we were just kind of a quiet little college town university before [Frank] Beamer showed up," said defensive coordinator Bud Foster, who has been on the sideline with Beamer as either a player or coach for 33 years. "Now, we feel like we hit the jackpot. Things have changed. That's what you see with Coach. He's a guy who put this place on the map, so to speak."
Beamer enters his 25th season as Virginia Tech's head coach this fall, a longevity that has been unrivaled, as no other head football coach in school history had lasted longer than 10 seasons, and only Penn State's Joe Paterno has been at his current school consecutively longer (45 years). Beamer has won 240 games in his 30 years as a head coach, and his sustained success at his alma mater has been unparalleled in recent years, as no other program has managed seven straight 10-win seasons. Under Beamer, Virginia Tech has won four ACC titles, three Big East titles, made five BCS bowl appearances and played for one national championship.
"I feel fortunate to be around 25 years," Beamer said. "I really understand how fortunate I am. There have been a lot of good coaches, a lot of good players, and an administration that hung around when most wouldn't these days after about the first four or five years. Things have turned out good for Virginia Tech. Being in the Big East was a great situation for us. That helped because it gave you TV and bowl games. And then coming into the ACC, that helps because that's the right conference for us. We've had some fortunate things happen to help me stay there for 25 years."
There is a reason, though, Beamer is still coaching and making sweeping changes to the program at 64 years old.
Despite his accomplishments, Beamer has yet to win a national title, a fact that hasn't exactly escaped the Virginia Tech faithful. With or without that elusive title, Beamer is destined for the College Football Hall of Fame, and those within the program say Beamer doesn't need a national title to validate his career or legacy at the program. Most would agree. But he still wants to win one, and by making staff changes this offseason -- which included the hire of his son, also a top-notch recruiter -- Beamer has put himself in a better position to contend for one, if not this year, then in the near future.
Shane Beamer said there wouldn't be a better way to commemorate his father's silver anniversary this season than with a title -- any title.
"If you were writing a movie script and the head coach hires his son in his 25th year of coaching and they win a national championship the first year together, that would be pretty storybook and Hollywood-esque," Shane said. "I don't know if that's in the cards or not. We've got a tough schedule this year and a lot of challenges ahead of us. Obviously if we win a championship that would make it even more special, but if we don't win a championship this year, just being on the staff and being a part of this team and getting to share his 25th year of coaching with him, that's pretty special in itself."
Staff loyalty runs deep in Blacksburg, which is why the offseason changes caused quite a stir inside and outside of the football building. Longtime assistants Billy Hite and Jim Cavanaugh were moved into administrative positions to make room for the younger Beamer and outside linebackers/assistant defensive ends coach Cornell Brown. Quarterbacks coach Mike O'Cain was given the playcalling duties.
Shane said there were plenty of elite recruiters on Virginia Tech's staff before he arrived, and if there is a perception out there that he is the missing piece to the Hokies' quest for a national title, it's the wrong one.
"If you count my dad and the nine assistant coaches, I'm one-tenth of the equation," he said. "We're all in this thing together. I don't think myself or Cornell is the missing piece. He's been adamant about why we were brought in, and thought it was good for the program to try and make it better from top to bottom and that's what we're trying to do."
Beamer said being able to retain the knowledge of Hite and Cavanaugh while hiring two younger coaches who have to reach the top of their game was an overall upgrade.
"I think our organization is the strongest it's ever been," Shane said.
That's saying a lot, considering the milestones that have been reached over the past 24 seasons.
Frank Beamer, though, isn't done yet.
"I'm hoping we will be celebrating Year 25," said Foster. "I'm hoping it will be a special year."
It's been a long time at Virginia Tech since it wasn't.
February, 23, 2011
2/23/11
12:00
PM ET
By
ESPN.com staff
| ESPN.com
Have I told you lately that I don't control which schools are written about? The Hokies are the news this week ...
February, 22, 2011
2/22/11
4:30
PM ET
By
ESPN.com staff
| ESPN.com
For the first time in five years, there
has been a change
on Virginia Tech's staff.
For the first time in a long time, there has been significant change.
Virginia Tech coach Frank Beamer has restructured his staff, the most significant move being that quarterbacks coach Mike O'Cain will now call the plays instead of offensive coordinator Bryan Stinespring. Virginia Tech fans, many of whom have long been clamoring for a replacement for Stinespring, seem ecstatic. It's as if Virginia Tech just beat Stanford in the Orange Bowl, as if the Hokies have automatically morphed into one of the nation's top two teams.
The reality of the situation, though, is this: Virginia Tech still enters 2011 with a rookie starting quarterback, and no staff changes are going to change the fact that he has 26 collegiate passes to his name.
Logan Thomas
' potential far outweighs his accomplishments at this point. The Hokies also have to replace two starters on the defensive line, they're almost starting from scratch at tight end, and it's the second straight season they need a new starting kicker and punter.
And few, if any, Virginia Tech fans were doing
David Wilson
-like backflips over this year's recruiting class.
There's also the question of how Stinespring handles this change. Sure, he retains the title of offensive coordinator, but how much weight does it carry if he's not calling the plays? That's like giving someone the title to a new car, but taking away the keys. What fun is it if you can't drive?
On the surface, Beamer's staff changes all seem like good moves: O'Cain's relationship with Thomas, the program's quarterback of the future, will help both of them flourish in their new roles. O'Cain has experience, having been head coach at NC State and offensive coordinator at both Clemson and North Carolina. Shane Beamer, who was hired as running backs coach, will not only help the offense, but he's gained a reputation as a top-notch recruiter. Retaining the knowledge of longtime assistants Billy Hite and Jim Cavanaugh, who moved to administrative positions, will be like having two additional coaches on staff.
Beamer strategically made these changes knowing there's room for improvement. There's one title he's still chasing. Better coaching is half of the equation. Better recruiting is the other half. These moves can help Virginia Tech get closer to bringing it all together, but the Hokies won't make the jump from top of the ACC to top of the BCS standings in one season -- not with a rookie quarterback.
Somehow, Beamer figured out a way to make his staff better without losing any good people. Next comes the tricky part -- figuring out how to make his
team
better without losing any big games.
February, 16, 2011
2/16/11
5:10
PM ET
By
ESPN.com staff
| ESPN.com
Virginia Tech assistant Jim Cavanaugh has been moved to the administrative position of director of recruiting and high school relations, and former Tech standout Cornell Brown will replace Cavanaugh coaching the outside linebackers and help out with the defensive line. Cavanaugh was the Hokies' recruiting coordinator and coached the strong safeties and outside linebackers.

Brown, who was inducted into the Virginia Tech Sports Hall of Fame in 2007, comes to the Hokies from the Canadian Football League where he served as the defensive line coach for the Calgary Stampeders the past three seasons.

Earlier in the week, coach Frank Beamer named long-time assistant Billy Hite as Tech's assistant to the head coach and senior adviser and added Shane Beamer, another former Hokie, to his coaching staff.
January, 24, 2011
1/24/11
11:00
AM ET
By
ESPN.com staff
| ESPN.com
Ryan McGee, a senior writer at ESPN The Magazine, ranked
the nation's five best recruiters
and the ACC had two assistant coaches make the cut: Virginia Tech's Jim Cavanaugh and Florida State's James Coley.
The Hokies have earned a reputation for finding and developing players who might not all add up to a top 25 class, but are good enough to win an ACC title year after year, and Coley has done a remarkable job helping coach Jimbo Fisher build a foundation for the post-Bobby Bowden era. There were a few other recruiters in the ACC who immediately came to mind, though, as coaches who have done impressive jobs on the recruiting trail this year:
Clemson coach Dabo Swinney:
Despite a losing season that ended with back-to-back losses to rival South Carolina and South Florida, Swinney has still managed to lure in the No. 12 class in the country. Swinney is a salesman, and top recruits are still buying his pitch.
Virginia coach Mike London:
His familiarity with the state has paid dividends in a short amount of time. London's relationships with area coaches have helped him lure in the nation's No. 21 class.
North Carolina coach Butch Davis:
What NCAA investigation? You'd never tell the program went through a two-pronged academic and agent-related investigation this season that caused 14 players to miss at least one game each. The Tar Heels have the No. 13 class in the country, including three ESPNU 150 players and 10 four-star recruits.
July, 28, 2008
7/28/08
7:04
AM ET
By
ESPN.com staff
| ESPN.com
Posted by ESPN.com's Heather Dinich
The last time I saw a coach start diagramming plays at a table, it was Joe Paterno, and his Xs and Os resembled something more of a tic tac toe game than a pass-happy offense. Something tells me David Cutcliffe's version of an offense is a little more complicated.
The question is, does he have the players to execute it?
FSU coach-to-be Jimbo Fisher is certainly bringing talent to Tallahassee. And Virginia Tech recruiting coordinator Jim Cavanaugh just got two more in Blacksburg.
Do football coaches get paid too much? Bah, Frank Beamer says, it's the American way. No doubt he's living the dream.
Tommy Bowden, on the other hand, has escaped a few nightmares. The Charleston Post and Courier did a great job of putting Bowden's career at Clemson into perspective.
Think Clemson has everything in place to win it all? Hey, everyone's got issues. With the heightened expectations for the Tigers also comes increased expectations for the guy writing about them. Paul Strelow of the Columbia State has a new blog.
Here's more from the Miami Herald on a few position battles still looming as the Hurricanes open practice on Saturday.
And if you want to see USC at Virginia, better hurry -- fewer than 200 season tickets are left.