September, 14, 2011
9/14/11
10:00
PM ET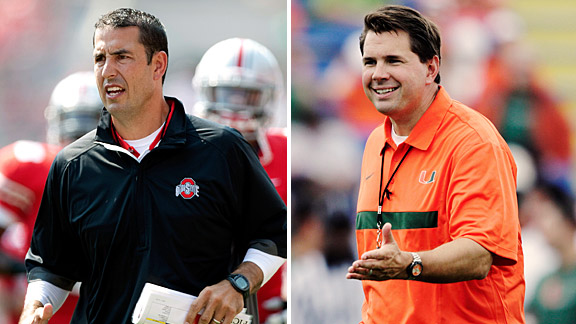 US Presswire, Icon SMIOhio State's Luke Fickell, left, and Miami's Al Golden have had challenging starts to their new jobs.
As college football suffered through an offseason of scandal, two programs found themselves squarely in the crosshairs.
Ohio State made headlines for the wrong reasons throughout much of the spring and summer, especially during an eight-day stretch when coach Jim Tressel resigned and starting quarterback Terrelle Pryor left the program. The notoriety then shifted to Miami after a Yahoo! Sports investigation revealed damaging allegations by former booster Nevin Shapiro.
It brings us to Saturday night, when the Buckeyes and Hurricanes will meet on the field.
Some folks are calling it the Ineligi-Bowl.
Both teams are short-handed -- Ohio State more than Miami -- and both are dealing with change and intense scrutiny. Both are facing potential NCAA penalties and uncertain futures, but first-year coaches Luke Fickell and Al Golden are trying to keep the focus on the field.
Bloggers Heather Dinich (ACC) and Adam Rittenberg (Big Ten) break down a unique matchup at Sun Life Stadium.
Adam Rittenberg:
HD, hope you had a better summer than the Canes or Buckeyes. Both programs have dealt with a lot of recent distractions. Miami dropped its opener to Maryland but regains the services of quarterback
Jacory Harris
and others from suspension. Ohio State still will be without three offensive starters and looked very shaky Saturday against Toledo. Before getting between the lines, let's look between the ears. How do you think these teams are approaching this game from a mental standpoint? Does one squad have an edge?
Heather Dinich:
The only edge I see, Ritt, is the fact that Miami had a bye week to move on from its loss to Maryland, while that scare from Toledo is pretty fresh in the Buckeyes' heads. Then again, it could have been just the wake-up call Ohio State needed. Plus, Miami has to be recharged a bit and excited about getting several of its players back from the opening-game suspension. Miami was without eight players against the Terps, and now five of those players return, including Harris. Most notably, the defense should get a boost up front from the return of linebacker Sean Spence, defensive end Adewale Ojomo, and defensive tackle Marcus Forston. The Canes were beat up front by Maryland, but the return of those guys should give them some more confidence heading into the Ohio State game. What about the Buckeyes? Two wins over teams they should beat. Are they ready for their first real test of the season?
AR:
Ohio State's first real test actually came Saturday against Toledo, although few thought the Rockets would challenge the Buckeyes. Toledo found gaps in Ohio State's secondary and held the Buckeyes to just six points in the second half. Ohio State will have to play better in all three phases against Miami, especially in the kicking game after the Canes recorded two returns for touchdowns last year in Columbus. The first road game always presents challenges, especially for an Ohio State team dealing with significant personnel losses on both sides of the ball. Line play is an area the Buckeyes must lean on Saturday night, as Ohio State has proven veterans on both sides like center Mike Brewster and defensive lineman John Simon. But with so many key players out, the Buckeyes will be challenged.
Speaking of getting key players back, what's your take on the short suspensions for Harris and the others? Ohio State fans are livid that the Tat-4 remains out while Shapiro's pals are back on the field this week.
HD:
Well, fortunately for the sport, there really is no precedent for this, so it seems like the only thing you can really compare in these two cases is the monetary value of their infractions. In Miami's cases, the harshest punishments (six games and four games), were reserved for violations that occurred when Olivier Vernon and Ray-Ray Armstrong were still recruits. Vernon has to repay more than $1,200, Armstrong (four games) and
Dyron Dye
(four games) were both less than $800. The one-game suspensions correlate to players whose violations all amounted to less than $500. Correct me if I'm wrong, but I think the Buckeyes are working on repaying between $1,000-$2,500. I think it's safe to say the Buckeyes' violations were more costly in more ways than one, as they should be.
All of that aside, though, there's only one thing that will matter on Saturday, and that's who wins. Miami hasn't started out 0-2 since 1978. Who, in your opinion, needs this win more?
AR:
Yeah, I think the folks in Columbus are more upset that three players who took money at a charity function -- running back
Jordan Hall
and defensive backs Travis Howard and Corey Brown -- are serving longer suspensions than those who took benefits from Shapiro. But whatever. Both teams really need this win, but I'll make the case for Ohio State. Unlike Golden, who shouldn't have to worry about his job security (whether he wants to stay at Miami is another question), Fickell and his staff have no guarantees beyond this season. While coaches need the players to perform well in the Big Ten no matter what, this is the type of game that can build confidence or reduce it. Any road win boosts a team's morale, but beating Miami without so many key pieces would increase the Buckeyes' belief that they can continue to achieve their top goals despite all the turmoil. I certainly see the urgency for Miami, too.
Let's talk about Jacory Harris. I'll be kind and say he was very bad last year at The Shoe. If not for his interceptions, Miami could have made things very interesting. How do you think Harris fares against an Ohio State defense with a bunch of new starters, particularly in the secondary?
HD:
Four turnovers was the reason Miami lost this game last year. I would be surprised if Jacory doesn't play better. I spent some time down at Miami this summer and could sense some genuine confidence in Harris from first-year offensive coordinator Jedd Fisch and from Golden. They backed that up when they named him the starter after the loss to Maryland. I know
Stephen Morris
is the fan favorite, but Jacory's experience alone will help alleviate some of the mistakes and confusion that came in the loss to the Terps. This is Jacory's last season to go out a winner and redeem himself. I believe he is truly a more confident player, but how that translates in his first start since a dreadful performance in the Sun Bowl last year remains to be seen. He still has a lot to prove. Of the four ACC teams lining up against ranked opponents this weekend, though, I give the Canes the best chance to win. I'll save the score for Thursday's picks, but I'm sticking with the ACC in this one. I'll give you the last word, though, since I know you'll need it to defend the Buckeyes.
AR:
Thank you, ma'am. Defending Ohio State after last week's performance isn't easy, but Toledo looks like a pretty solid team, and coach Tim Beckman definitely had the Rockets ready to play. Given the players missing on offense, Ohio State will have to win this game by playing TresselBall -- ironically without Tressel. It'll be all about defense, the run game, controlling field position on special teams and limiting mistakes. The Buckeyes need a much sharper defensive performance and I think they'll get one, especially against Harris, whom I don't trust at all to limit mistakes. The kick and punt coverage teams have to be sharper than they were last year and against Toledo. It will be tough for Fickell's crew, but there are enough leaders on that team who know how to win tough games. I'll also wait to reveal my score Thursday, but I'm going with the Scarlet and Gray.
June, 28, 2011
6/28/11
5:00
PM ET
I caught up with former Florida State coach Bobby Bowden this past Friday to talk with him about Chris Weinke for Tuesday morning's story, and of course, it's very hard not to ask him a few other questions while he's on the phone. I asked Bowden what's he's been up to, and he made it very clear that he's busy and "not retired."

"I've retired from coaching, but I haven't retired," he said. "I don't want to do nothing. We've got places over on the beach, and I get over there seldom. I enjoy it when I do, but it's not like I want to sit around all day."

I'd be happy to sit around all day for him, but he didn't invite me.

I asked him how much he misses coaching.

"I didn't miss it a bit," he said. "I'm 81. If I was 45, I'd really miss it, I'd want to get back in it. But at my age -- I really tried to get one more year out of them and I was unable to, because I was trying to reach some goals, but I didn't. So I haven't missed the coaching. I miss the players and I miss the association with the coaches. I look back on it and there were fond memories with the ACC. They're such a classy group of people."

Can you believe some of the things that are going on with Jim Tressel and Butch Davis?

"Well, yeah, we got hit with that if you remember," he said. "And it was inadvertent. It was something the coaches had absolutely nothing to do with, or the administration, and when we found out about it, we reported it. But they still stuck us pretty good. But yeah, hey, they've got rules, you've gotta enforce them."

I'm sure you're paying attention to Florida State, even though you didn't go to any games last year, right?

"No, I'm staying away purposely," he said. "I feel like it would be a distraction. I'm not interested in going to the game and somebody says, 'Oh, Bobby Bowden is here.' I'm not interested in that. I want to sit back and enjoy it. I follow them, everything they're doing, keep up with them. I haven't been back to campus one day since I left, but I keep up with what they're doing and I'm pulling for them."
June, 14, 2011
6/14/11
5:00
PM ET
Ask any coach and he'll tell you they're all "must-win games," and the beauty of college football's current system is that he's right -- without a playoff, there is no margin for error.
If the ACC is going to boost its reputation, though, there are three nonconference games it absolutely must win (and no, I'm not going to be snarky and write James Madison, William & Mary and App State, although the league certainly can't afford to lose any of those, either).
IF the ACC wins one or all of these three games, consider this season better than last year:
1. Oklahoma at Florida State, Sept. 17:
No nonconference game during the regular season is bigger. The Sooners are a legitimate national-title contender, and the only way for Florida State to become one this season is to win this game.
2. Clemson at South Carolina, Nov. 26:
Yes, Auburn is the defending national champion, but it's not the same team. South Carolina should be the best SEC team an ACC team faces this year, including Georgia and Florida. Add to that the fact that Clemson coach Dabo Swinney won't do his career any favors if he loses to the Gamecocks a third straight season.
3. The Orange Bowl.
The ACC is 2-11 in its BCS bowls. The only problem with this opportunity is that the matchup doesn't always guarantee an opportunity at a statement win. Virginia Tech's win over Cincinnati helped the ACC's BCS bowl record, but in retrospect, it didn't do anything to help the league's image. A win over Stanford? That would have resonated for years.
Just missed the cut
Ohio State at Miami, Sept. 17:
This would still be considered an important win in Al Golden's first season, and a sign that things are headed in the right direction, but without Jim Tressel and
Terrelle Pryor
, the national impact will be diminished.
Auburn at Clemson, Sept. 17:
Considering Clemson's overtime loss last year, Auburn should be expecting the Tigers' best shot in Death Valley. This is the kind of win that could be a turning point for Clemson and give the Tigers the confidence they need to head into back-to-back games against defending division champs Florida State and Virginia Tech, but nationally, the win would lose some luster because Auburn is an entirely different team than the one that won the national title. The significance of a Clemson win would increase throughout the season, though, as Auburn is likely to be a better team in the second half of the season and could boost Clemson's SOS.
Georgia at Georgia Tech, Nov. 26:
It's not like Paul Johnson hasn't won this rivalry game before. He just hasn't been able to do it the past two seasons. The expectations are higher for the Bulldogs than they are for the Jackets this year, but both defenses should be better in the second season of a 3-4 scheme.
Florida State at Florida, Nov. 26:
Anytime the Noles get a win over their rivals -- especially in Gainesville -- it's monumental for the program, but considering the Gators are under a new staff and expectations are lower, a win this year wouldn't carry as much clout as a win over Oklahoma would. Now, if FSU beats BOTH of those teams, the rest of the conference should send Jimbo Fisher thank-you cards.
Stanford at Duke, Sept. 10:
With the exception of Oklahoma, this will likely be the best team the ACC will face in the regular season. Problem is, Duke isn't ready to beat a top-10 team yet. If the Blue Devils manage the upset, it would dramatically legitimize the depth in the conference and make a huge statement that Duke is ready to contend under David Cutcliffe. If.
June, 3, 2011
6/03/11
3:30
PM ET
By
ESPN.com staff
| ESPN.com
Welcome to my office ...

Ted in Stonycreek, Va., writes: Heather,with the resignation of tressel and ohio state's best five players on the bench come game time will a miami victory have any value.

HD: Every win counts, Ted, so yes, in regards to bowl eligibility and taking a step in the right direction under Al Golden, it counts. As to the value it will carry against one of the nation's top teams? Definitely devalued without Tressel and five of his key players, but that status hasn't changed. It would have been the same had he just been suspended.


---
Robert in North Carolina writes: Heather, what is the difference between what happened at Ohio State and what has happened/is happening at unc?

HD: The biggest difference is that evidence was discovered that Tressel knew what his players were doing about eight months before the NCAA found out (and then lied about it). There has been no evidence at UNC that Butch Davis knew what his players were up to.


---
Craig Colley in Waycross, Ga., writes: Heather, i got one question. Do you think Jimbo Fisher will allow E.J Manuel to open up the offense more with his athletic ability this year compared to the few games he played in last year?

HD: The more experience Manuel has, the more he'll be able to do, but I don't think Fisher would say Manuel was limited in his abilities last year. And don't forget, the Noles have a pretty good stable of running backs to make use of, too. Manuel doesn't have to do it all by himself.


---
Russ in Richmond, Va., writes: It seems like every year VT fans are hopeful it's their year to finally win the big game, and I agree that gets old after awhile. Compared to previous years, this VT squad is lacking in defense and the QB position on paper, but this is arguably the easiest schedule for VT in over a decade. With that said and taking into consideration the daunting schedules of the other contenders and the likelihood of many one loss teams in the field, it does seem possible YET AGAIN that this could be their year. Remember, there are no top 5 teams on the schedule for once for VT...do I sound crazy?

HD: No, it's not crazy. The BCS is crazy, which means it wouldn't surprise me in the least if the Hokies found their way into the national title picture. Their schedule, though, is both a blessing and a curse. While it should be easy to navigate, I honestly don't see voters giving the Hokies' schedule the credit it will need to be one of the top 2 teams in the country.


---
JWhiz in Bristol, Tn. 37620, writes: Hey Heather, any chance of David Wilson of VATech being the suprise player in the ACC this year completely smothering Login Thomas' stardom to come? Shades of Reggie Bush but better???

HD: Absolutely. Thomas will be in the spotlight simply because of the position he plays, but we've already seen glimpses of how electric Wilson can be. It wouldn't surprise me in the least if he became the main star of that team.


---
Royce in St. Petersburg, Fla., writes: Do you think Greg Reid from Florida State is in position for a breakout year or do you see him as producing similar results as last year which were good also

HD: I thought he had a great season a year ago, but yes, I think he could even improve on those numbers. I wouldn't call it a breakout season, though -- we already know who he is.
June, 1, 2011
6/01/11
3:30
PM ET
By
ESPN.com staff
| ESPN.com
Virginia Tech coach Frank Beamer is the winningest active coach in the ACC. Beamer has 240 victories in 30 years as a head coach -- 24 at Virginia Tech and six at Murray State -- and is currently third among all active FBS head coaches, just one win behind second-place
former
Ohio State coach Jim Tressel (241).
[+] Enlarge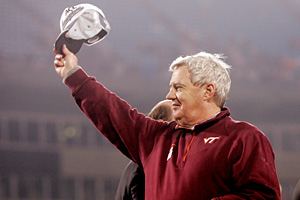 Jeff Blake/US PresswireCoach Frank Beamer's Hokies are the only team in the nation to win at least 10 games in each of the past seven seasons.
As you might have heard, Tressel
is done coaching
the Buckeyes.
Beamer, meanwhile, is still chasing a national title.
And this season, with Tressel sidelined from the game, Beamer should join Penn State's Joe Paterno as the top two active winningest coaches in the country. Beamer's 30-year overall record is 240- 118-4. He should finish this season with 250 wins. Why? Because that's what he does -- consistently produces 10-win seasons. Virginia Tech is the only team in the nation to win at least 10 games in each of the past seven seasons, and with the Hokies favored to win the Coastal Division again, there's no reason to think they can't keep the streak alive.
There's no guarantee that Beamer will hold the No. 2 spot among college football's elite, as it's possible Tressel will coach again somewhere else. There should be a guarantee, though, that whenever Beamer's career is over, his legacy is that of one of college football's best coaches -- with or without a national title.
Beamer has already cemented his place among his peers.
Tressel's resignation just helped him bump it up a notch.
March, 25, 2011
3/25/11
9:00
AM ET
By
ESPN.com staff
| ESPN.com
On a recent trip to Miami, I was chatting with quarterback
Jacory Harris
as we walked into the football building. I asked him if he had been paying attention to the news coming out of Ohio State.
He shook his head no, but then added that he wished all of the Buckeyes would be on the field for that game. If Miami is going to win, the Canes would rather do it against a high-profile team that is full strength.
That won't be the case on Sept. 17.
It was one thing to hear that five Ohio State players, including quarterback
Terrelle Pryor
, would be suspended for the Miami game. It was another to learn that Ohio State coach Jim Tressel
will miss the game, too
.
Just how much of a factor will those absences be when Miami hosts Ohio State on Sept. 17?
It depends on the Buckeyes and how much of a distraction they allow it to become. If ever there were a good time for Miami to turn the tables on Ohio State, this would obviously be it.
But ...
If there is a lesson to be learned about how situations like this can bring a team even closer, it's in Chapel Hill. From the time the Tar Heels took the field against LSU in the season opener last year, until the bowl game was over against Tennessee, they never used the NCAA investigation as an excuse. Instead, they used it as motivation. UNC's roster was depleted by about three times the amount of Ohio State's suspensions, and yet the Tar Heels pulled together for another eight-win season. Granted, it could have been more, but it also could have been much more disastrous.
As colleague Ivan Maisel points out, it's not as if Tressel won't be involved in the preparation for Miami. He's
not going to be coaching the scout team
that week. Still, missing the head coach on Saturday will have an effect on the team. It's up to the Buckeyes to determine how.
Those within Ohio State's program have lost some respect because of this public relations nightmare, but that doesn't mean they've lost sight of their goals. North Carolina was able to prove last year that just because a certain perception is lost, it doesn't mean the season has to be, too.
September, 8, 2010
9/08/10
10:31
AM ET
Miami and Ohio State on Jan. 3, 2003 provided one of the most exciting and talked-about games in recent college football history. Ohio State's double-overtime victory in the Fiesta Bowl secured a national title and marked the beginning of a surge under The Vest (Jim Tressel). It also signaled the end of Miami's amazing run of success. The teams reunite Saturday in Columbus
(ESPN, 3:40 p.m. ET)
, as Ohio State continues its push for the national title and Miami aims for another signature win to prove that yes, The U is back.
Bloggers Adam Rittenberg and Heather Dinich break down the matchup in Columbus.
[+] Enlarge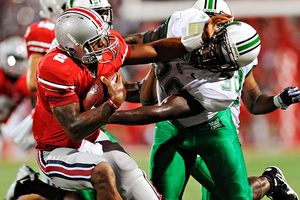 Jamie Sabau/Getty ImagesOhio's Terrelle Pryor is a Heisman Trophy candidate this season.
Adam Rittenberg:
HD, always a pleasure. Tough first weekend for the so-close league, I mean the ACC. Both Ohio State and Miami looked impressive against weak competition Thursday night. We've got to start this off with the two quarterbacks,
Terrelle Pryor
and
Jacory Harris
. Both are Heisman Trophy candidates in my mind, and they're friends off the field who text each other from time to time. What are the big keys for Harris against an always stout Ohio State defense?
Heather Dinich:
Ahh, Ritt, the pleasure is all yours. First, he has to get the protection he needs -- something he hasn't always had, but that appeared to improve in the season opener against Florida A&M. Second, Harris has to continue to play mistake-free like he did in the first half last week. Turnovers were a big issue for him last year -- 17 interceptions -- and Cameron Heyward and the rest of the Buckeyes' D are more than capable of getting him flustered. He's got to stay on his feet and make smart decisions. What about Pryor? Miami's rushing defense is coming off its best performance in three years, with eight sacks against FAMU. Is Ohio State's front ready to hold off the Canes and make Pryor look worthy of the Heisman Hype?
AR:
Pryor looked much more comfortable with the offense in the opener, but he faced virtually no pressure from Marshall and could sit back and wait for wideouts
Dane Sanzenbacher
and
DeVier Posey
to get open. That should change against the Canes, and it'll be interesting to see how often Pryor takes off and runs -- his old method for dealing with pressure -- or stands in the pocket and makes a tough throw. Ohio State's offensive line finally seems to be coming together after several years of underachieving. It's a group filled with blue-chip recruits that boasts good experience now, especially at the guard spots with Justin Boren and Bryant Browning. A big key will be whether left tackle Mike Adams can protect Pryor's blind side.
Speaking of highly recruited offensive linemen and Ohio State, how is our pal Seantrel Henderson doing? Let's just say Buckeye Nation is waiting. Moreover, how do you see Miami's O-line matching up with Heyward, John Simon and Ohio State's front four?
[+] Enlarge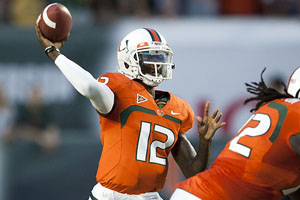 Jonathan Brownfield/US PresswireJacory Harris had three touchdowns and 210 yards against Florida A&M.
HD:
Miami's pass protection was pretty good against FAMU, giving up just one sack, and Mount Henderson got some snaps in which he swallowed up some smaller, less athletic players. He's still got a learning curve, though, and the truth is it's too hard to judge that group until it lines up against the Buckeyes. Some might have made too much of the power versus speed plotline in the Champs Sports Bowl against Wisconsin, but I'm wondering if that won't be a factor with Ohio State's defensive front in putting the pressure on Harris. The Buckeyes' run defense is solid, but can they stop this deep backfield with or without
Graig Cooper
?
AR:
Heather, I'm glad you brought up the Champs Sports Bowl. I know this is a different and supposedly better Miami team, but I have a hard time forgetting how Wisconsin outclassed the Canes in that game, and would have won by more points if not for a
Garrett Graham
fumble near the goal line. If Wisconsin's defense makes Harris look like that, I can't imagine what Ohio State's will do to him. You also bring up a good point about Cooper, who missed most of the Wisconsin game. He's a tremendous athlete and could be a big factor on Saturday if he plays. Ohio State running back
Brandon Saine
is another guy who looks better and better as time goes on and had a great performance in the opener.
OK, you're on the spot. What happens in this one?
HD:
Well, one of two things: A.) Miami wins and is an instant surprise contender for the national title, or B.) The Hurricanes lose and ACC fans flip the channel to the Florida State game, clinging to desperation that somebody can represent on the national level. I think Miami is good, but I don't think they're ready for Ohio State -- especially not in the Shoe. I'm still in believe-it-when-I-see-it mode with these guys when it comes to national relevance. Can they win the ACC? No doubt. But the Canes need to win the Coastal before they're in the same realm as the Buckeyes. Do you see any upset in the making?
AR:
Miami certainly has the talent to win this game. The Canes must win the turnover battle, force Pryor into some bad decisions and hold the edge on special teams, which surprisingly might be Ohio State's biggest weakness this year. While I forecast a great game, I don't see the upset. Ohio State is simply too strong up front on both sides of the ball and wins the battle at the line of scrimmage. Ohio State got over its big-game hump in the Rose Bowl against Oregon, and the Buckeyes aren't a slow Big Ten team, as they're often portrayed. The Buckeyes win this one by a touchdown.
April, 1, 2009
4/01/09
3:55
PM ET
By
ESPN.com staff
| ESPN.com
Posted by ESPN.com's Heather Dinich
Clemson visited Texas, Virginia Tech went to Georgia, and Wake Forest checked out TCU, but the ACC also has a few things to offer. It's common for staffs to travel to other programs during the offseason to pick up tips and copy from playbooks, and Ohio State's staff made its way to Duke, North Carolina, Wake Forest and NC State this offseason.
Quite frankly, it doesn't seem like Jim Tressel was too impressed:
"The first thing we talked about is we have great facilities here," Tressel told the Cleveland Plain Dealer. "And the second thing is we have great kids. And the third thing is a lot of the things we saw others doing well, we were doing them very similarly. And maybe even some things we felt as if maybe we were a touch ahead in that category. Certainly we're not woe is me. And sometimes you need to go look around and recognize that maybe we're doing things OK."
Sure, if you consider the ninth-best offense in the Big Ten and the 105th best passing offense in the country "OK."
Then again, the ACC isn't exactly the conference to pilfer from if you're looking to revamp an offense. Hence the reason Clemson went to Texas.