October, 15, 2013
10/15/13
8:00
AM ET
Miami's biggest question heading into the season was whether or not the beleaguered defense would improve enough to make the Hurricanes a legit contender to win the Coastal Division.

That question was answered in Week 2.
Miami and its defense made a statement with a 21-16 upset of then-No. 12-ranked Florida. The defense was the difference, as
Tyriq McCord
buried Florida quarterback
Jeff Driskel
at the Florida 17-yard line, forcing a fumble that set up Miami's final touchdown. Florida had five turnovers, and Miami had a marquee win.
Now the Canes are 5-0, ranked No. 10 in the country, and barreling down the path toward an undefeated showdown against rival Florida State on Nov. 2. Miami has 18 sacks through five games, and has allowed two passing touchdowns, tied with Florida for the fewest in the nation. The Canes are No. 9 in the country in scoring offense at 45.2 points per game, and No. 9 in scoring defense at 16 points per game. The biggest question surrounding the Canes in the first half has been the health of quarterback
Stephen Morris
, who suffered a bone bruise in his ankle on Sept. 21 against Savannah State. The Canes and Morris have had a bye week to heal heading into Thursday night's game at North Carolina, though, and expectations have only risen with the Canes' latest ranking.
Offensive MVP: RB Dallas Crawford –
He leads the Canes in scoring with eight touchdowns, but what's impressive is that he's done it on 28 total offensive touches. Crawford has scored seven times on 25 carries. He also has one receiving touchdown.
Defensive MVP:
(tie) LB
Denzel Perryman
(team-high 34 tackles, three pass breakups), LB
Jimmy Gaines
(29 tackles, two fumble recoveries, 1 touchdown) and DL
Shayon Green
(21 tackles, 5 TFL, 2.0 sacks, 1 forced fumble).
October, 9, 2013
10/09/13
9:00
AM ET
Phillip Dorsett
is 20 years old, but in Miami years, that makes him a grizzled veteran.
He speaks authoritatively when he says, "I've seen this team do a complete 360."
[+] Enlarge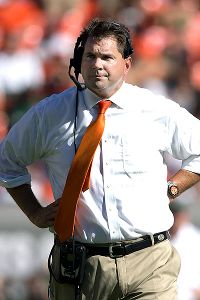 AP Photo/J Pat CarterAl Golden says his Miami team is more focused this season.
So has the college football world. Miami is no longer the bumbling team filled with youngsters learning on the job, unable to hold a lead or compete against tough competition. Miami is all grown up and playing that way.
For proof, let us look at four losses from last season:
North Carolina:
Miami lost a tough game at home that it had every opportunity to win.
Ryan Williams
came into the game after
Stephen Morris
got hurt, and ultimately could not convert on fourth-and-6 from the UNC 26.
Notre Dame:
Miami trailed 13-3 at halftime before getting smacked in the second half and losing 41-3.
Florida State:
The Hurricanes led 10-0 early, then trailed 16-13 at the end of the third quarter. But Florida State reeled off 17 straight points in the fourth quarter to win.
Virginia:
Miami led 38-28 in the fourth quarter, but Virginia quarterback
Michael Rocco
threw a 10-yard touchdown pass to
Jake McGee
with 6 seconds remaining to give the Hoos the 41-40 win.
Now let us look at the two most significant wins so far this season for Miami.
Florida:
The Hurricanes not only stood toe-to-toe with a top-12 team, they won thanks to their defense. In three of the losses cited above, Miami played below average on defense -- especially in the Virginia game. Miami had no business losing that one.
Georgia Tech:
Miami trailed for the first time all season, down 10 points in the second quarter. Yet Miami did not fold, and found a way to make the necessary plays to win.
One parallel stands out in particular between the Tech and Notre Dame games. Against Notre Dame, Miami opened the game by airing it out. Dorsett dropped two potential touchdowns. The Hurricanes, it seemed, deflated when they could not convert those big plays. Against Georgia Tech, Dorsett fumbled a punt in the fourth quarter. The Jackets recovered and scored a touchdown, but missed the extra point.
Still, momentum seemed to belong to Georgia Tech. Miami, however, did not dwell on the mistake. The Hurricanes scored three straight touchdowns to put the game out of reach. As Morris said after the game, "I think last year would have been different."
These examples prove last year was different. But those tribulations ultimately taught Miami how to win. So has improved leadership. Miami has more seniors to rely on this year, and its freshmen and sophomores are taking on bigger, more vocal roles, too.
"We have a lot of young guys that are mature and they rally around the older guys," said redshirt sophomore running back
Dallas Crawford
. "It really feels like we have no young guys. Even the freshmen, it seems like they've been around for years."
Junior linebacker
Denzel Perryman
points to improved communication. "Overall, it's not just one person speaking up. It's everyone at every position," he said. "I'll say something, Jimmy [Gaines] will say something, another linebacker will say something."
One more factor cannot be discounted. Miami players have had to deal with an NCAA investigation and skip bowl games two straight seasons because of self-imposed postseason bans. That adversity has served to bring everybody closer.
"We're more focused," coach Al Golden said. "We just have guys who have been through a lot. It's a close group. They're not daunted by anything. If you look at what they've been through, it pales in comparison. They get down a little bit and say, 'All right, let's go.' I'm really proud of the leadership we have."
This season, everybody knows what is at stake. Every single player came to Miami for a reason -- to re-establish the Hurricanes' tradition. Opening 5-0 is a good start. But that is all it is. Though 5-0 is uncharted territory for the players, Golden has beat home the "one game at a time" mantra.
Opening 5-0 means nothing if the winning stops. Golden knows there are key areas where the Hurricanes have to improve during this bye week -- turnovers and penalties have to be the top two priorities. Miami has turned the ball over eight times and committed 14 penalties in its last two games. Those mistakes cannot be overlooked. Not if Miami wants to win a championship.
Indeed, the Miami maturity we have seen thus far will take on even greater importance as the season wears on.
August, 7, 2013
8/07/13
12:00
PM ET
Hey everyone, know what day it is?
October, 18, 2012
10/18/12
1:00
PM ET
The same ol' question is asked of Miami coach Al Golden every week.
So, ahem, coach: about your defense ...
This week is no exception, of course, not with No. 14 Florida State coming to town. The mismatch on paper appears obvious: Miami has one of the worst run defenses in the country; Florida State has one of the best run offenses in the country.
Miami has only held one opponent under 200 yards rushing all season. That was Boston College in the opener, a team that ranks as one of the worst rushing offenses in the nation. Overall, the Hurricanes rank No. 118 in the nation, giving up an average of 253.7 yards per game on the ground.
[+] Enlarge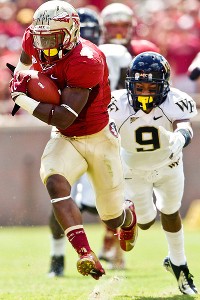 Cal Sport Media via AP ImagesThe Seminoles' rushing offense, lead by Chris Thompson, is ranked No. 16 in the country, averaging 233 yards per game.
The Hurricanes have been looking for solutions every week. They have made more depth chart changes going into this week, moving middle linebacker
Denzel Perryman
to the outside, while
Jimmy Gaines
moves to the middle. Miami has started different defensive lineups in every game this season, a clear illustration of defensive coordinator Mark D'Onofrio trying to find the right combination to shore up his group.
He reasoned the move for Perryman was just to give Miami more speed on the perimeter, particularly since so many teams play four- and five-receiver sets these days. Miami is sure to see that out of Florida State, which likes to spread the ball as much as it likes to run the ball.
What helps is having Perryman and Gaines healthy again. That has allowed the Hurricanes to be much more productive at the linebacker position in recent weeks. But more work must be done.
"We are light years from where we want to be," Golden said. "We are making progress. ... But we are a long way away from being the type of team that gets the number of sacks that we are looking for and gets the takeaways that we are looking for. But I am pleased with their progress and obviously we are playing 20 freshmen or sophomores over there so I am encouraged they are growing and developing."
Youth definitely plays a role, and so do injuries. But Golden makes a good point. Miami has not been effective at getting into the backfield. If you take away the seven sacks the Hurricanes have made, they only have 27 tackles for loss in seven games. That means Miami is averaging less than four tackles behind the line. Last year, Miami had 73 total tackles for loss, with 23 sacks.
There were some signs of improvement last week against North Carolina. The Tar Heels only scored 18 points and Miami had its chances to win in the second half. That was far better than the week before, a 41-3 blowout to Notre Dame. Florida State has various offensive playmakers Miami will have to slow down, starting with running back
Chris Thompson
. The Seminoles are averaging 233 yards rushing and have scored 23 touchdowns on the ground -- both No. 2 in the ACC behind Georgia Tech.
D'Onofrio hopes a renewed dedication during practice will help his defense continue to grow.
"You play how you practice," D'Onofrio
told reporters
in Miami this week. "There's no magic pill. You just can't come up there and be a playmaker on game day without putting the money in the bank. That's in the film room and that's on their own and that's where we're at. I think our guys are starting to realize that."
September, 19, 2012
9/19/12
9:00
AM ET
Georgia Tech and Miami play an important Coastal Division game this Saturday with some pretty important implications for both teams.
While the Jackets looked great in a win over Virginia last week, they have fallen under a Miami spell of late. The Hurricanes have won three straight in the series, outscoring them 92-34. The highest point total Georgia Tech has put up in those three games -- 17.
Meanwhile, Miami sits 1-0 in the ACC but the Hurricanes are in major need of defensive improvement and consistency out of quarterback
Stephen Morris
, who has been up and down this season. Given the way both teams have played in three games, Georgia Tech has the edge on paper going into this one.
[+] Enlarge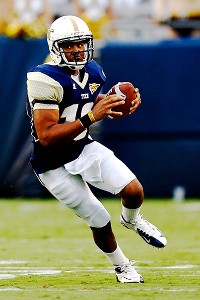 Josh D. Weiss/US PresswireTevin Washington is looking to help Georgia Tech stop Miami's recent dominance over the Yellow Jackets.
Did I mention the Miami spell?
"I think they've played well and we haven't," Georgia Tech coach Paul Johnson said this week when asked why Miami has won three straight. "We haven't gotten off to good starts and have gotten behind. Down there a year ago, we kind of grinded it out and got back 14-7 on a long drive that took forever to get down there. In the last 50 seconds, they scored again to go up 21-7 at the half after they ran the kickoff back. We tried to play catch up. It's important that we get off to a good start."
That is exactly what Georgia Tech did last week in its 56-20 win over Virginia. When the first quarter was over, the Jackets led 21-7. At halftime, their lead grew to 35-7.
Tevin Washington
had three touchdown runs and a 70-yard touchdown pass to
Zach Laskey
, who has played well since entering the starting lineup a few weeks ago.
Johnson said
David Sims
will be back this week so both Sims and Laskey will see time at B-back.
Orwin Smith
played well last week, too, as Georgia Tech racked up 461 yards rushing. Consider Georgia Tech had 469 yards rushing the week before against FCS Presbyterian, and the Jackets have gained nearly 1,000 yards on the ground in two games.
Stopping the run has been a bugaboo for the Miami defense this year, as the Canes have allowed an average of 205.7 yards on the ground this season. The pass defense has not been much better, though priority No. 1 against Georgia Tech always is to stop the run, and Miami has done an excellent job of that in the past three games against the Jackets. Only once in those three games has Georgia Tech gone over 200 yards rushing -- in 2010. Last season, Georgia Tech had 134 yards on the ground and only 95 back in 2009.
But this Miami defense is young and depleted. Injuries have taken a major toll, and Miami will be without starting middle linebacker
Denzel Perryman
, who was hurt in the Bethune-Cookman game last week. Coach Al Golden knows how big this task is awaiting his team, but believes his players are up for the challenge.
So long as they step up to the challenge.
"What better challenge do you have than stopping the team that's the best at running the ball?" Golden said. "That's the way I approach it, I know that's the way the defensive coaches approach it. With Denzel down, we're going to need some guys to step up.
Jimmy Gaines
and
Gionni Paul
are going to have to step up. Some of those guys that have been on the field versus this look in the past --
Tyrone Cornileus
, (Kelvin) Cain,
Darius Smith
, (Anthony) Chickillo, (Brandon) McGee are going to have to step up for us and play really well."
September, 9, 2012
9/09/12
9:00
PM ET
Miami starting linebacker
Ramon Buchanan
will
miss the rest of the season with a right knee injury
and safety
Vaughn Telemaque
is out for this week's game against Bethune-Cookman with a left knee injury, according to The Associated Press.
They were injured in Saturday's 52-13 loss to Kansas State. Miami's defense has been an open door for opponents, and this obviously isn't going to help matters. It doesn't matter that they've got an FCS opponent at home this weekend: The Canes have two of the next three games on the road, including a trip to Coastal Division opponent Georgia Tech, and a date with Notre Dame in Soldier Field.
Coach Al Golden told reporters on Sunday that juniors
Jimmy Gaines
and
Tyrone Cornileus
are expected to compete for Buchanan's starting spot.
"Jimmy has made some progress," Golden said,
according to the Miami Herald
. "He's starting to play more snaps and feel healthier. Jimmy will certainly be in the mix there.
Gionni Paul
has to come through for us and
Thurston Armbrister
continues to make progress for us and of course Tyrone has been playing over there with Buck. Obviously Tyrone's going to get a chance to be a starter, he'll probably compete with Jimmy Gaines, but we need all of these guys to step up for sure."
April, 3, 2012
4/03/12
2:30
PM ET
Andrea Adelson had a chance to sit down with Miami coach Al Golden during a recent visit to Coral Gables. Here is a little of what he had to say.
I know depth is an area of concern. How are you working to address that this spring?
Al Golden
: Any time you're bringing in a class of 33, that's three starting units. Obviously, those guys are going to have an impact somewhere on your depth. You never want to have a year where you take six receivers or seven defensive backs, but the symmetry at those positions was not good. It was not vertical depth. It wasn't fifth-year seniors, fourth-year seniors, juniors, sophomores, freshmen, then incoming guys. It didn't exist. So that was a blanket approach of trying to bring in a lot of guys to fix a depth issue. Between the depth and those guys challenging for playing time as starters, that's going to improve our team. I'm not worried about playing young guys. We'll find a way to get them in a game if they're talented and they learn it and they're in good condition. I don't care whether they're freshmen or seniors, I just need guys who want to execute.
You lost some senior leaders. How is that aspect of your team developing?
[+] Enlarge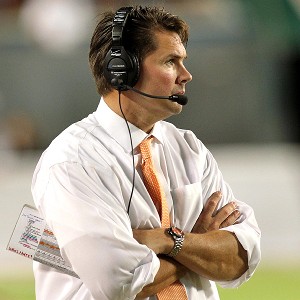 Robert Mayer/US PresswireCoach Al Golden has been impressed with the physicality of the linebacking corps this spring.
AG
: So far it's been good.
Mike James
and
Eduardo Clements
at running back,
Stephen Morris
at quarterback. (Brandon) Linder on the offensive line has been very good.
David Perry
at tight end has been a nice surprise for us.
Allen Hurns
at wideout has done a nice job with the leadership. Defensively, (Ramon) Buchanan will be a leader for us, Ray Armstrong will be a leader for us, Jimmy Gaines has been and will be a leader for us. It's been positive in terms of that. We just have to continue to develop leaders and give them opportunities to lead.
How about some questions that have been answered about your defense so far?
AG
: I think the one thing that jumped out in the (first scrimmage) is we had a lot of linebackers that played physical. So that part of it was good. Even the young guys, [Raphael] Kirby was physical,
Gionni Paul
was physical, Denzel [Perryman] was physical on top of [Tyrone] Cornileus and Jimmy Gaines and those guys. Seeing that was good. We tackled a lot better in Scrimmage 1 this year than Scrimmage 1 a year ago, which was important, and we're still trying to develop our depth on the defensive line and at cornerback. Those are two positions we need to bolster this spring.
Speaking of the defensive line, you don't have many players with starts or experience. What do you want to see out of that group this spring?
AG
: I want to see, like
Curtis Porter
, I'd like to see him take his game to the next level.
Darius Smith
has got to continue to improve. Then we're going to have a host of other guys at the defensive tackle position that need to compete and improve their game. At defensive end,
Shayon Green
's had a good spring for us so far, and really at defensive end, we're going to have in addition to what we have right now, we're going to have three defensive ends coming in that are going to have to compete for starting jobs and also add depth.
Right now, do you have any idea of what team you will have in the fall?
AG
: We have a long way to go. I just think before these other 23 players come in, because 10 are here now, you have to assess where you are at every position and see how they come out of it. We have a long way to go to get through spring ball, and then from April 14 until Aug. 5 there's a great opportunity for them to grow and develop. It's too early to assess where we are right now as a team.
A year into the job, what are your impressions of coaching at Miami, a place where championships are always expected?
AG
: We're not at that level right now. The first order of business when you're trying to fix something or you're trying to build something is to recognize where you are and then to not only plot a course but then to follow that path, follow that strategy and execute it. I'm glad the standards are where they are, and I'm glad we produce NFL players, and I'm glad we have so many things to offer young people. It's the reason why you take the job. But we can't jump from where we are right now to there without taking all the steps we need to take in between. We're just trying to implement our schemes and our system and follow the process on a daily basis.