April, 17, 2014
Apr 17
10:30
AM ET
It was halftime of the Little Caesars Bowl when
Pitt
running back
James Conner
approached backup quarterback
Chad Voytik
in the Panthers' locker room and gave him a vote of confidence that continues to resonate.

With starting quarterback
Tom Savage
sidelined with a rib injury, and Pitt clinging to a 17-10 lead over Bowling Green, the unproven Voytik had to take over the offense in the second half, and he conceded he was "nervous as all get-out."
"I told him, 'Man, I trust you,'" Conner said. "Let's go out and win this thing."
That's exactly what they did.
Conner had an MVP performance, rushing for an astounding 229 yards and a touchdown, and Voytik put Pitt ahead 27-20 with a five-yard touchdown run in the fourth quarter. He completed 5 of 9 passes for 108 yards in the
30-27 win
, made plays with his legs, and more importantly, managed the offense without any turnovers. It was a snapshot of Voytik's potential, and it earned him the trust and respect of his teammates as he prepares to take over for Savage full time this season.
"For me, the overall performance, it was just nice to get out there again and play because I hadn't played in a serious game since high school," he said. "You kind of forget a little bit what it feels like and that you can still do it. For me, personally, it was very reassuring and kind of boosted my confidence a little bit in myself, just knowing I could go in there and compete at this level."
Now he just has to do it on a regular basis.
Voytik is quick to point out that he hasn't officially been named the starter yet, but as the heir apparent, he has been preparing like one all offseason. This spring, Voytik and
Trey Anderson
were the only quarterbacks on the roster. It's an extremely different role for Voytik, as he only played in four games last season behind Savage, and saw his most extensive snaps in the bowl game. All but eight of his passing yards and two of his attempts for the season were against Bowling Green. Because of his limited playing time, the reps with the first-team this spring were invaluable. One of his priorities has been tweaking his footwork.
[+] Enlarge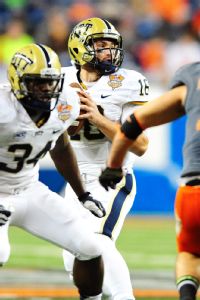 David Dermer/Diamond Images/Getty ImagesPitt signal-caller Chad Voytik gained valuable experience in the Panthers' Little Caesars Bowl win over Bowling Green.
"I've always prided myself in being an accurate quarterback and I want to continue to grow in that area because mechanically I've always had a pretty good throwing motion, but now I'm starting to find some things with my feet that have slacked a little bit over the years," he said. "I've developed a few small habits I'm trying to fix. I think accuracy as a result of that will improve. That's my project right now, that will be my project this summer. Just a few small tweaks, but I think they can help me in big ways."
While there is still plenty for the third-year sophomore to learn, those within the program have been encouraged by what they've seen so far.
"I think he's always had confidence in his athletic ability, and now I think through this spring he's really starting to gain a lot of confidence in his knowledge base and in his understanding and comfort of the offense, which is awesome," said offensive coordinator Joe Rudolph. "That's what you want. He's worked at it. He's taken an approach where he's been truly competitive in the film room, where he's gone in there and tried to grind through it until it made sense to him."
One of the biggest differences between Savage and Voytik is Voytik's ability to run. On Pitt's game-winning field goal drive in the bowl game against Bowling Green, Voytik had a 19-yard rush, the longest run by a Pitt quarterback since 2011.
"I think teams have to have some awareness in his ability to pull the ball down and take off with it," Rudolph said. "He definitely has that, and I think he has confidence in that. It's a different skill set. I think he can make the throws. It's not like you don't have someone who can get the ball down the field by any means. He's more than capable there. He just adds another dimension."
Conner said Voytik's performance in the bowl game was just a sample.
"We have a lot of confidence in him," Conner said. "He's continued to get coached up, and I can't wait to see what he brings to the table this year."
April, 15, 2014
Apr 15
9:00
AM ET
Pitt
will have its final spring practice today, and I spoke recently with offensive coordinator Joe Rudolph about the progress the Panthers have made. Here are the highlights of our conversation:
We've talked a lot about your quarterback this spring, Chad Voytik, how has the rest of the offense looked?
[+] Enlarge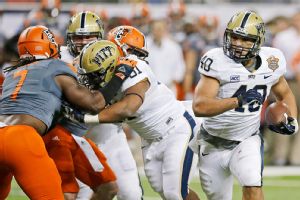 AP Photo/Carlos OsorioCoordinator Joe Rudolph says the Pitt offensive line made significant strides in spring.
Joe Rudolph:
It's coming, truly coming. I think it's a group that loves to work, and they love to work together. I've really enjoyed their approach to the spring, and I love how they've interacted and competed. There's a way you can compete where you're not giving anything up – you are going after it – but you also respect that person across from you, and I think this group does. We have to do a good job coaching, and player-wise they have to do a great job absorbing the details and information that will allow them to play a little bit more aware, with a little bit more seasoning than the number of starts or years in the program represent. I do, I like them. I think it's coming. The group is coming along.
How much better has the pass protection looked?
JR:
I think a lot better. There are some guys who have truly settled in the position.
T.J. Clemmings
stands out the most as really settling into a position and taking ownership of it. I really see a maturing in him, which is nice. He's over there next to
Matt Rotheram
, and that brings some great stability. I see
Artie [Rowell]
getting more confident, not only making the calls and those types of things, but in his technique at center. I think at times you get into it, you do a lot of great things all through practice and the minute you get into a game you get a hair hesitant. When you do that, you're not playing fast. You're not playing at your best. This group is ready to do that and have that little bit more confidence you need to let it go. They're getting there. The left side is young.
Adam Bisnowaty
has been limited, hasn't been able to do a lot of team stuff, we've got
Jaryd Jones-Smith
and
Dorian Johnson
have been battling over there. There are some things that show their heads from an understanding at times, but we also see some things ability-wise where you say, 'Wow.' So we're plugging at it.
I would think you have to be encouraged by the depth and experience that's returning this year at running back:
JR:
Yeah, the kids just work. Last year they worked their tails off. We asked them to jump into it, trust us and play with confidence.
Isaac [Bennett]
was the one guy who had experience, and I thought he did a great job for us, just steadying the whole group and being the bell cow when we needed him to and understanding protections.
James [Conner]
had his moments when he really stepped into the spotlight. His confidence level has increased and we're still hammering him on getting that complete understanding. They've been a blast.
Rachid [Ibrahim]
did some wonderful things for us last year and really saved us in a lot of areas and helped us because we were confident in his knowledge of protections and the run game and for a young guy to really have a grasp of all of it, you don't see that too often. He's doing a really good job this spring again and we've got a nice group coming in, so we're excited.
What's the next step for Tyler Boyd?
JR:
I think Tyler, the fun thing about Tyler is he loves to compete and he loves to be coached. He wants to know how he can get better. When you've got that approach, boy you love it. I'm sure there's a lot of details, whether it's finding the right blocks and the right fits in the run game to being consistent on all of his routes and route adjustments, and recognition of coverages, so I think there's a lot of room for growth, but in that, the ability to keep playing fast and making plays as you have.
April, 14, 2014
Apr 14
9:00
AM ET
Eight ACC teams wrapped up their spring seasons this past weekend, with games and open practices taking place from Pittsburgh all the way down to Miami. Here's a look at the biggest storylines from all of the action surrounding six of those teams. (Colleague Jared Shanker has plenty of
Florida State content
over on our Seminoles site, while our David Hale was in the house for the second spring of the Dave Doeren era at NC State.)
CLEMSON

The Tigers entered their spring game down one quarterback after
Deshaun Watson
injured his collarbone five days earlier, and fellow signal caller
Chad Kelly
might have simplified the QB battle for the coaching staff down the stretch -- just not in a good way. Kelly got himself benched for the second half after questioning a punting decision on fourth down in the second quarter.
Cole Stoudt
took advantage of the opening, completing 15 of 23 passes for 158 yards and two touchdowns on a day that certainly did not hurt his chances at emerging atop the three-man race come August. Kelly, meanwhile, went 10-for-18 for 118 yards with two interceptions. The defense was credited with 14 sacks, though the quarterbacks weren't live. The White team beat the Orange team, 23-5, in front of a record 33,000.
LOUISVILLE

It's often too easy to draw general conclusions and overreact to what we all see during a team's main public display at the end of each spring. That is probably the case when looking at the Cardinals' Friday night fireworks. Redshirt sophomore
Will Gardner
threw for 542 yards and four touchdowns, leading the offense to 951 total yards and 11 touchdowns. Most of it came against the second-team defense, which underscored the feeling exiting 2013: The secondary is in need of some depth, especially after losing
Hakeem Smith
and
Calvin Pryor
. Is Bobby Petrino's first offense that good? Is his secondary that bad? Probably somewhere in between, though roughly 27,500 were entertained.
MIAMI

The defense was the main storyline ever since the end of the 2013 season, though
Ryan Williams
' ACL tear last week brought a new concern to the forefront. Still, the Hurricanes had to be pleased with how Mark D'Onofrio's unit performed on Saturday, with safeties
Jamal Carter
and
Dallas Crawford
leading the way with five tackles apiece. The defense won the game, 61-60, thanks to an unconventional scoring system. And, more importantly, it held Miami's new quarterbacks in check, with
Kevin Olsen
going just 7-of-21 for 65 yards and a pick and
Gray Crow
going 9-of-20 for 63 yards and a pick.
Juwon Young
and
Tracy Howard
came up with the interceptions.
NORTH CAROLINA

Quarterbacks took center stage in Chapel Hill as well, with neither incumbent
Marquise Williams
nor challenger
Mitch Trubisky
offering much in way of clarity. Williams completed 22 of 32 passes for 135 yards and an interception. Trubisky went 20-for-32 for 183 yards and an interception. Larry Fedora liked the decision-making from both of his signal callers on Saturday and knows he has two capable signal-callers, but he isn't offering any public hints about who his guy will likely be come this fall. The Blue team, by the way, beat the White team, 38-17.
VIRGINIA

The defense (Blue) dominated the injury-depleted offense (White), coming up with four interceptions and nine total sacks (albeit two-hand touch sacks).
Greyson Lambert
looked like the best of the Cavaliers' quarterbacks, completing 18 of 31 passes for 220 yards with two touchdowns and two picks. Incumbent
David Watford
went just 4-of-14 for 31 yards with two picks, while
Matt Johns
completed 6 of his 19 throws for 43 yards. Lambert and the Virginia coaching staff attributed the redshirt sophomore's improved play to a clear head, as he has taken pressure off himself this time around and looks like the front-runner, as he was voted one of four captains by teammates, along with
Anthony Harris
,
Henry Coley
and
Kevin Parks
. He was also one of 13 players -- and the only quarterback -- named to the leadership council.
PITT

The Panthers drew plenty of attention early for announcing that they would not hold a traditional spring game. Still, their "Field Pass" event on Sunday at its South Side headquarters drew more than 3,000 who came and listened to presentations from defensive coordinator Matt House, offensive coordinator Joe Rudolph, strength and conditioning coach Ross Kolodziej and recruiting coordinator Dann Kabala. A big theme around Pitt this spring has been the program's youth, but that storyline moved closer and closer toward its depth, which has been tested lately with injuries to running backs
James Conner
(sprained left knee) and
Isaac Bennett
(sprained left shoulder), who will have surgery but is expected to return in time for fall camp. Pitt held its 14th spring practice before Sunday's fan event and will conclude its spring season Tuesday.
April, 10, 2014
Apr 10
2:00
PM ET
Seven ACC teams will play their spring games this weekend, and eight will officially close spring practices in the coming days, as Pitt has opted to have a more fan-friendly event instead of an actual spring game on Sunday before closing practice on Tuesday.
For all of these teams -- including Florida State -- the quarterbacks will be among the most-watched players on the field. In Tallahassee, fans will get a chance to see the Heisman Trophy winner, returning starter
Jameis Winston
. At every other school, there is an ongoing storyline and competition with the quarterbacks. We're giving you one
additional
thing to keep an eye on that might not be so obvious.
Check it out, and enjoy the games this weekend!
CLEMSON

When:
4 p.m. on Saturday (ESPNU) and on
WatchESPN
Where:
Death Valley
One thing to watch:
The true freshman wide receivers.
Artavis Scott
,
Demarre Kitt
and
Kyrin Priester
were all highly touted recruits who enrolled early to help Clemson try to replace
Sammy Watkins
and
Martavis Bryant
(a combined 2,292 receiving yards and 19 touchdowns in 2013).
FLORIDA STATE

When:
3 p.m. on Saturday (ESPN) and on
WatchESPN
Where:
Doak Campbell Stadium
One thing to watch:
The wide receivers. They haven't exactly earned high praise from coach Jimbo Fisher, who called the receivers out last week for not getting open and making catches.
Rashad Greene
is the most experienced option as the Noles try to replace
Kelvin Benjamin
and
Kenny Shaw
, but the staff also needs to see more from players like
Bobo Wilson
and
Kermit Whitfield
.
LOUISVILLE

When:
7:30 p.m. on Friday
Where:
Papa John's Cardinal Stadium
One thing to watch:
The safeties. Louisville lost
Hakeem Smith
, who started 51 straight games, and projected first-round draft pick
Calvin Pryor
.
Jermaine Reve
,
Gerod Holliman
and
Chucky Williams
are the leading candidates for those spots, but Reve is out for the spring with an injury. Reve and Holliman are the only players with game experience.
MIAMI

When:
6 p.m. on Saturday
(ESPN3)
Where:
Sun Life Stadium
One thing to watch:
Defense, defense, defense. It's been an area of concern, but the defense showed signs of progress this spring. The Canes return eight starters and 16 players from the two-deep depth chart.
Denzel Perryman
is now playing middle linebacker, and
Dallas Crawford
moved to safety to give that position a boost. Those within the program have said repeatedly that the defense has made strides since last season, and overall it was a good spring for the defense. We'll see if they can punctuate it in the spring game.
NORTH CAROLINA

When:
3 p.m. on Saturday
(ESPN3)
Where:
Kenan Stadium
One thing to watch:
True freshman running back
Elijah Hood
. The four-star recruit was rated the nation's No. 9 running back in the Class of 2014 by ESPN.com and No. 80 overall in the ESPN 300. The early enrollee has had such a good spring that he could see some immediate playing time, even though the Tar Heels are deep at the position.
NC STATE

When:
1 p.m. on Saturday
Where:
Carter-Finley Stadium
One thing to watch:
More young wide receivers. NC State has to replace
Quintin Payton
and
Rashard Smith
, both starters from last year. The talent pool to choose from includes a host of sophomores and freshmen, including two early enrollees. The leading sophomore candidates are:
Jumichael Ramos
, who finished the last three games of 2013 strong;
Marquez Valdes-Scantling
, who led the team in receiving at one point last year as a true freshman; and
Bra'lon Cherry
, who suffered a season-ending injury against Duke. Freshmen
Bo Hines
and
Stephen Louis
enrolled early, and redshirt freshman
Gavin Locklear
is also in the mix.
VIRGINIA

When:
1 p.m. on Saturday
Where:
Scott Stadium
One thing to watch:
Improved wide receivers. This is a group coach Mike London has praised this spring, for both its height and athleticism, as the staff has moved toward a longer, leaner look. London recently singled out
Miles Gooch
,
Keeon Johnson
and
Kyle Dockins
-- all listed at 6-foot-3 -- as players who have excelled this spring. Unfortunately, fans won't be able to see starter
Jake McGee
, the Hoos' star tight end who moved to receiver this spring, as he'll be sidelined with a hamstring injury.
PITT

(No spring game)

When:
From 2-4 p.m. on Sunday, Pitt will host its "Pitt Football Field Pass"
Where:
The UPMC Sports Performance Complex
One thing to watch:
Instead of a game, Pitt will hold a public event that will include a kids' clinic, an offensive strategy session with coordinator Joe Rudolph, a defensive strategy session with coordinator Matt House, a recruiting session with coordinator Dann Kabala and a strength and conditioning session with assistant coach Ross Kolodziej.
May, 28, 2013
5/28/13
10:30
AM ET
Pitt receiver
Devin Street
was always around this spring. He was there to give his teammates a ride, to pick them up, to take them to their tutor, to help with a team book report, to get in an extra lift in the weight room, and to set an example.
Street decided this offseason that he was going to be a leader -- and one of the best receivers in the country.
"I try to seize the day," he said. "As soon as I wake up, I'm always trying to think of ways to better myself, whether it be in football or outside of football. The biggest thing as we go through everyday life is growth and opportunities and learning through things. That's the biggest thing I'm going through right now. When I get over here, it's a mindset where I'm coming in and going to work and really fine-tuning my game and being able to bond and spend time with the guys around here and just feed off of them and try to make this whole team better."
With a new quarterback, a new starting running back, and new roles for the offensive linemen, Street has become one of the most recognizable faces of the Panthers' offense. With the graduation of receiver Mike Shanahan, who played opposite Street last year, Street will be the focus of opposing defenses until another dependable receiver emerges.
[+] Enlarge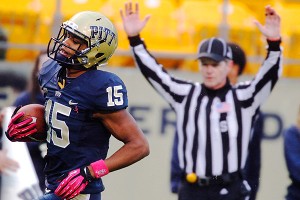 AP Photo/Keith SrakocicAn inexperienced Pitt offense will be counting on receiver Devin Street for guidance in 2013.
He started all 13 games last year and led the team with 73 catches for 975 yards and five touchdowns. He finished second in the Big East in receptions per game and had three 100-yard receiving games. Despite those accomplishments, those within the program say there's another level he can reach, and Street took steps this spring toward getting there.
"I think he's a much better player right now than he was last year, and he's a much better teammate and much better leader," said offensive coordinator Joe Rudolph. "I think he's had as much growth as anyone we've had here. You can see his approach to a practice or to a play. He provided that consistency and accountability. He didn't do it with words, he did with actions and how he performs. I'm excited for him. I love his approach. He has the same urgency about what he's doing and his own preparation, but also serving as an example, if it's a matter of going in and digging out a guy on a block, you see him go after it with the same passion as when we're calling his number in a pass route. From your senior group, that's what you hope and that's what he's delivering now."
Street was a second-team All-Big East selection last year but said his goals for this fall include surpassing the 1,000-yard receiving mark, winning the ACC, and finishing atop the national rankings in receiving.
"I've dedicated my life to this sport," he said. "I think it would be crazy not to say you want to be the best at it."
His teammates say he is getting closer.
"We compete every day," sdefensive back
K'Waun Williams
said. "We're always buttin' heads. He definitely got better. He got faster, his routes are more crisp, and he's become a leader on the offensive side of the ball."
It's a necessary role for a rookie offense that returns just six starters, including Street.
"I feel like with every great team -- you see the Pats, Tom Brady, Bill Belichick -- those are great leaders," Street said. "The Ravens this year, look at those guys, Ray Lewis, Ed Reed. You just see it around. All of these great teams have great leaders, guys who know what to say. Of course a leader isn't going to do everything right, but the point is to rally the troops. That's why there are generals appointed in the military, things like that. When it comes down to crunch time, that guy has to take responsibility for his soldier or his team. That's what I'm willing to do, whether it be negative or positive feedback. No one is bigger than the team, but there should be a leader who can bring it all together."
May, 22, 2013
5/22/13
5:00
PM ET
On Tuesday we started a
conversation with Pitt offensive coordinator Joe Rudolph
. Here is the second and final part of that interview:
Where do you feel the state of the program is right now? I know it's a loaded question, but it's in such desperate need of stability and now that you guys are in your second season, where are you at in terms of your master plan and blueprint for the program?
Joe Rudolph:
You described it as a desperate need for stability. I think it changed when Paul [Chryst] took the job. It might not have been felt yet, it's kind of that deceleration getting ready to accelerate in the opposite direction, but that is when it changed. It is the right guy for that. His approach to what this group needs is really all based on stability and consistency and accountability. When that is your mantra and that is everything you want for these young men, you do have a chance to get there a little bit faster. I feel like with this group as we finished spring, every one of them could be able to put into words what it is to be accountable, what we want in a program, what it is to truly appreciate the game and hard work. Now, to do that consistently is the next goal. To be detailed all the time, not just some of the time. I really like where it is. It's a young group, and there's a lot of fun in that, and also, like you said, where's the comfort in that? You never know. You never know. There's comfort in knowing every rep they're taking is going to be valued because guys are going to be doing it quite a while for you.
[+] Enlarge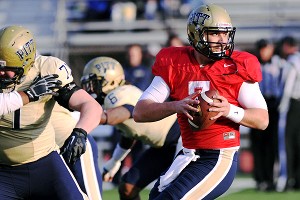 AP Photo/John HellerTom Savage last played in a game in 2010.
Back to Tom [Savage], can you give me a scouting report? Quick release? Mobile? Hit guys in the numbers? What's he look like on film?
JR:
First, he's blessed with a great arm. He's got great intangibles there. He's very smart and being able to tie those things together will be ideal. He has experience, and he has a calmness about him within the pocket and going through his progressions, accuracy, those are all strengths of his. His game is in the confidence and it is in slowing it down through his understanding and knowledge. That's why, where we finished the spring off, I'm excited to see what he can put together as we approach fall camp.
What's your biggest concern yet heading into fall camp?
JR:
It's probably the complimentary players, cohesiveness on the offensive line. It's an emergence at tailback. And it's some of the positions and players we haven't mentioned. It's truly someone rising up as a second and third wide receiver. It's those types of things, those are the things you want to see happen.
Is there any greater sense of urgency because you guys know you're starting with Florida State?
JR:
It's not something we bring up to our guys, but without question our guys know it. I don't think that would flow with what we're trying to say about being consistent. We're not going to do something different because we're opening with Florida State. Hopefully we're doing it no matter who we're opening up with. But without question those guys see that, and they're aware of it. That's not going to be hard to create some urgency by understanding that.
Are you looking forward to playing in the ACC?
JR:
Very much so. I think you take a look at that schedule and it's pretty exciting. You can see it from what's happening here. The fan base is excited to see those teams come in here and play. I just think it's exciting as a conference. It is great athletic programs. When you go and you talk about that coupled with true dedication to education and what those schools represent, from an education standpoint, it's what you want. Those are the types of student-athletes you want to bring on board.
From a fan's perspective you guys have a pretty sweet home schedule.
JR:
Yeah. It's pretty fun. And the guys are excited about that. It's going to be challenging, but I like where the group is at right now. They're working and they have fun. They're truly starting to enjoy what it's all about and the process of getting there. Those are the right steps.
What did you guys say to them last year to get that effort out of them against Virginia Tech?
JR:
I don't know. I honestly don't know. I don't know if I could put my finger on the highs and lows of the season. You loved it when you had that rolling, but I think consistency is what we didn't have, obviously. We went two losses, two wins, that cycle all the way through, and you didn't have that consistency. Sometimes they played better than you thought they would going out, and sometimes they didn't play as well as you'd hoped. There did seem to be those times when you could turn that momentum when it wasn't going well, we really had something to turn it to make it go right. That's what we have to strive for this year.
May, 21, 2013
5/21/13
2:00
PM ET
Pitt offensive coordinator and tight ends coach Joe Rudolph is entering his second season with the Panthers and he has six returning starters to work with. It's a young group that's facing a lot of questions, but Rudolph addressed some of those concerns and his quarterback competition in a spring interview. Here are the highlights of our conversation:
[+] Enlarge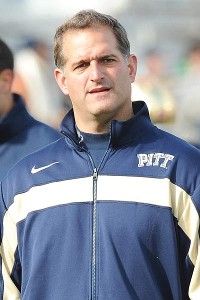 Courtesy of Pittsburgh athleticsJoe Rudolph, in his second year as the Panthers' offensive coordinator, has a young group of players in key roles for 2013.
How did Tom [Savage] look this spring? A lot of fans haven't seen him play. What does he look like as a quarterback?
Joe Rudolph:
For the position in general I think there's excitement. Tino [Sunseri] had held that down for the last couple of years, and somebody new being in that spot, I think everyone is excited to see. Tom, it's a unique group with Tom being a fifth-year senior and having some experience and some success early in his career and then really some young guys and Chad [Voytik] being the one who is pushing … and Tra'Von [Chapman] coming in as a high school senior and starting his career early. And Trey [Anderson] is doing a good job. He's wearing a coach's hat. Todd's been fun to watch this spring. I think you truly can see the urgency in his approach to it and I think he takes that very seriously. I think he's going to be a player who truly wants to play fast and play with a full knowledge base. As he gains that, you can see him having more fun and playing faster and being more in the moment, so I'm excited to see how hits fall camp. Once you actually go through it, you gotta get it out of your mouth. You gotta get the signal from the sideline, you gotta get the guys up, you gotta shift, motion, see the defense. As that becomes more second-nature to him, I think you'll continue to see him play faster and faster. He's got really a great length of time in summer where he can study what we've done, study some things from the past, put it together. I think he'll take a great approach to it. When you see a fifth-year senior taking that type of approach, it's great for those guys. It's a unique group in the room with the age difference, but pretty complimentary in a lot of ways.
Is it hard for him to take an assertive leadership role because he hasn't played a snap for you guys?
JR:
By the nature of the position you're going to have to. You're in charge of the huddle, you're getting them up, you kind of have to be that, but as he gains that confidence in the details of his position, I think you'll see that emerge and his comfort level will continue to emerge.
Did he read the defense well this spring?
JR:
Yeah, and I think that's it, it starts with where are my guys going to be? How will my read roll into it? You go up there, you get it out of your mouth easy from calling the play, you know where your guys are going to be, and then it's supposed to be easy enough to say let me look at this picture and go through my read. I think there's some progression to all of it. I think that's really what we saw the last week of spring from him, where he was starting to really put it together. It's a good place to be, now hopefully we keep taking advantage of the summer, and I think he will. I think he'll work his tail off.
From the outside looking in, the perception is there is a question at quarterback, nobody on the offensive line who has really played the same position, Rushel Shell transferring, a lot of questions. Where is your comfort level at right now with all of those things?
JR:
A huge comfort level is in the coaching staff. Those guys do an outstanding job. Their relationships with their players in the room is outstanding, and so I have great comfort in that. I also have great comfort in the approach of the guys to work and learn. You're right, we have two tackles who are moving to guard, but their approach to that, how does the experience last year help them be good players this year? It doesn't the first day of spring, but I think as they get comfortable with their assignments and their job at guard, the experience of them being a tackle will really come into play for them, and their experience of being out of the field will add to that communication. It's going to be a young group. You say that and you've got a wide receiver in
Devin Street
we're obviously excited about who has a lot of ability and will be a senior. Quarterback might be exactly the same, a fifth-year senior, but other than that, looking around, there are a lot of young faces. There could be two freshmen starting in the O-line.
J.P. Holtz
at tight end, he's still in a freshman year even though he started 10 games, so, you'll have some young players out there. I think the approach of our guys and how they take advantage of the summer will be big for them. Rushel is a loss, and you wish him the best. You hope everyone finds the best thing for them to be successful, but I'm excited about the guys in the room. I think they sense the opportunity and they have taken advantage of things this spring to bring that out. There will be a nice influx and we'll see who can help from the guys who walk in the door here in a few months.
Check back tomorrow for Part II of this interview.
April, 23, 2013
4/23/13
9:00
AM ET

Heather Dinich talks to Pittsburgh offensive coordinator Joe Rudolph about spring practices, the quarterbacks, and what's ahead for the Panthers.
April, 17, 2013
4/17/13
9:00
AM ET
PITTSBURGH -- Pittsburgh coach Paul Chryst gave his team two playbooks to master this offseason -- one containing Xs and Os; the other a New York Times bestseller.
This spring, the Panthers are reading "The Traveler's Gift," a fictional story written to inspire readers to overcome obstacles. Every week, each position group presents a book report to the team.
"We go through it, talk about the main points, how can it affect our team and help our team, and how it affected you individually, what lines spoke to you," receiver
Devin Street
said. "It's a chance for guys to get up and interpret things and just be themselves in front of everyone. It's a chance for guys to come together. I think it's a great tool that coach has used to bring us together and teach us and prepare us for this upcoming season."
When Chryst was hired at Pitt in December 2011, the program turned the page on instability.
[+] Enlarge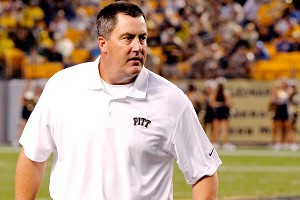 AP Photo/Keith SrakocicThose within the Pitt program are responding to coach Paul Chryst's consistency and commitment.
After a tumultuous time in which Chryst became the program's third different head coach in three straight seasons, there was no greater affirmation of Chryst's commitment to the Panthers than
his disinterest in the Wisconsin job
when it came open just one year after he was hired. Chryst spent seven seasons on the sidelines with the Badgers, where also played and graduated from. Instead of flirting with the possibility of becoming head coach of his alma mater, though, Chryst didn't even discuss it with his staff. Instead, he made it clear he was sticking around in the 'Burgh to bring stability to a program in desperate need of some. While the Panthers still have a long way to go on the field, those within the program say Chryst has made important changes that have it heading in the right direction.
"I think it changed when Paul took the job," offensive coordinator Joe Rudolph said. "It might not have been felt yet -- it's kind of that deceleration getting ready to accelerate in the opposite direction, but that is when it changed, and it is the right guy. His approach to what this group needs is really all based around stability, and consistency, and accountability. When that is your mantra, when that is everything you want from these young men, you do have a chance to get there a little bit faster."
Chryst is not a rah-rah guy. Not even close. His blue-collar, down-to-earth personality fits in well in the Steel City, and it has helped earn the trust of his players. There weren't any phony lines, but there were changes -- some major changes, like a higher standard of accountability and better leadership, but there were also more subtle changes, like eating together in the cafeteria, and a set of Dominoes in the locker room.
"As simple as that sounds, guys are sitting down there and we're playing Dominoes, and starting conversations, and build that bond a great team needs," Street said. "For him to see that, something so simple, a little game of Dominoes, that speaks volumes about his character right there."
Quarterback
Tom Savage
said Chryst -- and the opportunity to play in his offense -- were the two biggest selling points to him when he decided to transfer for the second time in his career.
"I think they really built the family atmosphere here," Savage said. "It's not like you walk in here and it's strictly business. You can walk in here on Saturday, and there will be some people around, and you can sit and talk and relax. It's not just a business like it is at a lot of other schools. That's a huge foundation for where an elite program has to be, where it's fun to be around."
While the intangibles are coming together, the spring game was evidence that there is still plenty of work to do on the field before the Panthers open their first season in the ACC on Labor Day against Florida State.
Pittsburgh enters its second season under Chryst with far more questions than answers. There are offensive linemen who have changed positions, a quarterback (Savage) who hasn't taken a snap in a game in two years, and the leading returning running back,
Rushel Shell
, has decided to transfer. With each new obstacle, though, Chryst never seems to flinch, and his message stays the same -- keep working.
"You don't come in and tell people, 'Hey, trust us,'" Chryst said. "Actions speak louder than words. Part of it is just being myself, or the assistant coaches, just being that same guy last spring, this fall, winter. Probably more than anything that helps, and I think, too, that there's been some addition by subtraction for various reasons. Guys are choosing to be here. The most important thing is being consistent, and for all of these guys, it's the same faces."
Pitt doesn't need another new chapter. It has already begun to write its own report under Chryst.