January, 24, 2011
1/24/11
10:00
AM ET
This morning we looked at the main recruiting needs for the Atlantic Division. Here are the priorities for each team in the Coastal Division:
DUKE
Offensive line:
The Blue Devils will have to replace one starter in center Bryan Morgan, and it's still a relatively young group, but with several redshirt sophomores on the roster, the staff wants to load up two grades behind them to fully stock the position for the future.
Defensive line:
This has always been Duke's deficiency, which means it will always be a priority to catch up and build depth. The Blue Devils will have to replace two starters in Wesley Oglesby and Patrick Egboh. Noseguard Charlie Hatcher will be a redshirt senior.
Cornerback:
Duke only loses one starter, cornerback Chris Rwabukamba, but it's another position that has been weak and needs better athletes.
GEORGIA TECH
Offensive line
: The early departure of Nick Claytor to the NFL didn't help the depth, but there were still several young players who gained valuable experience and others who redshirted to help the depth. While no true freshman is likely to make an immediate impact, the staff is still looking to build the numbers up front.
Linebacker/defensive line:
The Jackets need to find more athletes who are suited for Al Groh's 3-4 scheme. Fast athletes who are versatile enough to play a hybrid role, with the ability to move in space, will be a priority in this class.
MIAMI
Quarterback:
With
Jacory Harris
being a senior, A.J. Highsmith moving to defense, and
Spencer Whipple
struggling in what little time he has played, the position needs a boost. It didn't help that Teddy Bridgewater reneged on his commitment.
Linebacker:
This is a position former coach Randy Shannon had put an emphasis on building, and there are young players and depth, but it was also a veteran group in the 2010 two-deep, with mainly juniors and seniors.
Wide receiver:
The upperclassmen did all of the work in 2010, with
Leonard Hankerson
leading the way.
Travis Benjamin
,
Aldarius Johnson
and Laron Byrd will all be seniors. An influx of young talent is needed.
Defensive end:
The staff is looking to improve the depth here, get stronger up front, and build upon the success from 2010. Marcus Robinson, Adewale Ojomo, and Micanor Regis will all be seniors.
NORTH CAROLINA
Tailback:
Injuries depleted this group in 2010, and
Anthony Elzy
,
Johnny White
and
Shaun Draughn
were both seniors.
Ryan Houston
was able to redshirt and will return as a fifth-year senior, but the Tar Heels need more dependable runners and a foundation for the future.
Defensive line:
The Tar Heels have to prepare for some departures, especially on the interior, where all four players on the two-deep roster in 2010 were juniors.
Secondary:
UNC will have to replace three starters in the secondary this spring, and three backups this year were juniors. Because of the NCAA investigation, this is a group in which backups had to develop quickly, so there are some experienced younger players, but the group still needs to reload.
Tight end:
The loss of Zach Pianalto and his backup,
Ed Barham
, leaves the position thin.
VIRGINIA
Offensive line:
With starting right guard B.J. Cabbell gone, starting center Anthony Mihota a senior, and starting left guard Austin Pasztor a senior, the staff has to prepare for some departures. Morgan Moses and Oday Aboushi are talented young players, but the rotation needs more of them.
Defensive line:
End Zane Parr's decision to leave early for the NFL draft hurt the position's depth, and the Cavs will also have to replace John-Kevin Dolce at tackle. Three other players in the two-deep will be rising seniors, and with Virginia switching back to a 4-3 defense under Mike London, the Cavs have to rebuild up front.
Secondary:
Cornerback is of particular concern, as Chase Minnifield will be a senior, and starter Mike Parker will graduate.
VIRGINIA TECH
Running back:
The early departures of
Ryan Williams
and
Darren Evans
to the NFL left
David Wilson
as the only tailback with any significant experience. Overall, the Hokies have four tailbacks on their current roster.
Defensive line:
The Hokies will have to replace redshirt senior starters Steven Friday and John Graves, and starting left end Chris Drager will be a redshirt senior this year.
Wide receiver/tight end:
Starters
Jarrett Boykin
and
Danny Coale
will be seniors, and tight end
Andre Smith
will graduate.
Secondary:
Half the players on the two-deep roster against Stanford were either juniors or seniors, and the Hokies will have to replace rover Davon Morgan and cornerback Rashad Carmichael.
January, 18, 2011
1/18/11
11:00
AM ET
There were plenty of memorable moments this past season, but some always find a way of sticking with us longer than others. There were plays, moments, games and people who helped define the season. Some were good, some we'll remember for all of the wrong reasons. Feel free to
share yours in the mailbag
and I'll highlight them later this afternoon.
Here's a look at the top moments from the 2010 season:
[+] Enlarge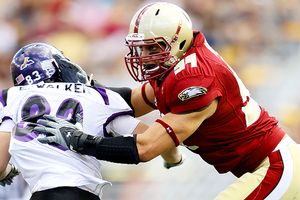 Elsa/Getty ImagesBoston College LB Mark Herzlich made his return to the field this season after missing all of 2009.
1. The linebackers' return:
NC State linebacker Nate Irving and BC linebacker Mark Herzlich both made miraculous recoveries in 2010. After missing the entire 2009 season while receiving treatment for Ewing's Sarcoma cancer, Herzlich returned to the team last offseason only to miss part of camp while recovering from a stress fracture in his right foot. Unsure of whether he would be available for the season opener against Weber State, it was one of the biggest comebacks in college football when Herzlich ran out of the tunnel and later made two tackles in the first quarter.
2. The NCAA investigation.
Unfortunately for UNC, this season will forever be linked to an NCAA investigation into agent-related benefits and academic misconduct that eventually sidelined 14 players for at least one game, including seven players who missed the entire season. Assistant coach John Blake resigned, star defensive tackle Marvin Austin was dismissed, and while a bowl win over an SEC team was something to be proud of, this season will always be remembered for what could have been had the entire roster remained intact.
3. Virginia Tech's loss to James Madison.
Face it: it's one we'll never forget. A positive spin? It changed the Hokies' season. This loss was the catalyst for an unprecedented turnaround in the FBS. No other program has ever started out 0-2 and finished the regular season undefeated. Virginia Tech rallied to become the first ACC team since 2000 to breeze through the ACC schedule undefeated, but the poor start quickly knocked Virginia Tech out of the national title conversation.
4. Florida State's state championship:
FSU's combined wins over Miami and Florida marked the first season sweep of state rivals since 1999 -- by the widest combined point margin in school history. Jimbo Fisher became the only FSU coach to pull off that sweep as a first-year coach. The Seminoles' 31-7 win over Florida snapped a six-game losing streak to their in-state rivals, beating the Gators for the first time since 2003 -- also the last time FSU was able to score that many points against Florida. With the win, Jimbo Fisher clinched the most wins by a first-year FSU coach in 50 years. Not even Bobby Bowden won his debut against Florida.
5. John Kevin Dolce's hit on Miami quarterback Jacory Harris:
This hit changed Miami's season. Not only did it knock the Canes' starting quarterback out for a few weeks, it also dashed Miami's hopes at winning the Coastal Division and gave Virginia its first win over a ranked team since defeating No. 21 Georgia Tech in 2008. Said Dolce: "When you chop the head off a giant, the rest of the body goes with it."
6. Military Bowl crowd chanting Ralph Friedgen's name.
The ACC coach of the year had been fired, but in his final game at Maryland -- a 51-20 drubbing of East Carolina -- Friedgen lived up to the title he had earned with the second-best turnaround in the FBS in 2010. After winning just two games in 2009, Friedgen led his team to a nine-win season, and his players and fans thanked him for it on a cold day in RFK Stadium.
7. David Wilson's kickoff return against Georgia Tech:
With 2:23 remaining, Virginia Tech running back
David Wilson
scored on a 90-yard kickoff return to give the Hokies a 28-21 win over the then-defending ACC champs. It was a dramatic play that answered Georgia Tech's 80-yard, game-tying drive, and one that separated Virginia Tech from the rest of the Coastal Division. Also in this game, Georgia Tech star quarterback
Joshua Nesbitt
broke his right forearm late in the first half, leaving the Jackets without the heart of their offense for the rest of the season, and ending Nesbitt's record-setting career too early.
8. Tyrod Taylor's ACC title-game performance:
There were trademark scrambles, big plays and no interceptions from the ACC's player of the year, who finished with four touchdowns and 267 total yards in a 44-33 championship game win over Florida State.
9. North Carolina's double-overtime win against Tennessee in the Music City Bowl:
The Tar Heels have a flair for the dramatic when it comes to bowl games, but this one was one of the most bizarre. After declaring the game over, officials reviewed the clock and determined there was still one second remaining. It gave kicker Casey Barth just enough time to tie the game at 20 and send it into overtime.
10. Dustin Hopkins' 55-yard game-winner:
A week after missing the game-winning field goal against North Carolina, FSU's kicker made a career-best 55-yard field goal to beat Clemson, 16-13, as time expired. Hopkins had missed two fourth-quarter field goals in a loss to the Tar Heels the previous week. It was the third-longest field goal in Florida State history.
November, 3, 2010
11/03/10
12:30
PM ET
April, 12, 2010
4/12/10
11:27
AM ET
Virginia coach Mike London announced prior to last Saturday's spring game the Cavaliers' captains for the 2010 season would be senior defensive tackle John-Kevin Dolce, senior cornerback Ras-I Dowling, junior defensive tackle Nick Jenkins, senior tight end
Joe Torchia
and senior quarterback
Marc Verica
.
Headlining the spring award winners for the Cavaliers were Terence Fells-Danzer and Aaron Taliaferro as the Rock Weir Award winners, recognizing the most improved players.
Fells-Danzer moved to fullback this spring after playing linebacker his first three seasons at UVa. He earned his first letter last season, playing primarily on special teams. He had two tackles. Fells-Danzer will be a junior in 2010.
Taliaferro is a middle linebacker in UVa's new 4-3 defensive scheme. He has appeared in three games over the past two seasons but has no tackles. He will also be a junior in 2010.
Wide receiver
Tim Smith
was the recipient of the Z Society Dudley Award presented to the first-year player for his excellence in the classroom, on the field and in the community. The award is named after the late "Bullet" Bill Dudley, who exemplified those traits and was a two-time All-American at Virginia.
The winner of the Cavalier Academic Achievement Award was junior cornerback Chase Minnifield. The award is presented to a UVa student-athlete who represents uncompromised excellence in his academic pursuits.
Junior defensive tackle Nick Jenkins won the team's Iron Cavalier award for his performance and dedication in the weight room. Jenkins played in all 12 games last season and registered 12 tackles.
September, 18, 2009
9/18/09
8:41
AM ET

Posted by ESPN.com's Heather Dinich
The weekly injury reports have all come in (some come in much later than others, which is why I wait until Friday mornings to do this). If you don't see 'em, they weren't sent. Maryland will miss Bruce Campbell again, Duke has a handful of key players who could miss the game at Kansas, including Vince Oghobaasse, Virginia is likely to be without
Vic Hall
, and Boston College will be without defensive tackle Damik Scafe. Not good news for any of those teams. It looks like UNC might -- might -- get Jonathan Cooper back on the offensive line. That would be a huge help.
Here are the full reports:
BOSTON COLLEGE
FB James McCluskey (Achilles) – OUT
LB Will Thompson (shoulder) – DOUBTFUL
WR Ifeanyi Momah (knee) – DOUBTFUL
LB Mike McLaughlin (Achilles) – DOUBTFUL
DT Damik Scafe (Neck/Shoulder) – DOUBTFUL
CLEMSON
Out for the Season
J.K. Jay, OT, back
Probable
Michael Palmer, TE, hip
DUKE
RB Re'quan Boyette (ankle) -- Probable
TE Danny Parker (ankle) -- Probable
RB Jay Hollingsworth (ankle) -- Questionable
DT Vince Oghobaase (leg) -- Questionable
WR Conner Vernon (ankle) -- Doubtful
RB Kyle Griswould (leg) -- OUT
CB Randez James (hand) -- OUT
S Anthony Young-Wiseman (knee) -- OUT FOR SEASON
FLORIDA STATE
OUT
OT Antwane Greenlee (knee)
LB Aaron Gresham (knee)
DT Demonte McAllister (knee)
DT Justin Mincey (knee)
OT John Prior (knee)
LB Vince Williams (back)
QUESTIONABLE
RV Korey Mangum (shoulder)
MARYLAND
Out for season:
Nolan Carroll (leg)
Out:
Louis Berman (leg)
Bruce Campbell (foot)
Jamari McCollough (foot)
Caleb Porzel (leg)
Joe Vellano (foot)
Probable:
Tony Logan (shoulder)
NORTH CAROLINA
Out (Season)
Carl Gaskins OL Knee
Matt Merletti S Knee
Out (Game)
Lowell Dyer C Shoulder
Dwight Jones WR Knee
Zack Pianalto TE Foot
Ryan Taylor TE Knee
Doubtful
Linwan Euwell LB Ankle
LeCount Fantroy CB Thigh
Questionable
Jonathan Cooper OG Ankle
Devon Ramsay RB Thigh
NC STATE
OUT FOR SEASON
Mario Carter, TE - knee
Denzelle Good, OL - shoulder
Nate Irving, LB - leg
Colby Jackson, FB - knee
Everett Proctor, QB - shoulder
OUT
Jamelle Eugene, HB - knee
Clem Johnson, S - thigh
Jeff Rieskamp, DE - hip
Jay Smith, WR - flu
Jake Vermiglio, OT - lower leg
Javon Walker, DB - knee
Julian Williams, OG/OT - flu
Johnson will be replaced by either Brandan Bishop or Justin Byers; Williams will be replaced by Andrew Wallace.
VIRGINIA
Out
Bobby Smith (knee)
Doubtful
Vic Hall (hip)
Questionable
Mikell Simpson (leg)
Probable
Denzel Burrell (hip)
BJ Cabbell (ankle)
Nate Collins (knee)
Matt Conrath (spine)
Chris Cook (hip)
John-Kevin Dolce (foot)
Ausar Walcott (knee)
VIRGINIA TECH
Greg Boone (SC joint sprain) - probable
Stephan Virgil (knee) - questionable