September, 10, 2014
9/10/14
9:00
AM ET
David Cutcliffe can't help but think sometimes at how he ended up where he is now. Duke's head coach -- the reigning winner of numerous national coach of the year awards -- had been hired by Charlie Weis at Notre Dame just nine short years ago, but never got to coach a down with the Fighting Irish.
He suffered chest pains. He underwent open-heart surgery. He had numerous other complications, and he eventually had to walk away from a potential dream opportunity.
[+] Enlarge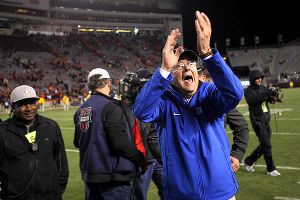 Peter Casey/USA TODAY SportsDavid Cutcliffe agreed to join Charlie Weis' staff at Notre Dame before health problems prevented that.
"It was an emotional time for me and I knew that at that point, and I told Charlie Weis, 'I can't earn my paycheck there,' " Cutcliffe said. "No way that I can get myself back and ready to benefit Notre Dame's football program. I was very appreciative of the opportunity he had given me there."
Cutcliffe and Weis will meet again Saturday when Duke hosts Kansas, and it's hard not to look at how each's career has played out since initially agreeing to hook up in South Bend. Adding to the layer is the fact that Cutcliffe's current boss, Blue Devils athletic director Kevin White, was in charge of Weis back when both were with the Irish.
Weis couldn't overlook the connections this week, opening his Tuesday press conference by thanking White for the opportunity that the AD allowed the first-time head coach less than a decade ago.
"Probably one of the finest men that I've ever met in my entire life," Weis said of White. "He taught me a lot about college football. He taught me patience."
The parallels between Weis and Cutcliffe run a little bit deeper. Weis had initially hired the ex-Ole Miss head coach because of his reputation working with quarterbacks and calling plays. With eventual Heisman Trophy finalist Brady Quinn waiting in the wings, the pairing seemed perfect.
There are also the ties that linger in the NFL -- Cutcliffe from his well-publicized work with the Manning brothers, Weis with his three Super Bowl rings as
Tom Brady
's offensive coordinator. Weis said this week that he's never debated with Cutcliffe whose pro pupils are better, joking that he's too biased about Brady to even bother with an argument.
"I'm telling you, he's the most knowledgeable, smartest football coach I've been around," Cutcliffe said of Weis. "He was like a machine, just the system. It was pretty amazing to watch him work and watch how his mind worked, and not only his football knowledge, but his motivational skills and his energy."
The little time Cutcliffe and Weis did spend together came on the heels of what Cutcliffe said was an unusual time in his life. He was unceremoniously fired from Ole Miss after his only losing season. Upon Weis hiring him, Cutcliffe lived with then-Irish and current Duke offensive line coach John Latina in South Bend before the health scare forced him out of coaching for a year.
Weis, meanwhile, made consecutive BCS bowls in his first two years at Notre Dame before getting fired after going 16-21 during his final three years. Assistant stops with the
Kansas City Chiefs
and Florida gave way to his hiring as the Jayhawks' head coach, where he's now 5-20 in his third season. During that time, Cutcliffe moved to Knoxville, Tennessee, where his two sons attended college. He eventually became Tennessee's offensive coordinator from 2006-07 before landing the head job at Duke, where his work in getting the Blue Devils to the ACC title game in six years has further cemented his respect within the profession.
"What he's done there is what I would expect him to do anywhere," Weis said. "Just about anywhere he's gone in an ample amount of time he gets things going the right way, especially offensively. He's a very, very good coach."
How would things look today had the two quarterback gurus gotten the chance to collaborate with the Irish? That's for others to debate. Cutcliffe, for one, is content with how things turned out, as strange as the path that led him there might have been.
"I'd never been without a job in my life," Cutcliffe said. "We lived (in Knoxville) that spring, summer and fall. I didn't know what I was going to do. I didn't know if I'd coach again, but I always think there's purpose to things that happen if we do what we should do with them. I believe the couple years I spent back at Tennessee were rewarding, but I think I found my right place here.
"Not to be eerie and now to be, 'Oh this is all destiny.' I'm not saying that. I was able to find my right place, and that's Duke University."
April, 27, 2012
4/27/12
2:30
PM ET
One week from today, 11 of Duke's 16 offensive linemen and assistant strength coach Marcus Johnson will board a flight to Ethiopia. There, the group will do volunteer work for two weeks, working with kids in sports camps and drilling at least one freshwater well for a rural community.

Guard
Dave Harding
is the man behind the trip, as the redshirt junior spent many summers with his family in middle school and high school drilling wells in Ethiopia.
From GoDuke The Magazine:
"A lot of these guys have never left the country," says Harding, a junior who started nine games at center and left guard last year. "It will be good to get them over there. From a personal standpoint it will be exciting to see how everyone responds to it.

"We don't get the opportunity to do DukeEngage trips and study abroad, so this is our chance to do that and a chance to give back to the world community. And from a football standpoint, by taking this trip we are bound to grow as friends and get to know people better. Some of the upperclassmen don't see much of the underclassmen outside of practice, but when you go on a life-changing trip like this it makes you closer, so it's bound to have impacts on the field as well."
The idea for the upcoming trip came to Harding during a speech by new offensive line coach John Latina, who was urging the linemen to become the Blue Devils' most cohesive unit.
"That's the core reason for why the offensive linemen are going together, to bring us all closer together and create a stronger bond between us," says sophomore Laken Tomlinson, who started every game at guard last year.

"This group is pretty close. Our previous coach, Coach Luke, believed we should be one unit, and our new coach, Coach Latina, also believes that we should be the strongest bond on the field. This trip should definitely create a stronger bond between us, so I'm excited for that."
The trip will end May 16 and come during one of the few windows the players have at semester's end. With all the drilling they'll be doing, it'll hardly be a break from the offseason grind.