December, 12, 2013
12/12/13
2:00
PM ET
Jim Grobe is out at Wake Forest and Dave Clawson is in. How will that affect the Deacons' recruiting efforts?

Also, teams are making visits to prospects and the Canes are battling for two wide receivers.


December, 11, 2013
12/11/13
2:00
PM ET
The regular season and conference championship weekend are over. And with the extended dead period, college staffs are going into recruiting overdrive this week. The result has been a number of commitments (and decommitments) all over the country since the season ended, although it's still been relatively quiet in the ACC.

Trending up:
It is time for Florida State to make its move, although it will be somewhat difficult with the staff preoccupied with a national title game. With the No. 6 class in the
rankings
, Florida State has fallen some from its former spot atop the rankings, but the Seminoles have some of the country's elite prospects among its final targets. They landed that target on Monday with
Chad Mavety
(Garden City, N.Y./Nassau), the No. 8 juco player nationally. The Noles will be getting four-star OT
Frank Ragnow
(Victoria, Minn./Chanhassen) to officially visit this weekend, and FSU was thought to be the leader in November when Ragnow originally planned to visit. If the Noles finish off the 2013 season with a national title, expect a small recruiting run before signing day and then a 2015 class that will challenge the SEC (or let's be honest, Alabama) for the country's No. 1 class.
To continue reading this article you must be an Insider
December, 10, 2013
12/10/13
8:00
AM ET
A look at the most important recruiting targets remaining for each school in the ACC:

Boston College
DE Harold Landry (Fayetteville, N.C./Pine Forest)
6-foot-3, 230 pounds
Four stars
Boston College is close to done for 2014, and coach Steve Addazio is looking toward taking the next big recruiting jump with the 2015 class. However, the Eagles' 2014 class would be dealt a devastating blow if he cannot hold on to Landry, No. 30 among defensive ends nationally and the second-highest-rated commit in BC's class. Reports in mid-October had Landry decommitting from the Eagles, but it was only for a short while. He made amends with the staff quickly and rejoined BC. But now coaches are coming through schools and homes, so BC will have its work cut out once again.
To continue reading this article you must be an Insider
December, 2, 2013
12/02/13
8:00
AM ET
Florida State and Duke emerged as champions in their respective divisions and are headed to Charlotte for the conference crown. But in the meantime, here are the latest happenings off the field for ACC teams hoping to restock their rosters this February.

Biggest offer:
Virginia Tech went to Tennessee looking for a little help at tight end in the 2015 class.
Jackson Harris
(Columbia, Tenn./Columbia Central), a 6-foot-5, 240-pound tight end, landed an offer from the Hokies, but it certainly wasn't his first. Clemson, Florida State, Georgia, Georgia Tech, Kentucky, Louisville, Memphis, Mississippi State and Vanderbilt have already offered Harris.
To continue reading this article you must be an Insider
November, 12, 2013
11/12/13
8:00
AM ET
It is a chicken or the egg argument. Has the SEC ruled college football for much of the last decade because the conference annually places five or more teams among the top 10 of the recruiting rankings? Or is the SEC's recruiting dominance a result of seven straight national championships?
The ACC, though, could be the David to the SEC on the field and in recruiting. In the 2014 cycle, two ACC schools have top-five classes. Will that remain the same come signing day?
We look at that question and nine others as we examine the most pressing ACC recruiting questions leading up to signing day.
1. Will FSU and Miami remain in the top five of the class rankings?
Both classes are close to completion, so it could be tough for the Noles and Canes to finish in the top five of the rankings. Alabama is at No. 1 and could end up running away with another recruiting title. The rest of the SEC will charge hard come signing day, too. Tennessee should be a safe bet to finish in the top five, and programs such as Florida, Georgia, LSU, Ole Miss and more could break into the exclusive group come February. Tennessee recently jumped both schools, pushing Florida State to No. 3 and Miami to No. 4.
2. Can Miami surpass Florida State for the ACC's top class?
If both were to fall out of the top five, there is still some pride in finishing with the top class in the conference. The Noles are ahead of the Canes at the moment, and it will be tough for the Canes to jump FSU. It looks as if Miami has two spots left and should finish with
Johnnie Dixon
and
Anthony Moten
. But the Noles could sign more than 30, and some of the country's truly elite prospects have Florida State among their finalists. It looks doubtful that Miami -- or any ACC team -- will catch and pass Jimbo Fisher's class.
[+] Enlarge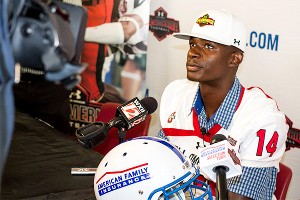 Courtesy of IntersportESPN 300 DE Lorenzo Featherston is a Clemson lean whose pledge would help the Tigers close strong.
3. Will Clemson finish in the top 10?
Sitting at No. 12 in the rankings, the Tigers have a good chance to finish in the top 10 and even an outside chance to crack the top seven. Defensive end
Lorenzo Featherston
(Greensboro, N.C./Page) is No. 27 in the ESPN 300 and a Clemson lean. It would be a surprise to see him land anywhere but with the Tigers. Cornerback
D.J. Smith
(Marietta, Ga./Walton), No. 88 in the ESPN 300, also looks to be leaning Clemson's way, and the same could be said for defensive end
Andrew Williams
(McDonough, Ga./Eagles Christian Landing), No. 168 in the rankings. The prize of the defensive class would be five-star inside linebacker
Raekwon McMillan
, however. He is slated to visit officially later this month, and the No. 12 player and top linebacker in 2014 has the Tigers among his top three.
4. Can Pitt close out with three of its four Western Pennsylvania targets?
For Pitt's class to be considered a success, Paul Chryst needs to do just that. The Panthers are struggling some with Pittsburgh-area prospects in 2014, but the same happened in 2013 before Pitt landed
Dorian Johnson
and
Tyler Boyd
. In February, the Panthers hope to land
Dravon Henry
(Aliquippa, Pa./Aliquippa),
Alex Bookser
(Pittsburgh/Mt. Lebanon),
Montae Nicholson
(Monroeville, Pa./Gateway) and
Shai McKenzie
(Washington, Pa./Washington); Henry, Bookser and Nicholson are all in the ESPN 300 and have Pitt among their finalists. Henry is a Pitt legacy. Bookser looks to be focused on Ohio State and Pitt; Nicholson will decide in December and is projected to Pitt.
5. Will Duke sign an ESPN 300 prospect?
The Blue Devils have never signed an ESPN 150 or ESPN 300 prospect since the rankings began almost a decade ago. That was going to change in 2014 with quarterback
Nicodem Pierre
(Miami/Coral Reef), but the dual-threat dropped from the ESPN 300 in October. However,
Trevon Lee
(Ft. Lauderdale, Fla./Cardinal Gibbons) could be leaning Duke's way with the Blue Devils on a roll this season. With a guaranteed winning regular season -- their first in nearly two decades -- Lee is thinking hard about Duke. Academics are big for the 241st-ranked player, so a decision could come down to Duke and Vanderbilt.
To continue reading this article you must be an Insider
October, 22, 2013
10/22/13
8:00
AM ET
A look at the most important recruiting targets remaining for each school in the ACC:
Boston College
To continue reading this article you must be an Insider
October, 8, 2013
10/08/13
8:00
AM ET
Hope for the best but prepare for the worst. That is what college coaches must do when it comes to recruiting. Every coach would love to land their top target at every position, but coaches are forced to play the what-ifs and continue to recruit prospects lower on the recruiting board. With signing day a few months away and several classes close to completion, college staffs are pushing for those few final targets but also keeping a watchful eye on players down the board.
Here are the best- and worst-case scenarios for each of the ACC schools.
To continue reading this article you must be an Insider
October, 7, 2013
10/07/13
8:00
AM ET
Virginia Tech grabbed the headlines this weekend with a four-star commitment, while a couple of teams had visitors on campus and that could affect a number of ACC teams.
To continue reading this article you must be an Insider
September, 17, 2013
9/17/13
8:00
AM ET
Few recruits are labeled indispensable to a class, but there are must-have prospects on the recruiting board for every school across the country. The reasons vary, however, ranging from whether the recruit fills a position of need or if he is an in-state prospect a program cannot afford to miss.
Here is the top target for each ACC school and the reasons behind it.
Boston College
S Lubern Figaro (Everett, Mass./Everett)
6-foot-1, 180 pounds
ESPN 300 rank:
N/A
Steve Addazio's first full class at BC is close to completion, but he would like to add one more important in-state piece before signing day. Figaro continues to list BC among his top five, along with Michigan State, Syracuse, Vanderbilt and Wisconsin. The Badgers will get his first official visit, as he will be in Madison this weekend. The Eagles have some work to do to keep Figaro at home, but there is a lot of time left to secure his pledge.
To continue reading this article you must be an Insider
August, 24, 2012
8/24/12
11:17
AM ET
By
Bill Zimmerman
| ESPN.com
David Hale writes:
Deposed FSU cornerback Greg Reid isn't starting over completely at Valdosta State. He still preaches team goals. He still keeps in touch with his old Seminoles teammates. And he's back in his old hometown, which brings him both blessings and challenges.
Corey Dowlar writes:

2014 WR Johnnie Dixon prizes his ties to high school teammates now at Florida State and Florida.
Hale:
NoleNation readers get their questions answered by Florida State linebackers.
Hale:

CB Nick Waisome, who is battling freshman phenom Ronald Darby for the starting spot vacated by Reid, is today's subject in NoleNation's Carrying the Spear, profiling 50 potential impact players this season.