December, 31, 2013
12/31/13
12:00
PM ET
It's been a wild ride for both Duke and Texas A&M this season.


The Aggies, with their effervescent quarterback
Johnny Manziel
and their high-flying offense, were so often a thrill to watch, full of touchdowns and big plays, but ultimately not enough wins to compete for an SEC title.
Duke, meanwhile, had what could only be called a dream season when compared to the history of the program. David Cutcliffe was named Bobby Dodd Coach of the Year after leading the Blue Devils to their first 10-win season and a spot in the ACC championship game.
How it will end for both teams depends on who shows up ready to play in the Chick-fil-A Bowl at the Georgia Dome in Atlanta (
ESPN, 8 p.m. ET
).
Here's a quick preview of the game:
Who to watch:
Manziel has been careful not to make any official NFL announcement yet, but all indications point to the redshirt sophomore leaving Texas A&M early to enter the draft. And he might not be alone. Receiver
Mike Evans
, another redshirt sophomore, is a prime candidate to bolt for the pros as well. So get your fill of them while you can because they're arguably the best at their positions in the country. Manziel's talents, by now, speak for themselves. But Evans might be the bigger concern for Duke because at 6-foot-5 and 225 pounds, he's downright unstoppable. Just ask two of the best teams in the SEC, Alabama and Auburn, which combined to allow 566 yards and five touchdowns through the air to him this season.
What to watch:
Don't forget to pay attention to those pesky Blue Devils, though, as wide receiver
Jamison Crowder
and linebacker
Kelby Brown
are ones to watch. But Duke, without suspended leading rusher
Jela Duncan
, is in a pickle. Throwing the ball often will be a temptation, but as quarterback
Anthony Boone
said, it's a fool's errand to try to outduel Manziel because "that doesn't win football games." Instead,
Josh Snead
, Duke's backup tailback who ran for 547 yards this season, will be asked to do more. If the Blue Devils stay balanced on offense, they have a shot against what has been a porous Aggies defense. But if Boone, who has thrown 11 interceptions to 10 touchdowns, is asked to do too much, Duke could be in big trouble.
Why to watch:
Soak it all in because these two programs appear to be headed toward a crossroads. Duke has never had success like this before. How will it respond if its dream season ends with two straight losses? Can the entire coaching staff stay together? Is one player suspension a sign of more to come? And more questions can be asked of Texas A&M, which might shun the idea of rebuilding next season, but with the possibility of Manziel and Evans leaving, it's definitely a matter of hitting the "reset" button. Coach Kevin Sumlin is locked up under a new contract, but with so many NFL head coaches being fired this week, do the pros start beckoning him as well? Whatever the case, Texas A&M and Duke fans should savor the final game of their seasons and hope that next season holds just as much success.
Prediction:
Texas A&M wins it running away from Duke, 48-28. Had the Blue Devils showed better against this season's Heisman Trophy winner,
Jameis Winston
, I might have been swayed to pick otherwise. But Florida State gave Texas A&M the blueprint to moving the ball offensively. Manziel will have his way against the Duke secondary and end his career as an Aggie with a flourish, accounting for a handful of touchdowns that should leave us as in awe of his penchant for making something out of nothing.
December, 30, 2013
12/30/13
4:00
PM ET
Forget defending a Heisman winner. Been there, done that, as far as
Breon Borders
is concerned.
No, the biggest challenge for the Duke freshman this week has been navigating a bustling metropolis, as Tuesday's Chick-fil-A Bowl in Atlanta has offered the Statesville, N.C., native his first time seeing -- and entering -- buildings taller than 10 stories.
"I come from a real small country town," the cornerback said. "A big city is something new. And plus, there are buildings here and there. I never saw buildings this tall in my life. It's mind-blowing."
What Borders has seen is a Heisman Trophy winner, with the Blue Devils falling to
Jameis Winston
and Florida State their last time out, in the ACC title game. They will get another opportunity against Texas A&M's
Johnny Manziel
, the 2012 Heisman winner, in the finale of a historic season.
[+] Enlarge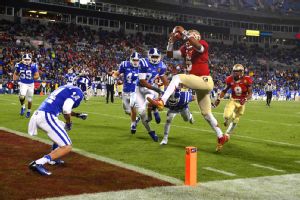 Bob Donnan/USA TODAY SportsThe Duke defense had its hands full with 2013 Heisman winner Jameis Winston; 2012 Heisman winner Johnny Manziel is a stern test, too.
But for Borders, the aura of closing out his rookie campaign on the postseason stage against arguably the two best players in college football is hardly daunting. Despite a rough outing for Duke's defense in its 45-7 loss on Dec. 7, Borders managed to pick Winston off twice, so he welcomes the challenge of facing Johnny Football in what will likely be the quarterback's collegiate finale.
"Our coaching staff all week did a great job with film study and all that so they had us prepared," Borders said of the game against the Seminoles. "And I just happened to be in the right spots at the right times to make some plays."
With his ability to improvise and make plays with his legs, however, Manziel brings something different to the table. And it will be up to Borders and the rest of the Duke secondary not to take the bait the moment an Aggie play appears to break down.
"The most important part is in the back end, so get those guys not to be watchers; you know, don't watch the paint dry in the back, because he does put on a great show," defensive coordinator
Jim Knowles
said. "But our guys need to cover in the back. They need to cover in the back and let the people up front chase him all over. So we'll be playing plenty of guys, because that's the other key to it, too, is you've got to stay fresh because people have to chase and run and those plays can become ten seconds long."
Knowles said Manziel is the best ad-libber he has ever seen. While Duke likes to talk about "five-second plays" in the film room, Knowles said, the Blue Devils often found themselves watching plays that lasted upward of 10 seconds, testing the last line's discipline.
Duke cannot afford to "watch the show," end
Kenny Anunike
said, and Knowles had instituted a scramble drill in the practices leading up to this contest to test the stamina of his defenders, with speedy freshman quarterback
Quay Chambers
running the scout-team offense.
Having a mobile quarterback in
Brandon Connette
(30 career rushing touchdowns) does not hurt matters, either.
"When you are playing a quarterback like Johnny Manziel who will take advantage of something like that and has a good game then you have to limit your rush," Anunike said. "Certain things you just can't do. You can't zoom high, and when we say zoom high, it's taking off behind the offensive tackle and trying to get the quarterback from behind, because Johnny Manziel steps up in the pocket and his line will continue to block and he will take off right up the middle, and that will hurt us and that's how they hurt teams in the past."
The Blue Devils (10-3) are again heavy underdogs, but Anunike, a sixth-year senior, senses a 180 in their approach to these games from the time he came along with head coach David Cutcliffe in 2008.
"This is an opportunity on a national scale to show the direction this program is moving in," Anunike said. "We have accomplished tremendous milestones along this journey and it's been a magical journey. We are looking to cap it off with a win here against Texas A&M."
December, 30, 2013
12/30/13
12:00
PM ET
Not bad, Week 17. Not bad at all.
December, 26, 2013
12/26/13
4:00
PM ET
Thanks to ESPN Stats & Info, the ACC office and sports information departments for these tidbits.
This marks the first time in the ACC's 61-year history that three ACC teams have ended the regular season with at least 10 wins (Florida State, Duke and Clemson).
Throughout the year, the ACC has had three different top-10 teams (Three teams in the top 10 for three weeks, two teams in the top 10 for all but two weeks.)
ACC student-athletes have combined to win as many national individual awards as the other Power 5 conferences combined.
The ACC is the first conference in history to sweep the Heisman, Doak Walker, Davey O'Brien, Outland, Lombardi, Bednarik, and Nagurski awards in the same year.
As of Dec. 18, the ACC ranked second nationally with a total of 97 selections to postseason All-America teams (Associated Press, American Football Coaches Association, Football Writers Association of America, Walter Camp, Sporting News, USA Today, ESPN, CBS and Sports Illustrated.) The ACC's 57 total first-team selections were also the second-most of any conference.
For the first time, the ACC boasted two of the top five vote recipients for the Heisman Trophy in Florida State quarterback Jameis Winston and Boston College running back Andre Williams. They were also among the five finalists for the Walter Camp Foundation National Player of the Year, with Winston receiving that honor.
Duke will try to do something it hasn't done in 53 years: Win a bowl game. The Blue Devils haven't won a bowl since the Cotton Bowl following the 1960 season. They'll battle Texas A&M in the Chick-fil-A bowl on Dec. 31 (8 ET, ESPN). It could be the final collegiate game for Johnny Manziel. The Aggies haven't beaten a ranked team this season (0-4).
The AdvoCare V100 Bowl (Dec. 31, 12:30 ET on ESPN), features two of the best running backs in the nation in Boston College's Williams and Arizona's Ka'Deem Carey. Williams finished fourth in the Heisman voting, while Carey finished 10th. One big difference is the load each player has been forced to carry. Williams has accounted for 80 percent of the Eagles rushing yards this season, while Carey has some help in the running game and has only accounted for 54 percent of Arizona's rushing total.
Pitt is appearing in a bowl for the sixth straight season, but this will be its first bowl game not named the BBVA Compass Bowl since 2009. The Panthers have won just two of their last seven bowl appearances. Bowling Green has lost its last three bowl appearances with its last win coming in the 2004 GMAC Bowl.
One of the keys to Maryland's improvement this season has been health at the quarterback position. Last season four players took snaps at quarterback, including four starts by Shawn Petty, who started the season as a linebacker. C.J. Brown, who missed all of last season with an ACL injury, has thrown for over 2,000 yards and accounted for 23 touchdowns this season.
Syracuse's Terrel Hunt finished the regular season with 426 rushing yards, fourth among ACC quarterbacks in 2013. According to the school's game notes, it's already the most by an Orange QB since Donovan McNabb in 1998 (510).
North Carolina's redshirt-sophomore quarterback Marquise Williams, who grew up in Charlotte, leads a very young Tar Heel offense. 42 of their 50 touchdowns this season have come from freshmen or sophomores, including the last 26.
Miami receiver Allen Hurns needs just 19 more receiving yards to set the school single-season record. Hurns already is one of just four players in school history with a 1,000-yard receiving season. Hurns hasn't found the end zone as frequently as one might expect, though. Only two ACC players have more receiving yards than Hurns this season, but nine players have more touchdown catches than Hurns' six.
The last time Georgia Tech and Ole Miss met in football was exactly 42 years ago: the Dec. 30, 1971 Peach Bowl. Ole Miss won that game, 41-18, its only win in three all-time meetings vs Georgia Tech. A bit of a surprise that this is just the fourth meeting all-time, considering that both were conference opponents when Georgia Tech was in the SEC from 1933-63.
Virginia Tech is making its 21st straight bowl appearance, the longest active streak recognized by the NCAA (Florida State is making its 32nd straight bowl appearance this season but vacated the 2006 Emerald Bowl). Rivals Georgia and Georgia Tech are tied for the second-longest active streak with 17 straight appearances. The Hokies need a win to avoid posting consecutive five-loss seasons for the first time since 1990-92 (three straight). To put that streak into perspective, all other current members of the ACC have notched consecutive five-loss seasons since the Hokies joined the league in 2004.
Florida State can become only the third team since 1950 to win all of its games by at least 14 points. The last to do it was Utah in 2004. The other was national champion Nebraska in 1995. FSU's Winston can become just the third QB since 1950 to go undefeated with a national championship and a Heisman Trophy all in the same season. The two to do it were Auburn's Cam Newton in 2010 and USC's Matt Leinart in 2004.
December, 13, 2013
12/13/13
11:00
AM ET
After Texas A&M's
Johnny Manziel
became the first freshman to win the Heisman a year ago, it appears another freshman, Florida State's
Jameis Winston
, is poised to take the trophy. But which quarterback had the better freshman campaign?
David Hale and Sam Khan Jr. take the debate to the Interwebs for your reading pleasure:
Take 1: Hale: Winston was consistent, even in biggest games
No matter what Winston accomplishes this season, there's one thing Manziel will always have over him. Only one player can be the first freshman to win a Heisman, and that was Manziel. He was, to be sure, a worthy winner.
But beyond the history, the debate on which quarterback had the better freshman campaign is easy. It's Winston.
[+] Enlarge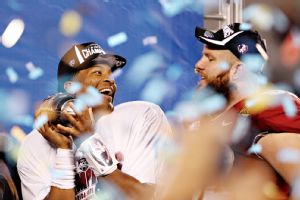 Streeter Lecka/Getty ImagesIf winning matters, Jameis Winston has won a conference title and has his team in the national championship game: two things Manziel has not done.
Compare passing numbers through 13 games and Winston comes out well ahead. He threw for a freshman-record 38 touchdowns, compared with 26 for Manziel. Winston threw for more yards, averaged significantly more yards per attempt (10.9 to 8.5 for Manziel) and had a quarterback rating (190.1) that dwarfs Manziel's (155.3). Winston had seven 300-yard games; Manziel four. Winston accounted for four or more touchdowns six times.
And before anyone makes the strength-of-schedule argument, remember that Winston had a slightly higher adjusted QBR -- which takes into account myriad factors, including competition.
Sure, Manziel came out of nowhere to become a Heisman winner. But wasn't there a lot more pressure on the much-hyped Winston to live up to those immense expectations?
Then let's look at how each player fared in his biggest games.
Manziel played six games against ranked teams, and he won four. He completed 67 percent of his throws -- same as Winston -- but the rest of his stats were utterly pedestrian. He averaged just 7.5 yards per attempt, threw for seven TDs and had five interceptions.
Winston, on the other hand, won all four of his games against ranked teams handily. He averaged 11.8 yards per attempt and threw for 12 touchdowns with five INTs.
Winston wasn't only at his best in big games, he simply never had a bad game. Manziel struggled mightily against Florida and LSU.
And Winston has the edge in the most important statistic: wins. The Seminoles are 13-0 and playing in the BCS National Championship next month. Manziel's season was great and the Aggies were a surprising 11-2 last year, but they didn't even get to a BCS bowl. Their season ended in the AT&T Cotton Bowl.
OK, so now we get to the obvious check mark in Manziel's corner: his legs.
Admittedly, there's no comparison here, and Manziel's ability to run is the great equalizer in this debate. But it's hardly fair to penalize Winston for looking to throw before he looks to run.
Winston put together a highlight reel of big throws that followed miraculous escape acts. His numbers when under pressure were by far the best in the nation. He managed to extend plays, completing an absurd 16 of 21 passes with four touchdowns and 15 first downs on third-and-10 or longer.
Does that make up for Manziel's 21 rushing TDs and 1,400 rushing yards? Probably not, but a quarterback's primary jobs are to make throws and win games. Winston was head and shoulders ahead of Manziel in both areas.
Take 2: Khan: Manziel did it all, against tougher teams
Winston has lived up to the hype and that's hard to do. In my opinion, he has been college football's most outstanding player in 2013. In every big game, he delivered and he led his team to the BCS title game.
But there's no debate here. As terrific as Winston has been this season, Johnny Manziel's freshman campaign was better.
[+] Enlarge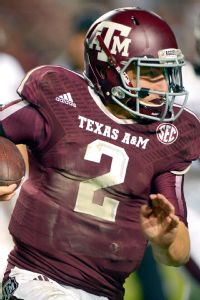 Thomas Campbell/USA TODAY SportsJohnny Manziel is clearly the superior runner.
Manziel was statistically better, had to carry his team more and did it against a tougher schedule. Oh, and as David mentioned, Manziel was the first freshman to do it. Can't beat that.
Yes, Winston's passing numbers are better. However, what Johnny Football did with his legs in 2012 is what set him apart, and it's what made him the toughest player to defend in college football. Winston hasn't run nearly as much because the Seminoles don't need him to (77 carries for 193 yards and four touchdowns), but that was a signature part of Manziel's game. He was a true dual threat. Manziel exploded for 1,410 yards and 21 touchdowns and led the SEC in rushing a year ago.
Not the leading rusher among quarterbacks. The leading rusher, period.
A&M needed that. Without that element of Manziel's game, the Aggies might not have beaten Louisiana Tech. They might not have beaten Alabama. The season would have been different.
Manziel broke Cam Newton's SEC single-season record for total offensive yards in a season, finishing with a whopping 5,116. And while Winston had more touchdown passes, Manziel had more total touchdowns with 47. Winston still has a chance to catch that total if he accounts for five touchdowns against Auburn in January.
And let's not forget A&M's schedule last year. A&M finished third in the country in the NCAA's "toughest schedule" rankings. The Sagarin ratings had the Aggies with the sixth-toughest schedule last year. The NCAA's schedule rankings are unavailable for this season, but for comparison's sake, Florida State's schedule is currently ranked 63rd in the Sagarin ratings. That's a huge difference.
Winston didn't have to face an LSU team that put five players from its front seven alone in the NFL draft. And even with that, Manziel and the Aggies still could have won that game (they lost 24-19). The best defenses Winston has faced were Florida (10th) and Clemson (23rd). Manziel faced three that finished in last year's top eight (Alabama, Florida, LSU).
And the best win -- at least to this point in time -- belongs to Manziel. Texas A&M's upset over then-No. 1 and eventual champ Alabama in Tuscaloosa was the epitome of Manziel's freshman campaign. He was virtually unstoppable. He threw for 253 yards and two touchdowns and ran for 92. Gaining 345 yards individually against a Nick Saban-coached defense? Simply amazing.
Winston has a chance at the crystal football. Manziel can't top that and there's no denying it. But that's more of a team accomplishment and there's not a ton Manziel can do about it.
If you were picking a team to go win a football game and both supporting casts were the same, which QB would you pick: 2012 Johnny Manziel or 2013 Jameis Winston? My guess is you're taking Johnny Football. He's done things on a football field that seemingly nobody else can.
December, 12, 2013
12/12/13
12:00
PM ET
November, 24, 2013
11/24/13
1:40
AM ET
TALLAHASSEE, Fla. -- The stands were sparsely populated by the end, a small contingent convinced either by obligation or morbid curiosity to wait out the inevitable.
When Florida State scored its ninth touchdown of the day,
Kenny Shaw
wondered if it was time to call off the dogs. After the 11th, he wondered if the Seminoles might make a push to score 100.
After it was over, Jimbo Fisher was asked if he'd ever been on a team that scored 80, as Florida State did in an
80-14 win
over Idaho on Saturday. Actually, Fisher said, he once quarterbacked a team that scored 82.
"I guess we've got to step our game up a little," FSU QB
Jameis Winston
responded.
Eighty points and more work to do. That's the elite strata where Florida State resides on the field these days, and Saturday was a crown jewel in a dominant season.
Shaw,
Devonta Freeman
and
Karlos Williams
all topped 100 yards. The defense picked off four passes and scored twice. As he has in four of the past five games, Winston made just a cameo in the second half, and yet he still threw for four touchdowns, pushing his season total to 32 -- one shy of Chris Weinke's school record.
[+] Enlarge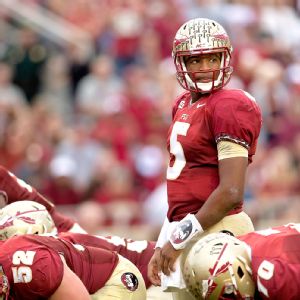 Cal Sport Media via AP ImagesDespite the storm brewing off the field, Jameis Winston remained as focused as ever on it.
After Texas A&M's
Johnny Manziel
struggled in a loss to LSU, Winston's strong outing (14-of-25 for 225 yards and four touchdowns) should've secured him a massive lead in the Heisman race with just two games remaining, too, but that's where life for Florida State stops being so easy. There is a whole set of messy questions still lingering away from the game itself that complicate everything about what's to come.
The investigation into sexual-assault claims leveled against Winston will bleed into a third week, state attorney Willie Meggs told the Associated Press on Saturday, saying he likely wouldn't make a decision on whether the Florida State quarterback would be charged with a crime until after Thanksgiving. But as Meggs bides his time, the rest of Tallahassee buzzes with questions and rumors and innuendo.
Before the game, fans debated the next step in this legal drama as they guzzled beers and grilled burgers. When Winston took the field for Florida State's first offensive series, he earned a massive ovation from the crowd, though Fisher chalked it up as a routine greeting for the Heisman candidate. After it was over, only a small contingent of Florida State's roster was available to media -- a measure instituted by the school to avoid any quotes that might be misconstrued by a horde of reporters parsing every last word. And, as has been the case before each of Winston's public comments since the news of the investigation first broke, FSU staff offered a concise reminder that he would talk only about football, even if the football was a complete afterthought in the wake of yet another blowout win.
On the field, there's little left to discuss. Florida State is as good as any team in the country.
Off the field, the illicit details of an alleged 11-month-old encounter have led to an enigmatic legal battle that is the talk of college football.
"The football field is a sanctuary to me," Winston said. "And it's like that for all my teammates. I can feel it. On that field, everything is zoned out, clear the mechanism, we focus and we're out there to get a victory."
The victory came easily, as so many have this year. Florida State has won each of its games by at least two touchdowns, scored 40 points or more in all 11 contests and outscored its three nonconference opponents by a combined 196-27.
Saturday's game was more about a celebration of the senior class, which took the field in front of the home crowd for the final time. It also was another referendum on Winston's focus, and he continues to show nothing of any private worries during his public appearances.
In that context, the 80-point afternoon was an appropriate conclusion to Florida State's home slate. This was a senior class that arrived amid turbulence, as legendary coach Bobby Bowden was pushed out the door following the 2009 season and Fisher took the reins. It's a group that signed on with Fisher amid one storm, then weathered numerous others along the way.
"We've been through this years in and years out," Shaw said. "You're going to go through what championship teams go through. We're trying to stay upbeat, continue on the same schedule, play like everything's normal."
Things aren't normal, but those distractions haven't altered Florida State's march toward the BCS championship game.
When it was over, Shaw was asked when he might stop to reflect on his four years at Florida State. On a day when so much debate raged among those away from the field, Shaw offered a far more succinct approach.
"Probably after Pasadena," he said.
November, 12, 2013
11/12/13
11:00
AM ET
TALLAHASSEE, Fla. -- There was little to dissect of another easy win for Florida State, so the topic at Jimbo Fisher's weekly news conference Monday quickly turned to his handling of a blowout.
With a big lead, a reporter suggested, there was little sense leaving quarterback
Jameis Winston
in for the fourth quarter.
"Or the third quarter," Fisher interjected.
[+] Enlarge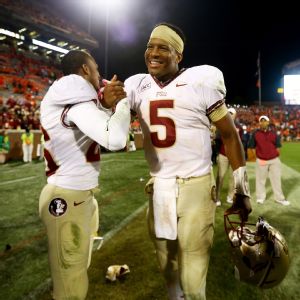 Streeter Lecka/Getty ImagesBecause FSU has been winning easily, Jameis Winston has spent a lot of time on the sidelines.
Indeed, Winston's recent outings have been brief, and in two of his last three games, he took a seat on the bench after just one drive in the third quarter. It's a light workload for the current Heisman frontrunner, and while the easy wins allow for some second-half relaxation, those margins present their own set of concerns.
Start with Winston's Heisman campaign. The postseason award fits firmly in the category of "clutter," and Fisher warns about such distractions daily. But it's also true that a Heisman Trophy brings a certain amount of prestige, and even the regimented coach understands it's a rare opportunity.
"It's clutter," Fisher said, "but it's good clutter."
Winston's numbers through nine games more than warrant his status as favorite for the honor, but his workload doesn't exactly provide opportunities to pad his stats. In Florida State's 59-3 win over Wake Forest on Saturday, Winston threw for a career-low 159 yards, and he didn't complete a pass for more than 18 yards.
"I think we got the ball two times in the second quarter, so you can't judge how we were playing," Winston said.
Therein lies the problem. For one 10-minute stretch of action, Florida State's offense ran just four plays, but thanks to a stellar defensive effort, the Seminoles added 28 points to the scoreboard.
It's the paradox of success for Winston: He's too good to be playing in the fourth quarter, which might hurt his chances of being rewarded for his success with a Heisman.
Winston's top competition for the Heisman is last year's winner, Texas A&M's
Johnny Manziel
. With one additional game under his belt, Manziel has accounted for nearly 4,000 yards of offense and 39 touchdowns -- both numbers far outpacing Winston's totals. But opportunity has played a big part of Manziel's resume, with the Texas A&M quarterback accounting for a far greater percentage of his team's plays in the second half this season than Winston has.
Winston's abridged appearances late in games haven't helped his stats, but Fisher said voters should understand the context.
"I think they see who's in control, and it's how you play when you play -- the quality of your play," Fisher said.
How Florida State has played with a big lead lately also is something of a concern. When Winston has settled into a rhythm, he has been excellent, but too often in recent weeks, consistency has been tough to find.
Winston helmed just five drives against Wake Forest that started on the Seminoles' half of the field. Those drives ended with two touchdowns, a punt, a fumble and an interception. After Winston's final throw -- a pick on a pass forced into tight coverage because the quarterback wanted his reserve tight end to get his first catch of the year -- Fisher was livid.
"We had some times we've got to be a little smarter," Fisher said after the game. "As soon as you start to press this game, it bites you. Whatever is there, read it take it. That's it."
Knowing his time on the field was limited, Winston tried to do too much. His receivers didn't help. There were three crucial drops, and
Christian Green
fumbled away what would have been a big catch. Focus was wavering, and that won't be tolerated.
"When [the defense] is getting turnovers and scoring touchdowns like that, sometimes it's hard," Winston said. "But I've got to do a better job of commanding the team and leading us down there on those drives."
Fisher breathed fire on the sideline and after the game, but really, it's hard to be too upset with a 56-point margin of victory.
"I acted like I was unhappy," Fisher said. "I want to keep them on edge."
That's the balance going forward. Florida State is a heavy favorite again this week, and that figures to continue through the end of the regular season. Winston's fourth-quarter work likely will remain limited, even with backup
Jacob Coker
now out with a knee injury. The offense will have to learn to adjust to a haphazard workload, and the Heisman voters might need to dig a little deeper to appreciate Winston's place in the box score.
That's all fine for now, Fisher said, just as long as his offense is prepared for a tight second half when it finally comes.
"There are some things we can improve on," Fisher said. "From a focus concentration point you've got to be able to do that. We're learning."
November, 8, 2013
11/08/13
11:00
AM ET
TALLAHASSEE, Fla. -- The playful chiding started around campus the day after the game. Students stopped
Jameis Winston
, stood a few feet back, then asked if he could see them.
The joke quickly caught on in Florida State's locker room, too.
Rashad Greene
, the Seminoles' star receiver who has hauled in 45 catches, including eight touchdowns, from Winston this season, pestered his quarterback about his eyesight.
"Man, you can't see," Greene told him.
[+] Enlarge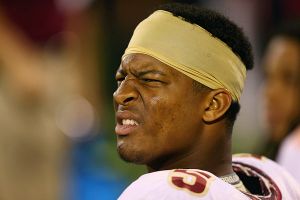 Streeter Lecka/Getty ImagesWhile everyone focused on Jameis Winston's squinting, the Florida State QB doesn't even look twice at all the attention.
Winston grinned, then offered the obvious retort.
"How do I see you down the field then?" Winston replied.
The Heisman hopeful laughed off all the jokes this week, but the mere fact that a few on-field squints caught on camera during last week's win over Miami garnered national attention underscores just how big the spotlight is on Winston these days.
The truth is, Winston has been squinting toward the sideline for the past four years, and it hasn't affected his game much. In high school, a contact popped out mid-game, and he finished up with just one. He completed all but four passes, his father, Antonor, said.
Since then, the squinting has been little more than a quirky side effect of Winston's competitive spirit. He'd rather take an extra look toward the sideline to get the play from his coach than miss any of the action because a lens was scratched.
"He's a different cat," Antonor Winston said. "Jameis is the type of guy that, if one of those contacts come out, he doesn't want to be going to the sideline with people wanting to know what's wrong. He doesn't want to come out of the game. He'd rather win and can't see."
But for Winston, the latest headlines have less to do with his eyesight than the bubble he's been living in since his exceptional debut against Pittsburgh on Labor Day.
In the 10 weeks since that game, Winston has become a national celebrity, and virtually anything he says or does is liable to garner national attention. There was the preseason hoopla when he
repeated a reporter's question about "Manziel disease,"
and a mini-drama erupted from media wondering if Winston had insulted Texas A&M quarterback
Johnny Manziel
. There was Winston's
quip about a Nevada player's haircut
that quickly made the rounds on Twitter and became its own Internet meme. The
pregame speeches
, the postgame interviews -- it's all news simply because Winston said it.
"That's one thing, my face has always been shown," Winston said. "If you see the other players, they squint for the sideline, too. People say I squint worse, but if you're squinting, you're squinting."
Winston actually visited an optometrist on Monday --
complete with a photo on Twitter as evidence
-- but he said that was a coincidence, an appointment scheduled long before the Miami game. And if he was somewhat defensive about his vision, he certainly wasn't upset at all the attention.
"It's just life, man," Winston said. "Sometimes people can change things into big things. But that's fun things. There's nothing bad about that."
That mindset is a distinct departure from Manziel's response to the media frenzy that surrounded him after his Heisman win a year ago. Manziel was photographed at fraternity parties, interviewed while attending NBA games, mobbed in public places around Texas A&M's campus. In June, Manziel responded to all the attention with a tweet saying he "
can't wait to leave College Station
."
For Winston, however, life in the fishbowl hasn't been nearly so stressful.
"It doesn't bother Jameis a bit," Antonor said.
Winston countered the vision concerns by insisting reporters pick out distant signs for him to read. He followed up on the attention given to the Nevada player's haircut by seeking out
Brock Hekking
after their Sept. 14 game and introducing himself. For all the cameras continuously surrounding him, Winston hasn't tempered his personality much.
He's always wanted the big stage, and all the attention comes with the job.
"When you're an elite guy like that, you've got people that want to follow you," running back
Devonta Freeman
said. "And when you say great things, people are going to follow."
Still, the spotlight can be harsh at times, and Fisher said Florida State works to prep its players for that reality. Programs are developed and guest speakers are brought in to educate players on dealing with the media, handling success, shrugging off failure.
In spite of all that training, though, Winston hasn't changed much. He laughs and jokes and shows off when he feels like it, still deflects as much attention to his teammates as he absorbs.
That's been the true test of his character, Fisher said.
"Success reveals more about somebody than failure. Who you really are continues to show when you have success," Fisher said. "He's exactly the same guy."
October, 29, 2013
10/29/13
11:00
AM ET
No. 3 Florida State is set to meet No. 7 Miami in yet another Top 10 matchup for the ACC. Miami is the final ranked team on the Seminoles' regular-season schedule, leaving us to wonder whether the Hurricanes actually are the Seminoles' toughest remaining opponent on the road to an unbeaten season.
Heather Dinich and Andrea Adelson debate that very question.
Heather says: Miami on Saturday
[+] Enlarge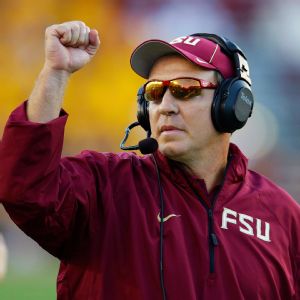 AP Photo/Stephan SavoiaCoach Jimbo Fisher and the Seminoles defeated Miami 33-20 last season.
It's not going to get any more difficult than this.
No. 7 Miami is the biggest obstacle still standing in the way between the Seminoles and an undefeated season.
A road trip to Gainesville you say? Psh. Even the Canes beat the Gators -- and that was when Florida was good.
Everything Miami has -- or, more accurately, hasn't -- done this season is a moot point. The key is that the Canes have done enough to set up a top 10 showdown between two undefeated rivals in front of an ESPN College GameDay crowd. Florida State is going to get Miami's best shot -- and the Seminoles know it. Not that Florida won't be aiming for that same bullseye, but Miami is simply a better team than Florida and has proven it in head-to-head competition.
The Gators have lost back-to-back games against ranked opponents. They're 4-3 and dropped out of the rankings in Week 8 after losing to Missouri, 36-17. They've also lost to Florida State in two of the past three seasons. This is a Florida team that's projected to go to the BBVA Compass Bowl right now -- a freefall from last season's Sugar Bowl appearance. Eight players have suffered season-ending injuries since summer camp, including starting quarterback
Jeff Driskel
, and the team's top defender,
Dominique Easley
. The Gators rank 12th or worse in the SEC in scoring, passing, rushing and total offense.
By comparison: Virginia Tech ranks No. 110 in the country in total offense -- right behind Florida.

Unlike the Gators, Miami can move the ball. The Canes are No. 19 in the country in scoring offense. They've got one of the most productive running backs in the country in
Duke Johnson
. And the defense is averaging 3.14 sacks per game -- a huge improvement from last year, when Miami averaged just 1.08 per game.
If Florida State can get past the Canes on Saturday, the most difficult stretch of the season will be behind the Noles. The ACC -- the entire country for that matter -- has been waiting for this rivalry to be relevant again.
Now it's Florida's turn to wait.
Andrea says: at Florida, Nov. 30
Florida does not appear to be a tough opponent today, not with all the injuries that have taken a preseason Top 10 team and turned it into an also ran.
But this will undoubtedly be the toughest test on the remaining Florida State schedule. First, this game will ultimately define the Florida season, especially if the Gators lose to Georgia this weekend. Should Florida State come into the regular-season finale against Florida unbeaten, then you can be assured the Gators would love nothing more than to wreck any shot Florida State has at winning a national championship. Laughable?
Rewind to 1997, when double-digit underdog Florida beat No. 1 Florida State 32-29, denying the Noles a shot at the title. It is true that 1997 Florida team is better than this 2013 Florida team but, nonetheless, upsets in rivalry games do happen. And they have happened in this series.
Secondly, and most importantly, Florida presents much tougher matchups for the Seminoles. The Gators rely on a power ground game, and the Florida State defense has been built to best defend a different type of offense. Linebacker
Terrance Smith
confirmed that point, saying after the NC State win, "I feel our defense is kind of made for the spread." Against power run teams like Boston College and even Bethune-Cookman at times, the Florida State defense had its share of struggles. The Noles gave up 392 total rush yards in those two games.
There is no doubt Florida will have the best defense Florida State has faced this year, despite the injuries. That includes the all-important secondary, where Florida features future Freshman All-American
Vernon Hargreaves III
. He is tied for the SEC lead in passes defended and tied for second in the league with three interceptions.
Opposite him,
Loucheiz Purifoy
is one of the best cornerbacks in the country. Through the first seven games this year, opposing quarterbacks have completed just 47.5 percent of their passes on this Florida secondary -- good for No. 5 in the nation. Quarterbacks are averaging just 5.5 yards per attempt, which is No. 4 in the nation. Coach Will Muschamp is a defensive guru. Perhaps he can devise a plan to slow down
Jameis Winston
. That is what Florida did last year to
Johnny Manziel
(173 yards passing, one total touchdown).
Third, all the pressure in the world is going to be on Florida State to beat an overmatched rival. Everybody expects Florida to roll over. Florida State has done well handling pressure all season, but what it will face in this game is nothing compared to Death Valley. The finish line will be in site, against a bitter in-state rival that has won seven of the last nine games in the series. Simply put, no matter the record, Florida is not NC State. Nor is it Wake Forest or Syracuse.
Florida will be a tough out. The toughest out on the remaining slate.
October, 7, 2013
10/07/13
10:00
AM ET
TALLAHASSEE, Fla. -- The enthusiasm eventually overwhelms even the most strident purveyors of moderation, which is why it was hard for even Jimbo Fisher to quash a smile after Saturday's 63-0 win against Maryland in which his quarterback somehow managed to astonish a fan base that has come to expect almost anything from him.
There were the five touchdown passes, a career high.
There were the 393 yards, also a career best.
And there was the escape act, as
Jameis Winston
slipped through the arms of a would-be tackler, rolled out of the pocket and
added more salt in an already gaping wound
for the overwhelmed Terrapins.
"It was a tremendous play," Fisher said. "It really was."
Don't expect much more exuberance than that from Fisher, who has worked as hard as anyone to downplay the excitement surrounding Winston since the buzz first began to build this spring, but the seemingly endless series of highlights the redshirt freshman has provided speaks for itself.
In ESPN's latest
adjusted QBR rankings
, Winston ranks sixth, behind a handful of top Heisman contenders, and a closer examination only underscores how good he's been. In games when FSU has trailed, Winston's QBR is 94.5, second best in the nation behind Georgia's Aaron Murray. On third down, Winston's QBR is 99.1, behind Bryce Petty, Johnny Manziel and Marcus Mariota. On passing plays this year, Winston's 97.3 QBR trails only Petty.
Winston has compiled those numbers with remarkable consistency, too. In each of his first five starts, Winston has finished with a QBR of at least 75 (on a scale to 100). From 2008 to 2012, only three other quarterbacks did that in their first five games of a season, according to ESPN Stats and Info, and all three -- Colin Kaepernick, Andrew Luck and Russell Wilson -- are starting in the NFL.
And then, of course, there's the comparison fans have wanted to make since Winston starred in Florida State's spring game. If a Heisman is in Winston's future, it's largely because Manziel blazed that path as a freshman just a year ago.
So how does Winston stack up to Manziel's first five games from 2012?
(* Manziel had 495 rushing yards in his first five games. Winston has just 135.)
The numbers are close enough that even Fisher can't deny that the Heisman talk isn't so far-fetched -- and that's a statement unto itself.
"When we keep winning games," Fisher said of an appropriate time to discuss Winston's Heisman chances. "The Heisman is the team that wins the most games and the best player on that team. We have to keep having success."
Still, that's a big step from Fisher's stance on the award just a year ago.
After Florida State upended Clemson at home behind a stellar performance from EJ Manuel, the FSU QB vaulted to the top of the Heisman predictions. Fisher was quick to downplay the buzz. He compared Manuel to a hunting dog, and he said the Heisman was for show dogs.
In that win over Clemson, Manuel threw for 380 and two touchdowns. Winston has topped 300 yards and thrown at least four touchdowns in all three of the ACC games he's played so far.
Of course, Manuel's numbers -- and FSU's record -- didn't keep him in contention the rest of last season, and Manziel's strong start proved to be just the beginning. Manziel's final eight games of 2012 were staggering: 67 percent completions, 15 passing TDs and 14 more on the ground, 915 rushing yards, and six games with an adjusted QBR better than 90.
The question now, with No. 3 Clemson looming and expectations rising with every dazzling performance, is how Winston will finish.
Matching Manziel won't be easy, but it's also possible Winston is only getting better.
"With the team I have, it's always been easy," Winston said of his strong start. "It's probably slowing down a little bit more, but those guys around me -- I have so many weapons, I think it's always been looking like that out there."
October, 5, 2013
10/05/13
10:39
PM ET
By
ESPN Stats & Information
| ESPN.com
Stacy Revere/Getty ImagesJameis Winston had five passing touchdowns against Maryland.
Jameis Winston
has Florida State on its way possibly to its best season of the 21st century.
The redshirt freshman has been quite impressive in his first five games as the Seminoles' starting quarterback.
Winston had five passing touchdowns against Maryland, the most by a Florida State quarterback since Christian Ponder had five in 2009 against Georgia Tech.
Winston now has 17 passing touchdowns, the most by anyone in a player's first five career games over the past 10 seasons.
Winston joins Boise State's Kellen Moore as the only FBS players over the past 10 seasons with a QBR of at least 75 in each of their first five career games.
In three ACC games, Winston has a 93.6 Total QBR, has completed 76 percent of his passes, and is averaging 360 passing yards per game with 13 passing touchdowns and one interception.
Heisman hopeful
How does Winston compare to past Heisman winners in their first five games of the season? He has more touchdowns responsible for (passing and rushing touchdowns) than
Johnny Manziel
(2012) and Cam Newton (2010). And he has fewer turnovers (two) than any of the past three Heisman winners –- Manziel, Robert Griffin III (2011) and Newton.
The rout was on
Winston's superb play led the Seminoles to a dominant victory over No. 25 Maryland 63-0.
Florida State's 63-0 win over Maryland is tied for the largest margin of victory over a ranked team since the AP Poll began in 1936. In 1997, UCLA beat No. 11 Texas, 66-3.
It's the largest margin of victory by any team in an ACC conference game.
It's also the largest shutout win ever by Florida State over a ranked team.
The 5-0 Seminoles are idle next week before clashing with undefeated No. 3 Clemson on Oct. 19 at Death Valley.