November, 19, 2011
11/19/11
6:50
PM ET
SOUTH BEND, Ind. — Notre Dame has let Boston College hang around for longer than it has any reason to
through three quarters
. Will it come back to bite the Irish?
Tommy Rees
' erratic day finally reared its ugly head with a third-quarter interception by the Eagles' Max Holloway. Rees had several near-picks in the first half that, fortunately for him, bounced harmlessly to the ground.
The Irish start the fourth quarter from the BC 48 with a chance to score and put the Eagles away once and for all, something they have struggled to do all day long. The offense has looked stagnant, and it is not a stretch to say that the players may just be shaken up after watching senior running back
Jonas Gray
leave the game with what
looks like a serious leg injury
.
Gray hobbled back to the locker room and appeared to be on the verge of tears as several players offered their condolences. As big a loss as that may be for Notre Dame, the Irish cannot let that turn into a second loss today.
November, 19, 2011
11/19/11
5:04
PM ET
SOUTH BEND, Ind. -- Another opening drive touchdown from Notre Dame had many thinking this would be another rout early, but the Boston College defense and punt coverage unit have given the Eagles a chance to stick around so far.
Jonas Gray
added to his spectacular senior campaign by rushing for a 26-yard touchdown, his eighth straight game with a score and his 12th during that stretch. The Irish added a field goal on their second drive, but they have been pinned inside their own 10 to start their last two possessions.
Luke Kuechly and Manti Te'o have played their lead roles fittingly so far, recording six and four tackles in the first period, respectively. Kuechly added a tackle for loss as well.
The Irish defense has been the better unit thus far, however, allowing just 43 total yards of offense. Boston College's defense could do its offense a big favor by creating a turnover deep in Irish territory and taking full advantage of the field position game. Notre Dame will start from its own 17 when the second quarter begins.
November, 12, 2011
11/12/11
10:11
PM ET
LANDOVER, Md. -- Will
Andrew Hendrix
get in for the first time in three games? Will Notre Dame finish with two different 100-yard rushers?
These are the relevant questions as we enter the fourth quarter with Notre Dame holding
a 38-7 lead
over Maryland.
Cierre Wood
and Lo Wood were the scorers in the third period -- the former notching a three-yard touchdown run, the latter taking an interception 57 yards the other way for a touchdown.
Wood has 79 yards on 14 carries.
Jonas Gray
has his first career 100-yard game, with 125 yards and two touchdowns on 18 carries. The most telling play may have been a third-and-17 from the Irish 20, when Gray rushed it 19 yards up the middle for a first down on a drive that ended with Cierre Wood's score. Maryland simply has no answer for the run.
Notre Dame has now outscored its opponents in the third quarter this season by a 77-13 margin, and it has not allowed a third-quarter offensives score in nine of 10 games.
November, 12, 2011
11/12/11
8:35
PM ET
LANDOVER, Md. -- Notre Dame's rushing game has had its way so far against Maryland, resulting in a 10-0 Irish lead after one.


Jonas Gray
has six carries for 48 yards and a touchdown, a one-yard punch that came two plays after a 14-yard gain that brought him down at the 1. Gray now has 10 touchdowns in his last seven games, scoring in all seven.
Cierre Wood
has four carries for 38 yards so far, largely on a few nifty moves when reaching the second level. Notre Dame is averaging 7.9 yards per carry through one quarter.
Maryland has moved the ball ever-so slightly enough to pin Notre Dame deep on several occasions, but its banged-up front-seven has no answer for the Irish's running game. The Terrapins will have to do something more on offense if they want any chance of hanging with the Irish throughout the night.
November, 6, 2011
11/06/11
1:07
AM ET
WINSTON-SALEM, N.C. -- Jimmy Newman's 42-yard field goal sailed wide right, and
Jonas Gray
and
Cierre Wood
immediately wanted the ball.
Five-minutes, 24 seconds remained. And even though Wake Forest had all three timeouts remaining, there was not a doubt in either back's mind that the Demon Deacons' luck had run out in an eventual
24-17 loss
to Notre Dame.
"Definitely, definitely," Gray said. "That was the first mindset we had. The guys were doing a great job blocking on the perimeter and inside. We knew what we had to do was run the clock out, and by doing that we had to run the ball."
Wood got the first two carries, totaling 11 yards. Gray, who made his second straight start, took it from there, rushing it five straight times for 16 yards, the final carry a third-and-1 conversion that sealed the game with 1:40 left.
The Irish had let other hosts stick around in primetime games before, and they had been bitten, most notably when they struggled in short-yardage situations late in a last-second loss at Michigan. But Gray, who has improved as much as anyone during the course of the season, said the team takes on a different mentality now.
[+] Enlarge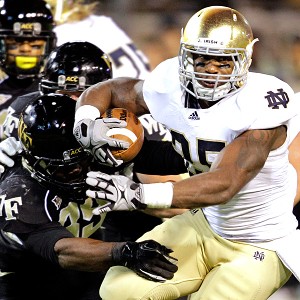 AP Photo/Chuck BurtonJonas Gray had 92 yards on 19 carries with a long run of 25.
"We welcome it," the senior said.
Gray finished with 92 yards on 19 carries -- again, ironically, hurting his yards per rush average in his chase of George Gipp's single-season school record of 8.1.
For that, he can blame a review that followed his 26-yard third-quarter rush into the end zone, as it got marked down at the 1, where he punched it in from two plays later for his ninth touchdown in the last six games.
That score tied things up at 17 after the Irish went into the half down seven, Wake Forest's offense keeping the banged-up defense on its toes with the elusive
Tanner Price
running the show.
Brian Kelly won his 14th straight November/December regular-season game, and his 20th in his last 22 tries. And he did it the hard way.
When a third-quarter flea-flicker resulted in a 54-yard interception return and eventually first-and-goal for Wake Forest, down seven in the third, Harrison Smith forced a fumble that was recovered by Gary Gray.
The next time the Demon Deacons got so close, Stephon Tuitt recorded a sack, Smith blew up a backfield pass for another loss and Newman missed from 42 yards.
Notre Dame played the majority of the game with Mike Golic Jr. at center instead of Braxston Cave, who left the game after the first play of the second quarter with an undisclosed injury. All-everything linebacker Manti Te'o "was playing on one leg," Kelly said, after the junior left Wake Forest's last drive of the third quarter before returning on the next series.
Defensive end Aaron Lynch had to leave the game on two separate occasions, further depleting an already depleted defensive line, and T.J. Jones somehow made it back after taking a vicious hit on an impressive six-yard grab early in the third quarter.
"We got a lot of guys banged up. A lot of guys banged up," Kelly said. "We'll give you a full report on that when I get a sense of, we got guys that are gonna be -- hey, listen, it's November, too. So there's gonna be some guys that come to practice on Tuesday not full-speed. But these guys are tough, they're gritty and they'll answer the bell."
Earlier, Kelly was less pleased with a question about Notre Dame's passing game.
Tommy Rees
finished the night 14-of-23 for 166 yards with two touchdowns and two picks.
"I mean is there a negative to everything? Is there a negative?" Kelly said. "We just won a football game, on the road. I mean, what kind of, really, what kind of question, what do you want me to say? What's the answer? We won 24 to 17 against a good football team, and you want to know what's wrong with the passing game. You know what's wrong with it? Um, the coach doesn't call good plays. How's that? There's nothing wrong with it. We're fine. We just won a good game."
It's the best game Notre Dame can win before Nov. 26, as it will face hapless Maryland and Boston College before traveling to what Kelly said will be "hopefully an undefeated Stanford team."
Kelly was later asked if he was looking forward to Stanford, and he made sure to not look ahead with two games left before the regular-season finale.
"No, no, we're on the right track," Kelly said. "We're not too far ahead. The guys know what they're playing for. We're playing for a consistent performance. We have a sign, I don't know if you know this, but we have a sign that says 'Play Like A Champion.' And to play like a champion you have to play consistently. You can't have spurts.
"Tonight was a great step in that direction, of playing on the road, against good competition, down at halftime, come back a couple of times -- that's resolve. That's toughness. That's gritty. We've been trying to build this and it's starting to come and you can see it. And that's why I'm proud of my guys tonight."
November, 5, 2011
11/05/11
10:48
PM ET
WINSTON-SALEM, N.C. -- If we could sum up Notre Dame's season in 15 minutes, the third quarter of tonight's game would do the trick.
The Irish offense looked flawless on its first two drives, resulting in
Jonas Gray
and
Michael Floyd
touchdowns to give them their current
24-17 lead
. But it could have been more.
And it could have been worse.
Tommy Rees
and Gray ran a flea flicker that resulted in a Josh Bush interception, returned 54 yards and punctuated by a flat-out awful roughness call on Zack Martin, who simply tackled Bush out of bounds. That had Notre Dame's staff irate, but three plays later Harrison Smith changed everyone's mood by forcing a fumble that was recovered by Gary Gray.
Wake Forest got the ball back and will face a third-and-19 in Notre Dame territory to start the fourth quarter, and this may be its best shot at evening the score.
Unless, of course, the Irish commit another turnover ...
November, 2, 2011
11/02/11
9:00
AM ET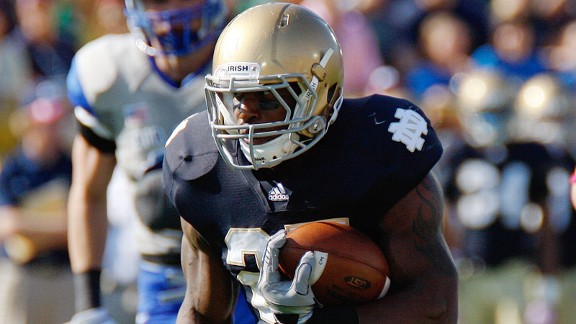 Matt Quinnan/Icon SMIJonas Gray and the Fighting Irish will get a taste of ACC action the next three weekends.
Before Notre Dame can get to its regular-season finale at Stanford, it has to get through the ACC.
The Irish's next three games are against Wake Forest, Maryland and Boston College. Two of the three are away from South Bend, but two of the three serve as Irish home games. (Confusing, we know.)
With the Irish 5-3 and set for confere ... er, ACC, play, Notre Dame blogger Matt Fortuna and ACC blogger Heather Dinich preview this week's matchup in Winston-Salem, along with the other two contests.
Matt Fortuna:
Heather, first off, what do you make of this Wake Forest team? It is tough to judge from the Midwest -- it beats FSU, gets rocked by UNC and Virginia Tech. Also, the decision to make this a night game struck me as interesting. Are the folks down there treating this one like their biggest home game of the season?
Heather Dinich:
Matt, there's no question the Deacs are taking this one seriously, especially after such a poor performance against North Carolina. What to make of Wake Forest? This is a much, much better team than the one that finished 3-9 a year ago. They're one win away from bowl eligibility and would like nothing more than to wrap that up this weekend against the Irish. Heading into this game, I thought Wake was overmatched, but now I think they'll make it an interesting game. With both teams at 5-3, are they more alike than many thought they'd be? It's hard to tell with such different schedules, but I think Notre Dame has the better win over Michigan State. Turnovers were a huge factor last week for the Deacs. Wake had turned it over just five times all season and then against UNC it had five turnovers. It was an uncharacteristic performance, to say the least. If the Deacs can take care of the ball and get the passing game going, they stand a chance. The bigger question to me is, are the next three weeks a foreshadowing of what's to come with Notre Dame and the ACC? What are you hearing out of South Bend?
MF:
Five turnovers in one game? No kidding, they really are alike. As for your question, Notre Dame will strive to remain independent in football at all costs. Right now I think the Irish are content to watch the dominoes fall in front of them until they are forced to make a move. If that time does come, however, I do think the ACC would be its best bet. For one, Notre Dame would be marginalized in the Big Ten, serving as just another regional power along with Michigan, Nebraska, Ohio State and Penn State. In the ACC it can still expand its recruiting bases from as South as Florida to as North as New York and Boston. Mike Brey, the men's basketball coach, has stated his preference is to remain somewhere East if Notre Dame is forced to move. Also, it is pretty funny that, in addition to this slate of games, the Irish have already traveled to future ACC member Pitt this season, and they currently seem bound for the Champs Sports Bowl, where they would face another ACC school. That would be five out of 13 games this season against current or future ACC schools, for those keeping count at home. While we're at it, Heather, who do you think looks like Notre Dame's likely bowl opponent should it find itself in Orlando?
HD:
Right now I've got Florida State heading to the Champs Sports Bowl, Matt, and it seems like the most likely scenario. That would be a great matchup of two traditional programs, but let's stick with the ones we know right now. Heading into this season, I predicted the ACC would strike out against the Irish with an 0-3 record. I still don't see BC winning at Notre Dame on Nov. 19, considering what a dreadful season it's been for the Eagles, and if BC isn't going to get the W, there's no reason to think Maryland can, even though that game is a virtual home game for the Terps in FedEx Field in Landover, Md. Maryland can't even fill its own stadium, though, let alone a pro venue, and the Terps just lost at home to Boston College. It's been a rough first season for Randy Edsall. So, it looks like the Deacs are the ACC's best hope at picking up a W against Notre Dame, at least from my perspective. What are you predicting the Irish do against the ACC in three games?
MF:
I'm with you, Heather. I just cannot see Maryland or Boston College beating Notre Dame, making Wake the favorite among the ACC teams to do so. Even then, the Deacs are clearly overmatched and will have a tough time keeping up with the Irish on both sides of the ball. I circled this one as a potential upset when making second-half predictions a little more than three weeks ago, but Wake has done little since (its only win was over Duke ... by 1) to convince me it can pull off the victory. Who do you got?
HD:
I'm sticking with my preseason prediction, Matt, and going with the Irish. I'll leave the score for tomorrow's predictions post, but I just don't see Wake Forest beating Notre Dame's offensive line or slowing down that running game. Notre Dame's offense line averages 305.6 pounds. Wake Forest's undersized D-line checks in at an average of 247.5. No wonder
Jonas Gray
is averaging 8 yards per carry, and the Irish didn't allow one sack in October. And of course, they've got one of the top linebackers in the country in Manti Te'o. Wake Forest will correct a lot of the mistakes it made last week against North Carolina, but it will come up short in a close game. Since you're the visitor to ACC country, though, I'll give you the final word.
MF:
Not sure if that qualifies as southern hospitality, but it is appreciated nonetheless. I expect Gray to have a huge game as well. He's a guy who had zero career touchdowns until Week 4 at Pitt. He has had eight since, including three this past Saturday. Brian Kelly's teams are built for November and December, as evidenced by his 21-6 mark in the regular season's final two months. I think Wake Forest has a chance to keep it close early, but it lacks the depth and size to hang with the Irish throughout the night.