October, 27, 2012
10/27/12
5:26
PM ET
Maryland's defense has been its strength all season -- especially with back-to-back-to-back season-ending injuries to starting quarterbacks.


In Saturday's
20-17 loss
to Boston College, the Terps couldn't make the stops when it mattered most, as
Chase Rettig
completed a 14-yard touchdown pass to
Johnathan Coleman
with 52 seconds left to give Boston College its first FBS and ACC win of the season. The victory snapped a five-game losing streak for the Eagles and helped them avoid their worst start since 1989.
It was a valiant effort, though, by Maryland true freshman quarterback
Caleb Rowe
, whose rapid ascension up the depth chart came at the expense of injured teammates
C.J. Brown
,
Perry Hills
and
Devin Burns
. Rowe, once a fourth-string QB who planned to redshirt, completed a 66-yard touchdown pass to
Stefon Diggs
midway through the fourth quarter to give Maryland a 17-13 lead. The Terps couldn't hang onto it, though.
Rowe completed 23 of 42 passes for 240 yards and two touchdowns, but also had three interceptions.
It was a much-needed win for Boston College, whose only win until today was against Maine. If BC wins out, it could still get to a bowl game. Considering No. 5-ranked Notre Dame is still on the schedule -- not to mention road trips to Wake Forest and NC State, plus a home game against Virginia Tech, it seems unlikely. The same can be said for Maryland.
The Terps are in a much better position than BC at 4-4, but two more wins will be hard to come by with Atlantic Division leaders FSU and Clemson still on the schedule. The Terps really needed that win to boost their hopes of reaching bowl eligibility after a 2-10 season. The Eagles, on the other hand, just needed a win.
September, 8, 2011
9/08/11
10:15
AM ET
There aren't any games on the ACC schedule this week that are going to really earn much national spotlight, but there are some important games and potential upsets brewing. Here are 10 things to watch in Week 2, in no particular order:
1. Records at Virginia Tech.
Coach Frank Beamer is one win shy of 200 during his career at Virginia Tech, and receiver
Jarrett Boykin
needs just two more catches to become the school's all-time leader in receptions. If Beamer beats East Carolina, he will join only nine other FBS head coaches who have won that many games at one school.
[+] Enlarge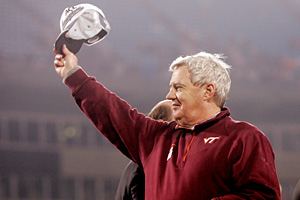 Jeff Blake/US PresswireFrank Beamer can win his 200th game at Virginia Tech this weekend.
2. NC State's offensive line.
Quarterback
Mike Glennon
put up respectable numbers in his starting debut, but it didn't help that he was sacked four times, including a blind-side hit that jarred the ball loose and was returned for a touchdown.
3. Wake Forest linebacker Kyle Wilber.
Speaking of sacks against NC State, Wilber is one shy of moving into the top 10 on the school's career list for sacks. He's also worth watching on special teams. He had the fourth blocked kick of his career against Syracuse when he knocked down a field goal attempt with 2:07 left to play.
4. Georgia Tech's passing game.
The Yellow Jackets' passing game flourished like never before under coach Paul Johnson, but can they keep it up on the road against better competition?
5. Boston College's defense.
The Eagles led the nation a year ago in rushing defense, but allowed Northwestern 227 yards on the ground last weekend. Next up is a Central Florida offense that just racked up 560 total yards against an overmatched Charleston Southern team.
6. Talented true freshmen.
There were rookies making their debuts all over the ACC last weekend, but some proved right away they're going to make an impact this year. At Virginia, true freshman cornerback Demetrious Nicholson returned an interception 31 yards and
Darius Jennings
had a team-best 13 plays that went for 20 or more yards. At Clemson, three different freshmen scored touchdowns in
Sammy Watkins
,
Mike Bellamy
and
D.J. Howard
. FSU played 11 true freshmen.
7. Florida State's defense.
It was definitely a highlight in the season opener against Louisiana-Monroe, but the program has never posted back-to-back shutouts during its tenure in the ACC. This could be the first, as Charleston Southern is coming off a 62-0 drubbing by Central Florida. The Noles haven't had back-to-back shutouts since 1980.
8. Clemson quarterback Tajh Boyd.
He was a different player between the first and second half against Troy last week. Which one will show up for four quarters against Wofford on Saturday? At halftime Clemson trailed 16-13, and Boyd was just 6-of-12 for 65 yards. He wound up throwing for 264 yards and three touchdowns.
9. BC receiver Jonathan Coleman.
He is taking over for injured teammate
Ifeanyi Momah
, who suffered a season-ending left knee injury (ACL) against Northwestern. The sophomore played in all 12 games last year and had 14 catches for 260 yards. More will be needed from him now.
10. UNC cornerback Charles Brown.
He's making his first appearance this year after missing all of last season as a result of the NCAA's academic investigation and sitting out the James Madison game for accepting $86.94 worth of benefits. Brown has six career interceptions for 191 yards.
April, 14, 2011
4/14/11
9:00
AM ET
It seems as if Boston College receiver
Colin Larmond Jr.
has made his collegiate career out of waiting.
For two years, he waited patiently for his chance to become a full-time starter. Before he ever had a chance to experience it last year, Larmond suffered a season-ending torn ACL two weeks before the season began. Now, after a spring in which he has been limited to running, lifting and watching, Larmond is once again waiting to be cleared for full participation with the hopes of playing an integral role in BC's offense this fall under first-year coordinator Kevin Rogers.
[+] Enlarge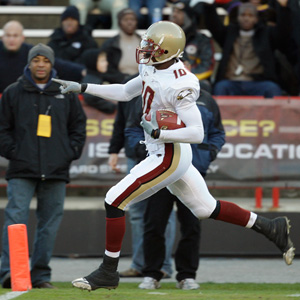 AP Photo/Rob Carr)Colin Larmond Jr.'s best season came in 2009, when he caught 29 passes for 596 yards and five TDs.
Larmond said he expects to be 100 percent by the end of May or early June, and he'll have some catching up to do in summer camp. Every player who caught a pass last season returns at BC, including two true freshmen who gained invaluable experience in
Alex Amidon
and
Bobby Swigert
.
Without Larmond in the lineup, they didn't have much choice.
Amidon led the team with a 21.1 yards per catch average. He totaled 338 yards on 16 catches and had two touchdowns. Swigert led the team in catches (39), yards (504), touchdowns (4) and average per game (38.8).
Ifeanyi Momah
is returning for his fifth year and was second among wide receivers with 31 catches, 338 yards and a 26.0 per game average. The Eagles also return
Clyde Lee
,
Johnathan Coleman
, and
Shakim Phillips
.
Larmond said he feels like he has to win his job back.
"Coach always says no one's jersey is tattooed on them," Larmond said. "That's good and it also gives me more motivation. It's like, 'OK, well guess what? No one remembers you now because you sat out and these guys came in and stepped up.' It's just like the real world. If you can't get the job done, somebody else will replace you, or if you go down, there's someone there to fill in. I'm going to have to work even harder than those guys. Even though I've been here it doesn't really matter because when I wasn't there, those guys stepped up. Their numbers were called and they made plays."
And unlike Larmond, they've had the spring to practice the new offensive scheme. Larmond said he's been studying it and he feels like he knows it, but …
"Those guys have been doing it day in and day out for the past month," he said. "I'm in meetings and I understand it, but it's different when you're sitting there instead of actually being out there and showing you understand it. There's a whole bunch of things I feel like I have to prove when I come back, not just for myself but also Coach Rogers and this new offense."
Last Tuesday, Larmond received a brace for his ACL. He's been working on getting his knee stronger, but has a separate workout from his teammates to help rebuild the strength in his hamstring and quad. Larmond hasn't run full speed in about eight months, so he will need the rest of the offseason to get reconditioned, but he also said he needs the time to get mentally stronger as well.
"I know that when that day comes back around in camp again, it's going to be on my mind -- OK, let's hope this doesn't happen again," he said. "That mental aspect of the game, which was my main concern, making sure I get over that hump, over that hurdle, knowing that I'm going to go out there and run this 110 percent, not being nervous that I might mess my knee up again. The time is going to be very helpful."
And a healthy Larmond could be even more helpful to BC's offense in 2011.
September, 22, 2010
9/22/10
9:00
AM ET
After a 2-0 start, that includes wins over unheralded opponents Kent State and Weber State, Boston College coach Frank Spaziani still isn't quite sure what to make of his team.

"Tune in," Spaziani said. "Minefields and potholes are showing up, but we're working our way through them. We're going to find out."

Just how much is revealed on Saturday against a struggling Virginia Tech (1-2) team remains to be seen. The Hokies lost at home to James Madison, an FCS school, and were trailing in the third quarter before pulling ahead to beat East Carolina last weekend. Boston College is still searching for consistency at quarterback, the top returning receiver suffered a season-ending injury before the season began, and there are 22 freshmen and sophomores listed on the two-deep depth chart this week. The recent history between these two programs has made for an entertaining series, though, which is even at 4-4 in the past eight games.

"I like the way we're working," Spaziani said. "We're working hard. We're trying to get better. We're not a good football team yet, but it's a long season. We're going to find out if we can sustain and work and get to where we need to go."

The good news for the Eagles this month is that they haven't had to go anywhere. BC, which is coming off a bye week, has four home games before traveling to NC State on Oct. 9. BC has won 10 of its past 11 home games, dating back to 2008. The lone loss came to North Carolina last year. Since joining the ACC, Boston College is 5-1 coming off bye weeks, and has defeated Virginia Tech in the past two meetings in Chestnut Hill.

Despite the Hokies' loss to James Madison, Spaziani said he hasn't lost an ounce of respect for Frank Beamer's program.

"I think they're a national championship caliber team," Spaziani said. "They've got great coaches, great tradition, great players. They do it year in and year out. I don't think they skipped a beat. … The only thing that happened to them, in my eyes, is a little bad luck. That's still a heck of a football team. There's a long season to be played, and they will be reckoned with, trust me. They will be reckoned with."

Virginia Tech and Boston College have met five times in the past three seasons and BC has won two of the past three regular season games. Neither team, though, has had a convincing performance yet, and part of that can be attributed to youth and inexperience.

BC opened its season with 13 freshmen on the two-deep roster, and the Eagles have had to lean heavily on a few of them. Redshirt freshman receiver Jonathan Coleman and linebacker Kevin Pierre-Louis both started against Kent State. Pierre-Louis is second on the team with 12 tackles.

Because of the numerous question marks facing Boston College heading into the season, defensive end Alex Albright said the schedule helped BC work some of the kinks out.

"I'm pretty glad we played those two previous games because I feel like we needed a tune-up, as opposed to some other teams who were able to come out firing on all cylinders right away," he. "But I really think we're coming together as a team, which is an important part of having a successful season. At the beginning there was either offense or defense. Now I feel like at practice we're the Eagles. There's no split, we're in it with the same goal now."
September, 10, 2010
9/10/10
9:00
AM ET
Here's your daily dose of ACC fun facts to make you seem a little smarter at the water cooler today. (Thanks to sports information directors in the league for these tidbits). Did you know …
The Yellow Jackets' 372 yards rushing last Saturday were the third-most in college football in Week 1. Only Air Force (437 yards) and Wake Forest (415) rushed for more.
Clemson Memorial Stadium was built in 1942, but it adopted the nickname "Death Valley" in the late 1940s. The name came from Presbyterian coach Lonnie McMillan, who called it "Death Val-ley" during preseason articles about the upcoming game. Bradley recalled that he referred to it that way because it was a tough place to play. No kidding - McMillan had a 1-12 record against Clemson in Death Valley, with the one win coming in 1943, 13-12. Ironically (or fittingly), McMillan still has lost more games at Clemson than any other visiting coach.
Boston College had a total of 25 players that were either freshmen or sophomores on the two-deep last weekend - including 13 freshmen. Two freshmen earned starts against Weber State - receiver Jonathan Coleman and true freshman linebacker Kevin Pierre-Louis. Coleman led all receivers with 98 yards on three catches, and Pierre-Louis made six tackles (five solo) and had a tackle for a loss. This week, there are 23 freshmen or sophomores on the two-deep.
In the David Cutcliffe era, the Blue Devils have scored 30 or more points in 10 games, yielding a 7-3 record. Two of the three defeats have come against Wake Forest, with the Demon Deacons winning in overtime, 33-30 in 2008, and 45-34 last year.
Fathers of two Duke freshmen — Brandon Braxton and Braxton Deaver — played together at Wake Forest. David Braxton lettered three seasons (1986-87-88) as a defensive end with the Demon Deacons before embarking on a 71-game career in the NFL, and Jay Deaver lettered four campaigns (1985-86-87-88) at Wake Forest as an offensive guard.
UVA will be playing its first game in the state of California, and when USC played at UVA in 2008, it was the program's first trip to Virginia.
Remember that 22 players on the Cavaliers' current roster faced USC in 2008, so there's some familiarity there that should help overcome any sense of awe from playing in front of the largest crowd many of them will see in their college careers.
Virginia Tech has not allowed a point in its past nine quarters against James Madison University.
Under coach Frank Beamer, the Hokies have played two games in a seven-day or less span six previous times like they will this week after playing Boise State on Monday night with JMU looming on Saturday. The only time Tech lost the second game in that span was in 1997 when the Hokies fell to Virginia six days after playing Pittsburgh with both games coming on the road.
Between the last practice before last year's season finale against North Carolina (Nov. 26, 2009) and the first practice of this year's fall camp (Aug. 3, 2010), 250 days elapsed. That's the amount of time that Wolfpack quarterback Russell Wilson DID NOT practice football. He missed spring practice. He missed seven-on-seven drills in the summer. He missed football workouts in the Murphy Center weight room. Instead, he was playing baseball for the Wolfpack squad in the spring and for the Colorado Rockies' Tri-Cities Dust Devils in the summer. Didn't matter. Wilson threw for four touchdowns and 306 yards against Western Carolina, and he completed 68 percent of his throws (21 of 31).
Navy ran 32 plays in the red zone against Maryland, but was only able to come away with points twice in seven trips. Navy missed a 32-yard field goal on its first possession of the game, but went inside the Maryland 5-yard line on four trips without scoring. The Terps forced two fumbles, stopped a Navy drive at the end of the first half and had a goal-line stand in the final minute of the game to secure the win.
Sophomore wide receiver Jheranie Boyd had a breakout game for UNC against LSU with six receptions for 221 yards and a touchdown. His 97-yard touchdown reception was the longest play from scrimmage in school history. He also had a 75-yard reception, and his 221 yards are seven more than he had all of 2009 (214). Through the first week of the season, Boyd led the nation in receiving yards per game (221) and all-purpose yards per game (287).
Wake Forest redshirt freshman running back Josh Harris carried six times for 74 yards and two touchdowns in the 53-13 win against Presbyterian. It was the second-best ever debut by a Wake Forest running back. The top debut by a rookie back came in 2004 when Micah Andrews carried 17 times for 125 yards and three touchdowns in a win against North Carolina A&T
Twenty-six players were drafted from the Miami team that played in the 2003 loss to Ohio State, including 12 first-round draft picks.
Maryland is playing two in-state rivals for the first time since 1937. That year, they played St. John's College of Annapolis (which doesn't have football) and Western Maryland College (which is now McDaniel College).
August, 9, 2010
8/09/10
2:30
PM ET
By
ESPN.com staff
| ESPN.com
Schedule:
Practice starts at 3:30 p.m. and is closed to public.
What's new:
The unis. Boston College switched to Under Armour after a long-standing uniform contract with Reebok.
Sidelined:
Defensive lineman Damik Scafe is out and day-to-day with back problems, and Kaleb Ramsey is home in Pittsburgh and has not yet reported to camp for personal reasons. His status with the team remains uncertain.
Key battle:
Field corner. DeLeon Gause and Donnie Fletcher will both play a lot. Gause has started 23 games and Fletcher has played in all 27 games since his true freshman season in 2008. Offensively, tight end will feature two players with starting experience in
Lars Anderson
and
Chris Pantale
. Pantale started every game last year and caught 25 passes for 223 yards and a touchdown. Anderson was used mostly for his blocking.
New on the scene:
Redshirt freshman wide receiver Jonathan Coleman has cracked the two-deep. He came to BC from the Bronx, N.Y., and was a top wide receiver at Radnor High in Pennsylvania.
Breaking out:
Receiver
Colin Larmond Jr
. He led BC's receivers with 20.6 yards per catch last year and was second on the team with 29 receptions, 596 yards and five touchdowns. Former receiver Rich Gunnell was one of most underrated players in the conference, and the Eagles will need somebody to prove as dependable.
Don't forget about:
Right tackle Rich Lapham. He started 11 games last year and all 14 in 2008. Anthony Castonzo gets most of the attention on this line, but
Montel Harris
wouldn't have racked up all of those yards without Lapham's help.
All eyes on:
Linebacker Mark Herzlich. He's made a miraculous recovery from Ewing's Sarcoma cancer and is looking to play as good as or better than he did in 2008 when he was named the ACC's Defensive Player of the Year. It's a remarkable story and one even non-football fans across the country should be watching.
Quotable
: "Last year, it was all new. No matter what you say about being an experienced coach, being a head coach is all new. It was the first time. So I've got that under my belt and just like anything else, I've got to move forward. You can't teach experience, so I've got one year under my belt." --
Coach Frank Spaziani
.
June, 9, 2010
6/09/10
9:00
AM ET
By
ESPN.com staff
| ESPN.com
Boston College running back
Montel Harris
and wide receiver
Colin Larmond Jr
. were roommates last year and are good friends, which is why Larmond Jr. has no problem doing a little grunt work and blocking for the team's leading rusher.
[+] Enlarge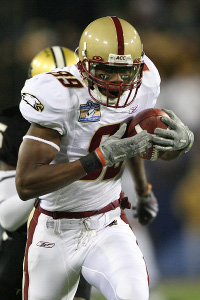 Andy Lyons/Getty ImagesColin Larmond Jr. wants to be a leader on and off the field for Boston College.
There will be a lot of pressure on Harris to carry the running game since there's not a lot of depth behind him, so the Eagles' passing game will be needed to help draw some of the defensive attention elsewhere. Larmond Jr. is the team's top returning receiver, having averaged 20.5 yards on his 29 receptions last year, but his focus this offseason has been getting the edges covered and blocking the safety for Harris.
"We talk about it all the time," Larmond Jr. said. "… He knows we're trying to work out there for him. It's fine by me because I know if I make that block he can go the distance."
Larmond Jr. will also be expected to emerge as the go-to receiver. The Eagles will miss the production of Rich Gunnell, who finished his career as the BC record holder in receiving yards. The group also lost
Justin Jarvis
and
Clarence Megwa
to graduation. Larmond was second on the team with 29 catches, 596 yards, five touchdowns and a 45.8 yards per game average. He has shown big-play capabilities, as he had four of BC's five longest receptions of the year.
Billy Flutie
is the only senior of the group, so younger players like
Clyde Lee
and
Johnathan Coleman
will have to learn quickly. Flutie and
Ryan Lindsey
could also become key contributors.
Larmond said he's looking to add more variety to his game this fall, and be able to line up in different places, and be more diverse in his route running. His responsibilities will extend beyond the field, though.
"I have to be the leader of the group and make sure I tell the guys when adversity hits us to keep going, don't give up," Larmond said. "I have to help them out, answer questions when I can and lead by example. When things aren't going right, stay with it. Don't get all frustrated. Just mainly lead by example and try to bring up the other guys. They feed off my energy. Once I'm energetic and ready to go, then they get energetic and ready to go, then we're going to be a hard receiving corps to stop."