September, 25, 2013
9/25/13
9:00
AM ET
True freshman receiver
Tyler Boyd
had one clear objective when he arrived at Pitt.
He wanted to make a statement.
Boyd had no intentions of redshirting. Not at all. So he went about practice to make one play after another, to impress his coaches enough to not only earn some reps in games -- but also to win a starting job.
[+] Enlarge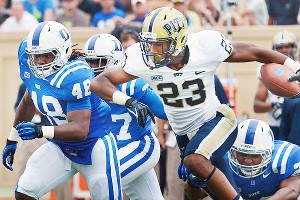 Chuck Liddy/Raleigh News&Observer/Getty ImagesPitt receiver Tyler Boyd is one of many true freshmen who are making an impact in the ACC this season.
So far, Boyd has been one of the most impressive all-around players in the entire country, ranking No. 1 among all freshmen with an average of 195 all-purpose yards per game. But he is not unique to Pitt or to the ACC. There has been a youth movement across the league this season, featuring true freshmen starters at nearly every position on the field.
Five ACC teams have played double-digit true freshmen, tied with the SEC for the most in the nation. Virginia Tech coach Frank Beamer and Wake Forest coach Jim Grobe have played more true freshmen than at any point in their respective tenures. Of the 14 teams in the ACC, only four have not started a true freshman.
Pitt stands above the rest when it comes to true freshmen contributions, as Boyd is not the only one who has put up impressive numbers. Running back
James Conner
ranks No. 2 in the ACC in rushing yards per game (108.7). The Panthers also feature true freshman kicker
Chris Blewitt
, the first time in 11 years they have started a first-year player at the position.
Overall, true freshmen have accounted for 70 percent of Pitt's scoring output so far.
"I just knew I had a real strong opportunity to come in here and make a huge impact, especially since it's my hometown," Boyd said in a recent phone interview. "I wanted to have everybody on board; my family, all my friends -- I wanted to make sure everybody was around to watch me do what I had to do."
Virginia Tech is not far behind Pitt when it comes to immediate contributions from true freshmen. Ten have played, and five have started already this season. Four have started every game -- left tackle
Jonathan McLaughlin
, cornerback
Brandon Facyson
, whip
Kendall Fuller
and kickoff specialist
Mitchell Ludwig
.
It is the first time Beamer has started a true freshman at left tackle and a true freshman at cornerback. Facyson already has three interceptions, tied for the ACC lead. Four games into the season, he also has tied the school record for interceptions by a freshman, set by DeAngelo Hall in 2001.
"It's been a great experience so far," Facyson said in a recent phone interview. "Me and Kendall, we both had aspirations of coming in here and getting to work right away and helping the team out as much as we could. That's what we want to do is become a reliable source for the team. Even being true freshmen coming in, we didn't want the team to not believe in us so we had to come in here and really have our minds focused, and so far we've done that."
Both the Pitt and Virginia Tech freshmen did not get eased into their college careers. The Panthers opened against No. 8 Florida State, while the Hokies opened against No. 1 Alabama. But the true freshmen were not intimidated.
Boyd had 151 all-purpose yards; the Hokies essentially shut down Alabama and top receiver
Amari Cooper
, holding him to four catches for 38 yards.
"I was a little bit nervous and cautious about everything," Boyd said. "I didn't want to mess up but my coaches and my teammates kept telling me to go out there and be calm, just relax, just stay comfortable with everything. Once I got the ball in my hand, I wanted to help my team."
Facyson and Fuller have been able to help each other as true freshmen playing together on defense. The two are roommates, so they sometimes spend their down time in the dorm quizzing each other on formations and responsibilities.
"It's honestly a good feeling just to have someone back there in my situation as well because you're on the same level with them and only they truly understand the pressure," Facyson said. "So we try to calm each other down, we try to hype each other up when it's needed. We just want to have fun. We want to help our team out and just play for each other."
Florida State (13), NC State (11) and Wake Forest (11) also have played double-digit freshmen. Like Pitt, NC State has gotten major contributions from true freshmen on offense. True freshmen lead the Wolfpack in both rushing (
Matt Dayes
, 37 carries for 143 yards) and receiving (
Marquez Valdes-Scantling
, 14 receptions for 201 yards).
As for Wake, the true freshmen numbers are simply astounding. Before this year, the highest number of true freshman to ever play in a season under Grobe was three. Center
Cory Helms
is the lone true freshman starter -- the first true freshman to start his first collegiate game since defensive tackle Marvin Mitchell in 1987.
All around, freshmen are contributing. Now that we have seen so many talented youngsters so early in their careers, the question is: How good will they become in a few years' time?
August, 7, 2013
8/07/13
10:30
AM ET
Today we look at Virginia Tech as the Hokies try to get back to the top of the Coastal Division in 2013.
Virginia Tech Hokies
Coach:
Frank Beamer (258-127-4 overall, 216-104-2 at Virginia Tech)
[+] Enlarge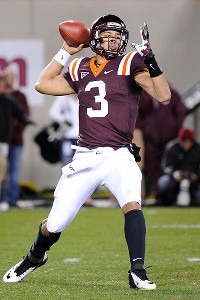 AP Photos/Chris BernacchiThe Hokies need QB Logan Thomas to cut down on mistakes in order for Virginia Tech to win more than seven games this season.
2012 record:
7-6
Key losses:
WR Marcus Davis, OT Vinston Painter, RB Michael Holmes, LB Bruce Taylor, LB Alonzo Tweedy
Key returnees:
QB
Logan Thomas
, CB
Kyle Fuller
, DE
James Gayle
, LB
Jack Tyler
Newcomer to watch:
OLB
Kendall Fuller
. Virginia Tech plans on playing the true freshman in a nickelback role this year, believing he can make an immediate impact. Fuller comes in as the most heralded player in the 2013 signing class. Two others to watch: cornerback
Brandon Facyson
and left tackle
Jonathan McLaughlin
.
Biggest games in 2013:
vs. Alabama, Aug. 31; at Georgia Tech, Sept. 26; at Miami, Nov. 9
Biggest question mark heading into 2013:
Running back remains a question mark for the Hokies, especially in the wake of Michael Holmes' dismissal from the university after an arrest this spring.
Trey Edmunds
and
J.C. Coleman
are listed as co-starters on the preseason depth chart, so this remains a competition to follow throughout fall practice. One of the biggest reasons Virginia Tech struggled last year was its inability to run the football effectively, ranking No. 79 in the nation in rushing offense. Simply put, the Hokies could not adequately replace David Wilson, and that ended up putting too much on Logan Thomas' shoulders. For this offense to function the way it needs to, somebody must step up in the backfield.
Forecast:
The Hokies had a down year in 2012, and Beamer responded in the offseason, shuffling his offensive staff to try to fix the problems that plagued the team last year. Scot Loeffler takes over as offensive coordinator, and his main task is to get Thomas back to the way he played in 2011, not the way he played in 2012. Loeffler has a good track record working with quarterbacks, a huge plus now as Virginia Tech works to get back to the top of the Coastal Division.
Aside from having Thomas work on his accuracy (51 percent last year, compared to 59.8 percent in 2011) and cutting down on the mistakes (16 interceptions last year), Virginia Tech needs to work as a cohesive unit this year, something missing during 2012. There were problems at just about every position on the field. Headed into this preseason, Virginia Tech is still looking for the right combination on the offensive line, a go-to receiver to step up and, as mentioned above, a consistent ground game.
There are not nearly as many questions on defense, a group expected to be among the best in the ACC this year. Defensive coordinator Bud Foster has plenty of talent to work with, particularly up front. Nine starters return, including All-ACC preseason pick Jack Tyler, defensive end James Gayle and cornerback Kyle Fuller -- the headliners among this group. The one area that might have some growing pains early on is in the secondary with
Antone Exum
(knee) out early in the season. Virginia Tech will have to rely on some inexperienced players, but at least there are no concerns at the opposite cornerback spot with Fuller returning.
Although there are questions about the offense, Virginia Tech should contend in the Coastal again. The Hokies were picked to finish second in the division, but it's totally wide-open at this point.
June, 11, 2013
6/11/13
9:00
AM ET
Few if any coaches will tell you point-blank this time of year which first-year players are likely to see the field and get a chance to contribute immediately, but there were a few hints across the ACC this spring. For some players, like Florida State quarterback
Jameis Winston
, the spotlight was unavoidable. For others, like Miami freshman linebacker Alex Figueroa, their success was more under the radar. Based on what we learned this spring, here are five first-year players worth watching this fall in the ACC in no particular order:
[+] Enlarge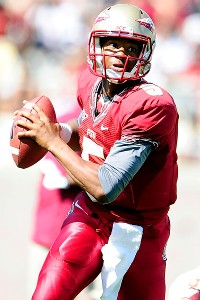 Stacy Revere/Getty ImagesJameis Winston's intelligence might be as impressive as his physical tools, Florida State coach Jimbo Fisher said.
Clemson TE Jordan Leggett:
He enrolled in January and wasted no time impressing the coaching staff. When
Sam Cooper
tore his ACL, the door opened for Leggett, who had seven catches for 97 yards and a touchdown in the spring game, and he played well in the last two scrimmages. He's not listed as the starter yet, but he is good enough to earn the job by the opener against Georgia.
UNC RB Khris Francis:
Another early enrollee, Francis opened some eyes with a stellar performance in the spring game. With the early departure of standout Giovani Bernard to the NFL, the Tar Heels are in need of a running back to step up. While
A.J. Blue
and
Romar Morris
are the leading candidates to do that, Francis showed some big-time potential this spring. He had a game-high 101 yards on 20 carries in the spring game.
Miami LB Alex Figueroa:
Figueroa also enrolled in January, and Miami's coaches have praised his progress -- evidenced by his spot at the top of the post-spring depth chart at outside linebacker. The son of two U.S. Marines, Figueroa has been lauded by those within the program for his tireless work ethic. According to hurricanesports.com, coach Al Golden said that Figueroa earned the No. 1 Sam linebacker spot in the spring because he outworked everyone during Miami's UTough program.
Florida State QB Jameis Winston:
The hype has grown larger than the 6-foot-4, 218-pound two-sport phenom, but he hasn't even officially been named the starter. Following the transfer of former quarterback Clint Trickett, though, and an outstanding performance in the spring game, many FSU fans have already anointed Winston the starter, even if coach Jimbo Fisher hasn't. At the very least, Winston's 12-for-15, 205-yard passing performance in the spring game made him the clear front-runner.
(tie) Virginia Tech cornerback Brandon Facyson and tackle Jonathan McLaughlin:
They were both early enrollees and played well enough this spring to work their way into the two-deep. McLaughlin played his way to first-team left tackle, ahead of junior
Mark Shuman
, and Facyson spent time with the second-team defense behind starter
Kyle Fuller
.
May, 10, 2013
5/10/13
2:00
PM ET
AA in the house with a fresh mailbag. Who has questions?
Christopher Koch in Charlottesville, Va., writes:
I liked your observations in the
Best of the ACC
blog. As a Hokie, I enjoyed the mention of Brandon Facyson in your early enrollee section. He really did have a great spring. Not to take away from anyone else's spring, but what do you think of Jonathan McLaughlin as the best early enrollee? He had a great spring also and was not as high (nor sought after) of a recruit as Facyson or Leggett. I even read he took over the starting left tackle position.
Andrea Adelson:
Thank you, Chris. I should have included McLaughlin in that group as well for what he was able to accomplish this spring. He is No. 1 on the depth chart right now at his position. Facyson is not. While it is true the Hokies' offensive line is in need of an overhaul, it is extremely impressive for a true freshman to come in and start at one of the most challenging positions on the offensive line, after just 15 practices. Remember, the vast majority of offensive linemen redshirt their freshman seasons. So to see McLaughlin starting the spring game says something about him and his potential. We'll see if he can
maintain that position
headed into the opener vs. Bama.
---
Brad in Charlotte writes:
In reference to your blog post on the Best of ACC's Spring, how can
Jameis Winston
's spring game performance be better than
Cole Stoudt
's 304-yard and four-touchdown passing performance, all of which was in the first half? I realize Winston is the talk of the town in Tallahassee, but let's face it he is essentially the default starter after (Clint) Trickett left. Even though Stoudt is a backup, he killed it against the first team defense with (Tajh) Boyd watching on the sidelines. Let's give credit where it is due.
Adelson:
Stoudt did have a good game; you are not going to get an argument from me there. But he is the backup. He has no shot of winning the starting job. Winston was in the middle of a competition to win the starting job -- with Trickett -- in that spring game. The importance of that performance, with the starting job hanging in the balance, made Winston the selection in that category.
---
Ron Davis in Lexington, Ky., writes:
So, with the 2014 mock-draft having
Teddy Bridgewater
in the Top 2, do you think the pull of playing in the ACC as a senior against stronger competition might compel Teddy to return for his final year?
Adelson:
Highly doubt that, but it really all depends on what type of season he has. If he is a surefire Top 2 pick, there is no compelling reason to turn down millions upon millions of dollars.
---
Tim in Blacksburg writes:
RE: Top ACC prospects for 2014 draft. Umm.. No mention of LT? Not even in the players who may rise in those rankings? Funny stuff!!
Alan James in South Boston, Va., writes:
Logan Thomas
will be drafted higher than any of those mentioned in your "top draft prospects for 2014" blog.
Adelson writes:
So the quarterback everybody loves to hate is all of a sudden a first-round NFL draft pick after a junior season in which he was roundly and soundly criticized as being unable to throw the ball? I think I am living in a bizarro world right now. The bottom line is this -- Thomas has a lot of work to do if he is going to get his name back into the first-round conversation. Last season did a number on his stock. Big reason why he came back.
---
B in NYC writes:
Hi Andrea, Where does
Stephen Morris
fall on your
2014 NFL draft list
? Considering the Canes will have the best OL in years, have a talented receiving core, and not to mention Duke (Johnson) to keep D's honest, he's in a great position to improve upon his already record breaking year last year. It's still QB U until somebody says it ain't. Was he an oversight?
Adelson:
Is it still QB U? Because last I checked, Miami had two quarterbacks drafted since 1999, and both were seventh-round picks. As for Morris, he certainly is in a position to improve his draft stock, but I'm not sure he's a first-round selection at this point. Guys like Teddy Bridgewater,
Tajh Boyd
,
Aaron Murray
, Derek Carr and AJ McCarron are rated higher than him right now.
---
Mike Lawrence in Jacksonville, Fla., writes:
Winning championships is also about coaching and attitude. Good teams believe they can win every game; great teams expect to. Players at FSU did not improve during the final decade of (Bobby) Bowden's tenure, but that seems to be improving. But the attitude has to develop, and that is a work in progress. It seems to be better than it was - these teams are winning games that we used to find a way to lose. But we ain't there yet.
Thanks for your article
!
Adelson:
Florida State is such a fascinating program to me. People expect greatness year in and year out. When it doesn't happen, well, something must clearly be wrong. But as you pointed out, this program was a long way away from being a winning program when Bowden left. Jimbo Fisher has needed all the time he has had to get the ship headed in the right direction.
---
Cody in Syracuse writes:
Andrea,I have a bit of a rivalry with one of my current friends who is a student at Virginia Tech and I attend Syracuse University. Him and his roommates like to talk a lot of smack about how much better Virginia Tech is in football than S.U. and in recent times they have had some more successful years. The recent NFL draft I think is a strong indicator of where both of these programs currently stand. Three S.U. players and two V.T. players were selected in this year's draft. Not only did S.U. have one more player taken in the draft than V.T., but S.U.'s players were selected in the first and fourth rounds, meanwhile both V.T.'s players were both selected in the 6th round. I'm glad that S.U. and V.T. belong to the same conference again. My greatest memory at the Dome was the 2002 triple overtime win over V.T. and who could forget the 1998 classic that the game winning touchdown pass from Donovan McNabb? Aside from having a better draft this year than the Hokies, I always remind them that S.U. actually has a national championship in football, basketball and 15 national championships in men's lacrosse. Number of V.T. national championships in any sport: 1...in bass fishing.
Adelson:
I think the performance on the field this year will be a much more accurate assessment of where both programs stand. I wouldn't just look at last season and say Syracuse all of a sudden is in better shape than Virginia Tech. The Hokies just had a string of eight straight 10-win seasons snapped. Syracuse hasn't won 10 games since 2001. In fact, the Orange have lost 10 games more recently than they won 10 games (and they did it twice). One year does not make a trend. Gotta wait on the results from this season.
May, 7, 2013
5/07/13
5:30
AM ET
Virginia Tech Hokies
2012 record:
7-6
2012 conference record:
4-4, Coastal
Returning starters:
Offense: 6; defense: 9; kicker/punter: 2
Top returners

QB
Logan Thomas
, CB
Kyle Fuller
, DE
James Gayle
, LB
Jack Tyler
Key losses
WR
Marcus Davis
, OT
Vinston Painter
, LB
Bruce Taylor
, LB
Alonzo Tweedy
2012 statistical leaders (*returners)
Rushing:
Thomas* (524 yards, 9 TDs)
Passing:
Thomas* (220-of-429 for 2,976 yards, 18 TDs, 16 INTs)
Receiving:
Davis (953 yards, 5 TDs)
Tackles:
Tyler* (119)
Sacks:
Taylor (5.5)
Interceptions:
Exum* (five)
Spring answers
1. Secondary.
Depth in the secondary was already thin, and the group got much thinner when starting cornerback
Antone Exum
tore his ACL during a pickup basketball game. But this spring revealed a rising star in true freshman
Brandon Facyson
, who enrolled in January. He,
Donovan Riley
and
Donaldven Manning
all played well this spring, easing some concerns.
2. Depth up front.
The other area defensive coordinator Bud Foster wanted to work on was building depth on his defensive line. He believes he started to accomplish that this spring with younger players like
Kris Harley
,
Nigel Williams
,
Alston Smith,
and
Woody Baron
coming along.
3. Offense has a ways to go.
That might not be the answer fans want to hear, but there is no doubt this group still has gains to make between now and the season opener against Alabama. Anybody who watched what happened in the spring game knows that. More on that down below.
Fall questions
1. Logan Thomas' growth.
Just about everybody associated with Virginia Tech says Thomas made some significant strides this spring while working under new coordinator Scot Loeffler. But everybody wants to talk about what happened in the spring game, when he threw three interceptions, including two returned for scores. Thomas made way too many mistakes last season. No matter what other improvements he might have made this spring, he has got to learn to take care of the football.
2. Running back.
The Hokies had nobody to shoulder the load last season, and after the spring, they still have nobody to shoulder the load. The ground game didn't show much in the spring game.
J.C. Coleman
and
Trey Edmunds
appear to be the top two guys, pending what happens with
Michael Holmes
, suspended after he was arrested last month.
3. Offensive line.
This group is not a finished product by any stretch, as players were shuffled in and out of the lineup this spring to try and find the right group. Or at least a group that can perform better than a season ago. One player to note is true freshman
Jonathan McLaughlin
, who ended the spring as the starting left tackle.
January, 16, 2013
1/16/13
3:14
PM ET
Seven early enrollees will join Virginia Tech when the team meets Monday afternoon to begin preparing for the 2013 season. The school announced the enrollment of: defensive back
Brandon Facyson
, offensive lineman
Parker Osterloh
and quarterback
Carlis Parker
, along with 2012 signees
Woody Baron
,
Seth Dooley
and
Jerome Wright
. Additionally, Fork Union prepster
Jonathan McLaughlin
, who gave a verbal comitment to the Hokies in December, joins the squad. All seven begin classes Tuesday.
From the release:
Baron and Dooley both signed with Tech last February and deferred their enrollments to this semester. Wright also signed with Tech in 2012, but went to Fork Union Military Academy for a semester.

Facyson is from Newnan, Ga., and played at Northgate High. He is ranked as the No. 25 cornerback in the country and the No. 39 player in the state by ESPN Recruiting Nation. Osterloh is an offensive tackle from Williamsburg's Warhill High. He is rated as the No. 45 offensive tackle in the country by 247Sports. Parker is a quarterback from Statesville, N.C., who is listed as the No. 17 dual-threat quarterback in the country and the No. 21 prospect in North Carolina by Rivals.

McLaughlin is the only new name to Tech fans as he committed to the Hokies just last month after signing with East Carolina coming out of high school. After a semester at Fork Union, the offensive lineman from Mauldin, S.C., chose Virginia Tech. He is ranked the No. 27 prep player in the country, the No. 3 prep offensive tackle and the No. 19 prep player in Virginia by 247Sports.

Because Facyson, McLaughlin, Osterloh and Parker are enrolling in January, none will sign a National Letter of Intent. Baron, Dooley and Wright's NLIs from 2012 were still binding. Signing Day is Wednesday, Feb. 6 this year.