May, 7, 2010
5/07/10
9:30
AM ET
By
ESPN.com staff
| ESPN.com
GEORGIA TECH

2009 overall record
: 11-3
2009 conference record:
7-1, ACC champions
Returning starters
Offense: 7, defense 8: punter/kicker: 2
Top returners
QB
Josh Nesbitt
, RB
Anthony Allen
, RB
Roddy Jones
, C Sean Bedford, WR
Tyler Melton
, WR
Stephen Hill
, LB Brad Jefferson, CB Mario Butler, S Dominique Reese, PK Scott Blair
Key losses
WR Demaryius Thomas, RB Jonathan Dwyer, OG Cord Howard, DE Derrick Morgan, LB Sedric Griffin, S Morgan Burnett
2009 statistical leaders (* returners)
Rushing:
Dwyer (1,395 yards)
Passing:
Nesbitt* (1,701 yards)
Receiving:
Thomas (1,154 yards)
Tackles
: Jefferson* (95)
Sacks:
Morgan (12.5)
Interceptions:
Burnett (4)
Spring answers
1. Who's No. 2.
Tevin Washington
earned the No. 2 quarterback job behind Josh Nesbitt, who was out this spring recovering from minor ankle surgery. Washington ran for three touchdowns and threw for another in the Jackets' spring game. He made the most of
Jaybo Shaw
's transfer to Georgia Southern and beat
David Sims
and
Jordan Luallen
for the job.
2. Receiver by committee
. Yes, Stephen Hill has the chance to be the program's next elite receiver, but there were signs the passing game will have some more help this fall. Look for the Jackets to make an effort to throw more to the A-backs, or slot backs, this year.
3. Finding homes on defense
. Georgia Tech won't solve all of its defensive problems in one spring, but the transition to Al Groh's 3-4 defense helped a few players who were in between positions find a spot. Anthony Egbuniwe, who was a defensive end last year, is now an outside linebacker. And Anthony Barnes, who was a nomad last year, seems to have found a home at the other outside linebacker spot. Jason Peters, who has bounced between defensive tackle and end, showed significant improvement at end this spring.
Fall questions
1. How much better can the defense be?
Overall, the transition under Groh remains a question. Specifically, the biggest concern on the line is the nose tackle position. T.J. Barnes played there in the spring, and Ben Anderson missed all of spring recovering from a knee injury he suffered late last season. When Anderson comes back in August, he'll compete with Barnes for that job. There were too many runs up the middle during the spring game to stop a team like Virginia Tech or Miami.
2. Nesbitt's health.
The ankle injury was minor -- he could have participated this spring had he wanted to -- but Nesbitt's health will be a concern this year. There is still a big difference between Nesbitt and Washington, and Nesbitt has to stay healthy if the Jackets are going to defend their ACC crown.
3. Unsettled offensive line.
There are a lot of new players working their way into the rotation, and competition will continue. Georgia Tech lost three starters, including the transfer of guard Joseph Gilbert. The second team was composed entirely of freshmen in the Jackets' spring game.
April, 27, 2010
4/27/10
4:00
PM ET
By
ESPN.com staff
| ESPN.com
Remember, the only dumb questions are the ones that aren't asked ...
Bob in Arlington, Va., writes
: Hey Heather- did I see you in Atlantic City this past weekend?
HD:
Haven't been there in a few months, but when I go, you can
find me at Nero's
with my parents and their comp points. Don't forget Mother's Day, BTW.
---
Daniel in Atlanta writes:
Heather,Do you think Dwyer's draft stock was affected by the, um... 'interesting' headline on ESPN about his 'testing positive' at the combine or do you think he went so late because of something else? Or did he go when he should have gone?
HD:
Daniel it seems as if even the NFL scouts were divided on how highly Dwyer should have gone, and I doubt much of it had to do with any headlines. Everyone in the NFL knew Dwyer was taking approved prescription medication. He really did get some mixed reviews, though. I think the Steelers
got a great deal
and I expected Dwyer to be gone by the third round. He'll get his chance to prove his doubters wrong as the No. 2 guy and a short-yardage back.
---
Mark in College Park, Md., writes:
What did you see out of the terps during their spring game? I need some good news after a 2 and 10 season.
HD:
So does Ralph Friedgen. Overall, he liked what he saw. I think the most important thing was the progress of the offensive line, which Friedgen said "
vastly improved
." They've got enough running backs, and with a more mobile quarterback and the play of WR
Torrey Smith
, the Terps should be able to do some things on offense this year. Maryland fans should be encouraged by the spring practices.
---
Nathan in Roanoke, Va., writes:
People still seem to be concerned with Defensive Depth for VT this year. I follow recruiting big time and keep up with player stats. People seem to forget that Nick Dew is coming in the fall and Zack McCray as well each will be playing positions that lack depth. What do you think the chances will be of them contributing from day 1?
HD:
Did you mean Nick Acree, a defensive tackle, and not Nick Dew, an OLB? There is help on the way up front, but considering how demanding coordinator Bud Foster and defensive line coach Charley Wiles are, it's going to be difficult for a true freshman to come in in August, learn the system and be ready to play. The coaches like John Graves and Kwamaine Battle as the two defensive tackles with Antoine Hopkins as a backup. They're still looking for a fourth defensive tackle. At defensive end, former tight end Chris Drager and Steven Friday had good springs, but again, they're still looking for depth. That could be J.R. Collins or James Gayle.
---
Matt in Orlando writes:
Have you heard about the white unis and helmets FSU is planning on wearing at the Oklahoma game? Why can't we learn not to mess with the traditional colors? (For an example, look up our recent record for when we wear "special" unis).
HD:
I checked with FSU's sports information department, and there is no truth to the notion that the 'Noles will be wearing a white helmet at Oklahoma. The equipment manager had one made up at the coaching staff's request for recruits to see a wide variety of uniform options FSU can mix and match. They dressed up for mannequins in the locker room in different garb. One recruit took a picture and posted it on a website, leading to an instant rumor. Jimbo Fisher wants to stick with tradition (gold helmets), but he wouldn't be opposed to using the Nike unis worn against Maryland last season on a rare occasion.
---
Matt in Atlanta writes:
With
Jordan Luallen
unlikely to get any play-time in the next year at least, is there any chance he moves to wide reciever? He's got the build and we need more tall guys out there catching balls.
HD:
Doubtful, Matt. Luallen will enter the fall battling
David Sims
for the No. 3 quarterback job. You're right, though, his odds of any significant playing time are slim. He'll have to make large strides in August to pass
Tevin Washington
as the No. 2 QB. And even though the Jackets will be without
Demaryius Thomas
, they've still got five or six skilled receivers to turn to.
---
Horace from the 757 writes:
HD,How about the Steelers snagging three Hokies! Taco Thompson could be a nice sub for the NT position with his girth. Jason Worilds will have a tough time cracking the rotation with Harrison, Woodley, and Timmons in front of him. Demetrius Taylor most likely won't break the practice squad ranks, but still getting paid! I like Dwyer's chances of catching on with the guaranteed run based offense for the first 6 games.
HD
: Here we go Steelers, here we go ...
---
Eric in Tallahassee writes
: Any notable ACC player go undrafted that you felt should of? Overall how do you think the ACC did in the draft this year?
HD:
One player I would've liked to see get a shot as a free agent was Wake quarterback
Riley Skinner
. I thought somebody would have given him a chance, and that he deserved one.
April, 26, 2010
4/26/10
11:00
AM ET
By
ESPN.com staff
| ESPN.com
While Virginia Tech is still unsettled at its backup quarterback position, Coastal Division opponent Georgia Tech
found an answer
there this spring.
Sophomore quarterback
Tevin Washington
accounted for four touchdowns to lead the White past the Gold, 27-7, in Georgia Tech's spring game on Saturday. The game was cut short because of severe weather, but not before Washington completed 6 of 7 passes for 122 yards, including a perfect 70-yard touchdown pass to
Stephen Hill
that gave the White team a 21-7 lead. Hill finished with three receptions for 105 yards -- a good sign for a team trying to replace one of the country's top receivers in
Demaryius Thomas
.
Washington and redshirt freshmen
Jordan Luallen
and
David Sims
competed this spring to back up
Josh Nesbitt
, who sat out the practices after having minor surgery on his ankle.
Anthony Allen
rushed 15 times for 91 yards. Washington rushed 10 times for 35 yards and three touchdowns, and produced 157 yards of total offense.
April, 13, 2010
4/13/10
12:30
PM ET
March, 1, 2010
3/01/10
6:07
PM ET
By
ESPN.com staff
| ESPN.com
Jaybo Shaw
, Georgia Tech's top backup quarterback the past two seasons, will transfer to Georgia Southern at the end of the current semester, the school announced on Monday. Shaw will have two years of eligibility remaining.
[+] Enlarge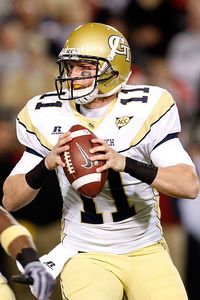 Kevin C. Cox/Getty ImagesJaybo Shaw will have two years of eligibility remaining at Georgia Southern.
Georgia Tech coach Paul Johnson signed Shaw's release form this morning.
Because Shaw is transferring down from an FBS school, he will not be required to sit out a season. Shaw will play at GSU for coach Jeff Monken, who was a Georgia Tech assistant coach the past two seasons.
"I have mixed feelings," Shaw said in a prepared statement. "I am excited to go to Georgia Southern and play for Coach Monken, but sad to leave Georgia Tech, my teammates and the fans. I appreciate everything Coach Johnson has done for me.
"While I will have the opportunity to compete for a starting role, a part of my decision is academic-related. I want to get my college degree in education, which is offered at Georgia Southern."
Shaw made a name for himself as a true freshman in 2008, when he played in seven games and started Tech's home shutout win over Duke. He completed 15 of 24 passes (.625) for 321 yards, and he rushed 63 times for 200 yards and three touchdowns. Last season Shaw was slowed initially by a broken collarbone suffered in an August practice.
He played in six games, but saw fewer snaps as starter
Josh Nesbitt
stayed relatively injury-free in 2009.
This spring, Shaw was expected to compete with at least three other returning quarterbacks -- sophomore
Tevin Washington
and redshirt freshmen
Jordan Luallen
and
David Sims
-- for the top backup role. They will get plenty of snaps with Nesbitt sidelined to recover from minor ankle surgery.
August, 24, 2009
8/24/09
10:52
PM ET
By
ESPN.com staff
| ESPN.com
Posted by ESPN.com's Heather Dinich

From Georgia Tech's sports information office:
Paul Johnson said after practice today that true freshman defensive tackle J.C. Lanier will likely have surgery on his injured shoulder and will sit out the 2009 season. Lanier was expected to redshirt the 2009 season.
"We'll probably go ahead and get the shoulder fixed so that he can compete in the spring," Johnson said.
Johnson also indicated that redshirt freshman wide receiver Quentin Sims has taken some snaps at quarterback recently. Sims split time between receiver and option quarterback on the high school level. Two quarterbacks -- sophomore Jaybo Shaw (broken collarbone) and true freshman Jordan Luallen (ankle) -- are currently out with injuries. That leaves Tech with only three healthy scholarship quarterbacks -- junior Josh Nesbitt, redshirt freshman Tevin Washington and true freshman David Sims.
Nesbitt will participate in a live chat Wednesday at 10 a.m. on Ramblinwreck.com.
August, 15, 2009
8/15/09
12:21
PM ET
By
ESPN.com staff
| ESPN.com
Posted by ESPN.com's Heather Dinich
This unfortunate news just came in from Georgia Tech's sports information office:
Georgia Tech sophomore Jaybo Shaw, the Yellow Jackets' top reserve quarterback, broke his collarbone during a scrimmage Saturday morning, the school announced Saturday.

"It's really unfortunate," head coach Paul Johnson said in a statement. "Jaybo was playing really well and was having a good camp."

With limited information, Johnson estimated that Shaw could miss 6-8 weeks. Johnson did not rule out the possibility of Shaw using 2009 as a redshirt season, but said it was much too early to speculate.

Shaw, who had a touchdown run earlier in the scrimmage, was injured on what appeared to be a routine pass completion. After being knocked to the ground, Shaw injured the collarbone when a teammate fell on him.

Shaw was a key contributor last season as a true freshman when he filled in periodically for injured starter Josh Nesbitt. Shaw played almost the entire game against Mississippi State (a 38-7 victory) and started the next week against Duke (a 27-0 victory). He completed 9-of-14 passes for 230 yards in the shutout win over the Blue Devils.

The Flowery Branch (Ga.) native finished his rookie season with a completion percentage of 62.5 percent and a pass efficiency rating of 194.02. He also ran for 200 yards and three touchdowns.

Shaw entered the 2009 season as the clear back-up to Nesbitt. There are three other scholarship quarterbacks on the roster -- redshirt freshman Tevin Washington and true freshmen Jordan Luallen and David Sims. Luallen has not practiced since August 8 because of an ankle injury.