February, 6, 2014
Feb 6
3:15
PM ET
TALLAHASSEE, Fla. -- Three years ago, Jimbo Fisher was out of options. Injuries and ineffectiveness had rendered his offensive line a sieve, and as the 2011 season drew to a close, Fisher threw his hands in the air and sent four true freshmen onto the field to start Florida State's bowl game against Notre Dame.
The last resort proved to be a stroke of genius. The group gelled and by the time the Seminoles secured the 2013 national championship, the offensive line was a strength. With five seniors projected as starters for 2014, the line promises to be the backbone of Florida State's offense again.
[+] Enlarge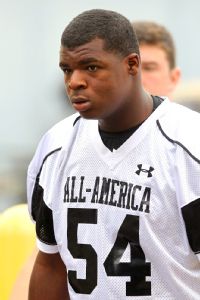 Cliff Welch/Icon SMIESPN 300 offensive tackle Roderick Johnson is the Seminoles' top-ranked offensive line signee for the 2014 class.
The problem, however, is the incredibly uncertain future after
Tre' Jackson
,
Cameron Erving
,
Josue Matias
and the rest of this veteran line wave goodbye.
Fisher clearly remembers the struggles of 2011, and he's not eager to relive them again in 2015 and beyond. So while rebuilding the line is still a year away, the groundwork for that massive overhaul began in earnest Wednesday.
Florida State inked an
impressive class
on national signing day, reeling in 28 new Seminoles -- including five early enrollees -- and one quarter of that group is offensive linemen. It is one of the largest recruiting scores at the position in school history, Fisher said, and it's a group with significant upside.
"We got size on the edges, in the middle and that can snap the football," Fisher said. "From that standpoint, it's a great group, and guys are just getting bigger and faster."
There might not be room for the seven linemen FSU inked to get much bigger. The group already averages 6-foot-6 and 313 pounds, including juco transfers
Kareem Are
(6-6, 350) and
Chad Mavety
(6-5, 315), who Fisher believes can step in and play immediately.
Of course, finding reps for the fresh faces won't be easy given the veterans already in place atop the depth chart, but Fisher understands it's necessary if Florida State wants to avoid another season of linemen learning on the job in 2015.
"If those guys play well, there will be a lot of playing time," Fisher said. "They'll get a lot of playing time, and that's why it was critical we got two junior college guys."
If game-ready talent was necessary, developmental projects were significant for Florida State, too.
Fisher has racked up big recruiting wins in virtually every segment of the roster since his arrival in 2010, but the offensive line has remained a concern throughout. Part of the struggles to recruit top talent on the line lies with position coach Rick Trickett, who is far less interested in recruiting rankings than finding players malleable enough for him to build up from scratch.
Since Trickett took over the line in 2007, Florida State has signed just three offensive linemen ranked among the top 150 recruits.
Jordan Prestwood
left shortly after arriving.
Ira Denson
, last year's prize recruit, could be on his way out, too. (Fisher said Wednesday that Denson was "still in school," but didn't elaborate on his status with the team.) Of FSU's best line recruits in the Trickett era, only
Bobby Hart
remains embedded on the depth chart.
In fact, if Denson leaves, FSU will have just two scholarship linemen to show for its recruiting efforts in 2012 and 2013 combined and, before Wednesday's haul, had just three linemen on the current roster set to still be with the team in 2015. Fisher praised the potential of redshirt freshman
Wilson Bell
and redshirt junior
Ruben Carter
, but there's no doubt Wednesday's new additions were a necessary influx of bodies.
"The guys who put their hands in the dirt on the offensive line, that controls the game," Fisher said. "You can have all the skills in the world you want but you've got to win those battles up front and protect. Getting great offensive linemen is critical."
Just how great this group ends up remains to be seen. Strong bodies with weak constitutions have a tendency to crumble under Trickett's demanding approach. But the potential for this group is obvious.
Roderick Johnson
is 6-7, 330 pounds and ranked as one of ESPN's top prospects at tackle. FSU snagged him out of Missouri as one of Wednesday's late additions to the class.
"Big Rod is a very athletic guy -- bends tremendously well for a guy 6-7 and 330 pounds," Fisher said. "Great length and can bend his lower body, great flexibility and very intelligent. Very smart guy. Works very hard. I think the sky is the limit for the guy."
Corey Martinez
ranked just a tick behind Johnson as an ESPN 300 member, too. It's the first time FSU landed multiple ESPN 300 linemen in the same class since Prestwood and Hart came aboard in 2011.
At 6-9,
Brock Ruble
is one of the tallest recruits in the nation, while Are and Movety were both among the top junior college linemen in the country. The Seminoles also added three-star center
Alec Eberle
.
Replacing the five seniors projected to start in 2014 will be no small task, but the first step in the process was providing Fisher and Trickett with some building blocks. Wednesday's recruiting haul did that, and Fisher hopes that means there won't be another season like 2011 on the horizon.
"Those guys will get a lot of playing time this year, and we'll develop them," he said. "They'll have been able to play, and they'll all be sophomores and juniors [in 2015] and they'll fit in."
January, 9, 2014
Jan 9
10:00
PM ET
TALLAHASSEE, Fla. -- Three more members of Florida State's offense have decided they'll be back for 2014, the team announced Thursday.
Guard
Josue Matias
, tight end
Karlos Williams
are all returning next season, leaving tailback
Devonta Freeman
and receiver
Kelvin Benjamin
as the only remaining question marks for the Seminoles.
"I'm very excited that Karlos, Josue and Nick have decided to stay and continue their careers at Florida State," Jimbo Fisher said in a statement released by the school. "They're more pieces to the puzzle of our success. They've all contributed to helping the program get to where we are today. We believe another season will help them continue to develop and expand on their NFL potential."
To read the full story,
click here
.
January, 8, 2014
Jan 8
2:00
PM ET
Jimbo Fisher was still on the podium, gazing into the crystal trophy that comes with winning a national championship, when it was suggested that once the team returned to Tallahassee, it was back to work preparing for 2014.
First on the docket for FSU will be identifying which star players will be returning for next season. Running back
James Wilder Jr.
is
entering the draft, according to a source
, and more decisions will trickle in before the Jan. 15 deadline. Here are our best guesses at what's to come — and who might step in for departing underclassmen.
Likely going
[+] Enlarge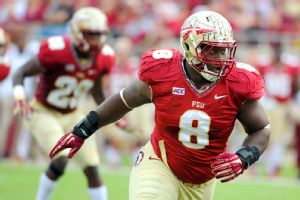 Melina Vastola/USA TODAY SportsFSU nose tackle Timmy Jernigan is a force inside, and how well the Tigers do against him could determine how well they run the ball.
DT Timmy Jernigan (junior)
Why he'd leave:
Entering the season, Jernigan was Florida State's top-rated underclassman by most draft experts, and that standing never changed. Jernigan was dominant all season, and his impact was never more noticeable than in the national title game. When he was on the field, Auburn found no running room between the tackles. When he was out of the game, the Tigers moved the ball with ease on the ground.
Next up:
Nile Lawrence-Stample
took a big step forward this season, gaining valuable playing time in the defensive line rotation. He started six games and finished with 15 tackles. Florida State has five current defensive tackle commitments, so it's certainly possible one of the incoming freshmen could make a big impact early — as Jernigan did in 2011 — but Lawrence-Stample is the safest bet to step in full time.
WR Kelvin Benjamin (redshirt sophomore)
Why he'd leave:
Benjamin was projected as a star from the moment he arrived on campus, but it took him a while to get acclimated. He enjoyed a breakthrough 2013 season, finishing with 1,011 yards and 15 touchdowns, including the game-winner in the VIZIO BCS National Championship. Some of his game could still use some refinement — as evidenced by two big drops vs. Auburn — but his physical skills already peg him as a likely first-rounder.
Next up:
Kermit Whitfield certainly projects as Florida State's next big-play receiver after an electric season as a freshman, but he fits more in the slot. Replacing Benjamin's size and physicality isn't an easy task, but 6-4 freshman
Isaiah Jones
figures to have the best chance. He saw limited playing time this year, catching two balls for 31 yards.
Possibly going
RB Devonta Freeman (junior)
[+] Enlarge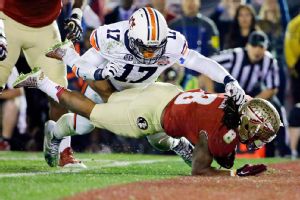 AP Photo/David J. PhillipDevonta Freeman became the first Seminoles tailback to gain 1,000 yards in a season since Warrick Dunn in 1996.
Why he'd leave:
Freeman has been the steadying force for FSU's running game for three years, and on Monday, he became the first Seminoles tailback to top 1,000 yards in 17 years. Wilder's role was smaller this year as injuries hampered his production, but that could also have served as a reminder why it's better to take the big hits with an NFL paycheck. Neither has a ton of early draft buzz which could convince them to return, but both could show out at the combine and work their way into the top three rounds.
Next up:
Karlos Williams
showed plenty of promise this season after moving from safety in Week 2, finishing with 748 rushing yards in reserve duty. He's largely a straight-ahead runner, but his combination of size and speed makes him a weapon. FSU will still need to develop depth, likely with
Mario Pender
or
Ryan Green
, but could get a boost from four-star commit Dalvin Cook.
LT Cameron Erving (redshirt junior)
Why he'd leave:
Erving has hovered near the top of the offensive tackle draft boards since the end of 2012, and in his second season since moving from the defensive line, he showed significant progress. Still, it's a deep draft at the position, and there were moments — including against Auburn's impressive defensive front Monday — when he showed some flaws.
Next up:
Florida State brought in two potentially strong replacements last year in
Ira Denson
and
Wilson Bell
. Injuries hampered the progress for both during the season, however, which makes Erving's decision potentially crucial for the stability of the line going into 2014.
Likely staying
G Tre Jackson and G Josue Matias (juniors)
Why they'd leave:
Matias and Jackson might be among the top underclassmen at the position, but both could benefit from another year working with line coach Rick Trickett.
Next up:
Florida State has struggled to recruit on the line the past few years, which makes depth — particularly on the interior — a significant concern. The Seminoles have a solid class coming in for 2014, but the loss of more than one of their underclassmen on the line would be a serious concern.
TE Nick O'Leary (junior)
Why he'd leave:
O'Leary made huge strides this season, developing into one of Jameis Winston's favorite targets and a legitimate red-zone threat. He's an adept route-runner, a sure-handed receiver and his blocking game has developed nicely. But with Florida State's receiving corps in transition, O'Leary could be in a position to post huge numbers in 2014 if he sticks around.
Next up:
Kevin Haplea
returns from a knee injury next year, but he's more of a blocking tight end than a true replacement.
WR Rashad Greene (Jr./WR)
Why he'd leave:
What more can Greene accomplish at Florida State? He's been the team's most reliable receiver for three consecutive seasons. He became the Seminoles' first 1,000-yard receiver since Anquan Boldin this year. He's quick, a great route-runner, and he has good hands. He does everything well, and his quarterbacks have taken notice. The problem for Greene is that he lacks the obvious physical skills that make scouts drool, so his draft value might not reflect his on-field contributions.
Next up:
It would be a surprise if Greene left, but it would also be a huge blow to Florida State's offense. Winston was a star this season in part because of an exceptional group of receivers, but the group will get a major makeover in 2014. The Seminoles need Greene to help ease the transition.
December, 18, 2013
12/18/13
4:00
PM ET
North Carolina tight end
Eric Ebron
is the only ACC player to declare for the NFL draft so far. Chances are, he will not be the only one leaving school early. Here is a look at the top ACC players facing tough decisions about whether to stay in school or turn pro.
The deadline to declare is Jan. 15.
Vic Beasley, DE, Clemson
. Though Beasley plays defensive end, he projects as a linebacker in the NFL. ESPN draft expert Mel Kiper has Beasley as his
No. 1 non-senior prospect
among outside linebackers. Beasley ranks No. 15 on the latest
Kiper Big Board
and has hinted that he will leave school early. Beasley told local reporters last weekend that he is
leaning toward coming out
but has not made a final decision yet.
[+] Enlarge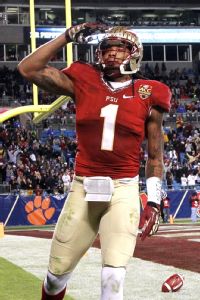 AP Photo/Bob LeveroneFSU WR Kelvin Benjamin is one of many talented ACC underclassmen who must decide if they will enter the NFL draft.
Kelvin Benjamin, WR, Florida State.
Benjamin, a redshirt sophomore, has risen up draft boards after his performance in the final month of the season. Kiper lists him as the No. 3 non-senior at receiver, and says Benjamin will have a chance to go in the first round if he runs well.
Cameron Erving, OT, Florida State.
Erving could end up becoming a first-round pick if he decides to leave school early. Kiper has him as the No. 4 non-senior offensive tackle.
Devonta Freeman, RB, Florida State.
Freeman needs 57 yards to become the first 1,000-yard rusher at Florida State since 1996. The All-ACC first team selection is not listed among the top non-senior running back prospects, but he has had a terrific season by all measures.
Rashad Greene, WR, Florida State.
Greene might still be one of the more underrated receivers in America but it is tough to question his production after another great season. Kiper lists Greene as the No. 10 non-senior at receiver. He will have a tough decision to make.
Timmy Jernigan, DT, Florida State.
Kiper has Jernigan as the No. 2 non-senior among defensive tackles, and just moved up him to No. 12 on the Big Board. Kiper writes that Jernigan is "not out of the mix" to land in the top 10. Given his domination this year, most observers expect him to enter the draft.
Sammy Watkins, WR, Clemson.
Kiper has Watkins ranked as the No. 1 non-senior receiver. Kevin Weidl of ESPN's Scouts Inc., lists Watkins as the
No. 2 prospect
among players he saw in person this fall. Watkins is currently listed No. 6 on the latest Kiper Big Board. Though Watkins has been non-committal about his future in recent interviews, it would be a shock if he decides to return to school.
James Wilder Jr., RB, Florida State.
Wilder had an injury-plagued season but made headlines last month when he reportedly told a recruit he would be turning pro. Wilder denied the reports but has not definitively said what he plans to do after the national championship game.
Others to watch
Here are a few other players to keep an eye on as the draft deadline looms:
Russell Bodine
, C, North Carolina
Tre' Jackson
, OG, Florida State
Kyshoen Jarrett
, S, Virginia Tech
Nick O'Leary
, TE, Florida State
Luther Maddy
, DT, Virginia Tech
Josue Matias
, OG, Florida State
Denzel Perryman
, LB, Miami
One more post to check out. Todd McShay unveiled
his first mock
draft earlier Wednesday. He has Watkins as the first ACC player off the board, at No. 13 to the Jets. McShay also projects Ebron, Jernigan and Benjamin as first-rounders.
August, 14, 2013
8/14/13
9:59
AM ET
TALLAHASSEE, Fla. -- The conventional wisdom a year ago was that Florida State had everything it would take to win a championship except for a decent offensive line. The refrain was repeated again and again among fans and media: If the line doesn't screw it up, the Seminoles should be pretty good.
The mantra was repeated so often, in fact, that line coach Rick Trickett adopted it as the unit's rallying cry. Before each game, Trickett would gather his troops and remind them where they stood.
"He'd come up and be like, 'What are we not going to do?'" guard
Tre' Jackson
said. "And we'd be like, 'We're not going to mess it up.' We used it as motivation."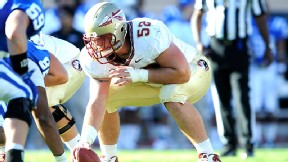 Sean Meyers/Icon SMIBryan Stork returns to anchor Florida State's line.
The motivation worked, and not only did the line avoid catastrophe, it developed into one of the more productive units in the country.
After a dismal 2011 campaign in which Florida State ranked 105th in the nation in rushing and 110th in sacks allowed, the unit blossomed with new personnel, cutting its sack total nearly in half and opening up running lanes to the tune of 5.62 yards per rush -- the fourth-best mark in the country.
Now, just a year after being labeled the black sheep of the position groups, Florida State's offensive line is a strength.
"That's as good a group as we've had," Jimbo Fisher said. "I've been around a long time, and that's a very good group up front."
It's essentially the same group that worked together throughout the 2012 season, save the right tackle spot, where junior
Bobby Hart
steps in to replace the departed Menelik Watson.
When that group took the field against Murray State for FSU's opener last season, the starters had just 16 career starts between them -- 14 of which belonged to center
Bryan Stork
. With Hart, who started nine games as a freshman in 2011, this season's starting five will open the year with 80 starts under their belt. Overall, the FSU depth chart at offensive line has more career starts than all but nine other teams in the country.
Perhaps the most surprising part about the progress made by the line is that, of the five projected starters, Hart is the only member who was highly recruited out of high school. Jackson and Stork were both three-star recruits. Left tackle
Cameron Erving
was a two-star player who was offered late by FSU and ignored by virtually everyone else. Now, all three -- along with guard
Josue Matias
-- are working their way up NFL draft boards.
"I think our starting five, athletically and ability-wise, yes, we're probably the most talented we've been since we've been here," Trickett said.
A few injuries have thinned the ranks, but Trickett said he's narrowing in on a depth chart with eight reliable options on the line, and the starting group looks to be firmly established after Hart's strong spring.
Still, there are some concerns.
Florida State ran for a whopping 2,882 yards last season, but critics are quick to point out that the bulk of that total came against severely overmatched opponents. Florida State's offensive line averages 317 pounds, and manhandling undersized defenders was easy. Against more formidable defenses, however, the yards were tougher to find.
In the eight games FSU played against teams with run defenses ranked 60th or worse nationally, the Seminoles averaged 6.5 yards per carry and scored 31 rushing touchdowns. In their other six games against better run defenses -- NC State, USF, Virginia Tech, Maryland, Florida and Northern Illinois -- that average dropped to just 4.3 yards per rush and the Seminoles scored just nine times on the ground.
According to ESPN Stats and Information, in the six games against better defensive fronts, FSU had 64 rushes that resulted in no gain or lost yardage. In the other eight games, it had just 50.
Set aside mid-major Northern Illinois and exclude a 22-yard scamper by EJ Manuel on FSU's final play against Florida, and the Seminoles averaged just 1.6 yards before contact against the five best run defenses they faced last season. Against everyone else, that number jumps to 3.6 yards before contact.
None of those numbers are particularly damning, but they serve as a reminder that there's still something for the unit to prove.
"We have the potential to be one of the best O-lines in the country," Stork said, "but that's only going to happen if we put the team on our backs and get yards for our running backs."
Running the ball will be a top priority with a new quarterback taking the snaps, and Jackson said coaches have made it a point of emphasis to run early and often. But protecting a first-year starting quarterback will be key, too, and that's where losing Watson might hurt. In the 10 quarters Florida State played without him last season it allowed 10 sacks. The Seminoles gave up just 16 sacks the rest of the season.
But Hart's emergence this spring after a year in Trickett's doghouse has been one of the bright spots for FSU, and even the irascible line coach is pleased with the results.
"[Hart] still has a tendency to do some things his way technique-wise ... but he's progressed a great deal from last year," Trickett said.
Watson went from a juco transfer with virtually no experience to a top NFL draft pick in just nine months at Florida State, but he wasn't alone in his rapid ascent throughout the 2012 season.
A year ago, even the optimists among Florida State's fanbase recognized the weakness. Now, the offensive line is leading the charge. But if expectations have changed markedly, the mindset of the group hasn't.
"We still get motivated the same way," Matias said. "Last year, we were the group that was supposed to mess it up. That was our motivation. This year's the same. We're going to have the spotlight on us the first time we make a mistake, so we're trying to do the same thing."
May, 30, 2013
5/30/13
5:00
PM ET
The time has come for the slow trickling of preseason all-conference teams from outlets across the country. Among the most trusted comes from noted college football guru Phil Steele, whose yearly preview is packed to the hilt with every bit of information you could possibly want.
Steele unveiled his
preseason all-ACC team
Thursday, featuring many of the expected names on the first team --
Tajh Boyd
at quarterback,
Duke Johnson
at running back,
Sammy Watkins
and
Stefon Diggs
at receiver,
Jeremiah Attaochu
at defensive end. But there was plenty to note on all four teams Steele selected. Here are a few observations:
Florida State receiver Rashad Greene made the first team, ahead of BC receiver Alex Amidon, Duke receiver Jamison Crowder and Pitt receiver Devin Street. By all accounts, Greene is poised for a big season and he is on a more prolific offense than the other three. But Crowder could have another 1,000-yard receiver as the go-to guy; Amidon is about all the Eagles have; and Street could also get 1,000 yards as the go-to guy in Pitt. Looking at the players Steele selected, there is no question receiver is a position of strength in the league this year. After all, Wake Forest's Mr. Reliable, Michael Campanaro, made the third team.
Florida State should have one of the best -- if not the best -- offensive lines in the league. Center Bryan Stork and guard Tre' Jackson made the first team; and guard Josue Matias and tackle Cameron Erving made the second team.
Behind Boyd, second-team quarterback is ... Logan Thomas. Somehow, Miami's Stephen Morris is listed in the running back slot. And Florida State freshman Jameis Winston gets a nod on the fourth team. Ahead of Morris.
Hard to argue with the first-team selections on the defensive line. I would have the same players -- Attaochu and Kareem Martin at end, Timmy Jernigan and Aaron Donald at tackle. Virginia Tech defensive end James Gayle made the second team. He could easily be a first-team selection at the end of the year.
Syracuse linebacker Dyshawn Davis made the first team. I have watched Davis the last two years in the Big East, and can tell you he belongs on the first team.
For those scoring at home in the Duke Johnson versus Stefon Diggs debate, Johnson made the first-team at kick returner ahead of Diggs (second team).
Now for the tally that matters most: total first-team selections. Florida State leads the way with seven, an indication that the Noles are set to reload and not rebuild. Preseason favorite Clemson only has two -- Boyd and Watkins. North Carolina is next with five. Miami, a team many believe could win the Coastal, has three. Here are the others: Virginia Tech, BC and Duke with two each; Maryland, Virginia, Georgia Tech, Pitt, Syracuse with one each.
January, 10, 2013
1/10/13
11:00
AM ET
The ACC went 4-2 this bowl season, its first winning record since 2005. There were plenty of top performers to highlight, but these are the players who were most deserving of the ACC's 2012 All-Bowl team:
Offense first team
[+] Enlarge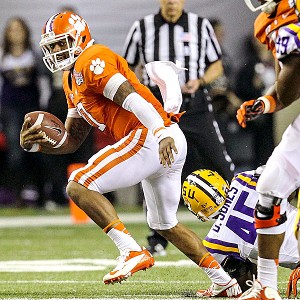 Daniel Shirey/USA TODAY SportsQuarterback Tajh Boyd had a record-setting game in Clemson's victory against LSU.
QB -- Tajh Boyd, Clemson:
He had 368 yards of total offense against LSU on 79 total offensive plays. He set a Clemson record for plays in a game by a quarterback.
RB -- Lonnie Pryor, Florida State:
He had a career-long 60 yard touchdown in the first half of the Orange Bowl, which was the second-longest touchdown run in FSU bowl history. In his final game as a Seminole, he also had a 37-yard run in the fourth quarter for his second touchdown in the game.
RB -- David Sims, Georgia Tech:
He rushed for a game-high and career-best 99 yards on 17 carries, and caught a touchdown pass in the 21-7 win against USC.
WR -- DeAndre Hopkins, Clemson:
He finished the game with 13 receptions for 191 yards and finished the season with 82 receptions for 1405 yards. Hopkins tied his own Clemson record for receptions in a game with 13. He also had 13 in the opener against Auburn.
WR -- Conner Vernon, Duke
: He caught 10 passes for 119 yards and one touchdown against Cincinnati in the Belk Bowl. He helped Duke to 34 points against a Bearcats defense that entered the game ranked 12th nationally, allowing just 17.2 points per game.
TE -- Brandon Ford, Clemson:
His nine receptions against LSU tied the overall Clemson single-game record for receptions by a tight end. He finished with 69 receiving yards, including one reception for 20 yards.
T -- Cameron Erving, Florida State:
It was the sixth game this season with over 500 yards of total offense for the Seminoles. All three touchdown runs came between center and left tackle, and quarterback
EJ Manuel
had all day to throw.
T -- Perry Simmons, Duke:
He led an offensive line performance that yielded zero sacks and allowed quarterback
Sean Renfree
to establish Belk Bowl records for pass completions (37), pass attempts (49) and passing yardage (358). Simmons also aided a running game that gained 200 net yards on 39 attempts as running back
Josh Snead
picked up a career-high 107 yards on just 17 attempts.
G -- Josue Matias, Florida State:
The Noles racked up 243 rushing yards, 23 first downs and 534 yards of total offense. He was part of an offensive line that didn't allow Manuel to be sacked once by Northern Illinois. Two of Pryor's runs came between Erving and Matias.
G -- Omoregie Uzzi, Georgia Tech:
He helped pave the way for 294 rushing yards in the win against USC, and 369 total yards. He made his 39th career start, the second-most on the team.
C -- Dalton Freeman, Clemson:
The Tigers had 100 plays and 32 first downs, and his blocking was a major factor.
Defense first team
DE -- Malliciah Goodman, Clemson:
He set a bowl record with three sacks as Clemson held LSU to 219 yards of total offense.
DE -- Bjoern Werner, Florida State
: In his last game with the Noles, the dominating end knocked down his eighth pass of the season, which is the second-most in the FBS by a defensive lineman. He finished with two tackles.
DT -- Derrick Hopkins, Virginia Tech
: He had four tackles, including 1.5 for loss, and a sack. The sack was on Rutgers' first play of overtime, forcing them into long yardage which led to a long (and missed) field goal.
DT -- Grady Jarrett, Clemson:
He had four tackles, including two tackles for loss, and one was a sack. He was a big reason Clemson held LSU to just 99 yards rushing.
LB -- Christian Jones, Florida State:
Jones tied for the team lead with 10 tackles in the 31-10 Discover Orange Bowl win against Northern Illinois.
LB -- Vince Williams, Florida State:
He tied Jones for the team lead with 10 tackles, and finished with one tackle for loss and a sack.
LB -- Bruce Taylor, Virginia Tech:
He led the Hokies with 11 tackles, including 1.5 for loss, and had a pass breakup. Virginia Tech's defense held Rutgers to 196 yards and three offensive points, none in the last three quarters.
CB -- Rod Sweeting, Georgia Tech:
Even though his statistics were modest -- three tackles, two pass breakups and an interception returned for 21 yards -- Sweeting was voted the game's MVP. He fared well in a tough assignment, matching up with Biletnikoff Trophy winner
Marqise Lee
.
CB -- Antone Exum, Virginia Tech:
The Russell Athletic Bowl's MVP led a stifling pass defense that allowed just 129 yards. He made the play of the game with an interception of
Gary Nova
to set up the game-tying touchdown in the fourth quarter. Virginia Tech's defense allowed just 196 yards total, and just 17 completions from Nova on 40 attempts.
S -- Lamarcus Joyner, Florida State:
He finished third on the team with six tackles, including one tackle for loss. The Northern Illinois receivers were no match for the FSU secondary and were rendered ineffective.
S -- Rashard Hall, Clemson:
He led the team with nine tackles, including eight solo, in the win against LSU.
Specialists
PK -- Chandler Catanzaro, Clemson:
He kicked the 37-yard game-winning field goal as time expired to give Clemson and the ACC a monumental 25-24 win against LSU. It was the fourth walk-off field goal in Clemson history, and Catanzaro has two of the four.
P -- A.J. Hughes, Virginia Tech
: He tied the record under coach Frank Beamer for punts in a game with 11. He finished with an average of 42.2 with four punts inside the 20-yard line, and a long of 57.
SP -- Tobais Palmer, NC State:
He returned a second-quarter kickoff 94 yards for a touchdown in the loss to Vandy, and became the first Pack player since Greg Golden in 2001 to return a kickoff for a score in a bowl game. He finished with 173 kickoff return yards, setting a new NC State season record with 1,130 KOR yards. Palmer and T.J. Graham (1,028 in 2008) are the only two Wolfpack players to go over 1,000 yards in kickoff returns in a single season. Palmer also went over 100 yards receiving for the third time in 2012, as he finished with eight catches for 111 yards.
August, 27, 2012
8/27/12
2:00
PM ET
For once, Andrea Adelson and I are on the same page. Both of us think this is the year Florida State will live up to the hype. Shocking, I know.
Our opinions differ, though, on exactly how they need to do that.
Will the offensive line and running game be the key? Or will it be quarterback
EJ Manuel
and the development of his receivers?
[+] Enlarge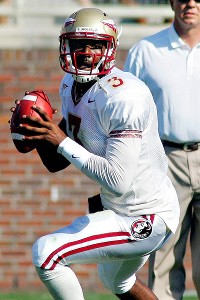 AP Photo/Phil SearsEJ Manuel is going to require a lot of help from his offensive line to his receiving corps in order to get FSU some wins this season.
Depends, of course, on who you ask ...
Heather Dinich:
It's a good thing Florida State offensive line coach Rick Trickett is a Harley Davidson-driving, cigar-gnawing, old-school, kick-in-the-pants kind of coach -- because Florida State's offensive line couldn't afford anything less this summer.
If the No. 7-ranked Seminoles are going to stay in the top 10 -- if they're going to win the ACC and aim for something even higher -- the offensive line must go from the weak link in 2011 to one of the team's greatest strengths in 2012. The running game must improve, and it all starts up front with a group that introduced four freshmen in the starting lineup against Notre Dame last year in the Champs Sports Bowl.
Last year, Florida State's running game finished No. 104 in the country. The Noles tied for No. 110 in sacks allowed. And the linemen didn't create enough holes for the running backs, who also had too many mental errors.
Does that sound like a top-10 team? Well, that's why it wasn't. The Noles sank to No. 23 last year in the final Associated Press Top 25 after starting out No. 6 in the preseason poll.
Florida State can't possibly expect to change that with only 95 total yards of offense against Florida again. It can't possibly win its first ACC title since 2005 with only 63 rushing yards against Miami. And it certainly can't be taken seriously as a national title contender with only 41 rushing yards against Notre Dame.
Florida State's defense and its super special teams were the difference for the Noles last year. If the offensive line and ground game could match that, Florida State would be seemingly unstoppable.
It's getting closer.
The experience sophomore guards
Josue Matias
and
Tre' Jackson
got in the bowl game last year was priceless, and they continued that progress this summer. Cameron Erving's seamless transition from defensive tackle to left tackle was one of the top story lines in Tallahassee, and all three have likely earned starting jobs for the season opener against Murray State. The questions continue at center and right tackle, though, and the competition could, too. During fall camp,
Austin Barron
and
Bryan Stork
were the frontrunners at center, and junior-college transfers
Menelik Watson
and
Daniel Glauser
were the leaders at right tackle.
Overall, the Noles' offensive line has gotten bigger and stronger, but it still needs to prove that it has also gotten better.
Andrea Adelson:
We have heard plenty already this preseason about the depth Florida State has at wide receiver.
Depth is an excellent commodity to have. But here is my question -- how about playmakers? Do the Seminoles have a game-breaker at receiver who will be able to help Manuel carry this offense from good to championship caliber?
I grew up in South Florida, and have watched every Miami-Florida State game going back to the early 1980s. During the heyday of both programs, you could always count on at least one receiver that made you, well, nervous. Florida State had them in spades, between guys like Lawrence Dawsey, Tamarick Vanover, Peter Warrick, Laveranues Coles, Snoop Minnis, E.G. Green, Anquan Boldin and the like.
To that point -- FSU had one receiver on the ACC first team between 1993 and 2000. Since then, the Noles have had just one -- Craphonso Thorpe in 2003. There are a variety of reasons this program has hit a major dip in recent years. One of them has been a lack of some major talent at the skill positions.
The lack of a 1,000-yard rusher (none since 1996) or 1,000-yard receiver (none since 2002) are proof. So is the fact that Florida State has not had a receiver drafted since Willie Davis in 2007. For a program in talent-rich Florida, it is almost inexcusable for there to be a dearth of game-changers at either running back or receiver. A player like
Sammy Watkins
? He used to be found at Florida State.
The Noles have an opportunity to change that this season given some of the talent that is returning. What FSU fans will tell you is Manuel has been good at spreading the ball around to his various receivers, and that has been nearly as good as having one go-to guy emerge. Three players had 30 or more catches last season --
Rashad Greene
,
Rodney Smith
and
Kenny Shaw
.
They all return.
Willie Haulstead
also is back after sitting out last season.
Christian Green
and
Greg Dent
each averaged over 17 yards a catch last season. They are back, too.
Expectations are high for redshirt freshman
Kelvin Benjamin
to emerge as a game-changer. Florida State also has true freshman
Marvin Bracy
, a player with world class speed who may not even see the field this year. That is a testament to the depth at the position, something that is not in dispute.
But what the Noles truly need is a dynamic presence at receiver to put fear into the opposition, the way they used to do. To me, that is going to be a deciding factor in whether the Seminoles live up to all the preseason hype.
August, 2, 2012
8/02/12
12:07
PM ET
By
NoleNation staff
| ESPN.com
Corey Dowlar writes

: FSU is slowly increasing its national recruiting footprint under Jimbo Fisher, going out-of-state for some key contributors such as 2010 recruit Bjoern Werner of Connecticut.
David Hale writes:
Quarterback EJ Manuel says he's focused on the finer points as he tries to improve for his senior season.
Hale writes

: OL Josue Matias, who rose through attrition last year and started in the Champs Sports Bowl, is today's subject in NoleNation's Carrying the Spear series profiling 50 key contributors this season.
March, 19, 2012
3/19/12
9:00
AM ET
TALLAHASSEE, Fla. -- Florida State offensive line coach Rick Trickett likes to joke that the Seminoles have their own version of the United Nations.
Star defensive end
Bjoern Werner
is a native of Berlin, Germany, and the Seminoles' starting offensive tackles this coming season might be from England and Switzerland.
Anything might be better than the inexperienced group the Seminoles put on the field last season. Because of injuries, Florida State started four freshman offensive linemen in its 18-14 victory over Notre Dame in the Champs Sports Bowl.
[+] Enlarge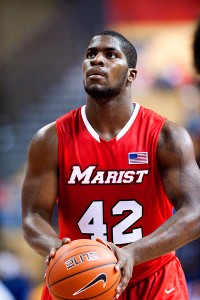 Cal Sports Media via AP ImagesMenelik Watson -- a Manchester, England, native -- played basketball and considered boxing before commiting to football.
As FSU begins spring practice, those freshmen are now sophomores, and two JUCO transfers -- Daniel Glauser and Menelik Watson -- might step in to anchor the offensive line.
Glauser, a native of Rheinfelden, Switzerland, enrolled at FSU in January and is participating in spring practice. Watson, from Manchester, England, is expected to join the Seminoles this summer.
"The [foreign-born] players are more mature," FSU coach Jimbo Fisher said.
But when it comes to football, Glauser and Watson are relatively inexperienced. Glauser grew up playing soccer in Switzerland, but he was encouraged to move to the U.S. by his American-born coach to play college football. Glauser, 6-foot-6 and 315 pounds, spent the past two seasons at New Mexico Military Institute. Fisher was so impressed with Glauser that he offered him a scholarship even though he'll have only one season of eligibility at FSU.
"New Mexico Institute didn't know they could have redshirted him," Fisher said. "They didn't know. We didn't know."
Watson took an even longer route to Florida State. He came to the U.S. to play basketball at Marist College in Poughkeepsie, N.Y. Watson, 6-6 and 320 pounds, averaged 4.4 points and 3.3 rebounds for the Red Foxes during the 2010-11 season.
"Watson was a Division I basketball player," Fisher said. "He was 270 pounds and was a wing, not a post player. He wasn't scoring with his back to the basket. He was making moves and driving to the basket."
Because of his size, Watson figured he'd reached his ceiling as a basketball player. After briefly considering a professional boxing career, Watson enrolled at Saddleback College in Mission Viejo, Calif., where he not only had to learn how to play offensive tackle but also the game's rules. He played in eight games at Saddleback last season. The Gauchos' other offensive tackle was Kyle Long, son of NFL Hall of Famer Howie Long, who signed with Oregon.
Watson still has a long way to go in his development, but he'll probably compete with Glauser and sophomore
Bobby Hart
for the starting offensive tackle jobs this coming season. The Seminoles lost departed senior tackles Zebrie Sanders and Andrew Datko, who combined to play in 90 games in their FSU careers. Datko missed all of last season because of shoulder injuries and chose to turn pro, instead of appealing to the NCAA for another season of college eligibility.
Sophomores
Austin Barron
, Tre' Jackson and
Josue Matias
, who started against Notre Dame at center, right guard and left guard, respectively, are coming back to compete in the middle of the offensive line.
Cameron Erving
, a converted defensive tackle, also will be in the tackle mix.
"I like the young guys," Fisher said. "They're all sophomores. They're big and athletic. They actually know they can play with the way they came back [against Notre Dame]. They're confident now. They don't have to walk on the field and think, 'Can I play?' They know they can play."
Right guard
Bryan Stork
said continuity and staying healthy are keys for FSU's offensive line this coming season.
"Before you're at the top, you're always at the bottom," Stork said. "I feel like we're a diamond in the rough. We've got the guys. It's just everybody getting better together."
February, 9, 2012
2/09/12
10:30
AM ET
Our offseason spotlight series continues today with Florida State. A reminder: This series features individual players, position groups and coaches who really need to have big offseasons -- starting this spring.
Spotlight:
Offensive line.

2011 Summary:
Florida State's woes up front began at this time last year, when several players were injured during the spring and the group never truly gained any cohesiveness or continuity, as injuries remained an issue through the entire season. The players who lined up for the season opener had only practiced together for about a week, and by the time FSU hosted Virginia on Nov. 19, the Noles had used six different starting lineups. No single group was in the same position for more than three straight games, and true freshman tackle
Bobby Hart
was thrown into the starting lineup at 17 years old. Four freshmen were in the starting lineup against Notre Dame in the Champs Sports Bowl, and that's where the Seminoles will start off this spring.
The skinny:
The good news is that
David Spurlock
, who missed more than five games with a knee injury, is back in the mix. The most pressing question is who will replace the two talented tackles in
Zebrie Sanders
and
Andrew Datko
. Hart,
Austin Barron
,
Josue Matias
and
Tre' Jackson
were the starters for the bowl game, and matured rapidly from one half to the next. If the Noles are going to get more out of their offense, particularly the running game, they're going to have to get more out of their young linemen.
January, 13, 2012
1/13/12
11:00
AM ET
It's time to wrap up the 2011 season with the top performers from the bowl games. No, they're not all from Florida State and NC State. Although they could be …
Offense:
QB:
Mike Glennon
, NC State:
He was named the MVP of the Belk Bowl after throwing for 264 yards and three touchdowns to lead NC State past Louisville 31-24.
RB:
Preston Lyons
, Georgia Tech:
The senior fullback started in place of injured
David Sims
and rushed for 138 yards in the overtime loss to Utah. Before this, Lyons had never rushed for more than 50 yards in a game.
[+] Enlarge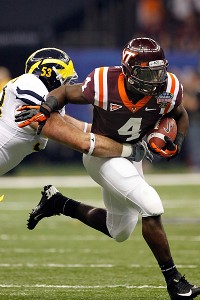 AP Photo/Dave MartinVirginia Tech running back David Wilson finished the season with 1,709 rushing yards.
RB:
David Wilson
, Virginia Tech:
He broke the school's single-season rushing record in the Allstate Sugar Bowl against Michigan with 82 yards on 24 carries. He finished the season with 1,709 yards. His 11-yard run on his second carry of the third quarter enabled him to surpass Ryan Williams' mark of 1,655 yards set in 2009.
WR:
Rashad Greene
, Florida State:
He had five catches for 99 yards and a touchdown in the 18-14 win against Notre Dame and was named the MVP of the Champs Sports Bowl. His 15-yard touchdown catch with just over 13 minutes to play gave the Noles a 15-14 lead.
WR:
T.J. Graham
, NC State:
He finished with seven catches for 116 yards and two touchdowns in the win against Louisville. He also had three kick returns for 63 yards and one punt return for two yards.
WR:
Kris Burd
, Virginia:
He had six catches, 103 yards, two touchdowns and a broken collarbone. He became only the third player in school history to score two receiving touchdowns in a bowl game.
OT:
Zebrie Sanders
, Florida State:
He was the lone senior on an offensive line that started four freshmen. He posted a career-high grade of 94 percent in his final game at left tackle.
OT:
Rob Crisp
, NC State:
Hey, no other lineman in the ACC had a reception in a bowl game. Granted, his teammates keep ribbing him for rumbling and fumbling, but Crisp played a good game, paving the way for the offense from the right tackle spot.
G:
Josue Matias
, Florida State:
As one of four true freshman starters on the Noles' line, Matias posted a grade of 82 percent from the left guard position in his first career start.
G:
Shaq Mason
, Georgia Tech:
Even with guard
Omoregie Uzzi
sitting out with an injury and suspended tackle
Phil Smith
on a bus back to Atlanta, Tech rolled up 311 rushing yards and 448 total yards against a Utah defense that was ranked among the nation's best entering the Hyundai Sun Bowl.
C:
Dalton Freeman
, Clemson:
Freeman had an 84 percent grade and four knockdowns in helping Clemson to 443 yards and 33 points against West Virginia.
Defense:
DE:
Brandon Jenkins
, Florida State:
He finished with two tackles (both solo), including one sack for minus-10 yards. His sack in the third quarter took Notre Dame out of field goal range.
DT:
Nikita Whitlock
, Wake Forest:
He finished with six tackles, 0.5 sacks, 1.5 tackles for loss and one fumble recovery in the loss to Mississippi State.
[+] Enlarge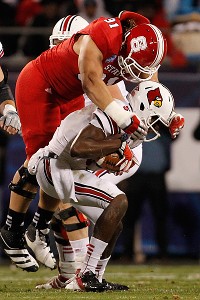 AP Photo/Bob LeveroneThe Wolfpack's Markus Kuhn lands on Louisville's Teddy Bridgewater for a sack during the Belk Bowl.
DT:
Markus Kuhn
, NC State:
He finished with three tackles, including 1.5 for a loss of seven yards. He also had one sack for a loss of six yards in the win against Louisville.
DE:
J.R. Collins
, Virginia Tech:
He finished second on the team with seven tackles and had one tackle for loss in the loss to Michigan in the Allstate Sugar Bowl.
LB:
Nigel Bradham
, Florida State:
He closed out his career with a team-high nine tackles (eight solo) against Notre Dame, finishing the season with a team-leading 86. He was the first FSU player to lead the team in tackles for three consecutive years since All-American Marvin Jones (1990-92). Bradham also added his third career interception in the win.
LB:
Tariq Edwards
, Virginia Tech:
He finished with a team-high eight tackles, one sack for a loss of seven yards and two tackles for a loss of eight yards in the loss to Michigan.
LB:
Audie Cole
, NC State:
The senior ended his career with a team-high 10 tackles, including a pair of sacks and four tackles for loss.
DB:
David Amerson
, NC State:
He had two interceptions and returned one of them 65 yards for a touchdown in the Belk Bowl win against Louisville. He became the ACC's leader in interceptions in a single season with 13. It was one shy of the Football Bowl Subdivision record set by Al Worley of Washington in 1968.
DB:
Kyle Fuller
, Virginia Tech:
He intercepted a pass by Michigan quarterback
Denard Robinson
in the first quarter. The interception marked his second of the season and the second of his career.
DB:
Merrill Noel
, Wake Forest:
He had a team-leading seven tackles and one interception for 18 yards in the 23-17 loss to Mississippi State.
DB:
Lamarcus Joyner
, Florida State:
With Notre Dame inside the 5-yard line, Joyner intercepted his team-best fourth pass of the season. His 77-yard kickoff return after Notre Dame went up 14-0 was the longest kickoff return by a Seminole this year. It was also the third-longest in FSU bowl and Champs Sports Bowl history.
Special teams:
P:
Shawn Powell
, Florida State: He punted 8 times for 378 yards and a 47.2-yard average. He had three punts of more than 50 yards and landed two inside the 20-yard line. His performance sealed his title as the nation's leader in punting.
P/K:
Justin Myer
, Virginia Tech:
Myer entered the game 0-for-2 on the season but made field goals in the Allstate Sugar Bowl of 37, 43, 36 and 25 yards, recording a field goal in every quarter and tying Georgia's Billy Bennett (2003) for the BCS bowl record. The four field goals tied for second-most in Sugar Bowl history. Myer missed on his fifth try, a 37-yard attempt in overtime. The field goals were the first in Myer's collegiate career. The Hokies made six field goals of 30 or more yards all season entering the game.
A/P:
Sammy Watkins
, Clemson:
Despite the loss, Watkins broke two school records in the Discover Orange Bowl and finished with 205 all-purpose yards, giving him 2,282 for the season -- second-most in ACC history. He had seven kick returns for 143 yards, and he had five catches for 66 yards and a touchdown.