May, 13, 2014
May 13
9:00
AM ET
The 2013 signing class has already made its mark on the ACC, from
Tyler Boyd
and
Stacy Coley
shining on offense to
Jalen Ramsey
and
Kendall Fuller
starring on defense to
Ryan Switzer
racking up All-America honors on special teams. But for most players, the transition from high school to college takes a little time, and it's not until Year 2 that they truly shine. With that in mind, we're taking a look at the best candidates for second-year stardom in the conference — the players who didn't quite hit the big time as true freshmen, but are poised for a breakthrough in 2014.

See our previous projections
here
.
Next up:
NC State
Class recap:
Dave Doeren's first signing class didn't stand out in the rankings — No. 66 by ESPN's math — but he did get some early contributions, even if it was as much out of necessity as ability.
Matt Dayes
played in all 12 games and scored four times.
Jack Tocho
started seven games at corner, finishing with 25 tackles and two picks.
Monty Nelson
started five games at defensive tackle and was second on the team with 8.5 sacks. Meanwhile, a bevy of freshmen receivers saw action, with mixed results.
Second-year star:
WR
Jumichael Ramos
(6-foot-3, 197 pounds)
[+] Enlarge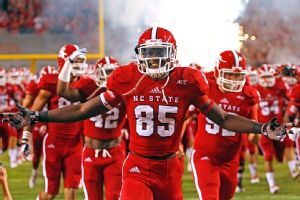 AP Photo/Karl B DeBlakerJumichael Ramos showed his potential late in the 2013 season with a 109-yard game against Boston College.
Recruiting stock:
A three-star prospect out of Georgia, Ramos wasn't even among NC State's top signees at receiver (he was No. 191 overall at the position, according to ESPN), but he did bring both size and speed and showed increased development late in his high school career.
2013 in review:
The Wolfpack's offense was a mess throughout 2013, with rotating quarterbacks and offensive styles and, of course, a plethora of erratic receivers. But while several of the other first-year pass-catchers flashed early before disappearing down the stretch (either because of injury or inconsistency), Ramos consistently improved as the year progressed. He caught at least one pass in 10 of 12 games, and he finished the season with 11 receptions and three TDs in his final three contests, including a five-catch, 109-yard performance against Boston College. He finished the season with 24 receptions for 352 yards.
2014 potential:
Projecting Ramos to be the breakout receiver among a horde of unproven talent is based largely off his strong finish to last season. The spring game was a showcase for an established veteran (
Bryan Underwood
) and an early enrollee (
Bo Hines
), while Ramos and fellow sophomore
Marquez Valdes-Scantling
played smaller parts. Still, the addition of
Jacoby Brissett
to stabilize the QB situation is good news for all of NC State's receivers, and Ramos' combination of speed and size should make him an inviting target. He's got some stiff competition — in terms of both quantity and quality — throughout fall camp, but Doeren is looking for weapons in the passing game and Ramos has been the one young receiver who has shown he can be a weapon on game day.
Also watch for:
Take your pick from the rest of the group of receivers. Valdes-Scantling needs maturity and consistency, and
Johnathan Alston
and
Bra'Lon Cherry
need to stay healthy to continue their development. Alston might have the biggest upside of the group. Keep an eye on Dayes getting a bigger role in the running game this season, while top signee
Sean Paul
shouldn't be relegated to just special teams, as he was in 2013.
May, 1, 2014
May 1
2:00
PM ET
NC State offensive coordinator Matt Canada and coach Dave Doeren both noticed the same wide receiver this spring:
Bo Hines
.
Hines, a true freshman from Charlotte, N.C., who enrolled early, was the Pack's most consistent receiver this spring, bringing a bit of separation to a crowded group filled with youth and inexperience. Nine of the 12 receivers on the spring roster are either freshmen or sophomores. Senior
Bryan Underwood
was NC State's second-leading receiver last year, but the Pack has to replace two starters from 2013, and the competition remains wide open heading into the summer.
[+] Enlarge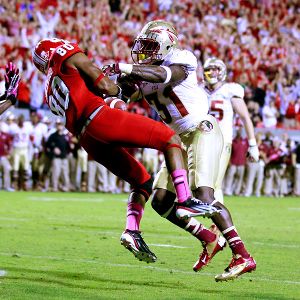 Ethan Hyman/Raleigh News & Observer/MCTSenior Bryan Underwood is NC State's leading returning receiver with 32 catches in 2013.
"Now you look for the guys who are going to come up and make plays consistently and in games," Canada said. "It's just a matter of where things go. There's a lot of guys out there, we just have to sort it out a little bit. We had some of that sort itself out through the spring, but not enough to declare one way or another who's going to do what, but we'll move in that direction as we get into camp. We'll have a better handle on what we're going to do."
Jumichael Ramos
, who finished the last three games of 2013 strong, is one of the top sophomore candidates, along with
Marquez Valdes-Scantling
, who led the team in receiving at one point last year as a true freshman, and
Bra'lon Cherry
, who suffered a season-ending injury against Duke. Ramos finished third on the team last year with 24 catches for 352 yards and three touchdowns.
"All three of them played and had some catches, but obviously as they step up here now, they have a chance to maybe separate themselves from what they did with a few catches here and there, and becoming a more consistent receiver," Canada said. "I think that's where having a quarterback and getting some timing down will certainly allow that to occur."
Freshman
Stephen Louis
enrolled early, and redshirt freshman
Gavin Locklear
is also in the mix. Doeren said Underwood finished the spring strong. He is the fastest receiver on the roster, but he still needs to be more consistent. Underwood had 32 catches last year for 382 yards and a touchdown.
"He was really coming on last year when he hurt his collarbone and so missed a lot of practice and development there, and he needs to have a good summer physically to put himself in the right place," Doeren said. "You'd like him to play the way he can and the way he was early in the year last year.
"And then Marquez Valdes and Jumichael Ramos are guys that were two true freshmen that played a lot for us a year ago that need to play better, I guess, than I thought they would in the spring. I thought Valdes had a really good finish, started a little slow, and Ramos was the opposite. So just need to get a consistent performance. A lot of times when a guy plays as a true freshman he gets a big head, and that's the one thing those guys can't do. There's good players coming in, and we've got a couple other freshmen that will be here that we'll add to the depth and competition. But those two guys need to have tremendous summers for us."
April, 29, 2014
Apr 29
7:00
AM ET
Three things we learned in the spring about the North Carolina State Wolfpack:

1. Having a quarterback helps.
Last spring, the
NC State
offense looked dismal and new coach Dave Doeren didn't know who his quarterback would be. That problem persisted throughout the fall, and the Wolfpack went winless in ACC play. Now that Florida transfer
Jacoby Brissett
is eligible to play, however, there's a consistency on offense that was missing throughout 2013. More importantly, Doeren knows who his QB is, and Brissett can play the role of leader throughout the offseason.
2. Hines is a playmaker.
NC State had a huge class of early enrollees, and while all made strides this spring, it was
Bo Hines
who stood out. The freshman had a fabulous spring game, catching 10 passes for 132 yards. It wasn't just a big day in front of fans either. Doeren raved that Hines made at least one play every day throughout spring practice.
3. There's depth at tailback.
Shad Thornton
finished sixth in the ACC in rushing last season, but after a strong spring by NC State's tailbacks, the starting job won't just be handed to the incumbent. Thornton worked on the second-team offense in the spring game, while Doeren praised
Tony Creecy
and
Matt Dayes
, too, and with a QB who can force defenses to respect the passing game, there could be plenty of yards to be had on the ground in 2014 for the Wolfpack.
Three questions for the fall:
[+] Enlarge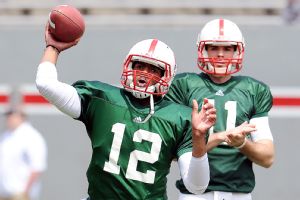 Lance King/Getty ImagesFlorida transfer Jacoby Brissett will start at quarterback for the Wolfpack in 2014.
1. Will other young receivers step up?
Hines impressed. Veteran
Bryan Underwood
looks healthy and should be a leader. But what about the rest of Brissett's weapons in the passing game? The Wolfpack need more consistency out of sophomores
Jumichael Ramos
and
Marquez Valdes-Scantling
, and Hines' fellow early enrollee
Stephen Louis
didn't have a catch in the spring game.
2. Has the pass rush improved?
It's hard to make any grand pronouncements based on the spring game, where QBs weren't live, but both the first- and second-string defenses racked up five sacks on the day. That's the good news, but the defensive front remains young and inexperienced, with nowhere to go but up after last year's D mustered a league-worst 20 sacks.
3. Can Doeren develop depth?
Doeren has been quick to point out that 70 percent of NC State's roster is made up of freshmen and sophomores, which means there's not a ton of experience down the depth chart. That showed up in the spring game when the No. 2 defense did little to corral Brissett and the second-string offense produced a mere 65 yards. There are reasons for optimism with early enrollee safety
Germaine Pratt
(an INT in the spring game) and receiver-turned-pass rusher
Pharoah McKever
, among others, but the staff has its work cut out for it in developing the raw materials into productive players.
One way-too-early prediction:
Yes, the Wolfpack were 0-8 in ACC play last season, but there weren't many blowouts. Doeren's crew showed plenty of fight despite a litany of problems, and that's a good sign for what's to come in 2014. The big change, however, is Brissett, who breathes new life into the offense and provides some real direction for NC State going forward. A conference title probably isn't in the cards, but a bowl appearance wouldn't be unrealistic.
April, 14, 2014
Apr 14
10:30
AM ET
RALEIGH, N.C. — It didn't start as anything formal, just a few hungry players after NC State's regular Saturday walk-through. The quarterbacks and receivers would show up in the morning, run through drills and practice routes, then head to breakfast.
Slowly, the weekly ritual evolved into an ideal bonding experience for a group that desperately needed to build a rapport on the fast track.
"We had a lot of extra time to go out and get some chemistry," quarterback
Jacoby Brissett
said. "Any time we had an opportunity to sit and talk about the things we were learning — we got the time to get to know each other better away from the field, and that's helped our chemistry on the field."
[+] Enlarge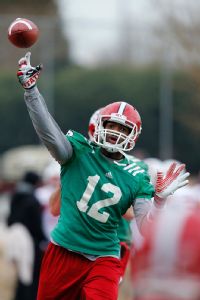 Ethan Hyman/Raleigh News & Observer/MCT/Getty ImagesNC State has a leader at quarterback in transfer Jacoby Brissett.
Whether pancakes and waffles actually make a difference in NC State's passing game in 2014 remains to be seen, but as the Wolfpack wrapped up spring practice Saturday, it certainly appeared that Brissett, the new starting quarterback, and his young receivers were a well-oiled machine.
Brissett and the first-team offense rolled up 34 points, and the junior quarterback, who transferred from Florida last year, completed throws of 36, 60 and 72 yards. He was particularly effective on third down, converting 13 of 18 tries, often shuffling in the pocket to create more time and find receivers downfield.
Early enrollee
Bo Hines
led all receivers, grabbing 10 passes for 132 yards, including a nifty 40-yard run after a catch on Brissett's 60-yard completion. His star is clearly on the rise, coach Dave Doeren said, and after just a few months on campus — and a dozen or so breakfasts with Brissett — he looks right at home.
"Bo Hines is a reliable player," Doeren said. "He's the same guy every day — in the right place, catches the ball well with people around him, made some one-handed catches and has the ability to catch it and run. … We've had 15 practices and I don't think we've had one where he didn't make a play."
Sophomores
Jumichael Ramos
and
Marquez Valdes-Scantling
had four catches each.
Bryan Underwood
, the lone veteran of the ensemble, caught three passes for 112 yards and two scores.
"[Brissett] is giving us a chance," Underwood said. "It's a good start, leaving spring with how we did today."
It's worth noting, of course, that the offensive fireworks came against an overmatched second-team defense that featured few veterans, and the road back from last year's struggles — NC State finished 11th in the ACC in yards per attempt and had more interceptions than TD throws — will be a long one. Doeren was also quick to point out Brissett's struggles running the ball — he was sacked five times behind a line missing three starters — and his one interception. But just as last year's struggles in the spring game portended a woeful regular season, the hope is that this year's success will be equally prophetic.
Whether this year's results are also a sign of things to come likely depends largely on how much more Brissett and his receivers continue to bond during the summer. But Doeren is encouraged by where things stand, and a year after NC State dealt with a massive quarterback dilemma, it soothes a lot of nerves to simply know Brissett is in charge, and there's a ringleader for the remainder of the offseason.
"I can focus my attention on certain things, and it's his job to stay hungry, keep the chip on his shoulder and know he has to do his job the right way," Doeren said. "I don't have to worry about who it is, but he still has to handle his end of the responsibility. He will, and he knows that."
April, 10, 2014
Apr 10
2:00
PM ET
Seven ACC teams will play their spring games this weekend, and eight will officially close spring practices in the coming days, as Pitt has opted to have a more fan-friendly event instead of an actual spring game on Sunday before closing practice on Tuesday.
For all of these teams -- including Florida State -- the quarterbacks will be among the most-watched players on the field. In Tallahassee, fans will get a chance to see the Heisman Trophy winner, returning starter
Jameis Winston
. At every other school, there is an ongoing storyline and competition with the quarterbacks. We're giving you one
additional
thing to keep an eye on that might not be so obvious.
Check it out, and enjoy the games this weekend!
CLEMSON

When:
4 p.m. on Saturday (ESPNU) and on
WatchESPN
Where:
Death Valley
One thing to watch:
The true freshman wide receivers.
Artavis Scott
,
Demarre Kitt
and
Kyrin Priester
were all highly touted recruits who enrolled early to help Clemson try to replace
Sammy Watkins
and
Martavis Bryant
(a combined 2,292 receiving yards and 19 touchdowns in 2013).
FLORIDA STATE

When:
3 p.m. on Saturday (ESPN) and on
WatchESPN
Where:
Doak Campbell Stadium
One thing to watch:
The wide receivers. They haven't exactly earned high praise from coach Jimbo Fisher, who called the receivers out last week for not getting open and making catches.
Rashad Greene
is the most experienced option as the Noles try to replace
Kelvin Benjamin
and
Kenny Shaw
, but the staff also needs to see more from players like
Bobo Wilson
and
Kermit Whitfield
.
LOUISVILLE

When:
7:30 p.m. on Friday
Where:
Papa John's Cardinal Stadium
One thing to watch:
The safeties. Louisville lost
Hakeem Smith
, who started 51 straight games, and projected first-round draft pick
Calvin Pryor
.
Jermaine Reve
,
Gerod Holliman
and
Chucky Williams
are the leading candidates for those spots, but Reve is out for the spring with an injury. Reve and Holliman are the only players with game experience.
MIAMI

When:
6 p.m. on Saturday
(ESPN3)
Where:
Sun Life Stadium
One thing to watch:
Defense, defense, defense. It's been an area of concern, but the defense showed signs of progress this spring. The Canes return eight starters and 16 players from the two-deep depth chart.
Denzel Perryman
is now playing middle linebacker, and
Dallas Crawford
moved to safety to give that position a boost. Those within the program have said repeatedly that the defense has made strides since last season, and overall it was a good spring for the defense. We'll see if they can punctuate it in the spring game.
NORTH CAROLINA

When:
3 p.m. on Saturday
(ESPN3)
Where:
Kenan Stadium
One thing to watch:
True freshman running back
Elijah Hood
. The four-star recruit was rated the nation's No. 9 running back in the Class of 2014 by ESPN.com and No. 80 overall in the ESPN 300. The early enrollee has had such a good spring that he could see some immediate playing time, even though the Tar Heels are deep at the position.
NC STATE

When:
1 p.m. on Saturday
Where:
Carter-Finley Stadium
One thing to watch:
More young wide receivers. NC State has to replace
Quintin Payton
and
Rashard Smith
, both starters from last year. The talent pool to choose from includes a host of sophomores and freshmen, including two early enrollees. The leading sophomore candidates are:
Jumichael Ramos
, who finished the last three games of 2013 strong;
Marquez Valdes-Scantling
, who led the team in receiving at one point last year as a true freshman; and
Bra'lon Cherry
, who suffered a season-ending injury against Duke. Freshmen
Bo Hines
and
Stephen Louis
enrolled early, and redshirt freshman
Gavin Locklear
is also in the mix.
VIRGINIA

When:
1 p.m. on Saturday
Where:
Scott Stadium
One thing to watch:
Improved wide receivers. This is a group coach Mike London has praised this spring, for both its height and athleticism, as the staff has moved toward a longer, leaner look. London recently singled out
Miles Gooch
,
Keeon Johnson
and
Kyle Dockins
-- all listed at 6-foot-3 -- as players who have excelled this spring. Unfortunately, fans won't be able to see starter
Jake McGee
, the Hoos' star tight end who moved to receiver this spring, as he'll be sidelined with a hamstring injury.
PITT

(No spring game)

When:
From 2-4 p.m. on Sunday, Pitt will host its "Pitt Football Field Pass"
Where:
The UPMC Sports Performance Complex
One thing to watch:
Instead of a game, Pitt will hold a public event that will include a kids' clinic, an offensive strategy session with coordinator Joe Rudolph, a defensive strategy session with coordinator Matt House, a recruiting session with coordinator Dann Kabala and a strength and conditioning session with assistant coach Ross Kolodziej.
March, 26, 2014
Mar 26
2:00
PM ET
RALEIGH, N.C. -- In most places, it would speak volumes that
Kalen McCain
and
Germaine Pratt
, both just a few weeks into their college careers, were running with the second-team defense Saturday during NC State's first scrimmage of the spring.
Indeed, both freshmen safeties have impressed teammates so far. McCain is instinctive, according to senior
Jarvis Byrd
, looking like a ball hawk in coverage. In that scrimmage, McCain picked off a pass and returned it for a touchdown, but at just 175 pounds, he needs to add some bulk. Pratt, on the other hand, is a charging bull in the secondary. At 6-foot-3, nearly 200 pounds, he plays like a linebacker -- a throwback to his high school days when he spent significant time in the box, playing the run -- and still needs refinement in coverage. But when he hits, he hits hard.
[+] Enlarge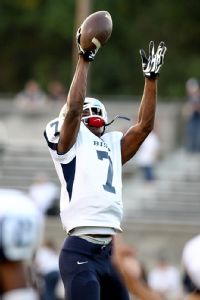 Miller Safrit/ESPN.comJust months ago, Germaine Pratt was a three-star prospect. Now he's pushing for a big role in NC State's secondary.
It's a promising start for both players, but for the Wolfpack, their spot on the depth chart is a matter of necessity.
"They're running with the twos because they have to," safety
Hakim Jones
said. "We only have four safeties."
This is the landscape in Raleigh for the nine early enrollees at NC State -- seven scholarship freshmen, along with long snapper Robert Brunstetter and preferred walk-on
Ty Linton
, a former North Carolina commitment who has played professional baseball for the past four years. There is opportunity at every turn, the result of a disproportionately young roster, but it is also a trial by fire.
"You go through this whole recruiting process and it seems like it should take a long time, but then you get here and it's fast," said
Bo Hines
, one of two freshman wide receivers enrolled for the spring. "Everything is moving."
By coach Dave Doeren's math, 71 percent of NC State's roster this year will be freshmen or sophomores. Many saw action last year as the Wolfpack struggled to fill out a depth chart amid myriad injuries en route to a disastrous 3-9 season in which they didn't win a game in conference play. The new arrivals, meanwhile, are getting a healthy dose of snaps on the practice field with an eye toward playing time this fall.
It's a challenge, Doeren admits, but it's also an investment in the viability of a crucial freshmen class this fall.
"[Many of] those guys are playing with the ones at times out there," Doeren said. "Just imagine the learning curve for them in August when the other freshmen are coming in. It helps a lot."
And this spring isn't simply a chance for the freshmen to dip their toes in the pool and test the waters of life in the ACC. It's a blank slate, with a chance for them to etch their names into permanent jobs when the Wolfpack open the 2014 season.
"Since Day 1, since we went into the first meeting, [Doeren] said nobody had a guaranteed spot," Pratt said. "I'm pushing hard to earn my spot."
Perhaps as important, Doeren said, is the veterans are now pushing harder to keep their spots.
With such a thin roster a year ago, Doeren had little choice but to hand playing time over to unproven players. The results were mixed. Some blossomed, like receiver
Jumichael Ramos
, who caught 11 passes and scored three times in the final three games of his freshman campaign last year. Some struggled, including a defensive line that featured a trio of freshmen and sophomores who earned regular playing time, but finished 103rd nationally in run defense. Others, like receiver
Marquez Valdes-Scantling
(12 catches for 174 yards in his first two games, 10 catches for 107 the rest of the way) did a little of both.
"

[Many of] those guys are playing with the ones at times out there. Just imagine the learning curve for them in August when the other freshmen are coming in. It helps a lot.

"

-- NC State coach Dave Doeren on early enrollees
All of that was to be expected, Doeren said. What concerned the second-year coach was that, after winning playing time by default in 2013, complacency could set in this season. The nine new faces this spring can go a long way toward alleviating those concerns.
"The freshmen are coming to me, asking how to run a route and what the concepts are or just asking how we felt when we came in as freshmen and what we did to play," Ramos said. "I do feel older. I don't feel like a freshman anymore."
Still, Doeren is aware of the reality. Most of the time, it's 18-year old freshmen asking 19-year old veterans for advice, and that's not an ideal recipe for success. That makes NC State's real veterans -- the handful of juniors and seniors like Byrd and Jones -- an immensely valuable asset this spring.
It's a role they've been happy to take on, receiver
Bryan Underwood
said. Last year, he was a mentor for Ramos and Valdes-Scantling. Now, he's finding more room under his wing for the new arrivals.
Jones busies himself each night hosting his new protégés in the secondary, too. Pratt and McCain are fixtures in his room, the playbook spread open throughout the evening.
"We came to them with open arms and just -- welcome to the team," Jones said.
That's exactly what Doeren was hoping for, but it's hardly the end of his concerns.
Pratt and Hines and the rest of the new arrivals are still wide-eyed and overmatched more often than not. It's a learning experience, and for now at least, most of the lessons will be tough ones.
But that's the other advantage of this big class of early enrollees for NC State. Even after the toughest workouts, the miserable have plenty of company.
"Having those guys around," Hines said, "we're all going through the same thing."
November, 23, 2013
11/23/13
7:00
AM ET
Here's one final look at what's on tap today in the ACC:


Game: Duke (8-2) at Wake Forest (4-6)
What's at stake:
The Coastal Division title is on the line for Duke, which can win it outright with two more wins, against Wake Forest and North Carolina. A win would guarantee Duke at least a share of the division title, while a loss by the Blue Devils would send them into a tie with Georgia Tech, and also possibly Miami, North Carolina and Virginia Tech. A win would also give Duke a ninth win for the first time since 1971. Wake Forest, meanwhile, has to win out just to become bowl eligible.
Statistically speaking:
All four of Duke's running backs --
Jela Duncan
,
Shaquille Powell
,
Josh Snead
and
Juwan Thompson
-- average at least five yards per rushing attempt this season. A total of 43.8 percent of Duke's offense has come from its ground game this year.
Quotable:
"This isn't a flash in the pan. We're going to be good next year if our team has the kind of work ethic that this team has." -- Duke coach David Cutcliffe


Game: Virginia (2-8) at Miami (7-3)
What's at stake:
Miami still has a slim chance at playing in the ACC title game. It needs to win its final two games and hope Duke loses, for starts, so there is no margin for error against the Hoos. Virginia is looking to snap a seven-game winning streak and finish on a strong note.
Statistically speaking:
UVa true freshman
Keeon Johnson
made his collegiate debut in the Cavaliers' fifth game of the season after originally being slated to redshirt. He has 17 catches for 226 yards (13.3 yards per catch) and one touchdown. He's on pace to have the best true freshman receiving season for a UVa wide receiver since Billy McMullen had 28 catches for 483 yards (17.2 yards per catch) and six touchdowns in 1999.
Quotable:
"A lot of players on this team have been successful against Miami. It's one of those things you have to create that mindset, that balance of, we got two games left, and we want to play to the best of our ability to send these seniors out." -- Uva coach Mike London


Game: Old Dominion (8-3) at North Carolina (5-5)
What's at stake:
North Carolina would become bowl eligible with a win, completing one of the best turnarounds in college football this year. The Tar Heels started out 1-5, but enter this game on a four-game winning streak.
Statistically speaking:
UNC freshman
Ryan Switzer
has the single-season school record with three punt return touchdowns. The ACC single-season record is four by Maryland's Steve Suter in 2002. The ACC career mark is six, also held by Suter. Three of Switzer's last five punt returns have gone for touchdowns.
Quotable:
"The kids kept believing. They kept working extremely hard. They had great attitudes. And that's one thing that I can say about these guys: Their attitude after a game or going into a game has been the same each and every week. That has been very consistent, which is what we're looking for." -- North Carolina coach Larry Fedora


Game: The Citadel (5-6) at (7, 8, 6) Clemson (9-1)
What's at stake:
A BCS bowl. Pride. Senior Day. There shouldn't even be a whiff of an upset in Death Valley, and this should be an easy week before ending the regular season against rival South Carolina. Clemson has to keep winning, though, to help ensure a shot at a BCS bowl. If Clemson can defeat The Citadel, it will give the Tigers 31 wins over the last three years, the most in a three-year period in school history.
Statistically speaking:
Saturday will be the final home game for Clemson's 19 seniors. Only 10 of the 19 are scholarship players. The class has a 36-14 record over the last four years, the sixth-most wins for a class in Clemson history. That includes 24 wins over ACC teams, the most in school history in a four-year period.
Quotable:
"He has I think been the best receiver in the country. I don't think there's any doubt about it in my mind." – Dabo Swinney on WR
Sammy Watkins


Game: East Carolina (8-2) at NC State (3-7)
What's at stake:
Pride. Recruiting. There's plenty of history between ECU and NC State, as the Pirates are located in Greenville, N.C. The two teams met every season from 1970-1987, but since then have played just nine times. This one is important because of the state of both programs within the state -- ECU is trending up and NC State? Well, the Pack have lost six straight and are winless in league play. This is a chance for first-year coach Dave Doeren to reassert the program's place within the state, and to avoid what could be an embarrassing home loss.
Statistically speaking:
Freshman wide receiver
Jumichael Ramos
has 18 catches this season, and eight of them have been to convert a third or fourth down. Only one time when Ramos was targeted on a third or fourth down play did the rookie fail to convert and that was a third and 15 against Syracuse when he gained 11 yards.
Quotable:
"I know what they're saying at that school. Those things have been talked about here. We feel like we have a lot to prove, probably more than them to be honest with you. It's a game that means a lot for a lot of reasons." – NC State coach Dave Doeren


Game: Pitt (5-5) at Syracuse (5-5)
What's at stake:
Bowl eligibility and bragging rights. These former Big East teams will play for the first time as ACC opponents, and one of them will finish bowl eligible. The loser of the game will have one more chance to reach the six-win mark in the regular-season finale. This is also a chance for Pitt to redeem itself from last year's 14-13 loss to the Orange.
Statistically speaking:
S
Ray Vinopal
has created four turnovers in his last two games, including a forced fumble and recovery to set up a Panthers' touchdown against North Carolina.
Quotable:
"With the push towards the big mega-conferences, to some degree, I'm saddened that some of the rivalries are not played anymore. We don't play West Virginia anymore. That was a great game. So I'm glad that we are able to do two things, first and foremost, this week playing a Pitt team that we've been playing for the last 55 years; I think it's great for the fans in both towns and for the fans in the northeast that have watched these games for so many years," -- Syracuse coach Scott Shafer


Game: Alabama A&M (4-7) at Georgia Tech (6-4)
What's at stake:
It's the first meeting between the schools, and the first time Georgia Tech will play a team from the SWAC, and the first time coach
Paul Johnson
will coach against a team from that conference. As far as the ACC race goes, Georgia Tech has to wait and see how it plays out, as the Jackets have wrapped up their ACC play at 5-3. They're in sole possession of second place in the division this week. The only thing at stake here for Georgia Tech really is avoiding an embarrassing loss and using an unheralded opponent to tune up for the regular-season finale against Georgia.
Statistically speaking:
Georgia Tech's defense has not allowed a rushing play longer than 34 yards. The Yellow Jackets are one of just 10 FBS teams that have not allowed any rushing plays of 40 yards or longer. In Georgia Tech's six wins this season, the defense has allowed just 11.5 points per game.
Quotable:
"We could have -- had we played better Thursday night and found a way to beat a good Clemson team; we knew going into that game we had a chance. If we won that game, I felt like we had a chance to win the division without the tiebreaker or outright. There's still that chance. I think the Coastal is pretty well balanced and I don't know that there's one team that's head and shoulders better than the rest. You just step back and let the guys play out and see what happens." -- Georgia Tech coach Paul Johnson


Game: Boston College (6-4) at Maryland (6-4)
What's at stake:
Maryland is trying to break a two-game losing streak to the Eagles, and with two more wins, the Terps could finish the ACC season at .500 -- a huge improvement from the past two seasons under Randy Edsall. It would also be a strong finish for Maryland in what will be the program's final year in the ACC before moving to the Big Ten. Both teams are already bowl eligible, so this game is about continuing the positive momentum, and positioning themselves for one of the better bowls.
Statistically speaking:
BC is fifth in the country and second in the ACC in red zone offense, having scored on 21 of 22 chances. BC has scored 13 touchdowns (six rushing and seven passing ) and has kicked eight field goals to account for their 18 scores from inside the red zone.
Quotable:
"I think Andre is an outstanding football player. The answer to that is yes. The definition is being a dominant football player, leading rusher in America. High, high character. A great human being. A real student-athlete. Certainly extremely valuable to our football team. I would say he fits all that criteria." -- BC coach Steve Addazio on whether RB
Andre Williams
is a Heisman contender


Game: Idaho (1-9) at (2, 2, 2) Florida State (10-0)
What's at stake:
The national championship. It doesn't change for Florida State, which must win out to maintain its No. 2 spot in the BCS standings.
Statistically speaking:
The Seminoles have outscored their opponents 170-21 before halftime during their last five games -- a stretch that featured two top 10 opponents (No. 3 Clemson and No. 7 Miami). During the five-game span, FSU has nearly tripled its opponent's yardage in the first half -- averaging 301 yards before halftime and allowing just 110 yards to opponents. With Florida State resting most of its starters for the better portion of the second half in these games, opponents have gained nearly 50 percent more yards after halftime (156.8).
Quotable:
"We have played good football, but there are still things we need to clean up and we know that. We have not played our best football yet in my opinion." -- Florida State coach Jimbo Fisher