June, 30, 2011
6/30/11
2:00
PM ET
As advertised ...
1. Florida State:
The Noles have one of the best cornerback duos in the country in Greg Reid and Xavier Rhodes. They combined for 33 passes defended last season, the most of any pair of cornerbacks in the nation. Mike Harris had 41 tackles and four picks as a reserve.
[+] Enlarge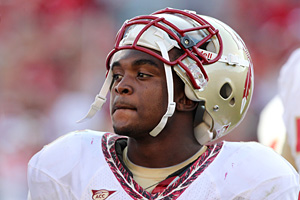 Matthew Emmons/US PresswireFlorida State cornerback Greg Reid is also one of the ACC's top return men.
2. Virginia Tech:
Jayron Hosley is one of the top boundary corners in the country, and the Hokies also have Kyle Fuller, who had six deflections last season, and Cris Hill (two deflections) at field corner.
3. Maryland:
The Terps return both starters in Cameron Chism and Trenton Hughes, who combined for 36 career starts. Chism is a strong cover corner who had 70 tackles and eight deflections last season. Hughes had nine pass deflections.
4. NC State:
Both starters return in C.J. Wilson and David Amerson. Wilson had 46 tackles, two interceptions and six pass breakups, and Amerson had 57 tackles. Justin Byers and Gary Grant also have experience.
5. North Carolina:
The Tar Heels lost some remarkable talent in their secondary, including cornerback Kendric Burney, but there is a lot of depth at the position. Jabari Price started four games last season, Charles Brown has 22 career starts but sat out last season, and Mywan Jackson and Tre Boston both have at least four starts each.
6. Boston College:
The Eagles will miss DeLeon Gause, but Donnie Fletcher has 17 career starts, 56 tackles last season, and led the team with five picks. C.J. Jones played in 12 games as a backup last season with 16 tackles. Dominique Williams also saw some time and had four tackles, and true freshman Al Louis-Jean, who was the No. 9 cornerback in the nation as ranked by ESPN Recruiting, enrolled early.
7. Clemson:
It's a young group, as the Tigers had to replace Marcus Gilchrist and Byron Maxwell. Xavier Brewer had 10 starts with 50 tackles and two interceptions last season, Coty Sensabaugh had 31 tackles in three starts, and senior Mansa Joseph will also be competing for playing time with sophomore Martin Jenkins.
8. Virginia:
The Cavaliers return both starters in Chase Minnifield and Devin Wallace, but Wallace was suspended and missed spring ball and is still suspended. Wallace had 38 tackles and six breakups last season. Chris Broadnax, Rijo Walker, Drequan Hoskey and Pablo Alvarez will all compete for playing time.
9. Miami:
The Hurricanes have to replace both starters in Brandon Harris and Ryan Hill. Jo-Jo Nicholas moved to corner and Brandon McGee, who was the nickel back last season, will compete along with
Lee Chambers
, Keion Payne, Nathan Gholston and true freshman Thomas Finnie, who had a great spring.
10. Georgia Tech:
The Jackets had to replace their entire secondary, including cornerbacks Mario Butler and Dominique Reese. They've still got several cornerbacks with experience in Rashaad Reid, who started 14 games in 2008 and 2009, Rod Sweeting (38 tackles, seven pass breakups, one interception), Louis Young (10 tackles), and Michael Peterson (six tackles, one pass breakup).
11. Wake Forest
: The Deacs have a deep enough secondary that they can live without the experience of cornerback Kevin Johnson, who started five games last season but will sit out this season while academically ineligible. Josh Bush had 33 tackles and four pass breakups last season, Kenny Okoro is a rising star, A.J. Marshall has three starts and Dominique Tate returns after missing last season while on academic suspension.
12. Duke:
Ross Cockrell is a returning starter and finished last season with 60 tackles and 10 passes defended. He was only a freshman but he tied for eighth in the ACC with passes defended with 10 in 12 games. Johnny Williams had four pass breakups last season.
September, 22, 2009
9/22/09
9:00
AM ET
By
ESPN.com staff
| ESPN.com

Posted by ESPN.com's Heather Dinich

In three games, NC State has had three different combinations of starters on its offensive line, and three different starting lineups in the secondary. When the Wolfpack hosts Pittsburgh on Saturday, it will make the fourth different look for both units.

It's the third season under coach Tom O'Brien, and once again, the Wolfpack has been in the all-too familiar situation of juggling the lineup to adjust to injuries. Not even O'Brien, though, has had to shuffle a lineup like this before.

"I don't remember any injuries since I've been here like this," he said.

Heading into Saturday's game against Pittsburgh, the status of left tackle Jake Vermiglio (lower leg), safety Clem Johnson (thigh) and corner Rashard Smith, who was on crutches last Saturday with an ankle injury, are still uncertain and expect to be updated in Thursday's injury report.

"We really haven't gotten the continuity at the two most important positions on our team, especially the last two weeks," said O'Brien. "The only thing we have gained is we've gotten some young guys in the football game, which is down the road stuff, but for immediately getting better as a football team, with your fourth different offensive line, and your fourth different secondary, that's not a good situation to be in."

The left side of the offensive line is where the problems have been. Vermiglio injured his calf in the season opener against South Carolina, and that forced Julian Williams to slide over from guard. Williams, who had the flu last week, is back and is listed as the starter at left guard on the depth chart for Pitt. When Williams caught the flu last week, Andrew Wallace became the third player this season to start at left tackle.

That doesn't bode well against a Big East defense that just limited Navy's option attack to 2.8 yards per carry and 129 total yards in a 27-14 win last weekend.

"They're at the top of their league in rush defense," O'Brien said of Pitt. "Especially when you shut out a team like Navy, you ought to be the best there is. We have to work hard to run the football. They lead in sacks, so we're going to have to work hard to throw the football, too."

The secondary has been an even bigger carousel.

Starting corner DeAndre Morgan was hurt and missed the first two games. He returned last week against Gardner Webb, is back at 100 percent, and is expected to start against Pitt. Safety Clem Johnson, who was a returning starter, hurt his hip and missed the last game. Justin Byers, who graded out as the best safety in the season opener against South Carolina, was also injured and missed a game. Rashard Smith, who started the second game because he played so well against South Carolina, was hurt last weekend.

"People have gotten on the field," O'Brien said, "but certainly the areas that can cause you the biggest damage the quickest, we're still unsettled in."
September, 18, 2009
9/18/09
8:41
AM ET
By
ESPN.com staff
| ESPN.com

Posted by ESPN.com's Heather Dinich
The weekly injury reports have all come in (some come in much later than others, which is why I wait until Friday mornings to do this). If you don't see 'em, they weren't sent. Maryland will miss Bruce Campbell again, Duke has a handful of key players who could miss the game at Kansas, including Vince Oghobaasse, Virginia is likely to be without
Vic Hall
, and Boston College will be without defensive tackle Damik Scafe. Not good news for any of those teams. It looks like UNC might -- might -- get Jonathan Cooper back on the offensive line. That would be a huge help.
Here are the full reports:
BOSTON COLLEGE
FB James McCluskey (Achilles) – OUT
LB Will Thompson (shoulder) – DOUBTFUL
WR Ifeanyi Momah (knee) – DOUBTFUL
LB Mike McLaughlin (Achilles) – DOUBTFUL
DT Damik Scafe (Neck/Shoulder) – DOUBTFUL
CLEMSON
Out for the Season
J.K. Jay, OT, back
Probable
Michael Palmer, TE, hip
DUKE
RB Re'quan Boyette (ankle) -- Probable
TE Danny Parker (ankle) -- Probable
RB Jay Hollingsworth (ankle) -- Questionable
DT Vince Oghobaase (leg) -- Questionable
WR Conner Vernon (ankle) -- Doubtful
RB Kyle Griswould (leg) -- OUT
CB Randez James (hand) -- OUT
S Anthony Young-Wiseman (knee) -- OUT FOR SEASON
FLORIDA STATE
OUT
OT Antwane Greenlee (knee)
LB Aaron Gresham (knee)
DT Demonte McAllister (knee)
DT Justin Mincey (knee)
OT John Prior (knee)
LB Vince Williams (back)
QUESTIONABLE
RV Korey Mangum (shoulder)
MARYLAND
Out for season:
Nolan Carroll (leg)
Out:
Louis Berman (leg)
Bruce Campbell (foot)
Jamari McCollough (foot)
Caleb Porzel (leg)
Joe Vellano (foot)
Probable:
Tony Logan (shoulder)
NORTH CAROLINA
Out (Season)
Carl Gaskins OL Knee
Matt Merletti S Knee
Out (Game)
Lowell Dyer C Shoulder
Dwight Jones WR Knee
Zack Pianalto TE Foot
Ryan Taylor TE Knee
Doubtful
Linwan Euwell LB Ankle
LeCount Fantroy CB Thigh
Questionable
Jonathan Cooper OG Ankle
Devon Ramsay RB Thigh
NC STATE
OUT FOR SEASON
Mario Carter, TE - knee
Denzelle Good, OL - shoulder
Nate Irving, LB - leg
Colby Jackson, FB - knee
Everett Proctor, QB - shoulder
OUT
Jamelle Eugene, HB - knee
Clem Johnson, S - thigh
Jeff Rieskamp, DE - hip
Jay Smith, WR - flu
Jake Vermiglio, OT - lower leg
Javon Walker, DB - knee
Julian Williams, OG/OT - flu
Johnson will be replaced by either Brandan Bishop or Justin Byers; Williams will be replaced by Andrew Wallace.
VIRGINIA
Out
Bobby Smith (knee)
Doubtful
Vic Hall (hip)
Questionable
Mikell Simpson (leg)
Probable
Denzel Burrell (hip)
BJ Cabbell (ankle)
Nate Collins (knee)
Matt Conrath (spine)
Chris Cook (hip)
John-Kevin Dolce (foot)
Ausar Walcott (knee)
VIRGINIA TECH
Greg Boone (SC joint sprain) - probable
Stephan Virgil (knee) - questionable
September, 3, 2009
9/03/09
11:00
AM ET
By
ESPN.com staff
| ESPN.com

Posted by ESPN.com's Heather Dinich
It's not that NC State coach Tom O'Brien is concerned about his secondary, he just doesn't quite know what to expect.
He's not the only one.
The starting lineup for tonight's game against South Carolina is comprised of redshirt freshman C.J. Wilson at field corner, redshirt sophomore free safety Justin Byers, senior safety Clem Johnson and redshirt senior Koyal George. They have combined for 14 starts, one former walk-on receiver and one formerly broken jaw. While much attention has been paid -- and deservedly so -- to the huge void left at linebacker by the loss of Nate Irving, the Pack's unproven secondary might be the bigger question for NC State's defense.
They'll be without injured cornerback DeAndre Morgan, who is the most experienced of the group, but lost the job to Wilson this summer and has an ankle injury. Also missing from the group is strong safety Javon Walker, who tore his ACL in 2007 and missed 2008 as he continued to rehab from reconstructive knee surgery. And sophomore cornerback Dominique Ellis, who played mainly on special teams, decided to transfer in July.
"I think our depth is OK," O'Brien said. "The inexperience is what we're going to have to play with. C.J. Wilson earned the right to start in the game. He would've started whether Morgan was healthy or not. Rashard Smith is a freshman that's come in and he'll be our starting nickelback. He's earned that position. He's very capable, but along with those freshmen you just don't know what's going to happen Thursday night. If they continue to play like they practiced and continue to play like they did in scrimmage situations, I think they'll be fine."
The players are well aware of the questions outsiders have about them. Johnson said even he considered the defensive line to be the strength of the defense right now.
"We definitely do have something to prove, just for the simple fact that everyone expects us to be the weakest link of the defense," he said. "We're going to go out there and try to focus on what we're supposed to be doing, executing and making plays."
Johnson, a senior who played in just eight games last year after transferring from Valley Forge Military College and suffering a broken jaw in the preseason, is suddenly the veteran of the group. He showed the potential to be an impact player when he was healthy with two pass breakups and two interceptions. He returned from his broken jaw against Boston College on Oct. 4, and was playing well before he injured his ankle in the first half against North Carolina.
George, formerly a walk-on wide receiver, moved to the secondary and earned a scholarship last spring. He earned the starting job at corner last year against Florida State and Miami, but played just one snap against the Hurricanes.
"Me and Koyal are both on the boundary side, and right now I have no worries about him playing well on Thursday," Johnson said. "He just has the natural ability of a corner. I think he has an edge on understanding routes. I feel really comfortable with him as the boundary corner on my side."
Wilson said he thinks they'll match up well against sophomore quarterback
Stephen Garcia
, who has been inconsistent during his career so far but is the only quarterback on the Gamecocks' roster with any experience. He started three games last year and was 1-2 with a win over Tennessee.
"We're very talented back here," Wilson said. "We might not be as experienced as them, but we have good enough athletes and our coaches know the game real well. Listening to them and their coaching points, we should be fine come Thursday."
July, 7, 2009
7/07/09
11:10
AM ET
By
ESPN.com staff
| ESPN.com
Posted by ESPN.com's Heather Dinich
When NC State's coaches first saw the pictures of linebacker Nate Irving's car following his recent accident, the general consensus was it's a blessing he's even alive.
| | |
| --- | --- |
| | |
| | Sean Meyers/Icon SMI |
| | It's unclear how much of a contribution linebacker Nate Irving will be able to make this season. |
Now that Irving is out of the hospital, and coaches are on vacation this week, the initial shock of it has been somewhat absorbed. When they get back, though, they'll have to do what they've grown all too accustomed to doing -- move on.
Irving's return hasn't been determined, but considering the severity of the one-car accident -- a fractured leg and a collapsed lung -- it would be hard to imagine he'll be back anytime soon. If it were up to Irving, he'd have been back on the field by now. He's hungry for the NFL, and returned for his redshirt junior season to better prepare himself for it. Irving was having a great summer and buying into the workouts, and poised for a breakout season.
But he might not have that chance now.
Irving would be tough to replace because he's more than just a hard hitter. He's also got a nose for the ball, and set a record for interceptions by a linebacker with four. He's got that God-given ability, which is something you can't just replace.
The good news for the Pack is that Irving's backup in 2008, Dwayne Maddox, played 308 snaps last year when Irving was injured. Irving injured his leg against East Carolina and then missed the next two games. He hurt his ankle just 16 snaps into the Florida State game and missed the following weekend at Maryland.
Maddox was the only true freshman to start on defense last year, and he did so four times. He didn't play in four of the last five games of the season when Irving was healthy and moved to strongside linebacker this spring. Terrell Manning, Sterling Lucas and Audi Cole will help give the position some depth. Without Irving, the linebackers will look a lot younger.
Possibly more of a concern is the experience in the secondary. With the transfer of Dominique Ellis, who could have been a potential starter at the boundary corner, the depth took a hit. If Javon Walker, who missed his second spring after sitting out 2008 with a knee injury, comes back strong at safety and they move Justin Byers around, it might help. The staff feels good about the talent, but experience remains a question.
The best-case scenario would probably be for Irving to make a comeback at some point in the season. If not, Maddox will have to take over, which he has proven capable of. Unfortunately for NC State, they've already had to handle this situation.
May, 26, 2009
5/26/09
9:00
AM ET
By
ESPN.com staff
| ESPN.com
Posted by ESPN.com's Heather Dinich
Each team is going to need a little bit of help this fall (some more than others). Here's a look at where everyone in the ACC needs the most help heading into summer camp:
BOSTON COLLEGE -- Quarterback. It's easily the biggest question mark in Chestnut Hill, and it will also be one of Frank Spaziani's first major decisions as head coach. Regardless of whom he picks -- Dominique Davis, Codi Boek or Justin Tuggle -- experience will be at a minimum.
CLEMSON -- Wide receivers. Somebody needs to help Jacoby Ford, and Aaron Kelly and Tyler Grisham are no longer around to do it. Xavier Dye didn't quite have the consistency he'd hoped for this spring. Marquan Jones and Terrence Ashe could also be factors.
DUKE -- Offensive line. The Blue Devils lost three starters there and moved a fourth (Kyle Hill from left guard to left tackle), so it will have an entirely new look. The one player back in his original position is center Bryan Morgan.
FLORIDA STATE -- Receivers. FSU is waiting until the legal process unfolds to determine the length of Rod Owens' suspension, and it's uncertain how quickly Taiwan Easterling will be cleared to play after an injury to his Achilles. Bert Reed, Louis Givens and Jarmon Fortson will be heavily depended upon.
GEORGIA TECH -- Linemen. The Yellow Jackets have to replace three of four starters on the defensive line, and injuries to Cord Howard, Dan Voss and Nick Claytor slowed the progress on the offensive line this spring.
MARYLAND -- Offensive line. The Terps lost three starters and will have four players in new positions. Phil Costa should be the leader of an otherwise inexperienced group.
MIAMI -- Linebacker depth. There were a few position changes, and Colin McCarthy missed the spring. Sean Spence is proven, but depth remains a concern.
NORTH CAROLINA -- Receivers. This group had to be completely rebuilt, as UNC lost players who accounted for 17 of 21 receiving touchdowns last year. Greg Little had a good spring and should be the leader now, and freshman Joshua Adams benefitted from enrolling early.
NC STATE -- Safety. This is coach Tom O'Brien's biggest concern, and the Pack need Javon Walker, who tore his ACL and missed the spring, back and healthy. Clem Johnson played well last year despite being hindered by several injuries. O'Brien is looking for more from Jimmaul Simmons and Justin Byers.

VIRGINIA -- Linebackers. The backups to Antonio Appleby, Jon Copper and Clint Sintim rarely played, as Al Groh wanted to keep his best players on the field. Darren Childs, Steve Greer, Aaron Taliaferro, Cam Johnson, and Darnell Carter will have to grow up quickly.
VIRGINIA TECH -- Kicker. For the third straight year, Frank Beamer is in search of a new kicker, this time to replace Dustin Keys. Matt Waldron was the leading candidate out of the spring, but the competition is wide open.
WAKE FOREST -- Linebackers. Gone are Aaron Curry, Stanley Arnoux and Chantz McClinic. Introducing Gelo Orange. Yes, that's his name. Orange, along with Hunter Haynes, Jonathan Jones and a host of others have some big shoes to fill.
October, 3, 2008
10/03/08
6:15
PM ET
By
ESPN.com staff
| ESPN.com
Posted by ESPN.com's Heather Dinich
NC State cornerbacks Jeremy Gray and DeAndre Morgan each played 81 snaps last weekend against South Florida, more than anyone else on the roster. Safety JC Neal played 77 snaps, the second most of anyone on defense. And safety Justin Byers was in on 74 plays, the third-most on defense.
It's safe to say NC State's starting secondary could use a break.
Enter Clem Johnson.
The junior college transfer broke his jaw in the third scrimmage of the season, just as he was moving into a starting role, and wasn't expected to return. He lost between 15-20 pounds, but within 48 hours after his braces were removed, Johnson gained eight of it back. He has since fully recovered and played sparingly for the first time last weekend against South Florida.
Now the staff is hoping to gradually work him back into the rotation over the next few weeks.
"It's a whole new process for him," NC state coach Tom O'Brien said. "We're starting all over with him. He played a little bit last Saturday and hopefully we'll be able to play him a little bit more this Saturday. So it's part of a process now to get him back. ... If we had an open week we could speed the process up, but it's rather difficult going game to game."
Odds are it would've gotten even more difficult, though, without him.
September, 20, 2008
9/20/08
1:34
PM ET
By
ESPN.com staff
| ESPN.com
Posted by ESPN.com's Heather Dinich
NC State caught a break on Justin Byers' interception when the official review determined he was down before ECU stripped the football from him, but the Wolfpack lost a key member of their defense when Nate Irving left the game with a leg injury. A school spokesman told me Irving's return in the second half is questionable.
The biggest question in this game is why Harrison Beck keeps coming in and interrupting Russell Wilson's rhythm. Beck had an interception returned for a touchdown -- the play that was the difference in the first half -- and Beck also fumbled. I'm not sure why the staff is using the quarterbacks like this, or why they're using its backup at all.
Last year, this game was a turning point in NC State's season, and the Wolfpack were in a similar situation with injuries. But a talented South Florida team is next on the schedule, and no breaks after that. Losing Irving would be another huge blow, as he has been arguably their best playmaker on both sides of the ball so far. Without him, they lose their identity on defense. And by continuing to switch quarterbacks, the staff isn't helping the team find one on offense.
July, 18, 2008
7/18/08
11:30
AM ET
By
ESPN.com staff
| ESPN.com
Posted by ESPN.com's Heather Dinich
We're almost through the league, as I break down the remaining spots up for grabs at each school. Today it's the Wolfpack's turn. Here's a look at the position battles to watch this summer in Raleigh:
Quarterback -- Returning starters Harrison Beck and Daniel Evans haven't been counted out just yet, although Evans missed some time this spring after shoulder surgery. Russell Wilson had a promising spring, but has spent his career thus far on the scout team. Justin Burke also got a fair amount of reps in the spring. There are also high expectations for true freshman Mike Glennon, who hasn't taken an official practice snap yet.
Running back -- Yes, there is talent and experience here, but will anyone separate himself? Two guys return with more than 1,000 career rushing yards in Toney Baker and Andre Brown, and Jamelle Eugene rushed for 667 last year with five touchdowns. He started the last six games of the season and averaged 83.8 yards a game in the last seven games.
Offensive line -- There are three returning starters, but it's still a work in progress. Former defensive linemen Ted Larsen (center) and John Bedics (left guard) are penciled in as starters, but neither of them has taken a snap on offense yet in a college game. Jake Vermiglio moved to guard behind Bedics. Andy Barbee, a redshirt junior, was a longtime backup at center.
Linebacker -- All three linebacker spots could be wide open. The surest thing to a lock might be weakside linebacker Nate Irving, who started four of the last five games. Middle linebacker Ray Michel started the last game of 2007 and has played in 24 games in his two years. He has the most game experience of the top six on the depth chart at the three linebacker spots. Thomas Barnes played in 10 games last year as a backup and scored a touchdown on his third collegiate snap (against Wofford on a fumble return).
Safety -- Four players are after two spots. Two redshirt-freshmen -- Justin Byers and Jimmaul Simmons -- are competing with J.C. Neal and Javon Walker, who both have legitimate experience.