July, 24, 2014
7/24/14
4:00
PM ET
Let's begin with a little either-or exercise.
Below are the basic stats for two defensive backs — tackles, tackles for loss, interceptions and passes defended. If forced to choose Player A or Player B for your team, which one would you want?
Player A:
121 tackles, 9.5 TFL, 4 INTs, 8 PD
Player B:
49 tackles, 2.0 TFL, 1 INT, 2 PD
Look over the numbers for a minute or 10, but really, it should't take that long. It's pretty clear that by any of our regularly deployed metrics, Player A is a clear frontrunner, right?
But here's where it gets a little tricky. Player A is Duke safety
Jeremy Cash
, and those gaudy numbers from 2013
earned him a spot on the media's preseason All-ACC team
.
[+] Enlarge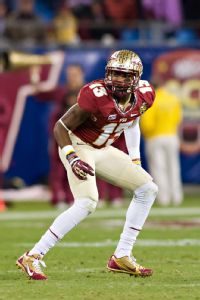 Jeremy Brevard/USA TODAY SportsFlorida State's Jalen Ramsey isn't on the preseason All-ACC team. Was it an oversight?
The funny thing, however, is after that happened, a whole host of fans and media erupted in confusion because of the clear oversight that Player B, who happens to be Florida State's
Jalen Ramsey
, was left off the squad.
So how is it that in the eyes of many experts, Cash seems not just the wrong choice compared to Ramsey, but a ludicrous one?
I'll admit, I was one of the many offering confusion that Ramsey could miss out on first-team All-ACC status, and my basic rationale was two-fold. On one hand, Ramsey passes the eye test. He looks like a great player, was a five-star recruit and coaches and scouts gushed about his quick grasp of Florida State's defense. He was a true freshman last season and started every game, playing both safety and corner. Secondly, Duke's defense, which did post some gaudy stats when it comes to tackles and takeaways, was also pretty darned bad. Florida State's secondary allowed 90 fewer yards per game and 11 fewer passing touchdowns than Duke. So shouldn't the Seminoles' defensive backs earn the rewards?
It's an argument that makes sense, too, which only goes to underscore how limited our typical metrics for evaluating defensive backs are.
Cash has more tackles, more interceptions, more passes defended. Ramsey was a key figure in a secondary that was perhaps the best in the country. But maybe Cash benefited from opposing QBs attacking him more often because they weren't concerned he'd beat them. Or maybe Ramsey benefited from having so many elite players around him. For every argument, there's a perfectly reasonable counterargument.
Of course, we also don't have to live with just those basic metrics, either. We wanted to dig a little deeper.
Stats LLC uses a stat called "burn rate" to track defensive backs. It looks at the number of times they were targeted and how many of those passes were completed. This should be a far better way of isolating a single DB, right?
So, using those numbers, how does our theory about Cash being a more ripe target for opposing QBs hold up? Actually, not too well. According to Stats LLC, Cash was targeted 41 times last season, 32nd-most in the ACC. Ramsey was targeted a tick less — 35 times, 47th-most in the ACC. So yes, it does speak highly of Ramsey that a true freshman was targeted, on average, just 2.5 times per game, but the numbers also don't entirely serve the simple narrative that Cash's counting stats (tackles, INTs, etc.) benefited from more opportunities.
But if Cash wasn't targeted significantly more often, surely he didn't snuff out those targets quite as well as Ramsey. Again, the numbers don't make the case quite so clear.
Cash's burn rate (43.9 percent) ranked 22nd in the ACC and was better than Ramsey's (45.7 percent, 27th in ACC). Cash picked off four passes, the 10th-best rate in the ACC, to Ramsey's one. Cash defended 19.5 percent of passes, good for 25th in the conference and better than Ramsey's rate of 5.7 percent (good for 85th). The one area where Ramsey stood out was that, when he was burned, it was rarely for a lot of yards. His 9.7 yards per completion ranked eighth-best in the ACC and his 4.4 yards per attempt was seventh. And, after all, limiting the big plays is the primary job of a safety. Cash allowed 15.2 yards per completion (53rd in ACC) and 6.7 yards per attempt (32nd).
Those last two numbers probably sum the argument up the best. When Cash was good, he was exceptionally good. He made a lot of tackles because his teammates didn't. He made big plays when he had the chance, but he gave up quite a few, too. Ramsey wasn't nearly as flashy and clearly had better teammates around him (
Terrence Brooks
, FSU's other starting safety last season, had the lowest yards-per-completion rate in the ACC) and wasn't tested in the running game nearly as often. He didn't post dynamic numbers because he didn't have to.
So where has all this gotten us?
I'd argue that the numbers prove Cash certainly wasn't a bad choice for first-team All-ACC honors. His play in 2013 and the assumption he'll be better in 2014 more than qualifies him for the honor.
But I'd also argue that Ramsey's vote total (just 13 votes, nine at safety and four at corner, where FSU had him listed on the ballot) was far shy of any of the winners and appallingly low considering his talent.
But hey, a little friendly debate is really the best part of these preseason lists because, regardless of what the numbers say today, odds are they'll all look a lot different by season's end.
And since we tracked down the numbers, here's a quick look at the best burn rates, defended pass rates, and YPC, per Stats LLC, among returning ACC defenders (min. 25 targets).
BURN RATE
1.
Ronald Darby
(Florida State), 33.3%
2.
Maurice Canady
(Virginia), 36.2%
3.
Breon Borders
(Duke), 37.5%
4.
Ant Harris
(Virginia), 37.8%
5. Justin Simmons (BC), 38.1%
PASS DEFENDED RATE
1. Borders (Duke), 37.5%
2. Harris (Virginia), 31.1%
3.
Brandon Facyson
(Virginia Tech), 27.7%
4.
Hakim Jones
(NC State), 27.0%
5. Ray Vinopal (Pitt), 25.7%
YARDS PER COMPLETION
1.
Quayshawn Nealy
(Georgia Tech), 9.3
2.
Cameron Lynch
(Syracuse), 9.6
T3.
Denzel Perryman
(Miami), 9.7
T3. Ramsey (Florida State), 9.7*
5.
Brandon Chubb
(Wake Forest), 9.8
*Note: Ramsey is the best among returning defensive backs. Nealy, Lynch and Perryman are linebackers. The next best returning DBs were Boston College's
Justin Simmons
(10.3), Duke's
Bryon Fields
(11.7) and Miami's
Deon Bush
(11.8).
August, 23, 2012
8/23/12
4:00
PM ET
Now that we are closing in on the start of the season, we have a much better idea of how many true freshmen could make an impact in the ACC this season based on preseason practice time and early depth charts.
Maryland could end up playing the most, and having players who make the biggest impact. You have quarterback
Perry Hills
starting in place of the injured
C.J. Brown
. Highly touted athlete
Stefon Diggs
has had an outstanding preseason camp. Don't forget about running backs
Albert Reid
and
Wes Brown
, who also have looked really good.
Here are a few young players to keep an eye on at each school.
Boston College: Justin Simmons, DB.
Defensive back is an area where Boston College needs help, especially after the loss of
Al Louis-Jean
, who's out six to eight weeks with a foot injury. Simmons already has made his presence felt. In a scrimmage last weekend, he had two interceptions. Also watch for defensive back
Bryce Jones
and linebacker
Steven Daniels
.
[+] Enlarge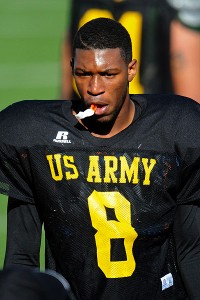 John Albright / Icon SMI The versatile Travis Blanks may line up at a number of positions on defense for the Tigers.
Clemson:
Travis Blanks, DB.
One of the top defensive backs in the country out of high school, Blanks enrolled early and had an impressive spring showing. He has followed that up with a great preseason, and will line up in a variety of positions -- nickelback, cornerback and some linebacker as well. On offense, watch for
Germone Hopper
, who has had some pretty explosive plays this fall.
Duke: Jela Duncan and Shaquille Powell, RBs; Ross Martin, PK.
Duncan and Powell have turned heads during the preseason, and coach David Cutcliffe said he would feel comfortable using both players in the opener against FIU. Martin is sure to get plenty of game experience as the starting kicker this year. Others to watch: receiver
Max McCaffrey
, tight end
Erich Schneider
and safety
Dwayne Norman
, who had an interception return for a touchdown in one scrimmage.
Florida State:
Ronald Darby, CB.
Do not be surprised if Darby ends up starting in the spot vacated by
Greg Reid
. Darby and
Nick Waisome
are competing for the starting job. Coaches like both players, but there is
something special
about Darby. Said coach Jimbo Fisher: Darby is "going to be a very, very good one." Also watch for defensive tackle
Eddie Goldman
and tight end
Christo Kourtzidis
.
Georgia Tech:
Anthony Autry and Micheal Summers, WR.
Georgia Tech only has four other scholarship wide receivers, so that increases the chances for Autry and Summers to play this season. Autry seems to have a slight edge over Summers. Others to watch: defensive back
D.J. White
.
Maryland:
In addition to Hills, Diggs, Brown and Reid, several others could make an impact this year. Punter
Brad Craddock
is competing for the starting position with redshirt freshman
Nathan Renfro
; and cornerback
Sean Davis
could be starting on opening day because he has done well, and there are some injuries on defense.
Miami:
Ereck Flowers, OL.
Flowers is listed as a starter right now at right tackle, helped in part because of
Seantrel Henderson
's absence. Offensive line coach Art Kehoe has been
extremely impressed
. Others to watch: defensive back
Tracy Howard
and running back
Duke Johnson
. Howard is listed on the two-deep behind
Ladarius Gunter
but has drawn raves so far and so has Johnson, who should also return kickoffs this year.
Deon Bush
is in the mix for a starting safety spot.
North Carolina: Quinshad Davis, WR.
Davis missed some early practice time because of a medical issue but has returned in the last week and has a big chance to make some noise. The Tar Heels are lacking depth at this position, and the way Larry Fedora likes to spread the ball around, he will take as many good receivers as he can.
NC State:
Charlie Hegedus, WR.
Receiver is a position of need for the Wolfpack, and Hegedus has seen more reps during fall camp with the injury to
Bryan Underwood
. One player NC State hopes you do not see this year is backup quarterback
Manny Stocker
, a true freshman behind veteran
Mike Glennon
.
Virginia:
Maurice Canady, CB.
Coaches are extremely high on Canady, who is in the mix to earn a starting spot in a secondary that has to be rebuilt this year. He has been working with the first team recently. Others to watch:
Michael Moore
at outside linebacker, and
Eli Harold
at defensive end.
Virginia Tech: J.C. Coleman, RB; Donaldven Manning, DB.
Both players enrolled in January and are virtual locks to play this season. Coleman has separated himself from another true freshman,
Trey Edmunds
, despite a hand injury. He has had an outstanding fall camp. Manning has had to deal with a hamstring injury, but his early enrollment works in his favor.
Wake Forest:
The Deacs rarely play true freshmen. But if there is one player who has a shot this year, it is defensive end
Tylor Harris
, who has stood out this fall for his pass-rushing ability -- something Wake Forest needs help improving this year.
August, 20, 2012
8/20/12
10:00
AM ET
Not every school in the ACC gives scrimmage reports, but for those that do, we will gladly post the highlights. Here's a look back at what happened in the ACC this weekend, according to each school's report:

Boston College
Offensive highlights:
Junior receiver
Alex Amidon
had seven catches for 84 yards, including a 29-yard touchdown reception, in the situational scrimmage Sunday. The scrimmage featured six end-of-half/fourth-quarter situations with limited time on the clock and a limited number of timeouts.
Chase Rettig
went 18-of-32 for 168 yards, one touchdown and two interceptions.
Defensive highlights:
Justin Simmons
had two interceptions off second-team quarterback
Josh Bordner
.
Manuel Asprilla
intercepted Rettig at the goal line, and linebacker
Nick Clancy
intercepted a Rettig pass that was deflected by
Mehdi Abdesmad
a few plays later.
Special teams:
Gerald Levano
punted four times and averaged nearly 48 yards per punt. His first punt landed at the 2-yard line, while his second attempt went 60 yards. Kicker
Nate Freese
made his only field goal attempt, from 40 yards, and is now 6-for-6 on field goal attempts in the preseason.
Quotable:
"We got a lot of nice young guys on this football team, and if they come through and play well, good things can happen, and Justin [Simmons] is one of them," coach Frank Spaziani said. "He's as advertised. We did our homework and everything that you do on kids. He's a good prospect."

Clemson
Offensive highlights:
Tajh Boyd
threw for 218 yards and three touchdowns Saturday, while
Martavis Bryant
had four catches for 97 yards and had two touchdowns. Boyd was 13-of-22 for 218 yards, three touchdowns and two interceptions. Backup
Cole Stoudt
went 4-of-9 for 61 yards and led a touchdown drive on his first possession.
Andre Ellington
had an 8-yard touchdown run, while
Roderick McDowell
led all running backs for a second straight scrimmage with 65 yards on four carries.
Defensive highlights:
Coach Dabo Swinney praised the defensive line, where
Josh Watson
,
Grady Jarrett
and
DeShawn Williams
made plays.
Xavier Brewer
made a brilliant breakup of a long pass and added five tackles.
Jonathan Meeks
added an interception.
Tony Steward
made a big play with a 25-yard interception return.
Special teams:
Williams had a blocked a field goal. Backup kicker Spence Benton made a 53-yard kick that could have been good from 63 yards.
Quotable:
"We have two weeks to get dialed in," Swinney said. "We are going to turn the page on Monday after our last two-a-day (practices) and start getting ready for Auburn. We will have our guys penciled in on where they need to be."

Duke
Offensive highlights:
Quarterback
Brandon Connette
caught a 15-yard touchdown pass from
Sean Renfree
and ran for another in a 95-snap, controlled scrimmage Friday night at Wallace Wade Stadium. Renfree went 14-of-21 for 116 yards with one touchdown and one interception. Freshman
Shaquille Powell
had eight carries for 30 yards, while
Jela Duncan
had 28 yards on nine attempts. Garrett Patterson, who moved from defensive back to receiver this week during practice, had five receptions for 80 yards.
Defensive highlights:
Cornerbacks
Lee Butler
and
Tony Foster
each had interceptions while linebacker
Deion Williams
recovered one fumble. Freshman defensive end
Michael Mann
had one sack and one forced fumble.
Special teams highlights:
Freshman kicker
Ross Martin
made field goals of 43 and 48 yards and converted his only extra-point attempt.

Georgia Tech
Offensive highlights:
Broderick Snoddy
had a 70-yard touchdown run on the second series, while quarterback
Vad Lee
threw two touchdowns to A-back
B.J. Bostic
. Lee later added a touchdown run as he continues to work at quarterback and A-back.
Synjyn Days
and freshman
Justin Thomas
also took snaps at quarterback, and each led scoring drives.
Defensive highlights:
Nick Menocal
had an interception he nearly returned for a touchdown.
Jimmie Kitchen
recovered a fumble, while defensive lineman
Anthony Williams
had two sacks.
Special teams highlights:
Justin Moore
had a 29-yard field goal, while
David Scully
made a 31-yard field goal and all five of his extra-point attempts. There was no punting on Saturday.
Quotable:
"The guys are ready to play someone else," quarterback
Tevin Washington
said. "We've been hitting each other for two weeks and all summer doing drills against each other. Guys are just ready to go and get some new faces in front of us."

Maryland
Freshman
Stefon Diggs
continued to impress, as he had three first-half touchdowns -- a 68-yard punt return, a 98-yard kickoff return and an 11-yard reception. Quarterback
Perry Hills
ran the first-team offense and led Maryland to scores on three of his five drives.
On the opening drive, Hills took the Terps on an 18-play, 76-yard touchdown drive, He went 5-of-6 for 27 yards on the drive and also rushed for 36 yards, including a 16-yard touchdown run.
"I thought Perry [Hills] had a good day," coach Randy Edsall said. "I thought he did some good things. Of course there's going to be plenty of things that he could learn from, and get better, but I think that we didn't have any issues with delay of game, really didn't have any false starts. When you talk about the mechanics and the operation of the offense I thought he handled it really well."

Miami
The Hurricanes' scrimmage Saturday was cut short in the middle of the second quarter because of lightning in the area. Among the highlights in the abbreviated scrimmage:
Mike James
and
Duke Johnson
each had touchdown runs, and
Kelvin Cain
recorded a sack in the end zone for a safety.
Virginia Tech

Offensive highlights:
Logan Thomas
went 8-of-15 for 112 yards and a score, while backup
Mark Leal
went 6-of-16 for 111 yards, with a touchdown and an interception.
Kevin Asante
led all receivers with four catches for 79 yards, while
Corey Fuller
caught three passes for 68 yards. The Hokies also rushed for 174 yards.
J.C. Coleman
played with a broken hand and had 54 yards -- 52 coming on one run -- and
Trey Edmunds
added 45.
Tony Gregory
rushed for 36 yards, including a 26-yard touchdown run. Projected starter
Michael Holmes
had three carries for 21 yards.
Defensive highlights:
The projected first-team defense allowed a little more than 120 yards in four series (24 plays) and gave up just two field goals. Walk-on
Zach Snell
had six tackles, while
Ronny Vandyke
had five.
Desmond Frye
and
Antone Exum
each recorded four. The defense had five total sacks and
Bruce Taylor
had an interception.
Special teams highlights:
Cody Journell
made two field goals and missed one, while
Brooks Abbott
made one and had a 37-yarder blocked by
Kyle Fuller
.
Quotable:
"I thought it was one of the more productive offensive first scrimmages we've had around here," coach Frank Beamer said. "I think we did some good things, and I think we'll see some things we can improve. Overall, I think the effort was good. I always say this, but it's hard to come out pleased because if the offense makes plays, you're worried about your defense. If the defense makes plays, you're worried about your offense. Overall, I thought it was a good first scrimmage."