April, 25, 2013
Apr 25
3:00
PM ET
Clemson took a big hit when it lost starting tight end
Sam Cooper
with a knee injury in the spring game, most especially from an experience standpoint.

Without him, the Tigers are pretty green at the position.
On the
post-spring depth chart
released Wednesday, the Tigers had sophomore
Stanton Seckinger
listed with the first team. He is the only tight end on the depth chart with any game experience, having played in eight contests last season as a freshman.
Jordan Leggett
, who had an outstanding spring game with seven catches for 97 yards and a score, just enrolled in January.
Jay Jay McCullough
is a redshirt freshman.
Neither one can match Cooper's size, either. Leggett is the biggest one, at 6-foot-6, 235 pounds. Seckinger is listed at 210 pounds.
"The biggest loss with Coop is just that veteran leadership, that savviness that comes with playing," coach Dabo Swinney said on the ACC coaches call Thursday. "And then also, he's a 250-something pound thumper at the point of attack. So we've got to develop those guys in a hurry. We've got to ramp their development up. We were bringing them along because we had the luxury of doing that with a guy like Coop, but now their development is going to have to speed up and we've got to force feed them a little more than we would have. Athletically, they're talented and capable of making plays, but we're going to have to challenge them and grow them up in the run game."
Here are a few other quick notes from the post-spring depth chart:
April, 15, 2013
Apr 15
4:00
PM ET
The news got worse for Clemson on Monday, as the school announced starting tight end
Sam Cooper
and backup quarterback
Chad Kelly
had each torn their anterior crucial ligaments in the spring game this past weekend.
While the news on Kelly
was expected
, the news on Cooper came as more of a surprise. Following the game Saturday, coach Dabo Swinney did not believe the Cooper injury to be as serious. But further tests revealed the tear. Now, the Tigers go into 2013 short at both positions.
There is no timetable yet for their return.
"This is very difficult for both players," Swinney said in a statement. "Both had really worked hard and done well this spring. As far as Sam Cooper is concerned, this was certainly going to be his time at tight end. We have had quite a run of production at tight end the last few years with Michael Palmer, Dwayne Allen and
Brandon Ford
."
Cooper was injured after making a 5-yard yard reception from Kelly on the 11th play of the scrimmage. Kelly, who was competing for the backup quarterback job with
Cole Stoudt
, was hurt nine plays later at the end of a 17-yard run. Kelly finished the day 6-of-7 for 43 yards and a touchdown, and had four carries for 23 yards.
Clemson now has two scholarship quarterbacks for 2013 -- starter
Tajh Boyd
and Stoudt. Without Cooper, all eyes turn to true freshman Jordan Leggett, an early enrollee who turned some heads this spring. Leggett had seven catches for 97 yards and the game-winning touchdown catch in the spring game.
Other options include Darrell Smith,
Stanton Seckinger
and redshirt freshman
Jay Jay McCullough
.
Clemson tight ends have caught 218 passes for 2,474 yards and 32 touchdowns over the past four years. Clemson has had the first-team All-ACC tight end three of the last four years. Dwayne Allen won the John Mackey Award in 2011 as the nation's top tight end.
"Sam is the most experienced tight end we have and this is a tough loss," Swinney said. "He was coming into his own. We have some young, talented tight ends who are now going to have to step up."
Offensive lineman
Kalon Davis
also suffered a knee injury in the first quarter, but his injury is not serious.
April, 15, 2013
Apr 15
11:00
AM ET
Seven ACC teams held their spring games this past weekend as practice begins to slowly wind down until August.
Heather
provided her Pitt recap
earlier this morning. Here is a quick look at the headlines from the other spring games across the league:

CLEMSON
The Tigers suffered a big hit during their spring game last Saturday, when the team lost backup quarterback
Chad Kelly
to
an apparent torn ACL
. Kelly was in a heated competition with
Cole Stoudt
for the backup job, but it now appears he could be lost for the season. Coach Dabo Swinney said Kelly was hurt while making a cut at the end of a run. Starter
Tajh Boyd
was held out of the game so the Tigers could get a good look at Kelly and Stoudt. The backup last season, Stoudt set a Clemson spring game record with 304 yards passing and threw four touchdown passes, but his White team lost to the Orange team 34-26 in front of a spring-game record crowd of 30,000.
Sammy Watkins
led all receivers with seven catches for 156 yards and two scores, while
Grady Jarrett
had three sacks.
Vic Beasley
had two sacks, giving him 10 sacks in four scrimmages.
Tight end
Sam Cooper
and tackle
Kalon Davis
also sustained knee injuries in the game, but they are not believed to be as serious.

DUKE
Anthony Boone
and
Jamison Crowder
were the stars of the spring game as the Blue Devils showed a glimpse of how good they can be on offense this season. Boone went 18-of-30 for 273 yards with two touchdown passes to Crowder, and two interceptions. Crowder finished with four catches for a team-high 71 yards as the Blue team beat the White 27-12.
Blue team end
Britton Grier
had two sacks and seven tackles, including three for loss.
Lucas Fisher
,
Sam Marshall
and
Keilin Rayner
each added sacks for the Blue team.
"I like where we're headed," coach David Cutcliffe said. "We're building some depth. I think we can be a more energetic defense. The big thing is focusing on why we give up big plays, but trying to play defense, trying to force longer drives. It's going to be interesting film to study. We got a lot out of this game."

FLORIDA STATE
Coach Jimbo Fisher did not name a starting quarterback after the spring game, so the competition will go on into the offseason. But highly touted
Jameis Winston
sent jaws dropping
with his standout performance, going 12-of-15 for 205 yards with two touchdown passes before leaving the game early to play in the Noles' baseball game against Duke.
"He came in there and he took advantage of opportunities," Fisher said. "That's what you got to do. You've got to go make plays and he's done a nice job of making plays. He took the opportunity to take the day with the stage he had and I thought he played pretty well for the most part."
Winston and
Clint Trickett
split time with the first team for most of the afternoon. Trickett was just 10-of-16 for 98 yards and an interception before switching to the second team, where he was 12-of-16 for 161 yards and a touchdown.
Jacob Coker
, also competing for the starting job, went 15-of-26 for 186 yards, a touchdown and two late interceptions.

MARYLAND
Running backs
Brandon Ross
and
Albert Reid
took center stage, as both ran for over 100 yards in a 13-13 tie between the White and Red teams on Friday night.
Ross had 123 yards on 10 carries, while Reid had 138 yards on 23 carries in the game.
Wes Brown
, who missed the spring with a shoulder/ankle injury, is expected to be healthy in the fall so the competition at this position is going to be an intriguing storyline during the offseason.
"I limited what the defense could do. It was still good to see them," coach Randy Edsall said. "That is what we have seen out of Brandon and Albert all spring along with how they run. The one thing we have to be able to do is run the ball efficiently. When we do that it opens up the passing game. With the skill guys we have at wide receiver it will make us more productive and a chance to get big plays. They ran the way they have been running all spring."

MIAMI
Stephen Morris
threw for a game-high 256 yards and four first-half touchdowns to lead the Orange team to a 35-20 win over the White team. Meanwhile, ACC freshman of the year
Duke Johnson
led all rushers with 120 yards on 10 carries as the Hurricanes showed how explosive they can be on offense this season.
"We're pretty dominant," receiver
Rashawn Scott
told local reporters
. "Everyone is communicating and … no one is frustrated. If we mess up, we all talk instead of yelling at each other."
At halftime, the Canes handed out four Spring awards to
Nantambu-Akil Fentress
(305 walk-on award),
Olsen Pierre
(defensive most improved player),
Danny Isidora
(offensive most improved player) and
Herb Waters
(special teams most improved player).

NORTH CAROLINA
Bryn Renner
went 16-of-27 for 216 yards and three touchdowns to lead the Blue team to a 34-10 win over the White. The running back who took center stage in the game was not
A.J. Blue
or
Romar Morris
but true freshman Khris Francis, who ran 20 times for 101 yards to lead the White team. Blue had eight carries for 30 yards, and Morris had 15 carries for 80 yards to lead the Blue team as the Tar Heels work to replace
Giovani Bernard
. Blue added a 33-yard touchdown reception on a screen pass.
"I thought all three of our running backs played well," coach Larry Fedora said. "But Khris, for his first time out there in a game-type atmosphere, he did a good job. He hit some holes and exploded in them. One time I thought he got stood up. I said something to him and the next time he's got his shoulders down and he's running north-south. That's what he's got to do, so he did some nice things."
Defensively, end
Kareem Martin
had seven tackles, including four sacks.
Travis Hughes
added a team-high 14 tackles, including two sacks.
October, 5, 2012
10/05/12
11:00
AM ET
September, 27, 2012
9/27/12
8:25
PM ET
Clemson All-America wide receiver
Sammy Watkins
will not make the trip to Boston College
because of an abdominal virus, the school announced Thursday. Second-team offensive guard
Kalon Davis
pulled a hamstring on Thursday and also will miss the trip. It was announced earlier in the week that wide receiver
Martavis Bryant
would not travel due to a groin injury.

"Sammy has been practicing, but on Tuesday and Wednesday took himself out late in the practice because he was not feeling well," said coach Dabo Swinney, according to the school's release. "Today he was worse and after going to the doctor it was determined that he needed to stay here this weekend.
"With Sammy and Martavis out of the lineup we will bring
Germone Hopper
(freshman wide receiver who has not played this year) with us on the trip. We will only use him in case of an emergency. It is still our intention to redshirt him."
When Watkins was suspended for the first two games of the season,
Charone Peake
and
Adam Humphries
combined for 19 receptions.
September, 19, 2012
9/19/12
2:00
PM ET
Heading into this season, the offensive lines at both Florida State and Clemson were two of the biggest question marks in the ACC. The Tigers had to replace three starters up front, and the Seminoles were coming off a Champs Sports Bowl win against Notre Dame in which four true freshmen were in the starting lineup.
You'd never know it by looking at the stats so far this season, as deceptive as some could be.
As No. 10 Clemson and No. 4 Florida State prepare to face each other in Tallahassee on Saturday, both offensive lines have shown significant improvement through the first three games of the season. Florida State is No. 2 in the country in scoring offense, racking up its stats against two FCS opponents and an overmatched Wake Forest team. Clemson is No. 23 in the country in scoring offense, with its most impressive win coming against Auburn. Both Clemson and Florida State are allowing fewer than two sacks per game.
[+] Enlarge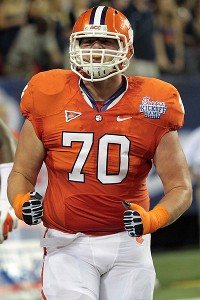 Cal Sport Media via AP ImagesGifford Timothy and Clemson's offensive line could hold the key to victory against Florida State.
Both groups, though, still have something to prove -- particularly at Clemson. The Tigers' offensive line will arguably get its biggest test of the season Saturday when it faces Florida State's defensive line. The Noles are tied for No. 10 in the country with 3.67 sacks per game. How Clemson fares up front could be the key to the entire game.
"It's going to be a tough challenge, no doubt about it," said Clemson coach Dabo Swinney. "But we're going to find out Saturday night one way or another."
Clemson's starting lineup against Auburn was
Dalton Freeman
,
David Beasley
,
Gifford Timothy
,
Brandon Thomas
and
Tyler Shatley
. Timothy was injured on the last offensive play of the game and missed the Ball State game. That opened the door for redshirt freshman
Shaq Anthony
to start and also play the first half against Furman.
Beasley was injured against Ball State, allowing
Kalon Davis
to play most of that game and all of the Furman game. Shatley was injured against Furman and missed the second half. Redshirt freshman
Ryan Norton
played the second half of that game.
Swinney said his offensive line was "pretty average" in last week's 41-7 win against Furman.
"Nothing great," he said, "just OK."
"They are a question mark; they're still a question mark," Swinney said. "I don't think that's changed. … We're a long ways away from being a great offensive line right now."
The good news for Clemson fans is that the starting lineup used against Auburn should be healthy and ready to play at Florida State. And the backups have now had some significant experience. Entering the FSU game, Clemson has eight different offensive linemen who have played at least 98 snaps.
Florida State's improved pass protection has been measurable. So far, the line has allowed three sacks in 194 snaps and 84 pass attempts. All three sacks, though, came against the best competition they've played -- a Wake Forest team that was missing one of its top defensive linemen in injured nose guard
Nikita Whitlock
.
It's still a foreshadowing of improvement since last season, when the Noles allowed 41 sacks in 820 offensive snaps, which amounts to one every 20 plays. Only eight teams in the nation yielded more sacks than FSU in 2011.
There's no question that FSU is also running the ball better. In 2011, the Seminoles produced just 112.2 rushing yards per game -- their lowest average since 2006 -- and managed 1,458 yards on the ground. Through three games the Noles are averaging 279 rushing yards.
The numbers are skewed because they've been racked up against unheralded FCS competition in Murray State and Savannah State, but FSU coach Jimbo Fisher said he likes what he has seen so far.
"I think they're very good players," Fisher said. "They're all very talented. It took a little bit of time to learn, and that's a position that's very hard to adapt to, and we loved them because of their size and athleticism. I think that's where you've got to control both lines of scrimmage -- that's where it's got to start.
"I've been very pleased with them, but I don't think we are close to where we can be," Fisher said. "I think each challenge is bigger and bigger each week."
This one, of course, might be the biggest of the season.
July, 31, 2012
7/31/12
5:00
PM ET
As ACC teams begin to start practicing again, Andrea Adelson and I will have a quick preview of each team to get you caught up on the basics. Next up to open camp …
School:
Clemson
Start date:
Friday

Projected finish at media days
: Second in the Atlantic Division
Biggest storyline:
Wanted: linemen. There is no shortage of talent on this roster, particularly at the skill positions, but when it comes to offensive and defensive linemen, that's where Clemson's entire story will unfold this fall. The Tigers have to replace three starters on both lines, including both offensive tackles, and the team's leading pass rusher from 2011, Andre Branch.
Biggest position battle:
Guards and tackles. The Tigers have an answer at center in veteran
Dalton Freeman
, and
Brandon Thomas
is another returning starter who can play guard or tackle, but beyond that, positions are up for grabs this camp.
Tyler Shatley
made the most of his move from defensive tackle to offensive guard this past spring and ran with the first team.
Kalon Davis
only played 49 snaps last year but could also earn a starting job.
Gifford Timothy
is a sophomore who could also see significant playing time as a tackle.
Who needs to step up:
Malliciah Goodman
, defensive end. Goodman has yet to reach his potential, and the Tigers' defensive line could use him now more than ever. Clemson lost its top three sack producers from a year ago, including 10.5 from Branch. Goodman has five sacks in three years, and only 12 tackles for loss during that span. With only three returning defensive ends on the roster, it's a thin position in desperate need of a playmaker. If Goodman can match his physical gifts with his play on the field, he could be one of the best ends in the ACC.
September, 10, 2010
9/10/10
8:00
AM ET
Here are the injury reports for this week, based on e-mails from the sports information directors that reported:
Notes: Duke had no injuries to report, and because UCF did not release an injury report, NC State didn't. Also, the Duke-Wake Forest game is sold out.
CLEMSON
Brandon Maye, LB, knee, out
Kalon Davis, OT, back, out
Jarvis Jenkins, DT, knee, questionable
Miguel Chavis, DT, ankle, probable
MIAMI
Probable
LB Jordan Futch – Lower Extremity
OL Jermaine Johnson – Upper Extremity
DL Micanor Regis – Upper Extremity
DB Jamal Reid – Lower Extremity
DL Curtis Porter – Upper Extremity
DL Andrew Smith - Upper Extremity
Doubtful
RB
Graig Cooper
– Lower Extremity
Out
LB Kevin Nelson – Upper Extremity
DL Luther Robinson – Lower Extremity
Surgery and Out for the Season
FB
John Calhoun
– Lower Extremity
RB
Darion Hall
– Lower Extremity
DL Jeremy Lewis – Lower Extremity
LB Travis Williams – Lower Extremity
VIRGINIA TECH
Out

Xavier Boyce
(knee)
Chris Drager (knee)
Barquell Rivers (quad)
Lorenzo Williams (foot - season)
August, 6, 2010
8/06/10
8:00
AM ET
Here are highlights from Thursday's practices, as provided by the sports information directors:
CLEMSON
Practices are getting more and more physical at Clemson. After two days of working in helmets and shorts, the Tigers added shoulder pads to their uniform on Thursday for an early evening practice. On Saturday the team will be in full pads for the first time.

The Tigers got through the workout in good health as no injuries were reported. There were a few players who pulled up with cramps late in the practice due to the humid weather conditions, but fewer players had the problem than the previous night.

Swinney says: "We had another good day," coach Dabo Swinney said. "We are getting more and more physical as we work our way to the first day in pads on Saturday. There are some mistakes out there, but we have had a good tempo on both sides of the ball and that is good to see. I loved the spirit we have shown so far."

On the wide receivers: "I know that is the big question on offense, but I am not concerned. It is very close in terms of the competition for playing time. They have all had great moments so far. You want a highly competitive situation and that is what it has been.

"Xavier Dye and Terrence Ashe have had the most experience among the returning guys, but they have been mostly backups. I hope to have several guys involved at that position."

On the offensive line: "I feel good about the first six, the question is who will be seven, eight and nine [players on the second team]. Matt Sanders has been around and has played well. Phillip Price has looked good and is now up to 298 pounds. We also look for Brandon Thomas to make progress. Kalon Davis has made a big change physically since he came here in January. I think he is going to be a terrific player."

Schedule: The Tigers return to the practice fields on Friday and Saturday evening and will take Sunday off. The first two-a-day session is Monday. All practices are closed to the public. Fan Appreciation Day is Sunday, Aug. 22.

FLORIDA STATE
First-year coach Jimbo Fisher was greeted by photographers chronicling the historic moment as he crossed under the arched entrance to the Al Dunlap Practice Fields -- the first time since August 1976 that the Seminoles began a preseason with a new head coach.

"It was a good moment, but you had to put it behind you and go coach," said Fisher.

In all, 103 Seminoles took the field in 90-degree heat, under cloudless skies for the session that ran just over two hours.

"Everyone was excited," said senior quarterback Christian Ponder, who lined up alongside nine returning starters on offense. "Everyone's ready to start the year off. There was a little anxiety in the beginning and it was a little warm, but guys pushed, worked hard and were excited. Finally the season has started. … It's going to be a long camp but we're going to do a lot of work to get better."

Highlights: Ponder connected on a couple perfectly thrown deep balls to sophomore wide receiver Rodney Smith during 7-on-7 drills. Freshman wide receivers Christian Green and Kenny Shaw and junior Bert Reed, and freshman tight end Will Tye, all left impressions with catches in traffic. Ochuko Jenije, sophomore cornerback Greg Reid and junior safety Terrance Parks came up with hustling pass break-ups, while freshman safety Chad Abram collected an interception.

Comebacks: Offensive tackles Antwane Greenlee and safety Avis Commack returned to action on the field after recovering from significant injuries.

Schedule: The Seminoles will practice again Friday at 6 p.m.

WAKE FOREST
The Demon Deacons practiced for more than two-and-a-half hours at the Doc Martin Football Practice Complex on Thursday night. The Deacons ran through a number of standard blocking and passing drills with a good dose of emphasis on the fundamentals.

"What I was impressed with was the enthusiasm of the players and, especially, the enthusiasm of the coaching staff," said coach Jim Grobe. "You can tell that Coach [Ethan] Reeve and his [strength and conditioning] staff did a tremendous job of getting the guys in shape."

On the defense: "What we've got more than anything is an enthusiastic group that is excited about playing defense," said Grobe. "We have better overall team speed on defense. There's some young guys but it's a pretty physical unit, they like to mix it up. They like to get 11 guys around the football. They do all the things that coaches enjoy seeing on defense. I think if the group will come together and not give up big plays, and be more aggressive in taking the ball away from people. But this can be a pretty good defensive football team."

On offensive guard Joe Looney: "He's the most enthusiastic guy on the football team," said Grobe. "He's an Aaron Curry-type at offensive guard, as far as his attitude. As far as a guy who plays as well as Curry, I can't tell you that. But he's a guy who bounces to practice, likes to practice, loves to play on Saturday, lives for football and is liked by everybody on the team. He's one of our favorite guys because he's just such a good person. One of the main reasons he got on the field right away (as a freshman) is because of his enthusiasm. He's just so pumped up all the time. It doesn't matter where you see him, if you see him at breakfast at 6:30 in the morning or you've finished up a late night practice, he's bouncing around. He's enjoying life."

Schedule: Wake Forest will practice in shells again on Friday at 7:30 p.m. The Deacons will practice at 3:30 p.m. on Saturday afternoon.