June, 29, 2011
6/29/11
5:00
PM ET
You are going to argue about this. How do I know? Because I'm still arguing with myself over it ...
[+] Enlarge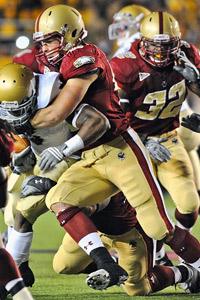 Michael Tureski/Icon SMILuke Kuechly leads a deep group of Boston College linebackers.
1. Boston College:
Luke Kuechly is one of the best in the country, but he's not alone. The Eagles also have Kevin Pierre-Louis, who ranked second nationally among all freshmen in tackles per game last season with 7.15 -- ninth in the ACC. It won't be easy to replace Mark Herzlich, on or off the field, but Steele Divitto played in 11 games last season, and Nick Clancy and Will Thompson both saw time on the second team.
2. Florida State:
The Noles had to replace two starters, including Kendall Smith, the team's second-leading tackler, last season, and Mister Alexander, but the upcoming talent could be even better. Nigel Bradham led the team with 98 tackles and five pass breakups last season, and Christian Jones, Jeff Luc, Telvin Smith and Vince Williams will also be competing for playing time.
3. Miami:
Sean Spence, who has 30 career starts, should be one of the best in the country, and Ramon Buchanon, another senior, also returns. The Canes have five other linebackers with experience in Kelvin Cain, who started seven games, Jordan Futch, who had a great spring and will see the field, Tyrone Cornelius, Shayon Green and C.J. Holton.
4. North Carolina:
Kevin Reddick, who led the Tar Heels with 74 tackles last season, returns for his third season as starter. Zach Brown is also a returning starter with game-changing capabilities, and there is plenty of depth with Dion Guy, Darius Lipford, Ebele Okakpu and Herman Davidson. Junior college transfer Fabby Desir could also have an impact.
5. NC State:
Audie Cole and Terrell Manning have combined for 39 career starts, and Cole fared well this spring moving to the middle to replace Nate Irving. With the return of Sterling Lucas, Dwayne Maddox and Colby Jackson, there is plenty of experience, but not quite as much depth as some other programs.
6. Georgia Tech:
The Jackets return both starters in Steven Sylvester and Julian Burnett. There is no shortage of depth with Jeremy Attaochu, Quayshawn Nealey, Brandon Watts, Albert Rocker, Malcolm Munroe and Daniel Drummond.
7. Clemson:
This group has a lot of potential, especially if true freshmen Tony Steward and Stephone Anthony make an immediate impact. There's no question they'll be given a chance, but the Tigers already have a good group with Corico Hawkins, Quandon Christian and Jonathan Willard.
8. Virginia Tech:
It seems like this rotation has been in flux for a while now. The Hokies' leading tackler returns in Bruce Taylor, Barquell Rivers had 96 tackles as a starter in 2009 but was injured last season, and there are several young players adding to the competition. Chase Williams, Tariq Edwards, Telvion Clark and Jack Tyler are only a few. Whip linebacker Jeron Gouveia-Winslow will have to earn his spot back over Alonzo Tweedy, Dominique Patterson and Nick Dew.
9. Maryland:
The Terps were hit hard here with the losses of Alex Wujciak (381 career tackles) and Adrian Moten (14.5 career sacks). Demetrius Hartsfield returns with 20 career starts, and there are four lettermen returning including Darin Drakeford, Isaiah Ross, David Mackall and Bradley Johnson.
10. Wake Forest:
Kyle Wilber's move to outside linebacker will give this position a boost, as he led the Deacs with 14.5 tackles for loss and six sacks last season. His backup is Gelo Orange (22 tackles). The Deacs also have Tristan Dorty, Joey Ehrmann, Mike Olsen, Scott Betros, Riley Haynes and Justin Jackson.
11. Virginia:
Starters LaRoy Reynolds and Ausar Walcott both return, but neither has started more than 11 career games. Junior Steve Greer has prior starting experience but played mainly as a reserve last season. Adam Taliaferro, Conner McCartin, Tucker Windle and LoVante Battle are also in the mix for playing time.
12. Duke
: Kelby Brown is the lone returning starter, but he's a promising young player who led the nation last season as a freshman in fumbles recovered. He missed spring ball while recovering from a knee injury, but is expected to start with Tyree Glover or Kevin Rojas.
May, 5, 2011
5/05/11
10:00
AM ET
By
ESPN.com staff
| ESPN.com
FLORIDA STATE
2010 overall record:
10-4

2010 conference record:
6-2
Returning starters
Offense: 8, defense: 8, punter/kicker: 2
Top returners
QB
EJ Manuel
, WR
Bert Reed
, WR
Taiwan Easterling
, LT Andrew Datko, RG David Spurlock, RT Zebrie Sanders, RB
Chris Thompson
, RB
Jermaine Thomas
, DE Brandon Jenkins, DT Jacobi McDaniel, LB Nigel Bradham, CB Greg Reid, CB Xavier Rhodes, PK Dustin Hopkins, P Shawn Powell
Key losses
LG Rodney Hudson, C Ryan McMahon, QB
Christian Ponder
, DE Markus White, LB Kendall Smith, LB Mister Alexander
2010 statistical leaders (* returners)
Rushing:
Thompson* (845 yards)
Passing:
Ponder (2,044 yds)
Receiving:
Reed* (614 yds)
Tackles:
Bradham* (98)
Sacks:
Jenkins* (13.5)
Interceptions:
Rhodes* and Mike Harris* (4)
Spring answers
1. Depth on both sides.
Florida State returns all three leading rushers from last year, each of whom had at least 400 rushing yards in 2010. All of the Noles' top receivers are back, but coach Jimbo Fisher was also pleased with young receivers like
Jared Haggins
and
Greg Dent
. The defensive line is deep, and the staff learned that Lamarcus Joyner can play safety at the collegiate level. The kicking game will be a strength, as FSU might have the best punter/kicker combo in the country. Dustin Hopkins booted a 60-yard field goal in the spring game.
2. Defensive improvement:
The defense really made some strides in terms of knowing what it has to do, and has become more comfortable in the second season under coordinator Mark Stoops. The Noles found more depth on defense, as playmakers emerged even with players sidelined with injuries. The young linebackers were a particularly promising group.
3. It's EJ's offense now.
In what was the first spring session he was healthy enough to participate in, quarterback EJ Manuel emerged as a leader heading into his first season as a full-time starter. He showed he can take command of the offense and goes into summer camp with nobody looking over his shoulder. He's 4-2 as a starter and was able to take another step forward this spring.
Fall questions
1. Backup quarterbacks:
Clint Trickett
and
Will Secord
will take their competition into the summer, but Trickett got more opportunities in the spring game and made the most of them. He completed 13 of 22 passes for 137 yards. Secord completed 3 of 9 passes for 25 yards, but a clear No. 2 has yet to be named.
2. What will the offensive line really look like?
It was a patchwork group this spring, as left tackle Andrew Datko was out with a shoulder injury, right tackle Zebrie Sanders was out after abdominal surgery, and left guard David Spurlock, who started the first seven games of 2010 before suffering a concussion, was only about 50 percent because of a hand/wrist injury. Key reserves like Rhonne Sanderson (foot injury) and Blake Snider (ankle injury) were missing. Jacob Fahrenkrug was supposed to take over at left guard, but finished the spring starting at center. This fall, the starting lineup will consist of LT Datko, LG Bryan Stork or Spurlock, C Fahrenkrug, RG Spurlock or Stork, RT Sanders. Despite the losses of Hudson and McMahon, there is experience up front, but building depth remains an issue.
3. How good is the defensive line?
There's no doubting Florida State's defensive line will be good, but with the offensive line riddled with injuries, it was impossible to tell how good it can be. Newcomer Tank Carradine didn't get a chance to go against Sanders or Datko, leaving for an unfair assessment.
February, 15, 2011
2/15/11
9:00
AM ET
It's that time of year, ACC fans. Duke kicks off the ACC's spring football schedule with practice tomorrow, so it's time to take a look at three storylines to watch for each program. We'll start with the Atlantic Division:

BOSTON COLLEGE
Spring practice starts:
March 15
Spring game:
April 16
What to watch:

CLEMSON
Spring practice starts:
March 7
Spring game:
April 9
What to watch:

FLORIDA STATE
Spring practice starts:
March 21
Spring game:
April 16
What to watch:

MARYLAND
Spring practice starts:
March 29
Spring game:
April 30
What to watch:

NC STATE
Spring practice starts:
March 17
Spring game:
April 16
What to watch:

WAKE FOREST
Spring practice starts:
March 15
Spring game:
April 16
What to watch:
December, 2, 2010
12/02/10
11:00
AM ET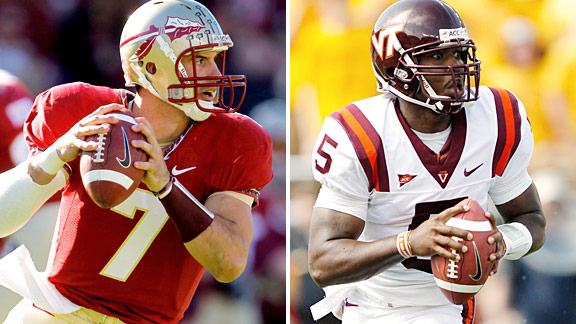 US PresswireThe play of Christian Ponder, left, and Tyrod Taylor will go a long ways in determining the winner of Saturday's ACC championship game.
Nobody has to remind Virginia Tech coach Frank Beamer or any of his players how lopsided the recent series has been with Florida State (the Noles have won 13 of the past 14). Then again, nobody has to remind Florida State which program has owned the ACC championship game since its inception in 2005.
There's plenty of history between Florida State and Virginia Tech heading into Saturday's Dr Pepper ACC championship game, and the Hokies have not fared well in it. They have, however, won three ACC football titles in their five seasons in the ACC and are on a 10-game winning streak as they chase their fourth. Florida State, which once dominated the conference with its 12 league titles, is looking to regain the grasp it once held on the ACC while Virginia Tech wants to maintain it.
"Yeah, this game is definitely going to determine whether or not they put us back up in the spotlight of taking over the ACC," said FSU linebacker Kendall Smith. "In the past, Florida State was very successful with taking over the ACC, and by us going against Virginia Tech, which has been very successful in the ACC in the past four to five years, we've definitely got a chance to -- this is going to help with recruiting, with everything. This is going to show the world that, OK, if we win this game at Florida State, we're back on the path and whatnot."
Florida State quarterback
Christian Ponder
agreed.
"They're always competing at the ACC championship level and they've been to pretty much every ACC championship game," he said. "So I think they're ahead of us right now, and they've competed really well the whole year this year and obviously struggled a little early on but have really turned it up ever since those first two games.
"I mean, right now they're undefeated in the ACC, so they're definitely the best team in the ACC right now, and this is going to be a tough game for us."
Ponder and Virginia Tech quarterback
Tyrod Taylor
, both seniors, will take center stage against two of the nation's top scoring defenses. Statistically, Virginia Tech and Florida State are very similar teams -- both are averaging over 30 points per game, and they're both holding opponents just under 18 points per game. They both have a talented group of running backs that has suffered its share of injuries, and defenses that have progressed throughout the season.
In order for the Seminoles to win their first ACC title since 2005, Florida State's passing game must first win the battle against a talented Virginia Tech secondary that has 12 interceptions in the past five games and a league-leading 20 picks overall.
Ponder is No. 3 in the country in passing efficiency and has thrown 20 touchdowns to eight interceptions. He's played better since back-to-back losses against NC State and North Carolina.
"We're two plays from being 11-1 right now, and I think since the NC State game I started taking it upon myself to play better," he said. "I mean, I was doing a lot more in practice, studying a lot more film, and finally things started clicking for me. I started getting confidence and it kind of started snowballing. The more confidence I got, the more comfortable I was, and I just started playing better."
Taylor will have his hands full with Florida State's defense, which ranks second nationally in quarterback sacks. The Seminoles' defense under first-year coordinator Mark Stoops has been a major factor in the program's return to the title game.
"Their front four is playing pretty good," Taylor said. "I know the two outside guys, the two rushers are playing at a very high level, going to have to keep my eyes out for those guys. And as far as the secondary, just fast. Just got to do a good job in one-on-one situations."
Should Virginia Tech win its fourth ACC title in six years, tight end
Andre Smith
said this one would mean the most because of the Hokies' 0-2 start.
"Again, you know, we started off rough, and here at Virginia Tech we're not used to that," he said. "It would definitely feel like a lot bigger than the previous two. Just to be able to win out and be doing so well after a rough start would just be great. You know, that would be great confidence for us and definitely a turnaround of the season. They've all been enjoyable, but I think this one would definitely be the most enjoyable for sure."
The same can be said for Florida State, which has dominated the series, but not the game.
November, 3, 2010
11/03/10
12:30
PM ET
By
ESPN.com staff
| ESPN.com
October, 28, 2010
10/28/10
9:34
PM ET
RALEIGH, N.C. -- Here's a quick breakdown of the first half
between Florida State and NC State
:


Turning point:
In the second quarter, NC State halfback
Dean Haynes
fumbled, and Kendall Smith recovered it on the Pack's 18-yard line. Haynes, the Pack's second-leading rusher, suffered a possible concussion and was sidelined for the rest of the game, and Florida State took the lead, 14-7, for the first time five plays later.
Stat of the half:
14. That's how many total yards NC State had in the second quarter. The Pack was outgained 167-14.
Russell Wilson
was sacked three times, including twice on back-to-back plays. Brandon Jenkins, Markus White and Nigel Bradham each have one quarterback sack so far.
Best player in the half:
FSU quarterback
Christian Ponder
. He entered the game with lingering soreness from an elbow injury he sustained in the win over Boston College, but showed no signs of it as he accounted for all three of the Seminoles' touchdowns. He threw only five incomplete passes, rushed for two touchdowns and threw for another.
May, 7, 2010
5/07/10
10:00
AM ET
By
ESPN.com staff
| ESPN.com
FLORIDA STATE

2009 overall record
: 7-6
2009 conference record
: 4-4
Returning starters
Offense: 10, defense 6: punter/kicker 2
Top returners
QB
Christian Ponder
, LG Rodney Hudson, C Ryan McMahon, WR
Bert Reed
, CB/PR Greg Reid, RB
Jermaine Thomas
, DE Markus White, LB Kendall Smith, LB Nigel Bradham, CB Ochuko Jenjie
Key losses
CB Patrick Robinson, S Jamie Robinson, LB Dekoda Watson, WR Rod Owens
2009 statistical leaders (* returners)
Rushing:
Thomas*(832 yards)
Passing
: Ponder* (2,717 yds)
Receiving:
Owens (729 yds)
Tackles:
Bradham* (93)
Sacks:
Watson (6)
Interceptions:
J. Robinson, Jenjie* (4)
Spring answers
1. Tailor-made defense
. We don't know yet how much better it will be, but the new defensive scheme will create more playmaking opportunities under first-year coordinator Mark Stoops. The Noles will use more zone coverage and be more suited for the personnel. That should lead to some improvement.
2. Ponder will be 100 percent.
He took every meaningful snap with the first team offense this spring and there didn't seem to be a difference since he injured his shoulder last year. That means Florida State could have a Heisman contender this year.
3. Staff cohesion.
The five new on-field assistants and first-year strength coach brought a new philosophy to Tallahassee and they clicked well together in their first practice sessions. Coach Jimbo Fisher does things differently than his predecessor. Both the offensive and defensive staffs met a lot together to look at film, and there was good feedback across the board between players and coaches.
Fall questions
1. Consistency at receiver.
With the exception of Reed, dependability was sorely lacking in this group. Plenty of plays were made, but not continuously. Fisher said the execution is not where he wants it to be.
Jarmon Fortson
is one of the players who needs to step it up.
2. Tailback talk.
Who's going to win the tailback job, or will it be by committee?
Chris Thompson
passed Jermaine Thomas on the unofficial depth chart, but there's also
Lonnie Pryor
,
Tavares Pressley
,
Ty Jones
and junior-college transfer Debrale Smiley, who is a fullback/tailback like Pryor. They all had their moments this spring.
3. Unsecure secondary
. FSU has four good corners to count on in this scheme with Jenjie, Reid, Dionte Allen and newcomer Xavier Rhodes, but the two safety spots and depth remain in flux. Jenjie is the only returning starter in the secondary.
April, 6, 2010
4/06/10
10:00
AM ET
By
ESPN.com staff
| ESPN.com
Following the end of a disappointing 2009 season in which Florida State's defense was statistically one of the worst in the country, a few upperclassmen on the team sent a strong message that "we can't have another season like that."
Worst in the ACC in rushing defense. Worst in pass efficiency defense. Worst in total defense.
"I can honestly say everybody wasn't on the same page," senior linebacker Kendall Smith said. "That was from the coaches all the way down to the players. Everybody wasn't on the same page. I feel that now we've got a better opportunity to step up the plate and straighten things out."
[+] Enlarge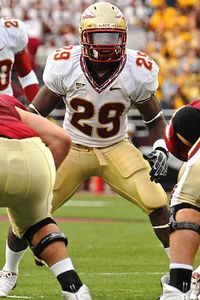 Michael Tureski/Icon SMILinebacker Kendall Smith expects the FSU defense to be improved in 2010.
If Florida State is going to contend for the Atlantic Division in Jimbo Fisher's first season as head coach, the Seminoles don't have much choice. The defense will have to take a quantum leap under first-year coordinator Mark Stoops, who will have a lot of inexperience to work with. The Seminoles have the pieces in place offensively to be a championship team, but the jury is still out on a defense in transition that allowed 30 points per game last year. The one thing that seems to have started to change under the new staff is the attitude.
"As of now, we all feel like we've got something to prove to the whole world," Smith said. "As of last year, we didn't perform up to par like we were supposed to, especially playing for Coach [Mickey] Andrews. This year I feel like the scheme is better for us, keep everything in front of us, no more deep balls, no more getting beat deep, no more long runs. I feel we've got a lot to prove and this is like a fuel to the fire because everyone is like defense was the weak link of our team last year. This year we're fighting hard, working hard to bring that Florida State defense back."
It's not going to be easy.
In addition to adopting a new coordinator and new philosophies, FSU has to replace three starters in a secondary that had glaring weaknesses last year. The Seminoles return just three proven defensive tackles, and until signing day lacked depth across the board. There will be plenty of competition this spring and a rebuilding effort that will last through the summer.
Not that that's a bad thing.
"We're starting over, that's what we're selling," said Stoops. "That's what the players want. We're starting fresh, starting over. It's a new beginning for them. What they do with it and what they make of it is up to all of it as a group. It takes a great commitment. They have to be committed to anything. We're taking it one step at a time."
Stoops has been tasked with turning around the group that faced the most criticism last year, and he's not na´ve about how much work needs to be done. Florida State ranked 108th or worse in the nation in three defensive categories last fall.
"It's fair to say there's an awful lot to do," Stoops said. "It can be overwhelming if you let it get that way. I believe in teaching it from the ground up, teaching the core of our system, have them understand the base principles of our system and they understand that more and more then you're able to add things and show them the adjustments and the tweaks."
The spring will be critical to build off of the base 4-3 front, which was the same scheme used by Andrews, but Stoops will show more variations than his predecessor did. Andrews mainly relied on man coverage while this year, fans might notice more zone coverage on the back end and more variety in the zone-coverage schemes.
The players seem willing to work at whatever will help them improve.
"I came to Florida State for one reason, and that's to win a championship," Smith said. "The fact that that hasn't happened yet, I'm not happy with that at all. We talk about it every day in the locker room. Put in the hard work, do what you've been doing, we've got to do everything right. We want everybody to be on the same page. If you don't know a certain defense or a certain call, ask the person besides you. Get coached up, be coachable. It's all the little things: Go to class on time, stay out of trouble, all of the things you need to do to be a championship team."
Including playing the kind of championship defense Florida State fans are used to.
October, 13, 2009
10/13/09
1:07
PM ET
By
ESPN.com staff
| ESPN.com

Posted by ESPN.com's Heather Dinich
It's only Tuesday?
August, 28, 2009
8/28/09
12:00
PM ET
By
ESPN.com staff
| ESPN.com
Posted by ESPN.com's Heather Dinich

With the help of a few sports information offices and the hometown newspapers of the teams with practice reports, here's a quick trip around the league as we head into our final weekend of summer without any ACC football (thank God) ...


MARYLAND

The Terps had their final scrimmage of the summer, and while there were some bright spots, it doesn't sound like a lot was determined. However, coach Ralph Friedgen did put some order to the deep group of receivers he has. Friedgen said he thinks nine receivers will travel with the team. At X, it's likely to be Adrian Cannon, Kevin Dorsey and Emani Lee-Odai. At Z, expect to see Torrey Smith, Quintin McCree and Tony Logan, and in the slot position Ronnie Tyler, LaQuan Williams and Kerry Boykins.

Here are a few highlights from the scrimmage, according to the practice report:

Sophomore Torrey Smith, who will be counted on to be a big-play receiver this season, had a hand in two touchdowns. He set up Davin Meggett's 3-yard score by making an acrobatic 30-yard reception from Chris Turner, setting up first-and-goal. Smith also fielded a short kickoff and raced up the left sideline for an 87-yard touchdown. Freshman Nick Ferrara made two 48 yards-yard field goals and added a 45-yard extra point after Meggett's touchdown. Mike Barbour, also competing for the No. 1 place-kicking job, made a pair of 46-yard extra points. Chris Turner completed 6 of 8 passes for 102 yards. The defense also had two other interceptions with linebackers Hakeem Sule and Alex Wujciak forcing turnovers. In addition, coordinator Don Brown's unit posted four sacks.


CLEMSON

FSU isn't the only one with injury problems on the defensive line. Clemson defensive tackle Brandon Thompson broke his hand - again.

Clemson spent Thursday's short practice working on Middle Tennessee's tendencies.

Brandon Ford was in a yellow jersey as he continues to heal from a foot injury. Spencer Benton was out again, but is expected to return to kicking duties on Saturday when the team holds its annual "Beannie Bowl." Jacoby Ford continues to improve from a hamstring injury and should be ready for the opener. Brandon Clear is back at full strength after a rib injury.

"The Beannie Bowl is a full rehearsal for the first game," coach Dabo Swinney said. "We will go through our pregame warm ups, even run down the hill. They we will kick off right at 6:00 PM and practice various special situations."


FLORIDA STATE

It was a good day for the Noles on Thursday, both at practice and in recruiting. FSU picked up two more recruits, bringing its 2010 class to 13. Florida State also got its first workout in the rain. There's one problem - all three of the senior defensive tackles are injured. You know what that means? It's time to meet Jacobbi McDaniel.

From the practice report:

Senior cornerback Patrick Robinson swatted away a touchdown pass intended for Jarmon Fortson in the end zone during 11-on-11 work. ... The best collision of the day came when linebacker Kendall Smith buried tailback and lead blocker Jermaine Thomas o
n a running play. ... Tight end Beau Reliford shook off the doldrums from several long afternoons with a 30-yard grab. ... With senior defensive tackles Budd Thacker (toe) and Kendrick Stewart (knee) held out of contact work for a second consecutive day, heralded freshman Jacobbi McDaniel continued to receive significant snaps alongside Moses McCray with the first-team defense. Fellow freshman Demonte McAllister is also getting a load of repetitions. "They are getting a lot of work, which is what they need," Bowden said of the youngsters. "They look like they can handle it."... Redshirt freshman Everett Dawkins, who began the preseason at defensive tackle and moved out to defensive end, was moved back inside to bolster position coach Odell Haggins' under-manned unit. ... There are quite a few position battles still being waged as the Seminoles head into Saturday's closed scrimmage, including cornerback, rover, defensive end, offensive guard, tailback, wide receiver and kicker. The competition is a welcome sign, reflecting the team's improved depth. "We let (the players) know those scrimmages are so important because they are game-like," coach Bobby Bowden said. "We've got ACC officials out there, so it's time to show your stuff if you've got it." ... The Seminoles will practice Friday afternoon.


MIAMI

Rise n' shine, it's practice time. The Canes started at 5:45 a.m. in shells under the lights on Mark Light Field. Dyron Dye was held out of practice with a leg injury. Leonard Hankerson and A.J. Trump returned to practice after being limited the last few sessions.

The Miami Herald is reporting that Taylor Cook is heading to Rice. With the transfer of Cook and Cannon Smith, A.J. Highsmith got a lot more work on Thursday. Here's what offensive tackle Jason Fox had to say on the transfers:

"Sometimes it can be a distraction but as a football team you have to limit the distractions, not think about it and remember why we are here. We are here to play football and win football games and anything else besides that, we have to push off to the side. You can't really do anything about it. Those were personal decisions they wanted to do for their careers that is going to help them out personally. As a team, we have to send them on their way and wish them good luck, but we still have to get ready."
July, 22, 2009
7/22/09
5:03
PM ET
By
ESPN.com staff
| ESPN.com
Posted by ESPN.com's Heather Dinich
This would be an entirely different list if the top two linebackers in the league -- Mark Herzlich and Nate Irving -- weren't sidelined right now. There are still a lot of standout linebackers in the conference, but this season just won't be the same without those two guys, not that Irving's return has been completely ruled out yet. Having spoken with NC State defensive coordinator Mike Archer Wednesday, though, it's simply a miracle that Irving is even alive. In looking at the rest of the conference, it's tough to find teams that are deep at this position. It's a question mark for a lot of teams, and there's a lot of inexperience.
Here's a shot at ranking the best linebacking corps in the ACC:
1. Miami -- Sean Spence was one of the hardest hitters in the conference as a true freshman and will only be better this year, but the key to this group will probably be the return of a healthy Colin McCarthy, who injured his shoulder in the first half of the season last year. Darryl Sharpton, Arthur Brown and Jordan Futch still have something to prove.
2. North Carolina -- Quan Sturdivant and Bruce Carter started every game last year, and there are high expectations for sophomore Zach Brown. Sturdivant led the nation with 87 solo tackles last year and ranked third in the ACC in total tackles per game. This is one of the deepest groups the Tar Heels have had recently, but they are lacking some experience.
3. Virginia Tech -- Cam Martin and Cody Grimm combined to play all but nine plays at the whip linebacker spot, but they've got to replace Purnell Sturdivant and Brett Warren. Barquell Rivers proved he's up to the task when he filled in in the Orange Bowl, and Jake Johnson will have an increased role, too. There's a lot of potential in this group.
4. Clemson -- The Tigers return two starters plus a third player with starting experience. Kavell Connor started all 13 games last year and was the team's top tackler with 125. Brandon Maye had an impressive season as a redshirt freshman, and finished with 87 tackles. Scotty Cooper was a part-time starter at strongside linebacker.
5. Georgia Tech -- Even with Kyle Jackson possibly out for the whole summer with an injured right foot, the Yellow Jackets till have plenty of depth with Sedric Griffin, Brad Jefferson, Anthony Barnes and Steven Sylvester. Barnes and Jefferson are both finally healthy after injury-plagued seasons and there should be good competition for starting jobs. This group can't afford anymore injuries though.
6. Florida State -- With the graduation of Derek Nicholson and Toddrick Verdell, the Noles lose their top two tacklers. Dekoda Watson will be back from elbow surgery this spring, but it's a young group counting on sophomores like Nigel Bradham and Nigel Carr. Junior Kendall Smith is the only other upperclassman on the two-deep roster.
7. Maryland -- Alex Wujciak could be a star at this position for the Terps, and he'll definitely need to be a leader there this fall. Maryland lost four linebackers who combined to play 144 games and 54 starts. Adrian Moten is one of the few experienced faces in the group, and he earned his first start last year in the Humanitarian Bowl.
8. Duke -- The Blue Devils have to replace the ACC's leading tackler in Michael Tauiliili, but they've still got Vincent Rey, who made 109 tackles last year. The problem is, Rey is the only experienced linebacker they've got. Competition remains among Damian Thornton, Abraham Kromah, and Adam Banks.
9. NC State -- It's not clear when Nate Irving will return, but for as long as he's out, the Wolfpack will be missing their best player on both sides of the ball. The Pack still have senior Ray Michel, who is a returning starter in the middle, and Dwayne Maddox started in place of Irving when he was out last year. But this is an entirely different group -- and defense -- without Irving.
10. Boston College -- The Eagles' linebacking corps took a huge hit when Mark Herzlich was diagnosed with cancer, and they still don't know when Mike McLaughlin will be cleared to play from a torn Achilles. BC has a reputation for its defense, so odds are this group will be OK, but there are too many unknowns right now.
11. Wake Forest -- All three starters from last year are gone, and the Demon Deacons have big shoes to fill after the departure of Butkus Award winner Aaron Curry. It's going to have to be a group effort, but there's still some athleticism and depth to work with. Matt Woodlief and Hunter Haynes are the most experienced players retuning.
12. Virginia -- The Cavaliers graduated the veteran group of Jon Copper, Clint Sintim and Antonio Appleby, and because they were so good, their backups didn't see much playing time. This group is the feature in Al Groh's 3-4 defense, and it's going to have a whole new look. There were good reports about Steve Greer this spring, and Groh said Greer tried to mimic his game after Copper, which is reason for hope.
July, 18, 2008
7/18/08
6:09
PM ET
By
ESPN.com staff
| ESPN.com
Posted by ESPN.com's Heather Dinich
1. Virginia: Senior captain Clint Sintim started all 37 games in his career and was third on the team with 77 tackles last season. His nine sacks last year were the most of any linebacker in the nation. Inside linebacker Jon Copper is UVA's active leader in tackles with 200, and Antonio Appleby is third on that list with 155.
2. Wake Forest: All three returning starters are back, including strongside linebacker Aaron Curry, a two-time defensive player of the week who had three interception returns for touchdowns and led the nation in interception return yards with 256. He also led the team with 13.5 tackles for a loss. Middle linebacker Stanley Arnoux also returns, along with weakside linebacker Chantz McClinic, who had 42 tackles.
| | |
| --- | --- |
| | |
| | Ned Dishman/Getty Images |
| | Senior linebacker Brian Toal, who has 180 career tackles despite missing last season, is healthy again for Boston College. |
3. Boston College: The Eagles lost two key starters, but senior Brian Toal's shoulder is healed and he has 180 career tackles despite missing last season with a medical redshirt. His primary competition at weakside linebacker will come from senior Robert Francois, who finished last season with 39 total tackles. Junior Mark Herzlich, who started all 14 games last year and finished second in total tackles with 97 should anchor this unit. Junior Mike McLaughlin started three games at middle linebacker last season when Jo-Lonn Dunbar was injured and is the heir apparent there.
4. Maryland: This could be one of the Terps' deeper positions, even with the loss of Erin Henderson to the NFL. Seniors Dave Philistin and Moise Fokou each started all 13 games last season, and Adrian Moten, who played all three positions as a freshman, tied for the team lead in sacks (5.5) and had 50 tackles even though he didn't start a game. Philistin ranked fourth in the ACC with 9.5 tackles per game.
5. Florida State: These guys have talent, it's just a matter of when it will all come together. Geno Hayes is gone, and so is Marcus Ball, who was expected to fill in for Hayes but was booted off the team. Still, the Seminoles' leading tackler is back. Underrated middle linebacker Derek Nicholson made 99 stops last year and was the only linebacker to start all 13 games. Strongside linebacker Dekoda Watson started every game but the bowl game because of the academic scandal and will miss the first three, leaving the job to sophomore Kendall Smith. The 'Noles are also excited about freshman Nigel Bradham.
6. Miami: The Hurricanes lost their leading tackler in Tavares Gooden, a third-round NFL draft pick by the Ravens, but are still better off than the way they ended last season -- with three healthy linebackers. Senior Glenn Cook is back after missing last season with a foot injury, and the freshmen -- Arthur Brown and Sean Spence -- didn't waste any time impressing the staff while Coin McCarthy was out this spring. Darryl Sharpton and Spencer Adkins are possible starters in the middle.
7. Virginia Tech: The Hokies will obviously miss Vince Hall and Xavier Adibi, but middle linebacker Brett Warren played well last year when Hall got hurt and earned the confidence of defensive coordinator Bud Foster. Purnell Sturdivant is No. 1 heading into the fall, but should be challenged by veteran Jonas Houseright and redshirt freshman Hunter Ovens. Redshirt junior Cam Martin started 13 of 14 games last season at weakside after being moved from free safety and finished fifth on the team with 78 tackles and was third in sacks with 4.5.
8. Duke: Senior Michael Tauiliili is the top active player in the league in terms of career tackles, and finished last season with 108. He also had four sacks and three interceptions. Vincent Rey led the Blue Devils with 111 tackles. The third slot will be between Marcus Jones and Adam Banks. There's not a lot of depth here, but there's talent.
9. Clemson: This is the least experienced unit on the Tigers' defense. Josh Miller is the only senior in the group and is competing for the starting middle linebacker job. Tommy Bowden was impressed with freshman Stanley Hunter this spring, but Brandon Maye had the top spring among the newcomers and is listed as first team in the middle entering the fall. Junior Kavell Connor is the top option at weakside linebacker and had a career high 15 tackles in the Chick-fil-A Peach Bowl. He had 46 stops for the year, tops among linebackers on the spring depth chart. Sophomore Scotty Cooper also started the Chick-fil-A Bowl at strongside linebacker. He had 33 stops for the season in 183 plays on defense.
10. North Carolina: The Tar Heels have to replace leading tackler Durell Mapp, but return sophomore Bruce Carter and sophomore Quan Sturdivant. Carter played in all 12 games and started seven. He made 18 of his 25 tackles in the final five games. Sturdivant's experience is similar, having played in all 12 games, but started just five. He finished the season with 47 tackles, but also added an interception and a blocked punt. Senior Mark Paschal played in all 12 games and started four at middle linebacker, and Chase Rice was still recovering this spring from a torn tendon in his left ankle. He was the starter in 2007, but got hurt in the season opener and missed the rest of the season.
11. NC State: There's not a lot of experience, as the top candidates have combined for five starts and only four guys have played in a collegiate game. Nate Irving is the lead candidate at weakside linebacker, having started four games. Ray Michel started one game in the middle, and strongside should be wide open. Robbie Leonard, a converted walk-on defensive back, is the starter heading into summer camp. He played in eight games as a strong safety and has seen most of his action on special teams the past two seasons. Thomas Barnes got valuable experience as a backup middle linebacker last season, playing the last 10 games and scoring a touchdown on a fumble recovery in only his third career play from scrimmage.
12. Georgia Tech: Two of the three stars from last year -- Philip Wheeler and Gary Guyton -- are now on NFL rosters. Junior Shane Bowen started nine games last season, but sophomore Anthony Barnes has the most potential and started three. Two young rookies, sophomore Brad Jefferson and redshirt freshman Kyle Jackson, are good enough that Bowen may lose his starting job.