September, 13, 2014
Sep 13
8:00
AM ET
It's Saturday, and we're here to catch you up on all that you should be watching throughout the day as 11 ACC teams take the field. Use the hashtags below to follow each game on Twitter. All times are ET.
Noon
East Carolina at No. 17 Virginia Tech, ESPN, #ECUvsVT:
The Hokies are riding high after notching the upset at Ohio State last week. But the Pirates can help bring them back to earth if they aren't careful. ECU itself is amid a tough three-game stretch against South Carolina, Virginia Tech and North Carolina, and its offense, led by the dangerous
Shane Carden
under center, is certainly capable of testing the home team's D. If that's not enough to have the Hokies ready, these teams' past two meetings should: Narrow Virginia Tech wins in 2013 (15-10) and 2011 (17-10).
Georgia Southern at Georgia Tech, ESPN3, #GASOvsGT:
Can the Eagles notch a signature road win over a Power 5 team for the second year in a row? A year after winning at Florida, they came awfully close in Week 1, falling at NC State by one after leading throughout. Now the FBS newcomers travel to face former head coach Paul Johnson and in-state neighbor Georgia Tech. Georgia Southern is coming off an 83-9 win over Savannah State last week, while the Yellow Jackets are still trying to get on-track offensively after a three-turnover performance in a win last week at Tulane.
Pitt at FIU, Fox Sports 1:
Stat-watching might be a priority in this lackluster contest. Panthers running back
James Conner
enters with 50 carries, 367 yards and five touchdowns to his name through two weeks. Can he play himself further into early-season Heisman discussions? His coach, Paul Chryst, has not ruled out the chance that Conner still lines up at defensive end at some point this season. Still, given the workhorse he has been -- and will need to be if Pitt is to contend for the Coastal -- this might be a good chance to limit his workload in the heat and let
Chad Voytik
grow as a passer. Also worth keeping an eye on is the man snapping Voytik the ball, as center
Artie Rowell
is lost for the year after an ACL tear last week.
Gabe Roberts
and
Alex Officer
could both see action there in place of Rowell.
Syracuse at Central Michigan, ESPNEWS, #CUSEvsCMU:
This game sure looks a lot more interesting than it did two weeks ago, no? The Orange have not even played a half this season with
Terrel Hunt
under center, as the starter was ejected from the opener after throwing a punch at a Villanova player. The offense struggled immensely without Hunt, needing two overtimes to hold off the FCS Wildcats. The Chippewas, meanwhile, ran Purdue out of their own building last week in West Lafayette, Indiana. Syracuse hopes to have gathered itself during its bye last week and unveil the faster-paced offense it had hoped to run this season.
12:30 p.m.
[+] Enlarge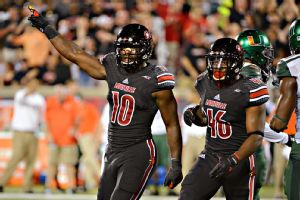 Jamie Rhodes/USA TODAY SportsThe Cardinals should provide Virginia with an early-season measuring stick of where the team stands.
No. 21 Louisville at Virginia, ESPN3, #LOUvsUVA:
We should have a much better answer after this game as to just how improved Virginia really is this season. The Cardinals present a great early-season league test in Charlottesville, and Bobby Petrino's offense going up against the Cavaliers' stout defense in Louisville's first-ever ACC road game will be fascinating to watch. But can the Hoos avoid offensive miscues? That is what cost them a chance to upset UCLA in Week 1, and there is still some uncertainty at quarterback, where
Matt Johns
has looked better than
Greyson Lambert
through two games.
3:30 p.m.
Arkansas State at Miami, ESPNU, #ARSTvsMIA:
Now would be a good time to see what
Brad Kaaya
is capable of doing, what with a game at Nebraska next week and a pair of league games after. The true freshman quarterback hasn't been bad through two games, but he hasn't really been asked to do too much, either. If the Hurricanes want to contend for the Coastal crown this season, they'll need more production out of him, and better to throw him to the (Red) Wolves of Arkansas State now than the Blackshirts of Nebraska next week under the lights.
NC State at USF, CBS Sports Network:
USF forced six turnovers last week against Maryland but still could not pull out the win.
Jacoby Brissett
has played well through two games, but the ground game has been every bit as instrumental so far, averaging 207.5 yards per contest. Still, the Wolfpack need to start faster after falling behind at home to Georgia Southern and Old Dominion before mounting comeback wins. A 3-0 start for coach Dave Doeren after a 3-9 debut season would be absolutely huge, and it would make a bowl berth a real possibility for the Pack.
Kansas at Duke, ESPN3, #KUvsDUKE:
The Jayhawks
are
undefeated. And Charlie Weis
was set to be David Cutcliffe's boss nearly a decade ago
. And Duke
clearly
needs to get off to a better start than it did last week at Troy after falling behind by 11 early. Still, the Blue Devils have a very balanced attack that will test Kansas far more than Southeast Missouri State did last week. And quarterback
Anthony Boone
has looked very, very good through two games. Expect more of the same against Kansas.
7 p.m.
Wake Forest at Utah State, CBS Sports Network:
Dave Clawson did some house-cleaning this week, kicking running back Dominique Gibson and center Cody Preble off the team for a violation of team rules, in addition to suspending reserve quarterback
Kevin Sousa
. Clawson is coming off his first win as the Demon Deacons' head coach, but the Aggies will provide a much stiffer test than Gardner-Webb did last week. True freshman signal-caller
John Wolford
got much better protection last week (two sacks) than he did in a season-opening loss at Louisiana-Monroe (five), but he has to improve his decision-making after throwing three picks last week.
8 p.m.
No. 9 USC at Boston College, ESPN, #USCvsBC:
USC has been among the country's most impressive teams through two weeks. BC hopes it is catching the Trojans at the right time. Steve Sarkisian's squad travels cross-country after an upset win at Stanford to face an Eagles team coming off a home loss to Pitt. Still, it's worth pointing out just how well Steve Addazio got BC to play last year against heavy favorites Clemson and Florida State, with the latter contest proving to be the Seminoles' biggest test before the national title game. Also, kudos to BC for
its attire for this contest, as it honors Sept. 11 hero and lacrosse alum Welles Crowther
.
September, 11, 2014
Sep 11
8:00
AM ET
Virginia Tech's tight ends have
made a big difference
for the Hokies' offense so far this season, writes The Roanoke Times.
Bucky Hodges
and
Ryan Malleck
have been excellent, and even without
Kalvin Cline
, the only tight end to catch a pass for the Hokies last season, the position has been a big plus through two games.
I noted the significant uptick in tight end targets earlier this week, too,
in our stats column
, but here are a few more tidbits worth passing along:
Virginia Tech's tight ends have combined for 163 receiving yards so far this season -- the fifth-most by any team in the country.
The 23 targets for the Hokies' tight ends ranks third nationally, trailing only Oregon State and Penn State. The Hokies have only targeted their wide receivers 27 times so far this year.
Among teams targeting tight ends at least 15 times so far this season, only Purdue and UAB's position groups have caught a higher percentage of passes thrown their way.
Among ACC teams, only Louisville comes close to the Hokies in terms of targeting its tight ends. The Cardinals have thrown to tight ends 21 times. That makes sense since Louisville has a star tight end in Gerald Christian and is playing without its top receiver in Devante Parker.
Syracuse should have its tight end, Josh Parris, back in time for the Maryland game next week, writes The Post-Standard. That's good news for the Orange, who targeted a tight end just twice in their opener.
Other tight end production around the ACC through two weeks:
Wake Forest -- 14 targets
Florida State -- 12
Miami -- 10
UNC -- 8
NC State -- 8
Duke -- 8
Clemson -- 8
Pitt -- 5
Virginia -- 4
Boston College -- 0
Georgia Tech -- 0
A few more links:
August, 11, 2014
Aug 11
8:00
AM ET
Good morning!
First thing's first: Starting today, links will be the first post each week day to get you started with everything you need to know across the ACC. So say good bye to lunchtime links and hello to morning links.
What's sizzling this Monday morning?
We're talkin' about scrimmages, media days and fan days that provided a few bits of headlines and newsworthy notes over the weekend.
First up: Florida State held its media day Sunday, and, well, there was a bit of unnecessary drama. The Seminoles asked fans, via Twitter, to submit questions to
Jameis Winston
using the
hashtag #AskJameis
. Predictably, the questions devolved in a matter of minutes. Search the hashtag, and you will find maybe five usable queries. The rest were on the order of crab legs, butter preferences for said crab legs and Winston's other legal entanglements.
As my fellow SNL fans are asking right about now, "
Who are the ad wizards
who came up with this one?"
Meanwhile, Clemson held its first scrimmage of the fall Saturday with some drama of its own. The Post and Courier in Charleston, South Carolina, reported that quarterback
Cole Stoudt
sustained
a minor leg injury
when a defensive lineman rolled up on his leg. Offensive coordinator Chad Morris said afterward he was unaware of an injury. The intrigue! Clemson returns to practice this morning so perhaps there will be more clarity. In any event, Dabo Swinney said both Stoudt and
Deshaun Watson
performed
well in the scrimmage
, which was closed to the media.
While on the subject of quarterbacks, watch out for Wake Forest true freshman
John Wolford
, now
in the mix
with
Kevin Sousa
and
Tyler Cameron
for the starting quarterback job. In the Deacs' scrimmage Sunday, Wolford scored on a 12-yard run and went 7-of-14 for 122 yards with an interception. Cameron, meanwhile, only threw for 52 yards, going 6-of-13.
In Atlanta, coach Paul Johnson limited quarterback
Justin Thomas
to
one series
and held out
Zach Laskey
from the weekend scrimmage for precautionary reasons.
And in one of the bigger injuries so far during fall practice, NC State coach Dave Doeren announced at media day that starting linebacker
M.J. Salahuddin
is
out indefinitely
with a knee injury. Salahuddin needs surgery and could end up taking a redshirt. It's a tough break for NC State, lacking in experienced depth at just about every position on the field. The Wolfpack simply cannot afford to lose veteran players like Salahuddin.
Now here's a quick look at other headlines:
July, 22, 2014
Jul 22
12:00
PM ET
The most honest man at ACC Kickoff was probably Wake Forest's Dave Clawson. And, to his credit, he even managed to
find a little humor
in the bleak picture painted by his depth chart this year, as the High Point Enterprise wrote.
Asked to comment about where his first Wake Forest team is predicted to finish in the ACC's tough Atlantic Division, Clawson replied, "Were we picked to win it? I didn't see those. Were we unanimous first? The bull's-eye is on us, right?"
Clawson didn't sugar-coat the team's lack of experience and depth, but he had his most pointed comments regarding the quarterback position, where Tyler Cameron and Kevin Sousa are battling for a job that no one seems eager to win.
"Those two guys who took snaps in the spring, neither did enough, even if we didn't have those [true freshmen] coming in, to take control of the job," Clawson said.
What was unique from Clawson was his pessimism on the position. What wasn't unique were the questions about the position. Plenty of coaches were asked about their quarterbacks in Greensboro, and for good reason. After talking with each coach and the players in attendance, here's a quick run-down of where each ACC team's QB situation stands.
1. Florida State
: Jameis Winston is the returning Heisman winner and his time in Greensboro was, at the very least, a solid first step in FSU's quest to repair its quarterback's image.
2. Duke
: Anthony Boone is the only other quarterback in the league with at least 300 attempts last season who is back for 2014, but David Cutcliffe
still plans to use two quarterbacks
and eagerly talked up Thomas Sirk, who will step into the red zone role manned so well by Brandon Connette last season.
3. Clemson
: The biggest worry for Clemson is the potential for a real quarterback controversy (or, at the very least, a lively debate) if Cole Stoudt struggles early. Dabo Swinney offered blanket support for his senior, but the early schedule is difficult, and the immensely talented but completely green
Deshaun Watson
is waiting in the wings
.
4. NC State
: Dave Doeren can
barely contain his enthusiasm
about the addition of Jacoby Brissett, whom the coach described as "everything you recruit in a quarterback." Doeren did remind reporters, however, that Brissett's on-field experience remains extremely limited.
5. North Carolina
: Hey, if
Peyton Manning
says Marquise Williams is
going to be an exceptional passer
, who are we to argue? Still, it's not enough to convince Larry Fedora to hand him the starting job just yet, and it sounds more and more like UNC will use two quarterbacks at times.
6. Syracuse
: Terrel Hunt has proved he can win and he's taken on a leadership role this offseason, but he still needs to prove he can be a respectable downfield passer. And even Scott Shafer admitted
things needed to get better there
.
7. Louisville
: The depth chart isn't set in stone here either, but Bobby Petrino
had plenty of praise
for Will Gardner in Greensboro, saying, "He can make all the throws you need to make. He's got the arm strength. He's got a very quick release. ... He's a natural leader that the players have already learned to follow."
8. Pitt
: Paul Chryst says Chad Voytik still has a ways to go, but
he's pleased with the quarterback's progress
and, of course, Voytik will have as dangerous a weapon as any first-year starter in the league in Tyler Boyd.
9. Boston College
: The Eagles actually have a relatively experienced and settled QB spot with the arrival of transfer Tyler Murphy, and lineman Andy Gallik said Murphy has
grasped the offense and taken on a leadership role
. But his problem will be that he doesn't have much in the way of receiving targets or experience in the backfield to help him out.
10. Virginia
: Mike London shrugged off the rumors about his job, and one reason he can do that is that he's immensely confident in QB Greyson Lambert, who looks to have
cemented his role as the team's starter
.
11. Georgia Tech
: Paul Johnson smiled at the notion that recently departed QB Vad Lee said the triple-option wasn't for him, noting the situation had become "frustrating" for both sides. With Justin Thomas, however, Johnson said he has
the ideal quarterback to run his offense
.
12. Virginia Tech
: Well, Brenden Motley did get a preseason player of the year vote, even if he's not exactly destined to win the starting job. Frank Beamer said he
plans to end the drama soon
, even if no one separates himself and "he has to go with a gut decision."
13. Miami
: Ryan Williams would make this a much better scenario, but Al Golden isn't interested in predicting his veteran
will be back from a torn ACL
any time soon. That leaves Jake Heaps and Kevin Olsen, neither of whom earned a ton of praise in Greensboro.
14. Wake Forest
: It's going to be a long year for Clawson, but at least he's got a sense of humor about it.
More links:
Dabo Swinney is confident Clemson will have
a chance to win the Atlantic
, writes The State.
Swinney has no intention of
taking religion out of his football program
, writes Sports on Earth.
There are
no hard feelings
between Swinney and Syracuse coach Scott Shafer, writes The Post-Standard.
Florida State's
offensive line will be what sets the Seminoles apart
in the ACC, writes Tomahawk Nation.
And your non-sports link of the day: If you don't hear from me for a few months, blame
the new Simpsons World
from FXX, which looks… amazing.
July, 18, 2014
Jul 18
10:30
AM ET
During Florida State's national championship-winning season, its leader in takeaways (
Nate Andrews
), yards per carry (
Karlos Williams
) and yards per touch (Kermit Whitfield) combined to start just one game. In the current landscape of college football, talent at the top is crucial but depth is often what separates the best teams. With that in mind, we counted down
the ACC's best backups
-- players who weren't starters last season and aren't currently penciled in atop the depth chart, but who could make a major impact in 2014. While we ranked our top five, there are plenty of other contenders. This is a quick look at those who just missed the cut.
[+] Enlarge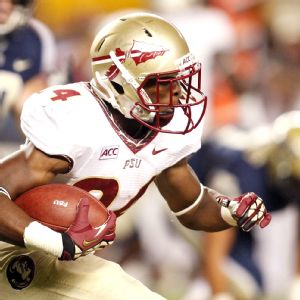 Charles LeClaire/USA TODAY SportsRyan Green's experience should give him a leg up in the battle to be Karlos Williams' backup.
Ryan Green (RB, Florida State):
Really, any of Florida State's backup running backs could be here. Green has terrific speed and is the lone runner down the depth chart with game experience, but Dalvin Cook and
Mario Pender
figure to see plenty of action this season and could also produce big numbers the way this year's starter, Karlos Williams, did as the No. 3 tailback in 2013.
Wayne Gallman (RB, Clemson):
Like FSU, Clemson boasts a deep backfield that could feature significant contributions from a number of runners. Still, it's Gallman, the redshirt freshman, who seems to get the biggest raves from coaches. He could certainly find himself in a starting role before too long.
Tyriq McCord (DE, Miami):
Primarily working on third downs last season, McCord showed plenty of promise, racking up four sacks, three forced fumbles and two INTs, despite not starting a game. One of those forced fumbles came against Florida, perhaps Miami's biggest win last season.
Thomas Sirk (QB, Duke):
The backup quarterback at Duke was a vital position last year when
Brandon Connette
finished third in the ACC in rushing touchdowns. The equally athletic Sirk seems equipped to handle that role in 2014.
Shaquille Powell (RB, Duke):
Josh Snead
returns as the team's leading rusher, but in an offense with plenty of explosive talent, Powell, who averaged 5.5 yards per rush as the No. 3 back last season, figures to carve out a niche and has really impressed teammates this offseason.
Ron Thompson (DE, Syracuse):
The converted tight end has the potential to be a beast on the defensive line, he just doesn't quite have a full-time job yet at Syracuse. In limited action last season, however, he had two sacks and 20 tackles, including 4.5 for a loss.
Quarterbacks:
There aren't many teams that have completely settled quarterback situations, which means that odds are, one or more of the current backups will end up making a big difference down the road in 2014.
Mitch Trubisky
at UNC,
Kevin Sousa
at Wake Forest,
Tim Byerly
at Georgia Tech and, of course, Deshaun Watson at Clemson all have potential to be impact players before the year is out.
No doubt there will be plenty of other back-ups to emerge as significant playmakers this year. So, who else should we have considered? Who might take a big step forward in 2014?
June, 3, 2014
Jun 3
9:00
AM ET
Kevin Sousa
came to
Wake Forest
as
one of the most heralded recruits
in its 2011 class, a dual-threat quarterback who settled on the Deacs after initially committing to Michigan.

But his career has not exactly gone the way he had planned. After getting hurt and redshirting his freshman season, Sousa saw limited playing time in 2012. Frustrated that he was not able to contribute on the field, he asked to move to receiver last fall. But he ended the season with a sprained ankle and zero receptions, unable to find his niche in an offense that badly needed playmakers.
A new coaching staff has brought a new opportunity. Sousa moved back to quarterback this spring and is in the mix to win the starting job. Coach Dave Clawson said the competition will continue into the fall after neither Sousa nor
Tyler Cameron
separated during practice.
Sousa is just happy to be relevant after a career spent mostly on the bench.
"I am willing to play whatever they need me to play," Sousa said in a recent phone interview. "I just want to help the team as much as I can. My first position was quarterback, and that was really all I knew how to play. I'm willing to learn as much as I can and put in the time I need to do everything I need to do."
The juggling between positions has not necessarily been all bad. Sousa is now in an offensive system that should take advantage of his athleticism. Both he and Cameron had to start all over again, learning a new offense. So Sousa was not in a race to play catch-up.
Plus, he now is able to understand routes better as well as progressions, having all that experience as a receiver. That is a valuable education for a player without much experience playing quarterback in college. Sousa chalked up the move to receiver as a "learning process." He was more than happy to move back to quarterback when offensive coordinator Warren Ruggiero asked last January.
Ruggiero asked Sousa to move because Cameron was the only scholarship player at the position when Clawson arrived. Sousa obviously had the background and knowledge of the position, too, so it all made sense. But there is plenty of work left to be done. Especially since more competition arrives in the fall, with several freshmen entering the competition.
"I am still working on my progression as a quarterback and becoming more comfortable in the pocket, being in the system," Sousa said. "I just have to continue throwing and becoming more consistent as a quarterback and becoming a better leader and more vocal."
April, 29, 2014
Apr 29
4:30
AM ET
Three things we learned in the spring for the Wake Forest Demon Deacons:

1. Clawson means business.
When Dave Clawson replaced Jim Grobe as head coach, it was with an understanding that the culture had grown stale at Wake Forest and the Demon Deacons needed a fresh start. It hasn't taken long for Clawson to shake things up. He's instituted strict rules for his players, changing everything from workout routines to practice habits to film study. It's a demanding approach, but it's also won over a hefty chunk of the roster already. For now, Clawson knows he'll need to tailor the playbook to hide some serious talent gaps, but off the field, the expectations he's setting are immense.
2. The offense needs a lot of work.
The silver lining for a team that lost its starting quarterback, top tight end, best receiver and leading rusher is that, even with all those players around, Wake was still among the worst offenses in the country last year. Still, there's no doubt that the Deacons are thin at nearly every skill position on offense. Clawson had to do some position-swapping just to fill out a depth chart at tailback before the spring. Although Clawson hopes more answers will be found before fall camp opens, it seems clear that points will be at a premium for Wake this season.
[+] Enlarge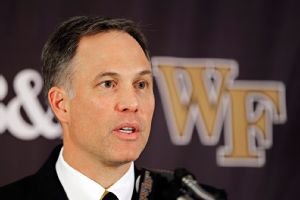 AP Photo/Chuck BurtonDave Clawson is trying to change the culture at Wake Forest.
3. Few jobs are safe.
Clawson said there's not a position on offense that's playing at an acceptable level. On defense, the cornerbacks are about the only established starters. Incoming freshmen will get a chance to win jobs this fall. The bottom line: It's a new era at Wake, and Clawson isn't handing a job to anyone. There's a lot of work to be done before the Deacons are ready for ACC play, but that also means there's a lot of opportunity for youngsters to win jobs.
Three questions for the fall:
1. Who's playing quarterback?
Tyler Cameron
was last year's No. 2, but his spring was a mixed bag, ending with an ugly spring-game performance in which he completed just 9 of 26 passes.
Kevin Sousa
fared a bit better in the spring game and adds the option of picking up yards with his legs, but Clawson didn't exactly offer a ringing endorsement of him, either. For now, the QB battle remains up in the air, which seems appropriate given how many other questions Wake has on offense.
2. Who's running the ball?
Orville Reynolds
had a 33-yard run in the spring game that underscored why Clawson believes he can be a good fit at tailback after spending his early career at Wake playing receiver. But, of course, Reynolds' other 20 carries netted a grand total of 20 yards, so the enthusiasm only went so far.
James Ward
was also moved from safety to tailback, but he suffered a leg injury in the spring game and his status for summer workouts is murky.
Dominique Gibson
is the only other scholarship running back. He had 24 yards on 15 carries in the spring game.
3. Can the front seven jell quickly?
The spring offered some optimism in this department, highlighted by the impressive spring game performances from linebackers
Marquel Lee
(9 tackles) and defensive end
Desmond Floyd
(3.5 TFL). But replacing
Nikita Whitlock
and a host of veterans up front won't be easy. The upside for Wake is that the secondary returns plenty of talent, but the Deacons will need to develop quickly on the D line.
One way-too-early prediction:
Odds are it's going to be a rough first year for Clawson in Winston-Salem, but he also isn't likely to be judging his team's progress simply on wins and losses. Clawson is trying to change the culture at Wake Forest, and that's a long-term project. In time, he'll be able to sell recruits on that culture, restock a barren roster and get the Deacons back on track. But for now, Clawson will have to make the best of what he's got — which means six wins is likely a long way off.
April, 28, 2014
Apr 28
9:00
AM ET
Spring practices have finally wrapped up in the ACC — nearly three months after Duke got them started — and for Wake Forest and Virginia Tech, it wasn't exactly the rousing conclusion fans might have hoped for.
The major question mark of the spring for both programs was on offense. Last season, the Hokies finished 13th in the conference in total offense. Wake Forest finished dead last. Both lost key starters on that side of the ball, including their quarterbacks. So, if nothing else came of Saturday's spring games, it would've been nice to have seen the offenses in Blacksburg, Va., and Winston-Salem, N.C., find a little success and calm some nerves for the long offseason ahead.
But, of course, that's not how it went.
[+] Enlarge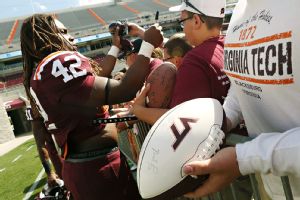 AP Photo/Matt GentryVirginia Tech early enrollee Marshawn Williams had six carries in the Hokies' spring game.
For Virginia Tech,
Joel Caleb
's 27-yard touchdown run on the first drive of the day was the only touchdown in a game that ended with just 10 points. The QB battle certainly isn't any clearer now than it was before spring practice began, as
Mark Leal
(10-of-18 for 90 yards and an INT) and
Brenden Motley
(6-of-11 for 72 yards and an interception on a end-of-half Hail Mary throw) failed to assert themselves. It could be that Texas Tech transfer
Michael Brewer
is best equipped for the job — but he won't arrive in Blacksburg for another six weeks.
Even tailback
Marshawn Williams
— perhaps the most exciting prospect on the Hokies' offense — didn't provide much encouragement Saturday, mustering just 11 yards on six carries.
Of course, there were some significant absences on the offense, and a vanilla playbook is common during spring games, but this was hardly the spring sendoff Virginia Tech fans had hoped to see.
At Wake Forest, the offensive shortcomings were at least a bit more expected. When Dave Clawson took over this offseason, he knew he'd have his work cut out for him replacing his starting quarterback, his top runner, his best receiver and his starting tight end.
The Demon Deacons' first-team offense scored 31 points Saturday, but the first three scores all were set up by interceptions. Overall, the No. 1 unit gained just 252 yards of offense — or 41 fewer than last year's average, which ranked 120th nationally.
Orville Reynolds
, who moved from receiver to tailback because Clawson was down to just one scholarship running back, had a nifty 33-yard run to highlight his afternoon, but he managed just 20 yards on his other 20 carries.
The quarterback race also remains in flux, Clawson said.
Kevin Sousa
was the clear standout Saturday, completing 16 of 32 passes for 178 yards and gaining another 68 yards on the ground, but he also had two ugly interceptions.
Tyler Cameron
was even more erratic, completing just 9 of 26 throws for 83 yards with an interception. Both quarterbacks split reps with the first-team offense.
April, 24, 2014
Apr 24
9:00
AM ET
Consider the triple whammy Wake Forest offensive coordinator Warren Ruggiero inherited when he arrived in Winston-Salem, N.C., in December.
He had to begin teaching a totally different scheme, while working with no returning starters at the skill positions and essentially no depth at any position. After nearly 15 spring practices, Ruggiero still has more questions than answers about what his group will look like when the season begins.
[+] Enlarge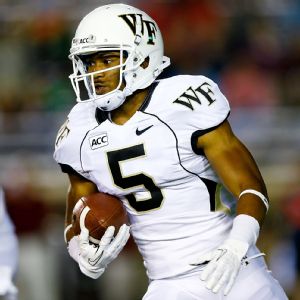 Jared Wickerham/Getty ImagesOrville Reynolds, who moved from DB to running back, is one of several players to change positions for Wake Forest this spring.
Who will start for the Deacs at quarterback?
"I have no idea who is going to play quarterback," Ruggiero said in a recent phone interview. "No one has played well enough to be a starting quarterback in the ACC at this point. We've got to get them there, and we've got to get them there fast."
Any standouts at receiver with
Michael Campanaro
gone?
"I don't think there is a Campanaro," he said. "Could there be somebody potentially down the line? Sure. But right now it's a lot of different guys each day trying to get better. Certainly nobody is an all-conference player. We have a couple of solid kids who are learning each day."
At running back, the Deacs have two scholarship players after moving
Orville Reynolds
to the position. Reynolds has had a solid spring, but at this point, Ruggiero says he has a running-back-by-committee situation.
Then there is the offensive line, a group that has struggled to maintain any consistency over the last two seasons. This group returns the most experience of any spot on offense, and that begs the question -- how much stock can one put into an offense where the "strength" is an inconsistent offensive line?
Wake Forest coaches knew they would be in for a challenge when they arrived. The Deacs have to replace their leading passer, rusher and receiver. That does not put them in unique territory in the league -- Clemson, Boston College and Georgia Tech must do the same this season. But what makes the situation more difficult than the others is the Deacs have both unproven players and no depth at all three positions. Boston College is a close second, but the Eagles at least have one quarterback on the roster who has started a college game in
Tyler Murphy
.
When the staff arrived, Ruggiero said they had one running back on scholarship and one quarterback on scholarship. That is why Reynolds was moved from flanker, and
Kevin Sousa
was moved from receiver to quarterback. Sousa will remain in a competition with
Tyler Cameron
-- the scholarship quarterback -- well into fall practice. The goal is to keep getting better every day. As Ruggiero says, the offense is a continual work in progress.
"I'm optimistic as far as who we have, what they could do, the process that is happening, I just can't tell you that we could line up today and win the ACC championship game," Ruggiero said. "We've got some work to do and it's one day at a time right now.
"I think our staff is up to the challenge. The kids come to work each day accepting the challenge. I like who we are and where we're going, but we've got a long way to go, no question."
April, 21, 2014
Apr 21
2:00
PM ET
As spring practices come to a close this week in the ACC, some lessons were learned, but as is usual for this time of year, there was no real insight as to just how good some of these teams might be this fall. How will Louisville fit into the Atlantic Division race without
Teddy Bridgewater
and with an entirely new staff? Is Clemson's defense really good enough to compensate for the losses on offense? What will BC look like without
Andre Williams
?
There are three teams, though, that are arguably the greatest unknowns heading into summer camp:

1. Virginia Tech:
Not only don't we have any idea who the quarterback might be this fall, but in an unusual twist, the traditionally stingy defense is also a question mark. Virginia Tech's front seven has to replace three starters on the defensive line and two linebackers, including
Jack Tyler
, who was the leading tackler in each of the past two seasons. The offense, though, still remains the bigger concern. Those within the program have put a positive spin on the offensive progress that was made in the second season under Scot Loeffler, but they'll also concede that without a dependable quarterback emerging this summer, it won't amount to much. Can the Hokies find a quarterback this summer who can lead them back to the top of the Coastal Division standings?

2. Miami:
The ACL injury to
Ryan Williams
left
Kevin Olsen
the leading candidate to be the starting quarterback -- an even bigger question for the position than when spring ball began in Coral Gables. Olsen's maturity has been called into question, and he completed just 7 of 21 passes for 65 yards and an interception in the spring game. So … does that mean Miami's defense finally woke up, or that it's going to be a long August for the quarterbacks? The truth lies somewhere in between, but both Miami's defense and the unproven quarterbacks will have to make major strides this fall for Miami to continue the improvement under coach Al Golden and make another run at the Coastal Division.

3. Wake Forest:
Quick, name three players on the two-deep. Busted. Only the uniforms are familiar anymore, as the Deacs have undergone a complete overhaul with a new staff and an unheralded two-deep. Without former receiver
Michael Campanaro
and nose guard
Nikita Whitlock
on the roster, this is a program in search of an identity under first-year coach Dave Clawson. In the Deacs' scrimmage on Friday night,
Orville Reynolds
was a highlight, scoring twice and finishing with 78 yards on 14 carries. The two scholarship quarterbacks,
Tyler Cameron
and
Kevin Sousa
, split time, with Sousa completing 10 of 23 passes for 128 yards. The expectations for the program in Year 1 aren't the mystery here. It's a transition year, and Clawson gets a hall pass if the Deacs are home for the holidays again. The bigger unknown is what exactly the on-field product will look like in the first year in more than a decade without Jim Grobe.
March, 25, 2014
Mar 25
9:00
AM ET
It's been just three months since Dave Clawson was
hired
as
Wake Forest
's coach, and the job of ironing out a depth chart and implementing a new culture is still in its infancy. But Clawson will take his first big step in evaluating his team when the Demon Deacons open spring practice this week. We talked with Clawson about the challenges the Deacons face and how many answers he can expect to find during the next few weeks.
Q: Your first couple months on the job had to focus on recruiting. Since signing day, how much of a feel have you been able to get for the players you already have on campus?
[+] Enlarge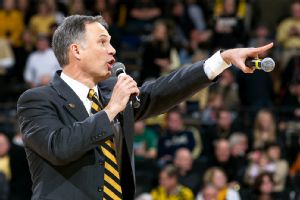 Brian Westerholt/Four Seam Images via AP ImagesNew Wake Forest coach Dave Clawson hasn't been able to spend much time with his team since he was hired in December.
A:
We've seen them in the weight room, done some of the offseason workouts and mat drills. But we're certainly excited, and in the next five weeks, we'll have a much better feel. We've watched our guys run, change direction, do football-type movements. But when you get to watch them play football, that's a big difference.
Q: Wake loses its starting quarterback, leading rusher, top receiver, top tight end and nearly all its key contributors on the defensive line from last year. Does that make for an intimidating proposition this spring or are players embracing the opportunity with so many jobs up for grabs?
A:
The whole thing this spring is really twofold: No. 1, you want to get in your systems, and No. 2, you want to see guys compete. If you've been a player here that hasn't played much, between all the open jobs and a brand new staff, you're going to have your opportunity. We'll see who takes advantage and steps up. That's what's so exciting about the next five weeks for us. This interview, if it happens five weeks from now, I'll have a much better feel for who we're building the offense and defense around and key special-teams guys. Right now, they're just kind of names on a board.
Q: Establishing your culture is always key for a new coach. How can you go about doing that this spring?
A:
A lot of that is already occurring. It has to go with how we run the weight room, how we run the offseason program, the accountability we demand in terms of academics and off-field behavior. We've had three months to start establishing that culture, and there are certainly things that come up during the course of the day or week or months that give you an opportunity to reinforce that culture. And we're doing that on a daily basis.
Q: You've said you want to build the offensive identity around the strengths of your personnel, but with so many big question marks entering spring, how do you begin to implement that game plan before you find answers?
A:
We have a core offense, a core run game, a core pass game. Formationally, there's a core of what we do. It's a base install. Then how you develop and break away from that core, and what things you add, what becomes the things you emphasize, is really how you grow through the spring. So right now, we have a base offense we've installed the last five years -- here's our core run game, these are our core protections, these are our core routes -- and as we install, we evaluate. As we get away from that core, which might be 60 percent of the offense, what do we do with the other 40 percent? That's certainly going to be based on personnel and what we're doing well and to take advantage of where we feel our strengths are and minimize where we don't have strengths.
"

... I think establishing a foundation and establishing the culture are probably more important than any individual position battle or scheme we're going to run. We need to establish the Wake Forest way of doing things.

"

New coach Dave Clawson on Year 1 at Wake Forest
Right now, we're saying we're thin at tailback. We might come out of spring and say, holy cow,
Orville Reynolds
could be a big-time player, and
[Dominique] Gibson
has gotten so much better and improved and
James Ward
is going to have a role. And now you've got two guys coming in and
Dez Wortham
, who will be healthy. Next thing you know, you go from a concern to a position of strength. That happened last year at Bowling Green.
Q: In addition to the tailbacks, the quarterback position appears up for grabs. How do you view that competition heading into spring?
A:
It's primarily a competition between
Tyler Cameron
and
Kevin Sousa
. We signed
two guys
. Obviously the two guys here have a chance to get all the reps and take advantage, but we don't have -- we're just so thin at that position, too. Tyler didn't play much last year and Kevin actually played another position. You can convert safeties to tailback or move a receiver. It's hard to take a defensive tackle and make him a quarterback. That's a harder position to fill from within, and that right there -- I don't want to say I'm concerned, but the one thing at quarterback, you get a great one through competition and we just don't have a lot of competition there in the spring.
Q: You've lost a lot of talent on the defensive line, but you return a number of starters on the back end. Is that something where those guys in the secondary are going to have to carry the load early on?
A:
Our secondary is going to have to play well. You have two returning senior starters at corner, a returning senior starter at safety and a returning sophomore starter at safety. We lost a lot up front on defense, but we return a lot in the back end. Those guys are going to have to provide stability. We may have to put a little more pressure on those guys next year to allow us to grow up up front.
Q: If you project ahead five weeks, what is the best-case scenario for how this spring plays out for you? What are the most important things you need to accomplish?
A:
No. 1, I just want to see guys play fast. Whenever you're installing new systems, it makes guys think more, makes them process more. We've got to get through that as quick as we can. We've got to make sure guys understand our core systems moving forward. No. 2 is the offensive skill position -- quarterback to running back to receiver to tight end -- you'd like to come out of spring saying, "These are the three or four guys we can really count on to make plays." The third part is shoring up the defensive front.
But as the new head coach at Wake Forest, with a new staff, I think establishing a foundation and establishing the culture are probably more important than any individual position battle or scheme we're going to run. We need to establish the Wake Forest way of doing things. That's what I'm most excited about, and that's the part of the program I enjoy the most, having been through this before. You start seeing little victories -- not necessarily on the scoreboard but behind the scenes in terms of strength gains or grade improvement, little signs guys are buying in. Part of that is just the attitude and effort we practice with. That's what we've got to get accomplished and set in stone the next five weeks here.
February, 2, 2011
2/02/11
10:32
AM ET
By
ESPN.com staff
| ESPN.com
Wake Forest's recruiting class isn't going to make a lot of headlines this year, but quarterback Kevin Sousa's signature is an important one. He could be the next Tyrod Taylor. (Seriously). Sousa has a lot of potential, and the staff was able to lure him from Michigan's commitment list in December. Once Miami coach Al Golden was hired, though, he immediately went after a quarterback, and Sousa was on his list. For Sousa to honor his commitment to the Deacs after a 3-9 season for Wake Forest is impressive. Here is a snippet of his Scouts Inc. evaluation:
"He is a spread offense type of QB that works mostly out of the shotgun and has the size to scan the field and make quick reads. He is very impressive on the move and when the launch point changes he can be a serious run/pass threat when outside of the pocket. Has very good feet and pocket awareness to buy second chances and is an accomplished scrambler that is adept at making things happen when the play breaks down. He has strength and elusiveness as a runner and can not only make people miss, but can also lower his shoulder and initiate contact in the open field to fight for extra yards."