November, 27, 2013
Nov 27
10:00
AM ET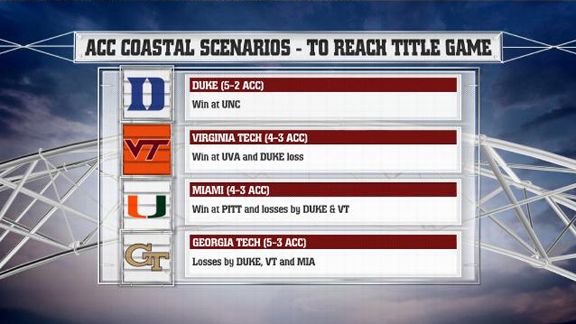 ESPN Stats & InfoFour teams are still alive in the race to the ACC Championship Game.
The best measure of Duke's success under David Cutcliffe comes on Sundays. The sixth-year Blue Devils coach gets into his office at the Yoh Football Center on the southwest side of campus for some early day-after-game work. Then he meets his wife, Karen, and 13-year-old daughter, Emily, for 11 a.m. mass at the on-campus chapel nearby.
The routine has become seemingly busier by the week. Sure, there is Father Mike Martin, a close family friend. But more and more visitors, mostly students, have come up before, after and sometimes even during the procession to congratulate Cutcliffe on the previous day's victory, and to thank him for providing another addition to the school.
Duke football might be doing the same for the ACC as well. The Blue Devils will play in their league's title game if they win Saturday at rival North Carolina, a scenario that seemed unfathomable before Cutcliffe's arrival, as the program went 13-90 in the nine years prior. But two straight years of postseason play and a number of new heights reached this fall have set the course for what the 59-year-old coach says is here to stay.
"We're not going away, I can promise you that," Cutcliffe told ESPN.com. "And I don't mean that to sound arrogant, but we're not going anywhere. We're going to be a good football team each year."
[+] Enlarge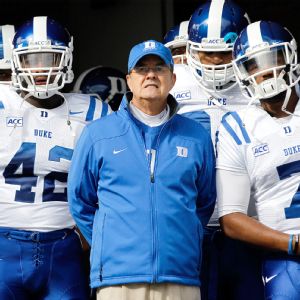 Ellen Ozier/USA TODAY SportsDavid Cutcliffe and the Duke football team have taken the ACC on storm, as a win Saturday would give the program its first 10-win season.
"I already know we'll have a good football team next year," he continued. "That's got to be the mentality. If it's not, there's something flat wrong with what we're trying to build here, and you can't accept anything else. You have to be prepared to accept expectation."
A win over the Tar Heels would give Duke 10 victories for the first time in school history. It would mark the Blue Devils' first eight-game winning streak since 1941, when they won nine straight. And it would give them consecutive wins over UNC -- which comes into Saturday's game on a five-game winning streak -- for the first time since 1987-89.
Cutcliffe, who would joke that his degree from Alabama is in "Knowology," believes he has now completed a PhD in the field.
"I've now changed it to 'Macro-Knowology,' by the way," he quipped. "I felt like I got a little smarter, so I just use that kidding with my wife. My wife's a Tennessee graduate."
Kevin White sees the matter as closer to reality than fiction. Arriving at Duke five months after Cutcliffe's hiring in December of 2007, the athletic director saw a guy who knew what he had to work with, and how to go about it.
On a scale of 1 to 10, White said, Cutcliffe's passion is a "14." The coach knows where to find all of the right buttons in a program, the AD added, and how to push them.
"He wasn't in a position to go and to recruit ready-to-play players, so he wasn't in the player-acquisition business," White told ESPN.com. "He very quickly understood that for him to be successful, he needed to move earnestly into the player-development business."
Win No. 6, last month at then-No. 14 Virginia Tech, served as a bit of a watershed moment for the program. Cutcliffe had seen 60 minutes of intensity before, but this featured a different kind of demeanor, from pregame through halftime and on the trip back.
More importantly, Cutcliffe said, his players left Lane Stadium hungrier than ever.
"There's just a whole new attitude and want for the football program to be good, not only by just the players but also the administration," sixth-year linebacker
Kenny Anunike
said. "I mean, President (Dick) Brodhead has been into our locker room numerous times to talk to us to tell us how proud he is. Everybody just wants to provide for our team, give us everything, all the tools we need to be good."
A team that dropped five straight once getting to 6-2 a year ago has gone about finishing stronger this time around. A defense that finished last in the ACC in scoring has improved to No. 5 in the league (22.8 ppg).
White is not surprised by the progress, insisting he had told anyone who listened in recent years that a sea change was on the way.
That sentiment has been echoed throughout the regime.
"There's one architect for this program, and that's Coach Cutcliffe, and the rest of us are builders," defensive coordinator Jim Knowles said. "We're all builders, and if you've been around us at all there's been that vision from Kevin White and Coach Cutcliffe that this was the way it was going to be. Even through the tough times, we all sold that to the defense, that this was going to happen. It was inevitable, because we knew we were doing all the right things, [like] how Apple knew 10 years before they were a success that they were going to be a great success."
Said Cutcliffe: "I appreciate Jim's comment. I think the key to this has been good people. I think the reason that it's been effective is I really don't lead from the top. I feel more like I'm kind of in the middle, in the traffic circle, and I'm just kind of holding up one for a second, moving the other one, and you seem like a traffic police officer in Columbus Circle."
November, 22, 2013
Nov 22
12:00
PM ET
June, 11, 2013
Jun 11
12:00
PM ET
June, 10, 2013
Jun 10
2:00
PM ET
Duke athletic director Kevin White was one of four athletic directors on the FBS level to win the
Under Armour AD of the Year Award
, presented by the National Association of Collegiate Directors of Athletics.
The award, which spans seven divisions, will be presented to White and the other honorees Saturday at the group's annual convention in Orlando. Jeff Compher (Northern Illinois), John Currie (Kansas State) and Jeff Long (Arkansas) also were honored on the FBS level.
"Since 1998, NACDA has been highlighting significant contributions made by athletics directors across all divisions of our membership," NACDA executive director Bob Vecchione said in a statement. "This award allows athletics directors to be recognized not only nationally, but also in their respective communities which heightens the awareness of their leadership position in the athletics enterprise."
Duke has once again seen success both on and off the field this past season. Here is a quick look at some accomplishments:
The Blue Devils' football team made a bowl game for the first time since 1994, and coach David Cutcliffe was honored as ACC coach of the year.
An ACC-leading 15 programs were honored with NCAA Public Recognition Awards, presented each year to teams finishing among the top 10 percent of their respective sport based on the most recent multiyear Academic Performance Rate (APR). Football was one of them.
In the most recent Learfield Sports Directors' Cup Standings, Duke stands in eighth place and ranks third among private institutions behind Stanford (first) and Notre Dame (seventh).
Late last year, Duke announced a fund-raising campaign to help fund renovations to Wallace Wade Stadium and Cameron Indoor Stadium. In all, $250 million in capital campaign projects are on the table.
March, 7, 2013
Mar 7
5:00
PM ET
Head coaching salaries have been on the rise for years. So have assistant coach salaries, sparking a further separation between the programs that can pay and the programs that cannot.
Therefore, it should come as no surprise that athletic directors have seen their salaries grow as well.

USA Today, which annually compiles head coaching salaries, recently found FBS athletic directors make
an average of $515,000
. That is an increase of more than 14 percent since USA Today last reported on AD salaries in 2011.
The ACC beats that average. Of the
available salaries compiled by USA Today
, ACC athletic directors were set to make an average of $602,829 in 2013. All but two made more than $500,000 -- Kevin Anderson at Maryland ($499,490), and Randy Spetman at Florida State ($350,00).
That doesn't count incoming Louisville athletic director Tom Jurich, who makes a cool $1.4 million -- the highest paid athletic director at a public school. Only nine athletic directors make $1 million or more. The next highest paid public school AD is Dan Radakovich at Clemson, checking in at $725,000.
Boston College and Miami, two private schools, did not disclose figures.
While Spetman's salary has remained the same for the past several years, it still surprises me that the athletic director at one of the most high-profile football programs in the nation is the lowest paid in his league. And one of the lowest paid in the entire state of Florida. Florida AD Jeremy Foley makes more than $1 million; USF AD Doug Woolard makes nearly $500,000; Todd Stansbury at UCF makes just a smidge more ($375,000); and FIU AD Pete Garcia makes $441,832.
I know Spetman has faced his share of criticism, and the Noles have fought through some financial problems. They do pay Jimbo Fisher $2.75 million -- the highest paid coach in the ACC. But something seems off when the ADs at FIU, UCF and USF make more than the guy at Florida State.
Here are is the complete list of AD salaries in the ACC, thanks to USA Today.
Tom Jurich, Louisville: $1.4 million*
Kevin White, Duke, $906,536
Dan Radakovich, Clemson: $725,000
Ron Wellman, Wake Forest: $688,000
Mike Bobinski, Georgia Tech: $625,000
Jim Weaver, Virginia Tech: $621,529
Steve Pederson, Pitt: $596,595
Craig Littlepage, Virginia: $586,750
Daryl Gross, Syracuse: $570,057
Bubba Cunningham, North Carolina: $565,000
Debbie Yow, NC State: $500,000
Kevin Anderson, Maryland: $499,490**
Randy Spetman, Florida State: $350,000
Brad Bates, Boston College: NA
Blake James, Miami: NA
*Louisville expected to join ACC in 2014
** Maryland will depart ACC in 2014
June, 12, 2012
6/12/12
9:00
AM ET
The ACC has taken its stance on a college football playoff, and commissioner John Swofford will advocate the league's position this month at three separate meetings that will help determine the future of the sport.

In an interview with ESPN.com last week, Swofford said the conference would like to see a three-game playoff format (1 vs. 4, 2 vs. 3), and conference champions should be given precedence in the selection process, but the league isn't entirely opposed to the idea of a selection committee. Swofford said the ACC favors using bowls for the semifinals and bidding out the championship game.

"Our position is one of emphasis on teams that win conference championships, however that is factored into the equation," Swofford said. "Our league is not uncomfortable with the current formula, although we would want strength of schedule as a factor and could accept any committee involvement as long as its charge includes criteria that emphasizes winning conference championships."

NC State coach Tom O'Brien said a four-team playoff won't be big enough if BCS officials truly decide to honor conference champions.

"If that's going to be the case, you can't have a four-team playoff," he said. "You're going to have to go to a six-to-eight team playoff in order for conference champs to be involved because of the number of teams that are in BCS conferences, unless that whole thing changes. Four doesn't work because there are six BCS conferences and Notre Dame. We think there's some merit to the fact you win a championship, and you are a conference champion, and you're in a BCS league. That's our point."

The debates will continue this week when BCS officials meet Wednesday in Chicago. The NCAA Division I Conference Commissioners Association will also meet in Chicago June 19-20, and the BCS Presidential Oversight Committee will meet June 26 in Washington.

"I don't think there's anything we stand to lose," Swofford said. "Everybody is going to have access if there's a playoff. What we want to have for our champion is as prominent a game as we can have if it is not playing in the semifinals. Beyond that, as we would in any system outside of these games -- is to have the best possible bowl sites and bowl matchups."

Duke athletic director Kevin White, a former athletic director at Notre Dame and former BCS representative, said he has mixed feelings on a college football playoff.

"I thought the current system did what it was intended to do," he said. "The regular season was important, every game mattered. The playoff really started in late August or early September. … I think the system worked, it was pretty effective.

"But there's such a national appetite for change," he said. "I get it, I understand it, but sometimes we change just for the sake of change. Personally speaking, I'm not sure I wouldn't prefer the status quo. As I think about Duke and the conference, I'm probably more in favor of the two semifinal games within the bowl system with a stand-alone national championship game. That seems to make some sense to me if we're going to change for the sake of change."

Clemson athletic director Terry Don Phillips said his counterparts throughout the league have spent more time discussing the possible formats for a playoff than the possibility of a selection committee, but that some combination of a human element and computers would be beneficial.

"I do like the computer rankings, where you get obviously a very unbiased ranking with regard to all of the variables that go into it," he said. "I don't think you want to do away with that. I think that should be a leading component or analysis of who are the best teams. But I do believe there is a place for people who have a good, solid background in football and have a good understanding of football with regard to being able to look at factors relative to each team and form a highly educated opinion in an unbiased fashion to go along with what the computers do for you. I think that would be helpful."

As the rest of the BCS world tries to muddle its way through meeting after meeting, Virginia coach Mike London has a unique perspective on it all: been there, won that.

Granted, London was at the FCS level when he won a national championship with Richmond, but he has been part of a playoff format and said it's worth taking a look at. For those who are concerned about how a playoff would affect academics, London said he took his academic adviser on the road with him and gave them a study hall period.

"I think it's doable," he said. "I know there are a lot of arguments not to do the FCS model because of bowls and things like that, but … I just think there's some merit in looking at the FCS model a little harder."

Not everyone in college football, though, is clamoring for a change.

"To be honest with you, I wish we'd leave it alone," Duke coach David Cutcliffe said. "We have a great national championship right now. Everybody says, 'settle it on the field.' Well, you don't know who's going to get hurt. We're not a tournament sport, and all that is is a tournament. Not even in basketball – which is a tournament sport – does the best team win a national championship every year. Gimme a break, settle it on the field. The current formula means you better be good Weeks 1-12. That's a formula, and it's worked pretty darn well."

Just not well enough, apparently, for the sport's decision-makers.
September, 27, 2010
9/27/10
1:00
PM ET
Inspired by the new social game ESPNU College Town, here's what I would select from around the ACC to build the best program in the conference.
Academics:
Duke. The Blue Devils graduate all of their players, and the institution is one of the best in the country when it comes to academics. If only I could get in.
Athletic director:
Kevin White
, Duke. Since White arrived on campus, Duke has won three NCAA titles -- women's tennis, men's basketball and lacrosse. Duke ranked 10th in the 2010 Learfield Sports Directors' Cup standings, and White has given coach David Cutcliffe much needed upgrades in facilities.
City:
Chapel Hill. Franklin Street is the epitome of a college town, and it's the place to be whether there's a game or not.
Coach:
Frank Beamer. He's loyal to his staff, and they've returned the favor. He can recruit, and he can win.
Facilities:
Florida State. This is the house that Bobby built, and it's huge. The Seminoles have everything they need to succeed, and one of the biggest stadiums in the conference. It's even better when it's filled.
Fans:
Virginia Tech. What other fan base would travel to Atlanta three times in one season to see their team play?
Game day atmosphere:
Lane Stadium on a Thursday night. You've got giant turkey legs and Metallica. What more could you want?
Mascot:
Sebastian the Ibis. In a word: aww. But he can get feisty when he needs to. Besides, what is a Hokie?
Stadium:
Death Valley. Clemson's Memorial Stadium has Howard's Rock, the Hill and the tradition.
Strength program:
Miami. Longtime strength coach Andreu Swasey has trained the likes of Willis McGahee, Kellen Winslow II and Sean Taylor.
These are all tough picks, especially when choosing a coach and the fans. Clemson fans would actually probably tie Virginia Tech fans, but there is no better display of loyalty than a travelling fan base, and to sell out three times in Atlanta last season is going to be tough to beat. As for the coaches, this conference is loaded with good ones, but most of the ones who came to mind quickly (Paul Johnson, Jim Grobe and David Cutcliffe) lost this past weekend. I made my choice based on a longer period of time, and Beamer has owned the ACC since joining the conference, though CPJ is a two-time ACC Coach of the Year. And if Cutcliffe can win at Duke, he can win anywhere. So argue amongst yourselves and feel free to build your own ACC dream team in the ESPNU College Town game.
November, 28, 2008
11/28/08
3:30
PM ET
Posted by ESPN.com's Heather Dinich
The campaigning has begun, and Duke coach David Cutcliffe is leading the charge. E-mails and flyers have been mailed, and even Duke athletic director Kevin White, at least according to Cutcliffe, has gotten on the phone and made a few phone calls on behalf of linebacker Michael Tauiliili.
| | |
| --- | --- |
| | |
| | Icon SMI |
| | This season, LB Michael Tauiliili leads the ACC in tackles with 120 and has 10.5 tackles for loss, three INTs, three forced fumbles and five pass breakups. |
"We're really pushing him hard on the All-American scene," Cutcliffe said. "I really believe he should be the ACC Defensive Player of the Year and should be a first-team All-American. I want to see his picture on the wall because he's earned that. I don't like All-Americans that are there by reputation and you look at them on tape and they don't look like much. I've seen that my whole career."
Duke, along with Cutcliffe, will fight the school's losing record (4-8, 1-6 ACC) when it comes to preseason honors, even though the four wins this season have matched the program's win total for the past four seasons. Those four wins are the most by a Duke head coach since 1994, but Cutcliffe's chances at Coach of Year in the ACC have taken a slide since he has won just one game since Sept. 27.
Not all of the progress, though, can been made in wins and losses.
The biggest and arguably one of the most important changes Cutcliffe made when he took over the program was the emphasis on strength and conditioning, and Tauiliili is Exhibit A. Tauiliili entered winter conditioning around 248 pounds and has played this season around 232. He is the ACC's leading tackler with 120, and has 10.5 tackles for loss, three interceptions, three forced fumbles and five pass breakups.
In last week's 14-3 loss to Virginia Tech, Tauiliili had nine tackles, one interception, and three pass breakups. He was a major reason why the Blue Devils had possession of the football with 1:31 left in the game, trailing 7-3.
"I just bought into what the coaches were asking me to do, as far as conditioning and my weight," Tauiliili said. "Me buying into that, I was definitely able to see some of the positives, just the physical aspect of being able to move around a lot better and help the team. Hearing coach talk about his confidence in me and my ability to play, it makes me feel good to know I've got him pushing for me for All-American."
Somebody has to, especially at Duke.
"It's difficult to put it into words, but he's the best defensive football player in the ACC," Cutcliffe said. "I've seen everybody at this point, and there's not another one like him. He continues to play at a high level every single snap. He's a great leader off the field. His practice habits are perfect and whether it's intercepting passes, recovering fumbles, causing fumbles, making tackles that no one else is going to make, he is all over the field."
Tauiliili's newfound speed and his statistics indicate a remarkable season, but whether or not he -- or Cutcliffe -- earn national recognition for it remains to be seen.
October, 21, 2008
10/21/08
12:37
PM ET
Posted by ESPN.com's Heather Dinich
Here's a quick look at what's going on in the ACC today:
Virginia Tech had gotten by with its questionable offense until it traveled to Chestnut Hill. If it continues to struggle like that, the Hokies have no shot of playing in the ACC championship game, writes Darryl Slater.
Hey Seminoles fans -- "Spirit, spirit, spirit," Bobby Bowden says. None of FSU's three previous home games have been sold out, and this one is so important that Bowden implored boosters to show up and be loud.
You would think this has to be one of the more entertaining radio shows on Tobacco Road, especially when the host, Duke AD Kevin White, is asked about something like, say, firing coaches.
Has anyone realized that NC State quarterback Russell Wilson has thrown one interception in 115 passes? Um, yeah, definite trap game for the Terps.
North Carolina coach Butch Davis took some of the blame for his team not having any timeouts left in the last 47 seconds of regulation after Virginia tied the score at 10. Whoops.
July, 8, 2008
7/08/08
7:14
AM ET
Posted by ESPN.com's Heather Dinich
Finally.
Duke's athletic director is ready and willing to give Wallace Wade Stadium -- which feels as old as its namesake -- an upgrade, according to the Raleigh News & Observer.
Kevin White, who was recently hired from Notre Dame, met with reporters Monday and called the facility "antiquated at best."
The problem is, White said he doesn't know where to start. By acknowledging the subpar stadium, though, he already did.
Duke now has the two most important things in place to begin improving upon its embarrassing 4-42 record over the past four seasons -- a veteran head coach in David Cutcliffe and an administration to back him.
In other ACC news this morning. . . .
* This isn't exactly the picture you want for your player bio in the Clemson media guide, but apparently Tommy Bowden has his reasons for allowing DB DeAndre McDaniel to remain an "active member" of the team while he faces criminal assault charges.
* Here's a story for you that I'm all-too familiar with. I covered Maryland for the Baltimore Sun for two and a half seasons and wrote this very same story, which struck a nerve in the Gossett football building. At that time, PSU had gotten 9 of the top 11 players in Maryland. Here's my take on it this time around -- Maryland isn't going to be too concerned because these guys are going to pan out to be average players. How do I know? When's the last time you saw TWO phenomenal players come out of the same high school at the same time? PSU defensive line coach Larry Johnson got four kids from two high schools (Lackey and Eleanor Roosevelt). He's earned quite the reputation for plucking talent out of Maryland, but frankly, he's overrated as a recruiter. Aaron Maybin? Hasn't played. Antonio Logan-El? Quit the team. The list goes on.
* The only other news out of ACC country was unfortunate, as former Georgia Tech DB Jake Rudolph died on Sunday, according to the AJC.
ACC SCOREBOARD
Saturday, 12/21
Monday, 12/23
Tuesday, 12/24
Thursday, 12/26
Friday, 12/27
Saturday, 12/28
Monday, 12/30
Tuesday, 12/31
Wednesday, 1/1
Thursday, 1/2
Friday, 1/3
Saturday, 1/4
Sunday, 1/5
Monday, 1/6
Tweets from @ESPNCFB/acc