September, 4, 2013
9/04/13
12:00
PM ET
Julie, hey, guess what day it is ... Hump day!
Here's a great story from the Miami Herald on Hurricanes' running back
Duke Johnson
, who is
driven by promises he made to his mother
.
Everyone fell in love with
Jameis Winston
in Florida State's opener, but Tomahawk Nation points out that there is
ample reason for concern about the Seminoles' defense
.
If there's a silver lining to Pitt's loss to Florida State, it's that the Panthers
identified a few serious playmakers
-- namely freshman
Tyler Boyd
, writes the Tribune-Review.
After a horrendous opening-week performance, Virginia Tech's receiving corps has a lot of work to do
to win back the trust
of QB
Logan Thomas
.
Virginia sophomores
Eli Harold
and
Maurice Canady
have
grown into big roles on Jon Tenuta's defense
, writes the Daily Progress.
Wake Forest's defense is
expecting a serious test
when it opens ACC play against Boston College, writes the Winston-Salem Journal.
Look for
Andre Williams
to carry a hefty load
for Boston College this weekend, writes the Boston Herald.
C.J. Brown
reveled in his comeback from an ACL injury, but
he's ready to turn the page
and focus on Old Dominion, according to the Washington Post.
The Tar Heel Blog
wonders if it's fair to suspend
UNC offensive lineman
Kiaro Holts
for his seemingly cheap shot on
Jadeveon Clowney
in the opener.
The loss to Penn State
doesn't necessarily tell us a lot
about what Syracuse has in store for Northwestern, writes the Troy Nunes blog.
This week's game against South Carolina State figures to be an easy one for Clemson, which
opened as a whopping 52-point favorite,
writes the Charleston Post & Courier.
Paul Johnson is nothing if not a quintessential football coach. He
managed to find plenty to work on
after Georgia Tech's historic 70-0 win over Elon, writes the Atlanta Journal-Constitution.
August, 28, 2013
8/28/13
9:00
AM ET
North Carolina had one of the best offensive lines in the ACC last season.
But what
was
a veteran unit is
now
rebuilding with three new starters -- including two redshirt freshmen.
[+] Enlarge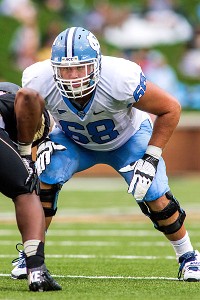 Jeremy Brevard/USA TODAY SportsJames Hurst is expected to be the leader of North Carolina's young offensive line.
Not exactly the ideal set of circumstances the Tar Heels want headed into their opener against No. 6 South Carolina on Thursday night. Especially since just about everybody is asking how North Carolina will contain Gamecocks star defensive end
Jadeveon Clowney
.
"I'd love to have a couple games under our belt before playing them because they're an outstanding defensive line," offensive line coach Chris Kapilovic said in a phone interview. "It's more than just Clowney. Those other guys are really good. That's probably the best defensive line we'll face since I've been here. But our guys understand the challenge, and they've worked extremely hard. We're going to have to be sharp and do a good job schematically."
The Tar Heels, especially the offensive linemen, have been answering questions about South Carolina and Clowney for months now. North Carolina lost loads of game experience from its group last fall, including its best player -- All-American guard Jonathan Cooper.
Consider this: North Carolina went into the 2012 season with a combined 92 starts from its starting offensive linemen. This season, the starting linemen have combined for 54 starts. A vast majority of those belong to senior tackle
James Hurst
and his 36 career starts.
Indeed, with Cooper gone, North Carolina plans to rely more on Hurst and center
Russell Bodine
to help the younger players along. Hurst should be one of the best tackles in the country, so that gives the team an advantage.
Kapilovic calls Hurst, "the smartest offensive lineman I've ever coached. He's a tremendous student of the game, his note taking, his attention to detail. When you explain something to him one time, he's got it."
What is particularly beneficial is that Hurst and Bodine will start alongside redshirt freshman
Caleb Peterson
, who takes over for Cooper at left guard. Peterson has never played in a collegiate game, so opening against Clowney is almost like throwing a guppy into a pond full of piranhas. He'll have to find a way to survive, but at least he won't have to do it alone.
Hurst started mentoring Peterson from the moment Cooper graduated.
"I wanted to start getting inside his head, watching him practice in the spring, seeing what he brought to the table, seeing what he needed to work on," Hurst said. "From that point of view, I tried to help him wherever I could. There's a lot of different things you want to do early to try and motivate a guy and get him going, and I think he's responded well. He's a really hard worker, and he's done everything he can do to be a good player this year."
One key area of improvement has been Peterson's footwork, which should allow him to play faster and with more confidence.
"The more reps you get, the better you're able to let loose a little bit and play football instead of going out there and faking and analyzing during the play," Bodine said. "He's made huge strides, not only in just quickening up his feet this offseason, but he's relaxed and been able to focus on playing football a little more."
The other side of the line features a redshirt freshman, too. After a competition that lasted all of fall camp,
Jon Heck
emerged as the starter at right tackle over
Kiaro Holts
and
Nick Appel
. Holts was atop the depth chart after spring practice, but Heck won the job because he was more consistent during preseason practice.
There is some experience at right guard, though not much.
Landon Turner
, a sophomore, started the last four games of 2012 when Brennan Williams was lost for the season.
As it stands, North Carolina only has one senior starter. But Bodine has worked on becoming a more vocal leader now that he is one of the veterans on the line. Though he is the one in charge of making the line calls, he always relied on the more experienced players around him to provide leadership. Now his role has changed.
That means helping the young players along and being one of the leaders in film study as well. Every day during the summer, the linemen got together to watch game tape early in the mornings and formed a breakfast club, in which a group brought in breakfast every day for a week. Hurst and Bodine supplied sausage biscuits from McDonald's, which kept their teammates happy.
In turn, the players were able to get to know each other better and that has translated onto better teamwork on the field.
"You can build chemistry off the field, and if you're good friends, you want to play for that guy next to you just a little bit more," Hurst said. "We started working on that this summer a little more. In camp, you could see the effectiveness of small things like that."
Still, practices have been uneven because Kapilovic says the younger players do not quite know what it takes to be consistent every single day -- yet.
It could take several games before North Carolina feels comfortable up front. But there is no time to waste with such an important opener looming.
August, 1, 2013
8/01/13
5:00
PM ET
Several more teams in the ACC begin practicing today, and by Aug. 6, the entire conference will have officially begun fall camp. Here's a quick look at when each team in the Coastal Division is starting, and what to keep an eye on:

Duke
Opening camp
: Aug. 5
What to watch:
Quarterback
Anthony Boone
is entering his first season as a full-time starter, and Duke's offense will look different as a result. Boone has a stronger arm than his predecessor, Sean Renfree, and he's more mobile. The question is whether the Blue Devils can get their running game going around him, and if the defense can finally find a way to stop the run. The entire secondary has to be rebuilt, as
Ross Cockrell
is the only returning starter, and even he missed half the spring with an injury.

Georgia Tech
Opening camp:
Today
What to watch:
Vad Lee
takes over at quarterback, and expectations are already soaring. The defense will be under the direction of first-year coordinator Ted Roof, a familiar face to the program and the ACC. Coach Paul Johnson said it's likely the Jackets will throw the ball more this fall, but how much depends on whether they can find some dependable receivers in a group that's been depleted this offseason.

Miami
Opening camp:
Aug. 3
What to watch:
Defensive improvement will be the key to the Canes' success this year, particularly up front where the group struggled to get pressure on quarterbacks last fall. Every starter returns on both the offensive and defensive lines, and so does 2012 ACC Rookie of the Year
Duke Johnson
and veteran quarterback
Stephen Morris
. Miami was chosen by the media as the preseason favorite to win the division this year, but the defense was one of the worst in the country last year, allowing 30.5 points per game. And of course, the NCAA is still snoozing.

North Carolina
Opening camp:
Today
What to watch:
The offensive line's cohesiveness and development will be critical, especially after lead blocker Jonathan Cooper left, who helped make former running back Giovani Bernard look so spectacular. Plenty of talent and experience returns, starting with
James Hurst
, who could be a first-round draft pick, and center
Russell Bodine
.
Landon Turner
and
Kiaro Holts
have playing experience, and
Caleb Peterson
is a redshirt freshman taking over for Cooper. Keep an eye on the competition at running back, where
A.J. Blue
is penciled in as the starter to take over for Bernard, and in the return game, where Bernard will also be missed.

Pittsburgh
Opening camp:
Aug. 6
What to watch:
Quarterback
Tom Savage
hasn't officially been named the starter, so the competition with
Chad Voytik
continues. The running game took a hit when Rushel Shell decided to transfer, so also keep an eye on how
Malcolm Crockett
and
Isaac Bennett
fare. None of that will matter much, though, if the offensive line can't get it together. The group was a major question mark after the spring, as new center
Gabe Roberts
struggled a bit with the shotgun snap, and depth and experience remain concerns. With nine starters returning on defense, including standout lineman
Aaron Donald
, the Panthers will have to rely on their defense until the offense catches up.

Virginia
Opening camp:
Aug. 5
What to watch:
This team will have an entirely new look this fall. The Cavaliers overhauled the staff, including adding two new coordinators and hiring former NC State coach Tom O'Brien. Mike London said he expects to name a starting quarterback by mid-August, but the field has narrowed to frontrunners
David Watford
and
Greyson Lambert
. Virginia needs to find some linebackers to help fill the voids after Steve Greer and LaRoy Reynolds left, and the running game has to show progress after ranking No. 96 in the country last year.

Virginia Tech
Opening camp
: Aug. 5
What to watch:
Offense, offense, offense. It's the storyline in Blacksburg, as first-year offensive coordinator Scot Loeffler was hired to cure the Hokies' woes and make quarterback
Logan Thomas
look like the first-round draft pick many projected him to be. Problem is, it's not just Thomas who needs to get better. The offensive line remains a work in progress, the running game is a question after
Michael Holmes
' dismissal, and the receivers are still young. Thomas can't do it all by himself, and it's in his nature to try. That's when the mistakes happen. This summer has to be about the entire supporting cast improving, because Alabama's defense will be ready to exploit any and every weakness in the season opener.
May, 9, 2013
5/09/13
2:00
PM ET
North Carolina is a team folks are not sleeping on in the Coastal this year, thanks to immediate results in Year 1 under Larry Fedora.
But there certainly are some questions that have to be addressed on offense, with players like Giovani Bernard, Jonathan Cooper and Brennan Williams gone. I had a chance to check in with North Carolina offensive coordinator Blake Anderson to see how his offense has progressed in filling those spots and addressing other key areas. Here is a little of what he had to say.
Where do you feel you guys stand after the spring?
Blake Anderson:
We're a long ways away from where we've got to be. We lost some really good players, and it's not going to be easy but in terms of this spring, one of the things we focused on was we wanted to increase our transition speed -- play faster. The first year of a tempo offense from a pro-style team to a tempo-style team was good but we felt like we can improve and I thought we did that. We focused on being faster between plays, the ability to get the next play off quicker, to communicate. I thought we took a step forward in that.
We simplified things offensively to try to be better technically and better positionally and allow guys to maybe fine-tune their craft. We did a better job as a staff of being more streamlined and narrowing a few things down and that allowed guys to get better at a few things. We have so many new faces on offense, we wanted some young guys to step in and play early so it's a combination of a couple different things.
And really, the rest of it is a work in progress. How many of our tailbacks take over the load that Gio's leaving and then with three offensive linemen getting drafted we have to find who our starting five is and even more importantly who Nos. 6 and 7 are. We've started on that process, but we're not near finished with it.
In terms of playing faster, how many plays did you end up running per game?
BA:
It was somewhere around 74, 74.5 last year, a good bit lower than what we would like it to be.
Where do you want it to be?
BA:
Well, we'd love to average 80 a game. That's always been a ballpark number. Some of that is outside of our control. Some of that is how the opponent plays offensively in terms of the clock they run, what are they doing -- are they trying to milk the clock? Some of it had to do with games we had the lead in and we consciously slowed the game down in the second half. I look at it in a game-by-game basis but I felt like overall our transition tempo can improve and it should and it is. Now I don't know if our average play per game will be a whole lot different or not. But 80 is a good marker for us. It gives us a good average number. If we're around that number we're moving in the right direction.
How does the transition up front impact Bryn Renner?
[+] Enlarge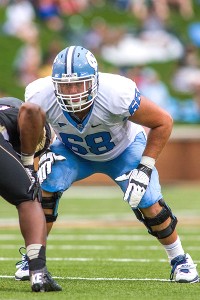 Jeremy Brevard/USA TODAY SportsThe Tar Heels have to replace three starters on the offensive line, but they are set at left tackle with James Hurst.
BA:
I'd be lying if I said he doesn't think about it but I don't want him worried about what's happening up front. I think he has some comfort in knowing he's going to have one of the best left tackles in the country with
James Hurst
on one side, and for a right-handed quarterback that obviously is a good amount of comfort. There's not a guy that's going to outwork Hurst.
Russell Bodine
at center has come a long way. He's become one of the best at that position in the country as well so he has a tremendous amount of confidence in those guys. We're fortunate that
Landon Turner
played as many snaps as he did last year with Brennan Williams being injured. Even though three guys went in the draft, there's three guys coming back that played basically the entire season for us. I don't think Bryn's that concerned or I hope he's not that concerned about those other two spots. We took big steps with
Kiaro Holts
and
Caleb Peterson
this spring at getting them to be functional up there. Are we going to be as talented as we were last year? Probably not. Maybe in the long run we'll be just as good. Initially, there's going to be some growing pains but that's not something Bryn's got a lot of time to be worried about. I think he's aware he has to get the ball out quickly at times, he's aware of where some pressures might come from. His biggest role is communicating well and feeling poised so those guys aren't rattled, so Bodine and Hurst and Landon Turner can bring those other two guys along. It's going to be a team effort. I don't want him to worry. His job is already tough enough as it is.
Coach Larry Fedora mentioned if the season started today, A.J. Blue would get the starting nod at running back over Romar Morris because of his experience. How do you envision the rotation working out?
BA:
It's going to be running back by committee to some degree. Even as good as Gio was and as good a year as he had, it took all those guys to get through the season. So it's going to take them all. They're all a little bit different, and injury at some point is going to keep somebody out for a game or a quarter or a half and we're going to need everybody, all hands on deck. I would say the walk-on
Charles Brunson
that went through the spring or T.J. Logan, the freshman coming in, I would say those guys would end up touching the ball as well. It's just the nature of college football.
How do you think Khris Francis fits into the mix?
BA:
Really surprised at how quickly Khris Francis picked up things. He put the ball on the ground early but got better as the spring went on. For a freshman coming in, it's always an eye-opening experience. Defenses at this level attack the football and try to take the football away. He's got the skill level to be good. I think it's going to be a one-two punch, you may see A.J.-Romar one week and maybe Romar-Khris or maybe Khris and A.J. depending on who's healthy, who's got the hot hand, who's having a great day and how the season is going. I can see a one-two punch with three or four guys.
Quinshad Davis emerged for you at receiver last year but maybe you didn't have the depth you wanted. Where does that group stand now?
BA:
Just the transition from the old style to what we do, that's the position where it takes the longest to get your numbers built the way you want to get them built. You're getting a lot more plays than you've gotten. We're asking more guys to be on the field than they have in the past. So we're still seeing some growing pains. We are thin, we were beat up. We've been unfortunate with a few guys who have ability but haven't been physically able to get out there.
T.J. Thorpe
is one of those guys we have to get on the field. I thought Quinshad had a great freshman year, better than expected. He had a really good spring. I saw him step up, his personality, he became even more competitive on a daily basis whereas in the fall he was playing well, but you didn't see him step up and try to lead in any way. He was just following the group. I thought this spring he stepped up his competitive nature and led some drills, led the group, and that will make him a better player.
And then
Kendrick Singleton
and
Sean Tapley
both played several different positions during the spring. We bounced them around and utilized them different ways, which is going to benefit us in the fall. It's going to make us more versatile. We're trying to find out what role they can play. The way we operate you have to talk about the tight end at the same time. Without
Eric Ebron
this spring, I thought
Jack Tabb
had a very, very good spring. He trimmed down a little bit, got a step faster and became more versatile. Once you throw Ebron back in the mix with Tabb and those guys I mentioned and hopefully we can infuse a couple young guys coming in, I think we're going to be still inexperienced but I think we have a chance to be a step better.
May, 7, 2013
5/07/13
8:00
AM ET
North Carolina Tar Heels
2012 record:
8-4
2012 conference record:
5-3, Coastal
Returning starters:
Offense: 6; defense: 7; kicker/punter: 1
Top returners

QB
Bryn Renner
, OT
James Hurst
, DE
Kareem Martin
, S
Tre Boston
Key losses
RB
Giovani Bernard
, OG
Jonathan Cooper
, DT
Sylvester Williams
, LB
Kevin Reddick
2012 statistical leaders (*returners)
Rushing:
Bernard (1,228 yards, 12 TDs)
Passing:
Renner* (276-of-422 for 3,356 yards, 28 TDs, 7 INTs)
Receiving:
Quinshad Davis
* (776 yards, 5 TDs)
Tackles:
Boston* (86)
Sacks:
Reddick (6.5)
Interceptions:
Boston,
Tim Scott
(four each)
Spring answers
1. Offensive line.
Though the Tar Heels are losing three starters on the offensive line, including All-American guard Cooper, they do already have their starting five pretty set going into fall camp.
Landon Turner
and
Kiaro Holts
have playing experience, and
Caleb Peterson
is a redshirt freshman taking over for Cooper. The good news is the Tar Heels have two terrific players helping them in tackle
James Hurst
and center
Russell Bodine
.
2. Strong secondary.
There are some key faces the Tar Heels have to replace on their defense, but their secondary returns nearly all of its key contributors. Safety
Tre Boston
has an opportunity to be an all-conference player, and this unit should be much better than it was a season ago.
3. Watch for Kareem Martin.
By all accounts, Martin had a terrific spring as the leader of the defensive line with Williams gone. Martin had four sacks and six tackles for loss in the spring game, and is motivated to have a monster season.
Fall questions
1. Running back.
We did get a few more answers this spring about
A.J. Blue
and
Romar Morris
, but it's still unclear how the Tar Heels are going to use him and true freshman
Khris Francis
, who was in for spring. They might use a running back-by-committee approach as they try to replace Bernard's productivity.
2. Offensive line depth.
While the Tar Heels feel certain they know what their starting offensive line is going to look like, they are not so sure about who the next three men into the rotation are going to be. So depth is one key area that has to be built in the offseason and into fall camp.
3. Receiver.
At this point, North Carolina has three known commodities in
Quinshad Davis
,
Sean Tapley
, and tight end
Eric Ebron
. The Tar Heels are waiting on
T.J. Thorpe
to get healthy and some other guys to really start being more consistent and defining their roles, because there are plenty of opportunities for making big plays in this offense.
April, 12, 2013
4/12/13
10:00
AM ET
North Carolina closes out its second spring under coach Larry Fedora on Saturday (3 p.m., ESPN3). I had a chance to catch up with quarterback
Bryn Renner
this week to talk about the progress the offense has made.
Here is Part I of our interview, which focuses on key improvements, and the revamped offensive line.
Coach Larry Fedora has said he feels the offense is light years ahead of where you were a year ago. Where do you feel you guys are as spring practice comes to a close?
Bryn Renner:
I think it's night and day. The atmosphere is a lot more comfortable. Last year was pretty different as far as learning a whole new system we weren't used to. Getting used to a whole new coaching staff, that was big for us. The transition that we made at the end of the season last year and having a great offseason, I think it really paid off. This spring, we've made a ton of improvements because of the knowledge of knowing what to do and where to go.
In terms of the improvements, can you pinpoint a few things?
BR:
I'd probably say offensively, we have made a lot of improvements replacing the three offensive linemen we lost. I think they've done a great job stepping in and knowing the roles they need to fill. Then the running back position, A.J. [Blue] and Romar [Morris] have stepped up and taken the role of replacing one of the best running backs in the country.
The offensive line obviously is so critical to any team. You lost an All-American in Jonathan Cooper. So when you say the offensive line is coming along, tell me more about how are the three new guys doing.
BR:
Replacing those guys is going to be tough. They had great careers here,
Kiaro Holts
at right tackle,
Caleb Peterson
at left guard and then
Landon Turner
at right guard, they've done a great job of learning the playbook and feeding off the relationships they had with those three guys, the close bond in the linemen room. The studied their film and understood their role of how to play the position. It's really big they could learn from three guys like that and I think they're going to be great for us this year.
Caleb is a redshirt freshman, so what is it going to be like for him having no playing experience and then taking over for Cooper?
BR:
I think the kid's personality is he wants to be the best and he works really hard. He's always in the film room studying. Having that relationship with Coop is going to be huge. Coop's always around the stadium still and helping out with him in practice. The biggest thing for Caleb is having
James Hurst
on his left side, one of the best tackles in the country. He's started for four years, and really understands the game. James is the best I've ever seen as far as knowing what to do and where to be. Coop will even tell you that, having James next to him really helped out. He's almost thinking for two out there and it's going to be a big luxury to have James next to him all year.
That's got to be a huge factor for you, especially considering that's your blind side.
BR:
I've been blessed with the offensive line play throughout my career here, just having one of the top offensive linemen almost every year, and to have James coming back and
Russell Bodine
up front, this will be our third year together so it's good to have those guys that can be on the same page with you out there.
Stay tuned for Part II, when we discuss Blue and Morris, the receiving group and the big test looming to open the season.
March, 5, 2013
3/05/13
1:00
PM ET
The good news: North Carolina returns offensive tackle
James Hurst
, an All-ACC candidate for 2013, and center
Russell Bodine
.
The bad news: The Tar Heels have to replace three starters up front, including All-American
Jonathan Cooper
.
Much of the focus surrounding North Carolina this spring will be on how the Tar Heels are going to compensate for the early departure of running back
Giovani Bernard
to the NFL, but more important are the holes that need to be filled up front. A year ago, North Carolina's offensive line was its strength, and arguably one of the best in the ACC. This spring, there are far more questions and inexperience.
"How do you replace Jonathan Cooper?" coach Larry Fedora asked. "I mean, the guy is the best one that I've ever coached inside. I don't know that we'll replace him. We've got some guys who are going to compete for those jobs and they'll step up. I'm still going to expect us to be better on the offensive line than we were last year."
Those are high expectations, considering North Carolina will have to turn to several redshirt freshmen with zero collegiate game experience for answers. It will help that
Landon Turner
started the final four games of 2012, and Bodine returns at center, along with Hurst. The two main questions are at right tackle and left guard.
Redshirt freshman
Caleb Peterson
is the likely frontrunner at guard, but considering the lack of experience, not even those within the program know who will emerge at the top of the depth chart.
John Ferranto
, a redshirt freshman, could be a leading candidate at right tackle, but
Jon Heck
is another option.
Nick Appel
, a junior, has played guard and tackle sparingly, and will also be in the mix. Both Peterson and Ferranto were recruited by Fedora's staff, but don't forget about
Kiaro Holts
, who was ranked the No. 8 offensive guard in his recruiting class. He has been injured most of his career, but could also be very valuable this fall.
"I don't really worry about it," Fedora said of the uncertainty. "I know Chris Kapilovic will have guys ready. He'll have them ready. Now, will we be there in the spring? I don't know. That will be a good question to find out at the end of the spring, where we feel like we are. One thing you worry about in the spring, that hinders you there, is injuries. Sometimes you don't know exactly who you've got."
Unfortunately for the Heels, they know who they don't have anymore -- Cooper and Bernard.
October, 28, 2011
10/28/11
10:30
AM ET
By
ESPN.com staff
| ESPN.com
Here are the latest injury reports from the schools that reported them:
BOSTON COLLEGE
Out
WR
Ifeanyi Momah
(knee)
DB CJ Jones (knee)
DT Connor Wujciak (shoulder)
TB
Montel Harris
(knee)
DT Kaleb Ramsey (foot)
DT Dillon Quinn (shoulder)
OG Nate Richman (back)
LB Kevin Pierre-Louis (leg)
DE Dan Williams (leg)
Doubtful
DT Conor O'Neal (illness)
Questionable
WR
Bobby Swigert
(shoulder)
CLEMSON
Out
Joe Gore, DE, Knee
Spencer Benton, PK, shoulder
Tony Steward, LB, Knee
Questionable

Andre Ellington
, RB, ankle
Note:
D.J. Howard
will start at running back.
DUKE
Probable
WR
Brandon Braxton
(head)
S Matt Daniels (leg)
OG Dave Harding (leg)
QB
Sean Renfree
(leg)
Questionable
DE Justin Foxx (leg)
Doubtful
CB Johnny Williams (leg)
Out
S Lee Butler (leg)
QB
Brandon Connette
Out for season
TE
Jack Farrell
(leg)
DE Kenny Anunike (leg)
FLORIDA STATE
Out
Andrew Datko (shoulder)
David Spurlock (knee)
Henry Orelus (head)
Moses McCray (knee)
Darious Cummings (hand)
Willie Haulstead
(head)
Josh Gehres
(knee)
Doubtful
Rashad Greene
(ankle)
Out for season
Jacobbi McDaniel (ankle)
Chris Thompson
(back)
GEORGIA TECH
Out
Jay Finch, C
Tyler Morgan, LS
Out for season
Fred Holton, S
Jimmie Kitchen, DL
Lance Richardson, S
MARYLAND
Out for season
WR
Tyrek Cheeseboro
OL Andrew Gonnella
DB Avery Graham
LB Garrett Lederman
DB Matt Robinson
DL Isaiah Ross
TE
Dave Stinebaugh
LB Kenny Tate
Out
WR
Kevin Dorsey
OL Justin Gilbert
DB Jeremiah Johnson;
Doubtful
DL Justin Anderson
Questionable
WR/PR
Tony Logan
DL Andre Monroe
Probable
OL Max Garcia
NORTH CAROLINA
Out
Casey Barth, PK Thigh
Sean Fitzpatrick
, TE Concussion
Kiaro Holts, OT Wrist
Matt Merletti, FS Knee
Devon Ramsay
, FB Knee
Reggie Wilkins
, WR Ankle
Questionable
Curtis Byrd
, RB Knee
T.J. Leifheit, OT Ankle
Probable
Cam Holland, OC Back
Dwight Jones
, WR Thigh
Kevin Reddick, LB Chest
NC STATE
Out for season
Jarvis Byrd, CB - knee
Mustafa Greene
, HB - foot
Sterling Lucas, LB - knee
Out
Brandon Pittman, LB - leg
Taylor Gentry
, FB - foot
Jake Kahut, DE - knee
Jeff Rieskamp, DE - shoulder
Thomas Teal, DT - foot
VIRGINIA TECH
Out for season
Kwamaine Battle (knee)
Jeron Gouveia-Winslow (foot)
Antoine Hopkins (knee)
Dyrell Roberts
(arm)
E.L. Smiling
(wrist)
Bruce Taylor (foot)
Out
Mark Shuman (knee/ankle)
Alonzo Tweedy (ankle)
October, 21, 2011
10/21/11
10:00
AM ET
By
ESPN.com staff
| ESPN.com
BOSTON COLLEGE
Out

WR
Ifeanyi Momah
(knee)
DB CJ Jones (knee)
DT Connor Wujciak (shoulder)
TB
Montel Harris
(knee)
DL Kaleb Ramsey (foot)
RB
Tahj Kimble
(head)
DT Dillon Quinn (shoulder)
Probable

OG Nate Richman (back)
CLEMSON
Out

Joe Gore, DE, Knee
Spencer Benton, PK, shoulder
Tony Steward, LB, Knee
DUKE
Probable
WR
Brandon Braxton
(head)
S August Campbell (leg)
Questionable
C Dave Harding (leg)
C Brian Moore (arm)
WR
Donovan Varner
(leg)
CB Johnny Williams (leg)
Out
S Lee Butler (leg)
QB
Brandon Connette
(upper body)
Out for season
TE
Jack Farrell
(leg)
DE Kenny Anunike (leg)
FLORIDA STATE
Out
OT Andrew Datko (shoulder)
OG David Spurlock (knee)
OG Henry Orelus (head)
WR
Willie Haulstead
(head)
WR
Josh Gehres
(knee)
DT Darious Cummings (hand)
DT Moses McCray (knee)
Questionable

WR
Rashad Greene
(ankle)
Out for season

DT Jacobbi McDaniel (ankle)
RB
Chris Thompson
(back)
GEORGIA TECH
Probable
Jeremiah Attaochu, LB
Out

Tyler Morgan, LS
Out for the season

Fred Holton, S
Jimmie Kitchen, DL
Lance Richardson, S
MARYLAND
Out for the season
WR
Tyrek Cheeseboro
OL Andrew Gonnella
DB Avery Graham
LB Garrett Lederman
DB Matt Robinson
DL Isaiah Ross
TE
Dave Stinebaugh
Out
DL Justin Anderson
WR
Kevin Dorsey
OL Justin Gilbert
LB Shaquan Virgil
Doubtful
LB Demetrius Hartsfield
LB Kenny Tate
Questionable
DL Andre Monroe
Probable
OL Pete White
MIAMI
Out
Luther Robinson - Lower Extremity
Shayon Green - Lower Extremity
Curtis Porter - Upper Extremity
Rashawn Scott
- Upper Extremity
Surgery/Out for the season

Marcus Forston - Lower Extremity
Ramon Buchanan - Lower Extremity
Cory White
- Lower Extremity
Erik Lichter - Upper Extremity
Blake Ayles
- Upper Extremity
NORTH CAROLINA
Out
Casey Barth, PK Thigh
Curtis Byrd
, FB Knee
Kiaro Holts, OT Wrist
Devon Ramsay
, FB Knee
Questionable
T.J. Leifheit, OT Ankle
Probable
Giovani Bernard
, TB Hip
A.J. Blue, TB Ankle
Erik Highsmith
, WR Ankle
Cam Holland, C Back
Jonathan Smith, S Ankle
NC STATE
Out for the season
Jarvis Byrd, CB - knee
Mustafa Greene
, HB - foot
Sterling Lucas, LB - knee
Out
Taylor Gentry
, FB - foot
Jake Kahut, DE - knee
Jeff Rieskamp, DE - shoulder
Thomas Teal, DT - foot
Curtis Underwood, HB - foot
Questionable
D.J. Green, LB - abdomen
J.R. Sweezy, DT - foot
VIRGINIA
Out
Pablo Alvarez (upper extremity)
Diamonte Bailey (lower extremity)
Darius Lee
(upper extremity)
Charlie Richards
(upper extremity)
E.J. Scott
(medical)
Bobby Smith
(lower extremity)
Tyler Smith
(lower extremity)
Matt Snyder
(lower extremity)
Joseph Williams (lower extremity)
Doubtful
Tim Cwalina (lower extremity)
Michael Terrell
(lower extremity)
Questionable
Brian Oden (lower extremity)
Probable
Luke Bowanko (lower extremity)
Henry Coley (lower extremity)
Cam Johnson (lower extremity)
Jake McGee
(lower extremity)
Clifton Richardson
(lower extremity)
Michael Rocco
(trunk)
VIRGINIA TECH
Out for the Season
Kwamaine Battle (knee)
Jeron Gouveia-Winslow (foot)
Antoine Hopkins (knee)
Dyrell Roberts
(arm)
E.L. Smiling
(wrist)
Out
Eric Martin
(shoulder)
Mark Shuman (knee/ankle)
David Wang (foot)
Doubtful
Jayron Hosley (hamstring)
WAKE FOREST
Probable
RB
Josh Harris
(leg)
TE
Andrew Parker
(ankle)
DT Tristan Dorty (ankle)
C Garrick Williams (ankle)
NT Duke Mosby (illness)
Out
NT Ramon Booi (knee)
DT John Gallagher (back)
Out for the season
OT Dylan Heartsil (back)
CB Dominique Tate (knee)
LB Kyle Jarrett (hip)
October, 14, 2011
10/14/11
10:30
AM ET
By
ESPN.com staff
| ESPN.com
All 10 teams that are playing this weekend have released their injury reports for Week 7:
CLEMSON
OUT

DE Joe Gore (knee)
PK Spencer Benton (shoulder)
WILL PLAY

QB
Tajh Boyd
(hip)
LB Stephone Anthony (ankle)
DUKE
PROBABLE

DE Jordan DeWalt-Ondijo (leg)
DE Justin Foxx (leg)
C Dave Harding (leg)
RB
Desmond Scott
(leg)
RB
Josh Snead
(foot)
K Will Snyderwine (foot)
QUESTIONABLE

S Matt Daniels (leg)
CB Johnny Williams (leg)
DOUBTFUL

S August Campbell (leg)
OUT

S Lee Butler (leg)
QB
Brandon Connette
(upper body)
C Brian Moore (arm)
OUT FOR SEASON

TE
Jack Farrell
(leg)
DE Kenny Anunike (leg)
FLORIDA STATE
OUT

Willie Haulstead
(head)
Henry Orelus (head)
Josh Gehres
(knee)
Darious Cummings (hand)
Andrew Datko (shoulder)
David Spurlock (knee)
QUESTIONABLE
Rashad Greene
(ankle)
GEORGIA TECH
DOUBTFUL

LB Jeremiah Attaochu
OUT

K-P Chandler Anderson
OL Morgan Bailey
WR
Tyler Morgan
OUT FOR SEASON

S Fred Holton
DL Jimmie Kitchen
S Lance Richardson
MARYLAND
OUT FOR SEASON
OL Andrew Gonnella
DB Matt Robinson
DL Isaiah Ross
TE Dave Stinebaugh
OUT FOR GAME
DL Justin Anderson
OL Justin Gilbert
LB Demetrius Hartsfield
LB Garrett Lederman
DL Andre Monroe
LB Shaquan Virgil
DOUBTFUL
LB Kenny Tate
QUESTIONABLE
LB Darin Drakeford
PROBABLE
WR
Marcus Leak
MIAMI
PROBABLE

Jalen Grimble (lower extremity)
Kacy Rodgers (lower extremity)
Adewale Ojomo (upper extremity)
Thurston Armbrister (upper extremity)
Davon Johnson (lower extremity)
OUT

Luther Robinson (lower extremity)
Shayon Green (lower extremity)
Curtis Porter (upper extremity)
SURGERY/OUT FOR SEASON

Marcus Forston (lower extremity)
Ramon Buchanan (lower extremity)
Cory White
(lower extremity)
Erik Lichter (upper extremity)
Blake Ayles
(upper extremity)
NORTH CAROLINA
OUT
OT Kiaro Holts (wrist)
FB
Devon Ramsay
(knee)
DOUBTFUL
PK Casey Barth (thigh)
C Cam Holland (back)
QUESTIONABLE
TB AJ Blue (ankle)
OT TJ Leifheit (ankle)
LB Kevin Reddick (ankle)
SS
Jonathan Smith
(ankle)
PROBABLE
WR Josh Adams (illness)
VIRGINIA
OUT

Pablo Alvarez (upper extremity)
Vince Croce (medical)
Tim Cwalina (lower extremity)
Darius Lee
(upper extremity)
Charlie Richards
(upper extremity)
E.J. Scott
(medical)
Bobby Smith
(lower extremity)
Tyler Smith
(lower extremity)
QUESTIONABLE

Henry Coley (lower extremity)
VIRGINIA TECH
OUT FOR SEASON
Kwamaine Battle (knee)
Jeron Gouveia-Winslow (foot)
Antoine Hopkins (knee)
Dyrell Roberts
(arm)
OUT FOR GAME
James Gayle (ankle)
Eric Martin
(shoulder)
David Wang (foot)
FULL
Jaymes Brooks (ankle)
WAKE FOREST
DOUBTFUL

RB
Josh Harris
(leg)
OUT

TE
Neil Basford
(knee)
DT
John Gallagher
(back)
OUT FOR THE YEAR

OT Dylan Heartsil (back)
CB Dominique Tate (knee)
LB Kyle Jarrett (hip)
October, 7, 2011
10/07/11
10:30
AM ET
By
ESPN.com staff
| ESPN.com
Here are your weekly injury reports, from the ACC schools that reported them:
BOSTON COLLEGE
OUT

WR
Ifeanyi Momah
(knee)
DB CJ Jones (knee)
DL Connor Wujciak (shoulder)
TB
Montel Harris
(knee)
DL Kaleb Ramsey (foot)
DOUBTFUL

RB Andre Williams (leg)
QUESTIONABLE

OG Nate Richman (back)
OG Ian White (foot)
CLEMSON
OUT

DE Joe Gore (knee)
PK Spencer Benton (shoulder)
PROBABLE

RB
Andre Ellington
(hamstring)
RB
D.J. Howard
(hamstring)
RB
Mansa Joseph
(hamstring)
FLORIDA STATE
OUT

Willie Haulstead
(head)
Henry Orelus (head)
Josh Gehres
(knee)
Darious Cummings (hand)
Jarred Haggins
(hand)
QUESTIONABLE

Nick Moody (leg)
Garrett Faircloth (head)
Andrew Datko (shoulder)
GEORGIA TECH
OUT FOR SEASON

S Fred Holton
DL Jimmie Kitchen
OUT
LB Brandon Watts
QUESTIONABLE
LB Jeremiah Attaochu
LB Daniel Drummond
MARYLAND
OUT FOR SEASON
DB Matt Robinson
TE
Dave Stinebaugh
OUT FOR GAME
DL Justin Anderson
LB Darin Drakeford
OL Justin Gilbert
LB Garrett Lederman
DL Andre Monroe
DL Isaiah Ross
LB Shaquan Virgil
DOUBTFUL
LB Kenny Tate
PROBABLE
PK Nick Ferrara
TE
Matt Furstenburg
MIAMI
OUT

Luther Robinson (lower extremity)
Jalen Grimble (lower extremity)
Thurston Armbrister (upper extremity)
SURGERY/OUT FOR SEASON

Marcus Forston (lower extremity)
Ramon Buchanan (lower extremity)
Corey White (lower extremity)
Curtis Porter (upper extremity)
Eric Lichter (upper extremity)
Blake Ayles
(upper extremity)
NORTH CAROLINA
OUT
PK Casey Barth (thigh)
OT Kiaro Holts (wrist)
FB
Devon Ramsay
(knee)
DOUBTFUL
WR Josh Adams (illness)
RB
Matt Kolojejchick
(thigh)
LB Norkeithus Otis (foot)
QUESTIONABLE
RB AJ Blue (ankle)
C Cam Holland (back)
OT TJ Leifheit (ankle)
LB Ebele Okakpu (ankle)
LB Kevin Reddick (ankle)
CB Terry Shankle (knee)
SS Jonathan Smith (ankle)
VIRGINIA TECH
OUT FOR SEASON

Kwamaine Battle (knee)
Antoine Hopkins (knee)
Dyrell Roberts
(arm)
OUT

Eric Martin
(shoulder)
David Wang (foot)
September, 30, 2011
9/30/11
10:30
AM ET
By
ESPN.com staff
| ESPN.com
Here are the injury reports for Week 5 from the ACC schools that reported them:
BOSTON COLLEGE
OUT

WR
Ifeanyi Momah
(knee)
DB CJ Jones (knee)
DL Connor Wujciak (shoulder)
DOUBTFUL

OG Nate Richman (back)
QUESTIONABLE

DT Kaleb Ramsey (foot)
LB Nick Clancy (shoulder)
CLEMSON
Out

Mansa Joseph
, RB, Special Teams, hamstring
Probable

DeAndre Hopkins
, WR, hamstring
Dawson Zimmerman, P, knee
D.J. Howard
, RB, hamstring
David Smith, OG, shoulder
DUKE
CB Ross Cockrell (leg) – Probable
K Will Snyderwine (foot) – Probable
CB Johnny Williams (leg) – Probable
RB
Desmond Scott
(leg) – Questionable
RB
Josh Snead
(foot) – Questionable
QB
Brandon Connette
(upper body) – OUT
S Lee Butler (leg) – OUT
C Brian Moore (arm) – OUT
DE Kenny Anunike (leg) – OUT FOR SEASON
TE
Jack Farrell
(leg) – OUT FOR SEASON
GEORGIA TECH
OUT

Morgan Bailey, r-Fr., OL
PROBABLE

Preston Lyons
, Sr., BB
OUT FOR YEAR

Fred Holton, So., S
Jimmie Kitchen, r-Fr., DL
MIAMI
Out:

Luther Robinson—Lower Extremity
Jalen Grimble—Lower Extremity
Thurston Armbrister—Upper Extremity
Surgery/Out for the season:

Corey White—Lower Extremity
Curtis Porter—Upper Extremity
NORTH CAROLINA
Out

Casey Barth, PK Thigh
Kiaro Holts, OT Wrist
Devon Ramsay
, FB Knee
Doubtful

Josh Adams, WR Illness
Matt Kolojejchick
, RB Thigh
Jonathan Smith
, SS Ankle
Questionable

TJ Leifheit, OT Ankle
Ebele Okakpu, LB Ankle
Terry Shankle, CB Knee
Probable

Erik Highsmith
, WR Ankle
Jabari Price, CB Finger
NC STATE
OUT FOR SEASON

Jarvis Byrd, CB - knee
Sterling Lucas, LB - knee
OUT

A.J. Ferguson, DT - knee
Mustafa Greene
, HB - foot
Terrell Manning, LB - knee
Quintin Payton
, WR - ankle
Jeff Rieskamp, DE - shoulder
Brian Slay, DT - ankle
Thomas Teal, DT - foot
Curtis Underwood, HB - knee
Andrew Wallace, OG - knee
QUESTIONABLE

J.R. Sweezy, DT - foot
VIRGINIA TECH
Out for season:

Kwamaine Battle (knee)
Dyrell Roberts
(arm)
Out

Eric Martin
(AC joint)
David Wang (foot)