August, 15, 2014
Aug 15
10:30
AM ET
»
More team previews:
ACC
|
Big 12
|
Big Ten
|
Pac-12
|
SEC
Previewing the 2014 season for the
Pittsburgh Panthers
:
Key returners:
QB
Chad Voytik
, RB
James Conner
, RB
Isaac Bennett
, WR
Tyler Boyd
, TE
J.P. Holtz
, LT
Adam Bisnowaty
, C
Artie Rowell
, RG
Matt Rotheram
, RT
T.J. Clemmings
, DE
David Durham
, LB
Anthony Gonzalez
, LB
Todd Thomas
, CB
Lafayette Pitts
, S
Ray Vinopal
Key losses:
QB
Tom Savage
, WR
Devin Street
, DT
Aaron Donald
, LB Shane Gordon, CB
K'Waun Williams
, S Jason Hendricks
[+] Enlarge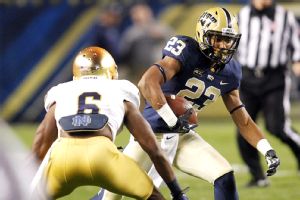 Charles LeClaire/USA TODAY SportsPittsburgh wide receiver Tyler Boyd looks to build on a freshman All-America season.
Most important 2014 games:
Sept. 20 versus Iowa, Oct. 16 versus Virginia Tech, Nov. 1 versus Duke, Nov. 15 at North Carolina, Nov. 29 at Miami
Projected win percentage (from Stats & Info):
63.5 percent.
Over/under Vegas odds:
7.5 wins.
Instant impact newcomers:
Avonte Maddox
and
Phillipie Motley
are a pair of freshman cornerbacks who will likely be counted on heavily to provide some needed depth at the position, as
Titus Howard
's
season-long suspension
leaves Pitt with just two returners with any experience at the position (Pitts and
Trenton Coles
). Both Maddox (5-foot-10, 170 pounds) and Motley (5-foot-9, 165 pounds) arrived this summer as ESPN three-star prospects, and the learning curve will likely be accelerated as the Panthers search for more bodies in coverage.
High point from 2013:
A 28-21 win over Notre Dame on Nov. 9 buried the Fighting Irish's remaining BCS bowl hopes and, at least partially, erased some of the sting from Pitt's consecutive three-point losses to them in 2011 and 2012. It's more useful, however, to look back at the 30-27 Little Caesars Pizza Bowl win over MAC champion Bowling Green, as youngsters Voytik, Conner and Boyd all stepped up in a big way, something each hopes is a sign of things to come for 2014.
Low point from 2013:
A 24-21 loss at Navy on Oct. 26 marked the first of a two-game slide (Pitt lost at Georgia Tech a week later), threatening to keep the Panthers out of postseason play before they pulled off the upset the following month over the Irish. Still, Pitt dropped three contests in a four-game stretch surrounding the loss to the Midshipmen, with its only win during that stretch coming against Old Dominion.
Best-case scenario for 2014:
Voytik builds off his late-game experience from the Pizza Bowl and gives Pitt a dynamic threat under center, the experienced-but-shaky offensive line jells, Boyd continues his ascent and the defense makes big strides. Pitt takes advantage of a rather friendly schedule, makes a run at 10 wins and emerges as the champion of a Coastal division that is simply begging someone to step up.
Worst-case scenario for 2014:
The offensive line continues to struggle, leaving Voytik vulnerable and the offense out of flux. The front seven fails to make up for the loss of Donald, allowing opponents time to test a green secondary. The Panthers win four games, taking a step back after consecutive bowl seasons in Paul Chryst's first two years. The youth on this team, however, is probably still enough to keep the future promising.
They said it:
"I feel fortunate to be at Pittsburgh. You talk about a school with unbelievable football tradition and a city that absolutely -- it's a great sports town but a heck of a football city. High school football is big on Fridays. Obviously the Steelers are big on Sunday. We want to be a team that reflects the city and reflects the university and the tradition of a great university. I want the ex-players to be proud of Pitt and Pitt football, and I know they certainly are proud of it. But that's where we want to go, and that's what I mean, we're not where we want to be. But I sure appreciate and enjoy going through and facing that challenge with this group of guys, and for every challenge there's an opportunity." -- Chryst, on how he defines Pitt football
July, 16, 2013
7/16/13
5:00
PM ET
To get an idea of how Pitt and Syracuse could do in Year 1 in the ACC, forget the quarterback uncertainty gripping both schools and instead focus on defense.
Here's why.


If Pitt and Syracuse had played in the ACC last season, both schools would have ranked in the top half of the league in the four major defensive statistical categories -- total defense, rushing defense, passing defense, and scoring defense. Pitt would have been No. 2 in three of those categories (total D, passing D, scoring D).
While it is tough to compare the numbers across the leagues -- ACC defenses faced more prolific offenses than Big East defenses -- the numbers do carry some weight. Neither team is a lightweight on that side of the ball. Far from it. The former Big East has built a reputation for turning out some pretty solid defenses, and pretty solid defensive players. In the 2013 NFL draft, for example, 11 of the 19 players selected from the Big East played on defense. In 2012, both first-round picks from the Big East were defensive players.
Let's move on to this season, where the bigger challenge awaits. Pitt returns nine players from a defense that ranked in the Top 20 in the nation last season in total defense and passing defense. Though defensive coordinator Dave Huxtable is gone, coach Paul Chryst promoted Matt House to take over, allowing for consistency and continuity. Defensive tackle
Aaron Donald
has appeared on four watch lists already (Bednarik, Outland, Nagurski, Lombardi).
Lafayette Pitts
and
K'Waun Williams
are a great tandem at cornerback.
As for Syracuse, coach Scott Shafer comes from the defensive side of the ball. His ability to get results out of that defense was one of the big reasons he was promoted to head coach. His game plans last year against Louisville and West Virginia -- two of the best offenses Syracuse faced all year -- were outstanding. The Orange do have a bigger rebuilding job than the Panthers, and are much thinner up front. They return six starters. Two -- linebackers
Marquis Spruill
and
Dyshawn Davis
-- have 59 starts between them.
How these two teams end up doing is a guess at this point. But if they continue to play solidly on defense, the have a great chance of surprising a lot of people.
June, 21, 2013
6/21/13
2:00
PM ET
We move on to Pitt today in our series looking at the strongest and weakest positions on each team in the league.
Strongest position: Defensive back

Tough call to make here between defensive line and defensive back. Three starters return to both positions -- the line features the best overall player on the defense in
Aaron Donald
, but the secondary features three players who could end up being All-ACC selections.
K'Waun Williams
and
Lafayette Pitts
form one of the better starting cornerback duos in the ACC. Fans who are unfamiliar with them now will soon know who they are when the season begins. At safety, All-Big East first-team selection
Jason Hendricks
returns after a solid 2012 in which he lead the team with 90 tackles and six interceptions. He and Williams combined for 10 of the teams' 15 picks last season. The big hole is at strong safety, where both starter
Jarred Holley
and backup
Andrew Taglianetti
are gone. Holley has been the most consistent player in the Panthers' defense over the last three years, while Taglianetti could always be counted on to deliver the monster hit.
Ray Vinopal
, a top reserve last season, is the favorite to take over for Holley.
Weakest position: Offensive line
I gave the line the nod over running back and receiver because there remains way too much uncertainty about this group after spring practice. Running back has a depth problem, there is no question, but I think
Isaac Bennett
is capable of shouldering the load. Receiver also has some depth and inexperience issues, but
Devin Street
should be one of the best in the league. That leaves offensive line, which has to replace its two best players from a year ago. Two redshirt freshmen could be starting the season opener against Florida State and face what should be another talented defensive front --
Adam Bisnowaty
at one tackle and
Gabe Roberts
at center. Incoming freshman Dorian Johnson -- one of the top offensive line recruits in the nation -- could see time as well depending on how he does during fall camp. There were more position moves this spring to try and find the right combination, but there remains much unsettled about this group headed into the season.
More in this series here.
May, 28, 2013
5/28/13
10:30
AM ET
Pitt receiver
Devin Street
was always around this spring. He was there to give his teammates a ride, to pick them up, to take them to their tutor, to help with a team book report, to get in an extra lift in the weight room, and to set an example.
Street decided this offseason that he was going to be a leader -- and one of the best receivers in the country.
"I try to seize the day," he said. "As soon as I wake up, I'm always trying to think of ways to better myself, whether it be in football or outside of football. The biggest thing as we go through everyday life is growth and opportunities and learning through things. That's the biggest thing I'm going through right now. When I get over here, it's a mindset where I'm coming in and going to work and really fine-tuning my game and being able to bond and spend time with the guys around here and just feed off of them and try to make this whole team better."
With a new quarterback, a new starting running back, and new roles for the offensive linemen, Street has become one of the most recognizable faces of the Panthers' offense. With the graduation of receiver Mike Shanahan, who played opposite Street last year, Street will be the focus of opposing defenses until another dependable receiver emerges.
[+] Enlarge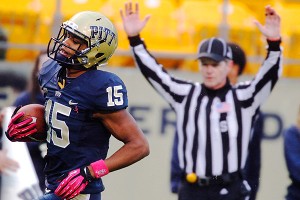 AP Photo/Keith SrakocicAn inexperienced Pitt offense will be counting on receiver Devin Street for guidance in 2013.
He started all 13 games last year and led the team with 73 catches for 975 yards and five touchdowns. He finished second in the Big East in receptions per game and had three 100-yard receiving games. Despite those accomplishments, those within the program say there's another level he can reach, and Street took steps this spring toward getting there.
"I think he's a much better player right now than he was last year, and he's a much better teammate and much better leader," said offensive coordinator Joe Rudolph. "I think he's had as much growth as anyone we've had here. You can see his approach to a practice or to a play. He provided that consistency and accountability. He didn't do it with words, he did with actions and how he performs. I'm excited for him. I love his approach. He has the same urgency about what he's doing and his own preparation, but also serving as an example, if it's a matter of going in and digging out a guy on a block, you see him go after it with the same passion as when we're calling his number in a pass route. From your senior group, that's what you hope and that's what he's delivering now."
Street was a second-team All-Big East selection last year but said his goals for this fall include surpassing the 1,000-yard receiving mark, winning the ACC, and finishing atop the national rankings in receiving.
"I've dedicated my life to this sport," he said. "I think it would be crazy not to say you want to be the best at it."
His teammates say he is getting closer.
"We compete every day," sdefensive back
K'Waun Williams
said. "We're always buttin' heads. He definitely got better. He got faster, his routes are more crisp, and he's become a leader on the offensive side of the ball."
It's a necessary role for a rookie offense that returns just six starters, including Street.
"I feel like with every great team -- you see the Pats, Tom Brady, Bill Belichick -- those are great leaders," Street said. "The Ravens this year, look at those guys, Ray Lewis, Ed Reed. You just see it around. All of these great teams have great leaders, guys who know what to say. Of course a leader isn't going to do everything right, but the point is to rally the troops. That's why there are generals appointed in the military, things like that. When it comes down to crunch time, that guy has to take responsibility for his soldier or his team. That's what I'm willing to do, whether it be negative or positive feedback. No one is bigger than the team, but there should be a leader who can bring it all together."
May, 1, 2013
5/01/13
3:30
PM ET
Pitt defensive back
K'Waun Williams
will be one of the leaders on a veteran Pitt defense that should be the strength of the team this year. He started 11 games last year and finished with 47 tackles, 2.5 TFL, four interceptions and a pass breakup despite missing one game with a shoulder injury. I spoke with Williams on a trip to Pittsburgh this spring to get his take on the defense and the outlook of the team under coach Paul Chryst. Here are the highlights of our conversation:
With nine starters back on defense, how much confidence do you guys have?
K'Waun Williams:
There's definitely confidence. We've been playing together for the past two or three years. We can feed off each other. We pretty much know where everybody is going on the field. There's definitely a lot of confidence within our defense.
What are your expectations for yourself this year?
KW:
Just having a great year, just leading our defense and making those big plays so the team can count on me.
How has it been playing under Matt House?
KW:
It's been real good. He was our defensive back coach last year, now he's the D-coordinator, but his defense is good. Pretty much we're all going to be playing fast this year, a lot faster than we did last year.
Has he changed a lot?
KW:
In his personality or his defense?
Either. Both.
KW:
He's a little bit more exciting, he's anxious. The defense is different, it's a lot different. It allows us to do certain things we didn't do last year.
You like it?
[+] Enlarge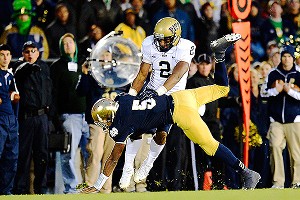 Mike DiNovo/USA TODAY SportsDefensive back K'Waun Williams said that fans can expect to see a speedier Pitt defense in 2013.
KW:
Definitely. Definitely like it.
Do you feel any more pressure because he's your coordinator and position coach?
KW:
Not really. I spent the year with him, so we know each other a little bit.
How much have you had to study the playbook this spring because it's different?
KW:
A little bit more than usual. I'm playing a lot of inside coverages and outside coverages. I had to learn a little bit more, and I'm playing a little bit safety.
So do you expect your role to change in this defense?
KW:
I would say change, but definitely I'm going to be a little more versatile.
So how has your career gone to this point compared with your expectations?
KW:
I feel like it went good. My sophomore year, I did pretty good. Last year I had a decent season. I had a lot of injuries last year. I'm just trying to stay healthy so I can be the best I can be this year.
How important is it to you to go out with a bang?
KW:
It's very important. We've been all over the place the past couple of years with coaching changes, everything that's been going on. This is the first year I've had consecutive same coaches, so I'm expecting some big things.
How difficult is that from a players' perspective?
KW:
It's difficult. Every coach has their own certain things they want with the team. Just having to adapt to each coach, that's a change, but football is football.
What's Paul Chryst done to stabilize things?
KW:
He's just building a family. He's doing a lot of family-oriented things. We come together as a team all the time and we talk. We do certain projects with the community, just bringing us together as a family.
I'm sure when the Wisconsin job came open you guys were aware of the rumors of him going there. How relieved were you to hear he was sticking around?
KW:
At this point? I was pretty happy, but we went through so many coaching changes, I knew anything was possible. I was just like, 'alright.' I just let it play out.
What's still hanging out there for you guys to do in summer camp? Any lingering concerns?
KW:
I think just build more as a team, more as a family. I think that's what we've been missing the past couple of years. We need to build a family unit so we can know each other better. It's definitely going to turn over onto the field, because guys will have something to play for.
Is the leadership on the team different this year? Is there more of it?
KW:
Yeah, there's definitely more leadership. Guys are doing extra work, everyone is willing to get better. That's the main thing, the leadership.
What are you looking forward to most about playing in the ACC?
KW:
Just the competition, just to go up against the best each and every week. It should be exciting.
Have you guys looked at Florida State?
KW:
I have. I have looked at them. I haven't really gotten in-depth, but I've looked at them.
What do you think about them?
KW:
They're a real good team. They've got team speed, big guys.
Any more sense of urgency in the offseason because you guys know you're kicking off against them?
KW:
I would say so, but there's always a sense of urgency. Always.
ACC SCOREBOARD
Saturday, 12/20
Monday, 12/22
Tuesday, 12/23
Wednesday, 12/24
Friday, 12/26
Saturday, 12/27
Monday, 12/29
Tuesday, 12/30
Wednesday, 12/31
Thursday, 1/1
Friday, 1/2
Saturday, 1/3
Sunday, 1/4
Monday, 1/12
Tweets from https://twitter.com/ESPNCFB/lists/acc