December, 28, 2012
12/28/12
11:36
PM ET
ORLANDO, Fla. -- You knew it, I knew it, everybody knew it: The Russell Athletic Bowl would be a defensive struggle between two highly skilled groups at Rutgers and Virginia Tech.
But did anybody expect the slog that ensued?
Gary Nova
and
Logan Thomas
did nothing to dispel the notion that they are quarterbacks who have yet to live up to their full potential. Virginia Tech finished with 3 total yards rushing. Rutgers averaged 1.7 yards per carry. Virginia Tech averaged 2.7 yards per play. Rutgers averaged 2.5 yards per play.
It was almost as if they were playing a game of "anything you can do, we can do worse!" Virginia Tech owned that game within the game in the first half. But in the fourth quarter, boy, that was all Rutgers. Virginia Tech overcame a 10-0 deficit to tie the game thanks to a host of Scarlet Knights errors, then
Cody Journell
made a 22-yard field goal in overtime to give the Hokies
a 13-10 victory
Friday night, preserving a 20th consecutive winning season.
[+] Enlarge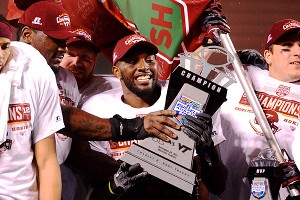 AP Photo/Scott A. MillerLinebacker Bruce Taylor hoists the Russell Athletic Bowl trophy after a team-high 11 tackles in the lockdown of Rutgers.
"Nothing comes easy for us," Virginia Tech coach Frank Beamer said. "It's work, but we got a bunch of guys that will hang on, and keep working at it. Rather than get down a couple times this year, we could have shut it down, and these guys never did. We always hung together and we kept playing. That's what this game is all about. That's what life is all about."
This game unfolded the way the seasons have unfolded for both teams. Neither has had much success on offense, though their issues have been different. Thomas has been way too turnover-prone, and we saw that on the second play of this game, as he couldn't handle a bad snap and fumbled in the end zone. Rutgers linebacker
Khaseem Greene
recovered for his team's only touchdown on the night.
Thomas sailed balls left and right. He threw two interceptions. At halftime, the Hokies had 73 total yards of offense, and Thomas was 10-of-21 for 84 yards. Rutgers was not much better on offense, and much of that falls on Nova, a quarterback who gets easily rattled when the pressure gets to him.
Viewers have seen it many times this year, and Virginia Tech saw that on film as it prepared for this game.
"We got after him all day," Virginia Tech linebacker
Jack Tyler
said. "Our defensive line played great, got great pressure and you can have Tom Brady back there as the quarterback, and if you get pressure on him, he's going to be very average. And that was our game plan going in. He had a tendency down the stretch to turn the ball over a little bit and we knew if we got to him we could make that happen."
Rutgers led 10-0 into the fourth quarter, but that was through no effort from its offense. Virginia Tech played well defensively enough to hang around, well enough to drop three shoulda-been interceptions. So you almost felt as if it was a matter of time before somebody on the Hokies side came up with a game-changing interception.
Enter
Antone Exum
.
His interception early in the fourth quarter allowed Virginia Tech to score the only offensive touchdown of the game, as Thomas threw a 21-yard pass to
Corey Fuller
to tie the score at 10. We have seen a similar scenario play out all year -- struggling Virginia Tech offense gets bailed out by the defense.
We've seen it play out at Rutgers, too. But tonight, there was not much the Scarlet Knights defenders could do to help their woefully anemic teammates on offense. In the fourth quarter, Rutgers ran 19 plays for 12 yards. Twice on third and long, Rutgers ran the ball, too scared to allow Nova to perhaps win the game.
Two straight games now, Rutgers has blown late leads and Nova has thrown interceptions down the stretch to cost his team. Nova finished 17-of-40 for 129 yards and that crucial interception. But coach Kyle Flood was unwavering in his support of his embattled quarterback after the game, saying confidently that Nova is his starter headed into the spring.
There is not as much certainty at Virginia Tech, where Thomas is faced with a decision about whether to return or go to the NFL draft. His body of work this season and on Friday night indicates he would be foolish to leave. Perhaps he gets a high enough grade from the NFL draft advisory board because all his measurables scream, yes, you are an NFL quarterback!
If that was his final game at Virginia Tech, it was not his prettiest. Check that. It was not pretty for either offense, period. Or for football, period. The teams combined for a bowl-record 21 punts. Good defense, bad offense? Depends on your perspective.
"It was the prettiest game for our defense," Tyler said with a smile.
December, 12, 2012
12/12/12
9:00
AM ET
The ACC and Big East are tied at 4-4 entering this bowl season, with two more games to be played. Duke and Cincinnati will face each other in the Belk Bowl in Charlotte, and Virginia Tech and Rutgers will play in the Russell Athletic Bowl. The Hokies are already 0-2 against the Big East after losses to Pitt and Cincinnati. For all of the heat the Big East has taken this year, the ACC hasn't fared much better on the field. Which conference will end the season on top (or hit rock bottom, depending on your view)? Bloggers Andrea Adelson and Heather Dinich debate:
[+] Enlarge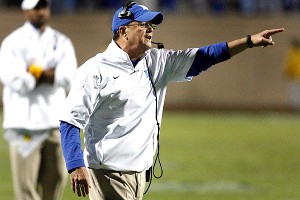 Mark Dolejs/US PresswireWith veteran David Cutcliffe, Duke appears to have the coaching edge in its bowl game with Cincinnati.
Heather Dinich:
I want to come out swinging. I want to deliver a knockout blow before you even get fired up, AA, because I know how you get once you're on a roll. Problem is, the ACC reached a new low this year. My two best arguments for you this bowl season are 1. David Cutcliffe, the ACC's Coach of the Year, and 2. Frank Beamer, the country's active career leader in wins. No question I'd take Cutcliffe over … oh, that's right, Butch Jones has already split for Tennessee, a job that Cutcliffe had to say repeatedly he had no interest in. Who's coaching that team, anyway? Rutgers coach Kyle Flood is a rookie going against a veteran who has won four ACC titles and three Big East titles. Beamer didn't forget how to coach this year. If the ACC doesn't go 2-0 against the Big East this month, it certainly won't be because of the coaches on the sideline.
Andrea Adelson:
I think we all can agree both the ACC and Big East were just meh this season. But your best argument is pointing to two coaches that went 6-6 this year? C'mon, HD you're better than that!
Let's start with Cutcliffe. His team lost four straight to end the season. FOUR! WITH the Coastal Division on the line, no less. I appreciate the job he has done this year in getting Duke back to a bowl game, but I do not think it says much about this league at all that its Coach of the Year went .500 this season, with a losing record in the pretty terrible Coastal Division. Do I need to remind you that the last time a coach won ACC Coach of the Year honors with a .500 regular-season record was back in 1964? That would be Bill Tate of Wake Forest.
Steve Stripling will be coaching the Bearcats, and he has done probably the best job of any assistant on staff in the past two years given the way Cincinnati has performed up front. He coached two Big East first-team selections this year, and the Big East co-Defensive Player of the Year a season ago. Not too shabby. As for Mr. Beamer, I think we can all agree this was one of his worst seasons ever. Flood does not have nearly the coaching experience, but he did win co-Big East Coach of the Year honors for getting Rutgers a share of the league title for the first time ever. He's got a defense miles ahead of Virginia Tech.
I think that's where the Big East teams have the advantage -- far superior defenses. That's how both will win their games. What say you -- what is the on-the-field recipe for the ACC to win these two contests?
[+] Enlarge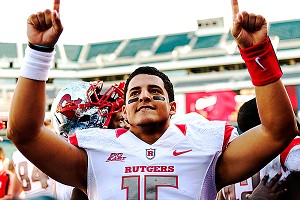 Howard Smith/USA TODAY SportsThe play of QB Gary Nova will surely be key in Rutgers' bowl game against Virginia Tech.
HD:
So you're saying they have a chance? Well, let's start with Virginia Tech. Turnovers stand out more than anything, and the Hokies must avoid them at all costs. VT is 0-2 against the Big East because it lost the turnover battle 7-3 in those two games. Quarterback
Logan Thomas
has to make better decisions than he did earlier this season against Cincy, and he's got to play a better game than
Gary Nova
. That doesn't seem like a tall task, especially if Bud Foster's defense can fluster Nova the way Pitt did. You talk about how "superior" Big East defenses are but fail to mention that Rutgers had just two first downs and 50 yards in the first half against Pitt. Against Louisville the following week, Rutgers had just 54 rushing yards and three turnovers. Virginia Tech's offense would hardly be confused for Oregon, but I'm guessing the Scarlet Knights haven't had to bring down a lumberjack QB like LT, who also happens to be the team's leading rusher (not that that's a good thing). In a pillow fight between these two offenses, Thomas gets my vote -- as long as the O-line can keep him on his feet. As for Duke, no question the Blue Devils need to play better defense. They're one of the worst in the country, allowing 35 points per game. It's no wonder they lost four straight to end the season. Against Cincy, the rushing D will be critical. You get the final word: Is the Big East truly better than the ACC this year?
AA:
I have a double answer for you, HD. The ACC is clearly better at the top. Nobody is going to argue that point. But beyond Florida State and Clemson, I think the ACC and Big East are just about the same. And winning these two bowl games would be great for the Big East to use in future debates about where it stands against the ACC. You think these games are big for the ACC, but I think they are even bigger for the Big East.
December, 10, 2012
12/10/12
2:00
PM ET
Leave it to Rutgers coach Kyle Flood to deliver one of the biggest keys for the Russell Athletic Bowl against Virginia Tech later this month.
Beamer ball vs. Rutgers ball, perhaps?
"We're well aware of the reputation going into this game that Virginia Tech has of being a really fine special-teams outfit and that will certainly be one of the great matchups in the game," Flood said. "It's going to be two teams that really rely heavily on special teams to affect the outcome of the game."
Indeed. Rutgers has won the last several years the way Frank Beamer has won -- with a strong emphasis on special teams and an opportunistic defense. Beamer ball has helped the Hokies get to 20 straight bowl games. Rutgers ball, if you will, helped the Scarlet Knights win a share of their first Big East title this year.
But the special-teams portion of Beamer ball has not been quite as productive in recent years. The Hokies had zero blocked kicks this season, and one punt/one kickoff return for scores all year.
Rutgers, meanwhile, has been one of the best when it comes to blocks, so it is safe to say that the Scarlet Knights have overtaken Virginia Tech in a category the Hokies used to own on an annual basis. Look at the numbers: Rutgers is tied for the national lead with UCLA in blocked kicks this year, with eight.
Since 2009, Rutgers leads the nation in blocked kicks with 31. In the same time span, Virginia Tech has two blocked kicks. The last time the Hokies even had a block was against Appalachian State in the season opener last year, when
Kyle Fuller
blocked a punt in the end zone.
Rutgers has been more productive defensively, too. The Scarlet Knights have two interceptions returned for touchdowns this year; Virginia Tech has not had one since 2010. You could say Flood has out-Beamer'd Beamer this year. Now we get the ultimate test -- whether Flood can do it again in Orlando later this month.