August, 15, 2014
8/15/14
10:30
AM ET
»
More team previews:
ACC
|
Big 12
|
Big Ten
|
Pac-12
|
SEC
Previewing the 2014 season for the
Pittsburgh Panthers
:
Key returners:
QB
Chad Voytik
, RB
James Conner
, RB
Isaac Bennett
, WR
Tyler Boyd
, TE
J.P. Holtz
, LT
Adam Bisnowaty
, C
Artie Rowell
, RG
Matt Rotheram
, RT
T.J. Clemmings
, DE
David Durham
, LB
Anthony Gonzalez
, LB
Todd Thomas
, CB
Lafayette Pitts
, S
Ray Vinopal
Key losses:
QB
Tom Savage
, WR
Devin Street
, DT
Aaron Donald
, LB Shane Gordon, CB
K'Waun Williams
, S Jason Hendricks
[+] Enlarge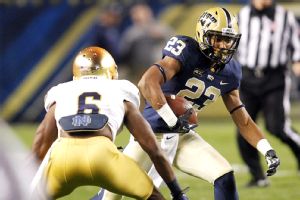 Charles LeClaire/USA TODAY SportsPittsburgh wide receiver Tyler Boyd looks to build on a freshman All-America season.
Most important 2014 games:
Sept. 20 versus Iowa, Oct. 16 versus Virginia Tech, Nov. 1 versus Duke, Nov. 15 at North Carolina, Nov. 29 at Miami
Projected win percentage (from Stats & Info):
63.5 percent.
Over/under Vegas odds:
7.5 wins.
Instant impact newcomers:
Avonte Maddox
and
Phillipie Motley
are a pair of freshman cornerbacks who will likely be counted on heavily to provide some needed depth at the position, as
Titus Howard
's
season-long suspension
leaves Pitt with just two returners with any experience at the position (Pitts and
Trenton Coles
). Both Maddox (5-foot-10, 170 pounds) and Motley (5-foot-9, 165 pounds) arrived this summer as ESPN three-star prospects, and the learning curve will likely be accelerated as the Panthers search for more bodies in coverage.
High point from 2013:
A 28-21 win over Notre Dame on Nov. 9 buried the Fighting Irish's remaining BCS bowl hopes and, at least partially, erased some of the sting from Pitt's consecutive three-point losses to them in 2011 and 2012. It's more useful, however, to look back at the 30-27 Little Caesars Pizza Bowl win over MAC champion Bowling Green, as youngsters Voytik, Conner and Boyd all stepped up in a big way, something each hopes is a sign of things to come for 2014.
Low point from 2013:
A 24-21 loss at Navy on Oct. 26 marked the first of a two-game slide (Pitt lost at Georgia Tech a week later), threatening to keep the Panthers out of postseason play before they pulled off the upset the following month over the Irish. Still, Pitt dropped three contests in a four-game stretch surrounding the loss to the Midshipmen, with its only win during that stretch coming against Old Dominion.
Best-case scenario for 2014:
Voytik builds off his late-game experience from the Pizza Bowl and gives Pitt a dynamic threat under center, the experienced-but-shaky offensive line jells, Boyd continues his ascent and the defense makes big strides. Pitt takes advantage of a rather friendly schedule, makes a run at 10 wins and emerges as the champion of a Coastal division that is simply begging someone to step up.
Worst-case scenario for 2014:
The offensive line continues to struggle, leaving Voytik vulnerable and the offense out of flux. The front seven fails to make up for the loss of Donald, allowing opponents time to test a green secondary. The Panthers win four games, taking a step back after consecutive bowl seasons in Paul Chryst's first two years. The youth on this team, however, is probably still enough to keep the future promising.
They said it:
"I feel fortunate to be at Pittsburgh. You talk about a school with unbelievable football tradition and a city that absolutely -- it's a great sports town but a heck of a football city. High school football is big on Fridays. Obviously the Steelers are big on Sunday. We want to be a team that reflects the city and reflects the university and the tradition of a great university. I want the ex-players to be proud of Pitt and Pitt football, and I know they certainly are proud of it. But that's where we want to go, and that's what I mean, we're not where we want to be. But I sure appreciate and enjoy going through and facing that challenge with this group of guys, and for every challenge there's an opportunity." -- Chryst, on how he defines Pitt football
June, 27, 2014
6/27/14
9:00
AM ET
Pitt welcomed a new defensive backs coach in the spring, and with him a new approach to playing in the back end.
The Panthers want their players to be more aggressive, something that was missing for much of 2013. Pitt had its moments, but its secondary seemed to play off receivers all too frequently. The result? Pitt allowed 7.4 yards per completion, tied for second-worst in the ACC. The Panthers also gave up 20 passing touchdowns, one of five ACC schools to give up 20 or more through the air.
But here is the stat that really stands out: Pitt had eight interceptions, worst in the ACC and tied for No. 98 in the country. The Panthers recorded an interception once in every 48 pass attempts.
So you can see why this was a group in need of a philosophical overhaul. Given the talent and youth returning, this could end up being one of the most improved units across the ACC.
"Even though the room is young in years ... the one thing in that room is every one of those kids has played in a game," defensive coordinator Matt House said in a recent phone interview. "The first time on the field, none of them will be star-struck because they've all been on the field before. That's reassuring for them and reassuring for myself. They're an aggressive group."
Safety
Ray Vinopal
leads the way, but he is the only senior in the group. Junior cornerback
Lafayette Pitts
is the next oldest when it comes to experience, although the Panthers are excited about junior Wisconsin transfer
Reggie Mitchell
. The rest are sophomores who played as true freshmen or redshirt freshmen.
Pitt is counting on all that game experience to help. Safety
Terrish Webb
, for example, played in every game last season as a true freshman. Cornerback
Titus Howard
, competing with
Trenton Coles
to win a starting job, played in 11 games as a true freshman with two starts.
House said Webb, Mitchell, Coles and Howard all played well in the spring. He also expects a much better season out of Pitts, who struggled at times in 2013.
"I don't think there's any doubt," House said. "Lafayette's been more focused. He wasn't satisfied with last season and definitely wants to improve on that. He's done it throughout the winter and spring. He's working hard."
The young, talented nucleus is there for Pitt to improve its numbers. Bank on a better group in 2014.
March, 20, 2014
3/20/14
12:00
PM ET
I will not call today's games the "second round."
December, 23, 2013
12/23/13
9:00
AM ET
The story that best encapsulates
Matt Johnson
's emergence as perhaps the latest Mid-American Conference quarterback prodigy is told by one of his high school coaches.
Throughout Harrisburg (Pa.) Bishop McDevitt's 2010 season, head coach Jeff Weachter and assistant Dick Shiner had spoken about the resilience of Shiner's friend Frank Reich, who, like Shiner, was a Maryland product who went on to the NFL. With the Terrapins, Reich engineered a 31-point comeback win over Miami, then an NCAA record. Later with the Bills, the quarterback helped Buffalo dig out of a 32-point hole in a playoff game to top the Houston Oilers, an NFL record.
With this in mind, and with Bishop McDevitt trailing Erie (Pa.) Cathedral 21-3 as it left the locker room for the second half of the state semifinals, a knowing smile flashed across Johnson's face as he returned to the sideline.
"Hey Coach," Weachter recalled Johnson saying, "Frank Reich."
[+] Enlarge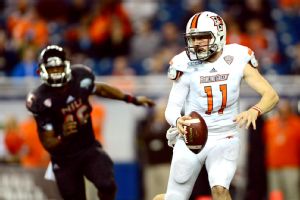 Andrew Weber/USA TODAY SportsBowling Green's Matt Johnson was considered too short to be a big-time quarterback, a slight he hopes to remind home-state Pittsburgh about in the Little Caesars Bowl.
Two quarters and 21 unanswered points later, Johnson had authored a Reich moment of his own, a 24-21 victory that helped cement his prep legend. That tale tapped out, as most eventual MAC sagas do, with the quarterback lacking the physical measurements to wow most college suitors. Johnson's height (6 feet) scared away many bigger schools, including Pitt. It left him down to Temple and Bowling Green, with the Harrisburg native choosing the Falcons.
It now has the redshirt sophomore set to square off against the state school that passed on him, as Bowling Green will face Pitt in Thursday's Little Caesars Bowl. Johnson hid little with that matchup on the horizon,
tweeting his hopes to play Pitt
in the hours before the game became official.
Johnson has no ill will toward the current Pitt staff, which is in its second year there. He counts several Panthers players as friends and high school peers. But this game is a chance for him to deliver another signature performance against a BCS-conference opponent, and it just happens to be in Detroit, where he left a huge impression earlier this month.
"Hey, right up the road, not too bad, especially the way that we ended our season," Johnson said with a laugh. "Definitely good memories up there, and it'll be nice to [try to] add another good memory on the 26th."
On Dec. 6, Johnson completed 21 of 27 passes and tallied 426 total yards and five touchdowns in a 47-27 rout over undefeated Northern Illinois, ruining the Huskies' BCS hopes and delivering Bowling Green its first MAC title in 21 years. Johnson has drawn plenty of attention after outdueling NIU's
Jordan Lynch
, who finished third in the Heisman Trophy voting.
If there were such a thing as an overlooked player within his overlooked league, Johnson was just that entering Ford Field more than two weeks ago.
"Jordan deserved all the credit that he was getting and all the publicity, and I personally thought he deserved to be in New York," Johnson said. "But I did have a little chip on my shoulder because it was like Bowling Green was the team that Northern Illinois was playing. It wasn't really like we have a chance to win a MAC championship. If we won, it was going to be a huge upset and everybody was just really talking about how Northern Illinois was going to bust the BCS for the second year in a row."
Weachter said college coaches several years ago uttered the phrase, "if he were just two inches taller" so often that he considered printing Johnson a T-shirt to wear to every college camp he would attend, simply stating: "I Know." Weachter said he has since heard from several college coaches who are sorry they passed on Johnson, whom he calls the best leader he's ever coached. (That list of pupils includes NFL leading rusher LeSean McCoy.)
Johnson went to junior high with Pitt center
Artie Rowell
, playing little league baseball and basketball with him before Rowell went to rival Central Dauphin. Johnson played in the Big 33 Classic, a Pennsylvania all-star game, with current Panthers cornerback
Lafayette Pitts
and defensive lineman
Ejuan Price
.
"I'm very happy for him," Rowell said. "I'm glad he's doing what he's doing. His high school has a proud tradition of putting guys in a position to be successful, as do many other high schools in our area. Personally, I couldn't wish him more success."
Pitts, describing how to defend Johnson, said:
"Get pressure on him, first and foremost. And just contain to keep him inside the pocket because he can move with his legs, but he also has a strong arm, too. So coverage-wise we're going to have to be tight as well."
Special teams coordinator Adam Scheier is serving as interim coach for Bowling Green, as Dave Clawson left to become head coach at Wake Forest. To replace Clawson, Bowling Green hired Dino Babers last week from Eastern Illinois. There, Babers tutored FCS player of the year
Jimmy Garoppolo
at quarterback. Before that, he helped coach Robert Griffin III as a Baylor assistant during Griffin's Heisman Trophy season.
All of that could very well indicate that #MACtion could already have its marquee quarterback and program lined up to carry the conference's torch in 2014. But for now, Johnson and his Falcons are champing at the bit for their latest chance to play the role of "that other team" on the day after Christmas.
"It'll be a nice opportunity because there's guys on the team that are actually from Pittsburgh, and they didn't receive an offer from Pitt, either," Johnson said. "It kind of hurts a little bit when you're coming out of high school and you don't receive an offer from your home state. But we are happy with where we're at, and we wouldn't change it for the world. But it will be nice to play against your home state and kind of show them, I could've been here, but I didn't get that opportunity, but I'm going to make the most of playing against you guys."
August, 12, 2013
8/12/13
10:30
AM ET
Today we're looking at Pitt as the Panthers enter their first season in the ACC:
Pittsburgh Panthers
Coach:
Paul Chryst (6-7)
2012 record:
6-7 Big East
Key losses:
QB Tino Sunseri, RB Ray Graham, RB Rushel Shell, C Ryan Turnley, S Jarred Holley
Key returnees:
WR
Devin Street
, DT
Aaron Donald
, S
Jason Hendricks
, CB
Lafayette Pitts
Newcomer to watch:
Freshman running back
James Conner
. The rookie is already getting significant reps at tailback through one week of camp, and Pitt's running game is looking for answers (see below). Conner rushed for nearly 1,700 yards (averaging more than 10 yards per carry) as a high school senior. He is a big body, but has opened eyes with his athleticism and feet.
Biggest games in 2013:
Sept. 2 vs. Florida State; Oct. 12 at Virginia Tech; Nov. 9 vs. Notre Dame; Nov. 29 vs. Miami.
[+] Enlarge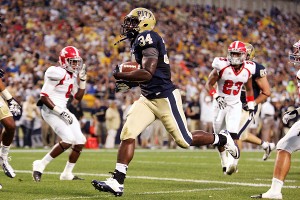 Charles LeClaire/USA TODAY SportsPitt's experience at running back is uncertain, but for now, Isaac Bennett will lead the way for the Panthers.
Biggest question mark heading into 2013:
How effectively will Pitt be able to run the ball? Not only did the Panthers lose their leading rusher from a year ago in Ray Graham, but they also lost his top replacement in Rushel Shell, who has since left the program.
Isaac Bennett
heads into the fall as the starter with
Malcolm Crockett
on his heels, but the experience is limited, and the offensive line remains a work in progress. Three starters return up front, but none of them are back at their old positions. The Panthers are hoping redshirt freshman
Adam Bisnowaty
and former defensive end
T.J. Clemmings
will be able to help out.
Forecast:
At the very least, Pitt is better off than it was a year ago simply because the Panthers are in their second season under Chryst and have finally started to get some stability. The players and coaches are much more familiar with each other, and they learned a hard lesson about consistency last fall.
With seven starters returning, the defense will be the strength, and it will likely have to carry the load early, as the Panthers will be breaking in a new quarterback. Defensive tackle Aaron Donald is the best player on the roster, and he led the Big East with 18.5 tackles for loss last year. He's one of three starters who return up front, and three of four starters return in the secondary.
Six starters return on offense, but losing the top two running backs from a year ago could create some problems. The staff has been pleased with what quarterback
Tom Savage
has done this offseason, but the two-time transfer hasn't played in two seasons. The headliner on offense is receiver Devin Street, who could be one of the best in the country this year after making 73 catches last season. Pitt's offense won't have any opportunity to work the kinks out because it opens the season on Labor Day in a nationally televised home game against Florida State, which should again be one of the ACC's best teams.
It's not going to be an easy debut for Pitt in its new conference, and the Coastal Division schedule doesn't get much easier with trips to Virginia Tech and Georgia Tech. Pitt has a chance to be a contender in what should be another wide-open divisional race, but a dependable running game must emerge and Pitt must win the turnover battle in order to have a more consistent season.
July, 16, 2013
7/16/13
5:00
PM ET
To get an idea of how Pitt and Syracuse could do in Year 1 in the ACC, forget the quarterback uncertainty gripping both schools and instead focus on defense.
Here's why.


If Pitt and Syracuse had played in the ACC last season, both schools would have ranked in the top half of the league in the four major defensive statistical categories -- total defense, rushing defense, passing defense, and scoring defense. Pitt would have been No. 2 in three of those categories (total D, passing D, scoring D).
While it is tough to compare the numbers across the leagues -- ACC defenses faced more prolific offenses than Big East defenses -- the numbers do carry some weight. Neither team is a lightweight on that side of the ball. Far from it. The former Big East has built a reputation for turning out some pretty solid defenses, and pretty solid defensive players. In the 2013 NFL draft, for example, 11 of the 19 players selected from the Big East played on defense. In 2012, both first-round picks from the Big East were defensive players.
Let's move on to this season, where the bigger challenge awaits. Pitt returns nine players from a defense that ranked in the Top 20 in the nation last season in total defense and passing defense. Though defensive coordinator Dave Huxtable is gone, coach Paul Chryst promoted Matt House to take over, allowing for consistency and continuity. Defensive tackle
Aaron Donald
has appeared on four watch lists already (Bednarik, Outland, Nagurski, Lombardi).
Lafayette Pitts
and
K'Waun Williams
are a great tandem at cornerback.
As for Syracuse, coach Scott Shafer comes from the defensive side of the ball. His ability to get results out of that defense was one of the big reasons he was promoted to head coach. His game plans last year against Louisville and West Virginia -- two of the best offenses Syracuse faced all year -- were outstanding. The Orange do have a bigger rebuilding job than the Panthers, and are much thinner up front. They return six starters. Two -- linebackers
Marquis Spruill
and
Dyshawn Davis
-- have 59 starts between them.
How these two teams end up doing is a guess at this point. But if they continue to play solidly on defense, the have a great chance of surprising a lot of people.
June, 21, 2013
6/21/13
2:00
PM ET
We move on to Pitt today in our series looking at the strongest and weakest positions on each team in the league.
Strongest position: Defensive back

Tough call to make here between defensive line and defensive back. Three starters return to both positions -- the line features the best overall player on the defense in
Aaron Donald
, but the secondary features three players who could end up being All-ACC selections.
K'Waun Williams
and
Lafayette Pitts
form one of the better starting cornerback duos in the ACC. Fans who are unfamiliar with them now will soon know who they are when the season begins. At safety, All-Big East first-team selection
Jason Hendricks
returns after a solid 2012 in which he lead the team with 90 tackles and six interceptions. He and Williams combined for 10 of the teams' 15 picks last season. The big hole is at strong safety, where both starter
Jarred Holley
and backup
Andrew Taglianetti
are gone. Holley has been the most consistent player in the Panthers' defense over the last three years, while Taglianetti could always be counted on to deliver the monster hit.
Ray Vinopal
, a top reserve last season, is the favorite to take over for Holley.
Weakest position: Offensive line
I gave the line the nod over running back and receiver because there remains way too much uncertainty about this group after spring practice. Running back has a depth problem, there is no question, but I think
Isaac Bennett
is capable of shouldering the load. Receiver also has some depth and inexperience issues, but
Devin Street
should be one of the best in the league. That leaves offensive line, which has to replace its two best players from a year ago. Two redshirt freshmen could be starting the season opener against Florida State and face what should be another talented defensive front --
Adam Bisnowaty
at one tackle and
Gabe Roberts
at center. Incoming freshman Dorian Johnson -- one of the top offensive line recruits in the nation -- could see time as well depending on how he does during fall camp. There were more position moves this spring to try and find the right combination, but there remains much unsettled about this group headed into the season.
More in this series here.
May, 7, 2013
5/07/13
7:00
AM ET
Pittsburgh Panthers
2012 record:
6-7

2012 conference record:
3-4, Big East
Returning starters:
Offense: 6; defense: 9; kicker/punter: 1
Top returners
WR
Devin Street
, DT
Aaron Donald
, S
Jason Hendricks
, CB
Lafayette Pitts
Key losses
QB
Tino Sunseri
, RB
Ray Graham
, C Ryan Turnley, S
Jarred Holley
2012 statistical leaders (*returners)
Rushing:
Graham (1,042 yards, 11 TDs)
Passing:
Sunseri (256-of-393 for 3,288 yards, 21 TDs, 3 INTs)
Receiving:
Street* (975 yards, 5 TDs)
Tackles:
Hendricks* (90)
Sacks:
Donald* (5.5)
Interceptions:
Hendricks* (six)
Spring answers
1. Bennett is the man.
Following the surprising news that projected starting running back
Rushel Shell
would transfer, all eyes turned to
Isaac Bennett
, who now gets his chance to start. Bennett had 114 yards rushing and a touchdown in the spring game, and will now have to transfer that type of production into a game.
Malcolm Crockett
figures into the mix as well.
2. Starting D solid.
The Panthers are adjusting to yet another defensive coordinator, but the good news here is Matt House was promoted from within the staff. So there was not a huge change in scheme or philosophy. With nine starters returning -- including big man up front Aaron Donald -- this group has the potential to shut some teams down.
3. T.J. Clemmings switch.
Clemmings made the switch from the defensive to the offensive line to help bolster a group that has struggled the past several seasons. That move looks as if it has paid off, as Clemmings left spring with the starting right tackle job. Clemmings also was selected the team's most improved offensive player this spring.
Fall questions
1. Quarterback.
No word yet on a starting quarterback, so the competition between
Chad Voytik
and
Tom Savage
will keep going into fall camp begins. Savage is the senior with game experience (albeit several years ago at Rutgers), while Voytik is the up-and-comer. Savage did take more reps with the first team during the spring, if that gives you any hints.
2. Offensive line.
Though Clemmings is at least one answer, the group as a whole still has major question marks after the spring. New center
Gabe Roberts
had his struggles with the shotgun snap during the spring, and the Panthers are going to have to rely on some inexperienced players to start. Depth also is an issue again.
3. Team depth.
The offensive line is not the only position on the team where there is a lack of depth. Just about every position is thin, from running back to receiver, to defensive line and linebacker. Work still must be done to develop the second unit before the season begins.
December, 19, 2012
12/19/12
9:00
AM ET
It's never too early to look ahead to next season, especially since there are going to be some changes to both the Big East and ACC.
With that in mind, Heather and I have taken up one very timely debate: Which incoming Big East team will do better in the ACC in Year 1 -- Pitt or Syracuse?
Depends on whom you ask.

Heather says: Syracuse.
Ok, so Syracuse needs a quarterback.
But Boston College and NC State need to start from scratch, and Wake Forest and Maryland are, well, beatable. So my argument starts with the competition in the Atlantic Division, where Syracuse already has a leg up on three of its opponents because this season will be the first in which coach Doug Marrone has a roster filled entirely with his recruits.
Can't exactly say the same for BC's Steve Addazio, Dave Doeren at NC State, or even Randy Edsall at Maryland.

Not only does Syracuse enter the ACC in 2013 with an upper hand in stability over three opponents, but it also brings a legitimate running game that will take some pressure off of whomever does start at quarterback (and Texas native Zach Allen, an Elite 11 player, is a pretty good option to start with). The Cuse has a solid stable of running backs, led by 1,000-yard rusher
Jerome Smith
, and it will have a veteran offensive line with all five starters expected to return. (
Justin Pugh
has not decided yet if he'll leave early for the NFL draft, but even with four starters returning up front that will help break in a new quarterback.)
Don't forget tight end
Beckett Wales
also returns, and he was an asset in the passing game as well. Speaking of the passing game, Arkansas transfer
Quinta Funderburk
is eligible to play this year and should help compensate for the graduation of
Marcus Sales
and
Alec Lemon
.
Defensively, Syracuse returns nose tackle
Jay Bromley
to anchor the middle, and while several talented players have to be replaced up front, the Orange rotated plenty of linemen, so depth and experience shouldn't be a problem.
Special teams will probably be the least of Syracuse's concerns, as everyone returns, and the Orange also ended the regular season on a positive note with three straight wins to build on, including back-to-back road wins against Missouri and Temple.
Syracuse is joining a new league, and it will usher in a new quarterback, but there is plenty in place for the Orange to have a successful first season in the Atlantic Division -- more success than Pitt will find in Year 1 of what should be a much-improved Coastal Division.
Andrea says: Pitt.

Heather makes a convincing argument about Syracuse, but her initial premise is flawed. How is Syracuse going to do better than Pitt when it plays in the toughest division in the ACC? Good luck getting past Clemson and Florida State, guys.
Let us turn our eyes to the Coastal Division. Pitt was miles better than Virginia Tech this season. Miami should be better in 2013, but will still be pretty young in many spots. North Carolina loses
Giovani Bernard
,
Jonathan Cooper
,
Sylvester Williams
and
Kevin Reddick
.
Virginia, Georgia Tech and Duke? Pitt will be better.
So I am going to say it right now, before everybody else hops on the bandwagon: The Panthers not only will do better than Syracuse in Year 1 in the ACC -- they will be in contention for the ACC championship game.
Here's why.
Pitt will be better on offense with a first-year starter at quarterback. The moment Panthers fans have been waiting on is almost here --
Tino Sunseri
is about to hit the road, ending his up-and-down career as a three-year starter. Sunseri had his best season to date in 2012, and yet it still was not quite enough to lift the Panthers above mediocrity.
Waiting in the wings is veteran
Tom Savage
, a senior who was a freshman All-American at Rutgers before transferring first to Arizona, then Pitt. He will have a competition on his hands with four-star recruit
Chad Voytik
, who redshirted this season. I am fairly confident that no matter who starts, Pitt will get an upgrade at the position.
Losing
Ray Graham
at running back hurts. But the Panthers return
Rushel Shell
, who should be one of the top running backs in the ACC. We saw glimmers of his talent this year. As the starter next year, he will be better.
Now on to the defense. While it's true the Panthers need to hire a defensive coordinator, the new coach is going to inherit what should be one of the most talented groups in the division. Nine starters return. Among them --
Aaron Donald
at tackle,
Lafayette Pitts
at cornerback and
Todd Thomas
at linebacker. All three should be preseason candidates for All-ACC honors.
Pitt showed marked improvement on defense from Week 1 to Week 12 this year, holding their last two opponents to a combined nine points. I expect that improvement to continue no matter who coaches this group.
Plus, coach Paul Chryst will be in his second year. He will be more comfortable in charge, and his players will be better in his system. For all these reasons, Pitt will be just fine in Year 1 in the ACC. Check that. More than fine. Pitt will be better than Syracuse.