February, 13, 2013
2/13/13
9:00
AM ET
Syracuse has
officially made the move
into the ACC football blog. Now it's Pitt's turn. The Panthers will become full members of the ACC on July 1, joining the Coastal Division with former Big East partners Miami and Virginia Tech. As far as we're concerned, here in the blogosphere, the move has been made.
Andrea Adelson and Heather Dinich are here to welcome Pittsburgh into the ACC blog. C'mon in, there's plenty of room.
Heather Dinich:
Andrea, one of the biggest surprises of the 2012 season was Pitt's 35-17 win against Virginia Tech on Sept. 15. It wasn't just that Virginia Tech lost, it was how Pitt won -- convincingly, by manhandling the Hokies up front on both sides of the ball. Few, if any, saw that coming, as Virginia Tech was outworked and outmuscled by a team that had lost its first two games of the season, including to Youngstown State. How concerned should the rest of the Coastal Division be about the 2013 Panthers?
[+] Enlarge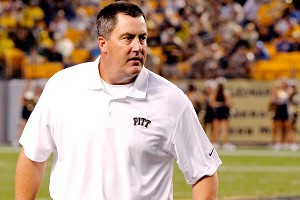 AP Photo/Keith SrakocicPittsburgh needs head coach Paul Chryst to stabilize a staff that has endured turnover in recent seasons.
Andrea Adelson:
Heather, that was a great shock to us all, because up to that point, Pitt had not proven to be very good up front. In fact, the Panthers struggled for much of the season to gain consistency on their offensive and defensive lines. That win was one of their most complete of the season, topped only by their 27-6 win against No. 18 Rutgers later in the year. I am on the record as saying I believe Pitt will have an
opportunity to contend
for the Coastal Division. First, quarterback play should be improved dramatically, with either former Freshman All-American
Tom Savage
or four-star recruit
Chad Voytik
at the helm. Second, the Panthers have a solid running back in
Rushel Shell
and an unheralded receiver in
Devin Street
. And third, the Panthers return nine starters on defense, including All-Big East tackle
Aaron Donald
. I also think this team will be better in Year 2 under Paul Chryst. It's actually the first time since 2009 and '10 that the Panthers have had the same head coach in back-to-back seasons.
Having said that, there are a few concerns. First and foremost is playing consistently week in and week out. Those who follow me on the Big East blog know I referred to this team as "Good Pitt/Bad Pitt" all season because of the Jekyll and Hyde performances. Pitt followed a lose two, win two pattern all season. Chryst needs to find a way to get his team to play at the same level every single week. Second, the offensive line has to be better, because it has been pretty bad the past several years. Pitt won't be able to play the way Chryst wants to play on offense if the line doesn't improve. And third, Pitt is searching for yet another defensive coordinator since Dave Huxtable has gone to NC State. So that's my take. What will Pitt find in the Coastal this year?
HD:
A much-improved Virginia Tech team. A Miami team ready to play for the league title (if it's eligible, of course). An eligible North Carolina team ready to contend for the Coastal Division title in the second season under Larry Fedora. A Georgia Tech team that returns the bulk of its playmakers and should get upgrades at quarterback (
Vad Lee
) and defensive coordinator (Ted Roof). Duke will have something to prove, as it has had some significant staff changes, including the departure of senior quarterback
Sean Renfree
and record-setting senior receiver
Conner Vernon
. Virginia had a staff overhaul, but coach Mike London should be feeling some heat to get back to a bowl.

Overall, the Coastal Division should be much, much better than it was last year. Heck, it can't get much worse, as the Hokies had their worst season in 20 years, two teams were ineligible, and Georgia Tech needed a waiver just to play in a bowl game. The Coastal Division is more balanced than the Atlantic Division, and Pitt will fit right in, adding to that parity. I'm looking forward to seeing Pitt-Miami and Pitt-Virginia Tech on a more regular basis. Miami has yet to play for the ACC title since joining the league, while Virginia Tech has owned it. Make no mistake -- last season was an anomaly in Blacksburg. What will it take for Pitt to follow the Hokies' path in the ACC?
AA:
Great question, Heather. No. 1 on the list has to be coaching stability. The Pitt program has been set back because of the missteps over the past three years with head coaches. Most everybody believes Chryst is a solid football coach, but he is going to need time to get this program where he wants it. And he has exceptional resources to get the job done, with state-of-the-art facilities and extremely fertile recruiting ground in the Pennsylvania area. Pitt does not have to go far to find some of the most talented players in the nation. They finished
just outside the top 40
on signing day last week. They can sell their ties to the Steelers, playing in an NFL stadium, and their incredible history, filled with national championships and Hall of Famers. Now, you could come back and say, "Well, Miami has all that, and more, and the Canes have failed to dominate the ACC as predicted." Very true. But you also make my point for me. Miami's weakness has been at the head-coaching position, as well, with Larry Coker and Randy Shannon unable to continue the success Miami had in the Big East. Al Golden now has the Canes in position to be the favorites in the Coastal.
Virginia Tech? Well, Virginia Tech has had Frank Beamer, the picture of coaching stability. After Wisconsin lost coach Bret Bielema, many wondered whether athletic director Barry Alvarez would approach Chryst, a long-time Wisconsin assistant and Wisconsin graduate. But Chryst let it be known he did not have any intention of leaving Pitt after a year on the job. He is committed to the Panthers. Now the administration has to show its commitment by giving him time to build. If he's as good as many think he can be, Pitt will be fine.
January, 14, 2013
1/14/13
5:00
PM ET
The Miami football teams of the early 2000s churned out NFL prospects left and right, producing 20 first-round picks between 2001-04.
Do you know what else Miami produced in the early part of that decade? Head coaches. The Miami coaching staffs of 2000 and 2001 -- staffs that had a huge role in the recruitment and development of those pro prospects -- have produced both NFL and college head coaches.

Not just one or two, either.
With the Cleveland Browns'
recent hire of Rob Chudzinski
, the 1999-2000 staff under Butch Davis produced six head coaches -- three of them now in the NFL.
Rob Chudzinski, tight ends coach. Interestingly enough, his former boss (Davis) left Miami after the 2000 season to coach Cleveland.
Greg Schiano, defensive coordinator. Left for Rutgers after 2000 season and now Tampa Bay Bucs head coach.
Larry Coker, offensive coordinator. Succeeded Davis after the 2000 season, now head coach at UT-San Antonio.
Chuck Pagano, defensive backs. Now coaching Indianapolis Colts, and became an inspiration for his battle with leukemia.
Curtis Johnson, receivers coach. Entering his second year as Tulane head coach.
Mario Cristobal, graduate assistant. Spent six years as FIU head coach before rejoining Miami staff last week.
As for the 2001 staff, which helped Miami win the national championship and produced
arguably the greatest team
in college football history:
Mark Stoops, defensive backs. Replaced Pagano and is now head coach at Kentucky.
Randy Shannon, defensive coordinator. Succeeded Coker and served as Miami coach from 2007-10.
Chudzinski and Johnson. Both remained on staff.
Lots of folks mention the Nick Saban coaching tree, but when you look at the staff Davis assembled, the group he had around him in the late 1990s and 2000 is pretty impressive.
We can sit here and debate Davis and his abilities as a head coach, and go back and forth on his role in what went down at North Carolina. But it's hard to ignore the fact he has a pretty good eye for talent -- both among players and coaches.
August, 17, 2011
8/17/11
3:57
PM ET
CORAL GABLES, Fla. -- There were police on guard Wednesday morning to help control the flow of media access to Miami's football practice. Players, assistant coaches and university officials have declined to comment or have been instructed not to. Athletic director Shawn Eichorst declined an interview request from ESPN.com. So did university president Donna Shalala. Even one member of Miami's marching band and a member of the cheer squad both declined to talk about the NCAA investigation hanging over Miami's football program right now.
While silence is prevalent here on campus Wednesday, former booster Nevin Shapiro can't seem to say enough about the U. His allegations, some of which have been supported by the research and investigation of Yahoo! Sports, could be devastating to the future of Miami football.
And yet the only person answering questions right now is first-year coach Al Golden.
While his candor is refreshing, he's not the one who needs to answer for this mess.
Former athletic director Paul Dee, who once sat as chairman on the NCAA's Committee on Infractions and lambasted USC for its violations, has some explaining to do. Former athletic director Kirby Hocutt, who abruptly resigned to become athletic director at Texas Tech after he hired Golden, has some questions to answer. (Hocutt did not immediately return a call to his office.) Shalala, who can be seen in a Yahoo! Sports photo accepting a donation that was allegedly comprised of illegal money, needs to address the issue beyond the statement released earlier today. And former coaches Randy Shannon and Larry Coker, under whose watch these alleged violations took place, also need to state their cases. (Shannon did not return a text message to his cellphone.)
Funny how the majority of Miami officials who are accountable for this mess are gone.
And Golden is left to clean it up -- not that you could tell from his demeanor or practice this morning.
The only difference on the practice field was a little bit of extra intensity.
"The coaches are more fired up today," said Rob Dunning, Miami's assistant communications director, who routinely watches the Canes practice.
Defensive line coach Jethro Franklin was not pleased with his group's pressure on quarterback
Jacory Harris
.
"Keep the quarterback in the pocket!" he barked. "DON'T. BREAK. CONTAIN! Pass-rush lanes!"
The staff is doing its best to maintain a sense of normalcy, but there is nothing normal about the allegations that have been levied against the program.
How much of it is true? Who knew about any of it? How
didn't
they know?
All questions that need to be answered -- and not by Golden.
March, 9, 2011
3/09/11
12:00
PM ET
By
ESPN.com staff
| ESPN.com
Two
games?! TWO?! Yes, I absolutely think Jim Tressel should be suspended
for more than two games
. His players were.
April, 17, 2009
4/17/09
10:30
AM ET
By
ESPN.com staff
| ESPN.com
Posted by ESPN.com's Heather Dinich
On Wednesday's ACC teleconference, North Carolina coach Butch Davis spent a significant amount of time talking about his coaching tenure at Miami. While the Tar Heels aren't exactly a mirror image of the teams Davis had there from 1995-2000 when he went 51-20 and won three Big East titles, he's rebuilding Carolina football with the same recruiting philosophy -- speed.
"We want to try to build a very fast, athletic, defensive team that can run, a lot of depth in the defensive line, we would love to have playmakers at all five of the skill positions on offense," he said. "We want to be able to run the football. I think a lot of our concepts are pro oriented because of the backgrounds of the coaching staff, but we're trying to put our kids in the best position they can to move the football and score points."
Davis took over a Miami program that had been hit by NCAA sanctions that restricted the number of scholarships he had in his first three seasons. He was able to overcome that, though, and by the time he decided to take the job with the Cleveland Browns, had lured a national championship recruiting class for Larry Coker.
Similarly, the team he inherited at North Carolina was "paper thin" when it came to depth in 2007. Davis said the Tar Heels were "one injury away" on almost every single possession from having to use a player who either didn't have enough experience or simply wasn't ready to play.
That depth improved last year -- evidenced by the fact UNC doubled its win total despite injuries to the starting quarterback, top tackler and leading receiver. Davis said it should be even better this year, and it should be particularly noticeable up front on defense.
"We've tried to really emphasize through our recruiting efforts and through our strength and conditioning program to overall enhance the speed of our football team," Davis said. "College football is a game of speed. As offenses have changed so much to the spread offense, like Florida's running ... three and four wide receivers, and quarterbacks who are very athletic ... It really puts a premium on trying to have a fast, athletic defensive team and I think we're moving in that direction. We've got some guys that certainly can run and each recruiting class we hope to continue to add to that."
August, 6, 2008
8/06/08
12:00
PM ET
By
ESPN.com staff
| ESPN.com
Posted by ESPN.com's Heather Dinich
| | |
| --- | --- |
| | |
| | AP Photo/Chris Gardner |
| | Tommy Bowden's new contract would take him through 2014. |
If Clemson somehow manages to trip over itself en route to the program's best chance at the ACC title since 1991, there's a very good chance Tigers fans will feel like tossing themselves down the Hill in frustration instead of running down it like a champ.
But odds are Tommy Bowden, regardless of what happens, will still be king of it because of his latest contract extension.
The hot seat is the one that has finally been removed in the ACC's game of musical coaching chairs, and stability has replaced turnover -- at least for 2008.
The turmoil came in 2006 when North Carolina coach John Bunting was fired before the season was over, Miami's Larry Coker was fired at the end, Tom O'Brien left Boston College and Jeff Jagodzinski replaced him. Last season, Georgia Tech fired Chan Gailey.
Some coaches will be scrutinized more than others this season -- including both Bowdens -- but not to the point where they should have to worry about finding a "For Sale" sign in their front yards. It's not like a contract extension equals guaranteed job security, but Tommy Bowden has come right out and said the bull's-eye is on his players this year, not him. And it would have to be an absolute miserable season for Bobby Bowden to leave after this year, and there is too much talent on his roster for that.
There is margin for error at Miami, where Randy Shannon is still trying to build the program his way and with his players, but another season with just two conference wins won't fly for long at the U.
Just having David Cutcliffe in Durham is an improvement, and any reasonable person would give him at least four years to make a difference there.
Maryland coach Ralph Friedgen has had three losing seasons in the past four years, but he's also been to bowl games five times in seven seasons and raised the expectations of the program. Part of the recent slump can be attributed to Friedgen assuming the dual role of offensive coordinator and head coach the past two seasons, which turned out to be too much last year. Prior to that, the play-calling was too conservative under former coordinator Charlie Taaffe. The Terps should see improvement with James Franklin calling the plays this year.
The only other coach who might not be getting any love letters from fans this year would be Virginia's Al Groh. Some were questioning the length of his stay in Charlottesville just a week ago when two more of his players got into trouble. But Groh, the ACC's 2007 Coach of the Year, is coming off a 9-4 season and has a defense that should win him a few more this year.
Who has the most to lose this season? Clemson fans, not their coach.
July, 23, 2008
7/23/08
7:28
AM ET
By
ESPN.com staff
| ESPN.com
Posted by ESPN.com's Heather Dinich
Good morning from Annapolis, Md. No, Paul Johnson is not here, but I still call this place home.
Not that I'm here that often during the season. One of the better trips this year will be to Tampa, for the ACC Championship. Anything has got to be better than the half-empty stadium in Jacksonville, and ACC officials all but promised it will be. The key will be a smaller venue, bigger city and cheaper tickets. More ACC alumni, too. But you know the No. 1 rule in real estate - location, location, location.
So far the rule seems to apply to ACC football, too -- more than half of the seats there are already sold.
Want one? Check out their web site.
In addition to talking up Tampa on Tuesday, ACC commissioner John Swofford gave his take on the state of the ACC yesterday, so that's where much of the news came from. And yes, he is pleased with the way things are going.
Even in the face of numbers like these.
Also addressed on Tuesday in the final day of the ACC football kickoff was the new rule changes. Here's a more in-depth look at the clock change for this season.
Swofford and SEC commissioner Mike Slive are ready for a change in the BCS, but believe it or not, some coaches are OK with the status quo. The coaches in the Triangle don't mind it so much, either.
Speaking of coaches in the Triangle, somebody else noticed how Butch Davis dressed on Monday, too. And David Cutcliffe and Jenny Craig in the same sentence? More on how the Blue Devils slimmed down to shape up.
And more on food -- Gregg Doyel says recruiting at Wake Forest is like is like visiting a seven-course buffet and being allowed to pick only from the salad bowl.
Despite the high hopes for the Carolina schools, Clemson is obviously the best team this year. If the Tigers are going to win it all, though, quarterback Cullen Harper said they will need a little luck.
It appears Florida State has the speed. Who's the fastest at FSU? Redshirt freshman Brandon Paul is ready for a "race-off" to find out.
Elsewhere in Florida, former Miami coach Larry Coker is gearing up for his second season as a TV analyst for ESPN but hasn't ruled out returning to the sidelines. Click here for his take on that and the Hurricanes' move to Dolphin Stadium.
Back to the BCS -- remember that excuse for not going with the plus-one, that whole thing about academics?
Well, how about playing in the Congressional Bowl the same day you've got a final exam? Given its locale, Maryland would be a natural fit for this game. Given its potential, it won't have to worry about it.
The bigger question is who -- if anyone -- will qualify for it.