March, 18, 2013
Mar 18
11:15
AM ET
Virginia
released its depth chart today
and -- surprise -- quarterback
Phillip Sims
is listed third behind
David Watford
and
Greyson Lambert
.
[+] Enlarge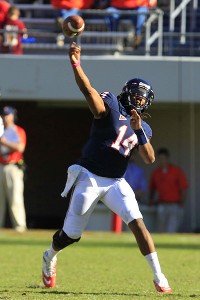 AP Photo/Steve HelberDespite starting four games for the Cavaliers last season, Phillip Sims is still having to compete for the role of UVa's starting quarterback.
That lineup carries about as much weight as a snowflake right now.
Why? Because first-year offensive coordinator Steve Fairchild, and first-year assistant Tom O'Brien, the associate head coach for the offense -- not to mention coach Mike London -- have yet to see any of these quarterbacks throw the ball in the new system. Sims, a former transfer from Alabama, was a fan favorite last year, but there is nothing concrete about the spring depth chart. It's a blank slate for each of them, as practices begin today in Charlottesville.
"The great thing about the fresh start is for all of those guys concerned because now there are fresh eyes on the whole quarterback situation," London said. "… With this new scheme and system, and the accountability we're placing on the players, there are basically three fresh eyes between Larry Lewis, Fairchild and O'Brien. I would say even the fourth one would be Jon Tenuta, since he'll be going against these guys, to evaluate those quarterbacks on who could best run the system, who can best make the decisions that are necessary."
Watford played as a true freshman in 2011 but redshirted last year. Sims started four games last year in place of
Michael Rocco
, who has since transferred. Sims finished with nine touchdowns and four interceptions, having completed 56.2 percent of his passes for 1,263 yards. Lambert and
Matt Johns
are both redshirt freshmen.
"Phillip has an advantage of having played this season, David has the advantage of having played and watched what has gone on, and Grayson and Matt Johns are just soaking everything up," London said. "Now the challenge will be who can best pick up the system and who can do the things that are required for our offense to be successful. I think the evaluation of that is more critical than the who right now. Who can handle what Steven and the offensive coaches are going to be asking of the quarterbacks?"
The bigger question is if London can find one quarterback who can do it instead of two. Rotating signal callers has become an unpopular trend in Charlottesville, but in London's defense, a true star has yet to emerge. Virginia's quarterback competition has been an ongoing storyline during London's tenure as head coach, and the saga will continue this spring -- starting with today's depth chart.
"I think Phillip is a competitor," London said. "He wants to compete. I know he has a strong arm, and he likes to throw the ball deep. He likes to throw those deep, intermediate routes. Like every player, particularly a quarterback, it's a timing game and you have to work on your timing -- when to throw, when to pull it down. Different things like that. I think that if you think about it, having come from Alabama, and coming to us, and now with Steve Fairchild, it will be basically his third system in the last three years that he's played. Being able to adapt to that is going to be critical, as it will be for David, who sat and watched a system. With Phillip and everyone else, the learning curve is going to be important with these 15 short practices we have in the spring."
February, 14, 2013
Feb 14
5:00
PM ET
Two weeks ago, Virginia announced the hire of Steve Fairchild as offensive coordinator and quarterbacks coach. Last year, Fairchild was the senior offensive assistant for the San Diego Chargers after spending four seasons as the head coach at Colorado State. He inherits an offense that was No. 93 in the country in scoring last year at 22.75 points per game. I caught up with Fairchild recently to help introduce him to UVa and ACC fans.
Here are the highlights of our conversation:
What are you looking forward to about this job? Why was it the right fit for you?
[+] Enlarge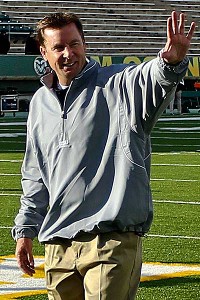 Troy Babbitt/USA TODAY SportsSteve Fairchild, who was Colorado State's head coach in 2011, will take over as the Virginia Cavaliers' offensive coordinator this season.
Steve Fairchild:
I spent most of my career coaching quarterbacks and as an offensive coordinator, so I was looking to do that again. I was also very impressed with this university and the ACC, so it piqued my interest. As the process started to unfold, getting to know Mike London was probably the thing that sold me most on it. It just seemed like the right fit.
Tell me just a little bit about your offensive philosophy. What can ACC fans expect from you?
SF:
We'd like to try to install a pro-style offense here. Obviously as we get to know our players better as we go through spring football, we'll adapt to whatever we're doing, to what our players do best, and obviously to try to identify our playmakers. But we'd like to start with a pro-style offense, be balanced, have a physical mentality running the football, try to create some big plays and spread the field with the passing game.
I know you were with the San Diego Chargers, but you also have collegiate experience. Without trying to put you on the spot, is there one you prefer more, colleges or the pros?
SF:
There's plusses and minuses for both. I've gone back and forth a little bit. This was more about the job description and the people. I've worked with Larry Lewis, who's on the staff here now. I've known Tom O'Brien for a while. And then getting to know Mike London. I feel very good about the people, very good about the job description. It felt like the right fit.
You're a Colorado State grad, too, right?
SF:
My wife and I both.
How familiar are you with recruiting around the ACC area?
SF:
I've recruited, I just haven't been in the ACC, so I'm sure I'll be brought up to task on that. I've recruited out this way, in terms of area, so I don't think it will be a big adjustment.
Virginia's quarterbacks have been a big storyline there for I feel like as long as I've been covering the ACC. How familiar are you with Phillip Sims and David Watford, and what's that situation look like going into the spring, or is it too early to even ask you about that?
SF:
It's probably a little early to ask. I've looked at a little tape. I didn't want to look at too much and get any preconceived ideas, but we'll open up the quarterback job to a very spirited competition here as we go into spring football. We've got four guys on the roster that we all think have a chance, so we'll see where it goes.
You talked a bit about your offensive philosophy. How much do you have to change? How big of an adjustment is this going to be for Virginia this offseason?
SF:
I don't know because I'm not totally familiar with what when on here last year in terms of scheme and terminology. I've got a basis for where we're going to start, and that's what we're doing this next month, is create our system with Tom O'Brien and all of the other coaches on offense. There are a lot of talented guys there. We'll see. It will be an adjustment, no doubt, because it's different than what they've done, but hopefully not too big of a learning curve.
Do you have any goals for this spring as far as what percentage of the playbook you want to install?
SF:
No, I don't have any idea on how much we'll get installed. We'll make a determination each day if we can go forward and how much. I just like to establish in the spring the way we practice, the way we go about the game, protect the football, the tempo we play at. Usually the first two or three practices are establishing those things.
January, 22, 2013
Jan 22
12:00
PM ET
Rooting for a guy named Harbaugh.
January, 14, 2013
Jan 14
9:00
AM ET
A few items of interest for you from around the league this past weekend:
CLEMSON
Clemson coach Dabo Swinney presented the first Brian Dawkins Clemson Lifetime Achievement Award to -- surprise -- Brian Dawkins at the team's banquet on Saturday evening.
From the release:
Dawkins recently retired from the NFL after 16 years with the Philadelphia Eagles and the Denver Broncos. He was a nine-time Pro Bowl selection and played 224 games overall. He was a three-time All-ACC selection at Clemson between 1992-95 and was an AP All-American as a senior in 1995 when he led the ACC in interceptions.

"I got the idea to present an award like this from last year's experience with the Bobby Dodd Award," said Swinney, who won the Bobby Dodd National Coach of the Year Award in 2011. "The Dodd Award takes into account performance on the field, but also qualities like leadership, community service and others.

"Brian Dawkins epitomizes everything you strive to be on and off the field when it comes to being a Clemson football player. He is the ultimate professional and has represented this university with distinction in every way. He has set a standard of excellence in every way."

Swinney said that the award would be presented annually to a former Clemson player who had been out of school for at least 10 years. A committee will make a selection each November. The player will be honored at the banquet in January and at a football game the following fall.
FLORIDA STATE/GEORGIA TECH
Florida State has hired former Georgia Tech interim defensive coordinator Charles Kelly
as its linebackers coach and special teams coordinator
. On Saturday, Georgia Tech responded with the following statements:
Charles Kelly: "I would like to thank Paul Johnson and Chan Gailey for giving me the opportunity to coach at Georgia Tech. I would also like to thank all the current and former Georgia Tech players for the effort they gave, on and off the field.

"My family and I will always have fond memories of the past seven years and we appreciate the support of the Georgia Tech administration, alumni and fans.

"I have a great deal of respect for Paul Johnson and I am very appreciative of his understanding of this great opportunity for me and my family."

Paul Johnson: "I want to thank Charles for all that he has done for Georgia Tech football, especially in my five years at Tech. Charles is a hard-worker, a good football coach, and I'm certain he'll be successful for years to come. I wish the best for him, Kristy and the kids."
MIAMI
The NCAA's investigation is reportedly nearing an end, according to The Associated Press. The program could find out its punishment by May or June. Maybe. Possibly. It still needs the notice of allegations, but it sounds like some key officials are set to meet today.
At 11 a.m. today, Miami juniors Seantrel Henderson, Brandon Linder and Curtis Porter will announce their intentions on whether they will declare for the 2013 NFL draft or return for their senior seasons.
VIRGINIA
Virginia hired Larry Lewis as the its special teams coordinator and running backs coach. Lewis replaces Jeff Banks, who joined the UVa staff on Jan. 1 before resigning last week to coach in the SEC.
From the release
:
Lewis has 32 years of collegiate coaching experience, including an eight-year stint as the head coach at Idaho State. Lewis first started coaching special teams when he was an assistant on Mike Price's Weber State staff in 1981 and became one of the first college coaches to hold the title of special teams coordinator when he took on that role for Price's Washington State teams in the 1990s.

"Larry Lewis has probably been coaching special teams for as long as anyone in college football and we're really fortunate to have him join our staff," coach Mike London said. "On the offensive side of the ball, he has worked for some very successful and innovative coaches out west and coached two of the nation's top running backs over the past two seasons. Larry is high energy and our players are going to enjoy his style. It is ironic that Jeff Banks played for Larry at Washington State. I guess you could say we've gone from the pupil to the teacher."

Lewis comes to Virginia after working for Hall of Fame coach Chris Ault at Nevada in 2012. Ault announced his retirement in late December. Lewis served as the Wolfpack's special teams coordinator and running backs coach. Nevada averaged 271 rushing yards per game last season, the seventh-best average among FBS programs.