April, 14, 2014
Apr 14
1:00
PM ET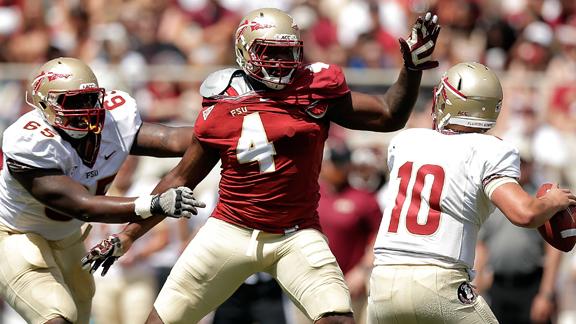 Florida State's spring camp
came to a close
on Saturday with the annual Garnet and Gold game, and now the Seminoles are prepping for a second straight national title.
The game is secondary compared to the rest of spring practices, so with that in mind, here are some of the biggest answers the 15 spring sessions presented.
[+] Enlarge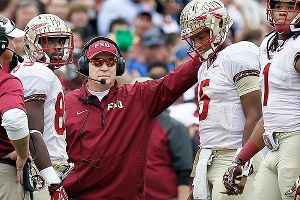 Don Juan Moore/Getty ImagesFlorida State coach Jimbo Fisher escaped the spring with a healthy roster.
1. FSU will be at full strength this fall.
In early March, Noles coach Jimbo Fisher noted how healthy his team was and how rare it is to have a squad almost entirely intact for spring practice. As the practices mounted, though, so did the injuries. The silver lining is that none of the injuries are expected to linger into preseason camp. Running backs
Dalvin Cook
and
Ryan Green
had shoulder surgery but will be 100 percent by around July.
Nick O'Leary
missed the final half of spring practices with a second motorcycle accident, but he avoided any serious injuries. There were a few concussions in camp, but
Terrance Smith
, who suffered one of them, was back for the spring game. The lone setback that could impact fall camp is the foot injury
Ukeme Eligwe
sustained, which Fisher hinted could be the dreaded Lisfranc injury, which has a tendency to persist for quite some time. The thought is he should be fine for August, though.
2. The secondary is among the best in the country.
Quarterback
Jameis Winston
said after the spring game that "we got the best [defensive] backs in the country." He should know, having thrown against the unit for much of the spring and the entire Garnet and Gold game. The secondary of
P.J. Williams
,
Jalen Ramsey
,
Nick Waisome
and
Tyler Hunter
shut down the No. 1 offense's passing attack the entire first half, and the unit was without sophomore
Nate Andrews
. Fisher said throughout the spring that Ramsey is a star-in-the-making and should become a nationally recognized name replacing
Lamarcus Joyner
. Ramsey showcased his skills by moving around at cornerback, safety and nickel during the game. Fisher and Winston are raving about freshman
Trey Marshall
, too. Williams is a star in his own right, shutting down No. 1 receiver
Rashad Greene
.
3. The receivers need to step up.
Speaking of Greene and the receivers, that position is probably the biggest weakness heading into the season. Fisher was upset with the production and consistency his receivers showcased through much of the spring, and the starting unit did not get any separation from the Noles' secondary.
Jesus Wilson
has the potential to be a playmaker from the slot, but can he replace
Kenny Shaw
's production?
Isaiah Jones
is 6-foot-4, but his production did not match that of departed 6-foot-5 receiver
Kelvin Benjamin
.
Levonte Whitfield
announced himself to the world in the national title game, but he is still needs some refinement as a receiver. The coaches can spend two hours a week breaking down film with players during the offseason, and Fisher said that will be a critical step in Florida State's development at receiver.
4. The talent is there at linebacker.
The Noles lose beloved figure
Telvin Smith
and consistent producer
Christian Jones
, but the depth at linebacker is there so those losses might not be felt all that much.
Matthew Thomas
is a budding star, and the former five-star recruit will not be kept off the field this fall.
Terrance Smith
is the leader of the unit and could be a viable replacement for Telvin Smith. Before Eligwe's injury, Fisher voiced his opinion that Eligwe was having as good of a spring as any player.
Reggie Northrup
and
E.J. Levenberry
should each see significant snaps in the rotation, and
Ro'Derrick Hoskins
could be a dangerous third-down specialist from the position.
5. Sean Maguire is a quality backup for Noles.
Earlier this spring, Winston missed a practice to travel to Clemson with the baseball team, putting the pressure squarely on No. 2 quarterback Maguire to perform at a competent level. Following the practice, the third of the spring, Fisher was lukewarm on Maguire's performance. But Maguire looked the part of a quality No. 2 option for Florida State during the spring game. The Noles got him in rhythm with three straight passes to the flats to open the game, and then Maguire dropped in a 26-yard touchdown on a post route over the defender. Maguire, a redshirt sophomore, said he made the most progress this spring than he's ever made at any point in his college career.
March, 21, 2014
Mar 21
2:00
PM ET
TALLAHASSEE, Fla. -- Most coaches keep practices behind closed doors. They don't want any important information finding its way to opponents.
Florida State coach Jimbo Fisher, however, graciously tipped his hand Wednesday when asked about what new formations and which underclassman receivers could mitigate the departure of potential first-round NFL draft pick
Kelvin Benjamin
, all 6-foot-5 and 240 pounds of him.
[+] Enlarge
Melina Vastola/USA TODAY SportsKermit Whitfield isn't going to do the same things Kelvin Benjamin did in the Florida State passing game, but his speed could be every bit as dangerous to defenses.
"I'll stack Bobo (
Jesus Wilson
) and Kermit (
Levonte Whitfield
) on top of each other," quipped Fisher, clearly armed in anticipation of a question on his receivers' height. Wilson stands 5-foot-9 and Whitfield is 5-7.
The humor could be a deflection as Fisher masks any possible concerns about replacing Benjamin, who at Tuesday's pro day showcased a rare catching radius and leaping ability that no player on the Seminoles' current roster has illustrated. Senior
Rashad Greene
's presence is vital, as he led the team with 76 catches last season, but no other returning receiver had more than 13 catches in 2013, which leaves mostly a unit with little to no in-game seasoning.
But while Benjamin's size and strength combination won't be replaced by anyone on the roster in its current form, his Tallahassee exit doesn't necessarily mean a step in the wrong direction for the Seminoles offense. Whitfield and Wilson are small packages of instant offense. Whitfield initially trumpeted his speed for Florida State fans with touchdowns of 31 and 74 yards the first two times he rushed the ball, and then for a national audience with a 100-yard kickoff return in the fourth quarter of the VIZIO BCS National Championship.
"You can jump or you can run there -- there are two different avenues [to catch the ball]," Fisher said. "Bobo and Kermit, those guys get the ball short and it's hard to get them on the ground."
Quarterback
Jameis Winston
knows receivers like Benjamin do not come around often, but he said neither do players with the acceleration and speed of Whitfield and Wilson.
"Kermit and Bobo, they're going to catch the ball and you're not going to tackle them," Winston said. "Bobo is as electric as Kermit, but Kermit is special. And those guys can jump, and I'm pretty sure they can dunk."
Expecting the talented but inexperienced Whitfield, Wilson,
Jarred Haggins
and 6-4 sophomore
Isaiah Jones
to quickly jell with Winston in the passing game is oversimplifying an issue that requires a quarterback and receiver to connect on an innate level. Official practice time is in short supply this spring in Tallahassee as Winston bounces between football and baseball, which will cost him Saturday's practice.
Yet as foolish as it would be to assume Benjamin and
Kenny Shaw
won't be missed, at this point it would be equally ill-advised to doubt any aspect of the team Winston touches.
"We trust all the guys we got. That's why we come to Florida State, to win championships, and we've got great players," Winston said. "It's going to be a fast adjustment with timing, and we're going to get this thing rolling."
January, 15, 2014
Jan 15
9:30
AM ET

The season ended with Jimbo Fisher hugging the national championship trophy, a finale that seemed nearly inevitable as Florida State thundered through its schedule, even if that final win over Auburn in the VIZIO BCS National Championship was filled with drama. The Seminoles finished the year 14-0 and won every game (except the championship game) by 14 or more points. Florida State led the nation in scoring defense, finished second in scoring offense and featured some of the best individual performances in school history. The Heisman Trophy-winning quarterback grabbed the bulk of the headlines, but the defense was exceptional in its first season under coordinator Jeremy Pruitt. Kick returner
Kermit Whitfield
was electric, saving his biggest run for Pasadena, and the offense featured a trifecta of 1,000-yard players, with
Devonta Freeman
,
Kelvin Benjamin
and
Rashad Greene
each cracking that threshold.
Offensive MVP:
Jameis Winston
(redshirt freshman, QB)
Who else could it be? Winston won the Heisman, set the team record for touchdown passes and blossomed into the emotional leader of a national championship team. From his dynamic debut against Pitt (when he completed 25 of 27 passes for 356 yards and accounted for five touchdowns) to his final, game-winning drive in the BCS title game against Auburn (when he was 6-of-7 for 77 yards) Winston was spectacular. Now he just needs to do it again in 2014.
Defensive MVP:
Lamarcus Joyner
(senior, CB)
Joyner nearly left for the NFL after the 2012 season, but Florida State is thrilled he decided to stick around. He moved from safety to corner during the spring, and the new role fit perfectly in Pruitt's scheme. Joyner was a crucial cog in a secondary that finished No. 1 in the country in passing defense and interceptions, and he excelled as a blitzer, leading FSU with 5.5 sacks and three forced fumbles.
Best moment:
Benjamin's final TD grab
It was a season filled with special moments for Florida State, from Winston's big debut to Kenny Shaw's Hail Mary grab to end the first half against Boston College to Joyner's forced fumble that set the tone in a dominant win over Clemson. But of course, it was the final moment that will be remembered most fondly. After trailing nearly the entire game in Pasadena, Benjamin came down with a 2-yard touchdown pass with 13 seconds left to play, giving Florida State its third national title.
Worst moment:
the investigation
There weren't many bad moments on the field for Florida State this season. The Seminoles trailed in the first half against Boston College, then didn't trail again until the national title game. But off the field, it was an extraordinarily challenging season, beginning when reports first surfaced of an open investigation surrounding Winston. For nearly a month, the quarterback faced questions about his role in a rape case, and while charges were never filed, the threat of a civil lawsuit continues to keep the case in the news.
January, 9, 2014
Jan 9
4:00
PM ET
Florida State's performance in its 34-31 win over Auburn gave the Seminoles their first national title since 1999 -- and also landed four players on
ESPN.com's All-Bowl team
.
The ACC delivered when it mattered most this year -- in its two BCS bowls. Duke also had some outstanding performances in spite of its loss to Texas A&M. The ACC fared particularly well at the wide receiver and return positions. Here's a look at some of the ACC's top performers on the All-Bowl team:
David Hale and Matt Fortuna handled the ACC's All-Bowl team for ESPN.com, and
there were a few differences
. Colleague Ivan Maisel and I also recognized a few unsung heroes from bowl season
in this video
. Congrats to all of ACC's top performers this year.
January, 9, 2014
Jan 9
9:00
AM ET
Bowl season was kind to the ACC in a few games (Florida State and Clemson won BCS games), not-so-kind in a few others (Miami, Virginia Tech, we're looking at you) and at least one was a little of both (can we get Texas A&M and Duke every year?). But now that it's all over, we're honoring the best individual performances in the ACC with our all-bowl team.
OFFENSE
QB: Tajh Boyd, Clemson:
The big stage hadn't been kind to Boyd through most of 2013, but on the first day of 2014, he was exceptional. Boyd accounted for 505 yards and six touchdowns in a Discover Orange Bowl win over Ohio State, giving the ACC two BCS bowl game victors.
RB: James Conner, Pittsburgh:
The freshman tailback carried 26 times against Bowling Green, blowing past Tony Dorsett for the Pitt bowl game record with 229 yards on the ground. For good measure, Conner chipped in on the defensive line for a few snaps, too.
RB: Devonta Freeman, Florida State:
It wasn't the most spectacular performance of bowl season -- Freeman wasn't even the best running back on the field in the BCS title game -- but his hard running early kept FSU from falling too far behind, and his final tally -- 11 carries for 73 yards and a TD -- helped Freeman become the first FSU running back since Warrick Dunn to top 1,000 yards on the season.
[+] Enlarge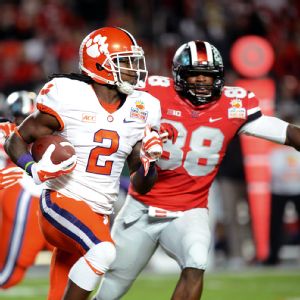 Cal Sport Media/AP ImagesOhio State wasn't able to catch Sammy Watkins, as the Clemson WR set multiple Orange Bowl receiving records.
WR: Sammy Watkins, Clemson:
Watkins made his last game in a Clemson uniform one to remember, catching an Orange Bowl record 16 passes for 227 yards and two touchdowns despite battling an injury for half the game.
WR: Jamison Crowder, Duke:
Ho-hum, another 12 catches for 163 yards and a touchdown for Crowder, who turned in one last stellar performance to cap an exceptional season for the Blue Devils.
WR: Rashad Greene, Florida State:
The Seminoles' dramatic comeback against Auburn in the BCS championship game wouldn't have been possible without Greene's big day. He was the only FSU receiver with positive yardage in the first half of the game, and his 49-yard reception -- he dodged two tacklers and picked up most of that yardage after the catch -- was the key play on FSU's dramatic last-minute, game-winning drive.
TE: Braxton Deaver, Duke:
The junior had six catches for 116 yards, including three grabs that went for 25 yards or more and five that went for first downs.
OL: Dorian Johnson, Pitt:
The Panthers simply overwhelmed Bowling Green's defensive front in the Little Caesars Bowl, racking up 487 yards of offense, including 255 on the ground. (
Ed. note:
We mistakenly included Matt Rotherham here in an initial post. Johnson slid from tackle to guard for the game, replacing Rotherham, and the Pitt line didn't miss a beat. We apologize for the error.)
OL: Jon Heck, North Carolina:
Cincinnati entered the Belk Bowl second in the AAC in sacks with 35, but the Bearcats couldn't get to UNC QB
Marquise Williams
, as the Tar Heels' offense racked up 39 points -- the second-most Cincinnati gave up all season.
OL: Laken Tomlinson, Duke:
The Blue Devils racked up 661 yards of total offense and 29 first downs against Texas A&M, with the offensive line -- led by Tomlinson -- paving the way for a 300-yard passer and a 100-yard rusher.
OL: Tre' Jackson, Florida State:
Yes, the Seminoles' line allowed four sacks in the game, but Jackson and Co. also helped FSU run for more yards per carry (4.8) than the vaunted Auburn ground game and provided
Jameis Winston
with plenty of time to throw on a dramatic game-winning drive in the final minute.
C: Macky MacPherson, Syracuse:
The Orange rushed for 208 yards and three touchdowns, including the game-winner with 1:14 left, to knock off Minnesota in the Texas Bowl. The physically dominant performance on the line was a fitting conclusion to MacPherson's Syracuse career.
DEFENSE
DE: Mario Edwards Jr., FSU:
Edwards had one sack and three tackles for loss among his six total tackles for a Seminoles front that turned it up a notch in the second half, allowing the offense to catch up and ultimately escape with the win.
DT: Andre Monroe, Maryland:
The Terrapins' finale as an ACC member ended on a sour note with a 31-20 loss to Marshall in the Military Bowl presented by Northrop Grumman. Monroe tied for a game-high with 10 total tackles, three of which went for a loss, one of which was a sack. Monroe added a quarterback hurry as well.
DT: Aaron Donald, Pitt:
With one more game to go in a historic season, Donald did not disappoint. The senior closed out his career with two tackles for loss, including one sack, to go with a pass break-up in the Panthers' 30-27 Little Caesars Pizza Bowl win over Bowling Green. Donald's sack came on second down of the Falcons' final drive, all but sealing the win.
DE: Vic Beasley, Clemson:
Beasley was part of a Tigers front that made life extremely difficult for
Braxton Miller
and the rest of the Ohio State backfield. Beasley recorded four tackles for loss and a sack among his five total tackles, and in the end Clemson's defense proved to be the difference in a shootout win.
LB: Norkeithus Otis, UNC:
The Tar Heels capped their strong second half with a bang, routing Cincinnati 39-17 in the Belk Bowl to make them 6-1 over their last seven games. Otis tallied seven total tackles -- two for loss and one sack among them -- to go with two quarterback hurries.
LB: Jack Tyler, Virginia Tech:
UCLA proved to be too much for the Hokies in a 42-12 win in the Hyundai Sun Bowl, but Tyler played well, totaling seven tackles, including half of a sack, to go with one pass break-up and one quarterback hurry.
[+] Enlarge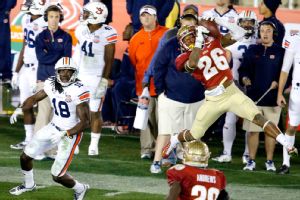 AP Photo/Gregory BullP.J. Williams' interception was the big break Florida State needed to create in its come-from-behind victory over Auburn in the BCS title game.
LB: Cameron Lynch, Syracuse:
The Orange finished a successful first season in the ACC by topping Minnesota 21-17 in the Texas Bowl. Lynch, a junior, tied for a team-high with eight stops, with most of his big plays coming behind the line of scrimmage. He had two tackles for loss, one sack and a forced fumble to help Syracuse go 7-4 after an 0-2 start in coach Scott Shafer's first year.
DB: P.J. Williams, FSU:
The defensive MVP from the Vizio BCS National Championship came up huge when it mattered most, picking off Auburn's
Nick Marshall
early in the fourth quarter to set up a touchdown that cut the Tigers' lead to one. Williams finished with seven total tackles and 0.5 tackles for loss.
DB: Jemea Thomas, Georgia Tech:
Thomas ended his college career with a bang, totaling a game-high 15 tackles. Three of those stops were behind the line of scrimmage, including one sack.
DB: D.J. White, GT:
The Yellow Jackets get two more years of White, a future that looked all the brighter in the 25-17 loss to Ole Miss in the Franklin American Mortgage Music City Bowl. White finished with 13 total tackles, two forced fumbles, one interception and three pass break-ups.
DB: Bryce Jones, Boston College:
The Eagles' turnaround campaign under Steve Addazio ended on a down note, falling to Arizona 42-19 in the AdvoCare V100 Bowl, but Jones was a bright spot, with the sophomore notching a team-high 12 tackles, including one for loss.
SPECIAL TEAMS
K: Chris Blewitt, Pitt:
Blewitt went 3-for-4 for the Panthers in Detroit, connecting from 25, 28 and, most important, 39 yards with the game-winning kick with 1:17 left in Pitt's 30-27 win.
P: Tommy Hibbard, UNC:
Hibbard was phenomenal for the Tar Heels, punting four times for an average of 44.2 yards per boot. He pinned Cincinnati inside its own 20 three different times, and he had a long of 59 yards in the win.
KR: Levonte Whitfield, FSU:
At the time, Whitfield's 100-yard kickoff return for a touchdown seemed as if it would go down as one of the greatest returns in BCS championship game history. The touchdown gave Florida State a 27-24 lead with 4:31 to play -- but the lead would change twice more before it was over. Whitfield finished the game with 172 return yards.
PR: Ryan Switzer, UNC:
The Tar Heels had a huge day on special teams in a Belk Bowl win over Cincinnati, with Switzer -- an All-American -- leading the way, returning his fifth punt of the season for a touchdown.
January, 7, 2014
Jan 7
12:26
AM ET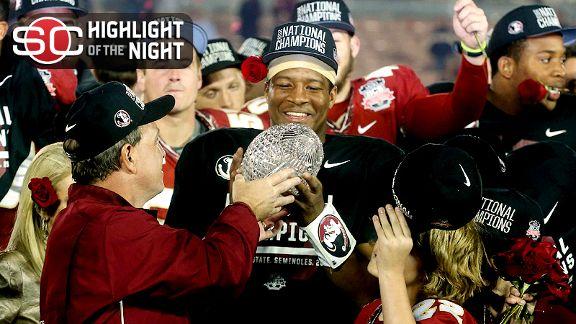 Love it or hate it, the BCS delivered a dramatic and fitting ending on Monday night, as No. 1 FSU rallied from from a late four-point deficit in the final two minutes to defeat No. 2 Auburn
34-31
in the final VIZIO BCS National Championship at the Rose Bowl in Pasadena, Calif. The Seminoles won their third national championship and ended the SEC's reign of seven consecutive BCS national championships.


Play of the game:
Trailing 31-27 with about one minute to go, Heisman Trophy winner
Jameis Winston
threw a 49-yard pass to
Rashad Greene
to move to Auburn's 23-yard line with 56 seconds to play. Six players later, after Auburn was penalized for pass interference in the end zone, Winston threw a 2-yard touchdown pass to
Kelvin Benjamin
to go ahead for good with 13 seconds to play. FSU's extra point gave it a 34-31 lead.
Turning point:
After Auburn took a 24-20 lead with about 4:42 to go, FSU's
Levonte Whitfield
returned the ensuing kickoff 100 yards for a touchdown, giving the Seminoles a 27-24 lead with 4:31 left. Whitfield, a 5-foot-7 freshman known as "Kermit," returned a kickoff for a touchdown for the second time this season.
Early turning point:
With Auburn holding a 7-3 lead early in the second quarter, Tigers quarterback
Nick Marshall
lofted a 50-yard touchdown pass to
Melvin Ray
to stake the Tigers to a 14-3 lead with 13:48 to go in the first half. Ray, a sophomore from Tallahassee, Fla., had four catches for 58 yards this season before hauling in the long touchdown catch against the hometown Seminoles. FSU, which hadn't trailed since falling behind Boston College on Sept. 28 and had led for more than 571 minutes of football before falling behind the Tigers, suddenly trailed by two scores. The Seminoles played catch-up the rest of the night but finally caught the Tigers in the end.
Player of the game:
Winston, a redshirt freshman from Bessemer, Ala., got off to a slow start against Auburn's defense, getting sacked four times and fumbling once in the first half. But in the end, Winston broke the Heisman Trophy jinx, throwing the winning touchdown with 13 seconds to play. He completed 20 of 35 passes for 237 yards with two touchdowns.
What it means:
The controversial BCS era ends with the SEC being denied its eighth consecutive national championship, which should sit well with college football fans outside of the SEC. In a game in which the SEC seemed most vulnerable during its championship streak, the Tigers jumped out to a 21-3 lead but couldn't hold on for a victory. The Tigers were denied their second BCS national championship since the 2010 season, when they defeated Oregon 22-19 in the BCS National Championship behind quarterback
Cam Newton
. Auburn coach Gus Malzahn missed becoming only the second coach -- Miami's Larry Coker was the first -- to lead his team to the national title in his first season since the BCS began in 1998.
Stat that matters:
2-for-12: Florida State won despite going 2-for-12 on third down.
What's next:
Florida State will probably be a popular choice to be the No. 1 team in preseason polls heading into the 2014 season. FSU will have to replace several key pieces on defense, including linebackers
Christian Jones
and
Telvin Smith
and cornerback
Lamarcus Joyner
. But the Seminoles will bring back Winston, the reigning Heisman Trophy winner, along with several of their most important players on offense. Auburn, which reached the BCS national championship in Malzahn's first season, will be among the SEC West favorites in 2014, along with Alabama and LSU. The Tigers will bring back Marshall, but they'll have to wait to see if junior tailback
Tre Mason
returns to school or enters next spring's NFL draft. Auburn's very young defense will be a lot wiser in coordinator Ellis Johnson's second season, too.
November, 16, 2013
11/16/13
9:17
PM ET
TALLAHASSEE, Fla. -- He started with 11 straight completions, an answer to anyone who wondered if this chaos would finally unravel the unflappable focus of
Jameis Winston
.
He lounged on the sideline throughout the entirety of the second half of yet another blowout win, joking with former Heisman winner and Florida State great Charlie Ward. If Winston was worried that an off-field scandal might squash his hopes of following in Ward's footsteps, his wide smile and relaxed demeanor didn't show it Saturday.
Once the 59-3 shellacking of Syracuse was over, Winston lingered on the field for a few extra moments, then darted toward the tunnel, stopping behind the end zone when he found coach Jimbo Fisher's young son. He shared high-fives with a contingent of kids, then exited the field through a cadre of fans reaching out their hands and shouting his name, disappearing into the locker room that is his sanctuary.
This was Florida State's first mantra this week: Everything stays the same.
[+] Enlarge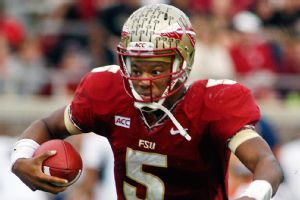 AP Photo/Phil SearsJameis Winston threw for for 277 yards and two touchdowns.
"It's the same Jameis," receiver
Kenny Shaw
said. "Practice was the same, everything was the same. Same schedule. Nothing changed."
Eventually, Winston emerged to face the cameras and the reporters. During his five-minute news conference, he faced a slew of questions about his focus, but not one about his potential involvement in a sexual-assault case being investigated by the state attorney's office. Media had been instructed that Winston would discuss football only, but those unanswered questions tinged every aspect of Florida State's victory on Saturday.
That is the other mantra at Florida State until there is some resolution to this case: No comment.
"One thing about Florida State, we're a big family," Winston said, "and we stay inside the family."
A sexual assault was alleged to have occurred last December, and at some point after that, Winston became entangled in the investigation. On Wednesday, that information became public, but few other details of the story have emerged since.
Fisher skillfully dodged questions during a postgame media session that was, at times, more like a chess match between those who wanted details and a man who might have some.
Winston turned the focus onto his teammates, just as he had all season. Florida State's defense once again was dominant. The offense scored touchdowns on its first five drives. There was too much love to go around to belabor the ugly story that overshadowed everything else for the previous four days.
The rest of the Seminoles were subjected to similar scrutiny, but they were careful not to provide any spark that might further ignite this growing media firestorm. It was, defensive tackle
Timmy Jernigan
said, the closest thing possible to business as usual.
"The guy, he's had a lot going on around him from the start of the season," Jernigan said of Winston, a redshirt freshman. "When you play like he plays, a lot's going to come with it, whether it's in a good way or a bad way. He's just going out and playing his game. Nothing's going to bother him."
Indeed, Winston hardly seemed flustered by the off-field distractions. He finished the game completing 19 of 21 passes for 277 yards and two touchdowns. He delivered a devastating block 40 yards downfield on a 74-yard touchdown run by freshman
Levonte Whitfield
. He nearly drew a flag sprinting onto the field to celebrate a defensive touchdown. He beamed after his backup,
Sean Maguire
, threw the first touchdown pass of his career in the third quarter, a beautiful lob to tight end
Nick O'Leary
in the end zone that may offer some hope for Florida State's offense should this scandal derail Winston's season.
"Nothing's going to hold Jaboo back," tailback
James Wilder Jr
. said of his QB. "He's always happy, always cheering. He was tuned in, locked in."
Before the game, the 1993 national championship team was honored, and even Seminoles 20 years removed from their playing days faced questions. Ward offered support for Winston. After an 11-month delay in investigating the incident, Ward suggested the timing of Tallahassee police's decision to send the case to the state attorney was curious.
Derrick Brooks, a defensive star on that 1993 team, said this year's Seminoles would rally around Winston. Championship teams, he said, always face adversity, and the cure was to step back onto the field.
But adversity seems like the wrong word. Fans cheered his name, and reporters studied Winston's face for signs that the cloud of suspicion would finally crack his unflinchingly upbeat facade. But the alleged victim in the case remains nameless and faceless to the public, another in the stream of details still unknown.
Saturday's game did little to part the clouds of the growing storm surrounding the program. It simply proved once again that, with Winston at quarterback, Florida State is a team more than capable of playing for a national championship.
"When you have great veterans around you and great people you trust," Winston said, "you want to go out on that battlefield and play your heart out for them."
August, 26, 2013
8/26/13
11:00
AM ET
TALLAHASSEE, Fla. -- Jimbo Fisher finally put the biggest question of fall camp to rest Friday, officially
naming Jameis Winston his starting quarterback
. But if Winston's position on the depth chart finalized one lingering issue, a handful of other questions remain as the Seminoles begin their final week of preparation for the season opener at Pittsburgh.
Here's a quick rundown of what's left on Florida State's preseason to-do list:
Developing receivers:
A knee injury will keep
Jarred Haggins
on the sideline all season, meaning Florida State is now down three senior wide receivers. Add in a finger injury that has limited junior
Rashad Greene
for the past week, and a position that figured to be among the deepest on the Seminoles' roster is now a major concern. Greene should be fine for the start of the season, but it's apparent that Florida State will still need to rely on a trio of freshmen to step up. Fisher has raved about
Jesus Wilson
throughout camp, and
Levonte Whitfield
and
Isaiah Jones
have talent to spare, but the transition to the college game is rarely a seamless one.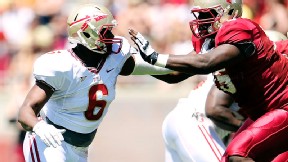 Stacy Revere/Getty ImagesDefensive end Dan Hicks, who missed all of 2012 with a knee injury, is still wearing No. 6. So is cornerback Nick Waisome. One of them will have to change numbers before next Monday.
Grasping the defense:
The response from players has been universally upbeat, but even the most optimistic of Florida State's defenders admit there's still work to be done in learning Jeremy Pruitt's new defensive scheme. Florida State ranked in the top three nationally in total defense in each of the past two seasons, and there's enough buzz among the returning players to think this year's unit could be even better, but Pruitt's scheme is a challenge. The team has worked extensively on mastering the nuance throughout fall camp, but when the season begins next week, Pruitt said fans might see a more watered-down version. "When it comes to game week, we're only going to call what they know," Pruitt said. "You throw a lot of stuff at them, hope part holds, and as the season progresses, you pull out what you need each week."
Depth at tight end:
Fisher tried to put a happy face on the situation when camp opened, but the lack of depth at tight end remains a major concern.
Giorgio Newberry
made the switch from defensive end just a week before camp began, and while he's got the size to do the job, he's definitely a work in progress. Freshman
Jeremy Kerr
remains sidelined with a knee injury, and Fisher continues to tinker with options, using freshman defensive end
Davarez Bryant
at tight end during practice last week. While Fisher is eagerly toying with his options, the fact remains that starter
Nick O'Leary
is going to need to shoulder the burden for a thin group behind him.
Two for six:
It's perhaps the silliest debate of camp, but the implications could be significant. When defensive end
Dan Hicks
switched from tight end this spring, he kept his old uniform number. The problem, however, is that cornerback
Nick Waisome
was already wearing the No. 6 jersey. Since then, neither player has been willing to give it up, meaning FSU can't use Hicks and Waisome -- both projected starters -- on the field at the same time. Fisher said he's leaving it up to the players to decide, likely in hopes one would be mature enough to choose playing time over a jersey number, but thus far neither player has caved.
Playing time for rookies:
The freshman receivers figure to be necessities on offense this season, but beyond that, it's tough to tell where the rest of the newcomers fit in. Running back
Ryan Green
, cornerback
Jalen Ramsey
and defensive end
DeMarcus Walker
are among the most impressive freshmen of the fall, but Fisher said he wouldn't be surprised if the great majority of this year's class avoids a redshirt. Aside from Kerr, quarterback
John Franklin
and a couple of the offensive linemen, virtually every member of the Class of 2013 remains in the mix for playing time.
Secondary shake-up:
It's a good problem to have, but Florida State's logjam of talent in the defensive backfield still leaves some question marks as the season approaches. When
Lamarcus Joyner
shifted from safety to corner, the questions about playing time began, and Pruitt has been quiet about potential answers. Joyner, Waisome, Ramsey,
Ronald Darby
and a slew of others are in the mix for regular reps, and Fisher has hinted that the Seminoles' defensive backs will be rotating early and often.
February, 28, 2013
2/28/13
10:59
AM ET
By
ESPN.com staff
| ESPN.com
NoleNation has more coverage of the Florida State Seminoles:
State of the wide receivers

: With experienced playmakers and young, athletic talent, the Florida State receiving corps could be a strength in 2013. That is, if the QB competition doesn't do in this loaded group.
August, 29, 2012
8/29/12
2:10
PM ET
By
RecruitingNation staff
| ESPN.com
David Hale writes:
Living up to Seminoles' fans high hopes -- not to mention the practice-highlight tales told by teammates -- will be a tall order for redshirt freshman receiver Kelvin Benjamin. He insists he's up for it after a rocky year off.
Corey Dowlar writes:

Several of FSU's commits have loaded up on preseason honors as high school seasons begin.
Hale:
Cornerback Nick Waisome barely beat out a true freshman for the starting spot left by Greg Reid's departure, but that hasn't hampered his confidence.
Hale:

Defensive end Bjoern Werner, who helps man one of the strongest defensive lines in college football, is today's subject in NoleNation's Carrying the Spear series of player profiles.
August, 13, 2012
8/13/12
3:35
PM ET
By
ESPN.com staff
| ESPN.com
Corey Dowlar writes
: ESPN 150 ATH Levonte Whitfield commits to Florida State and will join freshman WR Marvin Bracy as a second track standout from Orlando.
Dowlar
:

Whitfield's high school coach says the standout ATH has the ability to change a game with one play, even at a BCS school, a statement supported when former NFL player Chris Gizzi says Whitfield held his own against the best at the recent Gridiron Kings event.
David Hale writes
:

Tight end Nick O'Leary, who brings versatility to Jimbo Fisher's pro-style offense, is today's profile in NoleNation's Carrying the Spear series looking at 50 potential impact players.
Hale
: Images from Sunday's FSU media-day team photos.