February, 10, 2012
2/10/12
12:00
PM ET
Our offseason spotlight series continues today with Georgia Tech. A reminder: This series features individual players, position groups and coaches who really need to have big offseasons -- starting this spring.

Spotlight:
Defensive tackle
T.J. Barnes
, 6-foot-7, 347 pounds, senior
2011 summary:
He played in all 13 games last year as a backup and finished with 11 tackles, 1.5 tackles for loss, and one sack. He's the biggest player on the Jackets' roster, and he had his best game against Clemson with 1.5 tackles for loss, a sack and two tackles. He proved he can give Georgia Tech's pass rush a boost, but he's got to do it more consistently.
The skinny:
Barnes has been the backup to
Logan Walls
the past few years, but now he has to demonstrate he can play every down and not just play 15 snaps a game. Coach Paul Johnson has said he's looking for more from the defense in the third season under coordinator Al Groh's 3-4 scheme, but they have to replace two starters up front and will need more from Barnes. Barnes has only started three career games, none of which were last year. Football is in Barnes' family, as his father, Terry Jones, played at Auburn, and his brother,
Beau Reliford
, played at Florida State.
January, 23, 2012
1/23/12
10:30
AM ET
We've already taken a look at what the recruiting needs were for the Atlantic Division. Let's shift our attention to the Coastal Division. Here's a look at where each school's biggest holes will be in 2012 or are anticipated to be in the near future:
DUKE

Offensive skill positions:
After last year's rare class that didn't include either a quarterback or running back, both positions are needed in this group. Quarterback
Thomas Sirk
-- the MVP of the 57th annual Florida Athletic Coaches Association North-South All-Star Football Classic last December -- has already enrolled in school while
Shaquille Powell
-- a PARADE All-American running back from Las Vegas -- has committed to the program. In addition, with David Cutcliffe's offense, wide receivers and tight ends also are a priority.
Kicker:
Will Snyderwine
, who earned first team All-America honors as a junior before struggling through a sub-par season in 2011, graduated, but Duke has a commitment from Ohio native
Ross Martin
, considered the No. 2 placekicking prospect in the country by ESPN.com.
Safety:
With the transition to a 4-2-5 alignment that utilizes three safeties, this becomes an annual point of emphasis. The Blue Devils lose All-American
Matt Daniels
to graduation.
GEORGIA TECH

Defensive line:
This is the most glaring need in the current class. The Yellow Jackets have to replace senior starters
Logan Walls
(DT) and
Jason Peters
(DE), but return
Izaan Cross
(DE) and solid backups
T.J. Barnes
(DT),
Emmanuel Dieke
(DE) and
Euclid Cummings
(DE). The Jackets are expected to sign about 18 players in this year's class, and five of them should be defensive linemen.
Wide receiver:
This is another glaring need after the departures of
Stephen Hill
, who decided to leave early for the NFL draft, and
Tyler Melton
.
Darren Waller
and
Jeff Greene
, who both played last season as true freshmen, have lots of potential, but the position still needs depth.
MIAMI

Defensive backs:
There's still a lot of depth with this group, and the return of
Ray-Ray Armstrong
and
Vaughn Telemaque
helps, but the Canes have to replace two starters in the secondary and have six commits in the current class to help do that.
Defensive line:
The Canes have to replace
Adewale Ojomo
,
Micanor Regis
,
Andrew Smith
and
Olivier Vernon
from last year's two-deep. The defensive end position was a particular focus in this class.
Receiver:
This position lost a lot with the departures of
Tommy Streeter
,
LaRon Byrd
and
Travis Benjamin
.
Allen Hurns
is now the veteran of the group, along with redshirt senior
Kendal Thompkins
. There are five receivers currently committed in this class.
Quarterback
: Beyond
Stephen Morris
, Miami has a lot of questions at the position and not a lot of experience. True freshmen
Gray Crow
and
Preston Dewey
are already on the roster, along with redshirt sophomore
Ryan Williams
.
NORTH CAROLINA

Defensive line:
This is one of the biggest areas of concern after the departures of
Quinton Coples
and
Tydreke Powell
.
Receivers
: Larry Fedora's offense will make good use of this group, but he needs to replace standout
Dwight Jones
.
Linebackers:
This group was thin to begin with in 2011, and now the Heels need to replace outgoing senior
Zach Brown
.
Kevin Reddick
is now the main man.
Safety:
UNC will have to replace two starters in
Matt Merletti
,
Charles Brown
and
Jonathan Smith
, so this position will have to be rebuilt for the future.

VIRGINIA
Defensive back:
This should be the main priority in this class. The Cavaliers will lose four DBs, including two starting safeties in Rodney McCleod and
Corey Mosley
, and standout cornerback
Chase Minnifield
. They'll also miss
Dom Joseph
, who came in for the nickel packages.
Demetrious Nicholson
, who started as a true freshman last year, is suddenly the veteran of the group.
Offensive line:
The Hoos will have to replace their starting center and left guard. Redshirt freshman center
Cody Wallace
could get a promotion, and sophomore right guard
Luke Bowanko
started in the bowl game. They've got some big bodies waiting in the wings, but they'll have some questions to answer here this spring.
Kickers:
This position needs to be rebuilt, as the Cavaliers lose
Robert Randolph
, who finished sixth all time in scoring at UVa, kickoff specialist
Chris Hinkebein
, and four-year punter
Jimmy Howell
. The position is wide open heading into the spring.
VIRGINIA TECH

Running back:
This one is a no-brainer, as the Hokies have lost four players here in the past two years.
David Wilson
and his backup,
Josh Oglesby
, were the latest to depart, and
Tony Gregory
just had ACL surgery and is out for the spring. The staff likes
Michael Holmes
, who redshirted last year, and
J.C. Coleman
enrolled last week.
Receiver:
The Hokies will miss
Danny Coale
and
Jarrett Boykin
, and next year's class has three seniors in
Dyrell Roberts
,
D.J. Coles
, and
Marcus Davis
. The future of the position is young, and the staff is still going after several uncommitted players pretty hard.
Defensive line:
This year's class already includes at least five committed defensive linemen, and the Hokies will be particularly thin at noseguard. They had some players graduate early who didn't play a lot, but at least provided depth.
Linebacker:
The Hokies have four committed, and are still chasing another just to build the depth. The staff missed on some recruits at this position last year and would like to make up for it in this class.
July, 25, 2011
7/25/11
10:30
AM ET
PINEHURST, N.C. -- Georgia Tech A-back
Roddy Jones
said he was one of the few players who, in 2009, realized the NCAA was looking around.
[+] Enlarge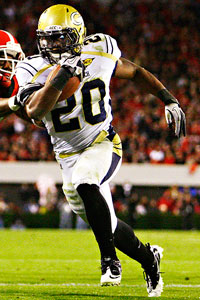 Josh D. Weiss/US PresswireRoddy Jones and the Yellow Jackets are focused on winning another ACC title.
"You hear," he said. "You hear things. When the NCAA's around, people tend to notice."
The rest of the world didn't seem to notice the 20-month-long investigation until recently, when it was announced that the Jackets would have to vacate their 2009 title, face four years probation and pay a $100,000 fine. Those within the program, though, say the sanctions haven't affected them.
"It doesn't," said Jones, "it doesn't affect me a bit. I get to keep my ring and I get to tell people we won the ACC championship in 2009, and I get to go out and play this year, so it has no bearing on what goes on this year. We're very focused on getting back to an ACC championship game this year because that would really alleviate a lot of the stuff that's been going on around us."
Defensive tackle Logan Walls said $312 worth of clothing "wasn't worth an ACC championship."
"It bothered me, but then I talked to my mom about it, and she said, 'They can't take away your memories, you have your ring.' We have all of the stuff from the game, I'd just like to show my kids our ACC championship trophy. I guess that's the biggest thing."
July, 21, 2011
7/21/11
3:30
PM ET
Georgia Tech defensive end Izaan Cross -- pronounced I-zyan -- has heard his name mispronounced almost every possible way.
[+] Enlarge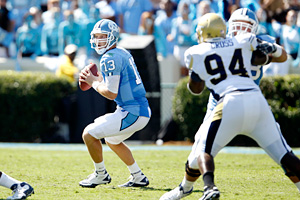 Bob Donnan/US PresswireYellow Jackets defensive end Izaan Cross, 94, says he fits well in Al Groh's 3-4 scheme.
"People butcher it," he said. "I've heard everything from Isaiah to Isaac. People throw in letters that aren't even in my name. They feel like it's spelled wrong on the roster."
This season, recognition shouldn't be a problem for Cross.
If everything goes as planned this fall, Cross will become a familiar name on what could be one of the most improved defensive lines in the ACC. Georgia Tech returns all three starters up front in the second season of Al Groh's 3-4 scheme, and expectations are high for Cross entering his junior season. The return of Cross, defensive end Jason Peters and tackle Logan Walls should help boost a defense that allowed more than 370 yards per game last season.
"Going from the 4-3 to a 3-4 was a huge difference," Cross said. "Your job as a defensive lineman is a lot different. You're thinking about trying to set up blocks and getting holes for the linebackers as opposed to just trying to get the quarterback in a 4-3. It's a lot different."
"I feel like a 3-4 defensive end fits more to my type of playing as opposed to a 4-3 defensive end," he said. "I'm a tweener, in between an actual 4-3 defensive end and a defensive tackle. That fits perfectly for the role of a 3-4 defensive end. I'm not necessarily dealing with the tight ends or widening out to rush the quarterback, I'm dealing more directly with the offensive tackle."
Cross started all 13 games last season and had 41 tackles (22 solo tackles). He also had 6.5 tackles for loss, 2.5 sacks, four pass break-ups and one forced fumble. He had at least five tackles in each of the first four games of the season.
Cross said the team was "extremely fed up" with last season's results.
"I feel like our defense can make a total 180 statistically," Cross said. "From a numbers standpoint, we rarely got off the field on third downs. We can do that better. I feel like we let teams run the ball on us a good bit. We can turn it around statistically and our defensive line in particular, because we're more of a veteran group, we can drive the team and push it to some more wins."
July, 11, 2011
7/11/11
3:30
PM ET
The ACC on Monday announced the names of the 24 players who have been chosen to attend the 2011 Atlantic Coast Conference Football Kickoff, July 24-25 at the Pinehurst Resort in Pinehurst, N.C.
This is one of my favorite events of the year, as it's the first real sign the season is right around the corner. I will be covering every second of it, tweeting and posting videos of players and coaches. I'll have more on it as it gets closer, but here are the players who will be available for interviews from each school:
Boston College

Montel Harris
, tailback, senior, Jacksonville, Fla.
Luke Kuechly, linebacker, junior, Cincinnati, Ohio.
Clemson

Landon Walker, offensive tackle, senior, North Wilkesboro, N.C.
Brandon Thompson, defensive tackle, senior, Thomasville, Ga.
Duke

Sean Renfree
, quarterback, junior, Scottsdale, Ariz.
Matt Daniels, safety, senior, Fayetteville, Ga.
Florida State

EJ Manuel
, quarterback, junior, Virginia Beach, Va.
Brandon Jenkins, defensive end, junior, Tallahassee, Fla.
Georgia Tech

Roddy Jones
, A-Back, senior, Stone Mountain, Ga.
Logan Walls, defensive tackle, senior, Dawsonville, Ga.
Maryland

Danny O'Brien, quarterback, sophomore, Kernersville, N.C.
Kenny Tate, linebacker, senior, Forestville, Md.
Miami

Tyler Horn, center, senior, Memphis, Tenn.
Sean Spence, outside linebacker, senior, Miami, Fla.
North Carolina

Jonathan Cooper, center, junior, Wilmington, N.C.
Tydreke Powell, defensive tackle, senior, Ahoskie, N.C.
NC State

George Bryan
, tight end, senior, Castle Hayne, N.C.
Audie Cole, linebacker, senior, Monroe, Mich.
Virginia
Kris Burd
, wide receiver, senior, Matoaca, Va.
Chase Minnifield, cornerback, senior, Lexington, Ky.
Virginia Tech
Danny Coale
, wide receiver, senior, Lexington, Va.
Eddie Whitley, safety, senior, Charlotte, N.C.
Wake Forest

Joe Looney, offensive guard, senior, Lake Worth, Fla.
Kyle Wilber, outside linebacker, senior, Apopka, Fla.
June, 27, 2011
6/27/11
3:30
PM ET
As the title indicated ...
[+] Enlarge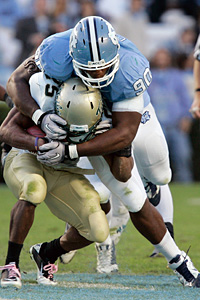 Mark Dolejs/US PresswireUNC returns a veteran defensive line led by end Quinton Coples.
1. North Carolina:
This is a deep and talented group that returns all four starters including Donte Paige-Moss, Jared McAdoo, Quinton Coples and Tydreke Powell. Junior college transfer Sylvester Williams joins three other players who started at least one game: Kareem Martin (three starts), DT Tim Jackson (five starts) and DT Jordan Nix (two starts).
2. Florida State:
All four starters return in juniors Brandon Jenkins, Jacobi McDaniel, Anthony McCloud and Everett Dawkins. Jenkins finished sixth nationally with 13.5 sacks. This group should take another step forward in the second season under coordinator Mark Stoops, but it already has an outstanding base to build on as the Noles ranked third nationally in sacks and 21st in tackles for loss last season.
3. Miami:
The Canes should have one of the better rotations in the ACC. They return starters Olivier Vernon, Micanor Regis and Marcus Forston, who combined for 12 sacks and 30.5 TFLs. It's a deep group, as DE Adewale Ojomo (seven starts), DT Luther Robinson (five starts), DE Marcus Robinson (10 games), DT Curtis Porter (one start), DE Andrew Smith (11 games) and DE Dyron Dye (six games) all have experience.
4. Virginia:
Like Florida State, this is another group that should benefit from being in the second season under the same coordinator. Jim Reid switched the scheme back to a traditional 4-3, and the Hoos return a veteran group led by Matt Conrath (33 starts), DT Nick Jenkins (29 starts), and DE Cam Johnson (22 starts).
5. Georgia Tech
: The Yellow Jackets have a better understanding of what is expected from them in their second season in Al Groh's 3-4 defense, and all three starters return in ends Izaan Cross (41 tackles) and Jason Peters (52 tackles), and tackle Logan Walls. Defensive tackles Shawn Green, T.J. Barnes and J.C. Lanier will also compete for playing time along with DE Anthony Williams.
6. Maryland:
The Terps should be solid up front with the return of Joe Vellano, A.J. Francis and Justin Anderson. Francis is the veteran of the group (19 career starts) and had 44 tackles and 2.5 sacks last season, but Vellano is also an all-conference candidate. The Terps have good depth with Zachariah Kerr, Isaiah Ross and Bradley Johnson.
7. Virginia Tech:
This is a group that could and should jump a few spots by the end of the season. On paper, they've got to replace three starters, but this spring the group proved capable of getting the Hokies back to their days of dominating on defense. Based on potential, they should be ranked higher, but based on lack of dependable, proven depth, they could even fall lower.
8. Clemson:
It will be difficult for the Tigers to replace the production of Da'Quan Bowers, but the defensive line is in capable hands with Andre Branch and Brandon Thompson, and Malliciah Goodman has embraced the challenge of taking Bowers' spot. Branch was second on the team with five sacks last season and 8.5 tackles for loss. Thompson had 40 tackles, including six for losses. Defensive tackle Rennie Moore, DE Kourtnei Brown and DT Tyler Shatley also have experience.
9. NC State:
Defensive tackle J.R. Sweezy is one of the underrated players in the ACC, and he returns along with defensive end Jeff Rieskamp. Several players got significant snaps last season, though, including DE Darryl Cato-Bishop (13 tackles), DT Markus Kuhn (17 tackles, and DT Brian Slay (20 tackles, two TFLs).
10. Wake Forest:
The Deacs return three starters including Tristan Dorty, Kyle Wilber and Zack Thompson. Thompson only started five games last season, but after spring practices, coach Jim Grobe said Thompson has all-conference potential.
11. Boston College:
Starters Max Holloway and Kaleb Ramsey return, along with four other linemen (DTs Dillon Quinn and Conor O'Neal, and DEs Dan Williams and Kasim Edebali) who each started at least two games last fall.
12. Duke:
Until proven otherwise, this is where the Blue Devils belong, but Rick Petri was hired to change that. He'll have veteran nose guard Charlie Hatcher (24 career starts) to work with, and sophomore Sydney Sarmiento, who started 11 games last season. Junior Kenny Anunike, Justin Foxx and DEs Desmond Johnson and Jamal Wallace could also see playing time.
May, 6, 2011
5/06/11
12:00
PM ET
May, 5, 2011
5/05/11
9:30
AM ET
GEORGIA TECH
2010 overall record:
6-7
2010 conference record:
4-4
Returning starters
Offense: 6, defense 5

Top returners
WR
Stephen Hill
, AB
Roddy Jones
, AB
Orwin Smith
, G Omoregie Uzzi, DE Jason Peters, DT Logan Walls, OLB Steven Sylvester, ILB Julian Burnett, OG Will Jackson, DE Izaan Cross
Key losses
QB
Joshua Nesbitt
, RB
Anthony Allen
, C Sean Bedford, CB Dominique Reese, CB Mario Butler, ILB Brad Jefferson, S Jerrard Tarrant, PK Scott Blair
2011 Schedule
Sept. 1 Western Carolina
Sept. 10 at Middle Tennessee
Sept. 17 Kansas
Sept. 24 North Carolina
Oct. 1 at NC State
Oct. 8 Maryland
Oct. 15 at Virginia
Oct. 22 at Miami
Oct. 29 Clemson
Nov. 5 Open
Nov. 10 Virginia Tech
Nov. 19 at Duke
Nov. 26 Georgia
2010 statistical leaders (* returners)
Rushing:
Allen (1,316 yards)
Passing:
Nesbitt (674 yds)
Receiving
: Hill* (291 yds)
Tackles:
Burnett (89)
Sacks:
Jefferson (4)
Interceptions:
Tarrant (3)
Spring answers
1. A new attitude.
There were some disgruntled players on the roster last year, but that disenchantment has been replaced by charismatic leaders like Jason Peters and Roddy Jones. The sense of complacency has been replaced by a stronger work ethic, as the players now realize that ACC championships don't come without offseason dedication.
2. An improved defense.
The Jackets aren't exactly going to pitch shutouts, but despite losing six starters, the defense had a good spring. The entire front seven had the advantage for most of the spring, all three starters return on the defensive line, and the linebackers showed progress. It was obvious the players are more comfortable in the second season of Al Groh's 3-4 scheme.
3. A-back is a strength.
Georgia Tech has at least six players who can play the position, including Jones, a senior leader, Orwin Smith, a big-play candidate, and
Embry Peeples
, who may be one of the best receivers on the team. The Jackets are also confident in
B.J. Bostic
, who impressed Johnson as a true freshman. Those four players combined to run for 1,283 yards last year, and Georgia Tech could get additional yardage from redshirt freshman
Tony Zenon
, who also had a good spring.
Fall questions
1. Will Tevin Washington keep his job?
Washington still has the edge and is the starter heading into summer camp, but there are some lingering questions after his performance in the spring game. He threw three interceptions, lost two fumbles, was sacked three times and completed 10 of 26 passes. Backup
Synjyn Days
ran for 112 yards and led his team to a 21-7 win. Add to the mix a pair of true freshmen, including highly-touted Vad Lee, and it could make for an interesting August.
2. Will the offensive line be better?
It's not for a lack of experience -- Omoregie Uzzi was a second-team all-conference lineman last year, Phil Smith is a returning starting tackle and sophomore guard Will Jackson has nine career starts. It's simply that the group didn't play very well this spring and depth is a question. Jay Finch is expected to take over for Bedford at center, but Uzzi will be the leader of the line.
3. Special teams concerns
. It was an area of emphasis for coach Paul Johnson this spring, as it should have been. The Jackets need to solidify their starting kicker and punter, and all three field goal attempts were missed in the spring game, though two were distances of 47 and 49 yards. Kicker Justin Moore, the lone scholarship kicker competing this spring, hasn't distanced himself from the four walk-ons who played in the spring game. Punter isn't as much of a concern, where Sean Poole had nine starts last year, but the return games also need improvement.
August, 5, 2010
8/05/10
9:00
AM ET
Schedule:
Practice starts at 3:30 p.m. All practices are closed to the public.
What's new:
First-year defensive coordinator Al Groh is switching the Jackets from a 4-3 to a 3-4. Groh has constantly been in the film room this offseason helping players understand what he wants from them, as there have been some position changes.
Sidelined:
No starters are expected to miss summer camp.
Key battle:
Defensive tackle. Because of the scheme change, two players with starting experience at defensive tackle are now battling for one spot. Logan Walls and Ben Anderson, a senior who missed all of spring ball with an injury, are the front-runners, but T.J. Barnes also has a lot of experience and potential.
New on the scene:
Georgia Tech welcomes three new assistant coaches: Former Navy assistant Joe Speed/linebackers, Andy McCollum, defensive line/recruiting coordinator, and Lamar Owens, who was promoted from grad assistant to A-backs.
Breaking out:
Sophomore wide receiver
Stephen Hill
. He has the potential to be the Jackets' next elite receiver, following in the footsteps of Demaryius Thomas. Hill averaged 22.8 yards per catch last year, but had only six receptions. (If you ask the players, they chose freshman linebacker Brandon Watts as the player most likely to surprise people this year.)
Don't forget about:
Roddy Jones
. The two players who carry the ball the most are quarterback
Joshua Nesbitt
and
Anthony Allen
, but A-backs like Jones will also get their time to shine. There is a lot of depth at the position, though, and it's easy to get lost in the shuffle.
All eyes on:
Nesbitt. He rushed for more than 1,000 yards and passed for more than 1,000 last year. As a senior, he has mastered this offense and is the heart of it. He's invaluable to the team's chances of defending the ACC title.
Quotable: "
I think Anthony can be a good player. We've also got some other guys at that position --
Lucas Cox
,
Richard Watson
,
Preston Lyons
. I think Anthony is a very good player. I hope our production doesn't drop off at that position and I don't think it will." --
coach Paul Johnson.
More opening camps:
April, 1, 2009
4/01/09
10:00
AM ET
Posted by ESPN.com's Heather Dinich

Last year, expectations were moderate to low for Georgia Tech coach Paul Johnson, who brought a new offense and a new defense to Atlanta for a young team to digest quickly. After winning nine games and tying for the Coastal Division title, the bar has been raised for 2009.
The Yellow Jackets return almost every skill position player on offense and the bulk of the linebacker and secondary units. Still, it's a young group expecting to contend for the Coastal Division title.
With spring practice now underway, Johnson shared some thoughts on this year's team. Here are the highlights of our interview:
| | |
| --- | --- |
| | |
| | Kelly Kline/Icon SMI |
| | Paul Johnson won nine games in his first season at Georgia Tech. |
When you win nine games your first year, you set the bar pretty high. What does this team need to do this spring and summer to take it to the next level and win 10 or 11?

Paul Johnson: We've got to continue to do all the same things we've been doing, work hard and certainly there are a lot of areas we can improve in. We need to be more consistent. There were times last year that we played very well and times we didn't show up. We've got to become more consistent that way. I think most of our guys are going to be a year older, so hopefully they know what we expect from them, and I've been encouraged by the way they're working.
Do you think some of that inconsistency might have stemmed from the fact you had so many young kids?
PJ: Probably some of that is the case, maybe, but it's time to grow up now. We're still going to be young. We still only have six scholarship seniors on the team.
Wow, I didn't realize that. Was from attrition or what?

PJ: There just weren't that many guys in the class when we came. We have lost a few out of the class, probably three or four that would've been in the class, but there just wasn't very many of them. We've actually only got two of them that play.
What's the biggest difference you've noticed heading into your second season?
PJ: I think the attitude and the expectation level. I think everybody understands now what we're asking and what we're trying to do. It's a lot smoother that way. We can go a lot faster.
For those of us who can't break down film, how much better could the offense have been executed last year?
PJ: I think we could've done a lot better. Not just in offense, but in most categories. We certainly have to get better in special teams. I mean, that was awful. We're working hard on that this spring, the return game specifically. We left a lot of things out there offensively that we need to be able to take advantage of. We have to protect the passer better, we need to throw and catch better, the option part of it should get better, too, as we do it more. We've got all those guys coming back, we need to get better.