October, 20, 2012
10/20/12
3:52
PM ET
Wake Forest did not have to do much on offense against Virginia, not with the way the defense played on Saturday.


The Deacs got three field goals from
Chad Hedlund
in his first career start and held on to win
16-10
, handing the Hoos their sixth straight loss. Virginia hit a new low point on the season, scoring a season low for points while turning the ball over way too much once again.
Anybody who tuned in knows this game was unwatchable at times. Virginia had plenty of opportunities to win, but Wake Forest came up big time and again. Down 16-10,
Phillip Sims
had the Hoos driving early in the fourth quarter. But he threw an ill-advised pass down the field that was intercepted by
Kevin Johnson
near the goal line.
Later in the period, Virginia (2-6, 0-4) had the ball down to the Wake 36, but the Deacs defense came up with back-to-back plays behind the line of scrimmage. The first was a tackle on
Clifton Richardson
for a 6-yard loss.
Nikita Whitlock
was forced out of the game because he lost his helmet. His replacement,
Tylor Harris
, came up with a huge sack on Sims on third down.
Virginia nearly had one final attempt to win, but
Khalek Shepherd
fumbled a punt with two minutes to go, and Wake Forest recovered.
So on the day, the Hoos had three turnovers and finished minus-3 in turnover ratio, with just 301 yards of total offense.
They actually outgained Wake Forest (4-3, 2-3), which had 215 yards of total offense and only converted one of 14 third-down opportunities.
Tanner Price
only had 102 yards passing (7-of-19). Its only touchdown of the day was set up because of a terrific return on special teams by
Lovell Jackson
. But that is a fine formula to win: solid special teams, solid defense and limit your own mistakes.
August, 16, 2012
8/16/12
4:15
PM ET
Wake Forest held its first scrimmage of the preseason Thursday at BB&T Field. Here are a few key notes.

Offensive highlights:
Sherman Ragland III
, trying to win a starting receiver job, caught two passes for a team-high 56 yards and a touchdown for the Deacs.
Lovell Jackson
, a fifth-year senior trying to make a case for significant playing time this season, caught a team-high four passes for 44 yards.
Tanner Price
was a very efficient 10-of-13 for 155 yards with one touchdown and no interceptions. Running back is also an area where the Deacs are looking for a few playmakers to step up.
Tyler Jackson
led the way with 36 yards on 12 carries, while
Orville Reynolds
had 11 carries for 16 yards -- including an 8-yard touchdown. Reynolds also caught two passes for 14 yards.
Defensive highlights:
The defense really dominated the scrimmage, and that should not come as much of a surprise because this group has more starters returning.
Justin Jackson
, Bud Noel and
Joey Ehrmann
led the way with five tackles each. Ehrmann also had a sack and two tackles for loss.
Nikita Whitlock
forced and recovered a fumble inside the 10-yard line, and
Scott Betros
had the only interception in the game.
Hunter Williams
also forced a fumble that
Desmond Cooper
recovered.
March, 20, 2012
3/20/12
2:30
PM ET
The final team of our series, the Demon Deacons are forced to replace a versatile home-run threat who left school early for the NFL.

OUT: Chris Givens.
Givens led Wake Forest in 2011 with 83 receptions for a school-record 1,330 yards and nine touchdowns. His 102.3 receiving yards per game led the ACC, and his 6.4 catches per game were second in the conference. Givens averaged 110.8 all-purpose yards per game. The first-team all-conference receiver had seven 100-yard receiving games, one shy of the school record. He leaves school with 163 career catches for 2,473 yards, with 21 receiving touchdowns, along with 45 carries for 238 yards and two scores.
IN: Michael Campanaro.
While not as fast as Givens, Campanaro may be more of a complete receiver. Coach Jim Grobe has said Campanaro is a better possession receiver than Givens, and the bigger question may be who slides into Campanaro's No. 2 role after a 2011 season that saw him catch 73 passes for 833 yards and two touchdowns.
Matt James
and
Brandon Terry
are both 6-foot-5 and speedy, and the latter has run track at Wake Forest as well.
Terence Davis
had 20 catches last season for 269 yards and five touchdowns.
Lovell Jackson
had success as a kick returner but is sitting out spring practice as he recovers from a shoulder injury.
March, 1, 2012
3/01/12
10:30
AM ET
One of the biggest questions surrounding Wake Forest as the Deacs head into spring practice today is who will replace the team's leading receiver from 2011 in
Chris Givens
, a speedy, home run threat who decided to leave early for the NFL.
The more accurate question, though, might be which receiver will fill
Michael Campanaro
's role as the No. 2 receiver.
[+] Enlarge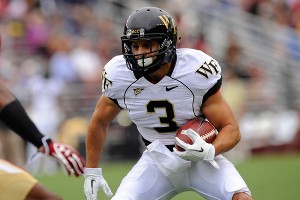 Bob DeChiara/US PresswireMichael Campanaro is poised to step into the No. 1 wide receiver role for Wake Forest, but who will step up to complement him?
Make no mistake -- the Deacs don't have anyone on the roster quite like Givens, but they do still have Campanaro, who might be a more complete player than Givens, albeit not as fast. Coach Jim Grobe said Campanaro is a better possession receiver than Givens, and that he's more precise at what the staff asks the slot receivers to execute. Grobe and quarterback
Tanner Price
agreed that Campanaro has what it takes to be this year's go-to receiver. The key is finding the next "Camp" to give Wake Forest two playmakers at receiver.
"I think Camp is going to be our go-to guy," Grobe said. "Some of the other kids could develop into really fine receivers, but it's going to be hard to replace Chris' ability to take off sprinting and outrun people and go catch the football. I don't see anybody capable of doing that right now, but I think one of the better receivers we've had since I've been here is Mike Campanaro. We kind of plugged him into Chris' area -- not so much in what he'll be doing, whether it be playing split end, or flanker or slot or whatever, but just from a go-to perspective I think Campanaro can do some great things for us."
Price said he's got no problem with the next man up. Campanaro caught 73 passes for 833 yards and two touchdowns last year.
"Camp, he's been a great target my whole career here," Price said. "He's one of those receivers that if you throw the ball in his general direction, he can come down and catch it. It's great having a guy like that on the team, but at the same time you've got to have two guys. Camp and Chris complemented each other nice last year. It would be good to have another receiver who steps up so you can have that dual threat and two really solid targets to throw to."
The Deacs have more than a few options there.
Matt James
and
Brandon Terry
are both listed at 6-foot-5, and have impressed Grobe with their speed. Terry would have played more last year, but he broke his little finger and had trouble catching the ball. (Grobe, a former linebacker, didn't have much sympathy, but conceded it 'wasn't chapped lips.') Terry also competed with the Deacs' track team this year.
Terence Davis
showed flashes of potential last year, and
Lovell Jackson
is one of the most talented players on the offense. Grobe said Jackson has great hands, is an effective kick returner and has impressive foot speed and quickness, but is out this spring while recovering from a shoulder injury.
While the receiver position lost its fastest player from 2011, it might have gained a more versatile group.
"We're going to lose a great player in Chris Givens, but the kids who were kind of on the fringe who gained a lot of experience last year, we might actually have a better group of guys for Tanner to throw to," Grobe said. "Not the one home run threat like Chris gave us, but overall that whole group of guys might actually be better for Tanner because he'll have more of a variety of guys to get the football to."
April, 4, 2011
4/04/11
10:00
AM ET
Wake Forest quarterback
Tanner Price
is the Demon Deacons' returning starter, but all five quarterbacks had a chance to make their case on Saturday in the second spring scrimmage. Price,
Brendan Cross
,
Ted Stachitas
,
Patrick Thompson
and redshirt freshman Keenon Rush each had at least one completion of 35 yards or longer in the hour-long scrimmage. Each of the top four quarterbacks either accounted for a scoring drive or drove the team into field goal range.

Offensive highlights

:
Lovell Jackson scored on a 65-yard swing pass from Cross.
Brandon Pendergrass scored on a 12-yard run and led all rushers with 52 yard on four carries, including a 34-yard run.
Price drove the Deacons to the 11 and 29 while Stachitas had a drive that ended at the 9. Thompson led Wake to the 1 before a fumble at the goal line.
Michael Campanaro led all receivers with six receptions for 77 yards. Jackson had five catches for a team-high 91 yards while Matt James finished the scrimmage with 67 yards on three receptions.
Defensive highlights

:
Zachary Allen, Riley Haynes and Mike Olson all recorded sacks during the scrimmage.
Kris Redding and Gelo Orange each recovered fumbles.
Quotable

:
"Last season doesn't cut it," coach Jim Grobe said of delivering a message to his players. "It's not like we have a season like we had last year, we can't all get together at Chuck E. Cheese and hand out trophies. At this level, it just doesn't happen and our guys have to understand it. If you don't practice, it's going to be hard for us to be a good football team. We have to have durable and dependable guys."