February, 23, 2012
2/23/12
12:30
PM ET
By
ESPN.com staff
| ESPN.com
Maryland will make two adjustments with staff assignments, according to a release from the school on Thursday.

With the change to a 3-4 defense, Lyndon Johnson will now oversee both outside linebacker positions (Sam and Will), while Andre Powell will take over as special-teams coordinator, in addition to coaching the running backs.
"With our scheme changes defensively, the Sam and Will are two of the most critical components of the scheme and I wanted Lyndon devoting his full attention to these positions," coach Randy Edsall said in a prepared statement.
Last season, Johnson was responsible for the Star position (hybrid linebacker/safety). Powell was a special-teams coordinator at Clemson (2007-10) and North Carolina (2001-06). He handled both running backs and special-teams duties the final three seasons at each job.
March, 8, 2011
3/08/11
9:00
AM ET
COLLEGE PARK, Md. -- Maryland running backs coach Andre Powell put change into a parking meter in downtown College Park for 20 minutes -- just long enough to run into Boston Market for a quick bite.
Twenty-two minutes later, he had a ticket.
Win or lose, moving takes some getting used to.
[+] Enlarge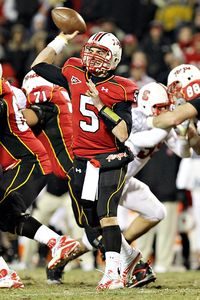 Mitch Stringer/US PresswireDanny O'Brien passed for 2,438 yards and 22 touchdowns on his way to earning conference rookie of the year honors.
Randy Edsall's staff has made a bizarre transition. Instead of replacing a group of coaches that were fired for losing, they're tasked with improving a program that won nine games last season, including a bowl game, and had the ACC's Rookie of the Year and Coach of the Year. While there is obviously talent still remaining on the roster (14 starters return), the new assistants downplayed the notion that their transition might be any easier because they inherited a good team.
"In this profession it's never easy, it's always harder because everything is brand new," said special teams and outside linebackers coach Lyndon Johnson, who was on Edsall's staff at Connecticut. "We're coming in with a different philosophy, different schemes, so there's a learning curve not just for players, but for us as coaches. Our defensive staff, the four of us, none of us come from the same background. We all have to learn Todd (Bradford's) system in order to be able to teach it to our players. It's always going to be an uphill battle, but this isn't like it was an empty-shelf program. These guys were very successful."
And yet only two assistants -- receivers coach Lee Hull and offensive line coach Tom Brattan -- remain from Ralph Freidgen's staff.
"It's a business, and in this business things happen," Hull said. "You just adjust to it and go with the flow. Has it been an easy transition? No, but any new job is an adjustment. Had I left here and gone to another job that would have been an adjustment, too. Coach Edsall has been great through this whole transition and very understanding that Tom and I were on the previous staff. He's been sensitive to that."
The staff is comprised of a variety of backgrounds and two former head coaches in defensive line coach Greg Gattuso (Duquesne) and offensive coordinator Gary Crowton (Louisiana Tech and BYU). Defensive coordinator Todd Bradford and Crowton will both install new schemes and terminology this spring, which will obviously require an adjustment for even ACC Rookie of the Year quarterback
Danny O'Brien
.
Bradford was on the road speaking at a clinic when former defensive coordinator Don Brown left Maryland for a job at Connecticut. A month later, Bradford was hired as Maryland's defensive coordinator.
He said it's still too early to get a read on the talent level the staff inherited.
"It's hard to say because we haven't coached these players yet," he said. "It's hard to say until we start coaching these guys. I don't think it's ever easy when you're a new staff because there's transition, there's coaches getting to know players, there's the learning curve that the players have, there's a transition of how do we handle academics, how do we handle recruiting? Those are the same no matter what happened before we got there. Those challenges are always there. I think it's very similar to any other place I've gone into when I've been on a new staff -- you have the things that have to get done in transition."
Bradford said the staff has all of the necessary resources to be successful, including financial and fan support -- two areas that have been problems for Maryland in the past.
"That's one of the reasons why we came, no question," Bradford said. "I think everyone felt that way, that Maryland's resources, where it was located, the tradition -- all of the things you look for when you're talking about can you win every game, we felt like we had it."
Now their challenge is to get more out of it than their predecessors did.
January, 10, 2011
1/10/11
7:30
PM ET
By
ESPN.com staff
| ESPN.com
Maryland coach Randy Edsall has hired four former Big East assistants. Greg Gattuso, Lyndon Johnson, David Walker and Andrew Wilson have joined Maryland's staff. Gattuso will coach the defensive line, Johnson the special teams unit/outside linebackers, Walker running backs and Wilson the strength and conditioning coach.

The former head coach of Duquesne (1992-04), Gattuso spent the last six seasons at the University of Pittsburgh. The Panthers were one of the top sack producers in the nation the last two years. Walker also spent the last six seasons at Pitt, where he coached some of the top running backs in the nation. Johnson was on Edsall's staff at Connecticut, where he coached tight ends and special teams his first three seasons (1999-01) before handling the outside linebackers his final nine years. He also coached special teams from 2005 through 2010.

Wilson also worked under Edsall the past five seasons, designing and implementing a strength and conditioning program for the Huskies.