January, 21, 2014
Jan 21
12:00
PM ET
Snow day here in the office. Spring ball, anyone?
January, 16, 2014
Jan 16
12:00
PM ET
Time for the ACC to start stealing some assistants back from the SEC, don't ya think?
January, 15, 2014
Jan 15
12:00
PM ET
January, 14, 2014
Jan 14
12:00
PM ET
By
ESPN.com staff
| ESPN.com
Having fun this week looking back on 2013, but the links are looking ahead ...
June, 20, 2013
6/20/13
3:30
PM ET
Duke and Miami have the most returning experience on the offensive line in the ACC this year, according to the conference. The Blue Devils return four starters in tackles
Perry Simmons
and Tacoby Cofield, and guards
Laken Tomlinson
and
Dave Harding
, who have combined for a total of 100 starts.
Miami returns all five starters from last year's team: tackles
Seantrel Henderson
and
Malcolm Bunche
, guards
Jon Feliciano
and
Brandon Linder
, and center
Shane McDermott
. They have combined for 97 starts. (Um, yeah,
Duke Johnson
is set for another great year).
Here's a look at what the rest of the league has returning up front, according to the ACC:
Ouch, Virginia Tech. The Hokies are trying to rejuvenate their offense under first-year coordinator Scot Loeffler, and they've got to do it with one of the least experienced offensive lines in the conference. There are plenty of veteran linemen in the Coastal Division, but few in Blacksburg.
The league's top veteran is actually at Duke, where Simmons is a three-year starter at tackle and leads all returning offensive linemen with 36 career starts.
Here's a look at the returning offensive linemen in the ACC with the most career starts:
1. Perry Simmons, Duke, Sr., Tackle: 36
2.
James Hurst
, North Carolina, Sr., Tackle: 35
3. Brandon Linder, G, Sr., Miami: 31
3.
Morgan Moses
, Virginia, Sr., Tackle: 31
5. Brian Stork, Florida State, Sr., Center: 28
6. Dave Harding, Duke, Sr., Guard: 26
7.
Macky MacPherson
, Syracuse, Sr., Center: 25
7.
Luke Bowanko
, Virginia, Sr., Center: 25
9. Laken Tomlinson, Duke, Jr., Guard: 24
9.
Ray Beno
, Georgia Tech, Sr., Center: 24
11.
Ian White
, Boston College, Sr., Guard: 23
12. Jon Feliciano, Miami, Jr., Guard: 22
March, 1, 2013
3/01/13
10:30
AM ET
Buried beneath pounds of paperwork from the NCAA is the fact that Miami's depth chart should be good enough to win the Coastal Division in 2013. With so much attention focused on the NCAA investigation, Nevin Shapiro has gotten more ink (unfortunately) than quarterback
Stephen Morris
. And Morris is going to be very, very good.
As Miami begins spring practices on Saturday, the Canes do so underneath a cloud for the third straight preseason under coach Al Golden. If those within the program, though, can focus on their on-field goals and avoid the distractions once again, Miami should pick up right where it left off in 2012 -- at the top of the division standings. Miami returns 10 starters on offense
and
defense. Golden and his staff brought in the No. 15 recruiting class in the country, coupled with the experience of 21 freshmen who played in 2012.
[+] Enlarge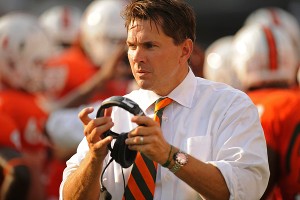 Kevin Liles/US PresswireAl Golden and the Hurricanes enter the spring with experience on the offensive and defensive lines.
This Coastal Division race is going to be tight. Expect every team in the division to be better. Trying to predict the division winner right now is like trying to predict when the NCAA will hand down its verdict. On anything. Miami fans, though, have reason to believe that if the program is eligible to play in the postseason, the pieces are in place to get them to Charlotte.
Here are three reasons why Miami is my way-too-early pick to win the Coastal Division:
1. QB Stephen Morris and running back Duke Johnson:
This dynamic duo is going to be a highlight in the ACC. As a true freshman, Johnson had arguably the greatest freshman season in the program's history. He was named the ACC's Overall and Offensive Rookie of the Year after racking up 2,060 all-purpose yards and 13 touchdowns in 12 games. And Morris can be good enough to push Clemson quarterback
Tajh Boyd
as the ACC's best quarterback in 2013. Morris finished 2012 on a hot streak, as he threw for 1,131 yards and 11 TDs – with zero interceptions -- in his final four games. Morris finished the season with a program-record 3,415 yards of total offense, eclipsing the previous mark of 3,412 held by Bernie Kosar.
2. Experience up front:
Miami returns all five starters on the offensive line (
Malcolm Bunche
, started 12 games at left tackle;
Jon Feliciano
, started 12 at left guard;
Shane McDermott
started 12 at center;
Brandon Linder
started 12 at right guard;
Seantrel Henderson
started seven at right tackle and
Ereck Flowers
started four at right tackle). Miami also returns all four starters on the defensive line (
Anthony Chickillo
12 at defensive end,
Curtis Porter
the last three at defensive tackle,
Olsen Pierre
11 at defensive tackle, and
Shayon Green
at defensive end). How many schools in the country can say they return every starter on both their offensive and defensive lines? Granted, the defensive line is Miami's unit most in need of improvement this offseason, but considering the group only had 13 sacks a year ago, it should only be better.
3. A favorable schedule:
Miami has an entire month to prepare for league play, as its first ACC game isn't until Oct. 5 against Georgia Tech. It doesn't even have to leave the state until Oct. 17, when it travels to North Carolina, and even then the Canes have a bye week to prepare for the Thursday night game against the Tar Heels. Yes, they have to play rival FSU on the road, but they do get Virginia Tech at home. Winning at Pitt on a Friday in November won't be easy, but getting Virginia Tech and Georgia Tech at home helps compensate for it.
March, 2, 2012
3/02/12
9:00
AM ET
By
ESPN.com staff
| ESPN.com
Miami's offense will have an entirely new look this spring, as the Canes have to replace eight starters from last year's team. I spoke with offensive coordinator Jedd Fisch about the challenges his group will face when spring practices begin on Saturday.
Here are the highlights of our conversation. (
Note: This interview was done before the spring depth chart was released on Thursday.)
What does Stephen Morris have to do to grasp the reins of that offense, and how much is he going to be pushed by the other guys on the roster?
Jedd Fisch:
Well, what he has to do is grab the reigns of the offense. He has to have total command of it. I thought he did a tremendous job of everything we asked him to do last year on the practice field and the reps he did have. Stephen is going to have a great year for us, I really believe that. He's got an extremely strong arm, he's got great athleticism, all he has to do is own it – own it the way Jacory owned it, and really improve upon -- and I think he has -- his football knowledge. He's done a great job there. I'm excited to watch him go.
[+] Enlarge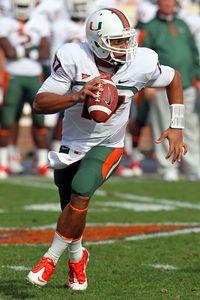 Andrew Shurtleff/US PresswireQB Stephen Morris is expected to be one of eight new offensive starters for Miami next season.
Is it accurate to say it's his job to lose?
JF:
We're always going to have competition. We really can't say it because we haven't been on the field with the other guys. We don't necessarily know what the other guys can do. I think all of us going into it are really confident with Stephen, and excited to see what Stephen can do now that he's not behind Jacory anymore.
In general, how unnerving is it for you that you've got to replace eight starters on offense?
JF:
Yeah, well, it's interesting. It's certainly challenging. We'll end up losing our center, left tackle, our running back with the most reps in, our two wide receivers with the most production and our quarterback who completed 65 percent of his passes and was the captain of the team. And our starting tight end. So we obviously know that that's a challenge, but we're also looking forward to it. I think it's going to be fun to watch the young guys step up. I think spring will be very different than fall for us this year, based on the fact that so many guys a year ago participated in both spring and fall, where with this group, so many guys are coming in with the 32 guys we signed. That's going to be a substantial difference.
It's going to be almost like a whole new team come summer camp, right?
JF:
Exactly. We'll have a whole new group of guys coming into training camp. It's going to be different. All six wide receivers we signed will be here for training camp. None of them will be here for spring ball. The passing game is going to be a little interesting in the spring, but it's going to be a great opportunity for Phillip Dorset, a great opportunity for
Rashawn Scott
, a great opportunity for
Allen Hurns
and
Kendal Thompkins
, the four guys that are coming back to really take rep after rep after rep. Same with the running backs, for
Michael (James)
and
Eduardo (Clements)
, to secure where their places are, and for
Clive Walford
to improve. It's going to be fun. It's certainly going to be different than the veteran-type team we had a year ago.
How about your offensive line? What's the depth chart look like there?
JF:
(He laughed). Yeah, isn't it funny how this conversation is a little different from the one we had a year ago?
No kidding.
JF:
Our offensive line is going to be a major competition. We're really not exactly sure who's going to end up starting. The good thing we do know is that everybody that's on the offensive line will be here in the spring. The guys we signed on the offensive line are here early. … The only guy who's not here is
Danny Isidora
. That will make a huge difference. We can watch all those guys compete. We're going to have to see where
Malcolm Bunche
and
Seantrel Henderson
are. At the end of spring last year, we were really pleased with the way Malcolm Bunche was playing. Seantrel had back surgery. Now that everybody is healthy and back, it will be interesting to see how that all works out.
How does all of this youth change what you can do with the playbook? How much do you have to scale back?
JF:
We're going through that process right now. We're looking at everything. We're looking at everything and making decisions on what our guys can handle, what they'll do well and what we call. A lot of it has to do with, you go into a season thinking you're going to do something, and then as the season progresses, you realize you're doing something else. You ask yourself, No. 1 why, and No. 2 what can we do to make it better? We're in the process of doing all of the evaluations. Our goal this spring is to get better fundamentally. If you're going to get better fundamentally, you're going to cut back on some things schematically.
At running back, who's the guy who's at the top without Lamar?
JF:
You could put Michael and
Eduardo Clements
next to each other. Those two guys are going to be challenging each other as you saw as the season progressed. Eduardo got more and more carries. He really became a valuable short-yardage player for us. Michael, from the Duke game on, he was healthy and started running the ball well. Those two guys are going to duke it out until Duke gets here and
Danny Dillard
gets here, and then when the four of them are here, it will be a nice, four-way competition.
Speaking of Duke, Miami fans seem to be super excited about Duke Johnson. What did you guys like about him in the recruiting process?
JF:
Duke's everything you want when you recruit a player because he doesn't want to be recruited, he wants to tell you how much he wants to be a part of the program. It wasn't about trying to sell Miami to Duke. Duke was sold on Miami and was excited to be a part of Miami football. He's an electric player. He can make every play. He can catch the football, he can run the football, he can make guys miss, he can run between the tackles, he can run outside the tackles. He's got speed, he's got elusiveness. I think what got the Miami fans most excited is anyone who can have 376 yards in a state championship game is a pretty elite player, especially when it's in the state of Florida. He's got that dynamic ability we're all excited to see in person.
September, 23, 2011
9/23/11
10:00
AM ET
By
ESPN.com staff
| ESPN.com
Here are your updated injury reports from the schools that filed them this week:
BOSTON COLLEGE
The Eagles have opted not to release an injury report this week because they are playing a nonconference opponent, but running back
Montel Harris
is listed as probable. Coach Frank Spaziani said he plans to play him "for limited reps" if everything went well in Thursday's practice.
CLEMSON

Out
Joe Gore, DE, Knee
Questionable
D.J. Howard
, RB, hamstring (suffered in practice Tuesday)
Probable

Andre Ellington
, RB, hamstring
Mason Cloy, OG, shoulder
David Smith, OG, shoulder
DUKE
CB Tony Foster (foot) – Probable
CB Ross Cockrell (leg) – Questionable
K Will Snyderwine (foot) – Questionable
WR
Tyree Watkins
(leg) – Questionable
QB
Brandon Connette
(upper body) – OUT
LB Britton Grier (illness) – OUT
C Brian Moore (arm) – OUT
RB
Desmond Scott
(leg) – OUT
RB
Josh Snead
(foot) – OUT
TE
Jack Farrell
(leg) – OUT FOR SEASON
FLORIDA STATE
Out
WR
Willie Haulstead
(head)
OL Henry Orelus (head)
WR
Jarred Haggins
(hand)
WR
Josh Gehres
(knee)
Questionable
QB
EJ Manuel
(shoulder)
WR
Bert Reed
(ankle)
WR
Kenny Shaw
(head)
CB Greg Reid (knee)
GEORGIA TECH
Questionable
Jeff Greene
, Fr., WR
Preston Lyons
, Sr., RB
Out
Morgan Bailey, So., OL
B.J. Bostic
, So., AB
Out for year
Fred Holton, So., S
Jimmie Kitchen, r-Fr., DL
MIAMI
Doubtful

Malcolm Bunche-Lower Extremity
Seantrel Henderson-Lower Extremity
Shayon Green-Lower Extremity
Out

Curtis Porter-Upper extremity
Luther Robinson-Lower Extremity
Surgeries/Out for the Season

Blake Ayles
-Upper Extremity
Cory White
-Lower Extremity
NORTH CAROLINA
Out

Casey Barth, PK, thigh
Devon Ramsay
, FB, knee
Doubtful

Josh Adams, WR, illness
Matt Kolojejchick
, RB, thigh
Jabari Price, CB, finger
Questionable

Erik Highsmith
, WR, ankle
TJ Leifheit, OT, ankle
Terry Shankle, CB, knee
VIRGINIA TECH
Out for Season
Kwamaine Battle (knee)
Dyrell Roberts
(arm)
Out
Jarrett Boykin
(hamstring)
David Wang (foot)
Probable
J.R. Collins (ankle)
September, 21, 2011
9/21/11
4:00
PM ET
By
ESPN.com staff
| ESPN.com
Miami offensive lineman Seantrel Henderson, who had back surgery in August, is getting closer to being cleared to play again, according to coach Al Golden, but where Henderson will line up once he's cleared remains a mystery.

In looking to try to get his five best linemen on the field, Golden said it's possible Henderson could line up at tackle or guard. Henderson started nine of the 12 games he played in last year and lined up mostly at right tackle.

"I think there is still going to be some tinkering," Golden said. "As Art [Kehoe] said this morning, when Seantrel comes back there will be even more competition. Fig [Joel Figueroa] and [Malcolm] Bunche are right there at six and seven. I always rank the offensive lineman, but they're sitting there at six and seven. They have to play their way into the five. And, then, Seantrel is going to have something to say about it, too. Where he plays, tackle or guard, when he comes back will have a lot to do with the development of those other guys."

"For me it's about getting the best five out there," Golden said. "We're talking about a guy that hasn't done much in a long time. We just have to make sure we're careful with him and transition him back when he's ready, but clearly we want to organize the two-deep so that it's our best 10 and then our best five."
September, 30, 2010
9/30/10
6:43
PM ET
By
ESPN.com staff
| ESPN.com
CLEMSON
Spencer Shuey, LB, shoulder, probable
David Smith, OG, high ankle sprain, Out
MIAMI
Doubtful
RB
Graig Cooper
- Lower Extremity
Out
OL Malcolm Bunche - Lower Extremity
DL Curtis Porter - Lower Extremity
Surgery and Out for the Season
FB
John Calhoun
- Lower Extremity
LB Shayon Green - Upper Extremity
RB
Darion Hall
- Upper Extremity
DL Jeremy Lewis - Lower Extremity
LB Travis Williams - Lower Extremity
September, 21, 2010
9/21/10
6:37
PM ET
By
ESPN.com staff
| ESPN.com
Here is Miami's injury report for Thursday night's game against Pitt:
Questionable
OL Joel Figueroa – Upper Extremity
DL Luther Robinson – Lower Extremity
DL Marcus Robinson – Lower Extremity
Doubtful
RB
Graig Cooper
– Lower Extremity
Out
OL Malcolm Bunche – Lower Extremity
LB Kelvin Cain - Dental
DB Lee Chambers – Upper Extremity
DL Curtis Porter – Lower Extremity
Surgery and Out for the Season
FB
John Calhoun
– Lower Extremity
LB Shayon Green – Upper Extremity
RB
Darion Hall
– Upper Extremity
DL Jeremy Lewis – Lower Extremity
LB Travis Williams – Lower Extremity