November, 21, 2012
11/21/12
9:00
AM ET
You don't want to be reading while you eat your turkey, so chew on this first ...
It was almost another home run week for the predictions, but Virginia lost at home to North Carolina. (Still can't believe how poorly UVa played in that one with so much still on the line.) The final tally last week was 6-1 for a grand total of 71-17 (80.7 percent) heading into the final week of the regular season.
This weekend is big-time. We've got rivalry games. ACC versus SEC. Bragging rights. All that good stuff. Can the ACC get it done?
You betcha …
Florida State 28, Florida 14:
This game is in Tallahassee. It won't be a nail-biter. A defensive struggle at times? Sure, but Florida State is the better team with the better quarterback, and it will score. The Seminoles might be a bit naive to think they can still play for the national title, but fans should expect them to play as if the championship game was on the line because it is -- the state championship.
Clemson 31, South Carolina 17:
Yeah, you read that right. And holding Clemson to fewer than 40 points will be a victory for the Gamecocks' defense. No, Clemson's defense isn't championship-caliber, but it's good enough to make South Carolina miss
Marcus Lattimore
. Quarterback
Tajh Boyd
will have the edge, and Clemson will snap its three-game losing streak to South Carolina.
Georgia 38, Georgia Tech 17:
The ACC's magic ends here. The Yellow Jackets turned the corner in the ACC, but the weaknesses in the defense will again be exposed against better competition. The Dawgs roll at home behind an outstanding defense that will be disciplined enough to slow down the spread option.
Vanderbilt 27, Wake Forest 10:
Vandy is one of the hottest teams in the SEC right now, having won five straight. The Deacs are playing to become bowl-eligible, but they're doing it with an inept offense that ranks No. 114 in the country in scoring (18.27), No. 111 in rushing (98.36) and No. 117 in total offense (300.55).
NC State 31, Boston College 21:
This game isn't going to be a complete blowout, but the Eagles won't be able to stop
Mike Glennon
and NC State's passing game. In what is likely to be coach Frank Spaziani's last game as head coach of the Eagles, running back
Rolandan Finch
will give 'em a chance, and the they'll give their usual relentless effort but come up short on the road.
North Carolina 38, Maryland 10:
No, this isn't the Big Ten blog. If it were, the score might be 52-3. OK, OK, I'll stop. Seriously, injuries have been too much for Maryland to overcome this year, and the Tar Heels should have no problem closing the season with a home win.
Miami 41, Duke 38:
This game went from meaning everything to meaning nothing -- unless you're in either program. Once Miami declared itself ineligible for the postseason, Georgia Tech automatically won the Coastal Division. Odds are coach Al Golden is selling his players on finishing 5-3 in league play. Duke's defense, meanwhile, continues to struggle against ACC opponents.
Virginia Tech 21, Virginia 20:
Um, yeah. In what will never been deemed an instant classic, the Hokies will barely become bowl-eligible and take advantage of a mistake-prone Virginia team. If the Hoos were still playing for bowl eligibility, this might be a different story, but they squandered that opportunity last week and will now face a Virginia Tech in Blacksburg team with everything to lose.
November, 20, 2012
11/20/12
4:00
PM ET
The
No. 1 game on this list
came to fruition last week, as Virginia lost to a North Carolina team determined to redeem itself from a loss to Georgia Tech. The Yellow Jackets, though, did not lose at home to Duke, and Clemson won a shootout with NC State. This is the final chance at an upset during the regular season.
ACC fans better hope No. 1 comes true ...
1. No. 4 Florida (10-1, 7-1 SEC) at No. 10 Florida State (10-1, 7-1 ACC):
This is the first time since 2000 that both teams have been ranked in the top 10 of the BCS standings for their game, but FSU fans will argue that the Noles should be ranked higher. If Florida wins, the Gators will likely end up in the Allstate Sugar Bowl. FSU has to do its part to help Clemson have a chance at getting an at-large BCS bid, but the Seminoles also need to win this one for in-state bragging rights, recruiting, and also to reassert themselves near the top of the BCS standings.
2. No. 12 South Carolina (9-2, 6-2 SEC) at No. 11 Clemson (10-1, 7-1 ACC):
There are plenty of plotlines in this one, including Dabo Swinney vs. Steve Spurrier, the Gamecocks' defense against Clemson's high-flying offense, how South Carolina will fare without
Marcus Lattimore
, and if Clemson's defense can show improvement against the best opponent it will have faced since Sept. 22 at FSU. Clemson has lost three straight in this series, but will have home field advantage and a possible at-large BCS bid at stake.
3. Vanderbilt (7-4, 5-3 SEC) at Wake Forest (5-6, 3-5 ACC):
Neither team is ranked, but Vandy is one of the hottest teams in the SEC right now, having won five straight. The Demon Deacons, meanwhile, have lost three of their last four. Wake is playing for bowl eligibility, though, so the Commodores can expect the Deacs' best shot. Wake Forest will also have home field advantage, and needs the win to avoid a losing record for the third time in four years. The Deacs will be playing with a sense of urgency -- or at least they should be.
December, 31, 2010
12/31/10
4:02
PM ET
ESPN's Stats & Info took a closer look at South Carolina's success
with the play-action fake
. Quarterback
Stephen Garcia
has had some impressive numbers thanks to the help of the success of
Marcus Lattimore
, who's running game has helped open things up for receiver
Alshon Jeffery
. FSU's ability to contain both will be key in tonight's Chick-fil-A Bowl.
December, 30, 2010
12/30/10
11:30
AM ET
Here are three keys for Florida State against South Carolina in the Chick-fil-A Bowl:

1. Stop the run.
Florida State has been much better against the run this year -- No. 25 in the country and third in the ACC -- but it showed some weaknesses against Virginia Tech in the ACC championship game that the Gamecocks can exploit.
Marcus Lattimore
has run for 1,198 yards and 17 touchdowns this year, and quarterback
Stephen Garcia
has scored six rushing touchdowns this year.
2. Pressure Garcia.
Florida State is No. 2 in the country and first the ACC in sacks with 3.54 per game. The Noles have had 46 sacks this season, and Garcia makes mistakes under pressure. South Carolina's ability to pick up the rush and handle defensive ends Markus White and Brandon Jenkins will play a huge role in the outcome of the game.
3. Establish the run.
Florida State's tailbacks have been banged up this year, but this could be the healthiest they've all been in a while.
Ty Jones
,
Chris Thompson
and
Jermaine Thomas
will force the Gamecocks to be disciplined, but South Carolina has a knack for finding the ball and has also improved against the run this year, ranking ninth in the country and leading the SEC with 104.31 yards per game.
December, 20, 2010
12/20/10
2:00
PM ET
Last week I started looking at who needs to "
step up
" for each bowl-bound team, and will continue today with the Seminoles. Florida State has a tough challenge in the Chick-fil-A Bowl against SEC East champ South Carolina. The Noles have a chance at the program's first 10-win season since 2003.

In order for that to happen, who needs to step up?
Florida State's defense:
The Seminoles are coming off an unimpressive performance in the ACC championship game in which they allowed Virginia Tech 44 points, 442 total yards and no turnovers. Their biggest collapses, though, came on third down, when the Noles allowed the Hokies to convert on 13-of-18. That won't fly against a South Carolina offense that features two elite players in running back
Marcus Lattimore
and receiver
Alshon Jeffery
. Lattimore ranks second in the SEC to Heisman winner
Cam Newton
with 1,198 yards and 17 rushing touchdowns. Jeffery set single-season school records for receptions (79) and yards (1,387). Even if FSU can get its running game going against the Gamecocks' stingy run defense, it won't be enough if the Noles can't come up with more stops than they did against Virginia Tech.
December, 6, 2010
12/06/10
1:39
AM ET
South Carolina Gamecocks (9-4) vs. Florida State Seminoles (9-4)
Dec. 31, 7:30 p.m. ET (ESPN)

South Carolina take by SEC blogger Chris Low:
South Carolina had only played one game indoors in its entire history prior to last Saturday's 56-17 loss to Auburn in the SEC championship game.
Now, the Gamecocks (9-4) will play their second game indoors in less than a month, as they return to the Georgia Dome to face Florida State on Dec. 31 in the Chick-fil-A Bowl.
Merely getting to the SEC championship game was an accomplishment for the Gamecocks when you consider they'd never previously been. Their performance would suggest they didn't belong, but a lot of that had to do with Auburn.
South Carolina has some of the finest young talent in the SEC in freshman running back
Marcus Lattimore
, sophomore receiver
Alshon Jeffery
and sophomore cornerback Stephon Gilmore, although Gilmore is coming off a rough outing in the SEC championship game.
When Lattimore has had big games this season, the Gamecocks have won.
Defensively, they've been shredded through the air and were again against
Cam Newton
and Auburn last Saturday. But they're good up front and led the SEC with 39 sacks this season. Their undoing has been giving up too many big plays, and they've also been an inconsistent tackling team.
---

Florida State take by ACC blogger Heather Dinich:
Overall, it's been an impressive season for Florida State, considering the Seminoles won nine games, finished 6-2 in the ACC, won the Atlantic Division and played for the league title in Jimbo Fisher's first year as a head coach.
Still, this is the consolation prize for the Seminoles, the runners-up in the ACC championship game, and it's not going to get any easier. Florida State's defense, which has made significant strides this year under first-year coordinator Mark Stoops, couldn't find an answer for Virginia Tech quarterback
Tyrod Taylor
in the 44-33 loss to the Hokies. It's going to have to find one for standout South Carolina running back Marcus Lattimore and receiver Alshon Jeffery.
The Seminoles rank No. 2 in the nation sacks and are No. 17 in tackles for loss, but really struggled to get Virginia Tech off the field on third downs. Florida State has also had problems at quarterback, where starter
Christian Ponder
missed the title game because blood was found in the fluid drained from his elbow last week. Backup
E.J. Manuel
threw for almost 300 yards but had two interceptions in his place.
FSU was also held to just 53 rushing yards against Virginia Tech, so there are plenty of areas for improvement heading into the final game of the season, but also much to build on for next year.
November, 24, 2010
11/24/10
10:15
AM ET
As usual, here are your 10 things to keep an eye on this week, in no particular order.
Virginia Tech cornerback Jayron Hosley.
He is one interception shy of tying the school record, set by Ron Davidson in 1967. Hosley leads the nation with eight. Coach Frank Beamer led the Hokies with four picks in 1966. Davidson was a junior in '67 along with Beamer.
BC's running game.
Andre Williams
is good, but he's a true freshman and he's not
Montel Harris
. Not yet, anyway. Harris injured his knee against Virginia and his status for Saturday's game at Syracuse has yet to be determined. Syracuse has the No. 34 rushing defense in the country. If Harris plays, he is 125 yards away from becoming the leading rusher in school history.
The nonconference scoreboard.
The ACC is 0-3 against its SEC opponents this year, but has enough chances this weekend to even the score with rivalry games against South Carolina, Florida and Georgia. Wake Forest is also playing at Vanderbilt.
[+] Enlarge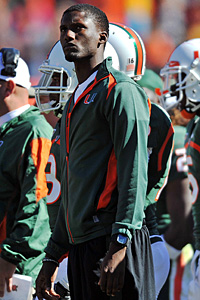 Steve Mitchell/US PresswireJacory Harris has been cleared to play, but whether he starts remains to be seen.
Miami's quarterbacks.
Jacory Harris
has been cleared to start, but coach Randy Shannon wants to see what he can do in practice this week before he determines his starter. Freshman
Stephen Morris
is coming off a shaky performance in the loss to Virginia Tech in which he threw three interceptions in the final nine minutes. South Florida's pass defense is No. 32 in the country, and has 10 interceptions this year.
Duke's linebackers.
The Blue Devils will be hurt by the loss of starting linebacker Kelby Brown, who is out with a torn ACL and MCL. Duke will look to sophomore Austin Gamble, who replaced Brown when he was injured at Georgia Tech, and finished with eight tackles. The Blue Devils will also get some help from Damien Thornton, Adam Banks, and Tyree Glover.
Georgia's rushing defense vs. Paul Johnson's offense.
The Yellow Jackets lead the nation in rushing offense with 319.36 yards per game, but the Bulldogs are holding opponents to 125.36. B-back
Anthony Allen
has reached the 1,000-yard mark.
Clemson's D vs. Marcus Lattimore
. The Tigers have one of -- if not the best -- defenses in the ACC, but South Carolina's Marcus Lattimore has had his way with half of the defenses in the SEC. He had over 200 yards rushing against Florida's defense, and has topped the 1,000-yard mark this year.
Field position in Tallahassee
. Florida leads the nation in punting and is No. 3 in the country in kickoff returns (26.41). FSU is No. 33 in the country in kickoff return defense (20.14).
Turnovers in College Park.
Same as last week, and they were indeed a factor. Maryland had only turned it over eight times heading into the game against Florida State, but the Noles forced four turnovers. And in NC State's three losses, the Wolfpack lost the ball a total of nine times.
NC State quarterback Russell Wilson vs. Maryland's secondary.
NC State has the nation's No. 17 passing offense, and Maryland is tied for 12th in the country with 16 passes intercepted. The Terps are also No. 12 in pass efficiency defense, but they're allowing over 200 passing yards per game.