May, 14, 2013
5/14/13
4:30
PM ET
AMELIA ISLAND, Fla. -- Florida State coach Jimbo Fisher has no problem with quarterback
Jameis Winston
continuing to play both football and baseball, even now that it appears the highly touted redshirt freshman has the inside track to win the starting job.
Though Fisher maintains the quarterback competition remains open, Winston seemingly emerged as the front-runner to win the job following a spectacular spring game and the eventual transfer of veteran Clint Trickett.
"I'm not going to limit what he does," Fisher said Tuesday during ACC spring meetings. "If that's something he helps that team with -- he loves football, he loves baseball and we'll continue to monitor and do the same things we do."
He later added, "You don't put parameters on people just because somebody else didn't do it. Charlie [Ward] did it, Deion [Sanders] did it, Sammie Smith did it. Florida State's had quite a number of them. And [Jameis] continues to do it very well."
Winston juggled both sports throughout spring practice with no problems. He has appeared in 31 baseball games with 26 starts and is batting .293. He also has made 14 appearances as a relief pitcher with a 1.80 ERA.
Fisher has never had a quarterback play two sports. In fact, two-sport athletes are becoming increasingly rare as players become more specialized in one sport.
But Fisher says, "I think the relationship's gone very well. Testing the waters in spring I thought he handled it extremely well and did very well with it. It goes back to the individual. Is he capable of handling it? And he's handled it with ease. He's excelled in both things that he's done."
A few more notes from Fisher:
Fisher didn't want to publicly comment on signee Matthew Thomas, who made headlines last week when he said he wanted out of his letter of intent. Athletic director Randy Spetman told The Tallahassee Democrat the school wouldn't release Thomas. Coaches continue to have discussions with his mom to see whether they can get Thomas to come up to Tallahassee. "We're working behind the scenes and I'm not going to comment publicly," Fisher said.
Fisher also seemed a little surprised that receiver Marvin Bracy decided to quit football to focus on track. "We had a great conversation," Fisher said. "Just he was more undecided about what he wanted to do. I just wanted him to make sure if you're going to go pro track, is it what's best for you? Are you going to maximize the money you can make or the opportunity for your life or what's your education down the road, what's the big picture? I hope he's done that."
May, 3, 2013
5/03/13
12:00
PM ET
March, 22, 2013
3/22/13
12:32
PM ET
By
ESPN.com staff
| ESPN.com
TALLAHASSEE, Fla. -- Jimbo Fisher has been quick to assure that potential starting quarterback/left fielder
Jameis Winston
won't have any trouble balancing life as a two-sport star this spring. Baseball will take a clear backseat.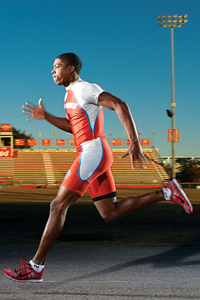 RIKU+ANNA/ESPNHSMarvin Bracy's blazing speed is intriguing, but he'll need to be a complete receiver to earn playing time.
For wide receiver
Marvin Bracy
, however, the dynamic isn't quite so cut and dry.
Bracy will only be a sporadic participant at Florida State's spring practices as he concentrates on track events throughout this spring. Bracy is considered one of the top sprinters in the country -- and perhaps the fastest football player in the nation.
The speed might make Bracy a standout on the track, but Fisher said it's going to take more than that to get him on the field for the Seminoles in the fall.
"You have to have some time to be out there or you're going to be relegated to certain things," Fisher said. "You can run a post, a deep ball, return kicks -- but when you're actually learning to run routes and how they adjust to coverages, that does affect you."
Bracy hasn't been completely absent. He has participated in football meetings and continued to meet with coaches and watch film. He'll be at numerous practices this spring, too. But the part-time work isn't likely to help him climb the depth chart at a crowded position, and Fisher said there's a risk in putting a player on the field this fall when the opposition knows he's only prepared to run a small fraction of the plays.
Of course, that doesn't mean Bracy can't make up ground. Fisher said he has dealt with a slew of track-star football players in his career, including NFL receivers Devery Henderson and Trindon Holliday at LSU, and he believes Bracy can follow a similar path.
"He's going to have to have a great summer, but he'll have a role," Fisher said. "We'll find some things for him to do, I promise."
To read the rest of David M. Hale's story, click here.
March, 14, 2013
3/14/13
2:00
PM ET
TALLAHASSEE, Fla. -- With spring practice less than a week away, the fervor surrounding some of the most-hyped storylines of 2013 has already been raging for months. The three-way battle at quarterback, the return of
Bobby Hart
to the limelight,
Lamarcus Joyner
's move to cornerback -- Jimbo Fisher already has plenty to keep his eye on.
But while those stories will continue to headline Florida State's preparations for the 2013 season, there are a handful of other intriguing players to watch this spring. They might not be in the running for a starting job, but they should offer plenty of reasons to watch as they look to impress a new group of coaches and find their own niche for the upcoming season.
Mario Pender (RB/RFr.)
When it comes to sheer intrigue, the entirety of Florida State's returning redshirts could probably make the list -- with
Jameis Winston
probably atop it. But while there will be genuine interest in
Justin Shanks
' weight or
Marvin Bracy
's speed, it's Pender who likely leads the pack in non-QB buzz from fans. The highly touted tailback missed all of 2012 with a groin injury and is just now getting back into full swing. His workouts during fourth-quarter drills earned raves from Fisher, who compared his burst and home-run ability to
Chris Thompson
-- only Pender is a bit bigger and stronger. Does that mean a job awaits this fall? Not exactly, but he'll definitely have his coaches' attention.
March, 8, 2013
3/08/13
12:00
PM ET
Will Miami win the ACC hoops title or what?
February, 25, 2013
2/25/13
12:00
PM ET
There's a very good chance we could see the ACC schedule this afternoon ...
February, 11, 2013
2/11/13
12:00
PM ET
The ACC blog will be getting bigger this week, as we welcome in Pittsburgh and Syracuse ...
August, 27, 2012
8/27/12
2:00
PM ET
For once, Andrea Adelson and I are on the same page. Both of us think this is the year Florida State will live up to the hype. Shocking, I know.
Our opinions differ, though, on exactly how they need to do that.
Will the offensive line and running game be the key? Or will it be quarterback
EJ Manuel
and the development of his receivers?
[+] Enlarge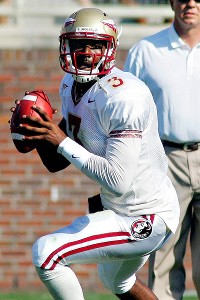 AP Photo/Phil SearsEJ Manuel is going to require a lot of help from his offensive line to his receiving corps in order to get FSU some wins this season.
Depends, of course, on who you ask ...
Heather Dinich:
It's a good thing Florida State offensive line coach Rick Trickett is a Harley Davidson-driving, cigar-gnawing, old-school, kick-in-the-pants kind of coach -- because Florida State's offensive line couldn't afford anything less this summer.
If the No. 7-ranked Seminoles are going to stay in the top 10 -- if they're going to win the ACC and aim for something even higher -- the offensive line must go from the weak link in 2011 to one of the team's greatest strengths in 2012. The running game must improve, and it all starts up front with a group that introduced four freshmen in the starting lineup against Notre Dame last year in the Champs Sports Bowl.
Last year, Florida State's running game finished No. 104 in the country. The Noles tied for No. 110 in sacks allowed. And the linemen didn't create enough holes for the running backs, who also had too many mental errors.
Does that sound like a top-10 team? Well, that's why it wasn't. The Noles sank to No. 23 last year in the final Associated Press Top 25 after starting out No. 6 in the preseason poll.
Florida State can't possibly expect to change that with only 95 total yards of offense against Florida again. It can't possibly win its first ACC title since 2005 with only 63 rushing yards against Miami. And it certainly can't be taken seriously as a national title contender with only 41 rushing yards against Notre Dame.
Florida State's defense and its super special teams were the difference for the Noles last year. If the offensive line and ground game could match that, Florida State would be seemingly unstoppable.
It's getting closer.
The experience sophomore guards
Josue Matias
and
Tre' Jackson
got in the bowl game last year was priceless, and they continued that progress this summer. Cameron Erving's seamless transition from defensive tackle to left tackle was one of the top story lines in Tallahassee, and all three have likely earned starting jobs for the season opener against Murray State. The questions continue at center and right tackle, though, and the competition could, too. During fall camp,
Austin Barron
and
Bryan Stork
were the frontrunners at center, and junior-college transfers
Menelik Watson
and
Daniel Glauser
were the leaders at right tackle.
Overall, the Noles' offensive line has gotten bigger and stronger, but it still needs to prove that it has also gotten better.
Andrea Adelson:
We have heard plenty already this preseason about the depth Florida State has at wide receiver.
Depth is an excellent commodity to have. But here is my question -- how about playmakers? Do the Seminoles have a game-breaker at receiver who will be able to help Manuel carry this offense from good to championship caliber?
I grew up in South Florida, and have watched every Miami-Florida State game going back to the early 1980s. During the heyday of both programs, you could always count on at least one receiver that made you, well, nervous. Florida State had them in spades, between guys like Lawrence Dawsey, Tamarick Vanover, Peter Warrick, Laveranues Coles, Snoop Minnis, E.G. Green, Anquan Boldin and the like.
To that point -- FSU had one receiver on the ACC first team between 1993 and 2000. Since then, the Noles have had just one -- Craphonso Thorpe in 2003. There are a variety of reasons this program has hit a major dip in recent years. One of them has been a lack of some major talent at the skill positions.
The lack of a 1,000-yard rusher (none since 1996) or 1,000-yard receiver (none since 2002) are proof. So is the fact that Florida State has not had a receiver drafted since Willie Davis in 2007. For a program in talent-rich Florida, it is almost inexcusable for there to be a dearth of game-changers at either running back or receiver. A player like
Sammy Watkins
? He used to be found at Florida State.
The Noles have an opportunity to change that this season given some of the talent that is returning. What FSU fans will tell you is Manuel has been good at spreading the ball around to his various receivers, and that has been nearly as good as having one go-to guy emerge. Three players had 30 or more catches last season --
Rashad Greene
,
Rodney Smith
and
Kenny Shaw
.
They all return.
Willie Haulstead
also is back after sitting out last season.
Christian Green
and
Greg Dent
each averaged over 17 yards a catch last season. They are back, too.
Expectations are high for redshirt freshman
Kelvin Benjamin
to emerge as a game-changer. Florida State also has true freshman
Marvin Bracy
, a player with world class speed who may not even see the field this year. That is a testament to the depth at the position, something that is not in dispute.
But what the Noles truly need is a dynamic presence at receiver to put fear into the opposition, the way they used to do. To me, that is going to be a deciding factor in whether the Seminoles live up to all the preseason hype.
August, 6, 2012
8/06/12
3:30
PM ET
As ACC teams begin to start practicing again, Heather and I will have a quick preview of each team to get you caught up on the basics. Next up to open camp ...
School:
Florida State.
Start date:
Today.

Predicted finish at media days:
First, Atlantic Division.
Biggest storyline:
Can the Seminoles match increased expectations this year? It seems like we have been waiting on Florida State to return to its rightful place among the elite for ages now. Many thought last year was going to be the year, as the Seminoles were picked to win the Atlantic and started the season ranked No. 5 in the coaches' poll and No. 6 in the AP poll. But Florida State faltered to an 8-4 record in the regular season and went 5-3 in conference, tied with Wake Forest for second in the Atlantic. Not exactly the return everybody imagined. Headed into this year, expectations are high once again not only in the ACC but nationally as well. Florida State starts the season ranked No. 7 in the coaches' poll, so there clearly is confidence that THIS will now be the year of the Seminole. Florida State has 17 starters returning, including quarterback
EJ Manuel
and one of the most talented defensive fronts in the nation. The time is now for this team.
Biggest position battle:
Cornerback. With the dismissal of three-year starter
Greg Reid
, that position is now up for grabs headed into fall camp. Unfortunately for the Seminoles, this position went from one of strength to one of major question marks. None of the potential replacements has
much in the way of game experience
. Among the options: sophomores
Tyler Hunter
and
Nick Waisome
, who were expected to compete for the top nickelback job. There also is freshman
Ronald Darby
, who ran track in high school. As for returner, where Reid excelled, potential options include Darby, freshman
Marvin Bracy
, sophomore
Karlos Williams
and safety
Lamarcus Joyner
.
Who needs to step up:
The receivers. Coach Jimbo Fisher said during ACC media days that while he loves all the depth he has at receiver and tight end, what he really wants to do is identify the playmakers he can count on the most for this season. Who will make the big plays and big catches on a consistent basis in the group?
Rashad Greene
?
Rodney Smith
?
Christian Green
?
Willie Haulstead
? And where does Bracy fit in? It will be interesting to see whether the Seminoles need a few receivers to emerge as the go-to targets or whether they will continue to throw to a wide variety of players.
July, 22, 2012
7/22/12
8:13
PM ET
During his address to open the ACC kickoff event Sunday, commissioner John Swofford said there was strong support for a nine-game conference schedule beginning next season when Syracuse and Pittsburgh come on board.

"I think the (athletic directors) collectively voted for the good of the conference that teams see each other and play each other as much as they can in both football and basketball," Swofford said. "That's why we went to a nine-game league schedule."

That might be a problem, Swofford said, for teams like Florida State who play an annual nonconference rivalry game.

While FSU has routinely scheduled high-profile nonconference games in addition to their annual showdown with Florida, that might get tougher when the nonconference slate shrinks to just three games.


July, 6, 2012
7/06/12
12:00
PM ET
By
ESPN.com staff
| ESPN.com
May, 10, 2012
5/10/12
9:00
AM ET
The Heisman Pundit website
released its fastest-player list this week
, and a pair of incoming Florida State players makes the 10-man cut.
Wide receiver
Marvin Bracy
(Orlando, Fla./Boone), a four-star recruit and the No. 76 overall player on the 2012 ESPN 150, is tabbed the fastest player in college football -- even though he has yet to play in a game. The site acknowledges the discrepancies that may be out there regarding players' 40-yard-dash times and track numbers, so it stuck with only statistics that it could verify.
1. Marvin Bracy, incoming freshman, WR, Florida State — The long reign of Jeff Demps as the fastest man in college football is over. The new champ is in the process of chasing Demps' junior 100-meter record of 10.01 set back in 2008. Bracy has had some hamstring issues as a senior, but has still come through with marks of 10.25 in the 100 (10.05 wind-aided), 21.02 in the 200 and 6.08 in the indoor 55m dash (a high school record). He's a raw, emerging talent as a wide receiver, but he did well in the [Under Armour] All-American All-Star Game and, to no surprise, his speed attributes were glossed over by commentators unfamiliar with his accomplishments in track and field. He has the ability to contribute right away for the Seminoles, but at some point he may have to decide between the gridiron and the track. No doubt, his future is bright in both.
Four-star cornerback
Ronald Darby
(Oxon Hill, Md./Potomac) checks in five spots later. Darby de-committed from Notre Dame before picking the Seminoles on national signing day, and he's the No. 38 overall player on the 2012 ESPN 150.
6. Ronald Darby, incoming freshman, CB, Florida State – Darby and Bracy form the fastest incoming freshman duo in the country. Darby's 10.41 100m is a bit behind Bracy's, but his 21.05 200m is right there with his future teammate. He also has gone 6.77 in the indoor 60 and 6.28 in the 55. A former Notre Dame commit, Darby was one of the most highly-sought-after recruits in the country.
February, 2, 2012
2/02/12
3:30
PM ET
By
ESPN.com staff
| ESPN.com
You want to know just how much faster Florida State got on national signing day?
Ask Bob Braman, the Seminoles' track coach.

Jimbo Fisher wasn't the only winner on Wednesday. Braman raved about his two newcomers, football signees
Marvin Bracy
, a wide receiver, and cornerback
Ronald Darby
, who will play both sports.
"You're getting two of the best guys that we've ever gotten, and they're football players, which obviously makes our team unbelievably strong," he said. "If we were able to get one a year of this nature in a dual sport, we would be unstoppable, because the track kids that coach [Ken] Harnden brings in are top-of-the-top nationwide and worldwide. When you get guys like Bracy and Darby, they're going to get that camaraderie, coaching; it's going to help them so much. They're going to get way faster and it's going to make for a giant group of super elite sprinters."
Not to mention a super elite caliber recruiting class.
Bracy enters his senior season at Orlando Boone on the verge of becoming the first high school sprinter to run under 10 seconds for 100 meters. Braman said Bracy ranks among "the fastest ever" when it comes to the legacy of Seminoles sprinters.
"The fastest ever, going all the way back to Mike Roberson," Braman said. "He will be the fastest statistical athlete, and if not for .2 (mph) on the wind at USA's he is -- by just the margin of breeze -- the national high school record-holder. He's very, very special. When you're that good, you have an influence."
Darby turned in an impressive performance for the U.S. team at the 2011 IAAF World Youth Games in Lille, France, in July. He finished fourth in the 100 (10.61), captured bronze in the 200 (21.08) and anchored the sprint medley relay team to gold in a meet record 1:49.47.
In a word? Blazin'.
Florida State has literally added world-class speed to its roster with these two track stars.
ACC SCOREBOARD
Friday, 12/26
Saturday, 12/20
Monday, 12/22
Tuesday, 12/23
Wednesday, 12/24
Saturday, 12/27
Monday, 12/29
Tuesday, 12/30
Wednesday, 12/31
Thursday, 1/1
Friday, 1/2
Saturday, 1/3
Sunday, 1/4
Monday, 1/12
Tweets from https://twitter.com/ESPNCFB/lists/acc