May, 1, 2014
May 1
2:00
PM ET
NC State offensive coordinator Matt Canada and coach Dave Doeren both noticed the same wide receiver this spring:
Bo Hines
.
Hines, a true freshman from Charlotte, N.C., who enrolled early, was the Pack's most consistent receiver this spring, bringing a bit of separation to a crowded group filled with youth and inexperience. Nine of the 12 receivers on the spring roster are either freshmen or sophomores. Senior
Bryan Underwood
was NC State's second-leading receiver last year, but the Pack has to replace two starters from 2013, and the competition remains wide open heading into the summer.
[+] Enlarge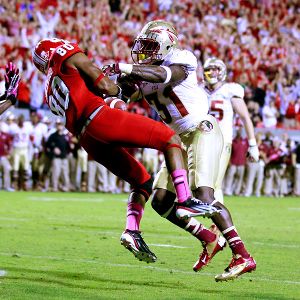 Ethan Hyman/Raleigh News & Observer/MCTSenior Bryan Underwood is NC State's leading returning receiver with 32 catches in 2013.
"Now you look for the guys who are going to come up and make plays consistently and in games," Canada said. "It's just a matter of where things go. There's a lot of guys out there, we just have to sort it out a little bit. We had some of that sort itself out through the spring, but not enough to declare one way or another who's going to do what, but we'll move in that direction as we get into camp. We'll have a better handle on what we're going to do."
Jumichael Ramos
, who finished the last three games of 2013 strong, is one of the top sophomore candidates, along with
Marquez Valdes-Scantling
, who led the team in receiving at one point last year as a true freshman, and
Bra'lon Cherry
, who suffered a season-ending injury against Duke. Ramos finished third on the team last year with 24 catches for 352 yards and three touchdowns.
"All three of them played and had some catches, but obviously as they step up here now, they have a chance to maybe separate themselves from what they did with a few catches here and there, and becoming a more consistent receiver," Canada said. "I think that's where having a quarterback and getting some timing down will certainly allow that to occur."
Freshman
Stephen Louis
enrolled early, and redshirt freshman
Gavin Locklear
is also in the mix. Doeren said Underwood finished the spring strong. He is the fastest receiver on the roster, but he still needs to be more consistent. Underwood had 32 catches last year for 382 yards and a touchdown.
"He was really coming on last year when he hurt his collarbone and so missed a lot of practice and development there, and he needs to have a good summer physically to put himself in the right place," Doeren said. "You'd like him to play the way he can and the way he was early in the year last year.
"And then Marquez Valdes and Jumichael Ramos are guys that were two true freshmen that played a lot for us a year ago that need to play better, I guess, than I thought they would in the spring. I thought Valdes had a really good finish, started a little slow, and Ramos was the opposite. So just need to get a consistent performance. A lot of times when a guy plays as a true freshman he gets a big head, and that's the one thing those guys can't do. There's good players coming in, and we've got a couple other freshmen that will be here that we'll add to the depth and competition. But those two guys need to have tremendous summers for us."
April, 24, 2014
Apr 24
2:00
PM ET
NC State is entering its second season under coach Dave Doeren, and those within the program were encouraged by what they saw this spring and have said the program is slowly heading in the right direction. The Pack is stuck in the Atlantic Division with heavyweights FSU, Clemson and now Louisville, and will be a young team this fall. I spoke with offensive coordinator Matt Canada on Monday to get his take on how the offense looked this spring. Here are the highlights of our conversation:
What was your take on the progress Jacoby Brissett made this spring being in a new role?
[+] Enlarge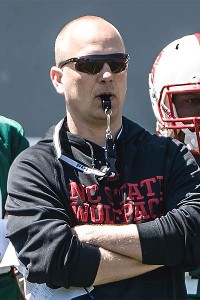 Photo courtesy of NCSU AthleticsMatt Canada has seen improved continuity and understanding from his offensive players.
Matt Canada:
He did a great job learning the system throughout the year [when] he was ineligible to play and made an impact on us as a leader throughout that time and certainly showed a lot about who he was in the past year. Once we got to the spring and he could actually practice, I think his understanding of the offense improved every day. Not that it wasn't good, but when you're out there getting the reps, it's going to improve just based on repetition and experience. He did a nice job leading the group and leading the offense. The kids on offense would all point to him as their leader on offense now. He took care of the ball well for the most part throughout the spring, and I was pleased about that.
What kinds of things does he need to still focus on during summer camp?
MC:
Just experience. I think he'll do a great job this summer learning and understanding the offense better, the timing with the receivers. He was throwing it to the top receivers now, and we've got some young kids in as well, so getting the timing down.
How did the running game look this spring?
MC:
It's improved. I think our running backs had a very good spring, as far as the way they worked and the versatility they had.
Tony Creecy
is a guy who is a great leader for us, had a very good spring and did a lot of things.
Matt Dayes
was much improved. He played as a freshman last year, but Matt really, his body changed and he has really jumped in with both feet to what we're doing in the weight room, and his conditioning. He looked like a Division I big-time back, and that was exciting for us to see. Those two guys really I felt had a very good spring. Obviously having a good spring means we're improving up front. We still have some work to do, but the offensive line is getting better and getting older and more mature and continuing to put that together.
Where do you think the biggest growth has occurred between Year 1 and Year 2 in what you've seen from the offense?
MC:
The kids know what we're striving for, what we're looking for. I think they understand the system better, they understand what we're trying to do. They're a year into it, they're going to be better. We have some different guys coming in and playing with some different skill sets we didn't have and that helps us some, and I think like anybody else will tell you after a year, they're more comfortable with the terminology. And we're excited about Jacoby and what he brings to the table and his experience, talent and leadership -- all those things. It's certainly a benefit for us.
[+] Enlarge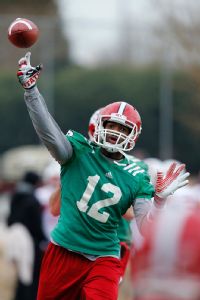 Ethan Hyman/Raleigh News & Observer/MCT/Getty ImagesNC State has a leader at quarterback in transfer Jacoby Brissett.
Is there any particular area you think you'll be better, whether it's running the ball, eliminating turnovers or anything like that?
MC:
Last year was a challenging year. Every week it was like we had somebody else out. We never really got into a rhythm, from quarterbacks going back and forth to up front. We were playing musical chairs there for a good part of the start of the year. The receivers were the same way. We had some guys making plays and they'd get hurt. Just having everybody through the spring and letting them get better, for the most part we were able to have a pretty healthy spring that allowed us to get some continuity. I think we're going to be better at all of it. I think we'll run it better, I think we'll throw it better. I think we'll be better at everything. What we'll focus on and what will be our strength, I'm not ready to say that. We'll get into the season and see how we develop, but I do think we'll be better in all aspects.
What are a few things you still really want to accomplish this summer?
MC:
We are young at some spots. We're a very young team, so I think just them studying tape and learning football IQ and understanding the game is very important. And then just overall strength and conditioning, because we are very young. I know coach has talked about extensively a number of freshmen and sophomores we're going to have playing next year, so while it will be Year 2, we have a young team so both strength and conditioning-wise and football knowledge is something we have to work on every day.
March, 4, 2014
Mar 4
10:30
AM ET
NC State opens spring Wednesday — a day later than expected because of weather — to kick off Year 2 of the Dave Doeren era. As the Wolfpack go about moving beyond their 3-9 season from 2013, we talk to Doeren to see where the program is at as it readies for 2014.
Check back this afternoon for Part 2 of our conversation.
As you enter your second spring here, what is your biggest challenge in going about erasing the bad taste in your guys' mouths from the way last season ended?
[+] Enlarge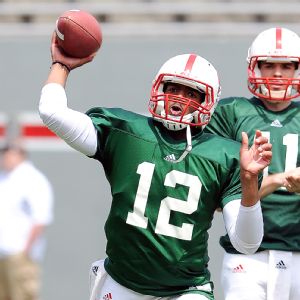 Lance King/Getty ImagesJacoby Brissett's talent and take-charge attitude gave Dave Doeren the confidence necessary to name him NC State's starting quarterback.
Dave Doeren:
Well these guys don't have to be reminded about it, to be honest with you. It's been a really focused offseason. The guys have got a lot of purpose in their actions, and we were a really young and inexperienced and an injured team the year before, and guys went into the offseason and didn't want to have the same experience, and we've done a lot to focus on the things that we need to be better at. But at the same time, it's not a deal where you stand around and consistently talk about what happened last year. I'm a big believer in learning from the past so you don't have to relive it, but at the same time I think there's a point where you kind of focus on what you're doing today and how you're doing it and why you're doing it, not just consistently reminding about negative things, you know?
For you going into your second year here, having last year and a whole recruiting cycle under your belt, what would you say is the biggest difference?
DD:
It definitely helps to be more precise, I think, in exactly what you're trying to replace on your roster. When you go out recruiting a class and you haven't even coached a kid, it's difficult; you're really looking at numbers and 'losing this many of these guys.' But after you coached them for a year you really know this is exactly what we're missing. This is exactly what we have to make ground up in in this league, and here's where the roster is light. And even though there might be numbers there, you don't know the talent because you haven't coached it yet. The ability to be precise, I think, and obviously the routine -- just knowing your surroundings better, knowing the the people, knowing the players, the high school coaches in the area and all the things that go with walking in for a second year.
You knew the margin for error would be pretty thin going into last year. Games like the Clemson game and a couple others where you were close in the fourth quarter certainly come to mind. How do you turn those into building blocks for these guys moving forward?
DD:
We had seven games last year that we lost where in the fourth quarter we were either in the lead or within a touchdown at some point in the fourth quarter. And some of those ended up being blowouts where we lost. But it's easy and with them it's 'All right, here's how close you were, but here's the reason that we didn't finish.' And there's a lot of reasons. For our guys it's I think one thing when you go 3-9 and another when you're able to turn on film and show them how close you were to not being in that situation. And for the guys that played it's very memorable for them because they know things they could've done different. For the guys that were watching as redshirts, I think it's a great learning experience. It's been a huge focal point of our offseason program -- being, I don't know if the right word's 'tougher,' but more resilient and having a greater ability to focus when you're tired in the fourth quarter.
You were quick to declare Jacoby Brissett your starter for 2014. What has he shown you in the past year behind the scenes, and what are you looking forward to seeing out of him this spring?
DD:
He came in last winter, so he went through spring ball and got a lot of reps. There were only two quarterbacks on the roster when I got hired. So we watched him for 15 practices and he got a ton of reps. And then in fall camp he got some reps because you can't let the guys get every throw. And the entire season he was our scout team quarterback, and the way he led that unit, and the things that he did in our locker room -- he personally drove himself to every game because he can't travel or play when he was ineligible. He drove to Tallahassee to see us play Florida State and was in our locker room. He couldn't make it his team because he wasn't the guy, but he did everything he could so they that knew it was his team next year. I thought he showed remarkable maturity, the way he handled it, because that's difficult when you're a player of his caliber and you can't play and you're watching and you know that you couldn't be out there. Other guys would pout and kind of maybe even have some depression, and he was the opposite. Every day he showed up with a just really positive, excited attitude. He studied the game plan each week like he was playing and he would talk to (quarterbacks) coach (Matt) Canada after games about things he saw and things he wished he could've done. He's very excited to play. And I don't want to put undue pressure on him -- he needs to go out and make the plays now -- but there was no question in anyone's mind, not just the coaching staff but the players, that it was going to be his team this year.
Going off that pressure point, what do you think it does for him to know that he's the guy?
DD:
It would probably be a good question for him. I would think as a player you have extreme confidence knowing that your coach thought that way about you, but I think he's known that. ... He's focused more on what he has to do and really how much he can help the guys around him.
June, 19, 2013
6/19/13
10:30
AM ET
The ACC's top two rushers from a year ago -- UNC's Giovani Bernard and Clemson's Andre Ellington, were the only players in the conference to reach the 1,000-yard mark in 2012, and both of them have to be replaced this season.
The ACC does, however, welcome a 1,000-yard rusher to the league. Meet
Jerome Smith
from Syracuse, who ran for 1,171 yards and technically is the ACC's leading returning rusher. Will he be the ACC's top running back in 2013?
Check out the league's top candidates to reach the 1,000-yard mark this fall and cast your votes for which one will be the best. Florida State is deep at running back with
James Wilder Jr
. and
Devonta Freeman
, and Georgia Tech also has plenty of options, but with a by-committee approach, it's difficult to produce a 1,000-yard rusher.

Cast your votes for who you think will be the best this year:
1. Jerome Smith, Syracuse:
He averaged 90.08 yards per game, 5.16 yards a carry and topped the 100-yard mark five times last fall, including four straight games against Connecticut, South Florida, Cincinnati and Louisville. Smith leads a deep, talented group of running backs that also includes
Prince-Tyson Gulley
, who started three games last year and was named the MVP of the Pinstripe Bowl after he racked up a career-high 213 rushing yards and two touchdowns on 24 carries against West Virginia.
Spring quote:
"We have a lot of playmakers at every position on the offense," Smith said. "As you saw last year, we're a fast team. We like to get on the ball and go fast. As Coach [Scott] Shafer said, you go to the bathroom, you might miss something big from our offense this year."
2. Duke Johnson, Miami:
The ACC's Rookie of the Year had 947 rushing yards, 10 touchdowns, and a 6.81 per-play average as a true freshman. His entire offensive line returns. Johnson also set a school single-season record with 892 kick return yards and two touchdowns. He finished with 2,060 all-purpose yards, the second most in program history.
Spring quote:
"As a kid, I always wanted to come here and do great things and be a Miami Hurricane," Johnson said. "Now that I'm doing it, and doing it to the best of my ability, it makes it even more special."
3. Shadrach Thornton, NC State:
He was a pleasant surprise for the Pack, as Thornton led the Wolfpack with 694 yards and three touchdowns as a true freshman -- and he only started four games and missed the first three of the year. He rushed for over 100 yards in four games -- something no Pack back had done since T.A. McClendon in 2002.
Spring quote:
"Yeah, he had a very good freshman year," NC State offensive coordinator Matt Canada said. "And
Tony Creecy
is a great kid, a very durable, solid guy who had a very, very good spring. Those two guys certainly carried most of the load this spring."
4. Andre Williams, Boston College:
He had 584 yards last year, but there are high expectations for him to carry the running game this fall under first-year coach Steve Addazio. BC is thin at the position, so his health and durability will be critical.
Spring quote:
"I thought Andre had one of the best springs of anybody," Addazio said. "The kid is a wonderful guy. I mean, he's bright and he's a terrific person. But I tell you what, he's powerful, he's fast, he's a physical back, and I think the complement of that style of back with the development of our offensive line and the ability to throw the ball with
Chase Rettig
is a nice little combination."
5. A.J. Blue, North Carolina:
He is the heir apparent to Bernard, who left early for the NFL draft. The senior had 433 yards last year, but could share time with
Romar Morris
and true freshman
Khris Francis
, who had a great spring game.
Spring quote:
"A.J. Blue has emerged as a team leader, not just on the offensive side of the ball, but the entire team," coach Larry Fedora said. "A.J. is about 215, 220 pounds, a guy that is going to finish off all his runs. He's going to be the bruiser type of runner, do a nice job of being physical, does a great job in pass protection and can catch the ball well. A.J. is a guy that's really come on for us."
Others considered:
James Wilder Jr., Devonta Freeman,
David Sims
, Josh Harris,
Kevin Parks
.
May, 30, 2013
5/30/13
2:00
PM ET
On Wednesday we started an interview with first-year NC State offensive coordinator Matt Canada. Here is the second part of our interview:
How is the running game looking? Who's coming back?
Matt Canada:
We've got Shad, [
Shadrach Thornton
] Shad's coming back.
Right, he was a nice surprise last year.
MC:
Yeah, he had a very good freshman year. And
Tony Creecy
is a great kid, a very durable, solid guy who had a very, very good spring. Those two guys certainly carried most of the load this spring. And we've got some guys coming in here in the fall, so there will be some freshmen at the skill positions who might be able to have an impact a little faster than the linemen, those types of spots. You never know.
[+] Enlarge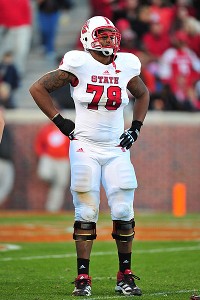 David Scearce /Icon SMIAfter losing four offensive linemen from last season, NC State will be relying on Rob Crisp for leadership.
And how do you look up front?
MC:
That's the key to everything.
Rob Crisp
, he's a guy who played a lot of football. He's a guy coming back, and we're certainly counting on him to be a leader in every way, starting with his play and the way he leads that group. I think he understands that. When you lose four linemen, there's a lot of leadership that left the room. You work through that and understand that. The other guys have played,
Tyson Chandler
has played, [Duran] Christophe, everyone is still competing. Competition is a great thing, and we're going to continue to have it every day until the opener.
Just in general, what was the most challenging thing for you guys this spring?
MC:
I don't know. Putting in a new offense is fun, it's exciting. Spring is the best time of year to do those things. You go out, you just ball. Changing the tempo, we've done it a couple times now -- once at Northern and once here now. Those are things you see and have to work through, those things have been good.
How has Pete [Thomas] done in the no-huddle?
MC:
Very good. He's a smart quarterback, understands it, and has done a good job.
What's your main priority to get done this summer?
MC:
We'll just continue to evaluate the spring film, look at what we did well, decide exactly where we're going to head, and how we're going to attack the season with the players we have. We've got 15 days of film.
You mentioned Asa Watson, what kinds of things can he do in this offense? How does he fit in?
MC:
He can do it all. He blocks well, he can catch the football. I think he's a very versatile player, so I'm excited about him and watching him develop. … He'll be full strength in camp. He's a leader. He's a very good person, a great kid, and a guy we're looking to to lead us.
May, 29, 2013
5/29/13
3:30
PM ET
Matt Canada is in his first season as NC State's offensive coordinator, but he has held the same title for each of the past three seasons at three different schools -- Indiana, Wisconsin and most recently, Northern Illinois. I spoke with Canada to get his take on what he saw from the Wolfpack's offense this spring. Here are the highlights of our conversation:
How much growth did you see, not just from the quarterbacks, but from everybody learning the offense?
[+] Enlarge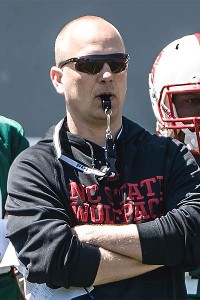 Photo courtesy of NCSU AthleticsMatt Canada, entering his first season at NCSU, says the offense aims for balance, but will work with the talent that's present.
Matt Canada
: A lot. Football is the same game. We all run the same plays, but the terminology is different, and that's hard. And we went from being a team that huddles to a team that doesn't huddle. There's a process. I thought we did a great job this spring, and they got better every day. We have all summer they can work on it on their own, and that will be huge to see the kind of growth the team makes when we can't work with them. We have a long way to go, but it was a very good spring.
How do your receivers look?
MC:
We certainly have talent out there. We have a lot of catches returning with [Quinton] Payton coming back, [Bryan] Underwood has a bunch of touchdowns. Rashard [Smith] probably had the most explosive spring. We saw him make some electric plays with the ball in his hand, and it was exciting to see. Then we had some other guys who came along. Maurice [Morgan] showed some things. So we've got a bunch of guys there, it's just a matter of who steps up and makes plays when it counts, and we had a couple of guys do that in the spring game. We didn't show much on offense, but tried to have fun and let the guys play a bit. It will be fun to see what they do next fall.
I know most coaches say they like to be balanced because running the ball opens things up in the passing game, but do you lean toward one thing or another as a point of emphasis in your offense?
MC:
No. Like you said, we all coachspeak a little bit on it, but I believe it depends on your talent. When you look at our offense, it's evolved from place to place. Our offense at Indiana when I was there, we certainly threw the ball more than we ran it because of the talent we had, the receivers we had, the quarterback we had. When we went to Northern Illinois, that offense continued on, and became more quarterback run and we were balanced. It was a different kind of run. And last year at Wisconsin it was very heavy run because of the talent we had. So I think our offense has proven over time that we'll find what our kids do well. At this point, we're going in, and in a perfect world it would be totally balanced, 50-50 yardage, plays, the whole deal, but we know that won't happen. I don't know yet, but we do have some receivers coming back.
Asa Watson
, our tight end, was out. He got nicked up, but with a tight end returning, we have good feelings towards him and think he'll be able to help us out a bit. We know we have to run the ball. You have to run the ball to win, we all know that.
Now that you've seen them this spring, do you feel like the personnel you do have fits what you guys want to do, or will you tweak things until you have had the time to recruit for what you want to do?
MC:
I think you're always tweaking. It just depends on what our players do well. We've got good talent, we've got good players. We want to recruit as good a player as we can get. There are certainly some spots we need more depth, but we're going to do a great job with the ones we've got, find what they do well and do that.
Check back tomorrow for Part II of this conversation.
April, 24, 2013
4/24/13
4:00
PM ET
If this spring was any indication of what NC State's depth chart will look like for the season opener against Louisiana Tech, then quarterback
Pete Thomas
is your guy. Thomas, who sat out last year per NCAA transfer rules, took the most reps with the first team this spring.
Infer what you will, but the new coaching staff isn't quite ready to name Thomas the starter.
As far as offensive coordinator/quarterbacks coach Matt Canada is concerned, the job remains wide open heading into summer camp.

"Pete Thomas is certainly a guy who's played a lot by playing at Colorado State," Canada said. "Experience is certainly a leg-up for him. Manny [Stocker] played here last year and that gives him the advantage of playing in it, but neither one of them has played in our system with our terminology. Both of them had good moments this spring, and both of them have things to work on. That's something we'll take through and see how we come out of camp. We have a couple of freshmen coming in, and they'll have a shot as well, so it's kind of a work in progress."
Thomas definitely has the edge in experience, as he was a two-year starter at Colorado State, where he threw for 4,269 yards and 18 touchdowns and completed 63.5 percent (414-652) of his passes. He also had an efficiency rating of 121.17 and three rushing touchdowns. He broke the CSU single-season record with a .647 completion percentage as a freshman. Stocker played in five career games as Mike Glennon's backup last year. He ran three times for 32 yards against Wake Forest, but his career-high is 17 snaps against The Citadel.
"Pete's more of a traditional drop-back quarterback," Canada said. "Manny has more of an athletic skill set to do some different things. It all works into what we're going to be, and we continue to say we'll be whatever our players are. That's what we spent the spring doing -- what can this quarterback do, what can this wideout do? Just trying to find out what each guy did well and we'll spend a lot of time this summer deciding exactly what we focus on from there."
And who is the focus at quarterback.
March, 28, 2013
3/28/13
12:00
PM ET
Day 2 in Tally. Looking forward to my favorite pie at Food Glorious Food.
March, 19, 2013
3/19/13
9:00
AM ET
NC State opens spring practice today with many questions to answer on both offense and defense. The biggest, of course, is at quarterback, where the race is on to replace
Mike Glennon
.
Manny Stocker
and
Pete Thomas
are your top two candidates.
I had a chance to catch up with new coach Dave Doeren to ask him about a wide variety of topics leading into spring. Quarterback dominated the conversation. Here is a little of what he had to say.
On offense, you have a rebuild job with Mike gone and some questions at receiver, along with a lack of depth at running back. How do you see yourselves developing an offensive identity, knowing you have to find some playmakers?
[+] Enlarge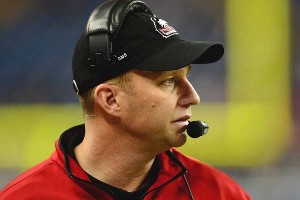 Andrew Weber/USA Today SportsNew NC State coach Dave Doeren has a quarterback competition on his hands.
DD:
It won't happen overnight. There's going to be competition, as you mentioned, the quarterback. Looking forward to watching how that unfolds. Those guys have been great this offseason, getting around (offensive coordinator Matt) Canada, and trying to learn all the new terminology and the way he likes things done at the position. Playmakers will definitely show up. Some of the guys are starting to emerge already. Some of these seniors are seeing the light. You're starting to see them emerge and become the guy I'm sure everyone wanted them to be all along. We will not be a shell of what we're going to be during the spring. That's a big learning process not just for the players because they've got to know what we expect from practice but from the coaching standpoint we're going to do what we do and then we're going to tweak it after we know what the strengths and weaknesses of our club are.
So how are you going to evaluate the quarterback competition when you have a pro-style guy in Pete Thomas and Manny can be more of a dual-threat?
DD:
They're totally different guys. All the run game we have because we are a Pistol offense, we have the ability to turn around to hand off just like you would under center as a pro-style quarterback, and we also have the ability to read those plays. So nothing will change for the backs, or the o-line or the tight ends or the receivers. It's just based on what quarterbacks' in there, it could be a zone read in a zone, it could be a power read. All those things, both quarterbacks will have to know both.
Do you envision having an answer at quarterback at the end of spring?
DD:
From a coaching standpoint, it'd be great to know by the end of the spring, but I'm not sure that's realistic yet, until we go out there and see the guys compete.
What are you looking for out of each guy once you get to see them on the field?
DD:
Well, the quarterback has to manage the game. He has to put us in positions not to hurt our defense. Obviously, you want to see him run the offense the way Matt wants it run from an efficiency standpoint, making good decisions, not forcing throws. Just really playing within the system. It doesn't have to be anything special it just can't be somebody that screws it up. Until they can let their God given ability take over, sometimes a guy will press and try to do too much and end up hurting the team. Early on, can you manage the game, can you get the ball to the playmakers, and do the things the offense tells you to do based on numbers. Hopefully those guys will be able to do it, but I know it takes time. The last two guys I had didn't walk in and play great the first day of practice.
Is Pete going to be asked to run a little bit more than he has in the past because of some of the things you like to do?
DD:
Possibly. He's not going to do what
Jordan Lynch
did. Pete's not Jordan. They're different guys. But we're also going to use defensive numbers and if people want to take everybody out of the box, there's times when he can run a draw and things like that. It's more what you saw probably with what Matt had to do as Wisconsin when he had guys who weren't as agile. We'll just have to see until we get out there and watch the move around with people chasing him how well he can avoid guys and run the football.
Collin Klein
wasn't a guy who ran a 4.5 either and he ran the ball pretty good for K-State. Pete's a tough kid so if he can help us running the ball some, he will.
February, 15, 2013
2/15/13
9:00
AM ET
Pete Thomas
packed his bags and moved across the country for the opportunity to play quarterback at NC State, deciding to leave Colorado State behind after his coach was fired.
The draw at NC State? Tom O'Brien and Dana Bible, two coaches who run a pro-style scheme that best suits what Thomas can do. He knew he had to sit out 2012, but with
Mike Glennon
playing his final season, Thomas would be able to compete for a shot to start in 2013.
Perfect timing. Until the end of November.
What do they say about the best-laid plans?
[+] Enlarge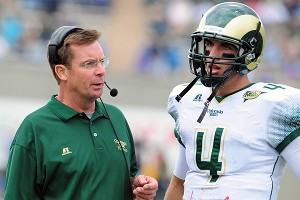 Ron Chenoy/USA TODAY SportsQB Pete Thomas, who started his college career at Colorado State with coach Steve Fairchild, left, is now competing for the starting job at NC State.
O'Brien was fired. Bible did not return. De ja vu hit Thomas, going through his second coaching change in three years. Now all of a sudden the coach he came to play for was gone, and Thomas had to swallow hard and find a way to stay positive.
"Obviously, when I decided to come here, I was hoping to play for Coach O'Brien and committed here to play for Coach O'Brien and their staff," Thomas told ESPN.com in a recent phone interview. "A lot of guys have a lot of respect for them and like them, but it didn't work out that way. Everybody loves the new staff, and we're all excited to finally get on the field with them."
Thomas and
Manny Stocker
, who served as the backup last season, appear to be the early front-runners headed into spring practice. But along with the staff change comes a scheme change. Where Thomas fits perfectly into a pro-style offense, new coach Dave Doeren is more known for his spread offense and mobile quarterbacks.
When asked how he would fit into this particular scheme, Thomas brushed off any concerns.
"Coach (Matt) Canada's offense and Coach Doeren, they've shown they can do multiple things," Thomas said. "At Indiana, they threw the ball a lot, at NIU they had running quarterbacks, at Wisconsin, they had a drop-back passer. They adapt to what their players can do, and they're going to continue to do that through the spring and the fall."
Thomas was one of the highest rated quarterbacks coming out of high school in California, and decided on Colorado State because he liked then-coach Steve Fairchild and thought he would have the chance to play right away. He did, starting as an 18-year-old true freshman. Though there were ups and downs, Thomas threw for 2,662 yards and broke the school single-season record with a .647 completion percentage.
His sophomore season was tougher. Colorado State went 3-9; Thomas missed the final three games of the season because of an injury. Fairchild was fired at the end of the season. Thomas said that was the overriding factor in his decision to transfer.
Sitting out last season was difficult. But at the same time, he had a chance to take a step back and work on his own game, and learn from Glennon. Because Thomas was thrown right into the lineup as a young player, he had to learn on the job. His mistakes were there for everyone to see. Sitting out made him a little bit wiser.
"I liked playing early," Thomas said. "I got a lot of experience on the field, but you can gain a lot from redshirting and sitting out the year and developing. I also got to grow physically, something I never really got to do playing right away."
It has not been lost on Thomas that Fairchild is now in the ACC, too, as an assistant at Virginia. Years after their lives went in different directions, both will now attempt to start over, thousands of miles away from Colorado.
December, 15, 2012
12/15/12
4:00
PM ET
As mentioned in a
post earlier Saturday
, several Wisconsin assistants are making moves or considering them as the school's search for a head coach continues.

One of those assistants, offensive coordinator Matt Canada, has made his decision. He'll be
joining NC State in the same capacity
.
Canada reunites with Dave Doeren, whom he worked for at Northern Illinois in 2011. Canada will remain with Wisconsin through the Rose Bowl Game presented by VIZIO.
He had an up-and-down season at Wisconsin, drawing some criticism early on as the offense struggled but plenty of praise for calling a brilliant game in the Big Ten championship against Nebraska.
ACC SCOREBOARD
Saturday, 12/20
Monday, 12/22
Tuesday, 12/23
Wednesday, 12/24
Friday, 12/26
Saturday, 12/27
Monday, 12/29
Tuesday, 12/30
Wednesday, 12/31
Thursday, 1/1
Friday, 1/2
Saturday, 1/3
Sunday, 1/4
Monday, 1/12
Tweets from https://twitter.com/ESPNCFB/lists/acc