ACC:

Matt Canada interview
May, 30, 2013
May 30
2:00
PM ET
On Wednesday we started an interview with first-year NC State offensive coordinator Matt Canada. Here is the second part of our interview:
How is the running game looking? Who's coming back?
Matt Canada:
We've got Shad, [
Shadrach Thornton
] Shad's coming back.
Right, he was a nice surprise last year.
MC:
Yeah, he had a very good freshman year. And
Tony Creecy
is a great kid, a very durable, solid guy who had a very, very good spring. Those two guys certainly carried most of the load this spring. And we've got some guys coming in here in the fall, so there will be some freshmen at the skill positions who might be able to have an impact a little faster than the linemen, those types of spots. You never know.
[+] Enlarge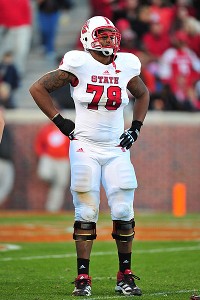 David Scearce /Icon SMIAfter losing four offensive linemen from last season, NC State will be relying on Rob Crisp for leadership.
And how do you look up front?
MC:
That's the key to everything.
Rob Crisp
, he's a guy who played a lot of football. He's a guy coming back, and we're certainly counting on him to be a leader in every way, starting with his play and the way he leads that group. I think he understands that. When you lose four linemen, there's a lot of leadership that left the room. You work through that and understand that. The other guys have played,
Tyson Chandler
has played, [Duran] Christophe, everyone is still competing. Competition is a great thing, and we're going to continue to have it every day until the opener.
Just in general, what was the most challenging thing for you guys this spring?
MC:
I don't know. Putting in a new offense is fun, it's exciting. Spring is the best time of year to do those things. You go out, you just ball. Changing the tempo, we've done it a couple times now -- once at Northern and once here now. Those are things you see and have to work through, those things have been good.
How has Pete [Thomas] done in the no-huddle?
MC:
Very good. He's a smart quarterback, understands it, and has done a good job.
What's your main priority to get done this summer?
MC:
We'll just continue to evaluate the spring film, look at what we did well, decide exactly where we're going to head, and how we're going to attack the season with the players we have. We've got 15 days of film.
You mentioned Asa Watson, what kinds of things can he do in this offense? How does he fit in?
MC:
He can do it all. He blocks well, he can catch the football. I think he's a very versatile player, so I'm excited about him and watching him develop. … He'll be full strength in camp. He's a leader. He's a very good person, a great kid, and a guy we're looking to to lead us.
May, 29, 2013
May 29
3:30
PM ET
Matt Canada is in his first season as NC State's offensive coordinator, but he has held the same title for each of the past three seasons at three different schools -- Indiana, Wisconsin and most recently, Northern Illinois. I spoke with Canada to get his take on what he saw from the Wolfpack's offense this spring. Here are the highlights of our conversation:
How much growth did you see, not just from the quarterbacks, but from everybody learning the offense?
[+] Enlarge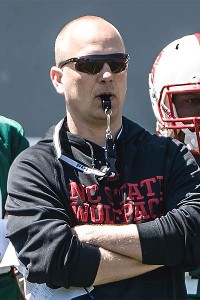 Photo courtesy of NCSU AthleticsMatt Canada, entering his first season at NCSU, says the offense aims for balance, but will work with the talent that's present.
Matt Canada
: A lot. Football is the same game. We all run the same plays, but the terminology is different, and that's hard. And we went from being a team that huddles to a team that doesn't huddle. There's a process. I thought we did a great job this spring, and they got better every day. We have all summer they can work on it on their own, and that will be huge to see the kind of growth the team makes when we can't work with them. We have a long way to go, but it was a very good spring.
How do your receivers look?
MC:
We certainly have talent out there. We have a lot of catches returning with [Quinton] Payton coming back, [Bryan] Underwood has a bunch of touchdowns. Rashard [Smith] probably had the most explosive spring. We saw him make some electric plays with the ball in his hand, and it was exciting to see. Then we had some other guys who came along. Maurice [Morgan] showed some things. So we've got a bunch of guys there, it's just a matter of who steps up and makes plays when it counts, and we had a couple of guys do that in the spring game. We didn't show much on offense, but tried to have fun and let the guys play a bit. It will be fun to see what they do next fall.
I know most coaches say they like to be balanced because running the ball opens things up in the passing game, but do you lean toward one thing or another as a point of emphasis in your offense?
MC:
No. Like you said, we all coachspeak a little bit on it, but I believe it depends on your talent. When you look at our offense, it's evolved from place to place. Our offense at Indiana when I was there, we certainly threw the ball more than we ran it because of the talent we had, the receivers we had, the quarterback we had. When we went to Northern Illinois, that offense continued on, and became more quarterback run and we were balanced. It was a different kind of run. And last year at Wisconsin it was very heavy run because of the talent we had. So I think our offense has proven over time that we'll find what our kids do well. At this point, we're going in, and in a perfect world it would be totally balanced, 50-50 yardage, plays, the whole deal, but we know that won't happen. I don't know yet, but we do have some receivers coming back.
Asa Watson
, our tight end, was out. He got nicked up, but with a tight end returning, we have good feelings towards him and think he'll be able to help us out a bit. We know we have to run the ball. You have to run the ball to win, we all know that.
Now that you've seen them this spring, do you feel like the personnel you do have fits what you guys want to do, or will you tweak things until you have had the time to recruit for what you want to do?
MC:
I think you're always tweaking. It just depends on what our players do well. We've got good talent, we've got good players. We want to recruit as good a player as we can get. There are certainly some spots we need more depth, but we're going to do a great job with the ones we've got, find what they do well and do that.
Check back tomorrow for Part II of this conversation.