December, 26, 2013
12/26/13
9:45
PM ET
Pitt withstood the loss of quarterback
Tom Savage
and held off Bowling Green,
30-27
, to win the Little Caesars Pizza Bowl in Detroit and clinch its first winning record (7-6) under second-year coach Paul Chryst. Here is how it went down.


It was over when:
Chris Blewitt
hit a 39-yard field goal to give Pitt the 30-27 lead with 1 minute, 17 seconds left in the game. Blewitt went 3-for-4 on the night and was 2-for-3 in the second half. On Bowling Green's ensuing drive,
Aaron Donald
and
Tyrone Ezell
came up with consecutive sacks of
Matt Johnson
to set up a fourth-and-40 with 31 seconds left. The Falcons' desperate, multi-lateral attempt from their end zone was entertaining for a few seconds, but it eventually ended with the Panthers taking over possession to secure the win.
Game ball goes to:
James Conner
was absolutely phenomenal for Pitt, carrying the ball 26 times for 229 yards and a touchdown. The 6-foot-2, 230-pound Conner broke Tony Dorsett's school record for rushing yards for a bowl game (202, set versus Georgia in the 1977 Sugar), with the true freshman accounting for nearly half of what he gained through 12 regular-season games this season (570). Oh, and as a pass-rusher on Bowling Green's final possession, Conner drew a crucial hold on
Jacob Bennett
that preceded Pitt's back-to-back sacks.
Stat of the game:
Pitt outgained Bowling Green by a margin of 487 yards to 290. Considering that the Falcons entered the contest atop the Mid-American Conference in every single major defensive category (No. 8 nationally in total D), and considering that the Panthers were without their starting quarterback for much of the contest,
and
considering that Bowling Green was coming off a 574-yard performance at Ford Field in its previous outing, against Northern Illinois, this was nothing short of staggering.
Unsung hero:
Chad Voytik
stepped in when Savage went down with a rib injury and delivered a performance that had to have put a smile on Pitt fans' faces. The redshirt freshman completed 8 of 13 passes for 124 yards and carried it two times for 24 yards with a touchdown. Can't ask for much more than that.
What it means for Pitt:
The Panthers exit Year 1 of the ACC era with a winning record, showing tangible progress under the Chryst regime in Year 2. More importantly, they closed out the 2013 season with young faces dominating the show. While Donald, Savage and
Devin Street
will all be missed, Voytik and Conner made big plays all night, and true freshman
Tyler Boyd
further cemented himself as one of the top receivers in the nation to keep an eye on moving forward, as he closed his rookie campaign with eight catches for 173 yards and a 54-yard punt return for a touchdown.
What it means for Bowling Green:
Forget about this and move forward. The Falcons had a wonderful season, winning their first MAC title in 20 years and ruining then-undefeated NIU's BCS-bowl hopes. Their coach, Dave Clawson, got the head-coaching job at Wake Forest for his efforts. (Adam Scheier served as interim coach for this game.) And while the defense will not like the way this season ended, there is plenty ahead to be excited about, especially on offense, as Johnson (20-of-32, 273 yards, two touchdowns, no turnovers Thursday) returns for his redshirt junior season under new coach Dino Babers, whose quarterback lineage includes FCS player of the year
Jimmy Garoppolo
(Eastern Illinois) and Heisman Trophy winner Robert Griffin III (Baylor).
To watch the trophy presentation of the Little Caesars Pizza Bowl, click
here
.
December, 26, 2013
12/26/13
9:00
AM ET
Pitt and Bowling Green square off at 6 ET Thursday night in the Little Caesars Pizza Bowl. Here are a few players, keys and storylines to watch when action kicks off in Detroit:


Who to watch:
Pitt defensive tackle
Aaron Donald
takes the field for his final college game after a regular season that saw him win four national awards and earn unanimous All-America honors, becoming the school's first player to gain that distinction since
Larry Fitzgerald
in 2003. Donald is capable of changing a game in a number of ways, disrupting the backfield (26.5 tackles for loss) while taking down quarterbacks (10 sacks). And the man he will be chasing, Falcons signal-caller
Matt Johnson
, is a dual-threat gunslinger who is coming off a statement win in the MAC title game.
What to watch:
Bowling Green returns to Ford Field less than three weeks after winning the league title in a surprising rout over Northern Illinois. Johnson, its quarterback, completed 21 of 27 passes and tallied 426 total yards and five touchdowns in the 47-27 upset. In his first full season as a starter, the sophomore has completed better than 64 percent of his passes for 3,195 yards with 23 touchdowns and seven interceptions. Johnson has rushed for 268 yards and five more scores as well. The undersized Harrisburg, Pa., native
did not receive an offer from the Panthers
coming out of Bishop McDevitt, and a number of his Falcons teammates from Pennsylvania were overlooked by the in-state school as well. This
has not been lost on them
as they look to take down an ACC opponent before entering a 2014 campaign with very large expectations.
Why to watch:
As good as Johnson has been, Bowling Green has gotten this far because of its defense, which leads the MAC in scoring D, total D, rushing D and passing D. That last category is one to keep a close eye on, as Pitt boasts a pair of extremely talented receivers in
Devin Street
and
Tyler Boyd
, both of whom senior quarterback
Tom Savage
developed an early rapport with in his first year as the starter, helping the Panthers get to another bowl in coach Paul Chryst's second season -- no small feat considering the step up to the ACC this year from the Big East. Pitt also has a signature victory over Notre Dame on its resume.
Prediction:
Bowling Green 31, Pitt 26. With interim coach Adam Scheier at the helm, the Falcons offense gets off to a hot start and delivers a win that leads to plenty of hype entering Year 1 of the Dino Babers era in 2014.
December, 23, 2013
12/23/13
9:00
AM ET
The story that best encapsulates
Matt Johnson
's emergence as perhaps the latest Mid-American Conference quarterback prodigy is told by one of his high school coaches.
Throughout Harrisburg (Pa.) Bishop McDevitt's 2010 season, head coach Jeff Weachter and assistant Dick Shiner had spoken about the resilience of Shiner's friend Frank Reich, who, like Shiner, was a Maryland product who went on to the NFL. With the Terrapins, Reich engineered a 31-point comeback win over Miami, then an NCAA record. Later with the Bills, the quarterback helped Buffalo dig out of a 32-point hole in a playoff game to top the Houston Oilers, an NFL record.
With this in mind, and with Bishop McDevitt trailing Erie (Pa.) Cathedral 21-3 as it left the locker room for the second half of the state semifinals, a knowing smile flashed across Johnson's face as he returned to the sideline.
"Hey Coach," Weachter recalled Johnson saying, "Frank Reich."
[+] Enlarge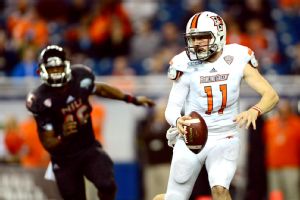 Andrew Weber/USA TODAY SportsBowling Green's Matt Johnson was considered too short to be a big-time quarterback, a slight he hopes to remind home-state Pittsburgh about in the Little Caesars Bowl.
Two quarters and 21 unanswered points later, Johnson had authored a Reich moment of his own, a 24-21 victory that helped cement his prep legend. That tale tapped out, as most eventual MAC sagas do, with the quarterback lacking the physical measurements to wow most college suitors. Johnson's height (6 feet) scared away many bigger schools, including Pitt. It left him down to Temple and Bowling Green, with the Harrisburg native choosing the Falcons.
It now has the redshirt sophomore set to square off against the state school that passed on him, as Bowling Green will face Pitt in Thursday's Little Caesars Bowl. Johnson hid little with that matchup on the horizon,
tweeting his hopes to play Pitt
in the hours before the game became official.
Johnson has no ill will toward the current Pitt staff, which is in its second year there. He counts several Panthers players as friends and high school peers. But this game is a chance for him to deliver another signature performance against a BCS-conference opponent, and it just happens to be in Detroit, where he left a huge impression earlier this month.
"Hey, right up the road, not too bad, especially the way that we ended our season," Johnson said with a laugh. "Definitely good memories up there, and it'll be nice to [try to] add another good memory on the 26th."
On Dec. 6, Johnson completed 21 of 27 passes and tallied 426 total yards and five touchdowns in a 47-27 rout over undefeated Northern Illinois, ruining the Huskies' BCS hopes and delivering Bowling Green its first MAC title in 21 years. Johnson has drawn plenty of attention after outdueling NIU's
Jordan Lynch
, who finished third in the Heisman Trophy voting.
If there were such a thing as an overlooked player within his overlooked league, Johnson was just that entering Ford Field more than two weeks ago.
"Jordan deserved all the credit that he was getting and all the publicity, and I personally thought he deserved to be in New York," Johnson said. "But I did have a little chip on my shoulder because it was like Bowling Green was the team that Northern Illinois was playing. It wasn't really like we have a chance to win a MAC championship. If we won, it was going to be a huge upset and everybody was just really talking about how Northern Illinois was going to bust the BCS for the second year in a row."
Weachter said college coaches several years ago uttered the phrase, "if he were just two inches taller" so often that he considered printing Johnson a T-shirt to wear to every college camp he would attend, simply stating: "I Know." Weachter said he has since heard from several college coaches who are sorry they passed on Johnson, whom he calls the best leader he's ever coached. (That list of pupils includes NFL leading rusher LeSean McCoy.)
Johnson went to junior high with Pitt center
Artie Rowell
, playing little league baseball and basketball with him before Rowell went to rival Central Dauphin. Johnson played in the Big 33 Classic, a Pennsylvania all-star game, with current Panthers cornerback
Lafayette Pitts
and defensive lineman
Ejuan Price
.
"I'm very happy for him," Rowell said. "I'm glad he's doing what he's doing. His high school has a proud tradition of putting guys in a position to be successful, as do many other high schools in our area. Personally, I couldn't wish him more success."
Pitts, describing how to defend Johnson, said:
"Get pressure on him, first and foremost. And just contain to keep him inside the pocket because he can move with his legs, but he also has a strong arm, too. So coverage-wise we're going to have to be tight as well."
Special teams coordinator Adam Scheier is serving as interim coach for Bowling Green, as Dave Clawson left to become head coach at Wake Forest. To replace Clawson, Bowling Green hired Dino Babers last week from Eastern Illinois. There, Babers tutored FCS player of the year
Jimmy Garoppolo
at quarterback. Before that, he helped coach Robert Griffin III as a Baylor assistant during Griffin's Heisman Trophy season.
All of that could very well indicate that #MACtion could already have its marquee quarterback and program lined up to carry the conference's torch in 2014. But for now, Johnson and his Falcons are champing at the bit for their latest chance to play the role of "that other team" on the day after Christmas.
"It'll be a nice opportunity because there's guys on the team that are actually from Pittsburgh, and they didn't receive an offer from Pitt, either," Johnson said. "It kind of hurts a little bit when you're coming out of high school and you don't receive an offer from your home state. But we are happy with where we're at, and we wouldn't change it for the world. But it will be nice to play against your home state and kind of show them, I could've been here, but I didn't get that opportunity, but I'm going to make the most of playing against you guys."
December, 9, 2013
12/09/13
12:00
PM ET
December, 9, 2013
12/09/13
10:00
AM ET
That wraps it up. The regular season is over, and the bowl lineup is set. Let's see how we ended up here as we take one last look back at the week that was in our weekend rewind.
The good:
What's not to love about this past weekend if you're from the ACC? The conference set an NCAA record by placing 11 teams in bowl games. That's topped, of course, by No. 1 Florida State, which is bound for the VIZIO BCS National Championship, where it will face No. 2 Auburn. The ACC broke its NCAA record of 10 teams in bowls, which was set in 2008. (The league also placed seven of its nine teams in bowls in 2002, which was then the NCAA's highest bowl participation percentage ever, at .778.)
[+] Enlarge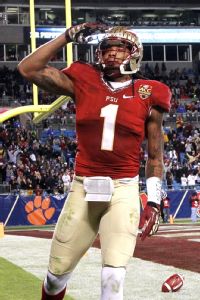 AP Photo/Bob LeveroneKelvin Benjamin and No. 1 Florida State head an impressive group of 11 ACC bowl teams.
The bad:
It is tough to be really harsh on Duke considering just how many firsts the program accomplished this season. That said, the Blue Devils did themselves few favors to make it a game Saturday in a 45-7 loss to Florida State.
Ross Martin
missed a 48-yard field goal on Duke's third possession that would have broken a scoreless tie.
Anthony Boone
threw two interceptions.
Kelby Brown
dropped a potential interception. Duke did come up with two on the night, but could not manage any points from them. Redshirt senior right tackle
Perry Simmons
left the game with a torn ACL and a torn MCL in his left knee. The two-time All-ACC selection had started 50 consecutive games.
The records:
Jameis Winston
broke FBS records for both passing yards and passing touchdowns by a freshman, as the Heisman Trophy front-runner was 19-of-32 for 330 yards with three touchdowns (and two interceptions) to finish with 3,820 passing yards and 38 passing touchdowns in the regular season. Duke receiver
Jamison Crowder
set a program single-season record in receiving yards Saturday and finished with 1,197. Florida State kicker
Roberto Aguayo
's 45-yard second-quarter field goal helped him set an ACC record with 142 points.
The added bonus:
The ACC title game had just kicked off when our Joe Schad
reported that Seminoles coach Jimbo Fisher had agreed to a five-year, $21 million contract extension
with the program. Athletic director Stan Wilcox confirmed after the game that a deal had been reached, with details still being finalized. Just another bit of great news for the Seminoles on a night with no shortage of it.
Bowl subplots to watch:
Boston College's
Andre Williams
(329) and Arizona's
Ka'Deem Carey
(322) lead the nation in carries and will square off in the AdvoCare V100 Bowl. … Bowling Green quarterback
Matt Johnson
will get a shot at his in-state program, Pitt, in the Little Caesars Pizza Bowl. … Miami can see its hometown product,
Teddy Bridgewater
, up close and personal in what could be the Louisville quarterback's final game, the Russell Athletic Bowl. (The teams face each other next year, too, when the Cardinals join the ACC.) … Let's not overlook the obvious historical note when Ohio State and Clemson meet in the Discover Orange Bowl, either, as the programs will meet for the first time since the 1978 Gator Bowl, which ended up being Woody Hayes' final game after the coach punched Tigers linebacker Charlie Bauman.
March, 18, 2013
3/18/13
11:15
AM ET
Virginia
released its depth chart today
and -- surprise -- quarterback
Phillip Sims
is listed third behind
David Watford
and
Greyson Lambert
.
[+] Enlarge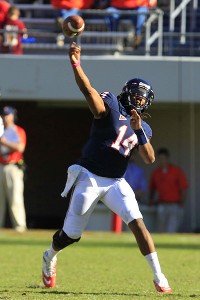 AP Photo/Steve HelberDespite starting four games for the Cavaliers last season, Phillip Sims is still having to compete for the role of UVa's starting quarterback.
That lineup carries about as much weight as a snowflake right now.
Why? Because first-year offensive coordinator Steve Fairchild, and first-year assistant Tom O'Brien, the associate head coach for the offense -- not to mention coach Mike London -- have yet to see any of these quarterbacks throw the ball in the new system. Sims, a former transfer from Alabama, was a fan favorite last year, but there is nothing concrete about the spring depth chart. It's a blank slate for each of them, as practices begin today in Charlottesville.
"The great thing about the fresh start is for all of those guys concerned because now there are fresh eyes on the whole quarterback situation," London said. "… With this new scheme and system, and the accountability we're placing on the players, there are basically three fresh eyes between Larry Lewis, Fairchild and O'Brien. I would say even the fourth one would be Jon Tenuta, since he'll be going against these guys, to evaluate those quarterbacks on who could best run the system, who can best make the decisions that are necessary."
Watford played as a true freshman in 2011 but redshirted last year. Sims started four games last year in place of
Michael Rocco
, who has since transferred. Sims finished with nine touchdowns and four interceptions, having completed 56.2 percent of his passes for 1,263 yards. Lambert and
Matt Johns
are both redshirt freshmen.
"Phillip has an advantage of having played this season, David has the advantage of having played and watched what has gone on, and Grayson and Matt Johns are just soaking everything up," London said. "Now the challenge will be who can best pick up the system and who can do the things that are required for our offense to be successful. I think the evaluation of that is more critical than the who right now. Who can handle what Steven and the offensive coaches are going to be asking of the quarterbacks?"
The bigger question is if London can find one quarterback who can do it instead of two. Rotating signal callers has become an unpopular trend in Charlottesville, but in London's defense, a true star has yet to emerge. Virginia's quarterback competition has been an ongoing storyline during London's tenure as head coach, and the saga will continue this spring -- starting with today's depth chart.
"I think Phillip is a competitor," London said. "He wants to compete. I know he has a strong arm, and he likes to throw the ball deep. He likes to throw those deep, intermediate routes. Like every player, particularly a quarterback, it's a timing game and you have to work on your timing -- when to throw, when to pull it down. Different things like that. I think that if you think about it, having come from Alabama, and coming to us, and now with Steve Fairchild, it will be basically his third system in the last three years that he's played. Being able to adapt to that is going to be critical, as it will be for David, who sat and watched a system. With Phillip and everyone else, the learning curve is going to be important with these 15 short practices we have in the spring."
ACC SCOREBOARD
Saturday, 12/27
Saturday, 12/20
Monday, 12/22
Tuesday, 12/23
Wednesday, 12/24
Friday, 12/26
Monday, 12/29
Tuesday, 12/30
Wednesday, 12/31
Thursday, 1/1
Friday, 1/2
Saturday, 1/3
Sunday, 1/4
Monday, 1/12
Tweets from https://twitter.com/ESPNCFB/lists/acc