March, 4, 2013
3/04/13
9:00
AM ET
Duke starts spring practices today and it does so with plenty of questions as the program tries to build upon last year's postseason success of making it to a bowl game for the first time since 1994. Gone are quarterback
Sean Renfree
and his favorite target, record-setting receiver
Conner Vernon
, and there have also been several staff changes. I spoke with coach David Cutcliffe to get his take on the state of the program heading into spring ball, and we talked at length about a variety of topics. Here are the highlights of the first part of our interview:
[+] Enlarge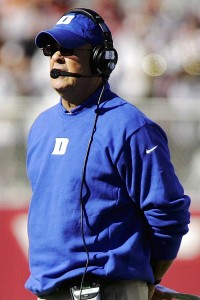 Peter Casey/US PresswireCoach David Cutcliffe has his hands full this spring season, as new coaches and new players get acclimated to Duke football.
From an insider's perspective, how big of a deal are these staff changes and what kind of an impact do you hope they make?
David Cutcliffe:
We lost two great people in Ron Middleton and Matt Lubick. You can trade different, but you can never trade down when you make staff hires. That's one of my rules. I don't have to have an identical match. In this case, we certainly traded a little different, as you look at it, but we did not trade down. I think the impact, we have two North Carolinians, two former Duke football players there (Re'quan Boyette and Scottie Montgomery). They've invested their athletic careers here at Duke, both of them great players in this state, groomed in this state. They will have a lot of energy and enthusiasm on the practice field. Scottie is 34, Re'quan 26. When you're getting as old as I am, you need to surround yourself with young people. I love it. I truly do. I think their energy is going to be infectious to our squad.
What are your top priorities heading into practices?
DC:
We've got to look at the offensive side first, and get our people in the right place to replace playmakers, a guy who started at quarterback for three years. Our all-time leading receiver in the history of the ACC. And an unusual athlete in
Desmond Scott
, a guy who produced a lot of yards in receptions and rushing, one of the top three in the history of the league in that regard -- rushing yards, return yards, and reception yards. You can't ignore that. We're going to look at people. We're going to move
Brandon Braxton
back to offense, who started for us two years ago and played as a true freshman. We've got some other people who mix in there well. We will certainly accentuate
Jamison Crowder
. We've got to solidify our circumstances at quarterback.
Anthony Boone
comes in this spring as the starter. We have some talented people around him, so I expect this team to be a very athletic team on offense.
On defense, certainly the attention goes first to the secondary, where we have to replace three starters there,
Tony Foster
at corner,
Jordon Byas
and
Walt Canty
at safety. I think we've got a good start there. The biggest concern I have other than the secondary is building quality and depth. It's going to be interesting. On both sides of the ball, we've gotten better. We've run it a little better, and we've got to continue that path offensively, but we've got to stop the ball being run against us, particularly in big plays. And then we certainly have to stop explosives on the defense in the passing game. That's our areas of biggest emphasis.
Check back in a bit for Part II.
January, 30, 2013
1/30/13
1:00
PM ET
It is never good news when you lose your top recruiter a week before signing day, but that is the predicament Duke finds itself in today.
Receivers coach/recruiting coordinator Matt Lubick has taken a
similar job at Oregon
, leaving the Blue Devils after three seasons and most notably, a historic 2012 campaign for the passing game. Duke had the only trio of players in the nation with 60 or more catches this past season; Jamison Crowder (1,074) and Conner Vernon (1,074) became just the second duo in ACC history to post 1,000 or more receiving yards in the same season.
But there is no doubt his impact will be felt on the recruiting trail as precious days tick down. Coach David Cutcliffe said this back in December, when Lubick was honored as the 2012 wide receivers coach of the year by FootballScoop:
"Matt Lubick -- no offense to anyone I've ever worked with -- is simply the best recruiter that I've ever worked with."
Brandon P. Oliver of ESPN Recruiting Nation
expands on that

, writing:
He also had the Blue Devils in contention for some high-level recruits from around the country. His reach extended as far west as Nevada and California, as he had Duke in play for two OL recruits that had Oregon offers. Duke was the likely destination for recent Oregon commit Elijah George (Las Vegas/Arbor View) until Lubick got to Oregon and made sure that George was offered. He helped the Blue Devils land players from Northern California, Southern California, Las Vegas and Texas.
Lubick has spent the majority of his career out West, having held assistant jobs at Cal State-Northridge, San Jose State, Oregon State, Colorado State and Arizona State. Oregon is one of the best offensive teams in the country, and Lubick would like to be a head coach one day, following in the same footsteps of his father. You see why the move appealed to him.
But now Duke has to regroup. Lubick's connections out West have clearly helped the Blue Devils, and his ability to connect with his players was huge, too. Desmond Scott said late last year, "You couldn't ask for a better coach."
Cutcliffe has his work cut out for him now.
December, 26, 2012
12/26/12
10:30
AM ET
There is little doubt that the Duke receivers are one of the biggest keys for the Blue Devils headed into the Belk Bowl against Cincinnati on Thursday.
But what has turned into a position of strength was actually a huge question mark back in July, following the tragic jet ski accident that seriously injured
Blair Holliday
and also involved
Jamison Crowder
. All of a sudden, Duke had one proven player at the position in
Conner Vernon
.
More than that, though, receivers coach Matt Lubick worried about how the accident would impact Crowder, whose jet ski collided with the one Holliday was riding.
"Those two were the best of friends, and Jamison, I can't say enough about the type of person he is, and the type of family he comes from," Lubick said in a recent phone interview. "I was more worried -- not necessarily about football -- but how he was going to overcome the accident, and just being able to cope and just to get on with his life. We really didn't know, there were so many uncertainties. The comforting thing that helped the transition because it was a horrific accident, was that he was involved in saving his life. He pulled him out of the water, and making sure that he knew that.
"The biggest thing that helped that process was Blair's parents being unbelievable and taking Jamison and giving him a big hug and telling him how much that meant to him, and how important it was that he understood that and how they love him. That was huge. You could see him go from a kid who was completely broken to someone who got life put back into him."
[+] Enlarge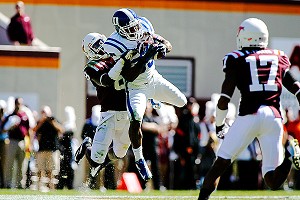 Peter Casey/USA TODAY SportsUnder coach Matt Lubick's guidance, Desmond Scott moved from RB to receiver this season and finished with 61 catches.
The accident served as a great motivation -- to work harder for Holliday, who has since had a near miraculous recovery.
"Jamison worked like a possessed person on a mission and it was easy to point out. It was obvious the way he attacked every single rep. It was something special," Lubick said. "It was an increased intensity, an increased awareness. He was a machine. He was our best effort guy, our most valuable player coming out of camp and I think a lot of what was driving him was his focus on football and competing so hard and being successful helped him block some of the negative aspects of the accident out of his head."
With Holliday recovering, Duke had to find another receiver. The Blue Devils decided to move starting running back
Desmond Scott
to the position just before camp opened, hoping his athleticism would allow him to make a smooth transition.
Scott took to the position right away, and the result surprised outside observers. To complement Vernon -- a first-team ACC selection with 75 catches for 955 yards and seven touchdowns -- Crowder had a career year with 70 catches for 1,025 yards and eight touchdowns. Scott ended up with 61 catches for 606 yards and two scores.
The result -- these three players form the only trio in the nation with more than 60 catches each. Lubick got some national recognition for his work, as he was named one of three finalists for the AFCA Assistant Coach of the Year award.
"He made it that much easier to transition from running back to receiver," Scott said. "He let me be experimental, trying things that work for me. He's very into football and the people that he coaches. You couldn't ask for a better coach."
A coach that nearly became a dentist.
Lubick, the son of legendary Colorado State coach Sonny Lubick, initially tried to stay away from coaching. His father encouraged him to seek out another profession, given all the volatility associated with this one. Matt Lubick played at Western Montana College, then transferred to Colorado State to take chemistry and physics classes he needed for his degree. He had internships at dentists offices and seemed all set to travel down that career path.
But his last year, he got burned out from school. Coaching lingered in his mind.
"I said I would take a year off and coach, and dental school would always be there," Lubick said. "Now I'm on my 15th year off."
He began working for his dad's coach, Dave Baldwin, at Cal State Northridge. His career eventually landed him on the same staff as his father for four seasons at Colorado State, followed by stops at Ole Miss and Arizona State before landing in Durham. His work this season has been among the finest of his career. Another fine day by his receivers would put an exclamation point on it all.
And you know who will be there watching in Charlotte: Holliday.
December, 17, 2012
12/17/12
11:00
AM ET
Now let's take a look at the top assistants in the Coastal Division.
Duke:
Matt Lubick, receivers. This one is a slam dunk. Lubick was nominated for several assistant coach of the year awards, and it is easy to see why. He coached the only trio nationally with 60 or more receptions this season -–
Jamison Crowder
(70 receptions, 1,025 yards, 8 TDs),
Desmond Scott
(61-606-2) and
Conner Vernon
(75-955-7). Don't forget Scott moved from running back to receiver this year as well. And Vernon is the ACC's all-time leader in both pass receptions (273) and receiving yardage (3,630).
Georgia Tech:
Mike Sewak, offensive line. Well, not much went right for the defense this year, so this one goes to a coach on the offense. The Jackets were as steady as everybody expected up front, and
Omoregie Uzzi
earned first-team All-ACC honors at guard. The Jackets averaged 312.5 yards per game on the ground, only a few yards shy from their average a year ago.
Miami:
Jedd Fisch, offensive coordinator/quarterbacks. I am giving Fisch the nod for his development of quarterback
Stephen Morris
, one of the more pleasant surprises in the ACC this season. It seems hard to believe Morris was locked in a quarterback competition during fall camp given the way he played this season. Morris had 3,415 yards of total offense, the most in the history of the program, just ahead of the 3,412 yards Bernie Kosar had in 1984. Morris' season total of 3,345 passing yards ranks fifth in program history, while his 421 attempts and 245 completions rank first and second, respectively.
North Carolina:
Chris Kapilovic, offensive line. Kapilovic had plenty of talent to work with, but remember that the Tar Heels implemented a completely different offensive style and blocking scheme, and the offensive line had to learn just as quickly as the skill players. So to see North Carolina only gave up 11 sacks all season -- on 441 pass attempts -- shows just how well this group played as a unit. Guard
Jonathan Cooper
became a unanimous All-American, and tackle James Hearst joined him on the All-ACC first team. Kapilovic also is the run game coordinator, and, well, the Tar Heels had terrific development of not only
Giovani Bernard
, but
A.J. Blue
and
Romar Morris
as well.
Virginia:
Vincent Brown
, linebackers. Brown had two players finish in the Top 8 in the ACC in tackles.
Steve Greer
had another outstanding year, earning first-team All-ACC honors from the media after finishing second in the league in tackles (122). Outside linebacker
LaRoy Reynolds
also had another productive season, with career highs in tackles tackles (90), tackles for loss (9.5) and passes defended (four).
Virginia Tech:
Torrian Gray, secondary. There were not many bright spots for the Hokies this season, but I will give you one -- the secondary played pretty well. Virginia Tech had the No. 2 passing defense and pass efficiency defense in the ACC, holding opponents to roughly the same numbers as a season ago.
Antone Exum
moved from safety to cornerback and made the All-ACC second-team, leading the league in passes defended (19) while grabbing four interceptions.
February, 18, 2010
2/18/10
11:09
AM ET
By
ESPN.com staff
| ESPN.com
Duke has hired former Arizona State assistant Matt Lubick to be its wide receivers coach, ESPN.com's Bruce Feldman is reporting.
Lubick was ASU's top recruiter, so this should be another boost to Duke on and off the field.
Lubick had coached the safeties and was ASU's recruiting coordinator. At Ole Miss, he was the receivers coach, and was the one who
recruited Dexter McCluster
.