May, 29, 2013
5/29/13
3:30
PM ET
Matt Canada is in his first season as NC State's offensive coordinator, but he has held the same title for each of the past three seasons at three different schools -- Indiana, Wisconsin and most recently, Northern Illinois. I spoke with Canada to get his take on what he saw from the Wolfpack's offense this spring. Here are the highlights of our conversation:
How much growth did you see, not just from the quarterbacks, but from everybody learning the offense?
[+] Enlarge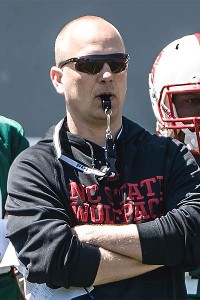 Photo courtesy of NCSU AthleticsMatt Canada, entering his first season at NCSU, says the offense aims for balance, but will work with the talent that's present.
Matt Canada
: A lot. Football is the same game. We all run the same plays, but the terminology is different, and that's hard. And we went from being a team that huddles to a team that doesn't huddle. There's a process. I thought we did a great job this spring, and they got better every day. We have all summer they can work on it on their own, and that will be huge to see the kind of growth the team makes when we can't work with them. We have a long way to go, but it was a very good spring.
How do your receivers look?
MC:
We certainly have talent out there. We have a lot of catches returning with [Quinton] Payton coming back, [Bryan] Underwood has a bunch of touchdowns. Rashard [Smith] probably had the most explosive spring. We saw him make some electric plays with the ball in his hand, and it was exciting to see. Then we had some other guys who came along. Maurice [Morgan] showed some things. So we've got a bunch of guys there, it's just a matter of who steps up and makes plays when it counts, and we had a couple of guys do that in the spring game. We didn't show much on offense, but tried to have fun and let the guys play a bit. It will be fun to see what they do next fall.
I know most coaches say they like to be balanced because running the ball opens things up in the passing game, but do you lean toward one thing or another as a point of emphasis in your offense?
MC:
No. Like you said, we all coachspeak a little bit on it, but I believe it depends on your talent. When you look at our offense, it's evolved from place to place. Our offense at Indiana when I was there, we certainly threw the ball more than we ran it because of the talent we had, the receivers we had, the quarterback we had. When we went to Northern Illinois, that offense continued on, and became more quarterback run and we were balanced. It was a different kind of run. And last year at Wisconsin it was very heavy run because of the talent we had. So I think our offense has proven over time that we'll find what our kids do well. At this point, we're going in, and in a perfect world it would be totally balanced, 50-50 yardage, plays, the whole deal, but we know that won't happen. I don't know yet, but we do have some receivers coming back.
Asa Watson
, our tight end, was out. He got nicked up, but with a tight end returning, we have good feelings towards him and think he'll be able to help us out a bit. We know we have to run the ball. You have to run the ball to win, we all know that.
Now that you've seen them this spring, do you feel like the personnel you do have fits what you guys want to do, or will you tweak things until you have had the time to recruit for what you want to do?
MC:
I think you're always tweaking. It just depends on what our players do well. We've got good talent, we've got good players. We want to recruit as good a player as we can get. There are certainly some spots we need more depth, but we're going to do a great job with the ones we've got, find what they do well and do that.
Check back tomorrow for Part II of this conversation.
July, 31, 2012
7/31/12
10:30
AM ET
By
ESPN.com staff
| ESPN.com
As ACC teams start practicing again, Andrea Adelson and I will have a quick preview of each team to get you caught up on the basics. NC State is the first school in the ACC to hit the field again. Here's a quick look at the Wolfpack:
School:
NC State

Start date:
Today
Projected finish at media days
: Third in the Atlantic Division
Biggest storyline:
Chasing Florida State and Clemson. The Wolfpack have beaten Florida State. They have beaten Clemson. They just haven't been able to do it in the same season under coach Tom O'Brien. Could this year be different? Those in Raleigh are confident this could be a special season. O'Brien has said that this is the deepest, most experienced team he has had since he was hired in Raleigh. He has a veteran starting quarterback in
Mike Glennon
, four starters returning on the offensive line, an experienced group of running backs, and what should be one of the best secondaries in the country.
Biggest position battle:
The wide receivers. O'Brien has said this is a position of concern heading into fall camp. The Pack must replace T.J. Graham (46 catches) and Jay Smith (40 catches), not to mention tight end George Bryan (33 catches).
Tobais Palmer
(37 catches) returns, along with Quinton Payton,
Bryan Underwood
and
Rashard Smith
. O'Brien said he is looking for more consistency from Palmer and Underwood, and Smith moved from cornerback. Two redshirt freshmen,
Maurice Morgan
and
Hakeem Flowers
, will also compete for playing time.
Who needs to step up:
Linebackers. NC State must replace all three starters, including Terrell Manning, who led the ACC with 14.5 tackles for loss, and team-leading tackler Audie Cole. Senior middle linebacker
Sterling Lucas
is the lone veteran at the position, but he missed all of 2011 with an injury. Strongside linebacker
Rodman Noel
earned a starting job this spring with Ricky Dowdy at weakside linebacker.
Brandon Pittman
,
Michael Peek
and
Ryan Cheek
could also see playing time.