September, 11, 2013
Sep 11
12:00
PM ET
May, 22, 2013
May 22
3:30
PM ET

Andrea Adelson talks about Duke spring MVP -- receiver Max McCaffrey.
May, 7, 2013
May 7
10:30
AM ET
Duke Blue Devils
2012 record:
6-7
2012 conference record:
3-5, Coastal
Returning starters:
Offense: 7; defense: 8; kicker/punter: 2
Top returners
WR
Jamison Crowder
, RB
Juwan Thompson
, DE
Kenny Anunike
, CB
Ross Cockrell
Key losses

QB Sean Renfree, WR
Conner Vernon
, S Jordan Byas, S
Walt Canty
2012 statistical leaders (*returners)
Rushing:
Jela Duncan
* (516 yards, 4 TDs)
Passing:
Renfree (260-of-392 for 2,755 yards, 18 TDs, 8 INTs)
Receiving:
Crowder* (1,025 yards, 8 TDs)
Tackles:
Canty (102)
Sacks:
Anunike* (5)
Interceptions:
Cockrell* (5)
Spring answers
1. Anthony Boone is for real.
People will still wonder how the Blue Devils are going to do without Sean Renfree, but Anthony Boone proved this spring he is the real deal. Boone was impressive as he took over the starting quarterback job, and allows the Blue Devils to add more option principles to the offense, which will make them much more unpredictable.
2. Receivers step up.
Here is another question that coach David Cutcliffe believes has been answered this spring. The Blue Devils do lose Conner Vernon, but leading receiver Jamison Crowder returns and Cutcliffe had special praise for the way
Max McCaffrey
came on this spring. "The receiving corps, I thought, had a tremendous spring," Cutcliffe said.
3. Defensive front.
The Blue Devils went back to the drawing board on defense and decided to simplify the scheme, in order to have their players do less thinking and more attacking. The result, Cutcliffe believes, could be a much better group -- particularly up front.
Fall questions
1. Secondary.
This unit has to be completely rebuilt, with Ross Cockrell the only returning starter in the group. And even he missed the second half of spring with an injury.
Jeremy Cash
,
Dwayne Norman
and
Corbin McCarthy
are the new faces that are expected to take their spots in the starting lineup, but don't be surprised if true freshmen Evrett Edwards and Quay Mann play as well.
2. Can the run game improve?
The Blue Devils appear to have great depth in their backfield with their top four rushers back. So the hope is they can have a much more consistent running game this season. Last year, Duke ranked No. 98 in the nation in this category. Boone should factor in here as well.
3. Inexperience.
Though the Blue Devils do return a good many of their starters, the ones who are gone are at the key positions on the football field -- quarterback, two receivers, center and three players in the secondary. They will have to rely on players without much game experience at all those positions so how quickly they grow up will be a huge key for this team.
April, 9, 2013
Apr 9
10:30
AM ET
Max McCaffrey
's Duke family tree has more branches than the federal government.
His grandfather, Dave Sime, was an All-ACC outfielder who led Duke in batting average, home runs and stolen bases. He won
12 ACC titles
in track, was an All-American, and set seven
world
records. He played one season of football as a wide receiver and went on to win a silver medal in the 100-meter dash in the 1960 Olympics in Rome. Oh, and he found time to graduate from Duke's medical school in 1962.
And that's just gramps.
McCaffrey's grandmother, Betty Conroy, graduated from Duke in 1959. His uncle, Scott Sime, lettered in four seasons (1981-84) as a fullback at Duke before graduating in 1986. Another uncle, Billy McCaffrey, lettered two seasons (1990-91) in basketball at Duke.
And that was just at Duke.
[+] Enlarge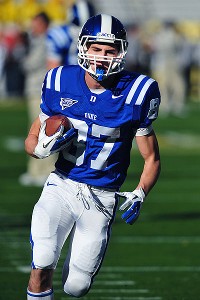 Courtesy of David JohnsonThose within the Duke football program say that receiver Max McCaffrey's toughness has stood out this spring.
McCaffrey's dad, Ed, was an All-American receiver at Stanford and went on to play 13 years in the NFL. His mother, Lisa, earned three letters in soccer at Stanford. Oh, and aunt Monica lettered four seasons in hoops at Georgetown.
That must make for some family picnic.
"I guess it's a pretty competitive family," Max said.
There's no question he has inherited the trait.
"Oh, man, Max McCaffrey has opened up every single person's eyes here," Duke quarterback
Anthony Boone
said. "I don't know if he wants me to say this, but he came out a little bit of a fighter, like he's not gonna back down from nobody. He's been making a lot of plays. He's our blue-collar guy. He's going to work. Even when he's tired, he's going to push through. He's smart, he knows what he's doing, and he's tough. He's going to stick his nose in there in the run game. Even if he gets smacked and hits the ground, he's going to get back up and try and push the guy a little extra. He's a hard-nosed player and he's really stepped up and shined bright for us this spring. I'm looking forward to seeing what he's going to do this year in the ACC."
Despite his remarkable pedigree, there's no pressure from McCaffrey's family to be the next All-American wide receiver. There is, however, a wee bit of pressure on Duke's receivers to fill the void left by record-setter
Conner Vernon
, who closed out his career as the ACC's all-time leader in pass receptions and receiving yardage. McCaffrey only caught two passes last year, but he's proven more than worthy this spring of stepping in opposite
Jamison Crowder
, who started all 13 games last year and had five 100-yard games. Crowder is poised to be the next go-to player, but McCaffrey will be equally important in keeping defenses honest.
"He's had a great spring," said offensive coordinator Kurt Roper. "I think the thing that I like the best about him is he's an unbelievable competitor. He's a guy who, every day -- it doesn't matter if you're at the beginning of practice or the end of practice -- his effort level is the same. His competitiveness is the same. I don't think I really understood how tough he was, but he's a tough guy, too, so he can make the contact area catches. He doesn't mind mixing it up when he has to block in the run game. I can't say I'm shocked by how well he's doing. I obviously couldn't be happier about it, because we need him to step up in a big way. I think spring is about getting guys game ready, not about beating your defense, and I think Max is ready to play on Saturday, quite frankly."
McCaffrey, a sophomore, caught two passes for 31 yards against Florida State last year and played a total of 196 snaps in 13 games. He said he knows more will be expected of him this fall. At a scrimmage earlier this month, McCaffrey caught five passes for a team-high 76 yards.
"Last year just getting a little bit of experience was awesome, but this year I definitely need to step it up," he said. "I've been working real hard this spring just perfecting the offense, learning coverages on defense, just being able to read the coverages, and I've been trying to get a lot stronger and faster, just working on basic fundamentals of the game."
He's already mastered the competitive part. After all, it's in his genes.
April, 3, 2013
Apr 3
2:00
PM ET

Duke's defensive linemen combined for six sacks, and safety
Jacques Bristow
intercepted a pair of passes to highlight Wednesday morning's 85-snap scrimmage at Wallace Wade Stadium.
Here are some notes, according to the team's practice report:
February, 20, 2013
Feb 20
11:00
AM ET
DUKE
Spring start:
March 4

Spring game:
April 13
What to watch:
1. Boone is up.
Duke loses three-year starter
Sean Renfree
, who threw for 3,113 yards and 19 touchdowns last season.
Anthony Boone
is the next man up, and has plenty of game experience. But coming in for spot duty is vastly different from taking over the starting quarterback job. He has to get a jump on becoming the leader of this offense in the spring.
2. Receiver spots open.
The Blue Devils lose the most prolific receiver in ACC history in
Conner Vernon
, plus the versatile and athletic
Desmond Scott
.
Jamison Crowder
is back, but Duke is going to need to find two more starters and several more to step up and help with depth.
3. Handling success.
This is the first time since 1994 that Duke goes into a spring with 15 bowl practices already under its belt and a taste of success. That should presumably give the Blue Devils an advantage. But it is much harder maintaining, as many coach will tell you. How does this new success impact the mind-set in spring practice?
GEORGIA TECH
Spring start:
March 25

Spring game:
April 19
What to watch:
1. Ted Roof takes over.
What is the Georgia Tech defense going to look like with Ted Roof in charge? He has not really given out specifics about the type of scheme he wants to use as his base, so it will be interesting to see how he fits his personnel to what he likes to do best. The Jackets do return eight starters to a unit that improved in the second half of the season.
2. Vad Lee time.
We saw glimpse of what Lee could do as he began to share quarterback duties with
Tevin Washington
last season. Now, the show is all his, so we get to see how he develops as a full-time starter.
3. So long, Orwin.
The Jackets lose one of their most dynamic playmakers in
Orwin Smith
, who finished his career ranked among Georgia Tech's all-time leaders in kickoff returns (76), kickoff return yards (1,624) and career all-purpose yards (4,278). Georgia Tech has to find somebody to replace that productivity.
MIAMI
Spring start:
March 2

Spring game:
April 13
What to watch:
1. D in Defense?
The No. 1 spring priority has got to be improving a defense that was one of the worst in the nation in every NCAA statistical category (No. 112 rushing defense, No. 102 passing defense, No. 116 total defense, No. 82 scoring defense). If Miami is going to be a favorite to win the Coastal, it needs better play out of this group.
2. New OC.
James Coley takes over as offensive coordinator, replacing Jedd Fisch. Coley served as offensive coordinator at Florida State before arriving at Miami, but did not call the plays. So he has much more responsibility here, and is charged with taking
Stephen Morris
from great to next-level great.
3. D-Line improvement.
If Miami is going to be better on defense, it has to start up front, where the Hurricanes were extremely young and mostly ineffective for 2012. The Hurricanes had to deal with their share of injuries, but they also were not great at stopping the run or putting pressure on the passer -- with only 13 sacks all year. That is the lowest total since at least 2005, the first year NCAA stats began listing team sack totals.
NORTH CAROLINA
Spring start:
March 6

Spring game:
April 13
What to watch:
1. Bye bye, Gio.
Life begins without All-ACC running back
Giovani Bernard
, who left school early for the NFL draft. The cupboard is not completely bare, though, as
A.J. Blue
and
Romar Morris
both return. Blue and Morris combined for 819 yards rushing and 11 touchdowns last season.
2. Replacing Williams, Reddick.
North Carolina returns nine starters on defense. That is the good news. The bad news is the Tar Heels lose their two best players in linebacker
Kevin Reddick
and defensive tackle
Sylvester Williams
, two first-team All-ACC selections. We'll see if
Ethan Farmer
at tackle and
P.J. Clyburn
at linebacker emerge to win the starting jobs.
3. Replacing Coop.
The Tar Heels have a major hole to fill on their offensive line as they say goodbye to unanimous All-America guard Jonathan Cooper, a stalwart who made 47 career starts. Cooper was the unheralded leader of the offense, so filling his spot is a major priority this spring.
PITTSBURGH
Spring start:
March 5

Spring game:
April 12
What to watch:
1. QB situation.
Tino Sunseri
is gone, leaving Arizona transfer
Tom Savage
, redshirt freshman
Chad Voytik
and junior
Trey Anderson
to compete for the starting job. Inconsistent quarterback play has been a major issue for the Panthers, so upgrading this position is an absolute must.
2. Adjusting to DC.
Pitt is going into the season with its fourth new coordinator in as many years, as Dave Huxtable left for NC State after only one year on the job. Secondary coach Matt House was promoted to coordinator, so at least there will be some familiarity. But he has to get to work on improving this unit's consistency.
3. Offensive line improvements.
Is this the year we finally see a vastly improved Pitt offensive line? The Panthers have to replace center
Ryan Turnley
and guard
Chris Jacobson
, two key positions to watch during spring practice.
VIRGINIA
Spring start:
March 18

Spring game:
April 6
What to watch:
1. New coaches.
How will the three most high-profile hires Mike London made mesh with the staff and returning players? How will the offense deal with a new scheme under Steve Fairchild? How will the defense deal with a new scheme under Jon Tenuta? How big will Tom O'Brien's role be with the offense? Inquiring minds want to know.
2. QB competition.
Fairchild has already said he will open up the quarterback job to a "very spirited competition" this spring. The two front-runners figure to be
Phillip Sims
and
David Watford
, who both have game experience. But there will be no shortage of quarterbacks in Charlottesville this year, so there are no guarantees that either of them will win the job.
3. Replacing Greer.
The Hoos have some big shoes to fill in the middle of their defense with the departure of linebacker
Steve Greer
, who ended his career with 376 tackles -- ranking No. 6 in school history.
Kwontie Moore
, one of nine true freshmen to play in 2012, backed up Greer last season. Will he win the starting job?
VIRGINIA TECH
Spring start:
March 27

Spring game:
April 20
What to watch:
1. Logan Thomas.
All eyes will be on Thomas as he heads into his senior season, especially with new offensive coordinator in Scot Loeffler in charge. How will the two work together, and what will Loeffler do to get Thomas to cut down on his mistakes and capitalize on the immense potential he has?
2. Rushing attack.
Item No. 2 on the agenda for Loeffler is to figure out a way to jump start the Virginia Tech rushing game, which struggled in 2012. The offensive line was inconsistent, and so were the running backs. The Hokies could never really settle on a starter or a clear rotation in the backfield, either. Somebody has to emerge as THE guy.
3. Filling in for Exum.
Virginia Tech took a serious hit to its defensive backfield last month when emerging cornerback
Antone Exum
tore his ACL in a pickup basketball game. The Hokies will look to several young players to try and fill his void, including
Donovan Riley
,
Donaldven Manning
and
Davion Tookes
. Fans will have to wait on highly touted cornerback Kendall Fuller, who joins in the summer.
August, 23, 2012
8/23/12
4:00
PM ET
Now that we are closing in on the start of the season, we have a much better idea of how many true freshmen could make an impact in the ACC this season based on preseason practice time and early depth charts.
Maryland could end up playing the most, and having players who make the biggest impact. You have quarterback
Perry Hills
starting in place of the injured
C.J. Brown
. Highly touted athlete
Stefon Diggs
has had an outstanding preseason camp. Don't forget about running backs
Albert Reid
and
Wes Brown
, who also have looked really good.
Here are a few young players to keep an eye on at each school.
Boston College: Justin Simmons, DB.
Defensive back is an area where Boston College needs help, especially after the loss of
Al Louis-Jean
, who's out six to eight weeks with a foot injury. Simmons already has made his presence felt. In a scrimmage last weekend, he had two interceptions. Also watch for defensive back
Bryce Jones
and linebacker
Steven Daniels
.
[+] Enlarge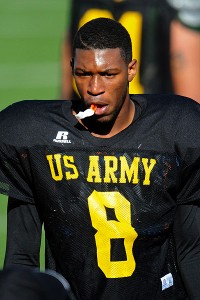 John Albright / Icon SMI The versatile Travis Blanks may line up at a number of positions on defense for the Tigers.
Clemson:
Travis Blanks, DB.
One of the top defensive backs in the country out of high school, Blanks enrolled early and had an impressive spring showing. He has followed that up with a great preseason, and will line up in a variety of positions -- nickelback, cornerback and some linebacker as well. On offense, watch for
Germone Hopper
, who has had some pretty explosive plays this fall.
Duke: Jela Duncan and Shaquille Powell, RBs; Ross Martin, PK.
Duncan and Powell have turned heads during the preseason, and coach David Cutcliffe said he would feel comfortable using both players in the opener against FIU. Martin is sure to get plenty of game experience as the starting kicker this year. Others to watch: receiver
Max McCaffrey
, tight end
Erich Schneider
and safety
Dwayne Norman
, who had an interception return for a touchdown in one scrimmage.
Florida State:
Ronald Darby, CB.
Do not be surprised if Darby ends up starting in the spot vacated by
Greg Reid
. Darby and
Nick Waisome
are competing for the starting job. Coaches like both players, but there is
something special
about Darby. Said coach Jimbo Fisher: Darby is "going to be a very, very good one." Also watch for defensive tackle
Eddie Goldman
and tight end
Christo Kourtzidis
.
Georgia Tech:
Anthony Autry and Micheal Summers, WR.
Georgia Tech only has four other scholarship wide receivers, so that increases the chances for Autry and Summers to play this season. Autry seems to have a slight edge over Summers. Others to watch: defensive back
D.J. White
.
Maryland:
In addition to Hills, Diggs, Brown and Reid, several others could make an impact this year. Punter
Brad Craddock
is competing for the starting position with redshirt freshman
Nathan Renfro
; and cornerback
Sean Davis
could be starting on opening day because he has done well, and there are some injuries on defense.
Miami:
Ereck Flowers, OL.
Flowers is listed as a starter right now at right tackle, helped in part because of
Seantrel Henderson
's absence. Offensive line coach Art Kehoe has been
extremely impressed
. Others to watch: defensive back
Tracy Howard
and running back
Duke Johnson
. Howard is listed on the two-deep behind
Ladarius Gunter
but has drawn raves so far and so has Johnson, who should also return kickoffs this year.
Deon Bush
is in the mix for a starting safety spot.
North Carolina: Quinshad Davis, WR.
Davis missed some early practice time because of a medical issue but has returned in the last week and has a big chance to make some noise. The Tar Heels are lacking depth at this position, and the way Larry Fedora likes to spread the ball around, he will take as many good receivers as he can.
NC State:
Charlie Hegedus, WR.
Receiver is a position of need for the Wolfpack, and Hegedus has seen more reps during fall camp with the injury to
Bryan Underwood
. One player NC State hopes you do not see this year is backup quarterback
Manny Stocker
, a true freshman behind veteran
Mike Glennon
.
Virginia:
Maurice Canady, CB.
Coaches are extremely high on Canady, who is in the mix to earn a starting spot in a secondary that has to be rebuilt this year. He has been working with the first team recently. Others to watch:
Michael Moore
at outside linebacker, and
Eli Harold
at defensive end.
Virginia Tech: J.C. Coleman, RB; Donaldven Manning, DB.
Both players enrolled in January and are virtual locks to play this season. Coleman has separated himself from another true freshman,
Trey Edmunds
, despite a hand injury. He has had an outstanding fall camp. Manning has had to deal with a hamstring injury, but his early enrollment works in his favor.
Wake Forest:
The Deacs rarely play true freshmen. But if there is one player who has a shot this year, it is defensive end
Tylor Harris
, who has stood out this fall for his pass-rushing ability -- something Wake Forest needs help improving this year.