April, 1, 2011
4/01/11
1:35
PM ET
By
ESPN.com staff
| ESPN.com
From Clemson's sports information department:
Former Clemson defensive end Da'Quan Bowers auditioned for NFL teams for about two hours on Friday morning, showcasing his skills in both the weight room and on the field in Memorial Stadium.
Bowers ran the 40-yard dash three times and also did a three-cone drill and various other agility drills that are designed to evaluate linemen. Former teammates Miguel Chavis, Jamie Cumbie and Jarvis Jenkins also worked out on Friday for the scouts.
A total of 41 people affiliated with NFL teams were in attendance on Friday. The list included one general manager, one head coach, three player personnel directors, one defensive coordinator, four defensive line coaches and 31 scouts. Twenty-four of the 32 NFL teams were represented. The Atlanta Falcons had the biggest contingent with six people, while the Arizona Cardinals had five.
"It was a good day," Bowers said, according to a release. "I could have done better with my 40-time, but I am about a month behind because of the knee surgery I had in January. I thought I did well in the drills. My knee feels 100 percent."
Bowers has been invited to the NFL draft in New York in late April, but has not decided if he will attend.
"This is a big thing for my hometown (Bamberg, SC) and for my family. I have thought about sharing it with them in Bamberg. I will make a decision the week of the draft."
Bowers said he enjoyed one last workout in Death Valley.
"I am very glad that I got to do this workout in Death Valley. We thought about doing it on the practice field, but I wanted to do it in the stadium. It was great to be here one last time. It felt like home."
October, 27, 2010
10/27/10
7:04
PM ET
By
ESPN.com staff
| ESPN.com
Clemson backup safety Carlton Lewis suffered a broken jaw in practice on Tuesday and had surgery on Wednesday, according to a school spokesman. He will miss at least the Boston College and NC State games. Lewis played 13 snaps as a reserve in Clemson's win over Georgia Tech. Defensive tackle Miguel Chavis has a sprained foot and is probable for the Boston College game. Byron Maxwell is continuing to improve from his turf toe injury and will make the trip to Boston.
September, 10, 2010
9/10/10
8:00
AM ET
By
ESPN.com staff
| ESPN.com
Here are the injury reports for this week, based on e-mails from the sports information directors that reported:
Notes: Duke had no injuries to report, and because UCF did not release an injury report, NC State didn't. Also, the Duke-Wake Forest game is sold out.
CLEMSON
Brandon Maye, LB, knee, out
Kalon Davis, OT, back, out
Jarvis Jenkins, DT, knee, questionable
Miguel Chavis, DT, ankle, probable
MIAMI
Probable
LB Jordan Futch – Lower Extremity
OL Jermaine Johnson – Upper Extremity
DL Micanor Regis – Upper Extremity
DB Jamal Reid – Lower Extremity
DL Curtis Porter – Upper Extremity
DL Andrew Smith - Upper Extremity
Doubtful
RB
Graig Cooper
– Lower Extremity
Out
LB Kevin Nelson – Upper Extremity
DL Luther Robinson – Lower Extremity
Surgery and Out for the Season
FB
John Calhoun
– Lower Extremity
RB
Darion Hall
– Lower Extremity
DL Jeremy Lewis – Lower Extremity
LB Travis Williams – Lower Extremity
VIRGINIA TECH
Out

Xavier Boyce
(knee)
Chris Drager (knee)
Barquell Rivers (quad)
Lorenzo Williams (foot - season)
August, 3, 2010
8/03/10
10:00
AM ET
By
ESPN.com staff
| ESPN.com
As summer camp begins, I'll do a quick hit on each team the day they start practicing. The ACC opens today with Clemson and NC State. We'll start with the Tigers.
Schedule:
Practice will run from 6 p.m. to 8:15 p.m. Fan day is Aug. 22.
[+] Enlarge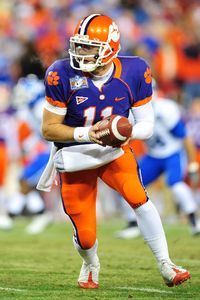 Patrick Green/Icon SMIKyle Parker's decision to play football dramatically improved Clemson's chances of repeating as Atlantic Division champs.
What's new:
The face of the running game.
Andre Ellington
and
Jamie Harper
will take over as the primary ball carriers as Clemson becomes more of a running team, even with
Kyle Parker
back. With four returning starters on the offensive line, expect the Tigers to run.
Sidelined:
Backup offensive guard Wilson Norris tore his ACL in spring practice and could return by November.
Key battle:
Defensively, it's
Brandon Thompson
vs. Miguel Chavis at nose guard. Thompson is the returning starter, but Chavis has experience and will play a lot. Offensively, watch the guard spot where David Smith will push Mason Cloy. Cloy broke his leg in the ACC championship game, leaving the reps to Smith this past spring. Smith has the upper hand entering summer camp.
New on the scene:
Linebacker Quandon Christian. The 6-foot-4 redshirt freshman is listed as the starter at strongside linebacker, which is impressive considering he started spring ball with the third team.
Breaking out:
Receiver
Xavier Dye
. He has to. Somebody has to. Without Jacoby Ford, the Tigers need a dependable receiver to step up. Dye, a senior, was fourth on the team in receptions last year with 14 for 236 yards.
Don't forget about:
Fullback
Chad Diehl
. Even though he doesn't carry the ball much, Diehl has as important a role as anyone because of his blocking ability and he is key to the running game.
All eyes on:
Quarterback Kyle Parker. His decision to return to the team instantly increased the Tigers' chances of repeating as Atlantic Division champs. How much will he improve upon his record-setting freshman season?
Quotable:
"I pretty much thought I was gone," -- Clemson quarterback Kyle Parker on deciding whether or not to join the Colorado Rockies in a baseball-only contract.
April, 7, 2010
4/07/10
8:30
AM ET
Clemson's spring game is set for Saturday, and with spring practice winding to a close, Tigers coach Dabo Swinney took stock of where his team stood.
The Tigers have grown more comfortable with Swinney and his system on both sides of the ball, and he hopes that means he'll see a smarter team on Saturday and through the summer into fall.
"We've hopefully got a better understanding of not just what were doing but why were doing it and how to do it properly," Swinney said. "And become more consistent."
That consistency is something Swinney hoped spreads to his second and third units.
"We competed hard last year, grew closer as a team and became tougher, but we really wanted to come out of spring and believe we could be more consistent in our execution," he said. "That's something with our first group, that's been apparent. First group has good grasp of what were doing."
Swinney tagged his defensive linemen as a group that's exceeded his expectations in the spring, despite being a likely strength for the Tigers next season. The reason has been the younger linemen like Rennie Moore, Kourtnei Brown and Miguel Chavis.
"We really solidified our front. We have most of our starters back inside, but we feel like we have two groups of starters," Swinney said.
Kyle Parker
has spent much of his spring on the baseball diamond, giving way to some inconsistencies throughout the spring, but Swinney was thankful for the extra look given to
Tajh Boyd
this spring. The same has been true for his offensive line, which has lacked depth with two starters sidelined by offseason surgery, and will become even shallower when the team splits in two for the spring game.
Saturday, he'll get another chance to see who he can rely on in game situations.
"Even though the team is divided, we want to see who can fly around and make plays," Swinney said. "Hopefully, we come out of it healthy"
October, 2, 2009
10/02/09
8:00
AM ET
By
ESPN.com staff
| ESPN.com

Posted by ESPN.com's Heather Dinich
Here are this week's injury reports from the schools that sent them out by midnight on Thursday:
BOSTON COLLEGE
WR Ifeanyi Momah (knee) – OUT
LB Will Thompson (shoulder) – DOUBTFUL
FB James McCluskey (Achilles) – DOUBTFUL
CB Roderick Rollins (Leg) – DOUBTFUL
TE Jordon McMichael (Leg) –PROBABLE
CLEMSON
Questionable
Chris Hairston, OT, knee
Probable
Miguel Chavis, DT, ankle
DUKE
RB Re'quan Boyette (leg) -- Probable
RB Jay Hollingsworth (ankle) -- Probable
OG Mitchell Lederman (leg) -- Probable
DT Vince Oghobaase (leg) -- Probable
OT Jarrod Holt (concussion) -- Questionable
RB Desmond Scott (leg) -- Questionable
RB Kyle Griswould (leg) -- OUT
CB Randez James (hand) -- OUT
WR Tyree Watkins (leg) -- OUT
FLORIDA STATE
OUT
FB Daniel Gard (knee)
OT Antwane Greenlee (knee)
LB Aaron Gresham (knee)
OT John Prior (knee)
LB Vince Williams (back)
QUESTIONABLE
DT Justin Mincey (knee)
PROBABLE
DT Moses McCray (elbow)
DT Jacobbi McDaniel (knee)
GEORGIA TECH
Out
Robert Hall, r-Jr., DE (knee)
Kyle Jackson, r-So., LB (foot)
Doubtful
Cooper Taylor, So., S (undisclosed)
Questionable
Dominique Reese, Jr., S (undisclosed)
Probable
Jaybo Shaw, So., QB (broken collarbone)
MARYLAND
Out for season:
Tyler Bowen (foot)
Nolan Carroll (leg)
Out:
Travis Baltz (ankle)
Louis Berman (leg)
Caleb Porzel (leg)
Joe Vellano (foot)
MIAMI
Probable
RB Lee Chambers – Lower Extremity
DT Marcus Forston – Lower Extremity
WR Aldarius Johnson - Lower Extremity
Doubtful
TE Richard Gordon – Upper Extremity
Out
FB Pat Hill – Lower Extremity
DL Dyron Dye - Lower Extremity
DB JoJo Nicolas – Upper Extremity
DB Randy Phillips – Upper Extremity
DE Adewale Ojomo – Jaw
Surgery and Out for Season
DE Gavin Hardin – Upper Extremity
LB Shayon Green – Lower Extremity
NC STATE
OUT FOR SEASON
Mario Carter, TE - knee
Denzelle Good, OL - shoulder
Nate Irving, LB - leg
Colby Jackson, FB - knee
Everett Proctor, QB - shoulder
OUT
Jeff Rieskamp, DE - hip
Rashard Smith, CB - ankle
Javon Walker, S - knee
NORTH CAROLINA
Out (Season)
Carl Gaskins OL Knee
Matt Merletti DB Knee
Trevor Stuart DS Knee
Out (Game)
Lowell Dyer C Shoulder
Zack Pianalto TE Foot
Ryan Taylor TE Knee
Doubtful
Linwan Euwall LB Ankle
Questionable
Joshua Adams WR Shoulder
Jonathan Cooper OG Ankle
Anthony Elzy FB Shoulder
VIRGINIA TECH
Out for Season
Darren Evans (ACL)
Probable
Blake DeChristopher (ankle)
Davon Morgan (shoulder)
Dyrell Roberts (hamstring)
Demetrius Taylor (calf)