July, 29, 2014
7/29/14
10:30
AM ET
GREENSBORO, N.C. -- DeVante Parker is an ACC newcomer who has wasted little time announcing his arrival to the league. The Louisville Cardinals senior crashed the preseason all-conference team as a third wide receiver, this despite the ballot allowing for just two picks at the position. But in a conference with arguably the nation's most decorated group of receivers, Parker figures to be hard to ignore.
Parker's laid-back demeanor off the field belies the spectacle that accompanies a player who is referred to by his teammates as a "freak" -- or, as he prefers, "Spiderman."
[+] Enlarge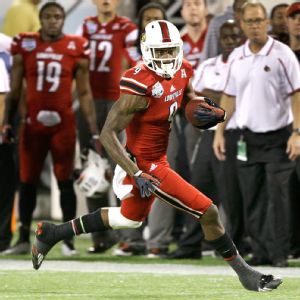 AP Photo/John RaouxLouisville senior DeVante Parker expects to be among the ACC's elite pass-catchers immediately.
"Me or the real one?" he cracked when asked about the nickname. "I got called Spiderman my freshman year by one of my older teammates. It was Mike Evans, No. 33. And I've been keeping that name since then."
A 40-yard-dash timed as fast as 4.39 helps him get away with it. So, too, does a 36.5-inch vertical. And after hauling in 855 receiving yards and matching the school-record for touchdown receptions (12) during his final year playing in the American Athletic Conference, Parker is anxious to see what he can do playing for new coach Bobby Petrino and his pass-happy attack, saying that the new offense is "more fun," and that the last staff "always put their foot on the brake; they didn't want us to score anything."
"He's got the combination of size and strength," Petrino said of Parker. "He can really control his body and make different catches in the air, but the thing that excites me as much as anything is his ability to run after the catch. He can catch a six-yard route, five-yard route and accelerate and get to top speed very quickly. He's a special talent."
Parker said his personal goals for 2014 are "possibly" 1,000 receiving yards, along with 15 or more touchdowns. He wears a bracelet given to him by tight end Keith Towbridge that reads "DSBG" -- Don't Settle, Be Great. And he is excited about the possibility of playing with new quarterback Will Gardner, whom he surprisingly said throws a harder ball than former Cardinal signal-caller and recent first-round pick Teddy Bridgewater.
Whether that has had any effect on the rest of the receivers is unclear, though Parker's upbringing suggests it is a welcome challenge for the Louisville native.
Parker moved in with his grandparents at a young age, as they lived in a nicer part of town than where he had been living with his mother. The move ended up paying huge dividends on the gridiron.
When Parker was 5 or 6 years old, his grandfather would take him to the backyard and teach him how to properly catch a football. The throws were purposely toward the outside, so as to force the youngster to learn to use his hands more. The games of catch would often extend indoors, with a young Parker diving all over the concrete basement floor for passes. Remarkably, Parker says he never so much as jammed a finger as a child.
Attending college 15-20 minutes from where he grew up has been everything he expected through three years.
"It's how I envisioned it," Parker said. "I knew [my family] would always be right there by my side, no matter what. They've been supporting me since day one."
And with Parker's final year coinciding with Louisville's ACC move, the 6-foot-3, 208-pounder is excited to show that he belongs among a tier of pass-catchers like Jamison Crowder, Rashad Greene and Tyler Boyd.
He is happy to say goodbye to all of the past questions about the Cardinals' schedule strength, too.
"It means a lot to us. When we went to the league, that's a higher level of competition than what it used to be," Parker said. "And just all the teams we play against, we'll be able to show the world what we can do with that type of level of competition."
December, 31, 2013
12/31/13
12:00
PM ET
It's been a wild ride for both Duke and Texas A&M this season.


The Aggies, with their effervescent quarterback
Johnny Manziel
and their high-flying offense, were so often a thrill to watch, full of touchdowns and big plays, but ultimately not enough wins to compete for an SEC title.
Duke, meanwhile, had what could only be called a dream season when compared to the history of the program. David Cutcliffe was named Bobby Dodd Coach of the Year after leading the Blue Devils to their first 10-win season and a spot in the ACC championship game.
How it will end for both teams depends on who shows up ready to play in the Chick-fil-A Bowl at the Georgia Dome in Atlanta (
ESPN, 8 p.m. ET
).
Here's a quick preview of the game:
Who to watch:
Manziel has been careful not to make any official NFL announcement yet, but all indications point to the redshirt sophomore leaving Texas A&M early to enter the draft. And he might not be alone. Receiver
Mike Evans
, another redshirt sophomore, is a prime candidate to bolt for the pros as well. So get your fill of them while you can because they're arguably the best at their positions in the country. Manziel's talents, by now, speak for themselves. But Evans might be the bigger concern for Duke because at 6-foot-5 and 225 pounds, he's downright unstoppable. Just ask two of the best teams in the SEC, Alabama and Auburn, which combined to allow 566 yards and five touchdowns through the air to him this season.
What to watch:
Don't forget to pay attention to those pesky Blue Devils, though, as wide receiver
Jamison Crowder
and linebacker
Kelby Brown
are ones to watch. But Duke, without suspended leading rusher
Jela Duncan
, is in a pickle. Throwing the ball often will be a temptation, but as quarterback
Anthony Boone
said, it's a fool's errand to try to outduel Manziel because "that doesn't win football games." Instead,
Josh Snead
, Duke's backup tailback who ran for 547 yards this season, will be asked to do more. If the Blue Devils stay balanced on offense, they have a shot against what has been a porous Aggies defense. But if Boone, who has thrown 11 interceptions to 10 touchdowns, is asked to do too much, Duke could be in big trouble.
Why to watch:
Soak it all in because these two programs appear to be headed toward a crossroads. Duke has never had success like this before. How will it respond if its dream season ends with two straight losses? Can the entire coaching staff stay together? Is one player suspension a sign of more to come? And more questions can be asked of Texas A&M, which might shun the idea of rebuilding next season, but with the possibility of Manziel and Evans leaving, it's definitely a matter of hitting the "reset" button. Coach Kevin Sumlin is locked up under a new contract, but with so many NFL head coaches being fired this week, do the pros start beckoning him as well? Whatever the case, Texas A&M and Duke fans should savor the final game of their seasons and hope that next season holds just as much success.
Prediction:
Texas A&M wins it running away from Duke, 48-28. Had the Blue Devils showed better against this season's Heisman Trophy winner,
Jameis Winston
, I might have been swayed to pick otherwise. But Florida State gave Texas A&M the blueprint to moving the ball offensively. Manziel will have his way against the Duke secondary and end his career as an Aggie with a flourish, accounting for a handful of touchdowns that should leave us as in awe of his penchant for making something out of nothing.
December, 31, 2013
12/31/13
11:00
AM ET
Kelvin Benjamin
has answered the questions more times than he can count, and he has lost interest in the narrative.
The story has been written again and again about the physically gifted receiver who took so long to blossom. But even though Benjamin's emergence is old news now, even he still manages to surprise with how good he really is.
[+] Enlarge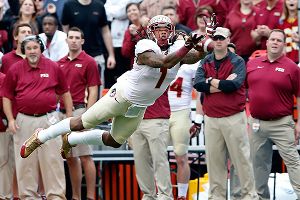 Sam Greenwood/Getty ImagesFlorida State's Kelvin Benjamin has emerged as one of the best receivers in college football.
His coaches and teammates spent two years hyping him, explaining away his shortcomings, pushing him to get better. Now they're simply watching him do what comes naturally.
After two years of wondering when Florida State's 6-foot-5 monster of a receiver would emerge, Benjamin has shifted into a far different approach as he prepares for the biggest game of his career.
"It's just doing the same thing I've been doing all year," he said.
That's the true measure of Benjamin's progress. No one needs to ask why his practice performances have so far outpaced his game-day numbers or wonder when he'll put in the time and effort and study he needs to be great. After Benjamin finished 2013 with nine touchdowns in his final five games, the sophomore has officially reached elite status.
"I knew what he had in him and he's really grown and developed into one heck of a guy," FSU coach Jimbo Fisher said.
Fisher has enjoyed seeing Benjamin develop. His opposition in Monday's VIZIO BCS National Championship, however, might be having nightmares.
Auburn ranks 103rd nationally in passing defense, and the Tigers' secondary has had few answers for physically imposing receivers like Benjamin. Texas A&M's
Mike Evans
had 11 catches for 287 yards and four touchdowns against Auburn. Mississippi State's
Donte Moncrief
caught six passes for 122 yards and two scores.
Missouri's Dorial Green-Beckham
went for 144 yards on six catches, including two touchdowns.
In other words, Benjamin has Auburn's attention.
"It's going to be a big challenge," Auburn corner
Jonathon Mincy
said. "That's all I've been hearing about, is their wide receivers."
Mincy said Auburn views the matchup as an opportunity to prove its critics wrong, to play man and press coverage against Florida State's dynamic receivers and challenge Benjamin physically.
Benjamin, however, isn't buying that.
"Mostly third down, they'll go man. But it won't be press coverage," he said. "They'll probably play us like Miami played us."
The Hurricanes tried to take away the deep ball by playing well off Florida State's receivers and blitzing quarterback
Jameis Winston
. The plan didn't keep the Seminoles from cruising to a 41-14 win, but it's probably worth noting that Benjamin finished with just two catches for 46 yards.
It's also worth noting that he found the end zone in every game after that.
That's perhaps what truly separates this version of Benjamin from years past, what's pushed those stories of unrefined talent to the back burner as the country takes notice of one of college football's emerging stars. Benjamin isn't frustrated by failure anymore. He's motivated by it.
Benjamin's biggest game this season came against Florida, when he caught nine balls for 212 yards and three TDs. The numbers could've been even better. He dropped two potential touchdowns, looking to get upfield before securing the ball. When he trudged back to the sideline afterward, he was already looking for his next chance to prove he could correct the mistakes.
"Maturity," Fisher said. "Accepting that he made a mistake, corrected the mistake and he's handled those situations much better. He got to a point where he realizes he can play, and the pressure's not on, and he has true confidence."
It's confidence that's infectious. Florida State's other players feed off Benjamin's big-play heroics. His size and speed and physicality can be demoralizing for the opposition before the game even kicks off. Benjamin has found the secret to his success, and that's a storyline he'd been waiting to write.
"I really believe now," he said, "that if you prepare for the test, you'll pass."