April, 30, 2012
4/30/12
9:00
AM ET
Despite a 6-6 season in 2011, Miami led all ACC schools with six players getting selected during this past weekend's NFL draft. The ACC as a whole had 31 players selected, the third most among all conferences, behind the Big Ten (41) and, yes, the SEC (42).
NC State had five players taken, the second most among ACC schools. Neither the Hurricanes nor the Wolfpack had any players taken in the first two rounds. Duke and Maryland both had zero players drafted.
Luke Kuechly
, as expected, got the ball rolling for the conference Thursday night, when the Panthers took the former Boston College inside linebacker ninth overall. I was a little surprised to see Georgia Tech's
Stephen Hill
, projected by many as a late first-rounder, fall all the way to the Jets at No. 43.
Here's a school-by-school breakdown of the draft, followed by a round-by-round breakdown:
Miami
: 6
NC State
: 5
Clemson
: 4
FSU
: 4
Wake Forest
: 4
Virginia Tech
: 3
UNC
: 2
Georgia Tech
: 1
Virginia
: 1
Boston College
: 1
FIRST ROUND
No. 9, Panthers: ILB Luke Kuechly, Boston College
No. 16, Jets: DE
Quinton Coples
, UNC
No. 31, Giants: RB
David Wilson
, Virginia Tech
SECOND ROUND
No. 38, Jaguars: DE
Andre Branch
, Clemson
No. 43, Jets: WR Stephen Hill, Georgia Tech
No. 52, Titans: OLB
Zach Brown
, UNC
THIRD ROUND
No. 64, Colts: TE
Dwayne Allen
, Clemson
No. 69, Bills: WR TJ Graham, NC State
No. 72, Dolphins: DE
Olivier Vernon
, Miami
No. 86, Steelers: LB
Sean Spence
, Miami
No. 93, Bengals: DT
Brandon Thompson
, Clemson
No. 94, Giants: CB
Jayron Hosley
, Virginia Tech
FOURTH ROUND
No. 96, Rams: WR
Chris Givens
, Wake Forest
No. 97, Dolphins: RB
Lamar Miller
, Miami
No. 100, Browns: WR
Travis Benjamin
, Miami
No. 105, Bills: OLB
Nigel Bradham
, FSU
No. 113, Cowboys: OLB
Kyle Wilber
, Wake Forest
No. 115, Titans: CB
Coty Sensabaugh
, Clemson
No. 117, 49ers: G
Joe Looney
, Wake Forest
FIFTH ROUND
No. 144, Bills: T
Zebrie Sanders
, FSU
No. 163, Packers: OLB
Terrell Manning
, NC State
SIXTH ROUND
No. 152, Cowboys: WR
Danny Coale
, Virginia Tech
No. 176, Jaguars: CB
Mike Harris
, FSU
No. 187, Jets: S
Josh Bush
, Wake Forest
No. 198, Ravens: WR
Tommy Streeter
, Miami
No. 200, Eagles: G
Brandon Washington
, Miami
SEVENTH ROUND
No. 210, Vikings: ILB
Audie Cole
, NC State
No. 225, Seahawks: DE JR Sweezy, NC State
No. 237, 49ers: DE
Cam Johnson
, Virginia
No. 239, Giants: DT
Markus Kuhn
, NC State
No. 241, Packers: T
Andrew Datko
, FSU
March, 16, 2012
3/16/12
2:30
PM ET
Nigel Bradham
did not need to participate in timed speed drills Wednesday to leave the biggest impression at Florida State's pro day.
With a strong Senior Bowl and impressive combine numbers -- a 4.65 40-yard dash, 24 reps of 225 pounds in the bench press, a 37-inch vertical -- Bradham's draft stock has risen since his final game in a Seminole uniform, and he did not drop any balls thrown his way in position-specific drills performed in front of scouts from 27 NFL teams and one CFL team.
"From what I was just told, I've helped my stock a lot," Bradham said,
according to the Orlando Sentinel
. "It's pretty much just showing what I can do. Getting out of breaks and showing my quickness and speed."
Bert Reed
led a group of
four former FSU players who ran a sub 4.65 40 Wednesday, timing in unofficially at 4.46
. Antwane Greenlee's 21 reps on the bench press led all former Seminoles, and
Mike Harris
' 36 inches were the best on the vertical jump.
Virginia Tech running back
David Wilson
told reporters Thursday that he ran his 40 in the 4.35-4.40 range
, an improvement from his 4.49 40 at the combine. The Hokies did not release numbers from their pro day.
Eleven players
worked out in front of scouts from 11 different teams at Maryland's pro day Wednesday
, while Virginia
hosted 17 former players and scouts from all 32 NFL teams and one CFL team for its pro day Thursday
. Times for players from either school were unavailable.
February, 7, 2012
2/07/12
5:00
PM ET
By
ESPN.com staff
| ESPN.com
The
official invite list
for the NFL combine is out. Every school but Duke is represented, and there are a total of 43 former players from the conference who will participate, including Miami's entire starting lineup from 2011. Well, ok, not really, but it's a pretty big hit for the Canes. Best of luck to all of these guys at the next level.
Here are your ACC representatives:
BOSTON COLLEGE (1)
CLEMSON (6)
FLORIDA STATE (6)
GEORGIA TECH (1)
MARYLAND (1)
MIAMI (8)
NORTH CAROLINA (6)
NC STATE (5)
VIRGINIA TECH (4)
VIRGINIA (2)
WAKE FOREST (4)
November, 2, 2011
11/02/11
5:00
PM ET
There hasn't been any miraculous transformation in Tallahassee, no complicated changes, personnel moves or panic.
Instead, the reason for Florida State's quick turnaround over the past three weeks is simple, at least according to coach Jimbo Fisher: Quarterback
EJ Manuel
is healthy and back in the starting lineup.
[+] Enlarge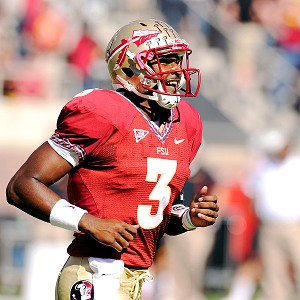 G Fiume/Getty ImagesWith EJ Manuel healthy, FSU's offense has gotten back on track over the past three weeks.
Manuel separated his shoulder in the 23-13 Sept. 17 loss to Oklahoma, a turning point in Florida State's season that snowballed into a three-game losing streak in which Manuel was sidelined for parts of each game.
"It happens and it was something I couldn't control, because if I could've played in all three of those games I would have," Manuel said. "You never want to get injured and it did happen. Nothing I can do about it, just when I was healthy enough to come back and play, just try to contribute as much as I could to my team and let those guys know I was back, and I wasn't going to allow the injury to stop us from doing what we wanted to do this season and still have a successful season."
The definition of a successful season for Florida State has changed dramatically, though, since the preseason. The expectations for the Noles have bounced around like a ping-pong ball, from national title talk to the ACC championship game to just becoming bowl eligible.
Now, amidst a three-game winning streak heading into Thursday night's game at Boston College, the Seminoles are on the upswing again, and it's no coincidence that the team's success has mirrored that of Manuel's. In his first time facing NC State last weekend, Manuel threw for 321 yards and two touchdowns in the 34-0 win. Consider what he's done in the past four games since recovering from the shoulder injury:
Completed 71 of 109 pass attempts for 1,110 yards with seven touchdowns and a 164.5 passer efficiency rating.

Completed more than 65 percent of his passes.

His 1,110 passing yards in the past four games are more than accumulated in an entire season as a part-time starter and full-time back-up to Christian Ponder.

After never passing for two touchdowns in a game coming into 2011, Manuel has multiple touchdown passes in three of his last four games.
"He's able to make plays when it seems as though the play is being shut down so he's able to buy time and get the ball downfield and things of that sort," said FSU cornerback Mike Harris. "He definitely does bring a new life to this team."
And they definitely needed it.
Injuries, lack of cohesion on the offensive line, a subpar running game -- it all contributed to the pedestrian start. While the unranked Noles have yet to resemble the No. 6-ranked team they were tagged as this preseason, Florida State is getting closer and closer to reaching its full potential.
"I hope it's still yet to come," Fisher said. "I still think we have a lot of room for improvement. We're so young and your line's starting to finally grow together a little bit, hopefully. We're playing better, but I don't think we're anywhere close to where we need to be and can be."
Including bowl-eligible.
"It's good we're playing well now," Manuel said. "We lost three games, it happens. It's part of the season, it's football. We're definitely going to try to control what we can control right now, take care of BC and then get ready for Miami."
And 2012. Manuel said there's no question he and his teammates haven't lost sight of a national title, and chuckled when he said maybe they can even still win it this year.
"You can't go into a hole just because you lost games and a couple of your goals, you won't be able to reach them," Manuel said. "You've still got to play the game and still have to win out."
They have a much better chance to do that now that Manuel is back in the lineup.
September, 24, 2011
9/24/11
2:57
PM ET
CLEMSON, S.C. - A few quick lineup changes for you:


For Florida State, freshman
Nick O'Leary
will start in place of senior
Beau Reliford
at tight end, noseguard
Anthony McCloud
got the start of Jacobbi McDaniel, and
Mike Harris
will start at corner instead of Greg Reid. I am told receivers
Kenny Shaw
and
Bert Reed
are still game-time decisions. I expect an announcement here in the press box shortly before kickoff. Both are out on the field right now, dressed and running practice routes.
Truth? It would be stunning to me if Shaw -- after the viscious double helmet-to-helmet hit he took last week from Oklahoma -- played in this game and starting quarterback
EJ Manuel
didn't, but hey, I'm not a doctor and FSU has already confirmed that backup quarterback
Clint Trickett
will start. Manuel didn't even warm up. His receivers at least
look
like they're ready.
For Clemson, Brandon Thomas will start at left guard instead of Mason Cloy, and running back
Andre Ellington
(hamstring) is cleared and back in the starting lineup.
As early as three hours before the game, traffic into Death Valley was slower than a crawl, and the tailgating scene was in full force long before then. There have been a few sightings of Florida State fans, but this is Clemson's home and the Garnet and Gold is hard to find. Most of the fans are still outside the stadium at this point, but the Hill is starting to fill up.
This is one of the toughest venues in the ACC. We'll find out soon enough if Trickett is ready for it.
September, 17, 2011
9/17/11
7:30
PM ET
TALLAHASSEE, Fla. -- A few quick lineup changes for you for Florida State:
Freshman Rashad Greene is expected to start at receiver, though I'm told Bert Reed is healthy enough to play and will.
Jacob Fahrenkrug will start at left guard, and Bryan Stork will start at center. The two have flip-flopped before.
Xavier Rhodes will start at boundary corner over Mike Harris.
The stadium is slowly starting to fill up here, as the Noles are out there warming up. Three predictions as to what you might see Saturday night:
EJ Manuel will run more. We're bound to see some new wrinkles in FSU's offense. There's no way Florida State showed its full hand in the first two blowout wins against unheralded opponents. One of those wrinkles could be the use of Manuel's mobility.
Oklahoma will struggle up front more with Florida State's defensive line. Brandon Jenkins will get after Sooners' quarterback Landry Jones, and the Noles won't be as neutralized as they were up front a year ago.
Florida State will have the edge in special teams. Not only in the return game and with field position, but also in the kicking game. The Seminoles have one of the top kicker/punter duos in the country in Dustin Hopkins and Shawn Powell, and in a tight game, special teams could play a major role.
June, 30, 2011
6/30/11
2:00
PM ET
As advertised ...
1. Florida State:
The Noles have one of the best cornerback duos in the country in Greg Reid and Xavier Rhodes. They combined for 33 passes defended last season, the most of any pair of cornerbacks in the nation. Mike Harris had 41 tackles and four picks as a reserve.
[+] Enlarge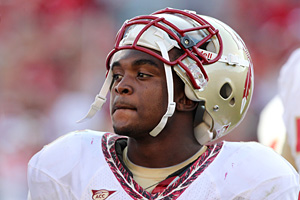 Matthew Emmons/US PresswireFlorida State cornerback Greg Reid is also one of the ACC's top return men.
2. Virginia Tech:
Jayron Hosley is one of the top boundary corners in the country, and the Hokies also have Kyle Fuller, who had six deflections last season, and Cris Hill (two deflections) at field corner.
3. Maryland:
The Terps return both starters in Cameron Chism and Trenton Hughes, who combined for 36 career starts. Chism is a strong cover corner who had 70 tackles and eight deflections last season. Hughes had nine pass deflections.
4. NC State:
Both starters return in C.J. Wilson and David Amerson. Wilson had 46 tackles, two interceptions and six pass breakups, and Amerson had 57 tackles. Justin Byers and Gary Grant also have experience.
5. North Carolina:
The Tar Heels lost some remarkable talent in their secondary, including cornerback Kendric Burney, but there is a lot of depth at the position. Jabari Price started four games last season, Charles Brown has 22 career starts but sat out last season, and Mywan Jackson and Tre Boston both have at least four starts each.
6. Boston College:
The Eagles will miss DeLeon Gause, but Donnie Fletcher has 17 career starts, 56 tackles last season, and led the team with five picks. C.J. Jones played in 12 games as a backup last season with 16 tackles. Dominique Williams also saw some time and had four tackles, and true freshman Al Louis-Jean, who was the No. 9 cornerback in the nation as ranked by ESPN Recruiting, enrolled early.
7. Clemson:
It's a young group, as the Tigers had to replace Marcus Gilchrist and Byron Maxwell. Xavier Brewer had 10 starts with 50 tackles and two interceptions last season, Coty Sensabaugh had 31 tackles in three starts, and senior Mansa Joseph will also be competing for playing time with sophomore Martin Jenkins.
8. Virginia:
The Cavaliers return both starters in Chase Minnifield and Devin Wallace, but Wallace was suspended and missed spring ball and is still suspended. Wallace had 38 tackles and six breakups last season. Chris Broadnax, Rijo Walker, Drequan Hoskey and Pablo Alvarez will all compete for playing time.
9. Miami:
The Hurricanes have to replace both starters in Brandon Harris and Ryan Hill. Jo-Jo Nicholas moved to corner and Brandon McGee, who was the nickel back last season, will compete along with
Lee Chambers
, Keion Payne, Nathan Gholston and true freshman Thomas Finnie, who had a great spring.
10. Georgia Tech:
The Jackets had to replace their entire secondary, including cornerbacks Mario Butler and Dominique Reese. They've still got several cornerbacks with experience in Rashaad Reid, who started 14 games in 2008 and 2009, Rod Sweeting (38 tackles, seven pass breakups, one interception), Louis Young (10 tackles), and Michael Peterson (six tackles, one pass breakup).
11. Wake Forest
: The Deacs have a deep enough secondary that they can live without the experience of cornerback Kevin Johnson, who started five games last season but will sit out this season while academically ineligible. Josh Bush had 33 tackles and four pass breakups last season, Kenny Okoro is a rising star, A.J. Marshall has three starts and Dominique Tate returns after missing last season while on academic suspension.
12. Duke:
Ross Cockrell is a returning starter and finished last season with 60 tackles and 10 passes defended. He was only a freshman but he tied for eighth in the ACC with passes defended with 10 in 12 games. Johnny Williams had four pass breakups last season.
May, 5, 2011
5/05/11
10:00
AM ET
By
ESPN.com staff
| ESPN.com
FLORIDA STATE
2010 overall record:
10-4

2010 conference record:
6-2
Returning starters
Offense: 8, defense: 8, punter/kicker: 2
Top returners
QB
EJ Manuel
, WR
Bert Reed
, WR
Taiwan Easterling
, LT Andrew Datko, RG David Spurlock, RT Zebrie Sanders, RB
Chris Thompson
, RB
Jermaine Thomas
, DE Brandon Jenkins, DT Jacobi McDaniel, LB Nigel Bradham, CB Greg Reid, CB Xavier Rhodes, PK Dustin Hopkins, P Shawn Powell
Key losses
LG Rodney Hudson, C Ryan McMahon, QB
Christian Ponder
, DE Markus White, LB Kendall Smith, LB Mister Alexander
2010 statistical leaders (* returners)
Rushing:
Thompson* (845 yards)
Passing:
Ponder (2,044 yds)
Receiving:
Reed* (614 yds)
Tackles:
Bradham* (98)
Sacks:
Jenkins* (13.5)
Interceptions:
Rhodes* and Mike Harris* (4)
Spring answers
1. Depth on both sides.
Florida State returns all three leading rushers from last year, each of whom had at least 400 rushing yards in 2010. All of the Noles' top receivers are back, but coach Jimbo Fisher was also pleased with young receivers like
Jared Haggins
and
Greg Dent
. The defensive line is deep, and the staff learned that Lamarcus Joyner can play safety at the collegiate level. The kicking game will be a strength, as FSU might have the best punter/kicker combo in the country. Dustin Hopkins booted a 60-yard field goal in the spring game.
2. Defensive improvement:
The defense really made some strides in terms of knowing what it has to do, and has become more comfortable in the second season under coordinator Mark Stoops. The Noles found more depth on defense, as playmakers emerged even with players sidelined with injuries. The young linebackers were a particularly promising group.
3. It's EJ's offense now.
In what was the first spring session he was healthy enough to participate in, quarterback EJ Manuel emerged as a leader heading into his first season as a full-time starter. He showed he can take command of the offense and goes into summer camp with nobody looking over his shoulder. He's 4-2 as a starter and was able to take another step forward this spring.
Fall questions
1. Backup quarterbacks:
Clint Trickett
and
Will Secord
will take their competition into the summer, but Trickett got more opportunities in the spring game and made the most of them. He completed 13 of 22 passes for 137 yards. Secord completed 3 of 9 passes for 25 yards, but a clear No. 2 has yet to be named.
2. What will the offensive line really look like?
It was a patchwork group this spring, as left tackle Andrew Datko was out with a shoulder injury, right tackle Zebrie Sanders was out after abdominal surgery, and left guard David Spurlock, who started the first seven games of 2010 before suffering a concussion, was only about 50 percent because of a hand/wrist injury. Key reserves like Rhonne Sanderson (foot injury) and Blake Snider (ankle injury) were missing. Jacob Fahrenkrug was supposed to take over at left guard, but finished the spring starting at center. This fall, the starting lineup will consist of LT Datko, LG Bryan Stork or Spurlock, C Fahrenkrug, RG Spurlock or Stork, RT Sanders. Despite the losses of Hudson and McMahon, there is experience up front, but building depth remains an issue.
3. How good is the defensive line?
There's no doubting Florida State's defensive line will be good, but with the offensive line riddled with injuries, it was impossible to tell how good it can be. Newcomer Tank Carradine didn't get a chance to go against Sanders or Datko, leaving for an unfair assessment.
April, 6, 2011
4/06/11
9:30
AM ET
Florida State held its first scrimmage of the spring on Monday and on Tuesday evening released the stats. The Seminoles' practices and scrimmages are closed to fans and the media. Here are the highlights,
based on the school's report
:

Offensive highlights:
Reed had a six-yard touchdown reception and a 36-yard touchdown catch in a two-minute situation. Reed finished the day with seven receptions for 81 yards.

Pryor's reception came from seven yards out in a red zone situation.

FSU's starting offensive line of Henry Orelus, Jacob Stanley, Jacob Fahrenkrug, Bryan Stork and Garrett Faircloth each worked 65 plays. Fahrenkrug at center and Faircloth at right tackle both earned the highest grades on the line.
Defensive highlights:
Linebackers Christian Jones and Telvin Smith each had eight tackles. Smith also forced a fumble and recovered a fumble and returned it for a touchdown.

Cornerback Greg Reid had five tackles with two pass breakups and Mike Harris had six solo tackles and a pass breakup.
September, 8, 2010
9/08/10
12:30
PM ET
By
ESPN.com staff
| ESPN.com
Big weekend coming up for the ACC ...
August, 23, 2010
8/23/10
9:00
AM ET
Here's a quick look back at the weekend scrimmages, thanks to reports from the schools' sports information offices:
BOSTON COLLEGE
Sophomore quarterback
Mike Marscovetra
was perfect, going 12-for-12 for 90 yards and a touchdown.
Dave Shinskie
went 14-for-19 for 116 yards, but threw an interception. True freshman
Chase Rettig
was 2-for-4 for 13 yards.
Sophomore
Clyde Lee
and true freshman
Bobby Swigert
led the receivers with five catches each. Lee had a game-high 43 yards, and Swigert went for 29 yards and a touchdown.
Redshirt freshman kicker Nate Freese made a 51-yard attempt that hit the crossbar and went through, and he made another from 39 yards. He missed a 47-yarder that hit high off the left upright.
Sophomore linebacker Luke Kuechly led the defense with six tackles, and junior safety Dominick LeGrande recorded five tackles and an interception.
FLORIDA STATE
The Seminoles went through what amounted to a full-scale dress rehearsal, as they did their pre-game routine, returned to the locker room, then returned to the field for a three-hour scrimmage. Offensive coordinator James Coley and quarterbacks coach
Dameyune Craig
were in the press box, along with defensive ends coach D.J. Eliot and a graduate assistant. They helped call the plays on headphones, and there weren't any personnel or clock-management issues.
Junior college transfer
Mike Harris
earned some high praise from coach Jimbo Fisher:
"Mike's a good player; he's a real good player," said Fisher. "He breaks on the ball. He's almost like a quiet assassin. You never hear him out there, but he's always in the right place."
Statistics weren't included in the team's
scrimmage report
, but sophomore
Willie Haulstead
played well, and Fisher used a tailback-by-committee approach with
Jermaine Thomas
,
Ty Jones
and
Chris Thompson
. Defensively, former cornerback Ochuko Jenije started at safety.
VIRGINIA TECH
First, the injury report: Backup receiver
Xavier Boyce
sprained his left MCL and will have an MRI, backup linebacker Lorenzo Williams sprained his right foot and will have an MRI, and punter Brian Saunders bruised his right ankle. According to the Richmond Times-Dispatch, linebacker Barquell Rivers
will not play
against Boise State, and Bruce Taylor will start in his place. Starting field corner Jayron Hosley is still out with a hamstring injury.
Offensively,
Tyrod Taylor
completed 7 of 9 passes for 95 yards, a touchdown and an interception.
Ryan Williams
was the leading rusher with 46 yards on nine carries, including a 2-yard touchdown run.
David Wilson
added 38 yards on six carries and scored on a 12-yard run. Defensively, Eddie Whitley led the way with seven tackles and a pass break-up. Kicker Chris Hazley made field goals of 43 and 47 yards, but missed his first field goal in a preseason scrimmage when he was wide left on a 48-yard attempt. Cris Hill blocked two punts.
You can find more on the Hokies'
scrimmage here
.
August, 18, 2010
8/18/10
10:30
AM ET
By
ESPN.com staff
| ESPN.com
Florida State defensive coordinator Mark Stoops said he is confident enough in the depth at the cornerback position that he could move redshirt senior Ochuko Jenije to safety or use him in nickel packages. Jenije is the lone returning starter in the secondary.

"He's a good football player, very reliable, very versatile, so I'm going to experiment with moving him around," Stoops said.

Rising star Greg Reid has pretty much locked up one of the starting jobs at cornerback, where the Seminoles can also count on Xavier Rhodes, junior college transfer Mike Harris, and true freshman Lamarcus Joyner. Reid should flourish in the new zone scheme.

"I feel very good about the depth we have the corner," Stoops said. "It gives you the opportunity possibly to move Jenije to some other spots."

Stoops also said the defensive line is making progress.

"I feel like we are taking some steps," he said. "We're trying hard to develop some depth up there."
January, 27, 2010
1/27/10
12:30
PM ET
By
ESPN.com staff
| ESPN.com
And the commitments keep coming in ...