September, 26, 2014
Sep 26
12:00
PM ET
SOUTH BEND, Ind. -- On a Sunday summer afternoon in 2012, Notre Dame president Rev. John Jenkins and athletic director Jack Swarbrick hopped on a plane to Winston-Salem, North Carolina. There, they met ACC commissioner John Swofford and Wake Forest president Nathan Hatch to discuss several items, a potential Orange Bowl arrangement among them.
"That was the primary reason for the meeting, but it evolved into more discussion," Swofford told ESPN.com. "And I think it ended up -- we didn't necessarily intend it to be -- but it ended up being sort of a pivotal point in the discussions going forward."
Fast-forward to MetLife Stadium this Saturday, and the final phase of Notre Dame's integration into the ACC will be complete, as the Fighting Irish will take on Syracuse in the first game of their semi-alignment with the league, which welcomed their non-football sports last year. The athletic department's big money-maker dips its foot into the ACC by playing an average of five league games a year, as agreed upon in September of 2012.
[+] Enlarge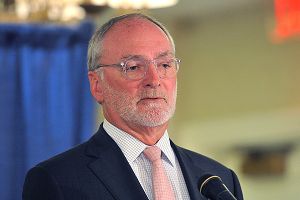 AP Photo/Joe RaymondNotre Dame's agreement with the ACC was the "right deal at the right time," said AD Jack Swarbrick.
It has caused old rivalries to die and planted the seeds for new ones to grow. It has seen the nation's biggest independent relinquish some sovereignty in return for further department-wide stabilization. It has rankled some (
see: Krzyzewski, Mike
) while reuniting Notre Dame with others (former AD Kevin White, now at Duke; alumnus Bubba Cunningham, now North Carolina's AD).
Notre Dame's men's teams debuted in the ACC last year by winning the Capital One Cup. Whether the football team can spoil the ACC's dreams of repeating as the national title winners will be clearer Oct. 18, when the Irish travel to Florida State. For starters, they will get acquainted with their new quasi-home by facing the Orange in East Rutherford, New Jersey.
"We're hitting this conference where football is really ascending," Swarbrick told ESPN.com. "The top of the conference has been great for a while, but I really see (the overall strength) getting better and better, and that's going to be great for us as we want to make sure we're making a compelling case for the strength of our schedule."
The connections between the two sides had already run deep enough -- from Hatch having been a former Notre Dame provost, to former ACC commissioner Gene Corrigan having been the Irish's AD -- and things were starting to materialize as Jenkins, Swarbrick and Swofford sat down in Hatch's home.
The ACC's courtship of Notre Dame fizzled before Swarbrick and Swofford were in their current roles, but the foundation had been laid. The two were spending plenty of time together in 2012 as the conference commissioners gathered to overhaul the BCS in favor of a playoff. And with instability reigning over the college landscape, the timing was ideal.
"We were doing this in the context of a belief that some movement by us was inevitable, that what was going on with the Big East was really going to present a challenge for our other sports," Swarbrick said. "And so you enter into this whole process from a platform of, 'We have to do something.' And in the context of that, 'What are our priorities?'"
A safe haven for other sports, which were in desperate need of one given the demise of the Big East? Check.
An academic fit, a mix of private and "public-private" schools located among the vast recruiting and alumni population along the Eastern seaboard? Check.
An entry into the playoff, with other attractive bowl options? Check.
All that was missing, it seemed, was deciding how exactly to handle the little matter of Notre Dame's football schedule.
"They were very consistent in verbalizing that the primary objective in anything they did would be maintaining their independence in football," Swofford said. "We grew to respect that, and I think they always respected where we were in terms of full membership. And I think given the times that we were in both as a conference and that Notre Dame was in, that was the total landscape. I think both parties began to sense that there was a middle ground from a football standpoint that could be beneficial to both."
Notre Dame was given access to the ACC's bowl lineup, as the Irish can now take a team's place in a non-access bowl if their record is better, equal or within one win of that team, or if they're ranked higher. Said ACC bowl lineup is now deeper and better than before, with 13 partnerships.
Notre Dame was given five ACC opponents annually, who received a strength-of-schedule boost. (And likely swelled their attendance.)
"At the end of the day it became, for us, strictly from a football standpoint, how do we maintain a schedule that gives us that independence and, second, what gives us the best, strictly from a football standpoint, the best bowl game tiein opportunities and has a geographical, I guess, not significance, but makes sense?" Notre Dame coach Brian Kelly said. "When those three things were checked off it came down to the ACC."
Kelly spoke on the ACC coaches' teleconference Wednesday, something he will do each week he faces an ACC team. The league has accommodated the football program elsewhere in scheduling matters, particularly in moving the Wake Forest game to next season to avoid interference with the Irish's 2014 obligations.
The outcome, Swarbrick said, has been as good as he could have hoped for. Now comes kickoff.
"There were points along the way where we obviously worried whether it would work out, because the ground was shifting so quickly," Swarbrick said. "We didn't want to make a precipitous decision, but you didn't want to be the last one standing when the music stopped. So as much as anything, I spent a lot of time considering issues with timing, and at end of the day I think that may be the thing we did best. We got the right deal at the right time."
April, 22, 2009
4/22/09
9:30
AM ET
By
ESPN.com staff
| ESPN.com
Posted by ESPN.com's Heather Dinich
Duke coach David Cutcliffe made a difference in his first season, winning four games in 2008. While that might sound like a disastrous season for many, the Blue Devils won as many games last season as they had in the four previous seasons combined. Still, it wasn't good enough for Cutcliffe, who thought they were capable of winning more. He discusses that and more in our interview this week:
| | |
| --- | --- |
| | |
| | Kevin C. Cox/Getty Images |
| | While his program showed signs of improvement in 2008, David Cutcliffe knows there is still work to be done. |
Ok, let's go ahead and get this one out of the way. Can Greg Paulus really throw the football well enough to be a college quarterback?
David Cutcliffe: Greg can throw the ball. I haven't seen him throw it in person, but I saw him on high school tape, and he threw the ball a lot and effectively. My dealings with him, I kind of started that. I actually called Mike Krzyzewski first, just to say, 'Hey, I'm going to call Greg.' I wouldn't do it without telling Mike first. We had six practices left, and he could play a little receiver. It would be very difficult for him to start for us at quarterback. He just decided if it wasn't pure quarterback he wasn't interested in it, so we'll see what happens, but you don't bet against a competitor. Ever. He is definitely a fierce competitor.
Do you have a pretty good relationship over there with Coach K? Or do you guys not really see each other much?

DC: Absolutely, great. I'm one of his biggest fans. I have watched him practice, I love to hear him teach, I love conversations with him because he is the epitome of a coach. He's always teaching. I just think he's a master, I really do. I enjoy everything he does with his program.
About your program, what is the biggest change you've seen since you took over?
DC: People starting to believe we can win at Duke, most importantly our players, but not unimportantly our fans. Our fans, we're creating a little expectation. People say you're crazy, well I don't think so. I don't know if you'd call it revitalizing, because it basically had gone dead. Part of beginning a program is to make people believe we can win at Duke.
ACC SCOREBOARD
Saturday, 12/20
Monday, 12/22
Tuesday, 12/23
Wednesday, 12/24
Friday, 12/26
Saturday, 12/27
Monday, 12/29
Tuesday, 12/30
Wednesday, 12/31
Thursday, 1/1
Friday, 1/2
Saturday, 1/3
Sunday, 1/4
Saturday, 1/10
Monday, 1/12
Tweets from https://twitter.com/ESPNCFB/lists/acc