October, 21, 2013
10/21/13
5:00
AM ET
1. We are fooled easily in the excitement of the moment. Yet Florida State so dominated at Clemson that the 51-14 victory will be one of the seminal moments of the season. It will mark the emergence of redshirt freshman quarterback
Jameis Winston
in prime time, literally and otherwise. As good as Winston played, the Florida State defense played better. The Seminoles are back, and what better time? The university that dumped Hall of Fame head coach Bobby Bowden four years ago will honor him this Saturday.
2. The one complaint against the makeup of the College Football Playoff Selection Committee that has merit is that West Virginia athletic director Oliver Luck, at age 53, is the youngest member. It makes sense that the commissioners wanted gravitas on the committee, and with the presence of members such as Tom Osborne, Mike Tranghese and Pat Haden, they have it. But they made room for a woman and a retired sportswriter. However hard they searched for a member under 40, they should have looked again.
3. The old protocols are butting heads with the new spread offenses, and everyone is groping for the right way to act. Should the offense throw when it's way ahead? Baylor is averaging 64.7 points per game, and judging by the Bears' No. 8 ranking, no one is holding that against them. Should the offense throw if it's way behind? Oregon defensive coordinator Nick Aliotti ripped Washington State head coach Mike Leach for throwing 89 times, then apologized last night. No one knows what the rules should be any more.
January, 6, 2011
1/06/11
12:00
PM ET
By
ESPN.com staff
| ESPN.com
December, 31, 2010
12/31/10
12:00
PM ET
By
ESPN.com staff
| ESPN.com
December, 21, 2010
12/21/10
9:00
AM ET
By
ESPN.com staff
| ESPN.com
Former Texas Tech coach Mike Leach was the only candidate Maryland AD Kevin Anderson was willing to mention on Monday as a possible successor to Ralph Friedgen, but he's not the only candidate on Anderson's list.

Leach, though, should definitely be at the top for three main reasons:

1. He's affordable. The man is in no position to bargain. He's living the high life right now, fishing in Key West and waiting for somebody to offer him a job. He's got legal baggage from an ongoing lawsuit against his former employer, and a lot of schools -- like Miami -- aren't even willing to give him a look right now.

2. He's explosive. Maryland doesn't just need a spark, it needs a Fourth of July in Washington show. Attendance has declined over the past few seasons, but Leach in name and personality alone is enough to help reverse that trend. He's a pirate. A meteorologist. And the winningest coach in Texas Tech history all wrapped into one. If you guys are bored today, search for Mike Leach on YouTube. You'll see what I mean.

3. He can win. Leach never had a losing season at Texas Tech. He finished 84-43 there. He's extremely smart (ever notice how some of the best coaches always seem a little off-kilter?), and Texas Tech led the nation in passing in six of his final eight seasons. His spread passing attack was indisputably successful, but of course, he'll have to overcome the challenge of recruiting those players to College Park.

Leach himself would be a full-time job. Anderson would have to keep an eye on him closely. Their personalities don't seem to mesh. Anderson seems like a straight and narrow kind of guy. Leach, well, he's out to sea. He could be a public relations nightmare for any school, which means he's a reporter's dream. Leach would put Maryland in the national spotlight before he even coached a game, and that's exactly where Anderson wants the program on a consistent basis.

With Leach, for better or for worse, that's where it would be.
December, 20, 2010
12/20/10
4:42
PM ET
COLLEGE PARK, Md. -- Maryland had the ACC's Coach of the Year. It had the second-biggest turnaround in the FBS. And it was one win away from a chance to play in the Discover Orange Bowl.
None of it helped Ralph Friedgen's job security.
[+] Enlarge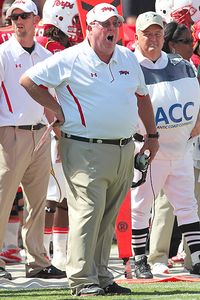 Jeff Fishbein/Icon SMIMaryland will pay $2 million to buy out the final year of coach Ralph Friedgen's contract.
"I took that into account," first-year athletic director Kevin Anderson said. "This was a good football team. I believe it can be great. We're going to bring the best person in here to get to that greatness and to sustain it. That's what we're looking at. That's why the decision has been made at this time."
With a new administration came a new standard at Maryland, and an 8-4 record apparently won't cut it.
Friedgen, a Maryland alum and leader of the Terps for the past decade, did everything he could do this season short of winning the Atlantic Division. It was a remarkable turnaround for a team picked to finish last in the ACC after an embarrassing 2-10 finish in 2009, but a unique situation forced Anderson to make a tough decision and think long-term. The departure of former offensive coordinator James Franklin opened the door for Anderson to make a sweeping change and put his stamp on the program less than three months on the job. With no offensive coordinator, only one year remaining on Friedgen's contract, and no extension, it was the right choice and the only choice.
Maryland will pay $2 million to buy out the final year of Friedgen's contract – an expense to be paid entirely by the financially struggling athletic department. Anderson, who took office on Oct. 1, said he expects a search firm to be hired by the end of the day, and that yes, former Texas Tech coach Mike Leach is a candidate. Anderson declined to discuss any other names on his list, but said he hopes to name Friedgen's successor by Jan. 4.
"Right now there is no leading candidate," Anderson said. "… I do have a list. Mike Leach is on that list."
Franklin, who was hired to be head coach at Vanderbilt, opted not to be.
Even if Franklin would have stayed, Anderson said there was no guarantee that he would have honored former athletic director Debbie Yow's coach-in-waiting plan. Franklin would have been a candidate, Anderson said, but not the only one.
"James and I did have a discussion," he said. "I told him I would not automatically give him the job, but he would have been a candidate had he chose to stay and the decision was his."
Following his eight-win season, Friedgen wanted a contract extension, but Anderson said he "wasn't willing" to give him one. Friedgen's contract expires Jan. 2, 2012, and it would have been impossible for him to recruit and hire assistants with only one year remaining. No offensive coordinator in the country is going to sign a one-year deal in College Park, let alone anywhere else.
The only option was to start over.
Friedgen, who will coach the Terps in the Military Bowl, will leave behind a team that can win. The Terps have the ACC's Rookie of the Year in quarterback Danny O'Brien, and if the team stays intact, it can contend for the Atlantic Division title again in 2011.
But based on today's decision, Anderson wants more than that.
He wants Maryland in the Top 25 on a consistent basis. He wants a coach who can get fans excited about football here again. That's a tall task for a program consistently competing with the Redskins, Ravens, Orioles, Wizards, Caps, etc. The expectations are loftier than the budget to support them, and championship-caliber coaches don't come cheap.
But a precedent has now been set.
On Jan. 2, Maryland will fire the ACC's Coach of the Year -- the first time in conference history the league's coach of the year has been dismissed.
It's a nice title, but to Anderson, ACC titles clearly mean more.
December, 20, 2010
12/20/10
12:30
PM ET
By
ESPN.com staff
| ESPN.com
Have you ever seen "The Ref?" No? Try it. Until then, here's a break from the "holiday" quotes for those who need one:
"That doesn't make any sense! Who wants to live in a world where dogs eat each other? Doggy-dog world is a beautiful world filled with little poh-pees." -- Gloria (If you don't know what show that's from, you're really, really missing out. Kind of like if you're not following
@ESPN_ACC
).
December, 1, 2010
12/01/10
12:00
PM ET
By
ESPN.com staff
| ESPN.com
June, 11, 2009
6/11/09
9:24
AM ET
By
ESPN.com staff
| ESPN.com
Posted by ESPN.com's Heather Dinich
Ever look at your team's schedule when it's first announced and wonder aloud WHY its lineup includes teams like Toledo, Temple, Eastern Illinois and Central Michigan? Wish your team was playing Alabama in the Chick-fil-A Kickoff? Well, if you could schedule one nonconference opponent for every team in the ACC, who would it be? Today ESPN.com is revealing our fantasy matchups.
Based on competition, style of play, coaching matchups, previous history -- whatever -- here's who I'd like to see the ACC play:
BOSTON COLLEGE vs. PITT -- Why keep playing Kent State when you can get this old Big East series renewed? Pittsburgh leads the series 13-16, and the two programs used to play almost every year for three decades. They haven't met, though, since 2004. Two of the last three games went into overtime.
CLEMSON vs. GEORGIA -- It's a natural rivalry that provided some of the best games of the 1980s, but the two programs haven't met since the 2002 and 2003 seasons, both season-opening losses for Clemson. This series actually will be renewed in 2013 and 2014.
DUKE vs. SOUTH CAROLINA -- This matchup is based purely on the coaching matchup: Former Duke coach Steve Spurrier vs. former SEC offensive wizard David Cutcliffe. These programs met regularly from the 1950s through the 1980s, but haven't played since a 24-24 tie in 1991. When Spurrier led Duke to the ACC title in 1989, he opened the season with a 27-21 loss to South Carolina.
FLORIDA STATE vs. NEBRASKA -- Let's go old-school here -- the Charlie Ward offense vs. the Blackshirts' defense. In the late 1980s and '90s, these were powerhouse programs. Now they're both trying to regain their status among the nation's elite. Let's get back to the days when FSU won in Lincoln, 18-14, and shocked everyone. Or like it was in 1993, when FSU played Nebraska in the national title game in the Orange Bowl and used freshman Scott Bentley's late field goal to win 18-16.
GEORGIA TECH vs. ALABAMA -- The Crimson Tide had the No. 2 rushing defense in the country last year, and Georgia Tech the No. 4 rushing offense in the country. All of the Jackets' skill players return, and Alabama has nine starters back on defense. This was once a rather lopsided series, but they haven't played since the early '80s. This is also a great coaching matchup.
MARYLAND vs. PENN STATE -- There is such a hatred amongst Maryland fans for Penn State. Why? Maybe because the Nits owned the Terps when they used to play on a regular basis. Or maybe it's because Penn State loves to pluck recruits out of Ralph Friedgen's backyard. Let's get these neighboring recruiting rivals to settle it on the field.
MIAMI vs. OHIO STATE -- Terrelle Pryor vs. Jacory Harris. Bring it, Big Ten. Two young quarterbacks, both with tailbacks they like and receivers who are on the rise. They've both got what should be improved offensive lines and similar questions on defense. This was never a big series -- they've only played three times and haven't met since 2002 -- but it will be exciting to watch these two young quarterbacks who might someday be in the same Heisman race together.
NORTH CAROLINA vs. LSU -- Despite doubling its win total from 2007 to 2008, North Carolina still has something to prove, and playing teams like Connecticut and East Carolina isn't the way to do it. Beating LSU in the Chick-fil-A Kickoff is.
NC STATE vs. MICHIGAN -- Honestly, I want to see a rematch of NC State / Rutgers with a healthy Russell Wilson, but Mike Teel is gone, so let's start the ACC/Big Ten challenge in the other revenue sport, shall we? Now is the time to play the Wolverines, while they're in transition, but any win over Michigan is worth bragging about. Tom O'Brien vs. Rich Rodriguez would be an intriguing coaching matchup.
VIRGINIA vs. OKLAHOMA STATE -- Al Groh is known for his defense, and this is the kind of team that would challenge him in a way that Mike Leach's Texas Tech team did in the Gator Bowl. Last year, the Cowboys ranked in the top 10 nationally in scoring, total offense, rushing and pass efficiency, generating more than 3,100 yards both through the air and on the ground.
VIRGINIA TECH vs. USC -- Let's see how good Bud Foster's defense is against this stable of running backs. Rival Virginia took on the challenge last year. How much better would the Hokies fare? If Virginia Tech wants to contend for a national title, this is another great measuring stick.
WAKE FOREST vs. PURDUE -- The Deacs actually know how to schedule nonconference games. Teams like Navy and Vanderbilt are perfect challenges, along with a program like Baylor. Purdue would be an interesting BCS matchup, though, because of the similar style offenses. They haven't met since 2003, and the Deacs are 1-4 in the series, but both teams have changed significantly since they last played.
January, 21, 2009
1/21/09
12:00
PM ET
By
ESPN.com staff
| ESPN.com
Posted by ESPN.com's Heather Dinich
If people are content with the ACC being a defensive league, they will have to be content with it being an average league.
If the conference is going to take the next step, it needs to recruit better quarterbacks.
Yes, defenses win championships, but in college football there are two components essential to winning and winning big -- offensive and defensive line play, and a standout quarterback. Save for Matt Ryan last year, the ACC hasn't exactly been a quarterback factory. Michael Vick and Ken Dorsey don't count.
In this decade, you can count Ryan, Matt Schaub (Virginia, 2004 NFL draft), Philip Rivers (NC State, 2004 draft), Ron Curry (UNC, 2002 draft), Charlie Whitehurst (Clemson, 2006 draft), Adrian McPherson, (FSU 2005 draft), and Joe Hamilton (Georgia Tech, 2000 draft) as the best the ACC had to offer at the position. The last time Florida State was truly great, it had two Heisman Trophy quarterbacks in Charlie Ward and Chris Weinke.
This is the conference that brought Drew Weatherford and Sean Glennon to its media day in August, two quarterbacks who, through no fault of their own, were used as backups this season.
Can Virginia Tech's Tyrod Taylor, Miami's Jacory Harris, FSU's Christian Ponder or NC State's Russell Wilson emerge as the league's next great quarterback? They're all good and have potential, but none of them seem to have the true wow factor that will bump them up to that elite level. Of course, they're not all running Mike Leach's offense, either. Some of the offenses in the ACC are so simplistic, it's hard for quarterbacks to flourish.
Many of the coaches in the league have committed to a defensive philosophy, and there's nothing wrong with that -- just look at how the Ravens, the Steelers and the Eagles advanced as far as they did. But an elite quarterback backed by, say, a Virginia Tech-caliber defense would do wonders to truly separate a team like the Hokies from the rest of the pack. Florida won the national title because it was ranked among the top 20 FBS schools in offense AND defense.
If you look at the teams that were in contention for the national title this year, they all had one thing in common -- excellent quarterback play. Mark Sanchez, Tim Tebow, Sam Bradford, Colt McCoy -- all ranked among the top six in the country in pass efficiency. You have to scroll down the list to No. 41 until you find Russell Wilson, the first ACC quarterback listed.
Forget Heisman winner, the ACC needs to start with a legitimate Heisman contender at quarterback.