September, 12, 2014
9/12/14
10:30
AM ET
It's been two weeks of close games for NC State, but it's also been two wins. For a team that hadn't celebrated a victory since Sept. 28 of last year, that's progress.
Still, there's no question the Wolfpack have work to do still, particularly on the defensive side of the ball.
In the first two weeks of the season, NC State faced Georgia Southern and Old Dominion -- hardly teams that will be confused for Texas A&M or Oregon -- but the defensive numbers were not pretty.
Georgia Southern racked up 438 yards of offense, including 246 on the ground, and led the game in the final two minutes.
Old Dominion topped those numbers, totaling 504 yards of offense (196 on the ground) and also took a lead into the second half.
The early struggles aren't entirely a surprise for the Wolfpack, who have plenty of youth on the roster, but that doesn't mean the two wins will overshadow the bad mistakes.
"A win's a win. But now we've got to get those mistakes off the film," said senior defensive tackle
T.Y. McGill
.
Indeed, the mistakes are easy to spot.
After two weeks, the Wolfpack have allowed the second-most rushing yards after contact in the nation (345). No Power 5-conference team has surrendered more yards after contact per rush than NC State (4.11). Overall, 78 percent of the rushing yards it has surrendered came after contact.
"You can't be at a D-I program and have all those missed tackles," McGill said.
That's particularly discouraging since the defensive line, which features seniors McGill,
Art Norman
and
Thomas Teal
, along with fourth-year junior
Mike Rose
, is one of the Wolfpack's rare groups stocked with veterans.
Still, the best part of mistakes on film, McGill said, is that the problems are obvious. The job now is to correct them.
Unlike last season, however, the Wolfpack have the luxury of an offense that appears poised to make up for a few missed tackles and missed assignments.
Jacoby Brissett
has the NC State offense rolling to the tune of 959 yards and 70 points. Brissett leads the ACC in passer rating, while no receiver in the conference has hauled in a higher rate of targets than freshman
Bo Hines
.
A road trip to South Florida this week should be a bit bigger test for the NC State offense, however, which means it's incumbent upon that defense to take a big step forward in Week 3, too.
"It's great having an offense that can drive the ball down the field," McGill said, "but the defense has got to step up."
June, 24, 2013
6/24/13
3:30
PM ET
We move on in our series looking at the weakest and strongest positions on each team in the ACC with NC State.
Strongest position: Defensive line

Considering the returning starters here, this position is the Wolfpack's most experienced headed into the season. And when you have a veteran line with the ability to get into the opponent's backfield, you can make up for weaknesses on other parts of the defense (we'll get there in a minute). The Wolfpack return
T.Y. McGill
and
Thomas Teal
in the middle of the line, along with
Darryl Cato-Bishop
and
Art Norman
at defensive end. Cato-Bishop (6.5), Norman (5.5) and McGill (5) accounted for 17 of the team's 33 sacks a year ago. But Cato-Bishop and Norman are not quite locks to start opening day. Cato-Bishop was challenged this spring by rising talent
Mike Rose
, and that position remains open for competition headed into the fall.
Forrest West
is pushing Norman as well. Defensive coordinator Dave Huxtable does have some concerns over depth at end, but there is a veteran group returning that has proven it can hold its own up front.
Weakest position: Defensive back
There are a number of spots we could have chosen here, as the Wolfpack have major concerns at quarterback, receiver and the offensive line as well. But defensive back has the most questions of all because only one starter returns, and there are some depth concerns here as well. NC State has to replace starting cornerback David Amerson and starting safeties Earl Wolff and Brandan Bishop -- both Amerson and Wolff were selected in the NFL draft this past April. Though Amerson did not have the year everybody expected in 2012, he did start 35 games in his Wolfpack career.
Juston Burris
, slated to replace him, had a great spring but only has five career starts, all at nickel back.
Dontae Johnson
, the lone returning starter from a year ago, will be expected to provide leadership for the entire secondary. As for safety, Huxtable also has depth concerns here though coach Dave Doeren was encouraged by the way
Jarvis Byrd
performed this spring after knee injuries have had a major impact on his career. Sophomore
Hakim Jones
is ahead of
Tim Buckley
at the other safety spot. Both are sophomores. Of the eight players listed on the post-spring depth chart, Byrd and Johnson were the only seniors. The other six? Freshmen or sophomores.
More in this series here.
May, 10, 2013
5/10/13
4:00
PM ET
NC State defensive coordinator Dave Huxtable is in his first season with the Wolfpack and coach Dave Doeren, and he is also coaching the linebackers. His resume also includes stops at Pittsburgh, Wisconsin, North Carolina and Georgia Tech. I caught up with Huxtable recently to get his take on the transition going on in Raleigh. Here are the highlights of our conversation:
How was the spring for you?
Dave Huxtable:
It was a good spring. Being new, the coaching staff and players getting familiar and getting to know us, there were some positives, and getting to know each other and installing the defense, and learning the terminology and schemes, I thought the guys did a good job of it this spring. We're nowhere near where we want to be yet, but we got a lot of good work done.
[+] Enlarge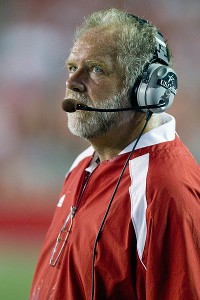 AP Photo/David StlukaNew NC State defensive coordinator Dave Huxtable likes what he's seen from his new players this spring.
How much of the playbook did you guys actually install?
DH:
We installed the base defense, did not really throw a whole lot at them, but that's the foundation of what we're going to do, and as we get into fall camp we'll have some new installation we'll ask them to learn, things we'll pull out of our bag of tools for the season.
I know you coach the linebackers as well, how did those guys look?
DH:
I think I saw some improvement at the end of the spring. Again, we have a lot of work left to do at that position, but I really enjoy the guys I'm coaching there. They're great character guys, they've got a great attitude, they're hard workers and good learners, and there's some talent there.
What's your biggest concern heading into summer camp? Maybe priority is a better word -- for what you want to get done by the opener.
DH:
I think there's some depth at some positions. I think our safety position is a concern with depth there, as is our defensive end position. And then, again, I think we finished strong in the spring and I'm looking forward to our guys having a great summer. I know our strength coaches are going to do a great job with them in the offseason here, and I know our guys will work hard and they'll come to camp ready and prepared. Just for us to pick up with the momentum we had at the end of spring.
How much of a whirlwind was it for you when the guys first went out there with the new staff?
DH:
Those first couple of days it was more, 'Hey you, over there!' They have their jersey numbers on, but we got a chance to know a lot of them and get familiar with the names and faces in the offseason program, but every once in a while you say, 'Hey 49, get over here!' But it was fun, and really a neat group of guys here on this football team. I think guys who really want to be coached and be coached hard. Football is important to them and winning is important to them.
What positions still have the biggest ongoing competitions?
DH:
I think at every linebacker position there's great competition going on. A lot of new guys at those positions that were not starters last year. I think there were two starters that left last year that were gone. At the linebacker spot there's a lot of competition. I would say the defensive end position. There's good competition at both of those spots.
Who are some of the guys who are in the mix for both of those spots?
DH:
At defensive end,
[Darryl] Cato-Bishop
and
Mike Rose
are competing. At the linebacker position, at mike,
M.J. [Salahuddin]
and
Zach [Gentry]
and
Robert Caldwell
came on strong at the end of spring, as did
Ryan Cheek
. At that mike linebacker position there's a lot of good competition there.
Brandon Pittman
has been a guy who played a lot here, he's fast and really finished the last couple of weeks of the spring strong. But you know, so did
Drew Davis
, a young linebacker who was very productive in our last two scrimmages. Competition is a good thing, it's going to make us all better.
Are you running a completely different style of defense?
DH:
We're a base 4-3 defense, which they have been in the past. They probably blitzed a little bit more than what we will do. Then again, the terminology is totally different. What they call apples we call oranges, so there is a terminology to learn for the players.
How have things been going with the staff?
DH:
Coach Doeren has been tremendous, just the way he's handled the staff and the players. His organization, his detail to everything he does has just been outstanding. What a neat staff, a good group of guys who are all very passionate about football and recruiting and understand the business. It's been really neat kind of being a new guy and getting to know all of the coaches. It's been a fun experience, and I really enjoy working with them.
How did what you saw on the field this spring compare with what you might have seen on film of NC State?
DH:
The players, we spent a lot of time on fundamentals and technique and not a huge amount of instillation. More just trying to be pros at our position and really sharpening the tools and fundamentals and techniques of the players. I think we've made some good ground on that from what we had seen on film. They were well-coached, and it's making our job a little easier because the former staff did a great job with them. Now we just have to get them doing the things we're going to ask them to do. We have a ways to go in that area, but with our spring practice we got some good work done.
April, 19, 2013
4/19/13
10:00
AM ET
The rest of the ACC wraps up practice this weekend. Here is a look at what to watch at each spring game.

BOSTON COLLEGE
When: Cancelled.
UPDATE:
Boston College decided to cancel its spring game, set for Saturday, because of the tragic events that unfolded in the area this week. Though there is no game, these are still three keys for the Eagles as they move into the offseason.
Chase Rettig. Rettig has been through one coordinator too many during his career with the Eagles, and now he has to learn a new system that is not exactly the pro-style brand more suited to him. Coach Steve Addazio has said he will not force Rettig out of his comfort zone this year, but how Rettig handles yet another change is definitely something to watch.
The run game. Addazio has placed a heavy emphasis on the run game this spring. Does he have the talent and depth to improve the dreadful numbers from a year ago? With Rolandan Finch gone, senior Andre Williams has been the guy left to shoulder the load this spring. He says, "Bring it on."
More aggressive D? This will be a good chance to see how Don Brown has gone about revamping the defense. We have all heard how he wants to be more aggressive this year. Let's see it.

GEORGIA TECH
When:
Friday, 7:30 p.m. (Note: There is a threat of rain so a decision on whether the game will be played as scheduled will be made later today. As of this morning, the game is still on.)

NC STATE
When:
Saturday, 1:30 p.m., ESPN3
The quarterbacks. Starting to sound like a theme, right? Coach Dave Doeren has said he will not name a starter after spring practice. Pete Thomas and Manny Stocker are still learning the new system, and Doeren says, "They're getting better. I told somebody the other day: I just don't think it's fair to make a decision on a guy that doesn't know your offense yet. I think we've got to give those kids a chance to play football without thinking. We're not there yet."
The secondary. This group will have three new starters when fall rolls around, and much less game experience. Juston Burris is listed as the starter at the cornerback spot David Amerson leaves behind, while Hakim Jones and Jarvis Byrd are set to take the open safety spots.
The defensive ends. There is still open competition at both defensive end spots, according to the depth chart the team released ahead of the spring game. Art Norman and Forrest West are battling for one spot, while Mike Rose and Darryl Cato-Bishop are competing for the other.

SYRACUSE
When:
Saturday, noon.
Terrel Hunt vs. Charley Loeb. Hunt has reportedly gotten more of the first-team reps as the spring has gone on, but this is a good chance for both quarterbacks to make an impression on their coaches -- especially with Oklahoma transfer Drew Allen headed to Syracuse in the summer.
Defensive line. There is no question Syracuse has to work on building depth here because of several losses the group has taken. One player to watch is Iowa transfer John Raymon, who has worked at both tackle and end this spring.
Quinta Funderburk. Funderburk sat out last season after transferring in from Arkansas. He has made a few highlight catches during the spring scrimmages to catch some attention, and with Alec Lemon and Marcus Sales gone, Funderburk has an opportunity to become a go-to receiver on this team.

VIRGINIA TECH
When:
Saturday, 3 p.m., ESPN3
Logan Thomas and the offense. So, how does Thomas look under new offensive coordinator Scot Loeffler? His rebound from a mediocre 2013 is going to be huge for the Hokies this season.
The running backs. Nobody has really stepped up to take the starting job, although Trey Edmunds has had a good spring, including 86 yards and two touchdowns in the last scrimmage. JC Coleman, also vying for the job, is not expected to play because of a leg injury.
Brandon Facyson. It's no secret the Hokies need some help in the secondary, and every single report out of Blacksburg points to the freshman cornerback as being the next star on defense.

WAKE FOREST
When:
Saturday, 1 p.m., ACC Digital Network
The receivers. One of the big goals this spring has been to find another receiver to complement Michael Campanaro. Orville Reynolds, who moved from running back, has so far turned some heads with his performance, so keep an eye on him.
New faces. Two players who have drawn raves on defense this spring are defensive linemen Desmond Floyd and Johnny Garcia. In fact, coach Jim Grobe believes his defensive line has been a bright spot this spring because the group has been able to develop some depth.
Competition. This will actually be a scrimmage, not a game, because the Deacs simply do not have enough offensive linemen to split the team in two. At last check, Wake had seven healthy offensive linemen after Cody Preble injured his ankle in the last scrimmage.