December, 17, 2014
12/17/14
4:00
PM ET
The most aggressive offense in the ACC in 2014 was Clemson, which might not have been a surprise in 2012 or 2013, but in a year in which there were so many personnel issues for the Tigers' offense, it's a bit shocking.
Clemson threw deep (20-plus yards) on 7.46 percent of its total plays, well above the league average of 5.93 percent, according to ESPN Stats & Info. And that was probably not the best idea either, because while Clemson went deep more often than anyone else, the Tigers also averaged the second-fewest yards-per-attempt on those throws (trailing only Syracuse) and nearly 10 yards per attempt less than what
Tajh Boyd
mustered last year for Clemson. That's not exactly a recipe for offensive success.
[+] Enlarge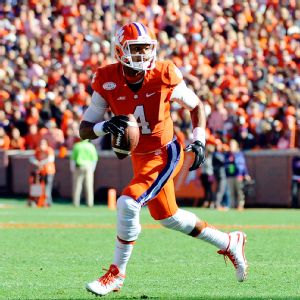 AP Photo/Rainier EhrhardtDeshaun Watson completed nearly 50 percent of his deep balls in 2014 with seven touchdowns and just one interception.
But, of course, personnel had a lot to do with that, and it only goes to show how much a healthy
Deshaun Watson
affects Clemson's overall offensive success, because those aggregate numbers hardly tell the whole story.
Watson completed nearly 50 percent of his deep balls in 2014 with seven touchdowns and just one interception. He averaged 15.9 yards per attempt, which would've been tops in the ACC if he'd been the only quarterback throwing for the Tigers in 2014. But he wasn't.
Cole Stoudt
and
Nick Schuessler
completed just 15 percent of their deep balls this season with one TD, two interceptions and a woeful 5.2 yards-per-attempt average. To put that in perspective, if they'd been the only quarterbacks throwing for Clemson this year, the Tigers would've been dead last in the league in YPA by nearly four full yards.
That's just one of the interesting facts we find when we dig into the ACC's deep-ball numbers for 2014.
A few more, with deep-ball stats courtesy ESPN Stats & Info:
No team was worse on the deep ball in the ACC than Syracuse. This is no surprise. The Orange completed just 27.8 percent of its deep balls (worst in the ACC), averaged 9.2 yards per attempt (again, worst), had just two touchdowns (13th) and five interceptions (t-12th). That's down a bit from last year, but the Orange have struggled on those throws ever since Ryan Nassib left.

Perhaps the most improved team on the deep ball this year was Virginia. Last season, the Hoos were just 7-of-50 on throws of 20 yards or more. This year, they more than doubled their deep-ball yards, completion percentage and TD throws.

North Carolina had one of the ACC's most potent offenses, but it wasn't because of the deep ball. This is one of the reasons Larry Fedora was so high on Mitch Trubisky, but the numbers didn't back up that confidence. Overall, UNC's completion percentage of 28 percent on deep balls was third-worst in the league and its 9.93 YPA was fourth worst, but Marquise Williams was far better than his counterpart. Williams wasn't great (28 percent completions, 12.2 YPA) but Trubisky really struggled (3-of-15 for 100 yards with a pick).

Only Wake Forest went deep less often than Pittsburgh (4.28 percent of total plays), which seems a bit odd considering that the Panthers could've used play-action well (given the strong running game) and they actually had the highest completion percentage of any ACC team on throws of 20-plus yards (44.4 percent).

Florida State was far less successful on the deep ball this year than last, with its completion percentage down (48.8 in 2013 to 35.7 in 2014) and TDs way off (16 last year, nine this). But FSU also threw five fewer interceptions on deep throws this year, and when it did get a completion, it's YPC was actually improved (40 YPA this year, 32 YPA last year).

No team was better on the deep ball than Miami in 2014. Brad Kaaya proved to be an excellent downfield thrower, matched with a good running game and speed at receiver. For the year, Miami completed 41.3 percent of its deep balls (second in ACC), averaged 14.6 yards per attempt (first) and had nine touchdowns on those throws (tied for first). It's worth noting though that just 12 percent of Miami's passes in 2014 were 20 yards or more, the third fewest in the league.

No team gained a higher percentage of its total offense in 2014 via the deep ball than Louisville (15.9 percent), which is interesting given that DeVante Parker missed seven games and Bobby Petrino cycled through three different quarterbacks. Overall, Louisville's deep-ball numbers were virtually the same as 2013, in spite of losing its star receiver for more than half the year and a first-round draft pick at quarterback. That's a real credit to the work Petrino did this season.

Not surprisingly, Georgia Tech and Boston College had the highest percentage of their pass attempts be deep balls. Next up though? NC State (17 percent).

Virginia Tech wasn't great on the deep ball (10.5 YPA, four TDs, four INTs), but it was a necessary part of the Hokies' offense. For the year, 74.1 percent of Tech's plays of 20-plus yards came on throws of 20-plus yards -- meaning if the Hokies didn't look deep, they rarely had a shot at a big play. The league average on that stat was 45.6 percent, meaning the rest of the ACC got more than half of its big plays from plays that weren't deep balls. Virtually all of Virginia Tech's big-play threat relied on the arm of Michael Brewer. That speaks volumes about the Hokies' season.