October, 28, 2013
10/28/13
11:00
AM ET
Another top-10 clash between undefeated teams is on the horizon. Before we get to that, however, we'll take a look back at how we got there in our Week 9 weekend rewind.
[+] Enlarge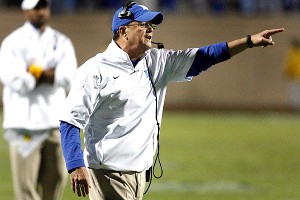 Mark Dolejs/US PresswireDavid Cutcliffe has Duke pointed in the right direction.
The good
: Duke may deserve its own "great" category (more on that in a bit), but the ACC finds itself at the center of the college football world for the second time in three weeks. Florida State took care of business against NC State, Miami survived a scare from Wake Forest and here we go again, as the No. 3 Seminoles and No. 7 Hurricanes take aim for conference (and possibly national) supremacy. ESPN's "College GameDay" will be in Tallahassee for the clash between the in-state rivals, marking the third time in 10 weeks that the show will originate from an ACC campus.
The bad
: Pitt players used the words "complacent" and "overconfident" to describe the second half of their 24-21 loss to Navy,
per the Post-Gazette's Sam Werner
. What exactly the 4-3 Panthers were complacent or overconfident about is up for debate. Pitt lost a lot of leeway in its quest for another bowl berth, as it dropped a very winnable game and the chance to carry the momentum of a two-game winning streak into Saturday's trip to Georgia Tech. Navy scored 10 points in the final 3:52 to steal the victory. The schedule will be considerably more difficult for the Panthers down the stretch, as they face both Notre Dame and Miami over the final four weeks of the season. (On a positive note, congratulations to
Devin Street
for becoming the school's all-time receptions leader with 186.)
The ugly
: Georgia Tech turned the ball over five times and still won at Virginia by 10, which should probably tell you all that you need to know right now about the Cavaliers. The Yellow Jackets escaped with the victory despite forcing just one turnover and holding the ball for nearly 10 fewer minutes than Virginia. Mike London took two huge gambles, first failing on an early fourth-and-1 try in field goal range and then calling a run play from the 1 with six seconds left that was stuffed for the last play of the first half. Georgia Tech, by the way, had
Vad Lee
throw the ball a whopping five times, completing three of those throws for 75 yards with no touchdowns and one pick. Kudos to the ground game, which had three 100-yard rushers, but this contest otherwise filled the "ugly" column capably.
The Blue Devils
: Because really, what more can you say about them? Duke is 6-2 and likely going to a bowl for the second year in a row, which would be a school first. It is simply a remarkable feat for a program that, until last season, had not been to a bowl since 1994. The Blue Devils' 13-10 win over No. 14 Virginia Tech was their first victory over a ranked team since 1994, and their first road win over a ranked team since 1971. Hats off to David Cutcliffe for his rebuilding job in Durham, something everyone can appreciate a little more after seeing the coach get doused with a Gatorade shower following the stunning upset in Blacksburg.
Speaking of Tobacco Road …
: About time, North Carolina. The Tar Heels finally put a complete game together, running over Boston College in a 34-10 win that ended a four-game losing streak.
Bryn Renner
was on point, completing 18 of 21 passes for 227 yards with two touchdowns and no picks. And the defense was stout, holding the Eagles to just 261 total yards of offense and limiting
Chase Rettig
to 10-for-20 passing for 57 yards. Maybe,
maybe
, things can open up a bit now for UNC, which is 2-5 but has a much easier second-half slate that should give it a chance to gain bowl eligibility, starting this week at NC State.
The refreshing take
: Florida State coach Jimbo Fisher lifted his starters for most of the second half after a 42-0 halftime lead. NC State made the 49-17 final seem a lot closer than it was in the second half, but credit Fisher for why he would not put his starters back in: "I'm not going to go out there and embarrass this game and the integrity of how you've got to play. If that's the way they're going to do it, they need to re-evaluate. If they can't tell we dominated that game early and put it away -- I just think that's bad for college football, in my opinion." FSU fell to No. 3 Sunday in the latest BCS standings.
In State College, they probably wish the nation's No. 4 team had such perspective
.
The quote
: Virginia Tech receiver
Willie Byrn
,
via The Virginian-Pilot's Andy Bitter
: "What more can the defense do, really?" The Hokies held Duke to 198 total yards of offense, picked off four passes and held the ball for nearly twice as long as the Blue Devils. Credit Byrn for being more humble in defeat than
defensive coordinator Bud Foster, though
.
Mr. Reliable
: Clemson went blue collar in its recovery from the Florida State loss, relying on fifth-year senior running back
Roderick McDowell
to help the Tigers escape Maryland with a 40-27 win. McDowell carried the ball 30 times for 161 yards, and the Tigers ran the ball 57 times for a season-best 247 yards. McDowell notched two touchdowns in the fourth quarter, his first two scores of the season. He lost one fumble, as did
Sammy Watkins
, but the Tigers were still able to impose their will on a defense that had been stout against the run.
August, 12, 2010
8/12/10
10:30
AM ET
By
ESPN.com staff
| ESPN.com
It's possible Navy could go 3-0 against the ACC this year with wins over Maryland, Wake Forest and Duke.
The Terps open with Navy on Labor Day in a game that will determine which direction their season is headed. It should be a close game with the Midshipmen favored. Wake Forest has the pleasure of facing the Mids one week after defending Georgia Tech's spread option offense, which should theoretically help in the Deacs' preparation. And Duke will travel to Annapolis on Oct. 30. Don't forget the Blue Devils defeated Navy in 2008, a 41-31 win under David Cutcliffe.
Navy is a team the ACC should fear, but for scheduling purposes, it's also a program the conference should embrace.
Navy has had seven straight winning records and been to seven straight bowl games. Senior quarterback
Ricky Dobbs
broke Tim Tebow's record for touchdowns scored by a quarterback with 27. It should once again be a bowl team -- something Maryland, Wake Forest and Duke all missed last year.
But by continuing to schedule Navy, these programs get two things: 1) Extra preparation for Georgia Tech if the Yellow Jackets are on their schedule and 2) A formidable bowl opponent that's the perfect balance between say, Alabama and Presbyterian.
One of the main reasons defenses struggle against Georgia Tech's offense is because they don't see it often enough. There's no way to simulate the speed at which it's executed during practices. It's an ideal situation to play Navy the week before facing Georgia Tech. Duke will travel to Atlanta three weeks after playing Navy. Retention will be key.
Of course, it won't look good for the conference if it goes winless against Navy. Maryland, after its 2-10 season, isn't even the best team in the state anymore. But that hasn't deterred coach Ralph Friedgen from repeatedly stating he'd like to play the Mids on a regular basis and get that rivalry going. It shouldn't deter the rest of the conference, either -- especially those teams in the Coastal Division.
December, 23, 2008
12/23/08
12:00
PM ET
By
ESPN.com staff
| ESPN.com
Posted by ESPN.com's Heather Dinich
Here's a look at what's going on around the league today:
December, 20, 2008
12/20/08
2:34
PM ET
By
ESPN.com staff
| ESPN.com
Posted by ESPN.com's Heather Dinich
Wake Forest can finally exhale.
| | |
| --- | --- |
| | |
| | AP Photo/Nick Wass |
| | Riley Skinner more than made up for his earlier performance against Navy, completing all 11 of his passes for 166 yards and one touchdown. |
The Demon Deacons strung together a little over two quarters of arguably their best offense this season, and another impressive performance from their top 20 defense led to redemption in a 29-19 win over Navy in the inaugural EagleBank Bowl.
The difference the second time around was glaring -- the offense moved the ball.
Quarterback Riley Skinner, who had accounted for five of his team's six turnovers in Wake's September loss to Navy, completed all 11 of his passes for 166 yards and one touchdown.
Wake Forest was finally able to run, which in turn helped Skinner pass effectively. Skinner's mobility took some pressure off of his offensive line, and offensive coordinator Steed Lobotzke was able to accomplish his goal of giving Navy a dose of its own medicine. The Demon Deacons were able to control the clock on offense and contain fullback Eric Kettani on defense. There were only a few occasions they fell asleep on quarterback Kaipo-Noa Kaheaku-Enhada, and allowed only a few big plays.
Wake Forest's offense, which had struggled all season, peaked at the right time and now has a springboard heading into next season. The Demon Deacons racked up a season-high 405 yards of total offense and a season-high 239 rushing yards.
Believe it or not, Wake Forest outrushed the No. 1 rushing offense in the nation.
Wake scored three touchdowns on the ground to Navy's one, and Kevin Harris led both teams with 136 yards on 24 carries. That's an amazing feat, considering Wake Forest was held to under 100 yards rushing in half of their regular season games, including the 24-17 loss to Navy on Sept. 27.
It was a gritty comeback effort for a team that trailed 13-0 in the first quarter, when the defense still looked asleep for the 11 a.m. kickoff.
Wake Forest coach Jim Grobe is not one to reveal his emotions on the sideline, but as he pursed his lips together tightly in the first half, his team's miscues were clearly wearing on him. Lobotzke got creative in the first quarter and gave standout cornerback Alphonso Smith a tryout on offense. Smith made a nice run, but it was negated by a fumble that was returned 50 yards for a touchdown, and Wake Forest trailed 10-0 early.
That was exactly what the Demon Deacons were afraid of when they accepted the invitation into the bowl for a rematch against Navy. There wasn't any lack of drama in the first bowl game of 2008, but not only did Wake Forest save face in this game, the Demon Deacons looked good in the process.
Despite the many veterans who will be lost on defense, Wake Forest has also used plenty of young players this season who can build on this win.
December, 19, 2008
12/19/08
10:00
AM ET
By
ESPN.com staff
| ESPN.com
Posted by ESPN.com's Heather Dinich
Here are a few things to keep an eye on in Saturday's EagleBank Bowl:
Wake's defense vs. Navy fullback Eric Kettani. The Demon Deacons need to take away the fullback from this triple-option offense, something they didn't do in the first game -- Kettani ran for 175 yards against them.
Third downs. Wake Forest will have to be better stopping Navy on third downs. The Deacs allowed Navy to convert seven of 10 third downs in the first half of their last game (including six of six in the first quarter), and that put them behind 17-0. Navy controlled the clock 11:43 to 3:17 in the first quarter.
Turnover margin. Both teams are tied for third in the nation in turnover margin. Navy has carried the ball 667 times and only lost it nine times, and the offense has a total of 13 turnovers this season. When Wake Forest beat the Midshipmen last year, it forced Navy to turn it over three times. When Wake lost earlier this season, it turned the ball over six times and quarterback Riley Skinner had arguably the worst game of his career with a career-high four interceptions. In order for Wake to have a chance, the turnover margin needs to be at least 50-50.
Wake's running game. Navy held Wake Forest to 43 rushing yards in their last meeting and just two rushing first downs. The Deacons have to establish their ability to run the ball early in this game, and Navy's defense is playing much better than it was a year ago, not to mention the last time these teams played. The Midshipmen have posted two consecutive shutouts.
Wake's punt coverage. The Deacons have allowed just 11 punt returns for a total of eight yards (an average of .73 yards per return), and lead the nation in punt return yardage defense. The longest punt return against the Deacons this year was just two yards.
Wake Forest quarterback Riley Skinner. As he goes, so go the Deacs. Wake is 18-3 when Skinner doesn't throw an interception, and 7-8 when he does. And yes, the September Navy game was one of those losses. Skinner is the winningest quarterback in school history.
Wake's first-round draft pick. If you haven't seen linebacker Aaron Curry play, now's the time, because his next game will be in an NFL uniform. The Butkus Award winner leads the Deacons with 101 tackles, including 15 tackles for loss and 2.5 sacks. He's had four games with 10 or more tackles.
December, 2, 2008
12/02/08
12:18
PM ET
By
ESPN.com staff
| ESPN.com
Posted by ESPN.com's Heather Dinich
Navy and Maryland should play each other again.
It makes too much sense, considering Maryland is a short drive to RFK Stadium, where the inaugural EagleBank Bowl will be held on Dec. 20, and Navy is about the same distance. It makes sense because they played each other in the 2005 season opener and it was a great game. It makes sense because they're scheduled to play each other in 2010.
AND ...
Because it's way too much fun to let the little zingers between the schools go unnoticed.
They've been going back and forth for the past few years, and it all started when Maryland was picked for the Champs Sports Bowl in 2006 and Navy felt snubbed because the Terps opted for Orlando instead of facing the Midshipmen in the Meineke Car Care Bowl in Charlotte.
As long as the two programs have been talking about playing each other or even NOT playing each other, there's usually a subtle little jab, and it often comes from Navy AD Chet Gladchuk.
This time, it's because Maryland says it cannot play in the EagleBank Bowl because it's their last day of exams. To that, Gladchuk responded:
"We have exams that week, too, but we're going to show up," Gladchuk said. "Everybody has an excuse why they can't do this or can't do that. We're finding a way to accommodate the bowl's situation."
Except for the fact that Gladuck doesn't want a rematch, which eliminates Wake Forest from the picture.
Considering it's the LAST day of fall semester exams, you would think not every player on the roster has a test that day. In fact, I'd be surprised if half the team even actually had a test that day. It's hard to believe that men's basketball and baseball make it through their seasons without having to tinker with an exam schedule. Maryland has figured this out before, it can figure it out again.
After all, Maryland and Navy are natural rivals, starting at the top.
September, 29, 2008
9/29/08
11:12
PM ET
By
ESPN.com staff
| ESPN.com
July, 28, 2008
7/28/08
9:05
AM ET
By
ESPN.com staff
| ESPN.com
Posted by ESPN.com's Heather Dinich
It's the last year for Boise and the first year for D.C.
To be honest, it's a real toss-up after the first two. And it wouldn't surprise me if Gator Bowl folks went with an 8-4 team instead of a 9-3 Wake Forest team. And, no, I don't think nine ACC teams are going to be bowl-eligible this year. Nonetheless, here's an early look at who might wind up where in the postseason, in order of the bowl selection order:
1. BCS, Orange Bowl -- Clemson
2. Chick-fil-A -- Virginia Tech
3. Konica Minolta Gator Bowl -- Wake Forest
4. Champs Sports Bowl -- Maryland
5. Gaylord Hotels Music City Bowl -- Miami
6. Meineke Car Care Bowl -- North Carolina
7. Emerald Bowl -- Florida State
8. Roady's Humanitarian Bowl -- Boston College
9. Congressional Bowl - A MAC team vs. Navy.