ACC:

Nebraska Cornhuskers
November, 5, 2013
11/05/13
1:30
PM ET
By
Sharon Katz
| ESPN.com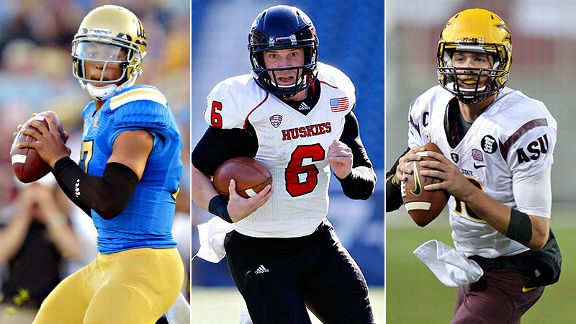 Getty ImagesBrett Hundley (left), Jordan Lynch (middle) and Taylor Kelly (right) all starred last week.
Week 10 featured an impressive offensive performance by
Florida State
, a dominant defensive outing by
Michigan State
and a Hail-Mary touchdown as time expired for
Nebraska
.
With the help of ESPN's new college football metrics (see explanations
here
), ESPN Stats & Information takes a look back at the best individual and team performances of Week 10.
Best Individual Performances
Brett Hundley
posted a
Week 10-high
97.0 opponent-adjusted QBR in
UCLA's
45-23 win against
Colorado
. He completed 19-of-24 passes (79 percent) and was responsible for four touchdowns. In his previous two games combined, both losses, Hundley completed 64 percent of his passes and had more turnovers (4) than touchdowns (3).
Jordan Lynch
had a 96.0 opponent-adjusted QBR in
Northern Illinois'
blowout victory over
Massachusetts
. He had 279 yards of total offense and was responsible for five touchdowns in the win. In the last three weeks, Lynch leads the FBS in rush yards (534), 15-yard rushes (15) and expected points added (31.1 EPA) by a quarterback.
Taylor Kelly
posted a 95.6 opponent-adjusted QBR in
Arizona State's
55-21 win at
Washington State
on Thursday. He was responsible for seven touchdowns in the win, tied for the most by a player this season. In addition to his scoring, Kelly converted 6-of-11 third-down chances.
Jameis Winston
had a 94.6 opponent-adjusted QBR in
Florida State's
41-14 win against
Miami (FL)
. He converted 6-of-8 on third-down plays and had seven completions of 20 yards or longer. In his three games against top-25 opponents, Winston has a 95.6 opponent-adjusted QBR and has led Florida State to three wins by an average margin of 42.3 points per game.
Explaining Connor Shaw's Total QBR:

Connor Shaw
threw for four touchdowns and had no interceptions in
South Carolina's
34-16 win against
Mississippi State
but had an opponent-adjusted QBR of only 44.0. Why? Shaw did not convert any of his seven third-down pass attempts and took a 13-yard sack when the game was tied. He also completed only 1-of-7 passes in the second quarter when the game was still close.
Best Team Performances
Offense--
Florida State added 23 expected points on offense towards its 27-point victory over Miami (FL).
The Seminoles gained 517 total yards of offense and scored 41 points against a Miami defense that ranked in the top 12 in scoring defense entering the game. Florida State converted 11-of-15 third downs, including 9-of-10 chances in the first three quarters.
Defense--
Michigan State
added 23 expected points towards its 23-point victory over Michigan on defense.
That means that if the Spartans had an average defense (EPA of 0), and all else remained the same, the two teams would have been equal. The Spartans held the Wolverines to -48 rushing yards, their fewest in school history, and had seven sacks in the game.
Special Teams
--
UCLA
added seven expected points on special teams by controlling field position and recovering an on-side kick.
UCLA kick returner
Devin Fuller
had three kickoff returns that gained least 30 yards. As a result, the Bruins' average drive started on their own 41, 16 yards closer to the goal line than Colorado's average drive started.
For a look at the teams with the best EPAs in 2013, check our Football Power Index page here
Looking at Nebraska's Hail-Mary TD
Nebraska
QB
Ron Kellogg III
threw a 49-yard Hail-Mary touchdown to
Jordan Westerkamp
as time expired to give Nebraska a 27-24 victory over
Northwestern
on Saturday.
According to ESPN's win probability model, Nebraska had a 2.8 percent chance of winning before the touchdown, meaning that the play increased Nebraska's win probability by 97.2 percentage points. That is the largest increase in win probability for any play this season.
The chart below shows the massive jump in win probability from that play.
Next week features three matchups of top 15 opponents as No. 10
Oklahoma
heads to No. 6
Baylor
on Thursday, No. 5
Stanford
hosts No. 3
Oregon
(9 ET, ESPN) on Thursday and No. 13
LSU
travels to No. 1
Alabama
on Saturday. There's the potential for more last-second finishes, as all three of these matchups finished within eight points last season.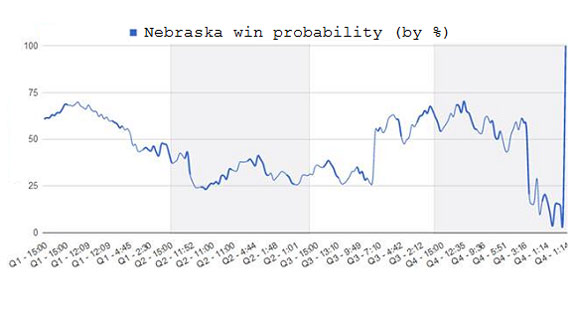 December, 5, 2009
12/05/09
9:59
PM ET
By
ESPN.com staff
| ESPN.com
Yes, I'm at the ACC championship, but I couldn't help but realize today that Virginia Tech went 2-1 against nonconference teams that played/are playing for for their conference title games. The Hokies beat Nebraska and ECU, and lost to SEC champ Alabama. And, might I add, Virginia Tech put up a heck of a better fight against the Crimson Tide than Florida did today.

The Hokies deserve credit for this, as Nebraska is trailing Texas 7-6 at the half, and ECU beat No. 21 Houston, 38-32. Not only did Virginia Tech have the guts to schedule those teams, but the Hokies came out on top against everyone but Bama. Good luck finding another team in the country that can lay claim to that today.
September, 19, 2009
9/19/09
1:24
PM ET
By
ESPN.com staff
| ESPN.com

Posted by ESPN.com's Heather Dinich

BLACKSBURG, Va. -- Both Virginia Tech and Nebraska need wins today to reassert themselves on college football's national landscape. The Hokies have fallen out of the national title talk after losing to Alabama in their season opener, though they haven't lost sight of that goal, and Nebraska -- a storied program where a 9-3 season was grounds for dismissal -- is trying to get back to its glory days under Bo Pelini.

So who needs it more?

Nebraska is the team we know the least about right now. The Cornhuskers have looked good against overmatched opponents Florida Atlantic and Arkansas State, but this will be their first true gauge as to how far they've come in just Pelini's second season. The Huskers were good enough to reel off four straight wins to finish the season last year, including a bowl win against Clemson, but they weren't good enough to beat the Hokies at home last September. And Nebraska, the program that has five national championships to its name, was 0-3 against ranked opponents last year. In fact, Nebraska hasn't beaten a ranked opponent since 2006. According to the Associated Press Top 25 rankings, No. 19 Nebraska is looking up at No. 13 Virginia Tech, and therefore they have more to prove. A win over the Hokies would mark the highest ranked team Nebraska has defeated away from home since a win over No. 6 Tennessee in the 2000 Fiesta Bowl. Frank Beamer says "Nebraska is back." Well, we'll see.

The Hokies, on the other hand, need this game to maintain and validate their status as a top-15 team. Alabama's defense is going to make a lot of offenses look subpar this fall, and the Hokies shouldrack up a lot of yards against an inferior opponent like Marshall. Nebraska is the most fitting opponent to reveal the true identity of Virginia Tech's offense. In addition to confirming Virginia Tech's status on the national level, it would also give the Hokies momentum and confidence heading into next weekend's key game against Miami.
September, 16, 2009
9/16/09
10:30
AM ET
By
ESPN.com staff
| ESPN.com

Posted by ESPN.com's Heather Dinich
Despite its season-opening loss to Alabama, Virginia Tech hasn't given up its dream of playing for the national title this season.
"It's still a goal of ours," said quarterback
Tyrod Taylor
. "We still want to get to that national title, but we have to take it one game at a time and deal with the team we have each week."
| | |
| --- | --- |
| | |
| | Paul Abell-US PRESSWIRE |
| | The Hokies have yet to find the identity of their offense under quarterback Tyrod Taylor. |
For the next two Saturdays, the Hokies have a chance to knock off two more teams ranked among the top 20 in the Associated Press Top 25, starting this weekend with No. 19 Nebraska and Sept. 26 against No. 20 Miami -- both home games. The Hokies struggled to get their offense going in a respectable performance against a stingy Alabama defense, but turned around and ran all over Marshall in a 52-10 drubbing. Odds are Virginia Tech's true identity lies somewhere in between, and Nebraska -- a program that appears to be on the rise under Bo Pelini -- is a fitting opponent to prove it.
"We took it personally when we lost to Alabama," said tight end
Sam Wheeler
. "We wanted to come out and show the nation that that game, we weren't ourselves.
"This week we're playing a team that's just as good as our first game. Their defense is the same, it's just different athletes on the team. We feel that if we come out these next two weeks and prove ourselves, and we play to our ability the best games we can play, then that shows something about this team. That shows that we can bounce back, and we're going to fight for it the rest of the season."
So far, Virginia Tech's offense has performed at both ends of the spectrum. In their 34-24 loss to the Crimson Tide, the Hokies totaled only 155 yards of offense. In their rout of Marshall last week, Virginia Tech amassed 605 yards of total offense -- the most ever under offensive coordinator Bryan Stinespring. Freshmen running backs
David Wilson
and
Ryan Williams
became the first running back combo in school history to each eclipse 160 yards rushing in the same game. Virginia Tech had 444 rushing yards.
Taylor said he is hoping that the Hokies' performance on the ground last Saturday forces Nebraska to respect their running game early, and that will in turn open things up in the passing game.
"I believe it's going to help us a lot," Taylor said. "They're going to have to play more people in the box. We're going to throw the football. That's the game plan, to try to stretch the field and of course get the running game going, but it's going to open up some holes in the passing game."
If it does, a win would keep Virginia Tech in the forefront of the national picture and could be used as a springboard heading into a critical Coastal Division matchup against Miami.
"Anytime you can beat a program like that, it means something," coach Frank Beamer said. "There's no question it means something. But I'm going to tell you, it's going to be a challenge for our team to beat this crowd right here. You that video on on these guys, and you want to turn it off."
The landscape of college football has changed, though, and now the Huskers find themselves looking up at the Hokies. When asked this week if the program is closer to where it needs to be in the national picture, Nebraska coach Bo Pelini said they're getting closer, but not where they want to be yet.
"Every week is a measuring stick," Pelini said. "We have to measure ourselves according to where we want to be and how were executing. It's the way it is. You have to measure yourself every day. Are you improving every day? Are you getting better every day? Are you competing to be the best every day? You have to make improvement and this week is just the next step."
Beamer said Nebraska is back, and that last year's 35-30 road win over the Huskers won't be a factor in this game.
"They went through a bit of a tough spell there, but they're back now," Beamer said. "I think they're a better football team than what they were last year, and I think we've got the potential to be a better football team than what we were, but I think it remains to be seen if that's going to take place."
December, 15, 2008
12/15/08
10:30
AM ET
By
ESPN.com staff
| ESPN.com
Posted by ESPN.com's Heather Dinich
Overview: The Tigers went from preseason No. 9 to desperate to qualify for a bowl to the Gator Bowl. And they lost their head coach and both coordinators along the way. It was a wild ride for Clemson, which replaced former coach Tommy Bowden with receivers coach Dabo Swinney on Oct. 13. Swinney guided the Tigers to four wins in their final five games and his interim tag was officially dropped on Dec. 1, when he was named Clemson's next head coach.

One of the things that contributed to the 3-4 start was injuries to key players on both the offensive and defensive lines. Clemson started seven different offensive line combinations in the first nine games. The Tigers have had 42 different players start a game this season, and only eight started all 12 games. One of the main reasons for the preseason hype was the plethora of playmakers on offense, but Clemson didn't start to make use of them until the final few weeks of the season. The difference was a healthy offensive line, and a new offensive coordinator combo in Swinney, who fired Rob Spence, and Billy Napier.

Offensive MVP: Tailback/returner C.J. Spiller. Since he returned from a pulled hamstring he suffered Oct. 9 at Wake Forest, Spiller has had 845 all-purpose running yards. Over the past five games, he has contributed an average of 169 yards. He leads the ACC in all-purpose running yards per game. He leads all ACC running backs in receiving yards, and finished with 430, a single-season school record.

Defensive MVP: Safety Michael Hamlin. He ranks sixth in the nation with six interceptions, and his 111 interception return yards ranks second in the ACC. Hamlin is second on the team with 102 tackles and has had at least six tackles in every game and a combined 41 tackles in the past four games.

Turning point: Clemson 27, Boston College 21, Nov. 1. This was Dabo Swinney's first win as head coach, and it was the first time the Tigers beat BC since the Eagles joined the ACC. Both receiver Aaron Kelly and Spiller set school records, a sign that the Tigers' offense hadn't disappeared. The road win snapped a three-game losing streak.

What's next: Clemson will face Nebraska in the Gator Bowl, a matchup reminiscent of the 1982 Orange Bowl. It was the only other time these programs have faced each other, and Clemson's only national championship. This year, the Tigers are in the midst of staff changes and will face a tough Nebraska offense without former defensive coordinator Vic Koenning, who resigned earlier this month.
September, 26, 2008
9/26/08
8:45
AM ET
By
ESPN.com staff
| ESPN.com
Posted by ESPN.com's Heather Dinich
1. Florida State's offense -- After a touchdown-less performance in their home stadium last weekend, can these guys finally get something going against real competition? Will the coaching staff make good on its talk to use running back Jermaine Thomas more and Preston Parker less at the position?
2. Boston College quarterback Chris Crane -- After a tale of two halves against UCF, can Crane put together four quarters of better decision-making against an FCS opponent? Jeff Jagodzinski is trying to get Crane to understand it's OK to throw the ball away on occasion.
3. NC State's attitude before kickoff -- If these guys come out hanging their heads because they don't have their starting quarterback, or their best defensive playmaker, Wolfpack fans could be in for a long afternoon. If they come out like they did against East Carolina, though, we all should be calling that staff for a pep talk when we have a bad day.
4. Old vs. new in Lincoln, Neb. -- Bo Pelini, a defensive-minded coach, is in his first season at Nebraska while veteran Frank Beamer is in his 22nd season. Here's the problem for the Hokies: Pelini was the defensive coordinator at LSU last year when the Tigers beat Virginia Tech 48-7.
5. Old vs. new in Durham, N.C. -- Veteran quarterback Thaddeus Lewis will try to lead the Blue Devils to their first ACC win since 2004, and third-string-turned-starting-quarterback Marc Verica will try to pull the Cavaliers out of their slump in their league opener.
6. Skinner's streak -- Wake's veteran quarterback, Riley Skinner, has thrown 131 passes without an interception. He should be able to keep it alive against Navy, as the Midshipmen rank 104th in the nation in pass defense.
7. Clemson's chart climbers -- Running back James Davis needs two rushing touchdowns to become the school's career leader and quarterback Cullen Harper needs 46 passing yards to reach 4,000 for his career.
8. UNC's quarterbacks -- Can backups Cam Sexton and Mike Paulus combine to replace injured starter T.J. Yates against Miami? It's going to be tough, considering the quantum leaps the Hurricanes' defense has taken under first-year coordinator Bill Young.
9. Florida State's other team -- That's right, the one yielding about a half-dozen suspended players is back. The emotional boost guys like Dekoda Watson can provide, along with the physical one players like Caz Piurowski can bring should make a difference on both sides of the ball.
10. The Hokies' offensive scheme -- Coaches said this week they're looking at more spread offense concepts. Will that trend continue against the Huskers, and will it help quarterback Tyrod Taylor? Virginia Tech ranks 114th out of 119 FBS teams in passing offense.
September, 22, 2008
9/22/08
10:46
AM ET
By
ESPN.com staff
| ESPN.com
Posted by ESPN.com's Heather Dinich
I knew Hokie Nation would erupt after those power rankings, but that's their lot this week and I'm sticking to it.
Here are a few reasons why:

Against Georgia Tech, the longest pass play was 10 yards. The staff had called about three or four downfield plays that Tyrod Taylor didn't get off, and another two or three pass plays expected to go for about 20 yards that Taylor pulled down and ran instead. He's just not entirely comfortable throwing the ball.
Against North Carolina, the first time Taylor really threw the ball this season, the passing game improved and there were more big plays, but Taylor had no touchdowns and two interceptions. Until the Hokies are able to average more than 85 passing yards, they are going to struggle offensively. The made just 3 of 16 third down conversions in this game.
Sorry, but the Hokies got some help in both conference wins. UNC had four turnovers, Georgia Tech three. Were some of those a result of VT's defense? Of course. But UNC's 121 yards worth of penalties is all on the Tar Heels. And a poor helmet-to-helmet call at a critical moment against Georgia Tech is on the official who called it.
Yes, Virginia Tech's defense is playing well, but it's not the vaunted group of the past. Not yet, anyway. It's a middle of the pack ACC defense (7th in total defense, 10th in rushing defense and fifth in scoring defense). Guess who's ranked higher in those same categories? Georgia Tech and Miami.
Will Virginia Tech get better? Definitely. When? I don't know. When they do, will I give them credit for it? Absolutely. Will a win against Nebraska be enough? Depends on the win. Nebraska is a mediocre Big 12 team under a first-year coach.
August, 2, 2008
8/02/08
10:23
AM ET
By
ESPN.com staff
| ESPN.com
Posted by ESPN.com's Heather Dinich
A few notes out of Winston-Salem that I didn't get to yesterday ...
Redshirt senior fullback Rich Belton, who missed most of last season after suffering a torn ACL against Nebraska in the second game of the year, was back at practice.
"The knee feels great," Belton stated in the team practice report. "I'm just glad to be back out here with my teammates. My role is to help out some of the younger guys and show them the ropes, help them get adjusted to being here."
Two players were not able to participate in practice. Freshman tight end J.T. Dixon was in uniform but did not participate due to a back injury. Redshirt freshman cornerback Marcus Williams is wearing a cast on his left foot and ankle following off-season surgery. He is still several weeks away from taking the field.
About 150 or so fans watched the practice which coach Jim Grobe cut short by a few minutes. Grobe was honored Friday night by the Triad Carolinas Chapter of the Arthritis Foundation with a Lifetime Achievement Award.