October, 23, 2013
10/23/13
5:00
PM ET
By
ESPN.com staff
| ESPN.com

After a long two years, the Nevin Shapiro scandal appears to have come to a close. With sanctions officially levied against the University of Miami, Mark Schlabach answers the question: "Who looked worse on Tuesday, the NCAA or Miami?"
June, 27, 2013
6/27/13
9:00
AM ET
Now that
Oregon has received its punishment
from the NCAA, the Miami case is the next major one on the docket to be decided.
Some may wonder whether the rulings in the Oregon case foreshadow what could happen when the Hurricanes hear from the NCAA. First, the NCAA is completely and utterly unpredictable. No one case is treated the same, nor do the penalties issued seem to follow a uniform procedure.
Just ask USC and Ohio State, who were hit much harder than the Ducks.
Second, Oregon was not accused of the multiple major infractions Miami has been accused of committing. The cases are not even remotely the same. Former coach Chip Kelly seemed to take the brunt of the punishment. He got an 18-month show-cause penalty; Oregon was put on three years' probation and lost two total scholarships. Universally, most wonder whether this is truly a
punishment or a wrist slap for Oregon
.
But this is where perhaps Miami should have a glimmer of hope. In discussing the Oregon case, NCAA officials opted against harsher punishments -- in part -- because of the school's cooperation throughout the investigation. Miami, too has cooperated with the NCAA throughout the investigation into the Nevin Shapiro allegations and been proactive -- already self-imposing a two-year postseason ban.
Though Oregon got no such postseason ban, it should be encouraging that the NCAA heavily weighed the school's cooperation in issuing its punishments. In its ruling, the NCAA noted Oregon was "fully cooperat[ive] throughout the entirety of the investigative stage. At the investigation's conclusion, the enforcement staff, the institution and the involved parties were in substantial agreement on the facts of the case and on the violations that had occurred."
School president Donna Shalala has come out with some pretty harsh statements in the wake of the NCAA's admission that it botched several parts of its Miami investigation. But that does not take away from the underlying fact that
Miami has cooperated
since bringing the Shapiro allegations to the NCAA in September 2010, nearly three years ago. Maybe, just maybe, the NCAA will accept Miami's self-imposed punishments and won't go much further.
Miami had its two-day meeting before the Committee on Infractions two weeks ago, but isn't expected to receive its penalty for at least another month at the earliest. While there are not many parallels between its case and Oregon's, full cooperation should help Miami's cause.
June, 13, 2013
6/13/13
12:00
PM ET
May, 28, 2013
5/28/13
12:00
PM ET
Hope you all had a nice long weekend.
May, 7, 2013
5/07/13
12:00
PM ET
Hope you are enjoying our ultra-comprehensive spring wrap today. Plenty more this afternoon.
February, 27, 2013
2/27/13
3:53
PM ET
The NCAA has alleged that Nevin Shaprio provided about
$170,000 in impermissible benefits
to Miami athletes, recruits, coaches and others between 2002 and 2010, the Associated Press reported Wednesday, citing a source.
From the AP report:
Shapiro allegedly spent more than half that amount -- at least $90,000 -- in an effort to get NFL players Vince Wilfork and Antrel Rolle to sign with a sports agency he was involved with, said the person, who spoke to The Associated Press Wednesday on condition of anonymity because neither Miami nor the NCAA has publicly released the allegations.

Also included in the allegations: That Shapiro spent at least another $56,000 on "meals, entertainment, clothing, jewelry, travel, lodging and cash" on football players, recruits and others. The NCAA alleged that Shapiro spent that on 72 then-players, three recruits and 12 "friends and family members" of those either on the team or being recruited by the school.
February, 21, 2013
2/21/13
12:00
PM ET
January, 25, 2013
1/25/13
12:00
PM ET
The hits keep coming at Florida State.
December, 4, 2012
12/04/12
12:00
PM ET
July, 20, 2012
7/20/12
9:07
PM ET
It's deja vu for Miami coach Al Golden, who once again has been hit with allegations that the program has violated NCAA rules. For the second consecutive summer, the NCAA has been on campus,
this time looking into new accusations
.
Citing unidentified sources,
Yahoo! Sports reported Friday
that former Miami football employee Sean Allen assisted members of Golden's coaching staff with recruiting. If true, that could be a major NCAA violation.
There's no reason to jump to any conclusions at this point, but we do know this: It's going to be a loooong season for Golden, another filled with the distractions of the NCAA's dark cloud, and another filled with questions surrounding the program both on and off the field. This has to be misery for Golden -- clearly not what he signed up for. Golden is guaranteed to be asked about this at ACC media days at least a few dozen times. Don't expect any answers from him or the NCAA anytime soon.
September, 14, 2011
9/14/11
10:00
PM ET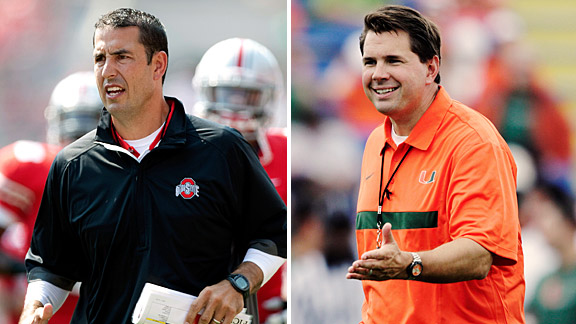 US Presswire, Icon SMIOhio State's Luke Fickell, left, and Miami's Al Golden have had challenging starts to their new jobs.
As college football suffered through an offseason of scandal, two programs found themselves squarely in the crosshairs.
Ohio State made headlines for the wrong reasons throughout much of the spring and summer, especially during an eight-day stretch when coach Jim Tressel resigned and starting quarterback Terrelle Pryor left the program. The notoriety then shifted to Miami after a Yahoo! Sports investigation revealed damaging allegations by former booster Nevin Shapiro.
It brings us to Saturday night, when the Buckeyes and Hurricanes will meet on the field.
Some folks are calling it the Ineligi-Bowl.
Both teams are short-handed -- Ohio State more than Miami -- and both are dealing with change and intense scrutiny. Both are facing potential NCAA penalties and uncertain futures, but first-year coaches Luke Fickell and Al Golden are trying to keep the focus on the field.
Bloggers Heather Dinich (ACC) and Adam Rittenberg (Big Ten) break down a unique matchup at Sun Life Stadium.
Adam Rittenberg:
HD, hope you had a better summer than the Canes or Buckeyes. Both programs have dealt with a lot of recent distractions. Miami dropped its opener to Maryland but regains the services of quarterback
Jacory Harris
and others from suspension. Ohio State still will be without three offensive starters and looked very shaky Saturday against Toledo. Before getting between the lines, let's look between the ears. How do you think these teams are approaching this game from a mental standpoint? Does one squad have an edge?
Heather Dinich:
The only edge I see, Ritt, is the fact that Miami had a bye week to move on from its loss to Maryland, while that scare from Toledo is pretty fresh in the Buckeyes' heads. Then again, it could have been just the wake-up call Ohio State needed. Plus, Miami has to be recharged a bit and excited about getting several of its players back from the opening-game suspension. Miami was without eight players against the Terps, and now five of those players return, including Harris. Most notably, the defense should get a boost up front from the return of linebacker Sean Spence, defensive end Adewale Ojomo, and defensive tackle Marcus Forston. The Canes were beat up front by Maryland, but the return of those guys should give them some more confidence heading into the Ohio State game. What about the Buckeyes? Two wins over teams they should beat. Are they ready for their first real test of the season?
AR:
Ohio State's first real test actually came Saturday against Toledo, although few thought the Rockets would challenge the Buckeyes. Toledo found gaps in Ohio State's secondary and held the Buckeyes to just six points in the second half. Ohio State will have to play better in all three phases against Miami, especially in the kicking game after the Canes recorded two returns for touchdowns last year in Columbus. The first road game always presents challenges, especially for an Ohio State team dealing with significant personnel losses on both sides of the ball. Line play is an area the Buckeyes must lean on Saturday night, as Ohio State has proven veterans on both sides like center Mike Brewster and defensive lineman John Simon. But with so many key players out, the Buckeyes will be challenged.
Speaking of getting key players back, what's your take on the short suspensions for Harris and the others? Ohio State fans are livid that the Tat-4 remains out while Shapiro's pals are back on the field this week.
HD:
Well, fortunately for the sport, there really is no precedent for this, so it seems like the only thing you can really compare in these two cases is the monetary value of their infractions. In Miami's cases, the harshest punishments (six games and four games), were reserved for violations that occurred when Olivier Vernon and Ray-Ray Armstrong were still recruits. Vernon has to repay more than $1,200, Armstrong (four games) and
Dyron Dye
(four games) were both less than $800. The one-game suspensions correlate to players whose violations all amounted to less than $500. Correct me if I'm wrong, but I think the Buckeyes are working on repaying between $1,000-$2,500. I think it's safe to say the Buckeyes' violations were more costly in more ways than one, as they should be.
All of that aside, though, there's only one thing that will matter on Saturday, and that's who wins. Miami hasn't started out 0-2 since 1978. Who, in your opinion, needs this win more?
AR:
Yeah, I think the folks in Columbus are more upset that three players who took money at a charity function -- running back
Jordan Hall
and defensive backs Travis Howard and Corey Brown -- are serving longer suspensions than those who took benefits from Shapiro. But whatever. Both teams really need this win, but I'll make the case for Ohio State. Unlike Golden, who shouldn't have to worry about his job security (whether he wants to stay at Miami is another question), Fickell and his staff have no guarantees beyond this season. While coaches need the players to perform well in the Big Ten no matter what, this is the type of game that can build confidence or reduce it. Any road win boosts a team's morale, but beating Miami without so many key pieces would increase the Buckeyes' belief that they can continue to achieve their top goals despite all the turmoil. I certainly see the urgency for Miami, too.
Let's talk about Jacory Harris. I'll be kind and say he was very bad last year at The Shoe. If not for his interceptions, Miami could have made things very interesting. How do you think Harris fares against an Ohio State defense with a bunch of new starters, particularly in the secondary?
HD:
Four turnovers was the reason Miami lost this game last year. I would be surprised if Jacory doesn't play better. I spent some time down at Miami this summer and could sense some genuine confidence in Harris from first-year offensive coordinator Jedd Fisch and from Golden. They backed that up when they named him the starter after the loss to Maryland. I know
Stephen Morris
is the fan favorite, but Jacory's experience alone will help alleviate some of the mistakes and confusion that came in the loss to the Terps. This is Jacory's last season to go out a winner and redeem himself. I believe he is truly a more confident player, but how that translates in his first start since a dreadful performance in the Sun Bowl last year remains to be seen. He still has a lot to prove. Of the four ACC teams lining up against ranked opponents this weekend, though, I give the Canes the best chance to win. I'll save the score for Thursday's picks, but I'm sticking with the ACC in this one. I'll give you the last word, though, since I know you'll need it to defend the Buckeyes.
AR:
Thank you, ma'am. Defending Ohio State after last week's performance isn't easy, but Toledo looks like a pretty solid team, and coach Tim Beckman definitely had the Rockets ready to play. Given the players missing on offense, Ohio State will have to win this game by playing TresselBall -- ironically without Tressel. It'll be all about defense, the run game, controlling field position on special teams and limiting mistakes. The Buckeyes need a much sharper defensive performance and I think they'll get one, especially against Harris, whom I don't trust at all to limit mistakes. The kick and punt coverage teams have to be sharper than they were last year and against Toledo. It will be tough for Fickell's crew, but there are enough leaders on that team who know how to win tough games. I'll also wait to reveal my score Thursday, but I'm going with the Scarlet and Gray.
ACC SCOREBOARD
Saturday, 12/20
Monday, 12/22
Tuesday, 12/23
Wednesday, 12/24
Friday, 12/26
Saturday, 12/27
Monday, 12/29
Tuesday, 12/30
Wednesday, 12/31
Thursday, 1/1
Friday, 1/2
Saturday, 1/3
Sunday, 1/4
Monday, 1/12
Tweets from https://twitter.com/ESPNCFB/lists/acc