May, 7, 2014
5/07/14
9:00
AM ET
If you believed the NFL draft narrative surrounding
Terrence Brooks
just three months ago, the prevailing thought was his time would be better served lying along one of the Gulf Coast's sandy white beaches rather than glued to the TV on Thursday and Friday. Beat the weekend beach crowds and wait for his agent to sift through undrafted offers before appraising Brooks, or, if he was so lucky, to let him know which team spent a late-round flier.
[+] Enlarge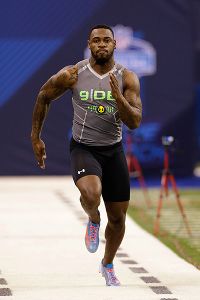 AP Photo/Nam Y. HuhTerrence Brooks' draft status was helped a great deal by his performance at the NFL combine.
Back in early January, the former Florida State safety was likely at best a third-day selection in the NFL's relatively new format that runs from Thursday through Saturday. Fast forward to the eve of the draft, and there is chatter the previously overlooked defensive back could slip into the first round. So, instead of sitting in the sun, he will sit patiently on the sofa with his girlfriend in the Florida beach destination of Destin.
"I expect to be [drafted] really high," Brooks told ESPN.com on Friday. "No clue [which round], but I'm pretty sure it will be kind of high. You never know what could happen [Thursday]."
Brooks' meteoric rise -- no player is moving quicker up perceived draft boards -- did not begin until the 5-foot-11, 198-pound senior left Florida State. Two weeks after the national championship game, Brooks was participating in the Senior Bowl and entered the first step of the postseason draft whirlwind as just the fourth-best Seminoles prospect in Mobile, Ala., working out. There were only four Florida State players at the Senior Bowl. With each defensive drill, Brooks flashed and caught the eye of scouts, coaches and general managers evaluating from along the fences. By the end of the week, Brooks' name was circulating among prominent front office voices.
A month later at the NFL combine, those same coaches and personnel executives were staring at their stopwatches questioning if their trigger finger was premature in stopping the clock. Brooks ran the 40-yard dash in 4.42 seconds, tops among safeties. He also finished first at his position in the vertical (38 inches) and broad jump (119 inches).
From there, Brooks asked NFL teams to double back to his junior and senior film -- he was a cornerback his first two seasons -- and finally give him the honest evaluation he felt was warranted even before the 2013 season.
"Coming from that defense, we have a lot of guys who are dynamic and I got lost in the shuffle, which is not bad because we had a great team," Brooks admits. "A lot of people didn't know too much about me until they saw the tape or combine. Having the chance to go to the Senior Bowl and the combine, it helped my name out a lot."
In a bit of irony, the first Florida State defensive player taken in the draft could be Brooks.
Timmy Jernigan
, previously believed to be a certain first-round pick, is sliding into the second round as he and former Seminoles linebackers
Christian Jones
and
Telvin Smith
all reportedly failed drug tests at the combine. ESPN draft analyst Mel Kiper Jr. lists Brooks as the No. 4-ranked safety and No. 80 overall, fifth among Florida State players.
All Brooks needs is one team to buy into his talent and tape and make him a first- or early second-round pick, a distinction Brooks feels he is "very much worth it."
"I'm in the talk of being one of the best safeties in the country and that's only two years at the position. My upside is a lot higher," he said. "I'm ready for a team to take that chance and leave out the hype and see who the great players really are."
May, 6, 2014
5/06/14
11:50
AM ET
TALLAHASSEE, Fla. -- Church was not a once-a-week affair for Janice Stockton. For a single mother raising three children along the Bible Belt's southern boundary, time spent in church is counted in days rather than hours.
Stockton was strict, too. There would be no sleeping from her children, even during bible studies and choir practices that often dragged deep into the evenings. Midweek services were not all that rare either.
[+] Enlarge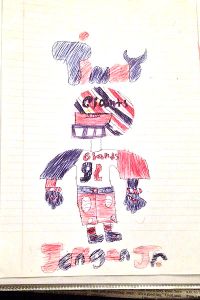 Courtesy of Janice StocktonTimmy Jernigan drew this when he was 7. Fourteen years later he's on the verge of fulfilling his NFL dream.
Naps were banned, but there was never an embargo placed on dreaming.
So,
Timmy Jernigan Jr.
dreamed, and sitting in a church pew during one late-night service, Jernigan transferred his dream to paper, offering Stockton, his mother, a glimpse into the vision that would guide the former Florida State defensive tackle for the next 15 years, all the way to NFL draft, where one team will call Jernigan's name.
"So many things happen in life, a lot of people let go of their dream," Stockton said.
The latest hurdle came days before the draft when reports surfaced that Jernigan produced a diluted urine sample at the NFL combine. But Stockton and Jernigan drew upon the picture once again to keep moving toward Jernigan's ultimate NFL goal.
"I saved that drawing he gave me because, he was told he better not go to asleep in church at 7 years old, and looking at him at 21, that dream is coming to fruition," Stockton said. "He never doubted he would do anything but play in the NFL."
Drawing his dream
Tim Jernigan Sr. passed more on to his son than simply a namesake. Tim Sr. bestowed upon his son a natural gift to play defensive tackle, and those around Jernigan's hometown of Lake City, Fla., regularly seek to find comparisons between father and son. At 2 years old, just as Jernigan learned to string together a few cumbersome footsteps in a row without tumbling, he was entrusted with his dad's patented swim move, and Jernigan found so much success with it "when I watch my film I got a bad habit of going to it."
Worth more than the frame and pass-rushing arsenal was the veneration for the defensive line Jernigan inherited from his father, in particular a reverence for former Giants great
Michael Strahan
.
"My dad put me on Michael Strahan, one of my dad's favorite players," Jernigan said. "Strahan was one guy I looked up to and wanted to be just like."
Jernigan Sr. even called his family in the north to send down a Strahan jersey for his son.
"I used to call him Strahan," Jernigan Sr. said. "He played hard, he got to the football, was relentless and Timmy just fit the bill of him. He was a complete player."
So as Jernigan sat in church that night -- "I still paid attention to the sermon," he contends -- he dreamed of a future, not just a style of play, which would one day draw parallels to Strahan, a Super Bowl champion and first-ballot Hall of Famer. He asked his mother for a piece of loose leaf paper and two pens -- one red, one blue. He began with a helmet, alternating colors enough times to catch the eye of the Oregon Ducks. As he traced the burly shoulders and matched the red socks with the blue cleats, the picture began resembling a second-grader's rendering of Strahan.
He added the No. 92 to the front of the jersey, however Jernigan ended his seminal sketch with his name instead of Strahan's. This was Jernigan's dream, which will become a reality in the coming days.
"It's crazy. Words can't explain it. It's just a blessing having all that hard work pay off," Jernigan said. "It brings back all those memories and those late nights, the extra jump ropes and extra weight room liftings and those summertime days at FSU. To see everything pay off is a beautiful feeling."
[+] Enlarge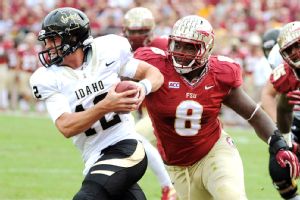 Melina Vastola/USA TODAY SportsFSU DT Timmy Jernigan had 11 tackles for loss and 4.5 sacks last season.
A reminder from mom
While the hope of playing in the NFL never waned, Jernigan's memory of the picture did. He gave it to his mother more than a decade ago and had not seen the picture since that night in church. Stockton held onto it, though, preserving it in a scrapbook documenting Jernigan's rise from high school all-star to college All-American.
"I saved that picture because it's important my children follow their dreams," Stockton said. "… You're not allowed to say 'can't' in my house. It's a curse word. You hold on to dreams and watch it come to life."
Days before Jernigan's pro day on Mar. 18, Stockton flipped through the pages of her book and came across the drawing. She texted her son that she still has what is now famously known as "the picture" within Jernigan's circle. Jernigan was bewildered initially. "What picture?" he answered.
When Stockton sent the image, Jernigan flashed back to that night in church and said that moment more than a decade ago was as fresh in his mind as the day he drew it.
"It spooked me when she showed it to me," Jernigan said. "I remember the exact thoughts drawing that picture, remember like it was yesterday. She knew I had been chasing that dream my whole life."
It marked the last time Jernigan would bury the picture in his memory. It now serves as the background on his phone, a daily reminder of how far he has come but also of a journey that is still in its infancy.
"The team that drafts him is going to get a great player, and all parents might say that, but this kid has never been really pushed to have to go really hard," Jernigan Sr. said. "They've seen the kid play, but there's a whole different gear he can go."
March, 19, 2013
3/19/13
11:37
AM ET
By
ESPN.com staff
| ESPN.com
NoleNation has more coverage of the Florida State Seminoles:
From David M. Hale:
Florida State's pro day was supposed to be Chris Thompson's chance to secure his place in the NFL draft. Instead he'll be once again trying to prove he can overcome.
Pro day preview:
FSU's pro day is the most star-studded in years, but several of the big names have a lot to gain at the event.
March, 12, 2013
3/12/13
12:37
PM ET
By
ESPN.com staff
| ESPN.com
TALLAHASSEE, Fla. -- Two years ago,
Wilson Bell
wasn't exactly thinking about the NFL. His football prowess had grown by leaps and bounds over the past few seasons, but as a junior at Blount High School in Prichard, Ala., making the game his profession seemed a stretch.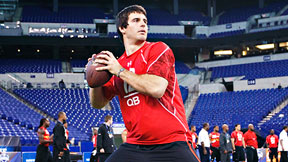 Joe Robbins/Getty ImagesChristian Ponder was FSU's most recent first-round draft pick and the first Seminoles QB taken in the first round.
Then came the letters, the phone calls, the text messages and the promises.
By the time Bell, a three-star offensive guard, signed his letter of intent to play at Florida State last month, he'd made the NFL his top priority, and he'd heard from dozens of coaches assuring him they possessed the perfect plan to get him there. He'd endured enough speeches to parse the good ones from the bad, he said, and Florida State's offensive line coach, Rick Trickett, sold it perfectly.
"Of course other guys sold better things to me about their school, but nobody could really compare to Trickett and the names he's put in the NFL," Bell said. "And that's what I really want to do."
Trickett wasn't simply talking a big game. He had references.
Trickett told Bell about a number of his success stories, including Rodney Hudson, a fellow Mobile-area native now playing for the
Kansas City Chiefs
. Many of Trickett's pupils had started their college careers as works in progress, and Trickett had transformed them into NFL linemen. Bell was convinced.
To read more of this story, click here.
March, 11, 2013
3/11/13
1:13
PM ET
By
ESPN.com staff
| ESPN.com
NoleNation
has more coverage of the Florida State Seminoles:
From David Hale:
With the clock ticking on his NFL dream, Menelik Watson had a tough decision to make. Despite a limited career, Watson feels the coaching he received at Florida State has prepared him for the next level.
More from Hale:
With Menelik Watson off to the NFL, can the Seminoles' offensive line pick up the slack? It's up to Bobby Hart, Bryan Stork and Co. to answer that question.
April, 28, 2010
4/28/10
3:00
PM ET
Remember how the Big 12 dominated the first part of the 2010 NFL draft? The ACC may be poised to do the same thing in 2011, at least according to Todd McShay.
The ESPN and Scouts Inc. analyst has released his
ridiculously early 2011 mock draft

, and it's dotted with ACC players. A whopping nine ACC stars are projected among the first 30 picks, including five of the first 12.
And McShay thinks it could be a huge year for Tar Heels to go pro. He lists four North Carolina products as first-rounders.
Here is the list from that mock:
No. 3: Anthony Castonzo, OT, Boston College
No. 8: Robert Quinn, DE, North Carolina
No. 10: Bruce Carter, OLB, North Carolina
No. 11: DeAndre McDaniel, S, Clemson
No. 12: Ras-I Dowling, CB, Virginia
No. 17: Marvin Austin, DT, North Carolina
No. 26: Deunta Williams, S, North Carolina
No. 28:
Ryan Williams
, RB, Virginia Tech
No. 30: Allen Bailey, DT, Miami
McShay also includes Florida State quarterback
Christian Ponder
, Clemson defensive end Da'Quan Bowers, North Carolina linebacker Quan Sturdivant and Boston College linebacker Mark Herzlich among his 10 top remaining prospects.
So with all this talent, at least in McShay's eyes, shouldn't the Tar Heels be ready for a huge 2010 season?
April, 27, 2010
4/27/10
5:20
PM ET
It's no secret North Carolina's defense was good last fall. Just look at the numbers: sixth in
total defense
(270 yards per game) and 13th in
scoring defense
(17 ppg).
And those numbers were piled up with a terrible offense that kept giving the ball away.
Not surprisingly, with nine starters back on defense, the 2010 hype machine is starting to roll.
Not only does ESPN draft guru Todd McShay rank two Tar Heels among his
top-10 defensive prospects

for the 2011 NFL draft -- tackle Marvin Austin at No. 5 and end Robert Quinn at No. 6 -- he has this to say at the end of Quinn's blurb: "Don't be surprised if Quinn emerges as the top prospect on a Tar Heels defense that will draw comparisons to the
USC Trojans
group from 2008."
The
2008 Trojans
yielded 222 yards and nine points per game. They surrendered just six touchdown passes all season. That squad finished 12-1 and ranked third in the nation (No. 2 in the final USA Today poll).
That defense featured
eight picks in the 2009 draft
, four of whom went in the first two rounds.
It was a pretty fancy crew.
But McShay makes a completely reasonable comparison.
This list of
the top-32 2011 NFL draft prospects
includes four Tar Heels defenders: Austin, Quinn -- at Nos. 3 and 7 overall -- as well as safety Deunta Williams and linebacker Bruce Carter, at Nos. 28 and 31. What about linebacker Quan Sturdivant? He made the list of "just missed" prospects.
Moreover, UNC's 2009 numbers look a lot like USC's
2007 numbers
: The Trojans gave up 273 yards and 16 points per game -- with a much better offense than the Heels in 2009.
On the ACC spring conference call last week, coach Butch Davis said the emphasis this spring was building depth at linebacker and in the secondary. But you want to know what could cause the UNC defense to really put up stunning numbers?
The offense cutting
its turnovers
in half and
consistently moving the ball
, which is why the quarterback competition between maligned senior
T.J. Yates
and strong-armed freshman
Bryn Renner
figures to be one of the hottest items of the ACC preseason.
August, 13, 2008
8/13/08
5:29
PM ET
By
ESPN.com staff
| ESPN.com
Posted by ESPN.com's Heather Dinich
I heard a rumor some NC State fans were a little disgruntled because I didn't mention Philip Rivers in connection with a segment of Tuesday's blog post that referenced the ACC and the NFL.
There's a reason for that.
I wanted to mention the league's highest picks.
I was looking at this chart in the ACC media guide to find out the top NFL draft pick at each school, which would in turn reveal the quarterbacks selected highest.
Take a look:
NFL Draft Top Selections for Each Current ACC Team
School
Player
Overall Pick
Year
NFL Team
Boston College
Matt Ryan, QB
3
2008
Atlanta Falcons
Clemson
Banks McFadden, HB
4
1940
Brooklyn Dodgers
Clemson
Gaines Adams, DE
4
2007
Tampa Bay Buccaneers
Duke
George McAfee, RB
2
1940
Philadelphia Eagles
Florida State
Andre Wadsworth, DE
3
1998
Phoenix Cardinals
Georgia Tech
Calvin Johnson, WR
2
2007
Detroit Lions
Maryand
Randy White, DE
2
1975
Dallas Cowboys
Miami
Vinny Testaverde, QB
1
1987
Tampa Bay Buccaneers
North Carolina
Ken Willard, RB
2
1965
San Francisco 49ers
North Carolina
Lawrence Taylor, LB
2
1981
New York Giants
North Carolina
Julius Peppers, DE
2
2002
Carolina Panthers
NC State
Mario Williams, DE
1
2006
Houston Texans
NC State
Roman Gabriel, QB
1
1962
Oakland Raiders (AFL)
Virginia
Bill Dudley, RB
1
1942
Pittsburgh Steelers
Virginia Tech
Bruce Smith, DE
1
1985
Buffalo Bills
Virginia Tech
Michael Vick, QB
1
2001
Atlanta Falcons
Wake Forest
Norm Snead, QB
2
1961
Washington Redskins
The whole point is that the ACC has earned a reputation as a defensive league, and it's reflected in the NFL draft.
Check out these numbers:
Of the ACC's 114 NFL draft picks from 2006-2008, 63 or 55.2 percent have been defenders.
73 percent have been defenders and offensive linemen.
There have been two quarterbacks.
8 wide receivers/tight ends
7 running backs
4 punters/kickers
Is this league loaded with talent? No question. Just not at the offensive skill positions. Does that translate into winning? Ask Frank Beamer. His team had the most players drafted over the past three years -- 20 -- and five of them were receivers/tight ends, four were in the secondary, and one was a running back. No wonder he's won two ACC titles in the past four seasons.